There's no denying that Avatar Flight of Passage has been one of Walt Disney World's most in demand attractions since it opened with the rest of Pandora in 2017. The attraction's immersive queue and revolutionary ride system very much changed the game for Disney.
However, there's one somewhat controversial element of Flight of Passage: the ride vehicles themselves. Why is that — and that do you need to know before you ride them? Let's find out.
To understand why the Flight of Passage ride vehicles present issues for some guests, we first have to examine the vehicles themselves. Much like the upcoming Tron Lightcycle/Run, the vehicles are similar to a bike in their seating configuration. Guests including those in wheelchairs or ECVs, who are required to transfer, essentially lay chest-first, with their legs tucked underneath them, in the posture of riding a motorcycle.
This often creates issues for guests of larger size or body shape, who have issues sitting comfortably on the vehicle, similar to issues faced by Universal regarding their Harry Potter attractions.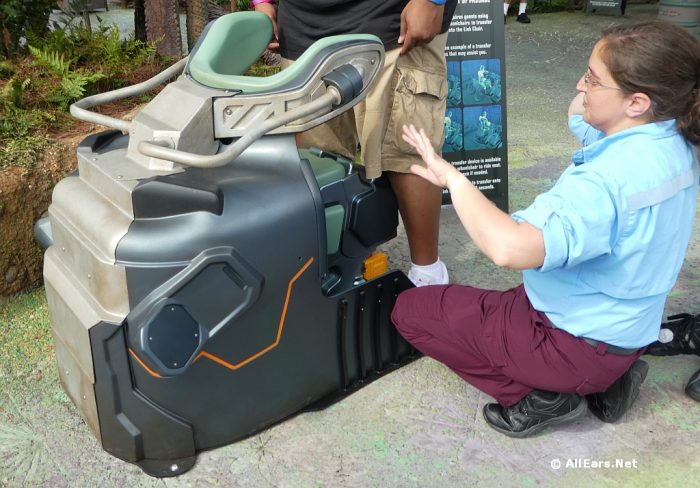 Much like the Potter rides, a test seat for Flight of Passage is located outside of the attraction, allowing guests to see if they "fit" on the ride vehicle before joining the queue. However, similar to Harry Potter and the Forbidden Journey, some riders claim that they were able to "fit" on the test seat but weren't allowed to ride once they reached boarding.
Since Flight of Passage opened, we've received varied feedback from readers on the attraction's see issues, or lack there of. For example, these riders claim to have found no issue with the seats:
"Kyla: First off, just wanted to say thank you for all the info regarding Disney World! I was beyond nervous before going as I was worried I wouldn't fit on anything, but to my delight I had the time of my life. I am 310 pounds and 5′ 9″. I carry most of my weight around my stomach and have always struggled fitting onto regular coasters, however I had NO problems whatsoever at WDW and fit with ease on everything I went on. In particular, I was lucky enough to be one of the first riders on both Pandora rides and had no problem. The river ride was comfortable and very roomy, and the simulator fit me fine. I cannot express how good the simulator was. I honestly cried whilst on it because it is the most amazing thing. I 100 percent recommend giving this a go. And please if you are large, don't worry about anything. I didn't even feel embarrassed asking staff if i would fit. They are very professional and helpful."

"John Vallus: I'm 6′ tall and 230 pounds and I fit on Avatar Flight of Passage just fine. Plenty of room to spare. Very gentle restraint system."

https://www.youtube.com/watch?v=D7s6MqLGABk
However, on the other hand, we've gotten several opposite reactions, including:
"Robert Ziegler: After reading your article about the banshee ride in Pandora, I wanted to say that if you're over 6 feet tall, it is rather a tight fit on the bike. I'm 6′ 6″ and there was no way I could fit. My legs didn't go under the handlebars."

"Diznegal: About Avatar Flight of Passage: After I mounted the vehicle, it took a few tries to latch the back security plate, but I have rods and screws in my back and while I have never had any problems on any ride, ever, it felt like my spine was going to crack. I am on the plus side so I suspect that's why it was such a tight fit. But then came time to latch the leg harness. My legs are small and thin (not plus-sized) but very short. Try as she might, the cast member could not latch it all the way. She said for me to lift my legs off the floor and dangle them so it would fit properly. I didn't really want to do an ab workout for the length of the ride but I was willing just so I could ride the new ride. As soon as she latched it closed, I got the two worst charleyhorses in my legs. At that point the cast member told me I couldn't ride and I had to get off because the leg device just wasn't on properly. I was so disappointed. I have heard a fair number of people have been turned away and this is the only time at either WDW or Disneyland that I couldn't ride a Disney ride. I plan to send a letter to Disney and hope they can make adjustments so the ride can be more accommodating to a larger audience. I heard from everyone who went that it was the best ride they had ever been on at Disney. I know you will all love it. Just be prepared to be disappointed if you are over-sized."

Flight of Passage ride vehicles
Have you had any issues riding Avatar Flight of Passage, or do you think the "controversy" around the attraction's ride vehicles is overblown? Let us know in the comments below. And keep following All Ears for the latest Disney World news!