TRON Lightcycle / Run will officially open on April 4th, 2023, but we've already experienced the ride and everything that's good, bad, and…complicated about it.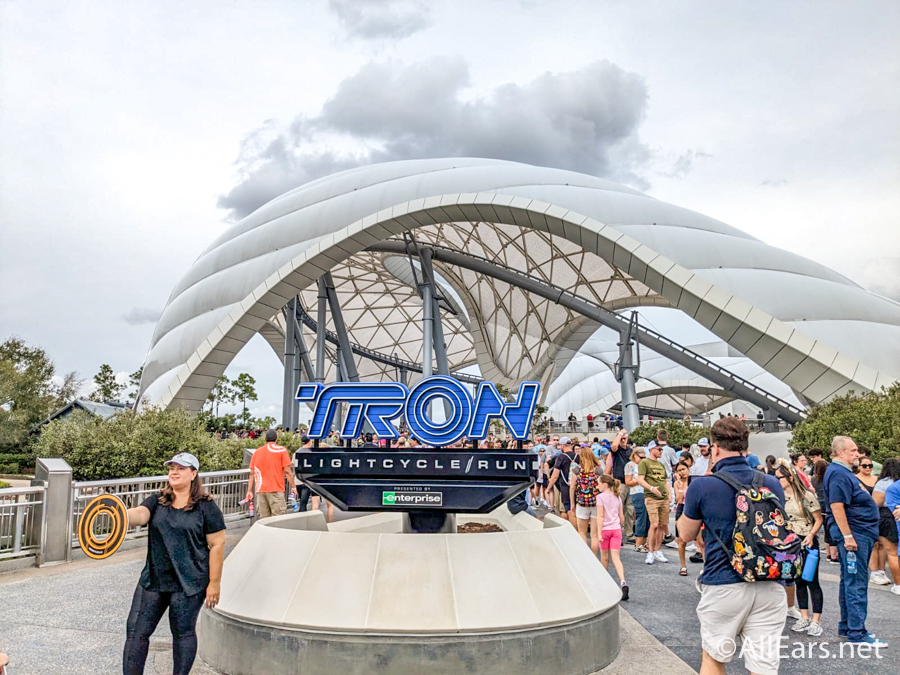 The attraction is a high-speed roller coaster and is VERY smooth. And while it has some gorgeous lighting effects at night, a storyline that puts you at the heart of one of the most iconic moments from the film franchise, and more — it also has a very specific and unique seat style that could be problematic or uncomfortable for some. Will the TRON seating be something you'll love or hate? What's good and bad about it? And what can you do if the "regular" seating style doesn't work for you? Let's break it all down here.
TRON Lightcycle / Run 101
Before we get into the core of this article, let's go over TRON Lightcycle / Run basics: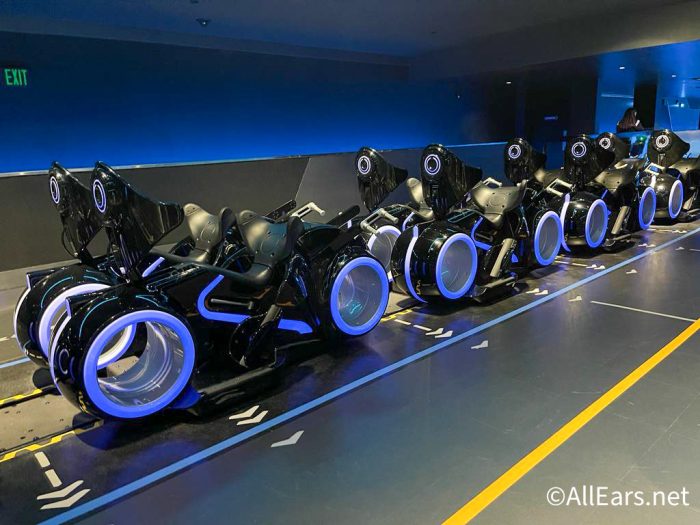 Alright, now let's get into the details about the seats.
The Seat Problem
TRON Lightcycle / Run has 2 seating styles — there is the "regular" bike-style seating and adaptive seating. The big problem with the "regular" bike-style seats is that they can be quite restrictive.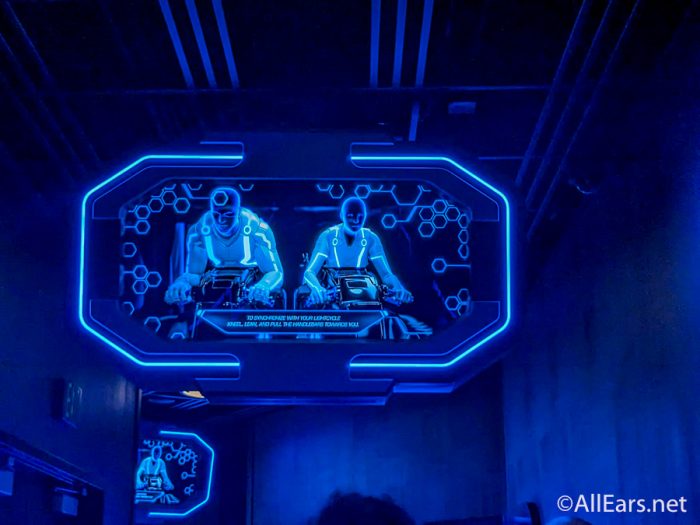 The "regular" bike-style seating is…well…like a bike or motorcycle. You'll need to sit on the vehicle, place your knees and feet on the designated rest spots (your knees will be bent), lean forward to grab the handlebars, and then pull the handlebars toward you to lower the backrest and a metal bar near your legs into place.
At least based on our experience, there are a few potential issues with these "regular" bike-style seats. For starters, they're not the comfiest. They were bearable for the length of the coaster (which is VERY short — about a minute, maybe slightly over that). One of the most uncomfortable parts of the seat was what your chest/upper body has to lean against. That surface isn't cushiony. Instead, it's pretty hard.
You might be thinking, "okay, but there are bike-style seats on Avatar Flight of Passage and those feel fine, so these are the same, right?" Well…not quite. The TRON seats are actually pretty different than the Flight of Passage seats for a few reasons. First, you have to pull on the handlebars to lock yourself into place.
Also, on Flight of Passage, you're not physically moving in the same way as you are on TRON. The simulator ride style from Flight of Passage gives you the sensation of flying on the banshee, but on TRON you're actually, physically being THRUST forward at high speeds. Our reporter said that they could see the TRON seats making your chest feel sort of tight or stiff after a while since you're leaning forward the whole time.
And finally, because you're leaning more forward on TRON than Flight of Passage, our reporter said it felt less natural. The shortness of the ride saves it from being too uncomfortable, but all of these things are factors to consider.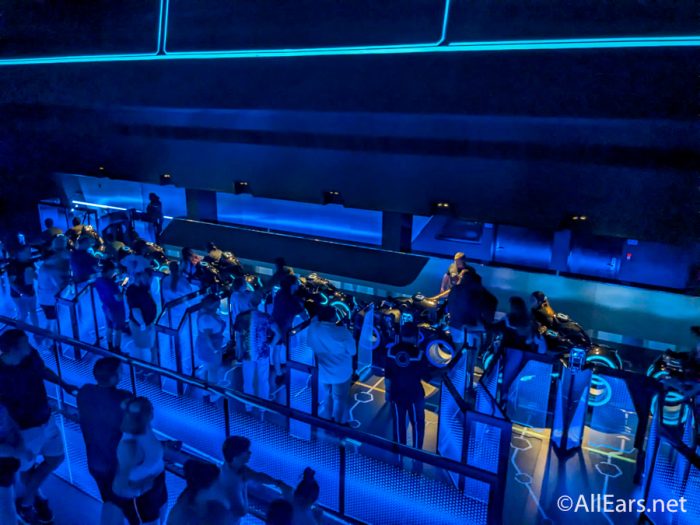 Now, to be clear, the lack of comfort on these seats didn't really distract our reporter from enjoying TRON, but it was a bit awkward. Had this been a long ride, we could see that seating style becoming more of a problem. Again, the ride is about a minute long (comparable in length to Rock 'n' Roller Coaster).
Also, it helps that the ride is smooth like Guardians of the Galaxy: Cosmic Rewind, so you aren't on a bumpy track. It feels like a more updated version of Rock 'n' Roller Coaster overall, and its biggest thrill is the launch at the start.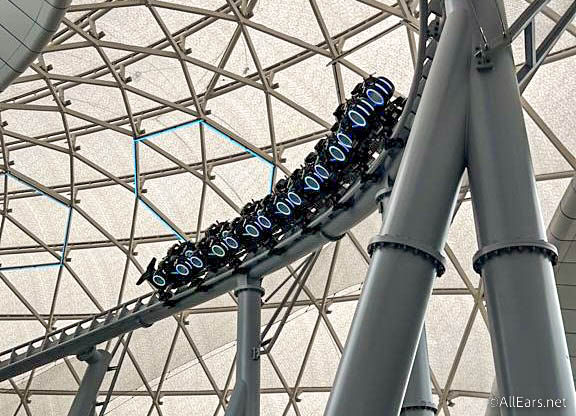 Aside from generally feeling a bit uncomfortable and unnatural, the real problem with the "regular" TRON seating has to do with leg size. Remember, there are two parts that lock into place on TRON — the backplate and a metal bar near your legs. For those of a larger body type, the backplate might prove to be a challenge, but the little metal bar that comes down on your legs is not something to be overlooked — that can be an issue too. You can see the metal bar in the video of Quincy below.
Even if you think leaning forward on the not-so-comfy seat won't be a problem and you think you can fit into the seat with the backrest down, the metal bar on your legs might not work for you. It's quite restrictive. So if you have larger legs/calves this could become a problem.
Quincy is testing the TRON Lightcycle / Run seat out! There are leg pins that extend from the ride vehicle and the back plate helps secure you during your ride. You lock yourself in by pulling down on the handlebars! pic.twitter.com/p9Tyh8J6C9

— AllEars.Net (@AllEarsNet) February 11, 2023
Another problem with the "regular" TRON seating? You don't slide/lower into these like the seats you're used to experiencing at things like Rock 'n' Roller Coaster or even Space Mountain. Like a regular motorcycle, you have to lift and swing one leg above the center bike portion to straddle the seat. Stepping on the bike itself requires a bit of coordination and one of our reporters warned that it was NOT easy.
If you think that you'd have an issue stepping over a low motorcycle, you'll likely experience trouble getting on the "regular" vehicle. One reporter shared that they almost fell because they didn't lift their leg high enough to get over the center part of the bike. So be careful!
Once inside, there's a video demonstrating the boarding process for getting on the ride vehicle itself. Check it out! pic.twitter.com/1yHY7wFcI1

— AllEars.Net (@AllEarsNet) February 11, 2023
Plus, it's worth noting that boarding goes by pretty quickly since the ride itself is short. So you might not have all the time in the world to swing your leg around to get on the seat.
That's a lot of potential issues with the "regular" seat — Will you be able to handle leaning forward? Will the harder surface you have to lean on make things uncomfortable for you? Will the backplate be too constricting? Will the metal bar on the legs be too restrictive for you? Will you be able to comfortably swing your leg over the bike to straddle the seat? There are a lot of factors at play here.
So what if you think the "regular" TRON ride vehicle might not be for you? Don't stress. You can still ride the attraction another way.
What Can You Do?
While the "regular" vehicles fill up most trains,
there are some adaptive seats on TRON
. These are more along the lines of what you're used to seeing at Disney World roller coasters. They're bucket-style seats where you'll slide in, sit in a more traditional upright position, and a lap bar will hold you in place.
Most guests will ride Tron leaning forward as if in a Light Cycle. These guests are secured with a backrest that presses forward.

There is a normal upright roller coaster seating option too. Traditional lap bar seating, in the last car. pic.twitter.com/fMynwH4jeJ

— bioreconstruct (@bioreconstruct) December 10, 2022
Craig actually tried the adaptive seating and shared that he enjoyed NOT riding on the motorcycle.
Here are our post-ride thoughts on TRON Lightcycle / Run! pic.twitter.com/v9dJg4Rv9J

— AllEars.Net (@AllEarsNet) February 11, 2023
If you want to get into an adaptive seat, here's what you need to do. From what we saw, if a guest can't fit into a "regular" seat, a Cast Member will take them off to the side before boarding to have them wait for a train with the alternative seating.
If you will be requesting the adaptive seating because it is what you'd prefer or what you think would suit your body/needs best, be sure to speak with a Cast Member in the ride's queue and clearly make that request. If you need or want an accessible seat, the Cast Member will pull you to the side and have you wait until a car with accessible seats pulls up.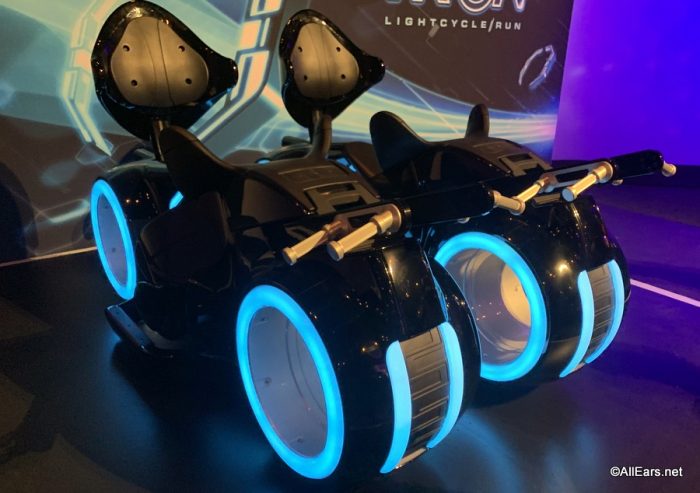 The big problem?
Not every train has adaptive seats and even the ones that do only have a limited number available at the back of the train.
So, you may end up having to
wait quite a bit for a train to pull up that'll have what you need.
Also, keep in mind that if 20+ other people have requested adaptive seating, that wait will be even LONGER.
What Should You Do BEFORE You Ride?
Alright, so now you know about all of the potential issues with the "regular" seats and the ability to request an adaptive seat. But what if you're not sure whether the regular seat will feel okay for you or whether some of the more restrictive parts of the seat will work for you? There's one thing you'll want to do BEFORE you get in line — stop by the test vehicles.
There are test vehicles off to the left of the queue, right before you enter the main queue area. These vehicles show you what a "regular" bike-style seat looks and feels like. They even have the handlebars, backplate, and metal bars near your legs so you can pull down on the handlebars and feel whether any part of it will be too restrictive.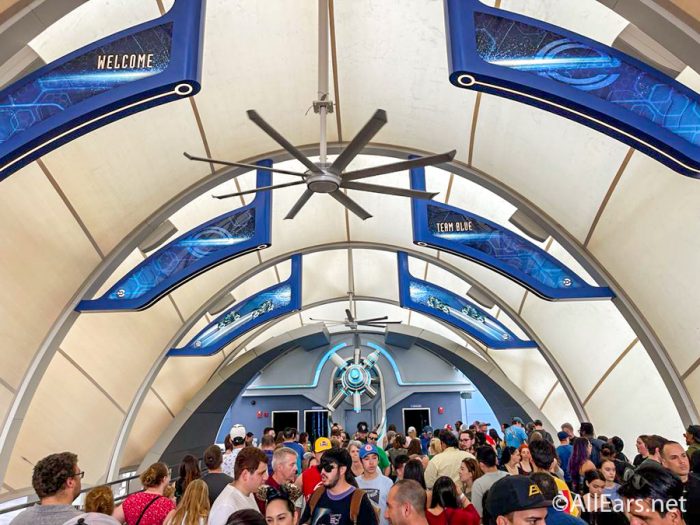 But there's a catch. You can pull down on the handlebars to see what it all feels like, but the test seats do NOT lock in place. So, while they can give you an idea of the seating, they are not a guarantee that it'll all work out when you get to the real thing.
There is still a possibility that you will reach the actual boarding area and the seat may not be able to fully lock into place comfortably. So just keep that in mind.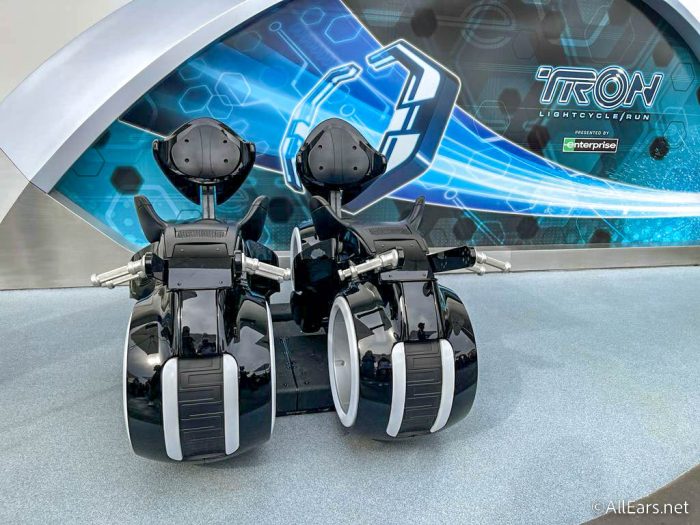 And that's a look at the TRON seating. A few things to keep in mind as a summary:
The "regular" bike-style seating has a backplate and metal bars over your legs. They all lower and lock into place when you pull down on the handlebars.
The backplate can be restrictive, but even more of a problem is the metal bars near your legs. If you have larger legs, definitely try out the test seats to see if the bike-style seating will work for you.
If you think you'll feel uncomfortable when having to lean down on a hard surface while being thrust at high speeds, again consider whether the bike is best for you.
Stop by the test seating before getting into the main queue area to see how you feel.
There is adaptive seating but there are only a few seats available on select trains, so you'll need to request one and wait until an open seat becomes available (this may result in a bit of an additional wait).
We hope this helps you get a better idea of whether the TRON bike seats will or won't work for you.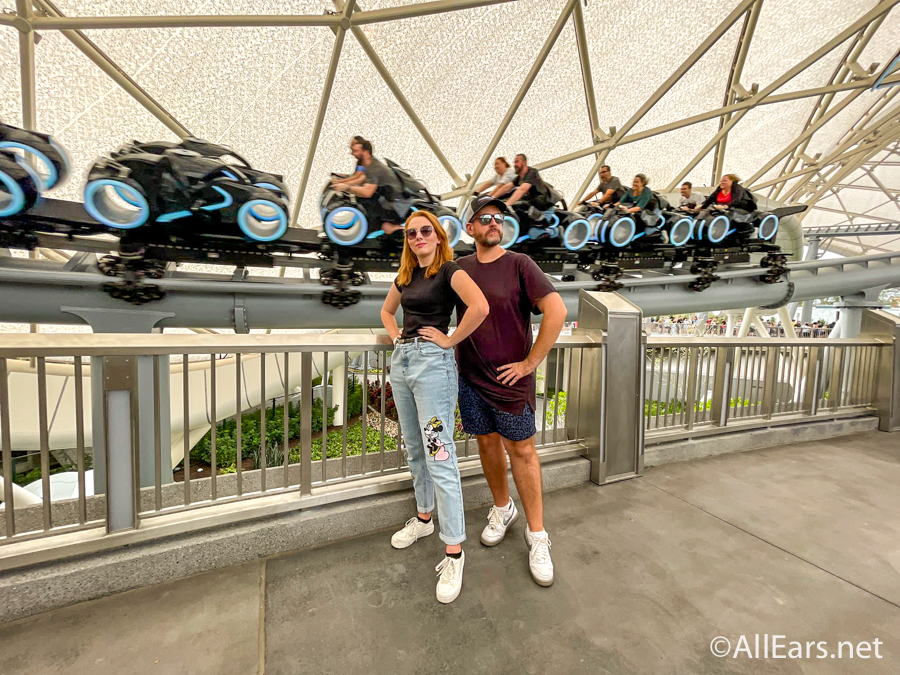 For more about TRON Lightcycle/ Run, see our posts below:
And stay tuned for more news!
What do you think about the TRON seating? Tell us in the comments.