TRON Lightcycle / Run's opening day is right around the corner!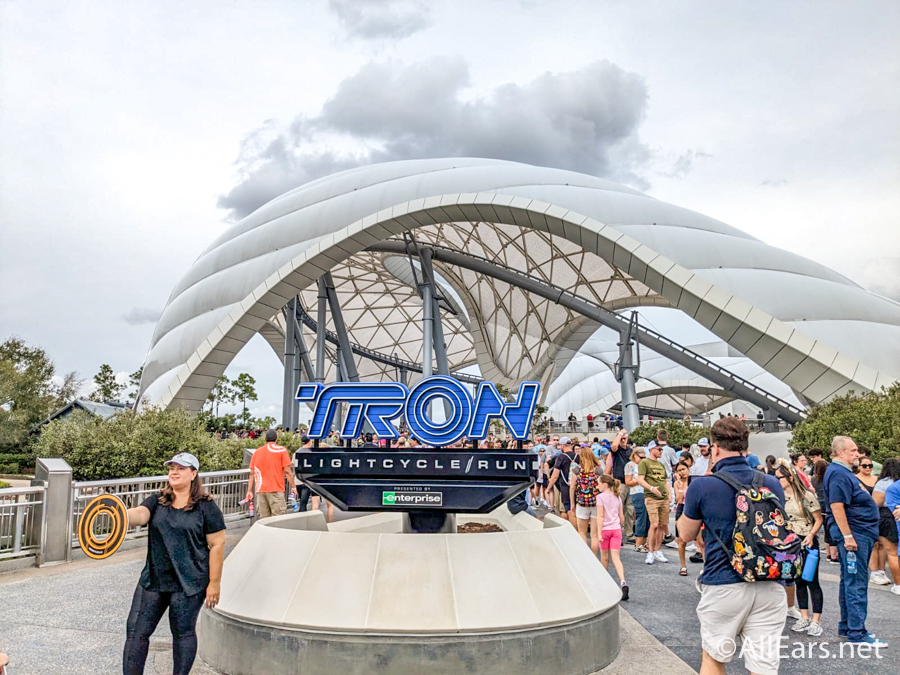 While it officially opens in Magic Kingdom on April 4th, Disney has been hosting previews for a select group of people. Well, get excited guys — we've officially been on TRON and we're bringing you ALL the details!
This has been such a highly anticipated attraction, we know there are TONS of questions. So let's get started!
The Seats Are NOT Comfortable
While the motorcycle seats are similar to those on Avatar Flight of Passage, they feel quite a bit different. Our reporter said that they weren't exactly comfortable. Basically, you are leaning forward against a hard surface the entire time, and that could end up feeling pretty stiff after a while.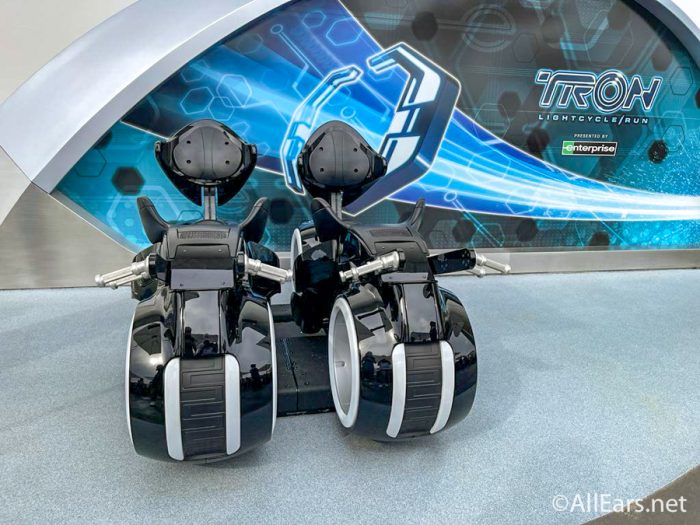 You are locked in, leaning forward with a back piece that is keeping you in place. The lack of comfort didn't distract our reporter from enjoying the ride, but it was a bit awkward. If it had been a longer ride, it may have been more of a problem.
Quincy is testing the TRON Lightcycle / Run seat out! There are leg pins that extend from the ride vehicle and the back plate helps secure you during your ride. You lock yourself in by pulling down on the handlebars! pic.twitter.com/p9Tyh8J6C9

— AllEars.Net (@AllEarsNet) February 11, 2023
Another area of concern is the leg restraints. Quincy tried out the test seats and mentioned that the most restrictive part of the seat is the metal bar that comes down on your leg.
If you're concerned about not being able to ride in this style of vehicle, there are test seats available to the right of the entrance to the queue. Make sure you check them out so you're prepared when you get to the front of the line. If these motorcycle-like seats don't work for you, there are adaptive seats that you can request.
It's Pretty Easy to Request Adaptive Seats
If you need to use the adaptive seats, simply talk to a Cast Member when you are in the queue. They will pull you aside and have you wait until a car with the adaptive ride seats is available.
Most guests will ride Tron leaning forward as if in a Light Cycle. These guests are secured with a backrest that presses forward.

There is a normal upright roller coaster seating option too. Traditional lap bar seating, in the last car. pic.twitter.com/fMynwH4jeJ

— bioreconstruct (@bioreconstruct) December 10, 2022
Unfortunately, not every train has the adaptive seats, so you might have to wait a little longer than anticipated once you get to this section. These are more like traditional roller coaster seats with a pull-down lap bar and are in the last row of select trains.
The Queue Is Immersive
The goal of the queue is to make you feel as though you've been digitized and transported into the Grid. When you get to the ride, the walkway under the canopy runs so close to the moving vehicles.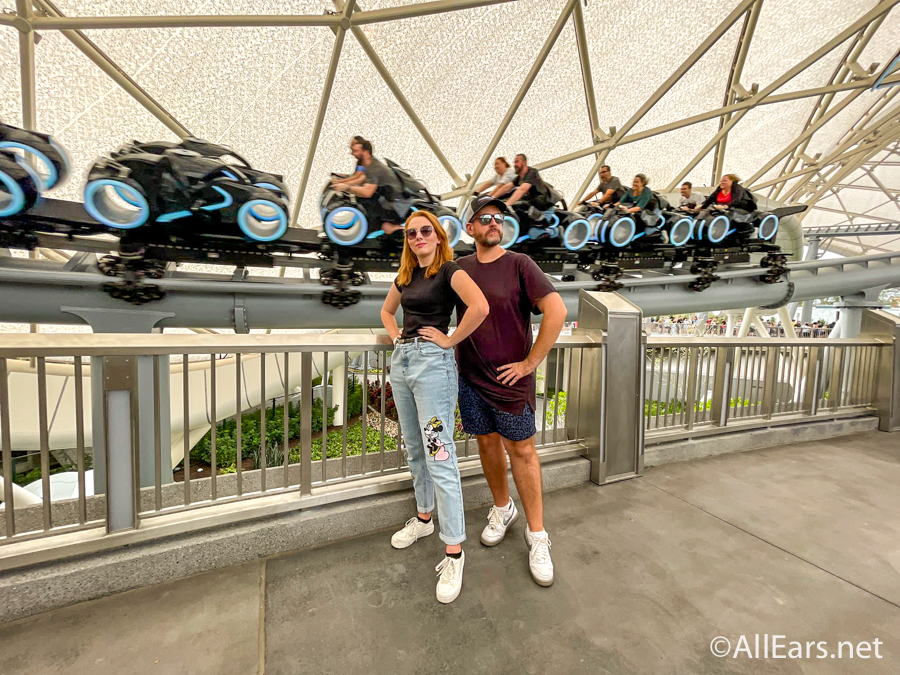 Once you're in the queue, you get a taste of the story of the ride: you are on Team Blue and you're racing against the Grid's evil program — Team Orange. The goal is to be the first to race through eight "Energy Gates" on your way to victory. You can see a lot of this theming in the queue.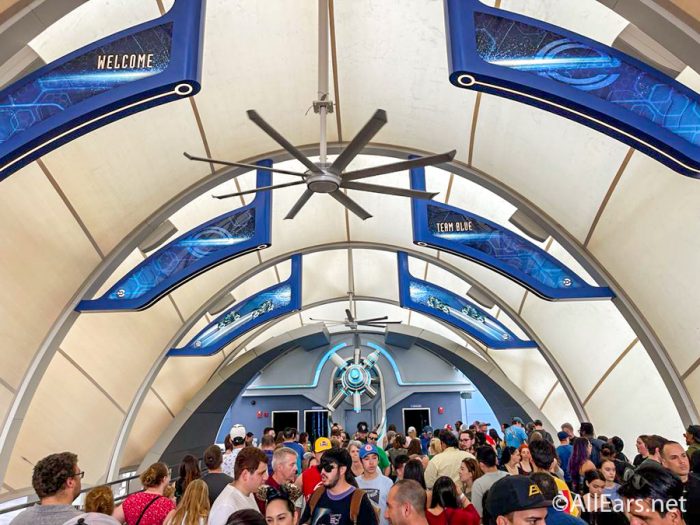 Much of the ride's video in the queue is reminiscent of other pre-shows we've seen in the past, like Flight of Passage and Guardians of the Galaxy: Cosmic Rewind, but with tons of "Team Blue" imagery.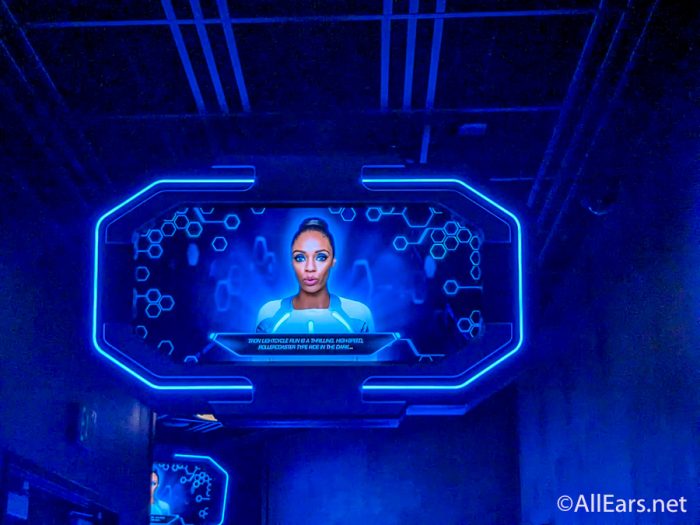 We had fun getting to see it all while we waited!
We're ready to ride! Well…almost 😅 pic.twitter.com/oOKbxKDIra

— AllEars.Net (@AllEarsNet) February 11, 2023
The theming continued throughout all the areas of the queue, including the double-sided lockers… .
The Lockers Are…a Process
Mid-way through the line there is a section with tons of lockers. These are double-sided so that you can add your belongings before the ride on one side, and have access to them on the other side while you're leaving the attraction.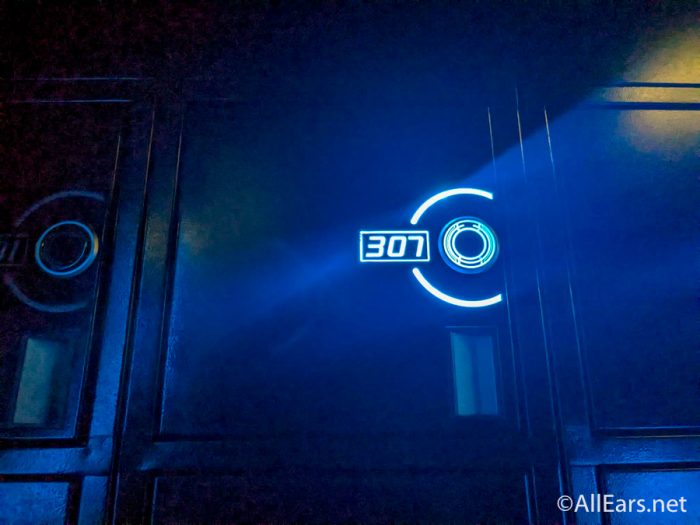 While not everything is required, larger items like bags will have to go in the lockers. Even backpacks can't be worn because of the placement of the back restraint.
See ya after the ride, buddy! 👋 pic.twitter.com/ETRgRDFFHI

— AllEars.Net (@AllEarsNet) February 11, 2023
There is a small compartment on the ride vehicle for you to place a phone or wallet, but nothing else.
Here's a look at the storage on the TRON Lightcycle / Run ride vehicle. If you don't store an item (like your phone) in the provided locker, this is where it'll go while you ride! pic.twitter.com/8hydpkMYXE

— AllEars.Net (@AllEarsNet) February 11, 2023
You can access the lockers with either your MagicBand or park ticket, but MagicMobile wasn't an option — so you won't be able to use your phone.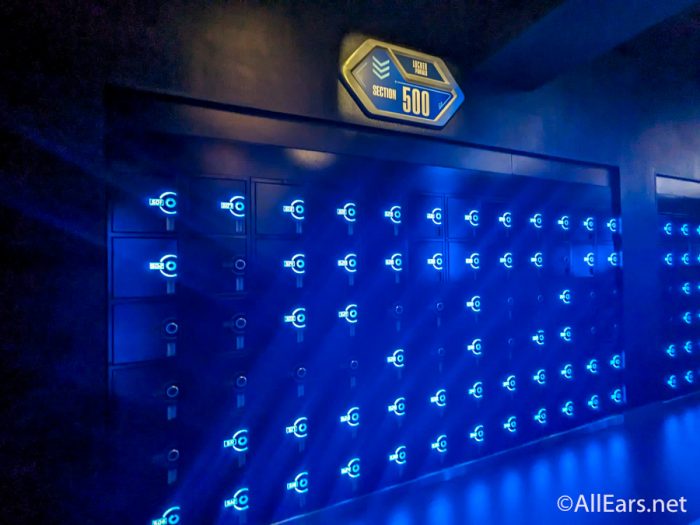 There are also plenty of Cast Members around to help and they can give you a ticket specifically for opening your locker if you do not have a ticket or MagicBand with you.
TRON Is Both Similar and Unique to Other Disney World Coasters
The ride is very smooth like Guardians of the Galaxy: Cosmic Rewind, but it felt a little more like a revamped Rock 'n' Roller Coaster. The biggest thrill is by far the launch, but the effects were also really cool!
The ride is fairly short, however it was comparable to Rock 'n' Roller Coaster in this way as well.
Here are our post-ride thoughts on TRON Lightcycle / Run! pic.twitter.com/v9dJg4Rv9J

— AllEars.Net (@AllEarsNet) February 11, 2023
Overall, the ride was really fun, and even with the uncomfortable seats, our team really enjoyed the whole experience. We'll continue to bring you updates as we get closer to TRON's opening day, so stay tuned to AllEars!
Join the AllEars.net Newsletter to stay on top of ALL the breaking Disney News! You'll also get access to AllEars tips, reviews, trivia, and MORE! Click here to Subscribe!

Have you gotten to ride TRON yet? Let us know what you thought in the comments!