Disney World works to make the parks accessible for as many guests as possible. One way they do this is by offering scooters for rent, as well as allowing guests to bring similar mobility aids like these into the parks.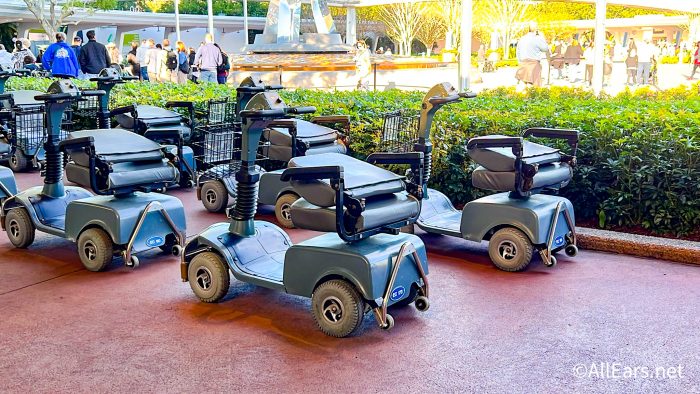 If you or someone in your party is planning on using a scooter or Electric Conveyance Vehicle (ECV) during your Disney World vacation, we have plenty of tips and tricks to make your experience as smooth as possible.
If you are not bringing your own personal ECV, you can rent either directly from Disney, or use another rental company in the Orlando area. If you are planning to rent from Disney, they have recently upgraded their old 4-wheel scooters to a 3-wheeled version. Many folks find these easier to maneuver because they have a smaller turning radius thanks to the single front wheel. However, sometimes Disney does run out, so you may have to check out some of the outside rental companies in the area. If you're looking for a scooter with more bells and whistles, you'll find those from a third-party provider. There are several pros and cons to renting with Disney versus a different company, and you can check out our FAQ below for more information!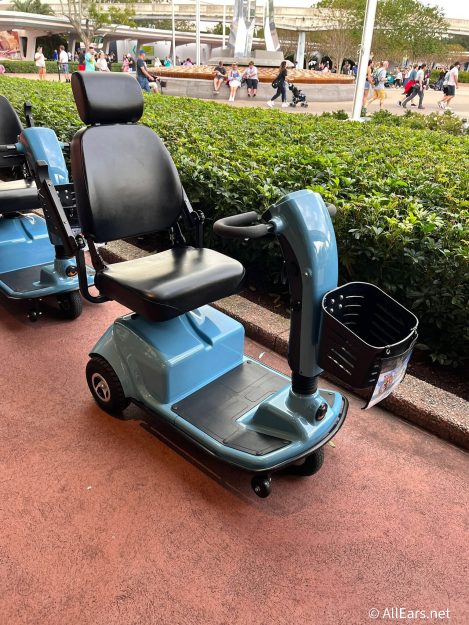 If you've never used an ECV before, don't be nervous! ECVs usually have steering like that of a bicycle. The speed is controlled by applying pressure to a lever using your hand. Keep in mind, these vehicles can actually go pretty fast so they'll take some getting used to. Be sure to start slow, and we suggest you practice for a few minutes before heading out into the crowds!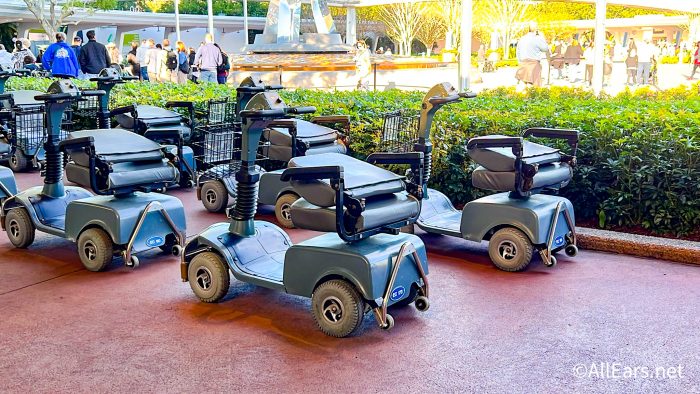 Before you try your ECV, familiarize yourself with the controls. Each ECV may be different, so make sure you understand your device. Here are the main controls to look for:
Throttle: The throttle lever or levers are usually on the handle bars. These control the speed. On most scooters, holding the handles keeps the scooter accelerating, while releasing the handle bars stops the acceleration.

Direction: There is usually a dial near or on the handle bars to designate moving forward or reverse. Some scooters are designed where the left or right handle controls the direction. Squeezing one could move you forward, and squeezing the other could move you in reverse. Be sure to start slowly when testing this out to avoid any surprise crashes!

Max Speed: Scooters will have a switch, slider or knob that lets you change the maximum speed of the ECV. They are most commonly marked with a "turtle" for slow and a "rabbit" for fast. Putting the control closer to turtle limits the top speed to a slower rate, so no matter how far you push the throttle, the ECV won't go faster than the pre-set speed. Putting it in turtle is kind of like putting your car in first gear -– it won't go any faster than first gear allows.

Neutral: The switch or lever that puts the ECV out of gear. This is often found on the base of the unit. When it's out of gear, the ECV will roll freely. This is helpful when you need to push the ECV! You'll want to familiarize yourself with this control especially if you are renting from an outside vendor, because you will be responsible for transporting your scooter between the parks and your resort or hotel.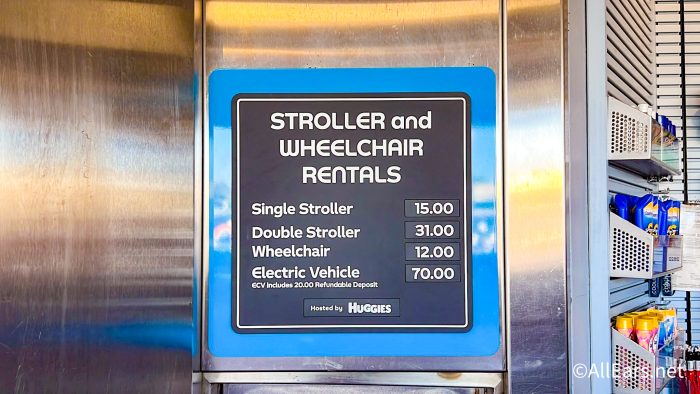 Another aspect you'll want to practice is backing up or reversing. You'll need to prepare this skill for boarding any sort of Disney transportation. When it comes to each type of transport there are different spots to board with an ECV:
When riding the Friendship Boats, you'll be asked to back in at the rear of the boat.

For the bus, you'll need to basically parallel park after going up a small ramp; a Cast Member can help you navigate.

The Monorail is the easiest to board because after a small ramp is put out, you pull straight in; however, when exiting the Monorail, you'll have to back out.

The Skyliner has a special accommodating gondola for individuals in wheelchairs and ECV.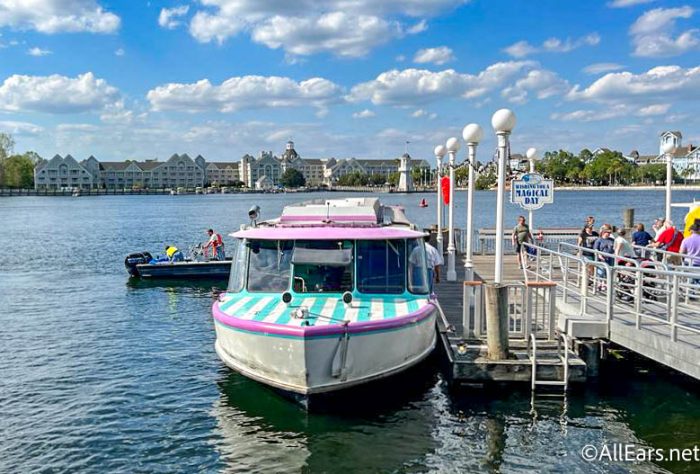 When in the parks, Cast Members will be your best friend. They can help you find accessible paths to attractions and inform you if you can proceed through the traditional queue with your vehicle (some queues are particularly tight and might not be able to accommodate scooters). Crowds can be difficult to navigate, especially in pinch-points and bottlenecks, as guests may unexpectedly dart in front of the scooter. When dealing with highly congested areas, our tips are:
drive slowly

be prepared to brake

have someone in your travel party walk ahead of your scooter to help prevent folks or little ones from hopping in front of you
Some other tips we have when using a scooter or ECV in Disney World include:
Bring a poncho or even a stroller cover to cover your scooter in case of rain — no one wants to come back to a wet seat!

If you're planning on renting from Disney, familiarize yourself with the rental locations ahead of time
If you're planning on renting from an outside vendor, don't forget to factor in time for transporting your scooter to and from the parks when planning your days
Remember to take the key out of the ignition to save the battery as well as avoid any accidents from touching the throttle!
Bring a keychain, key ring, or lanyard to keep the key easily accessible
Even if you don't typically use a mobility aid like these on a day-to-day basis, a scooter could be an extremely helpful tool for you at Disney World. The parks are massive and guests typically can rack up over 30,000 steps each day, so if you feel you would be more comfortable using an ECV or scooter, go for it! Just be sure to prepare and familiarize yourself with the vehicle to ensure you get the most out of it.
Watch the video below for more information on getting around Disney World!
Want to find more ways to SAVE at Walt Disney World? Check out:
Join the AllEars.net Newsletter to stay on top of ALL the breaking Disney News! You'll also get access to AllEars tips, reviews, trivia, and MORE! Click here to Subscribe!
Where do you like to go when the parks get crowded and you need a little break? Comment your favorite spot down below!