We're traveling around World Showcase for the first time in MONTHS! It's a bit surreal to be back since Disney World closed its gates in mid-March, especially when the 2020 EPCOT International Food and Wine Festival is in full swing in mid-July!
When this year's festival was announced, Disney noted that this would be "A Taste of Food and Wine," which had us scratching our heads. What does that mean, exactly? Let's find out!
We knew that some experiences at this year's festival would be modified or canceled to accommodate distancing and health and safety measures. For example, we knew that the Eat to the Beat Concert Series would not be a part of the Food and Wine Festival this year.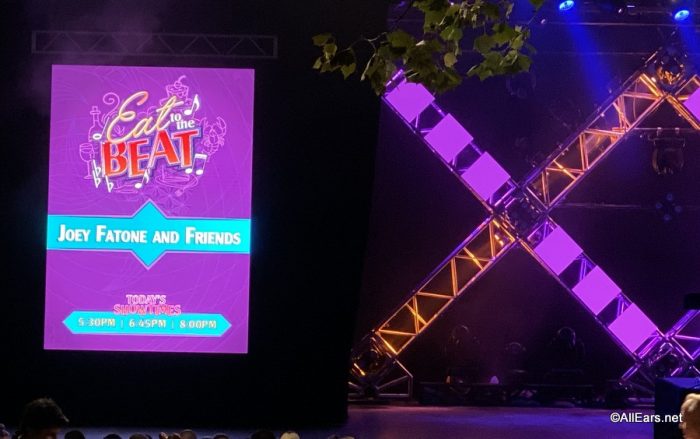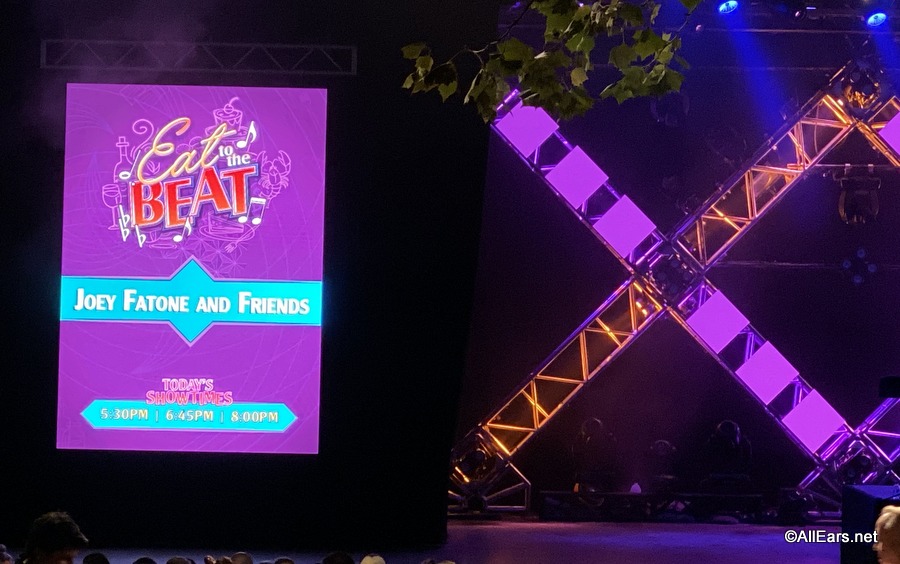 But, Disney also stated that the festival would be a combination of the Food and Wine Festival with influences from the Flower and Garden Festival that was cut short in the midst of the closure. While we weren't sure what that exactly meant, this is everything you need to know about how the festival has stayed the same and changed this year!
New Procedures
While we have already seen Virtual Queues used in stores and Rise of the Resistance in Disney World, EPCOT has also incorporated the use of Virtual Queues as a distancing measure at the World Showplace (where four booths reside!).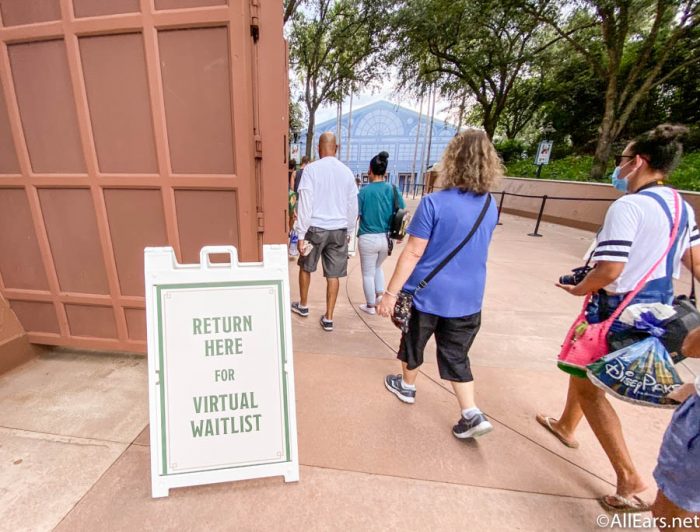 After guests join the line, they will be called back to World Showplace via text message. The lines have additional distancing measures with the use of roped-off sections and markers on the ground.
However, the Virtual Queues aren't the only new measure put in place at the Food and Wine Festival. Since Disney World has re-opened with strict health and safety measures, the festival is following many of the same guidelines that are included across the parks. That means guests will be able to find hand-sanitizing stations…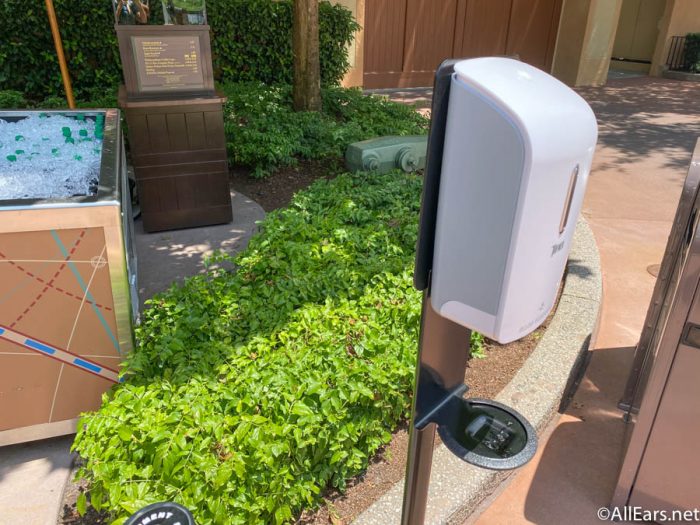 …roped-off areas to control crowds…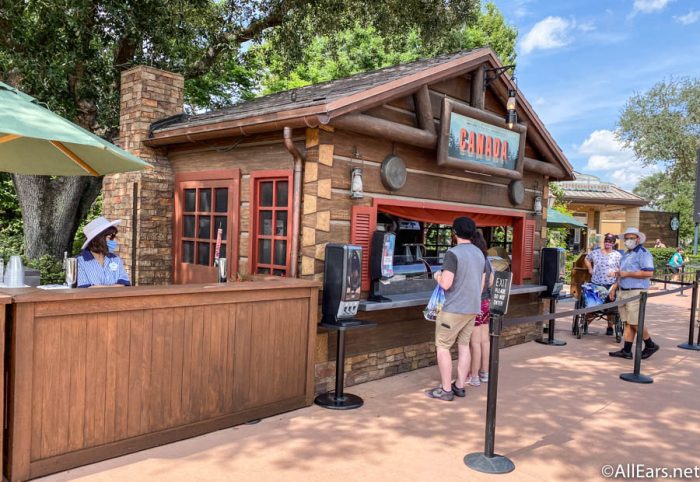 …and distancing markers to wait behind as everyone hops from booth to booth. Unless somebody is eating or drinking, they are still required to wear masks at all times in the parks as well.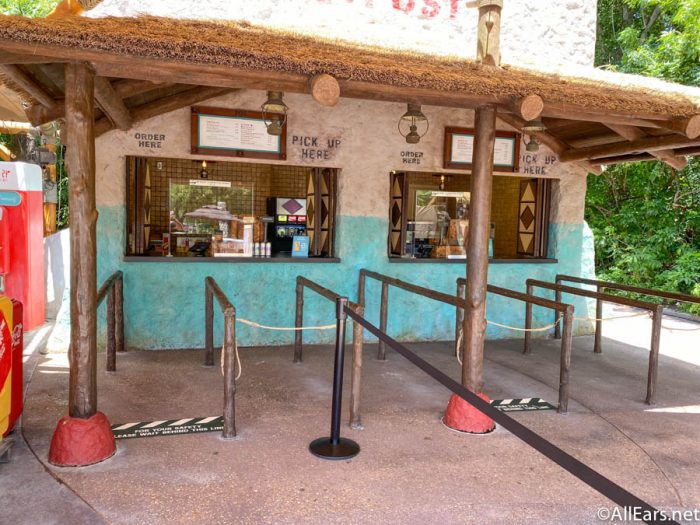 Food Booths
One of the best parts of EPCOT's Food and Wine Festival starting up again is the fact that the booths feature both new items and returning favorites each year.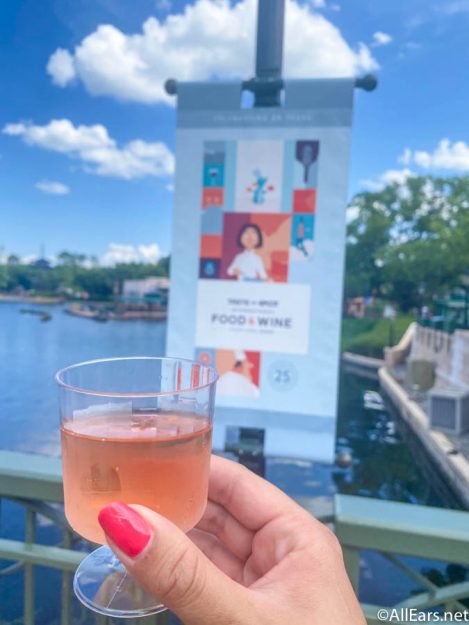 Since the festival is getting a twist with the addition of Flower and Garden elements, some of the Food and Wine booths are actually featuring snacks, desserts, and drinks on their menus that were previously available at the Flower and Garden Festival.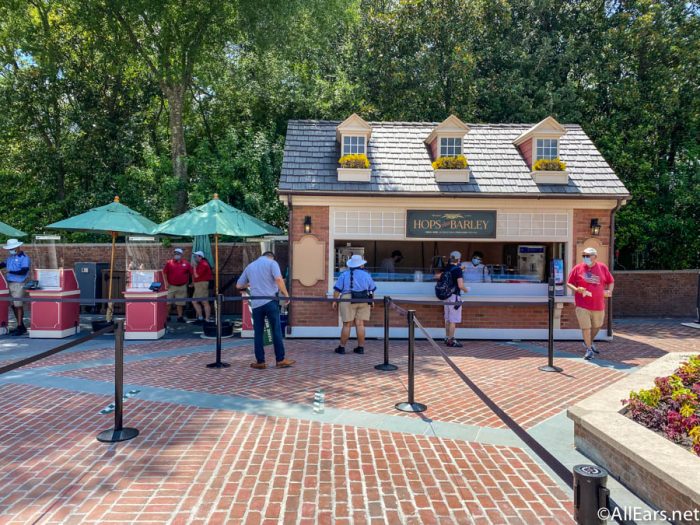 We've seen returning items like the Chocolate Pudding Terrarium at Earth Eats…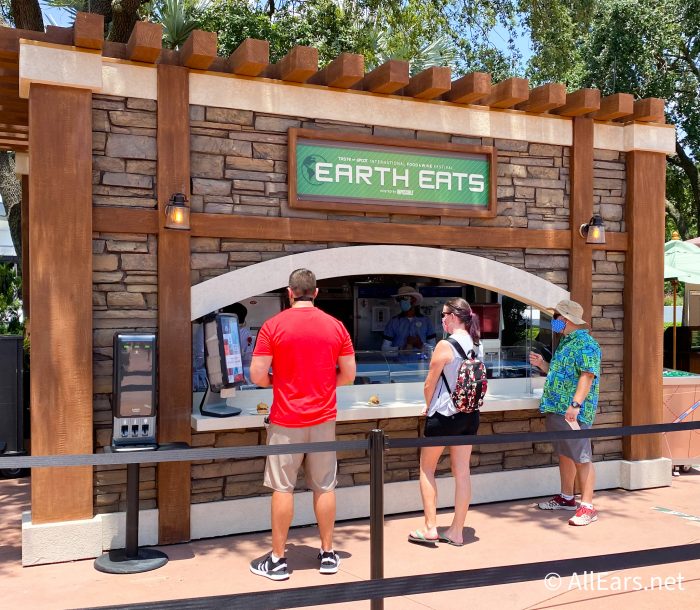 …as well as the Furano Martini at the Japan booth, as well as many other spots around the World Showcase. Not to mention the whole Citrus Blossom booth (and the cute Orange Bird sipper sold there!) are a part of the festival! While this might mean less new items, we like the fact that guests who didn't get to experience the Flower and Garden Festival are now able to explore a mix of two festivals in one during their time in EPCOT.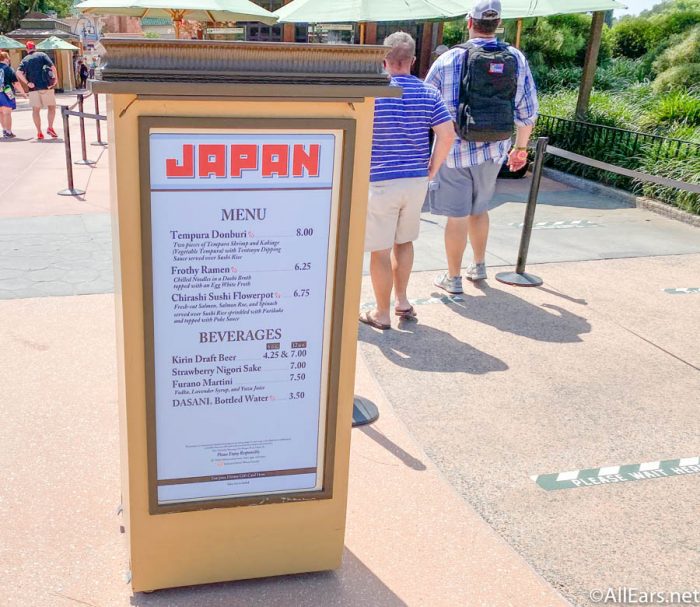 Entertainment
Although we LOVE snacking and sipping on all the food and drinks during festival time in EPCOT, we have been so happy seeing different topiaries return in the park from the Flower and Garden Festival. As guests walk around the park, they can spot Remy near the France Pavilion…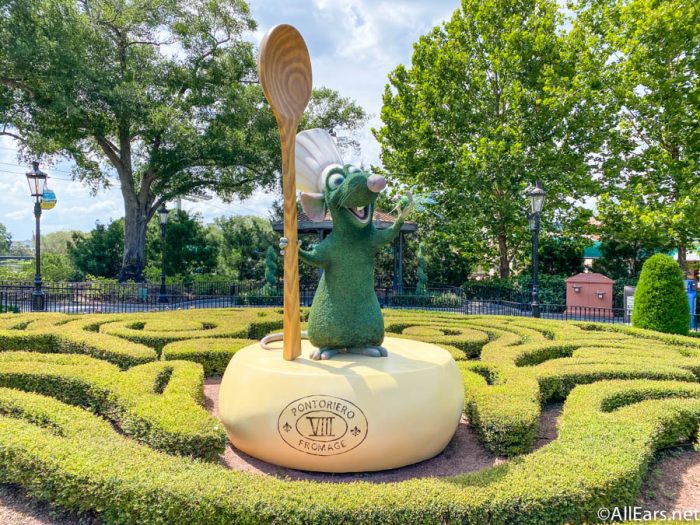 …as well as Bambi, Flower, and Thumper in front of Mouse Gear!
Although many of the entertainment elements that we regularly see during EPCOT's Food and Wine Festival are suspended this year, the World Showplace is being utilized as an (air-conditioned!) spot for guests to enjoy four booths including one booth featuring some of the greatest hits of Food and Wine Festival that don't have their own booth this year!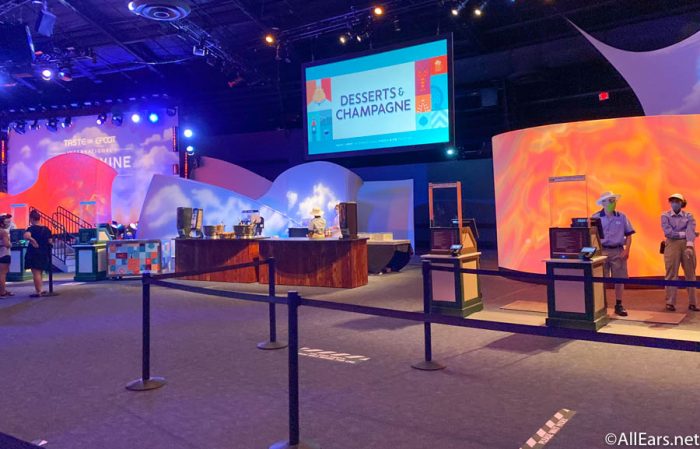 The inside of the building is also following health and safety guidelines with designated lines, distancing markers, and plexiglass barriers to protect both Cast Members and guests.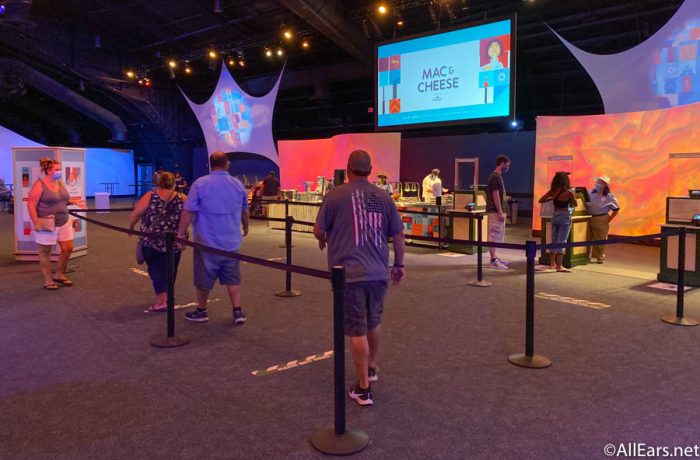 The chefs, cooks, and bakers are still creating special dishes (which are highly entertaining to watch) that guests of all ages can enjoy!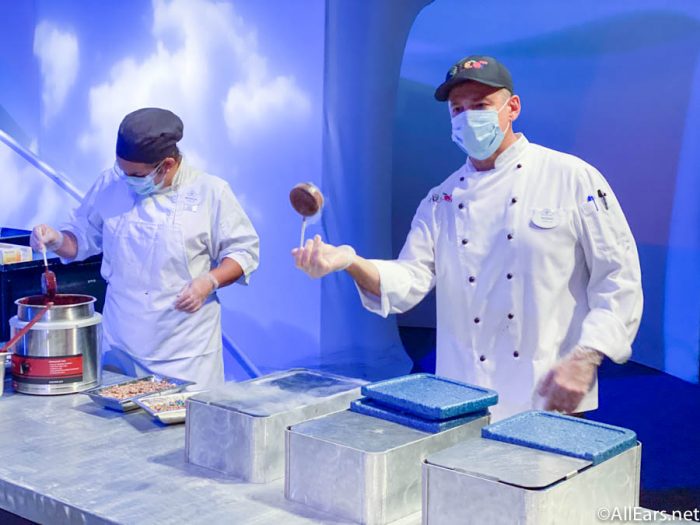 One of our FAVORITE things to check out and eat in the World Showplace this year are the Nitro Cake Pops that are made using lots of chocolate and liquid nitrogen!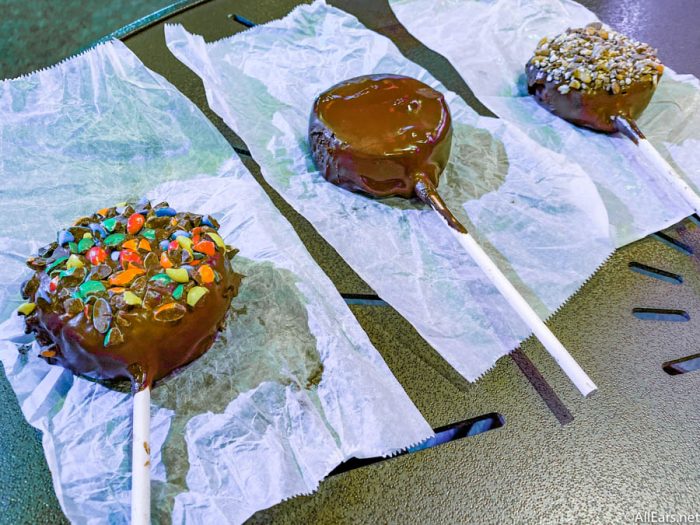 Plus, there are plenty of booths to stop by around the Showplace to get cocktails (the Boozy S'more was just as good as it sounds)…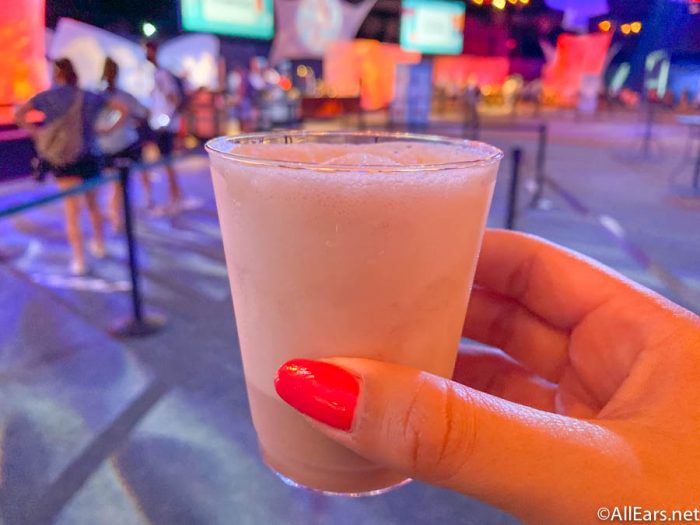 …and try new things, like Vegan Mac and Cheese!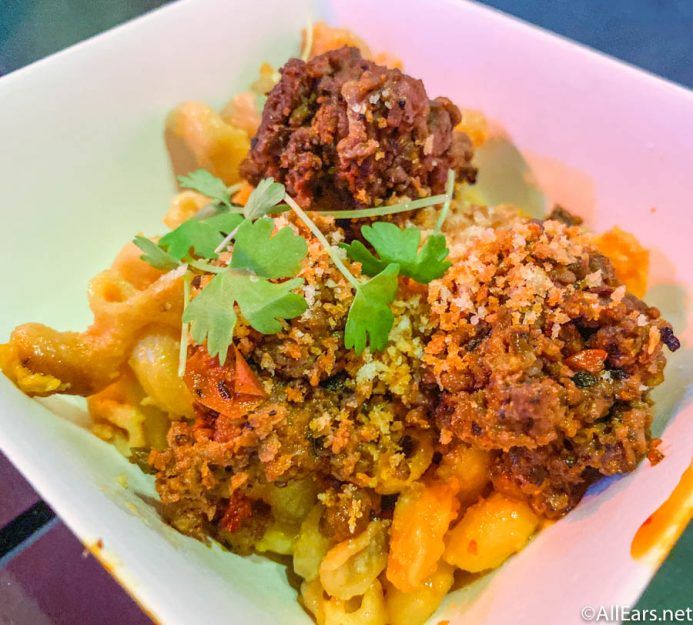 Although the Eat to the Beat Concert series won't be happening this year, the Mariachi Cobre and JAMMitors can still be spotted in EPCOT during the festival!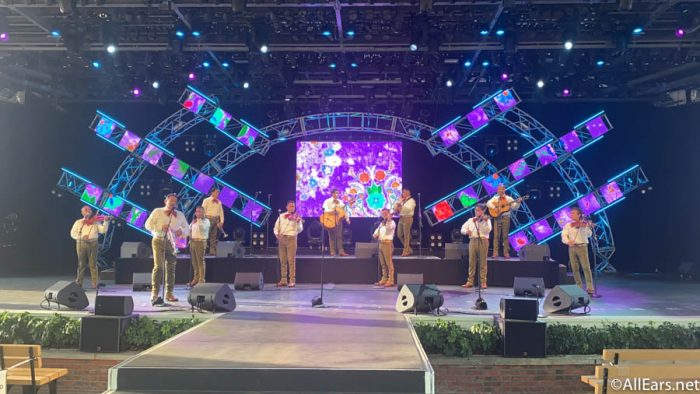 The American Gardens Theatre is following additional safety measures by closing certain rows…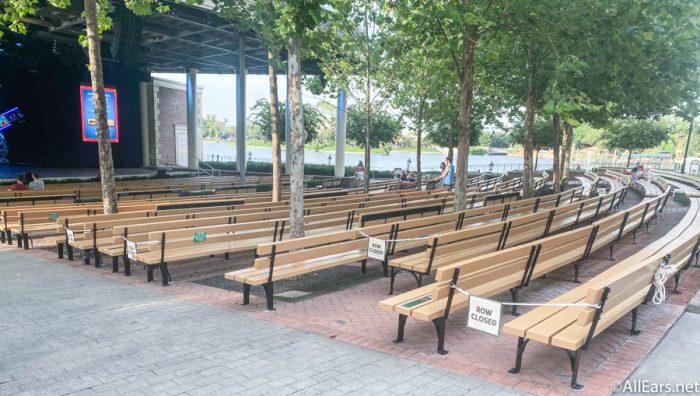 …and blocking off seating areas so there is space between guests who want to watch the show!
Merchandise
You know that when a festival comes around, there can be HUGE waits for merchandise with things selling out left and right. Since big merchandise drops with long waits don't really fit along with the distancing guidelines that are needed, there isn't too much of a giant merchandise haul.
The Spike the Bee Sipper and Spork have flown back, just in time for the Food and Wine Festival…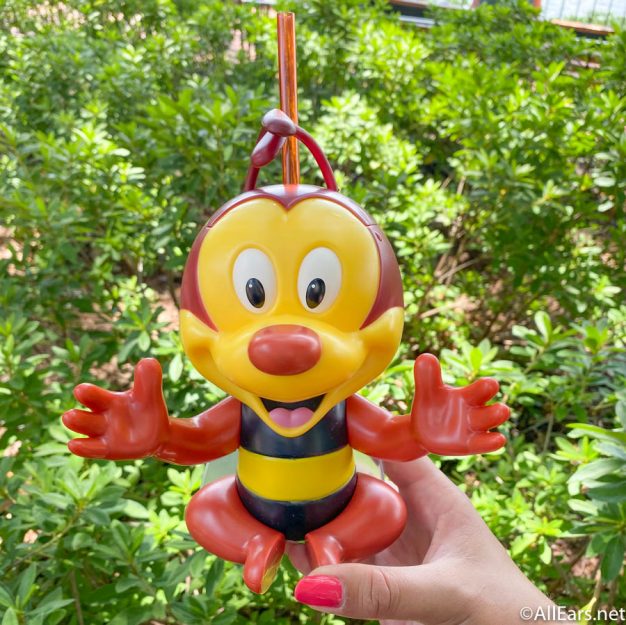 …along with the Orange Bird Sipper we previously mentioned! While these were two of the BIGGEST fan favorites during the Flower and Garden Festival, we're happy to see them back for more guests to pick up during Food and Wine.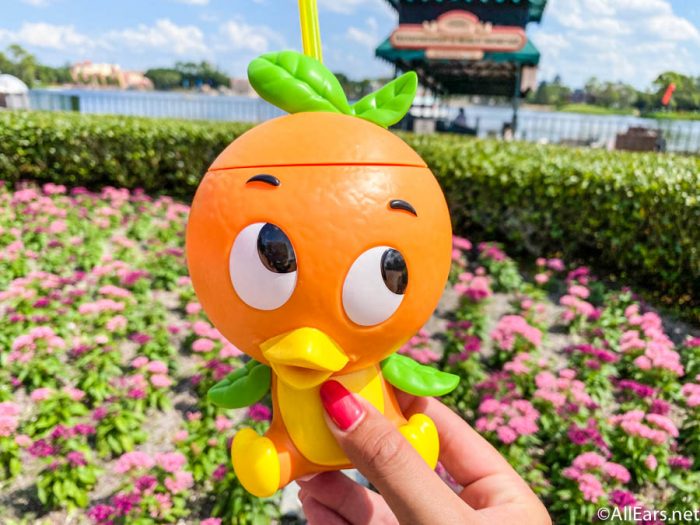 Although it's been totally unique and new to see two festivals combined in one for the first time, we have to say that we've really enjoyed it. While this year's Food and Wine Festival isn't the same as before, we definitely have grown to love the differences that Disney has put in place to accommodate multiple people and keep everyone safe.
Are you planning on attending this year's Food and Wine Festival? Let us know in the comments below!