Epcot is in full bloom for the 2020 International Flower and Garden Festival!
We've scoured the world for all the gorgeous topiaries coming to this year's festival! Read on to find out where you can find these living works of art!
Main Entrance
The entrance is still a bit cramped due to construction, but you'll still be greeted by these lovely Topiary Flowers upon arrival!
Future World East
Heading south, you'll find a tribute to Toy Story in the form of Bo Peep and her sheep, alongside Woody!
Mission: SPACE
The Toy Story tributes continue with an out-of-this world topiary of Buzz Lightyear!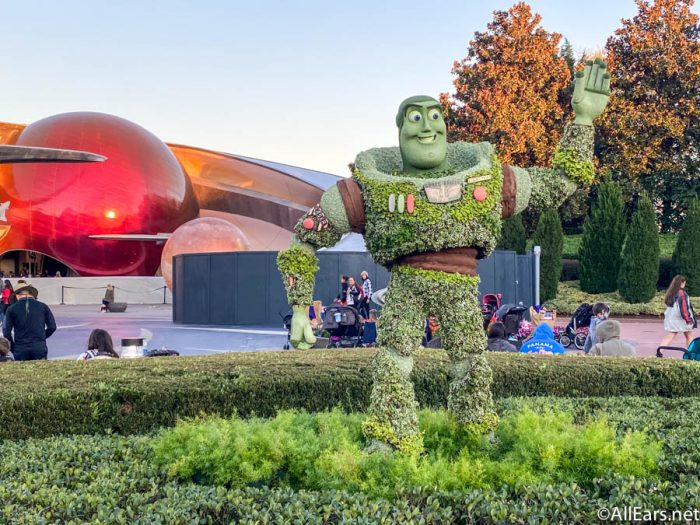 Future World West
Across the Future World Plaza, you can spot these gorgeous Butterflies.
Imagination Pavilion
The Imagination Pavilion has a 2-for-1 special. Of course, you've got to have Figment! It's his ride!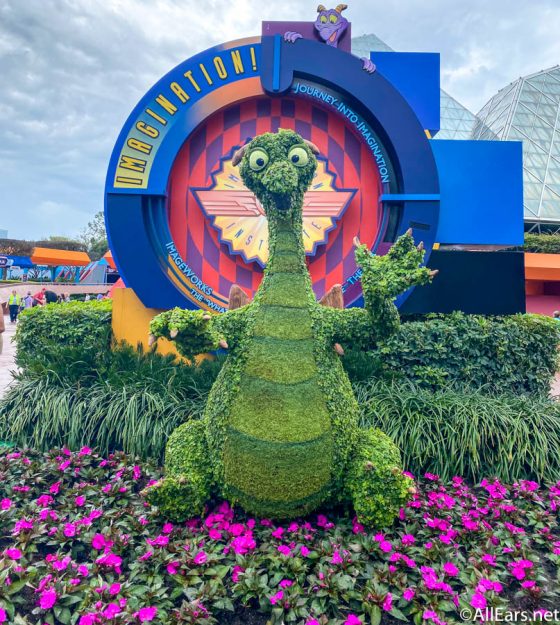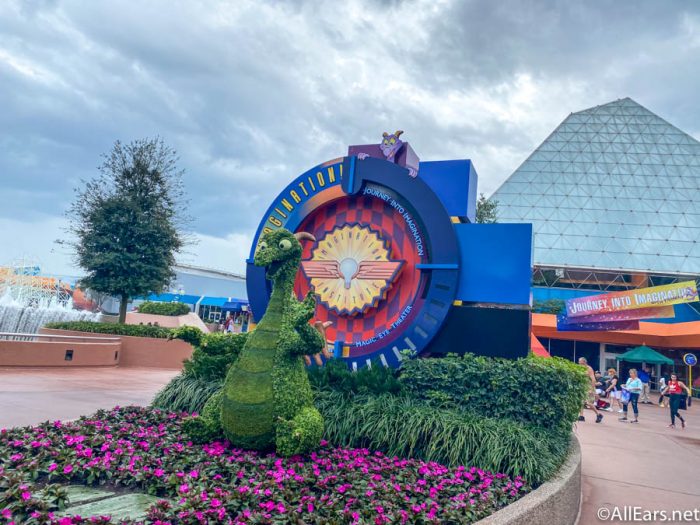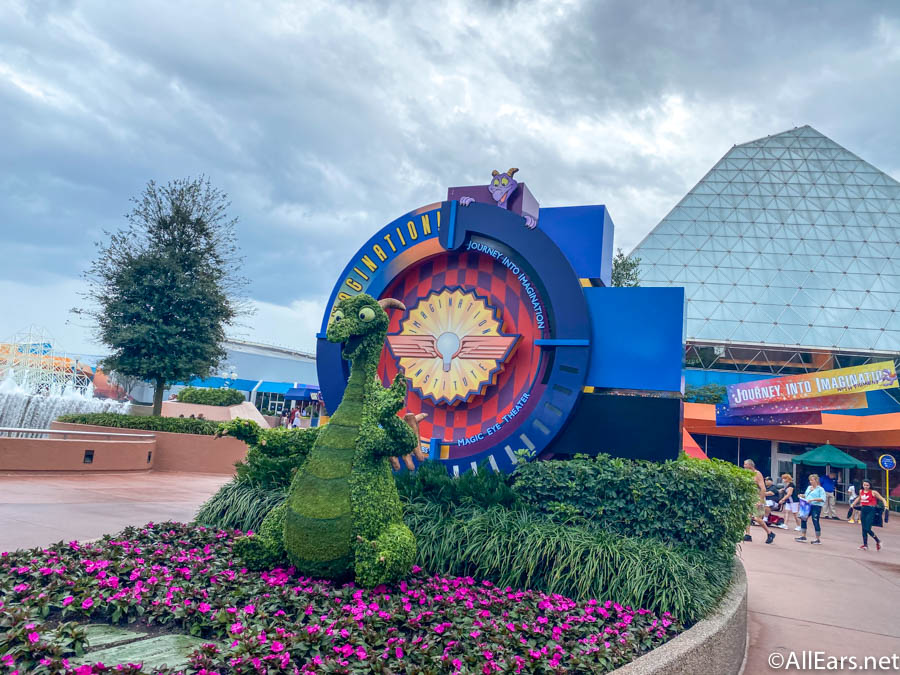 However, you can also spot characters from Fantasia!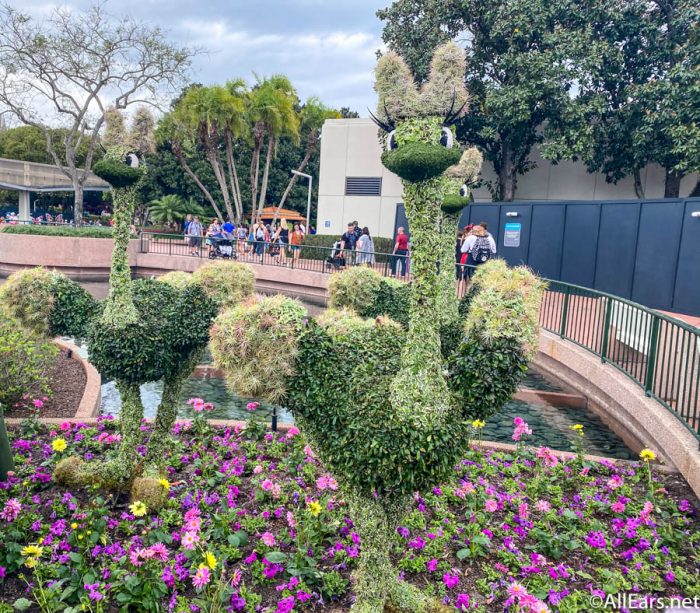 Between Future World and World Showcase
The path between Future World and World Showcase is under heavy construction, and even the topiaries are helping!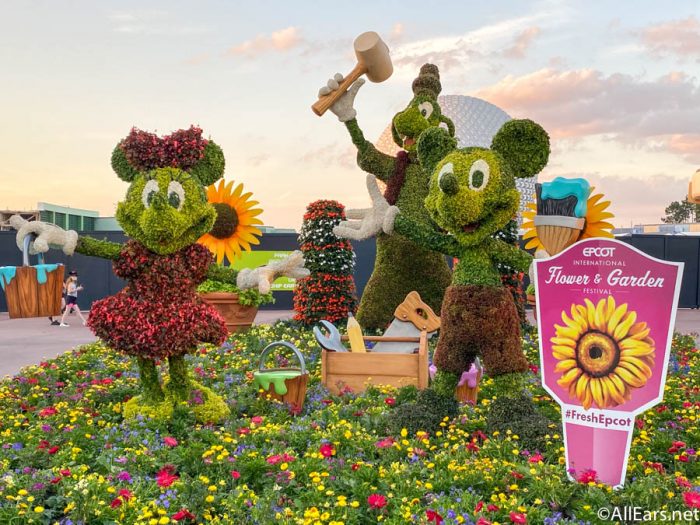 Mickey, Minnie, and Goofy are leading the construction in adorable outfits!
You can also spot Pluto along with Chip and Dale helping out!  Pluto has a measuring tape in his mouth, while Chip and Dale have some nails to help out with construction.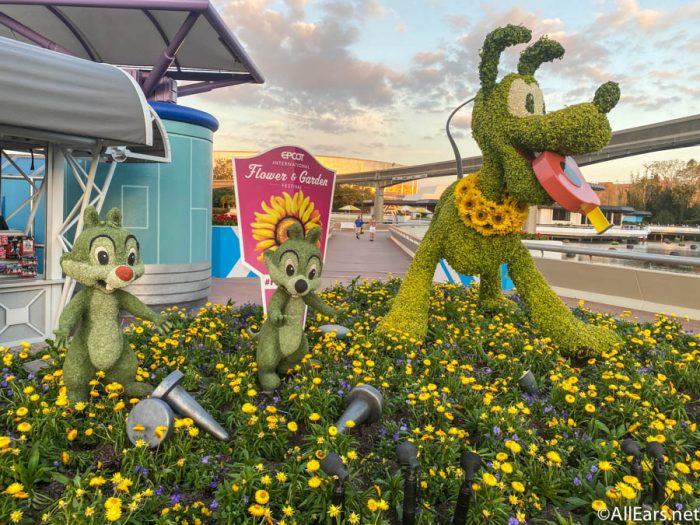 Showcase Plaza
Donald and his Nephews have been a recurring element at the Flower and Garden Festival for years, and while they're not at their usual spot, it's still great to see them again, along with Daisy Duck!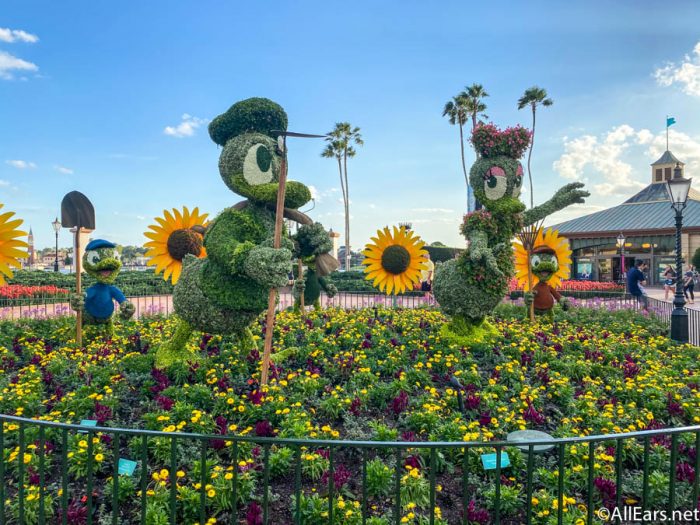 All the Ducks are ready to get some gardening done!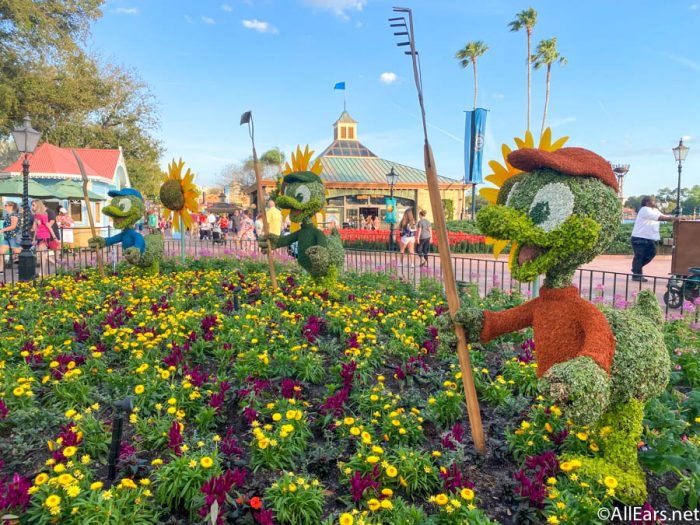 Mexico
Speaking of Donald Duck, The Three Caballeros have set up outside the Mexico Pavilion to entertain guests!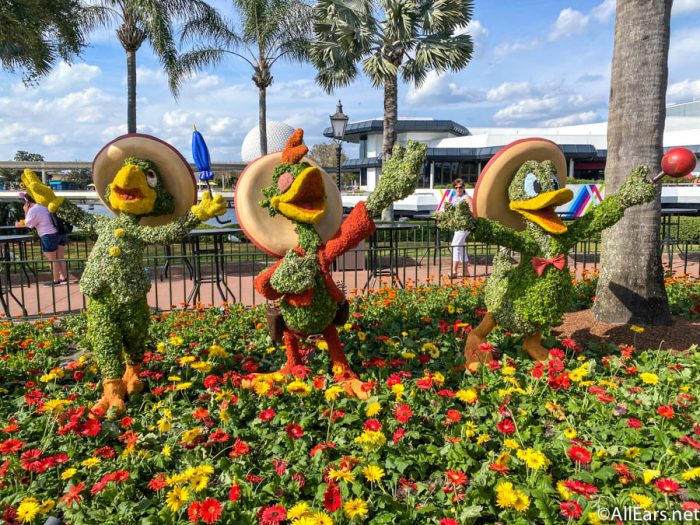 Norway
Anna and Elsa have returned to Norway, as part of Arendelle's complete annexation of the pavilion.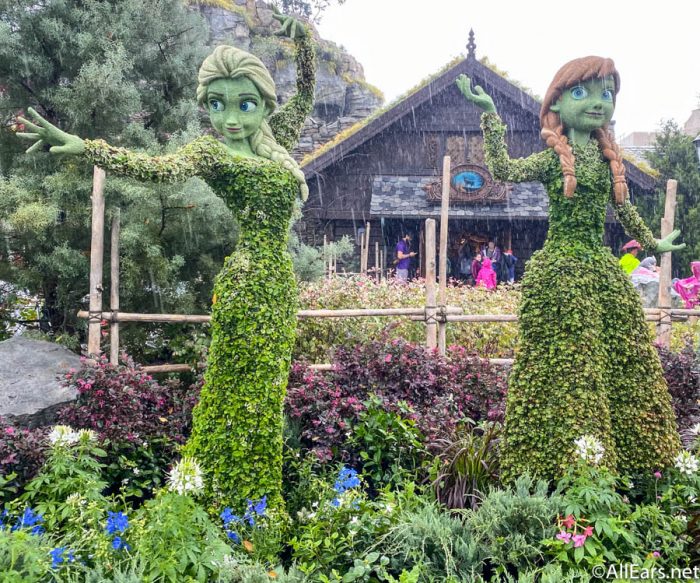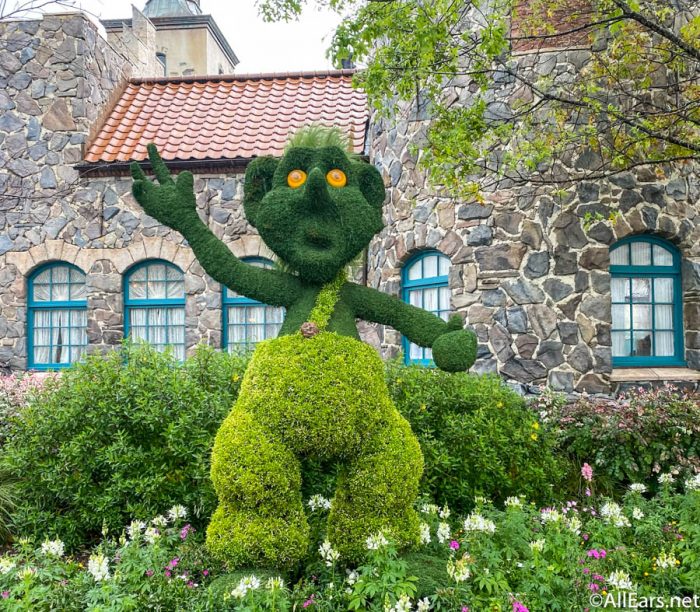 For old-school fans, we've also got a classic Troll to greet guests!
China
China, once again, has positively precious Panda plants playing around the pavilion! Say that five times fast!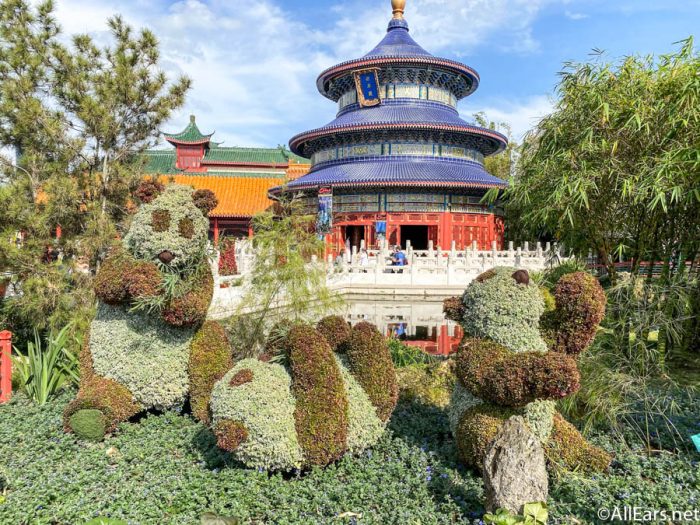 Outpost
The Africa Outpost has a Lion King themed topiary to greet you as you round this corner of the Circle of Life.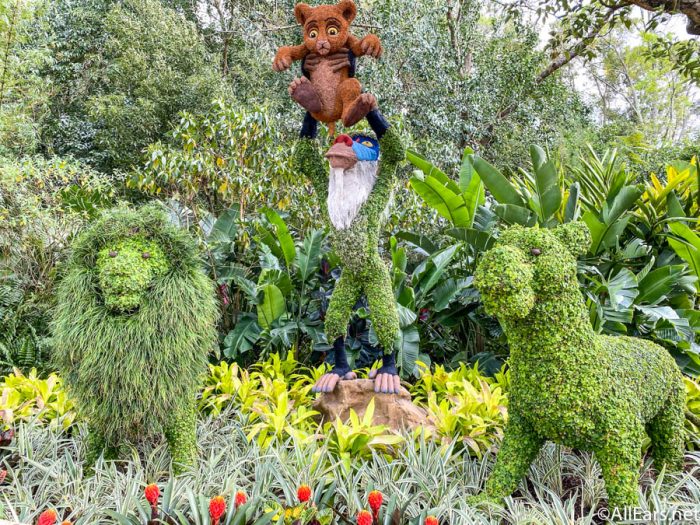 Germany
Snow White and Dopey return to Germany, dancing to a silent, but undoubtedly Silly song!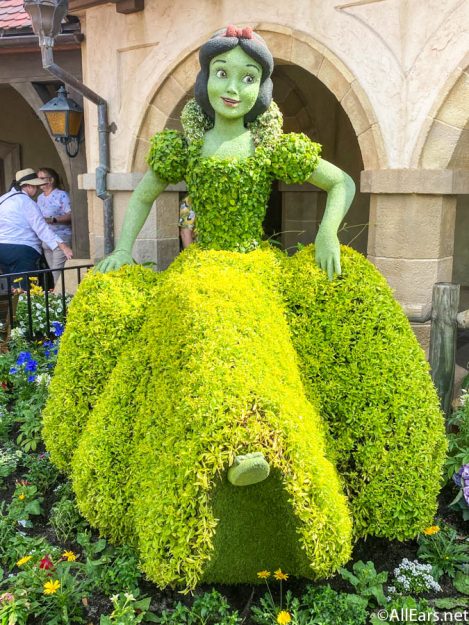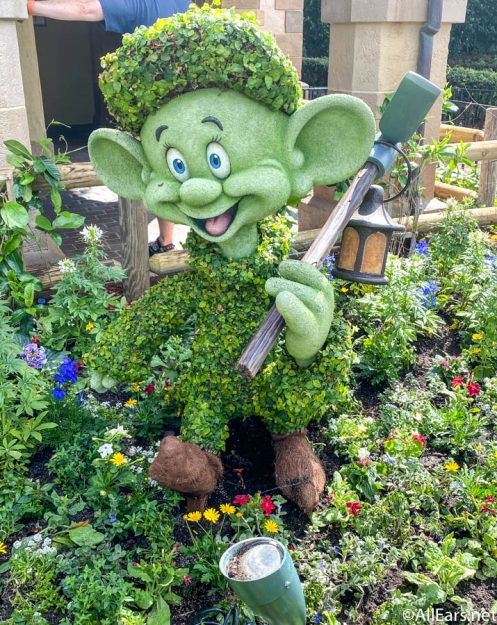 Italy
It'll be a Bella Notte as you visit Lady and the Tramp; the greatest dog romance of our time!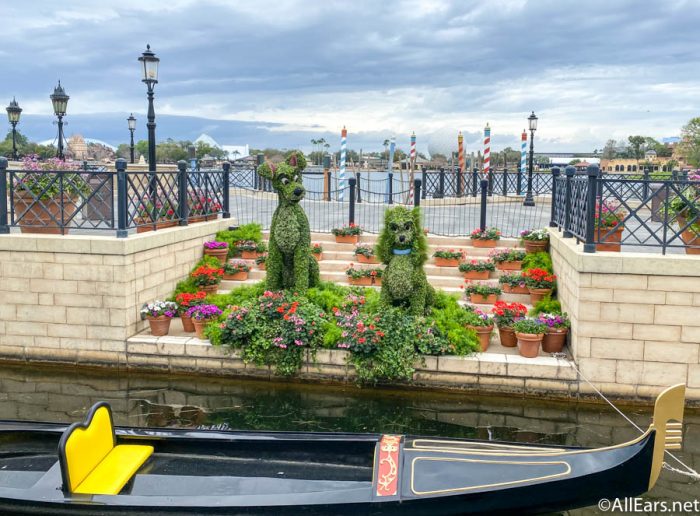 Japan
Over in Japan, an eastern dragon has taken flight in the garden!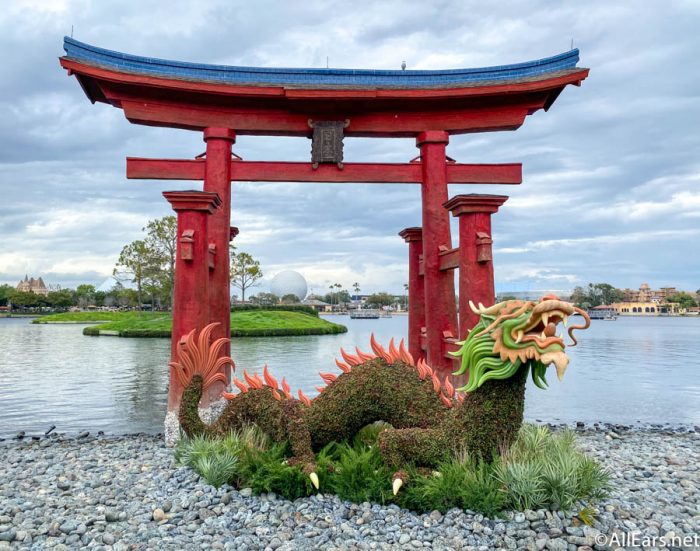 The dragon used to be a resident of the China pavilion, but was redesigned and relocated for this season!
France
France is another 2-for-1 special, with Belle and the Beast returning to the pavilion!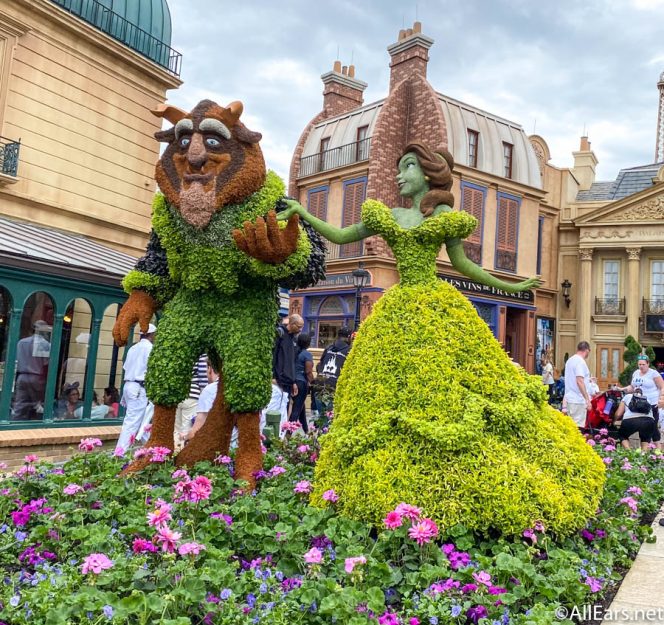 However, to celebrate his upcoming attraction, Remy has been given a place of honor at the pavilion!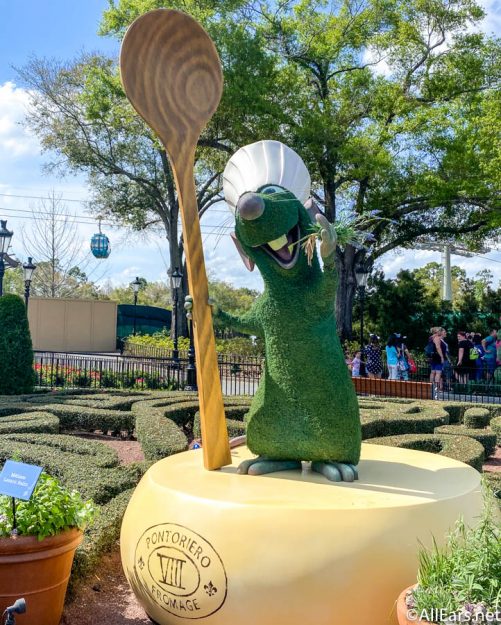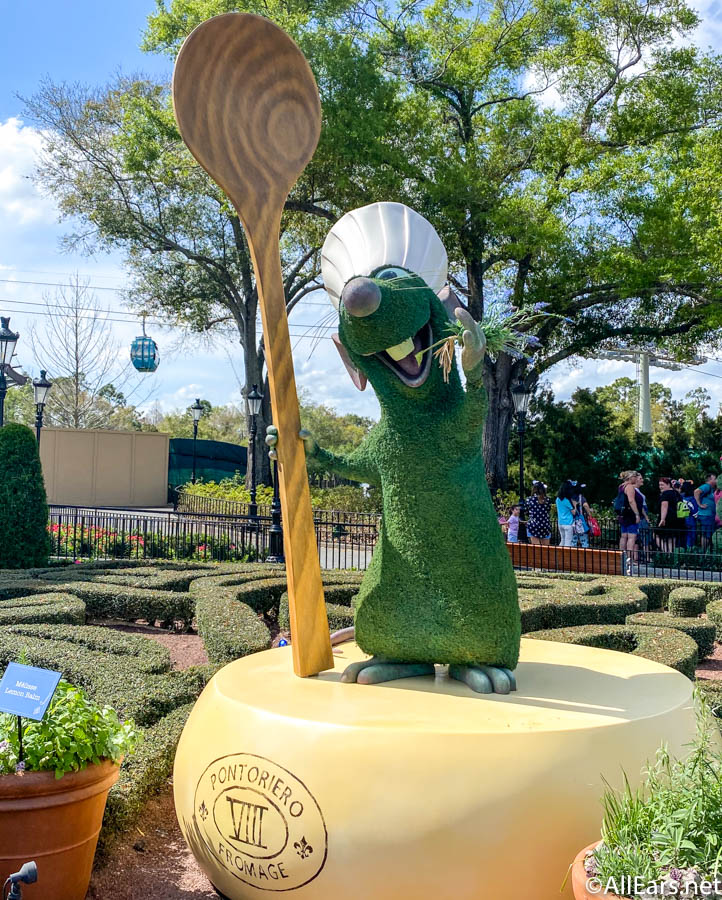 United Kingdom
The UK is packed with plants this year with three different topiaries! Peter Pan and Captain Hook make a surprise return, with Peter sporting a handsome new mug.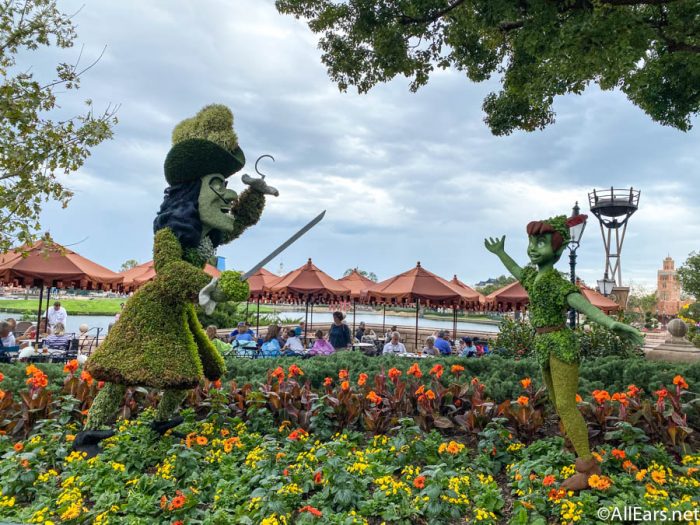 And find Tinker Bell back in the pavilion near the stage!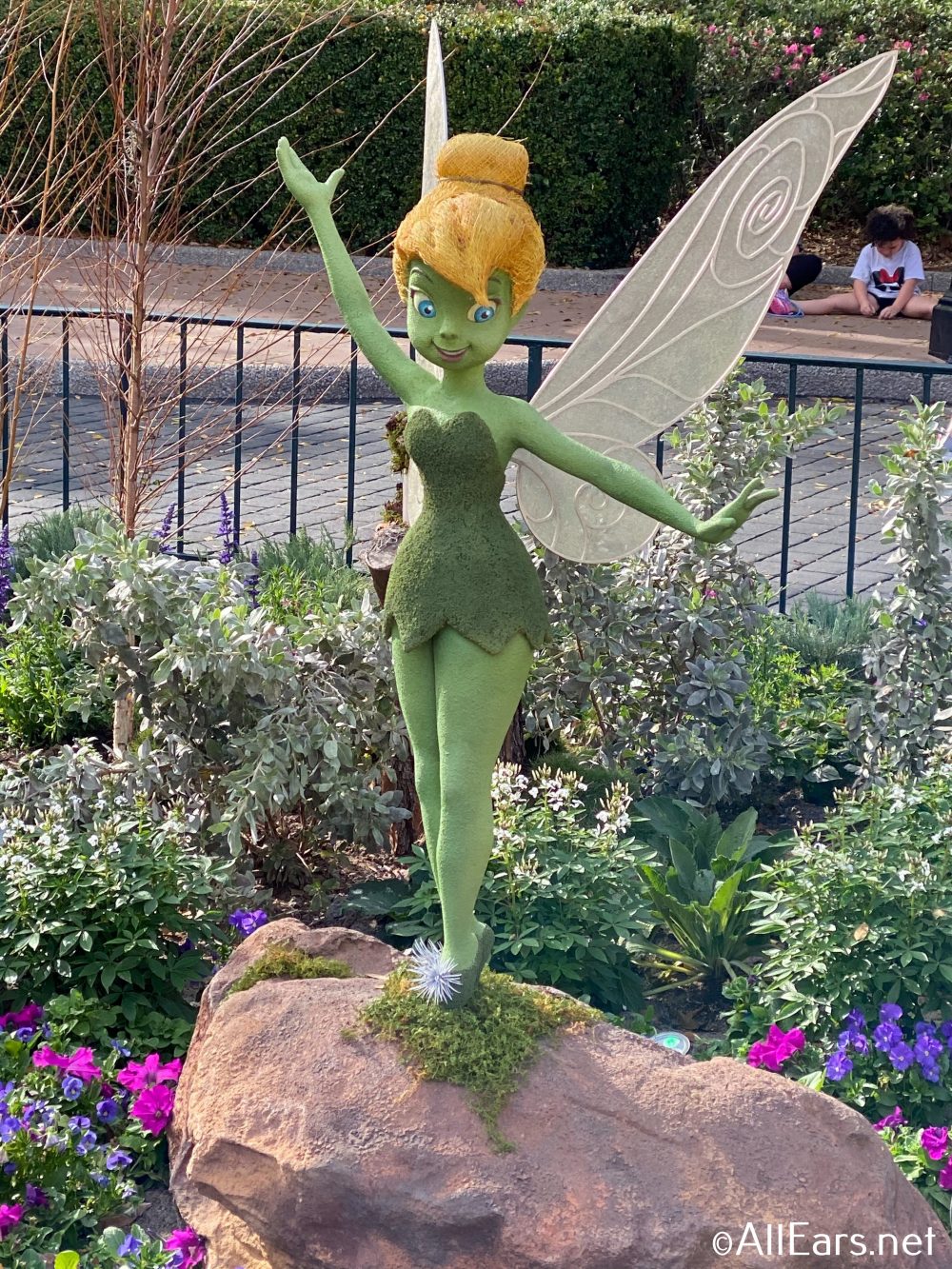 Winnie the Pooh and Friends also make an appearance, having been flown in from the 100 Acre Wood.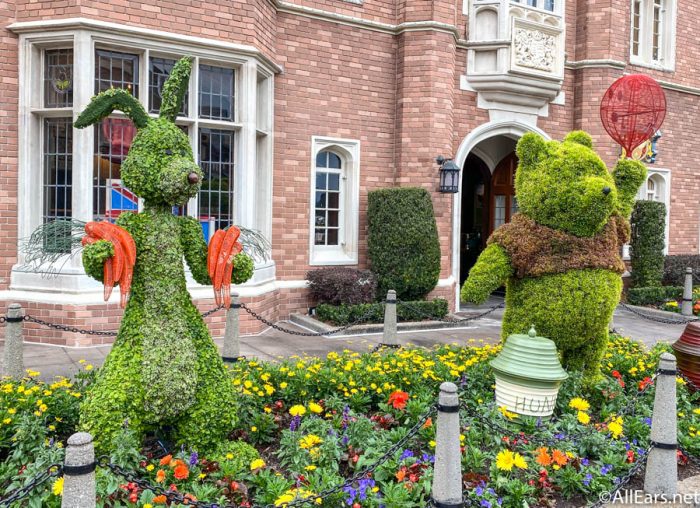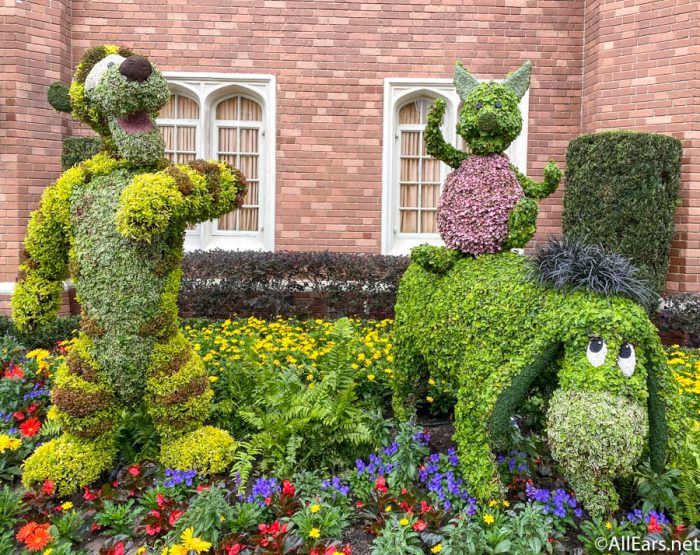 Finally, Kermit and Miss Piggy make a surprise appearance as you pass into the Canada pavilion!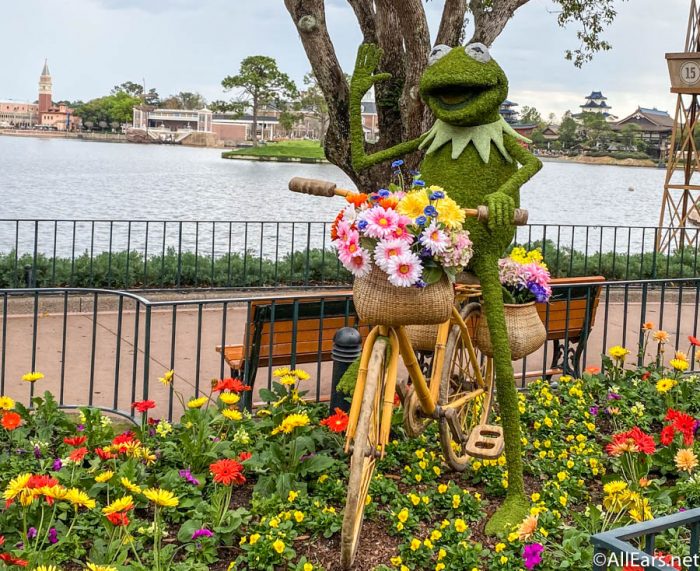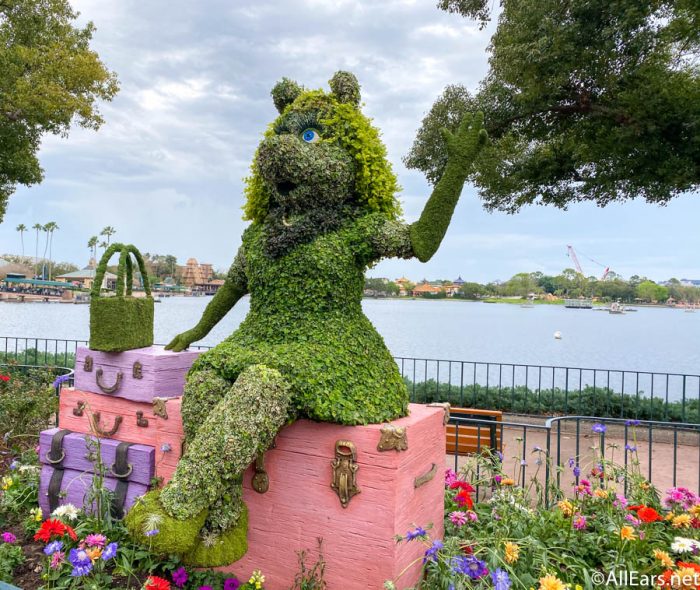 Canada
Finally, Bambi, Thumper, and Flower are frolicking in the gardens of Canada!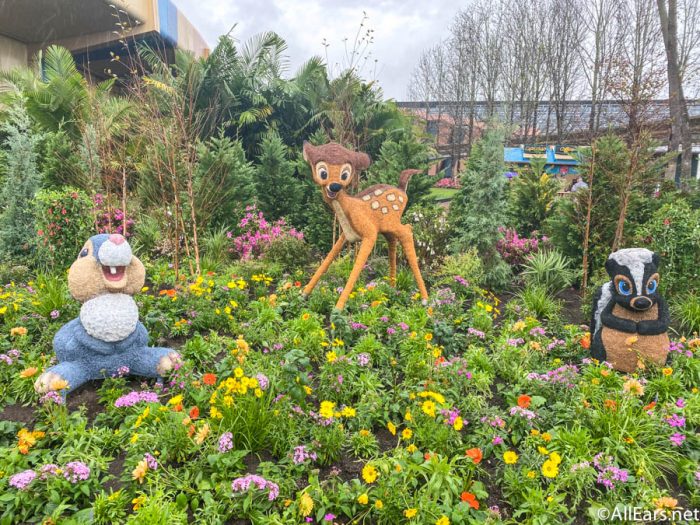 Which of these topiaries is your favorite? Did any beloved classics get dropped this year? Let us know in the comments!