You've been in Magic Kingdom all day, eating Mickey-shaped ice cream and watching the Festival of Fantasy parade. Your voice is almost gone after screaming at the top of your lungs on Space, Splash, and Big Thunder Mountain. You hugged Mickey, chuckled at terrible jokes on Jungle Cruise, and had corn dog nuggets at Casey's Corner. Now you've got your popcorn and you're ready for the perfect finale to a magical day: It's time for the Disney Enchantment fireworks show!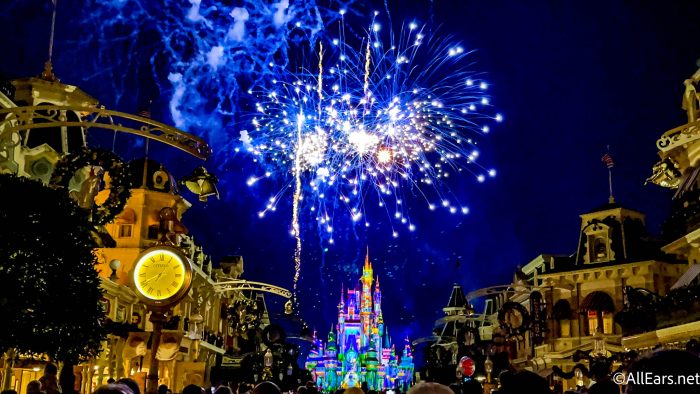 But you don't just want any seat for the show — you want the BEST possible spot to watch the fireworks and projections. How do you know where to go for the best view and experience? That's where we come in.
This is our complete guide to finding the best spot to watch Disney Enchantment (the Magic Kingdom fireworks show), based on your priorities when it comes to nighttime spectaculars. Is your favorite part the fireworks themselves? Do you want to see all the new projections? Or do you just want to be as comfortable as possible? Whatever is most important to you, we've got the answer for where you should be to have a stellar Enchantment-watching experience.
For the Best Fireworks Views
All of the fireworks go off from behind Cinderella Castle, but for the best fireworks-watching experience, you don't want to be TOO close to the castle. Some of the fireworks in this show are BIG, so if you're too close, you'll find yourself craning your neck to get a good view.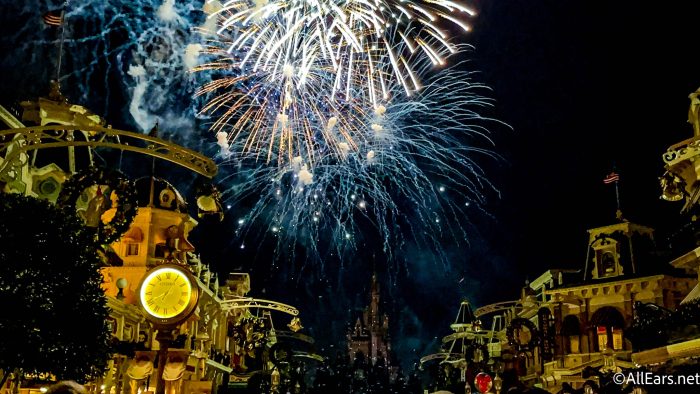 The best spot for fireworks watching is just behind the hub (on the side opposite the castle), close to the start of Main Street, U.S.A. Try to be in the middle of the road if possible — not too close to the buildings on either side — so that you have an unobstructed view of the castle and all the fireworks around it.
If you go back a little ways (maybe 20 yards down Main Street), you'll also be in a good position to see some of the projections down Main Street while still getting prime fireworks views. However, moving too far back will make it tough to see the projections on the castle itself, so you'll need to make that decision based on which projections you'd rather see more.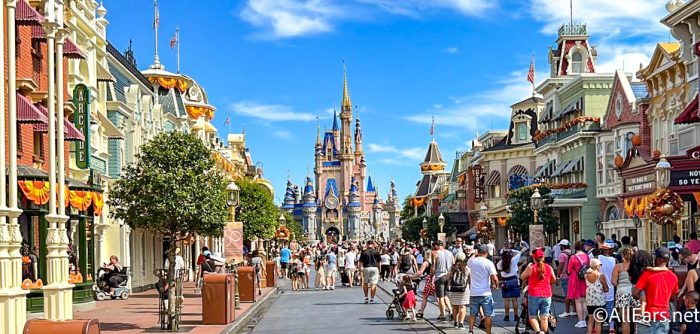 One of the downsides of this spot is that the crowds are going to be very dense. It's prime Enchantment-watching real estate, so you'll be surrounded by lots of other viewers. Elbow room? Yeah, that's not a thing here. But for awesome fireworks views, the tight crowds might be worth it!
For the Best Projections Views
Enchantment is the first Disney World show to have projections go all the way down Main Street, U.S.A., and that experience of being surrounded by Disney scenes is pretty cool. If you've never seen this show before and you want to focus on what makes it really different from past Disney fireworks shows, try to find a spot right in the middle of Main Street.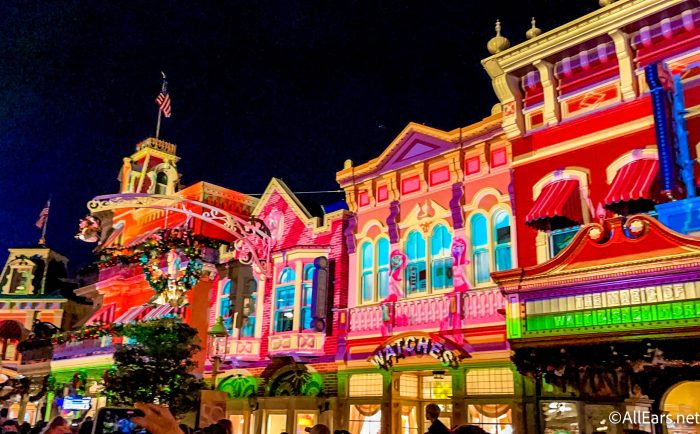 There will be projections on Cinderella Castle and on all the shops down Main Street. It can be a little tricky to find a good spot to see both sets of projections (on the castle and on Main Street), but if you're near the top of Main Street (closer to the castle) and right in the middle of the road, you should be able to see a little bit of everything.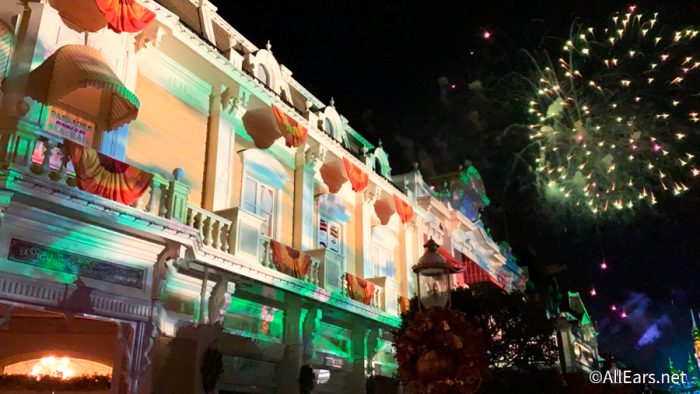 Try to be close to Casey's Corner and the Plaza Ice Cream Parlor so that you can look forward to see the castle but also look back to see all the Main Street projections, too.
The sidewalks in the hub are a great spot for the castle projections, but make sure you're standing a little to the left or right (not dead-center) so that the Partner Statue of Walt and Mickey isn't obstructing your view.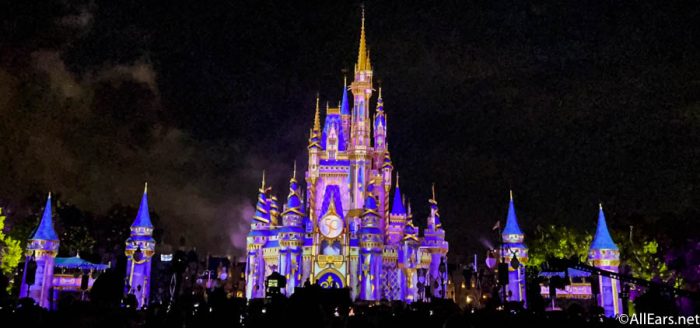 Plus, if you're up on a sidewalk, you'll be a couple of inches taller than the people in front of you on the street. We'll take all the help we can get for great views!
For the Most Comfortable Experience (If You Want to Splurge)
We tried the fireworks watch party at Disney's Contemporary Resort, which includes some snacks and drinks as well as views of the show from a private deck at the resort. While this isn't the most immersive experience (you can't see the projections at all from here), the fancy vibes and fireworks views are pretty impressive.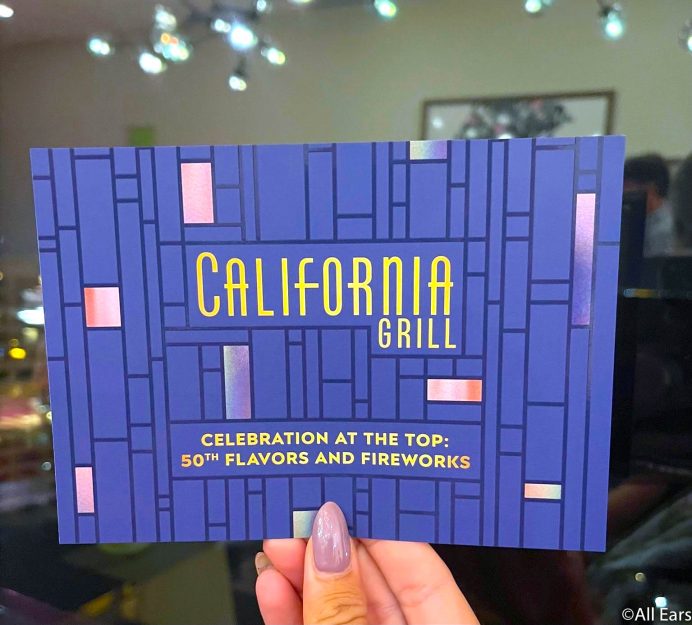 The snacks include sushi, small bites, favorite dishes from the California Grill menu, desserts, and even some "odes to Disney's past." Guests 21 and older can also order drinks from the complimentary bar. At showtime, you'll have access to a private deck just for guests of Celebration at the Top, with a view of Disney Enchantment.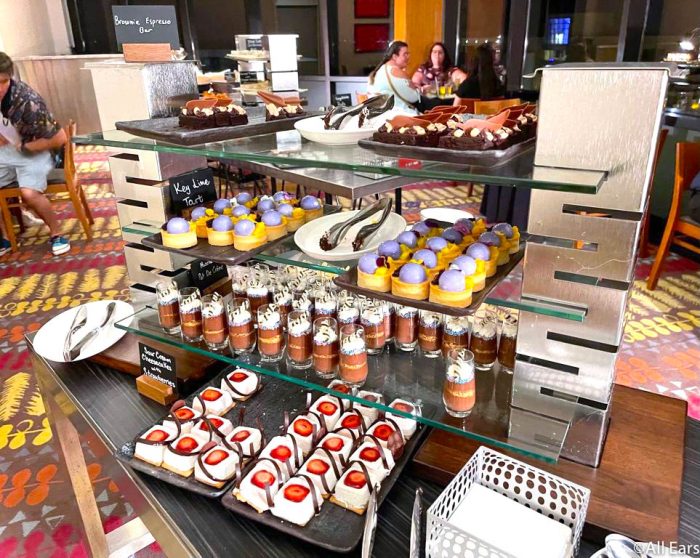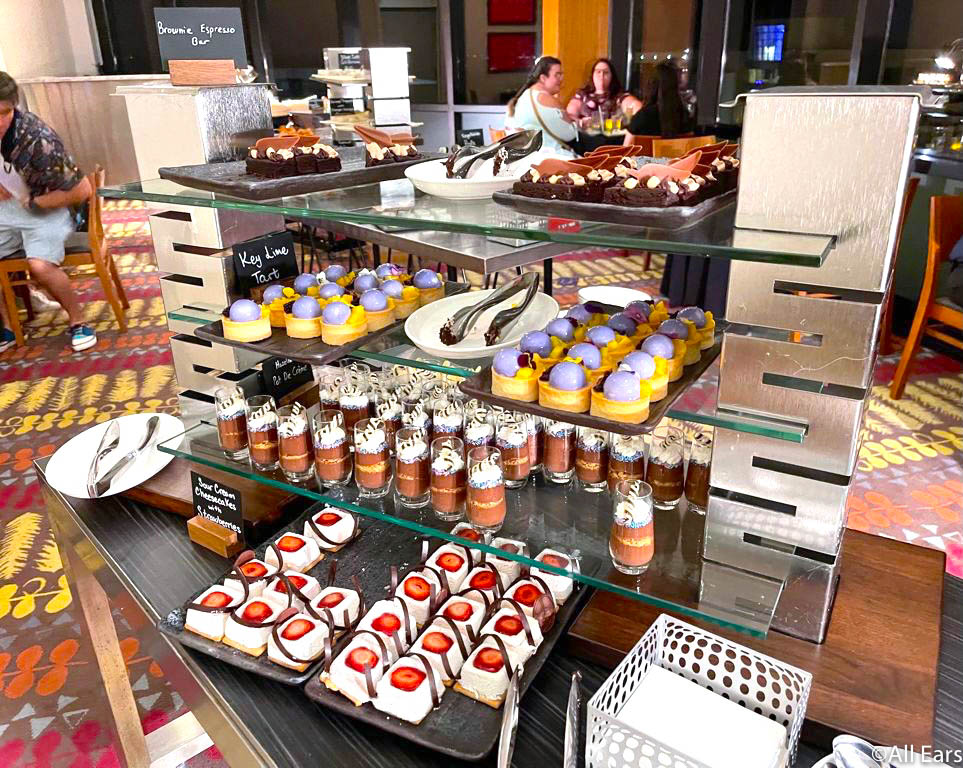 If you're OK with a birds-eye-view of the fireworks and no view of the projections, this might be a good option. The music from the show is also piped in, so that part of the experience is still there. And if your priority is comfort (without concern for expense), there's no better choice. Plenty of space, a cocktail and dessert in hand, no crowds rushing out after the show —  sounds pretty sweet.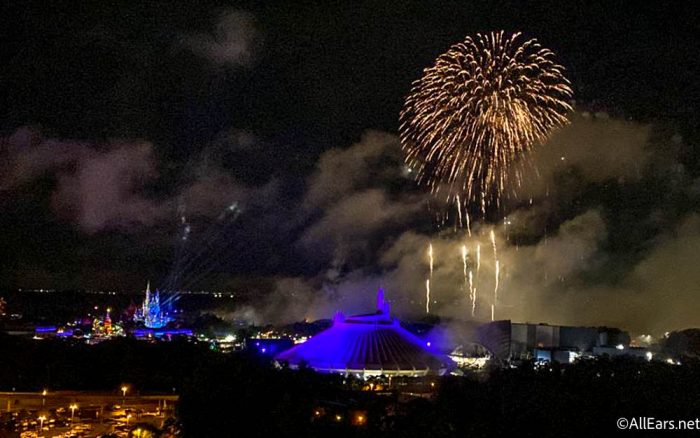 The only problem is the price tag — the Celebration at the Top: 50th Flavors and Fireworks party is $129 per person. It comes with a cocktail hour before the show, a viewing area for Enchantment, and a dessert party afterward. But if you're going with a group, that cost adds up quickly.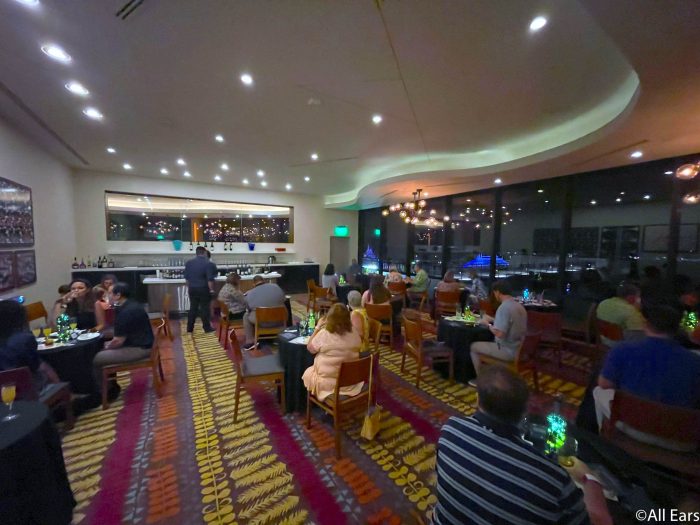 However, if you want to make a special night of it or you're celebrating an occasion, this is one way to turn the fireworks show into an upscale experience. Remember to make reservations ahead of time if you want to attend this party.
For the Most Comfortable Experience (Budget Edition)
If your Disney budget doesn't include an extra $130 for a fancy fireworks party, don't sweat it. You can still have a comfortable experience inside Magic Kingdom without paying extra!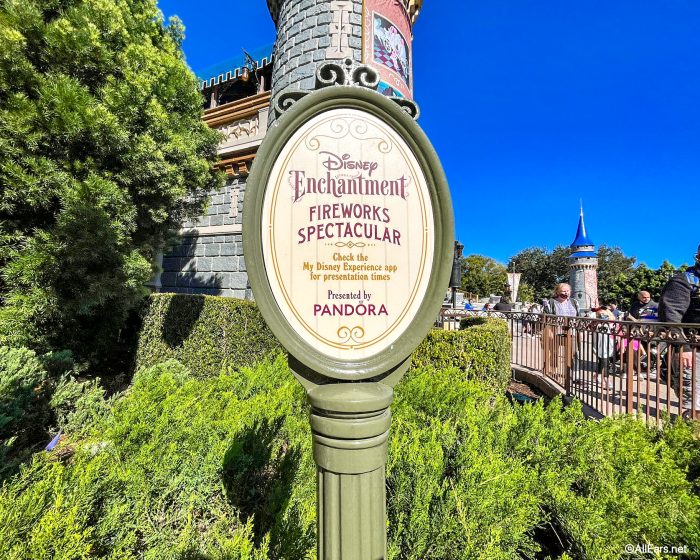 To avoid the crowds and get a more chill fireworks-watching experience, we like to head to a side street instead of staying on Main Street. The area by Gaston's Tavern in Fantasyland doesn't usually get crowded at all, and you can find a spot to sit down and enjoy the music and fireworks.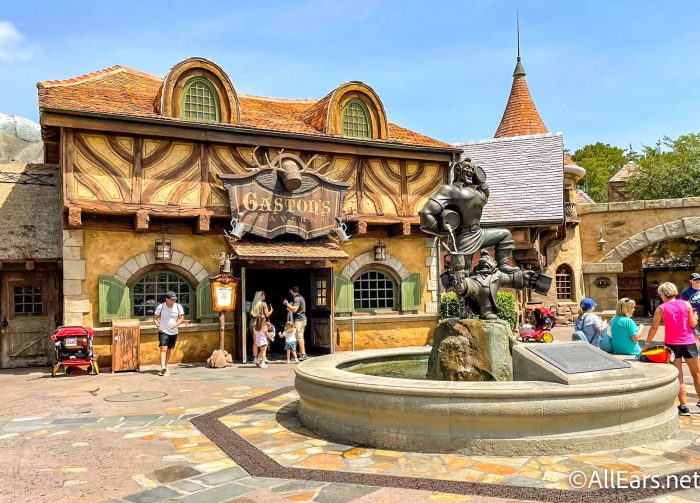 Note that these side streets do NOT have projections, so you can't really experience that part of the show (the same problem that applies to the Contemporary Resort watch party). However, you can still see the fireworks, and if your goal is to avoid huge crowds, the quieter atmosphere might be worth that sacrifice.
Bonus Tips
Here are a few more tips to keep in mind as you stake out your Disney Enchantment-watching spot:
Make friends with a trash can (yes, we're serious). If you're going to be on Main Street, U.S.A., you can expect minimal personal space as there are usually BIG crowds of people trying to get a good view. If you can stand near a trash can, you'll at least have a little bit of elbow room on that side, and it might make a handy table if you brought along a snack!
Commit to the show. You'll want to find your spot about 45 minutes before Enchantment begins if the show is a big priority to you. If you're interested in the show but not dying to get the best view, don't worry too much about staking out a spot at all. There is plenty of room to get a decent view, even if it gets a bit crowded.
Bring a snack. You can grab a Dole Whip, hot dog, Mickey pretzel, or whatever other treat you want to bring on your way to your viewing spot. What could be more magical than watching Enchantment while munching on your favorite Disney snack?
Be a nice human. We know it can be stressful to be surrounded by crowds who are all jostling for the best spot. But try to remember to be polite and considerate during the show. We get that you'll want to take pictures, but try not to have your phone or camera right in someone else's view. And if there are little kids around you, we know they (and their parents) will really appreciate it if you let them stand in front.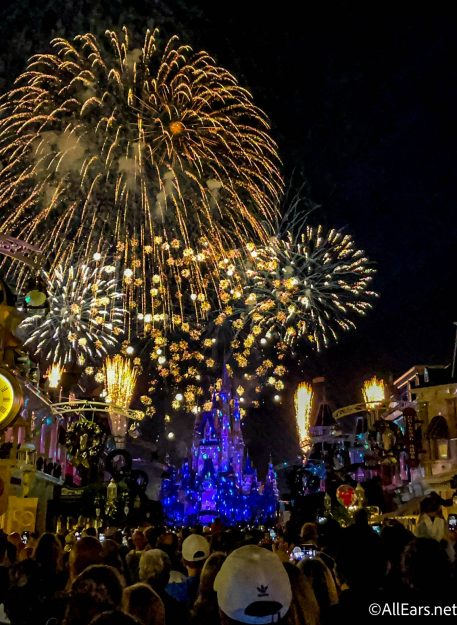 Now you're ready to have the best possible experience while watching Disney Enchantment in Magic Kingdom! To find more tips on planning your upcoming Disney World vacation, keep following AllEars.
What's your favorite fireworks-watching spot in the Magic Kingdom? Let us know in the comments.