Those of us who can't get to Disney World every day spend a lot of time craving our favorite food from our favorite Disney World restaurants.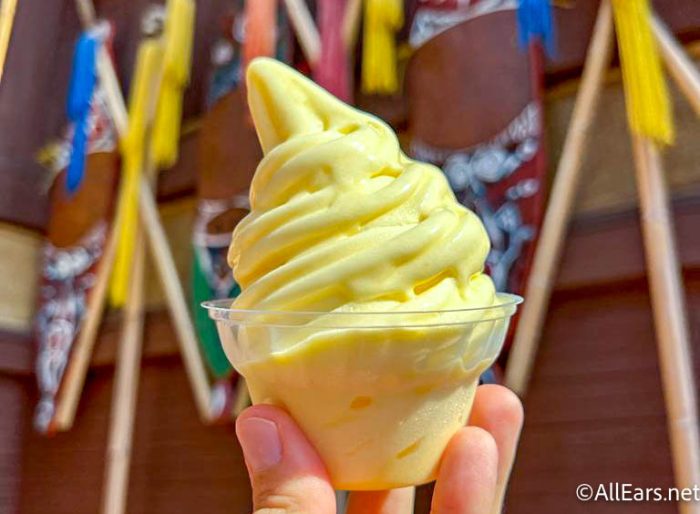 So how can you satisfy those cravings WITHOUT booking a trip to Disney World every time they come up? You can make a lot of Disney World's BEST snacks and meals AT HOME. So here are some of the best recipes from Disney World's most popular dining locations.
Butternut Squash Soup
BOMA has a great selection of soups, but we always go back for seconds for that butternut squash soup — and it's easy to make it at home! Serve it  with flatbread to relive some of your favorite BOMA memories.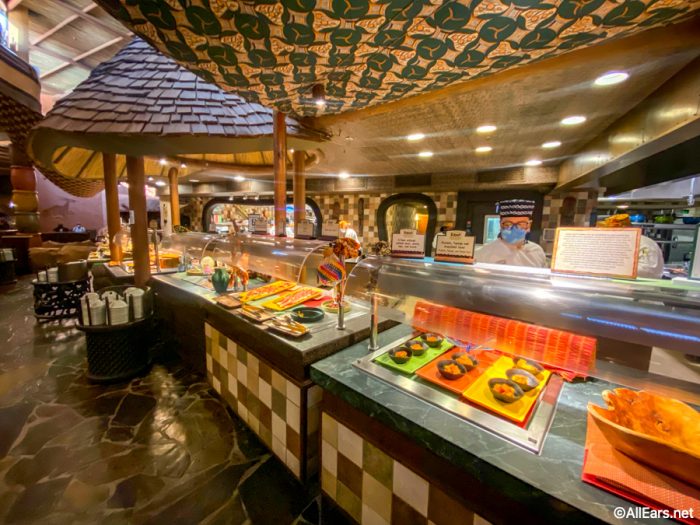 Ingredients
3 ounces Unsalted Butter
11 ounces Butternut Squash, cut in chunks
To taste Salt and Pepper
8 ounces Water
8 ounces Heavy Cream
8 ounces Milk
1 ounce Sugar, adjust if needed
1 teaspoon Ginger
1 teaspoon Nutmeg
1 teaspoon Cinnamon
1 teaspoon Coriander
1 tablespoon Cornstarch
Water
3 ounces American Cheese
Directions
1. In a small pot, melt the butter and pour over the squash. Season squash with salt and pepper and roast in 325 oven for 45 minutes.
2. In a kettle, mix squash with water. Add heavy cream and milk and puree. Add sugar, ginger, nutmeg, cinnamon, and coriander.
3. Make a slurry with the cornstarch and add to the soup.
4. Add the American cheese and continue mixing until smooth.
5. Adjust seasoning.
Ooey Gooey Toffee Cake
If there is one dessert we DREAM about when we're not at Disney World, it's the Ooey Gooey Toffee Cake from Liberty Tree Tavern.  This delicious concoction can be made at home, and it would make a great addition to your holiday dessert repertoire!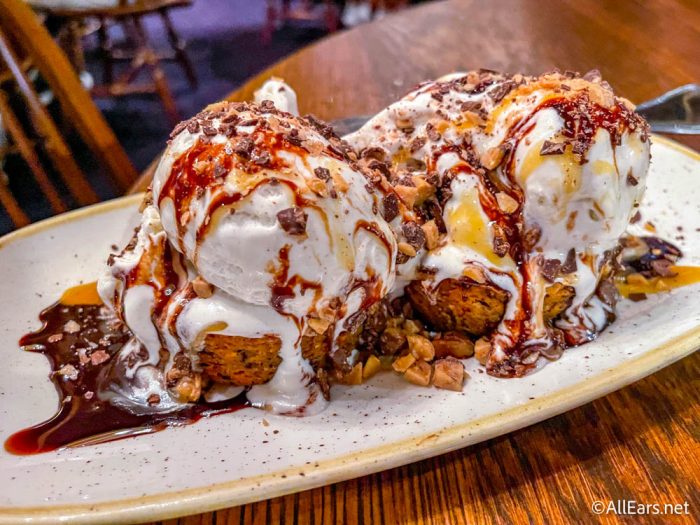 Cake Bottom
Ingredients
1 box yellow cake mix
1 each, egg
1/2 cup butter (1 stick)
Directions
Mix ingredients and put in a greased baking pan 13″ x 9″.
Cake Filling
Ingredients
8 ounces cream cheese
3 each, eggs
1 teaspoon vanilla extract
1/4 cup butter
1 cup semi-sweet chocolate chips
1 cup Heath bar pieces
1 pound powdered sugar
Directions:
Put cream cheese in mixer.
Slowly add eggs and vanilla.
Add butter and mix well.
Put in powdered sugar, then add chocolate chips and toffee pieces.
Just mix; do not over mix.
Put on top of Cake Bottom in pan.
Bake at 325 for 35 minutes, then check.
Bread and Butter Pudding
If you love bread pudding, you can't beat it when it comes from Raglan Road. There's just something extra special about this dessert. So here's how to make it at home.
Ingredients
1 loaf Pullman or Texas toast
1 pound Kerry gold butter softened
1 pound Sugar
1 quart Crème anglaise (see below)
1 cup Raisins soaked in Irish mist or water
Directions
Combine the sugar and butter, spread evenly on the bread slices to make sandwiches, stack together and cut of the crust.
Cut the "sandwiches" in ½ on an angle (from corner to corner)
Butter the inside of 8 oven proof cups or preferred baking dish. One by one dip the "sandwiches" in the anglaise and place in the baking dish, layer the bread and a sprinkling of soaked raisins as you go until done.
Bake covered in a Bain Marie at 375 degrees for 35 minutes until it rises a bit. Remove the cover and bake an extra 10 minutes until slightly brown.
Carefully remove from the oven and allow to cool slightly serve warm or at room temperature with anglaise and caramel sauce.
Sauce Anglaise
Ingredients
6 each Egg yolks
2 cups Sugar
1 each vanilla bean split or a teaspoon vanilla extract
1 quart Heavy cream
Directions
Heat up the cream and the vanilla bean on the stove until it almost starts to boil. Meanwhile combine the egg yolks and sugar in a bowl and whisk well.
When the creams reaches the almost boiling point, turn off and remove the pot from the flame. Temper the yolks, by ladling a small amount of cream to the bowl and mixing well. Then add the yolk sugar mixure to the cream, whisk well so that it does not curdle. Place over a low flame for 2 minutes whisking until it starts to thicken. Strain and allow to cool at room temperature.
Breakfast Pizza
Sure, we go to Chef Mickey's to have breakfast with Mickey and all his friends, but we do love that breakfast pizza you can get. This one is fun, too, and perfect for making with young 'uns.
Ingredients
1 pre made multi grain pizza crust
½ cup of ricotta cheese
½ cup cheddar cheese – shredded
½ cup mozzarella cheese – shredded
¼ cup half & half
2 each eggs – scrambled & cooled
4 each strips of bacon – pre-cooked & chopped
Salt & Pepper
Directions
Preheat oven to 350º. Scramble two eggs, after cooked place on a paper plate place in freezer to cool down quickly. Once cooled, place in bowl add salt, pepper and mix in half and half. Set aside.
Take the ricotta cheese and add salt and pepper. Spread ricotta cheese mixture over pre made crust, sprinkle both of the cheeses over the entire pizza. Next sprinkle the scrambled egg mixture and chopped bacon over the entire pizza.
Bake at 350º for approximately 10 – 15 minutes until cheese is melted and golden brown.
'Ohana Bread Pudding
There is nothing more famous in all of Disney World than 'Ohana Bread Pudding, and for good reason — it's scrumptious. Warning about this recipe: once you learn how to make it at home, you're going to want it ALL the time.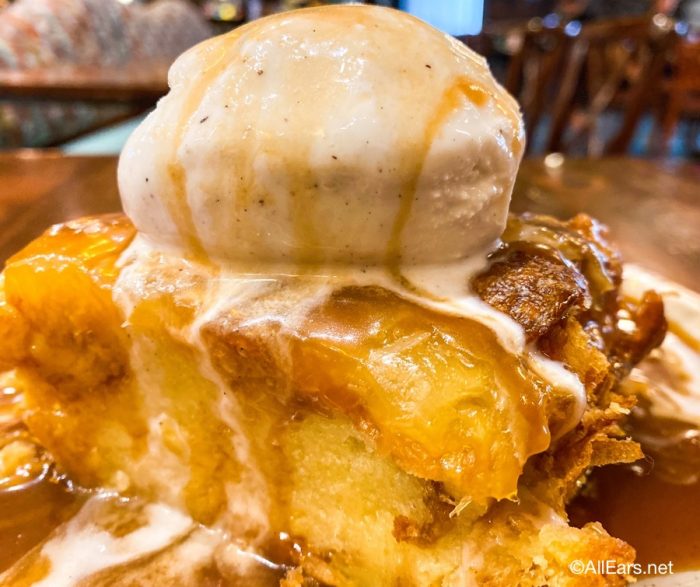 Ingredients
5 eggs
3 cups whole milk
1/2 tsp salt
1/2 tsp nutmeg
1 1/2 cup sugar
8 cups french or 'Ohana breakfast bread
Directions
In bowl mix eggs, milk , salt, sugar and nutmeg. Set aside.
Cut bread in medium pieces, place on cookie sheet pan put in 350 degree oven.
Bake bread until lightly toasted, about 15 minutes. Remove bread and place in egg and milk mixture.
Place mixture in a greased 10-inch cake pan and bake at 325 degree for 1 hour.
Let stand 5 minutes, serve hot with ice cream.
Bananas Foster Sauce
Ingredients
4 oz sugar
4 oz brown sugar
4 oz corn syrup
4 oz unsalted butter
1 cup heavy cream
1 tsp vanilla extract
1 cup spiced rum
1 cup banana slices
4 oz sugar
4 oz brown sugar
4 oz corn syrup
4 oz unsalted butter
1 cup heavy cream
1 tsp vanilla extract
1 cup spiced rum
1 cup banana slices
Directions
Combine sugar, brown sugar, corn syrup, butter, and half of heavy cream in a large pan. Bring to a boil and slowly add remaining heavy cream keeping mixture at a steady boil.
Add spiced rum and flambe.
Candy will brown slightly; cook 3 minutes until candy forms into a firm ball in cold water. Remove from heat and add vanilla. Add sliced bananas. Serve warm.
Try The Grey Stuff — it's delicious! Now you don't have to get those reservations for Be Our Guest because you can make The Grey Stuff at home!
Ingredients
1 1/2 cups cold whole milk
1 (3.4 ounce) package instant vanilla pudding mix
15 chocolate sandwich cookies
1 (8 ounce) container whipped topping, thawed
3 tablespoons instant chocolate pudding mix
12 scalloped sugar cookies
Edible sugar pearls
Directions
Pour milk into large mixing bowl. Add instant vanilla pudding mix and whisk for 2 minutes until smooth and slightly thickened. Place in the refrigerator for 1-2 hours, until firm.
Place chocolate sandwich cookies in food processor and pulse until puréed.
Fold puréed cookies into pudding mix. Stir until fully mixed.
Add whipped topping and instant chocolate pudding.  Stir until fully mixed.
Place in refrigerator and chill for one hour.
Spoon grey stuff into piping bag fitted with desired tip. Pipe grey stuff onto cookies. Top with sugar pearls.
Those lunch box tarts from Woody's are like Pop Tarts, but better, so instead of settling for regular old Pop Tarts, just make the Woody's version at home!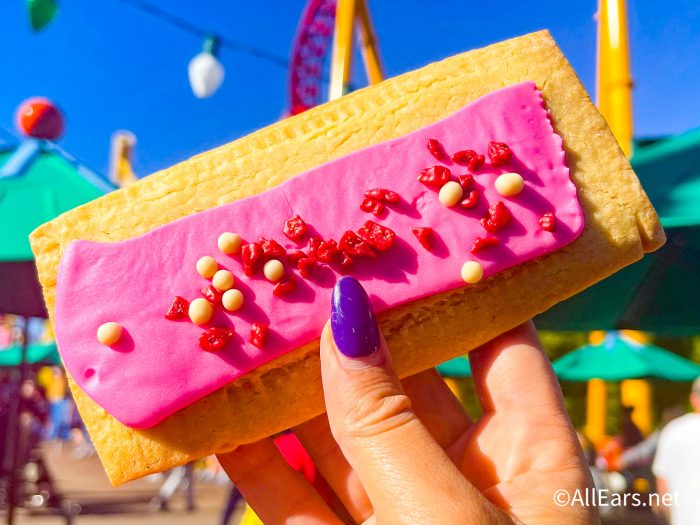 Tart
1 puff pastry sheet or pie crust rolled out
fruit jam (choose your favorite or mix a few together!)
1 egg
1-2 tablespoons of milk
Icing
2 cups powdered sugar
¼ cup low fat milk
½ teaspoon vanilla extract
food coloring, of choice
sprinkles, optional
Directions
Pre-heat oven to 375°F. If needed, set out puff pastry sheet to thaw.
Cut puff pastry or crust into 6 equal rectangles.
Make an egg wash by whisking 1 egg and 1-2 tablespoons of milk together.
Coat edges of half of the dough rectangles with egg wash.
Place a few tablespoons of fruit jam in the center and spread, leaving room on the edges.
Place a second piece of puff pastry on top of each. Use your fingers to push the edges together, and then seal with a fork.
Poke a few sets of holes with the fork in the top of each pasty.
Bake on wax paper or lightly greased cookie sheet for 20-30 minutes or until golden brown and puffy.
While pastries are baking, make your icing! Simply mix all ingredients together.
When the pastries are done, let them cool slightly and then top with icing and sprinkles.Let the icing harden a bit and then…
Enjoy!
If you've ever dined at Le Cellier, you know just how delicious and heart the Cheddar Cheese Soup is. This recipe is PERFECT for those cold winter nights when you're craving a little bit of Disney World food.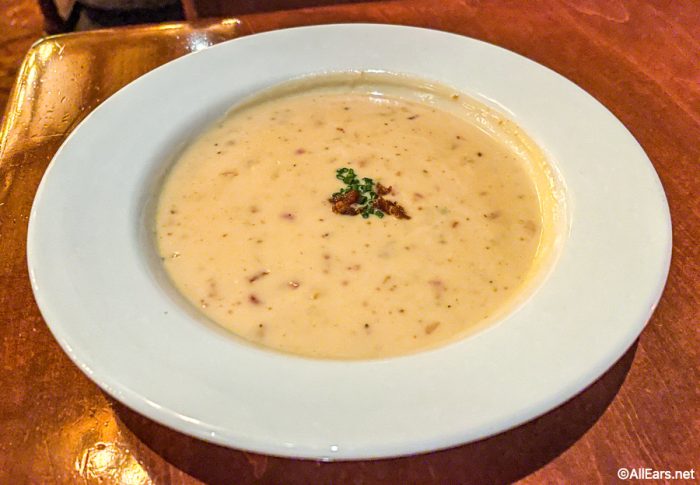 Ingredients
½ Pound applewood smoked Bacon (cut into ½" pieces)
4 Tablespoons butter
1 Diced red onion (about 1 cup)
3 Diced celery stalks (about 1 cup)
1 Cup all purpose flour
3 Cups chicken stock
4 Cups whole milk
1 Pound aged white Cheddar cheese (shaved or grated)
1 Tablespoon salt (to taste)
1 Tablespoon pepper
1 Tablespoon worcester sauce
1 Tablespoon tobasco sauce
1 cup warm beer
Directions
The number one rule in Cheddar cheese soup is "Low and slow". This recipe takes about an hour to make, and if you try to turn the heat up and rush it, you will only ruin your work
The number two rule is "Keep stirring". This is a soup that can burn, and takes a lot of tender loving care. When in doubt, "Keep stirring".
In a large Soup pot (At least 1 ½ Gallon) render down the bacon. All you are looking to do here is to liquefy the fat in the bacon, you are not trying to brown it.

Add the Butter and melt it.

Add the Onion and Celery and sauté until onions to start to get translucent.

Dust this with flour and mix to form a roux. Keep stirring until all of the flour has been incorporated.

Add chicken stock, slowly, while constantly stirring. You are looking for something resembling a gravy at this point. It's going to be very thick.

Next add milk, again slowly, while constantly stirring. This should significantly lighten up your soup at this point.

Turn heat up slightly, it's time to melt the cheese. Add cheese very slowly in small amounts, while stirring constantly. Allow each portion of cheese to melt away before adding the next. Keep stirring.

Now add salt and pepper. Be very careful with your salt. There is a lot of salt in your bacon, and possibly even in your chicken stock.

Next add worcester, tobasco, and beer. Keep stirring.

Turn down the heat slightly and let simmer or serve. You can garnish each bowl with some finely chopped bacon and chives.
When you are reheating this soup (especially in a microwave) you need to remember the 2 rules. "Low and slow" and "Keep stirring" you want to be constantly stirring this to ensure it blends evenly.
Tonga Toast
One of the most talked about breakfast items in ALL of Disney World is Tonga Toast because it's just that good. But with a little help, you can easily make it at home!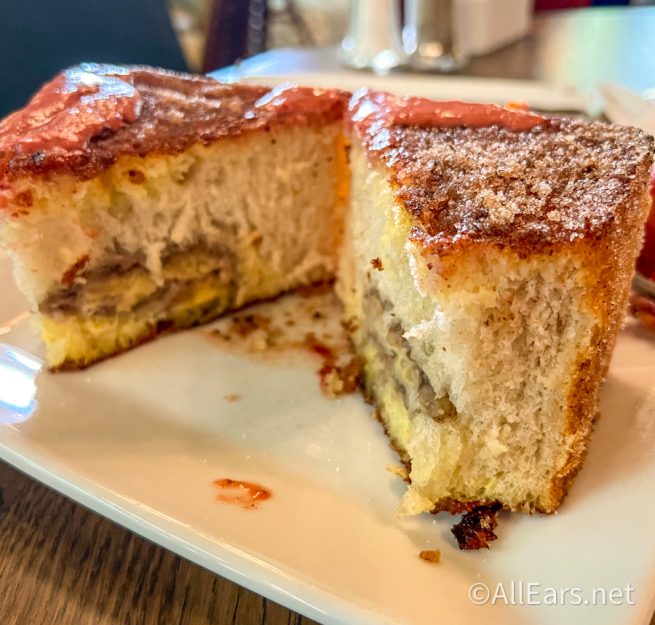 Ingredients
2 slices sourdough bread, cut 1½ inches thick
1 banana
1/3 cup of sugar
1 teaspoon of cinnamon
1 egg
¼ cup of milk
½ teaspoon of vanilla
Vegetable oil or shortening for frying
Whipped butter and/or syrup
Directions
Put about four inches of oil or shortening into a good-sized pot (such as a Dutch oven).
Heat the oil/shortening to 350ºF. While that is heating up, cut a small pocket (about 1 inch in length) in the side of each bread slice.
Cut your banana in half, then cut in half again lengthwise. Remove the peel from all four parts of the banana. Now stuff two pieces of banana into the pocket you cut into each slice of bread. In a small bowl, mix the cinnamon and sugar, then set aside. In a bowl larger than your piece of bread, mix the egg, milk, and vanilla, then also set aside.
Place each piece of stuffed bread into the bowl with egg mixture and allow it to soak for a few seconds. Place soaked bread into the hot oil/shortening and fry on both sides until lightly browned. When done, remove from oil and place on a plate lined with paper towels or a wire rack. Sprinkle with cinnamon sugar before serving.
PB & J Shakes
The classic flavors of peanut butter and jelly combine perfectly with a silky smooth milkshake. This one is a fan favorite for a reason!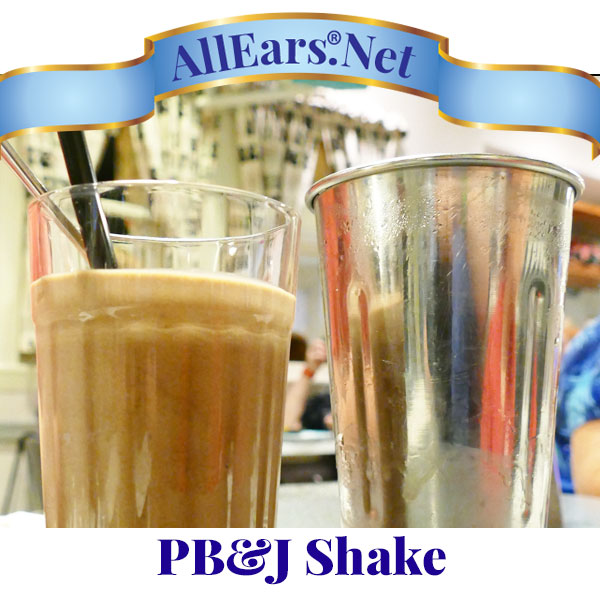 Ingredients
1/4 cup creamy peanut butter
3 tablespoons grape jelly
1/4 cup milk
3 cups vanilla ice cream, softened
Directions
 Combine peanut butter and jelly in a small bowl, mixing well.
Combine milk, ice cream, and peanut butter mixture in container of an electric blender.
Process mixture until smooth, stopping once to scrape down sides.
If you get a craving for a Disney World food, you can always check our Recipes section to learn how to make it at home. You can search for specific recipes by the item's name or the restaurant's name, too!
While you're at it, be sure to check out the best recipes you can make with your kids! Happy cooking!
Join the AllEars.net Newsletter to stay on top of ALL the breaking Disney News! You'll also get access to AllEars tips, reviews, trivia, and MORE! Click here to Subscribe!

What's your favorite Disney recipe to make at home? Let us know in the comments!