Walt Disney World is a playland for kids of all ages no matter what time of day it is, but the Parks completely transform into something truly spectacular at night.
That's why so many guests burn the midnight (or 10PM) oil in the Disney Parks to enjoy their nighttime spectaculars. But but which fireworks, lights, and lasers shows are worth staying up past your bedtime? We put the current nighttime shows to the test and came up with the following ranking.
1. Happily Ever After
Fireworks and Magic Kingdom go together like peanut butter and jelly… but more explosive. When Disney announced the end of fan-favorite 'Wishes' back in 2017, many wondered what could possibly replace and live up to the classic.
It's clear that Disney understood that expectations were high, and they delivered! Happily Ever After is a classic fireworks spectacular that closes the day with a bang! The sweeping score is full of songs from classic Disney films including Hunchback of Notre Dame, Moana, The Lion King, and Pirates of the Caribbean, just to name a few! The show also features video projection mapping and lasers.
Happily Ever After runs approximately 18 minutes and can be viewed from many areas inside Magic Kingdom (and from afar at the Magic Kingdom area Resorts), but for optimal viewing, head to Main Street, U.S.A., so you can see those projections in all their glory.
Love or Loathe: Share your review and rating of Happily Ever After at the link in the box below!
2. Fantasmic!
Fantasmic! is a classic nighttime show filled with tons of your favorite Disney characters. This is the most traditional 'stage' show out of all of the nighttime spectaculars on this list.
The show features an infectious score and an exciting storyline that follows Mickey Mouse as he travels through his imagination. Fireworks, lasers, and water projections all help bring this spectacle to life nightly.
Fantasmic! at Disneyland Park. [Joshua Sudock/Disneyland Resort]
The show lasts approximately 25 minutes. It is performed in a huge outdoor amphitheater off Sunset Boulevard and is one of the few nighttime shows where you can sit!
3: Star Wars: A Galactic Spectacular
No matter how much (or how little) you love Star Wars, there's no denying that the film franchise lends itself to a bit of a spectacle. The recognizable score and classic characters are all front and center in A Galactic Spectacular, the ultimate Star Wars tribute.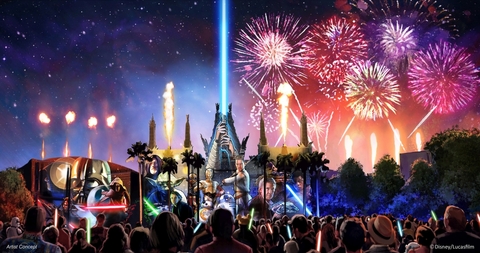 The musical selections for this nighttime show span from A New Hope up to The Force Awakens. Obviously this show is about all things Star Wars, so if you're looking for a more classic Disney nighttime experience in Hollywood Studios, you can skip this one and see 'Fantasmic!' instead. But even if you're not a huge Star Wars fan, you'll appreciate the soaring soundtrack and explosive displays.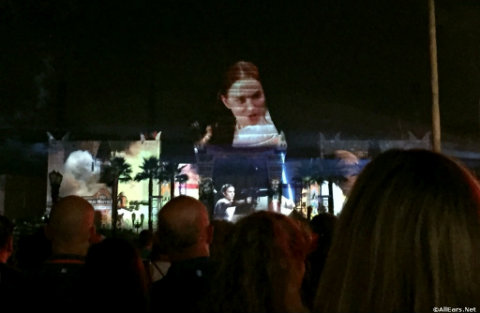 The show includes video projection mapping, fireworks, lasers, and fire effects.  Star Wars: A Galactic Spectacular lasts approximately 14 minutes, and you'll get the best view on Hollywood Boulevard in front of the Chinese Theater.
4. Epcot Forever
The finale of the long-running Illuminations: Reflections of Earth in September 2019 broke many hearts, but as the show says, "We go on"! In anticipation for the new resident nighttime spectacular, "HarmonioUS" (opening in Spring 2020), 'Epcot Forever' opened as a temporary, interim show on October 1, 2019.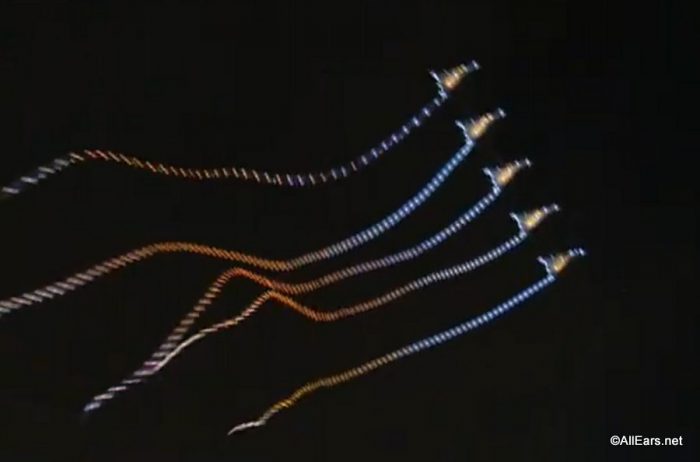 Epcot Forever lasts approximately 11 minutes and features pyro effects, lasers, and kites. Yes, kites — trick kites that send pyro sailing over World Showcase Lagoon in ways not yet seen before!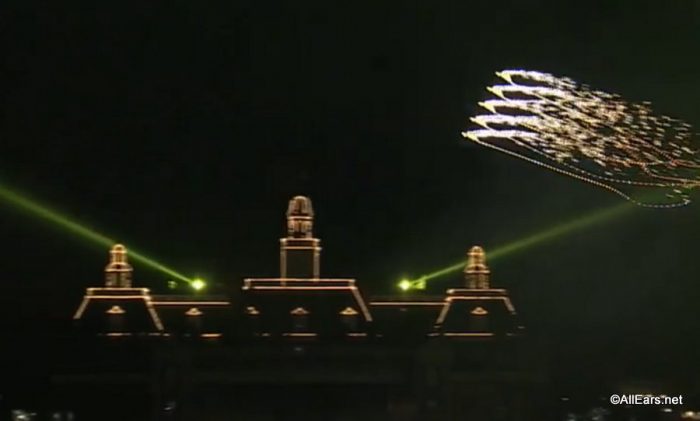 Fans of the earliest years of Epcot will love the classic references made throughout the show, including classic and contemporary Epcot music. Even if you were a die-hard fan of Illuminations, it's nice to see something a little different over World Showcase Lagoon — and those kites are literally gasp-inducing the first time you see them.
The show isn't perfect, and the finale left many scratching their heads, but if you find yourself in Epcot in early-2020, this show is worth a watch. We probably wouldn't recommend getting a FastPass for it, however. Plenty of viewing space is available all around World Showcase Lagoon.
5. Rivers of Light: We Are One
Let's start with the pros, because Rivers of Light has plenty. The show is the first nighttime show in Animal Kingdom, making Animal Kingdom a full-day park that now comes alive after dark, too. The show features beautiful imagery and water effects and is a dazzling show visually. Also, you can't beat the fact that this is one of the few nighttime shows that has seating. And there really isn't a bad seat in the house!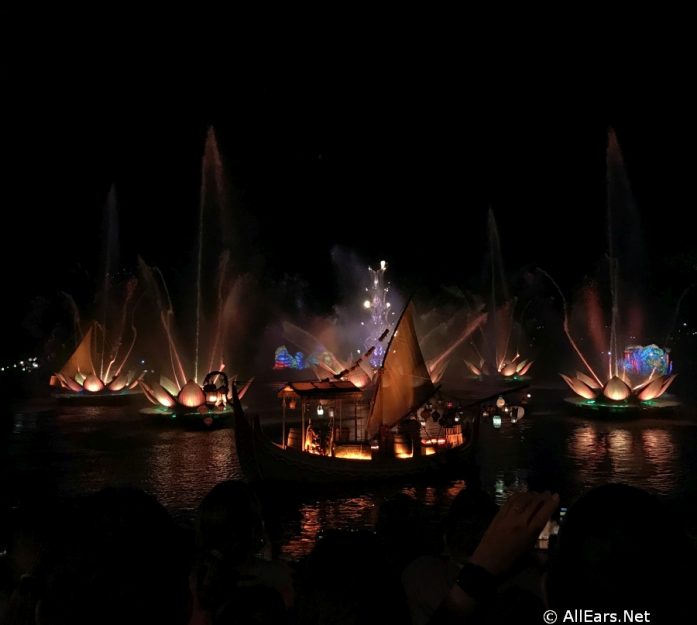 Common complaints of this show, though, include a lack of a cohesive story, inconsistent clarity in the projectors, and the recent cut of live actors (thus taking away one of the only elements that actually worked consistently).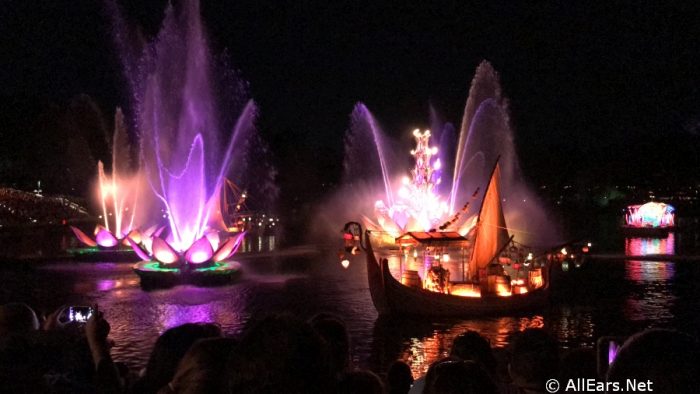 Rivers of Light: We Are One runs approximately 17 minutes. The outdoor amphitheater is in Asia along Discovery River.
Do you agree with our ranking? Let us know in the comments!
Join the AllEars.net Newsletter to stay on top of ALL the breaking Disney News! You'll also get access to AllEars tips, reviews, trivia, and MORE! Click here to Subscribe!