Fantasmic! Sunset Boulevard Disney's Hollywood Studios
Almost at the end of Hollywood Boulevard, off to the right, is the entrance to the Hollywood Hills Amphitheater, home to the night-time spectacle known as Fantasmic! It's Mickey Mouse's dream-made-real, using lights and lasers, fireworks, and water animation set to a delightful score of famous Disney movie music.
ATTRACTION
Pre-Show – Because of this show's enormous popularity, it's best to claim a seat early – during busy times, as much as an hour or more before showtime! Music is piped in to help you while away the wait.
FANTASMIC! begins its 25-minute extravaganza with a dreaming Mickey Mouse on a darkened island. Mickey acts as a conductor as music fills the air and the waters surrounding the island begin to dance. Suddenly, screens of water emerge and a multitude of images are displayed upon them: Sorcerer Mickey in his famous "Sorcerer's Apprentice" scene from Fantasia, Simba and Nala romping from the Lion King, and the undersea creatures from The Little Mermaid.
The mood shifts when a frantic Jiminy Cricket becomes trapped in a large bubble, then is pursued by Monstro the whale. Monstro lifts himself out of the water and lands with a crash, which splashes unsuspecting front row Fantasmic! guests with real water!
The waters calm, but a cannon blast erupts. Live characters re-enact battle scenes from the movie Pocahontas, followed by John Smith and the Native American heroine dancing to Colors of the Wind.
Mickey's dream continues on its nightmarish journey as eerie music begins and the Evil Queen from Snow White and the Seven Dwarfs concocts a spell amidst pyrotechnics and other special effects. She invokes some of the most infamous Disney Villains: Ursula, Cruella de Vil, Scar, Frollo, Jafar, Maleficent and Hades each make an appearance, cackling menacingly. But these bad guys are no match for Mickey – not even Jafar, who turns into a writhing black cobra.
Maleficent unexpectedly transforms into a 40-foot-tall fire-breathing dragon who sets the waters ablaze – guests as far as half-way back in the theater can feel the heat! Mickey manages to create a wall of water around the island, smothering the flames and defeating the dragon.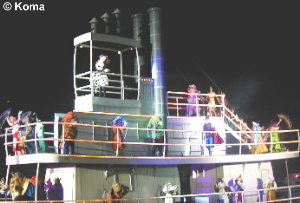 Finally, a celebratory atmosphere prevails amid a flurry of fireworks. Beloved Disney characters glide past the audience aboard the Steamboat Willie River Boat, as Fantasmic! concludes with a triumphant Mickey rejoicing at his victory over evil.
Mini-Review: Having seen Fantasmic! about a dozen times over the years, I have to admit that I like it better with each viewing. If you're uncertain about whether you'll enjoy it, I'd recommend that you see it at least one time. But, in my opinion, it's *not* worth waiting hours for, especially if you have antsy young children who may be frightened by the dark and all the villains. The first 10 minutes or so of the show are very good and so are the last few minutes — the Pocahontas segment in the middle, though, really doesn't seem to fit the overall villains theme. The Jafar/snake and the Malificent/dragon are very impressive technically, but I think they overdo showing all the villains (as I overheard someone say, "is there a villain they *didn't* include?"), and I think they overuse the gimmick of projection on the water screen. Overall, though, it's definitely worth seeing for yourself.
For more photos, visit the Fantasmic Photo Gallery HERE.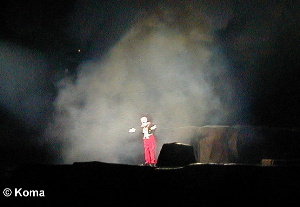 TOURING TIPS
Fantasmic! is a FastPass+ attraction.
Fantasmic! is a 25-minute show, usually presented two or three nights a week with times varying based on park hours. During the holidays and peak season, the show is often performed twice per night. If possible, take advantage of the second showing of Fantasmic! It's typically much easier to get a seat.
Due to its popularity, you should arrive at the amphitheater at least one hour before showtime, particularly during busy seasons. Doors usually open about two hours before the first show of the night. There are concession stands located at the rear of the Fantasmic! amphitheater – many folks choose to buy food there and eat dinner in their seats while they wait for Fantasmic! to begin.
Several restaurants (Hollywood Brown Derby, Mama Melrose's Ristorante Italiano and Hollywood & Vine) offer a Fantasmic! Dinner Package. Diners at these restaurants receive a pass that guarantees them a seat at one of the Fantasmic! performances, as long as they enter the theater 1/2-hour prior to show time. For details on this package, read the Fantasmic Dinner Package FAQ. This plan works really well, especially if you don't like to waste time waiting to see a show or have children who would have trouble sitting in one place for an hour or more before the show started.
A Fantasmic! Dessert & VIP Viewing Experience is also available on select evenings.  This event takes place at the Fantasmic! theater, where you pick up your desserts and beverages (alcoholic version available for Guests 21 and older).  Guests are then directed to a VIP reserved seating area. This experience is only available for the first show of Fantasmic! and reservation times range from 90 minutes prior to 45 minutes prior to the show.
Fantasmic! is wheelchair/ECV accessible. Guests using wheelchairs or ECVs have the option of wheelchair seating on the bottom row or the top row of the theater. There are NO center seating areas available for wheelchair guests. I would recommend the upper area to sit in. There is wheelchair parking and seats for your party. I have heard some guests tell me they were not able to sit with/near the person in the wheelchair. I believe it has a lot to do with how early you are seated. You will not want to move your wheelchair once you get situated — it's just too crowded. See Tips for Touring Disney's Hollywood Studios in an ECV for more information.
Assistive Listening Devices from Guest Services Can Be Used Here.
Note that seats are benches without backs.
This is an outdoor theater, so the show may be cancelled due to inclement weather.
Guests seated toward the front of the amphitheater are likely to get wet from the mist sprayed by the water screens and from splashes during several scenes. Sitting a dozen or so rows back is probably a wise choice if you prefer to stay dry.
Although many people try to sit in the center of the amphitheater, there really isn't a bad seat in the house. The action is staged all around the island, so you're pretty much guaranteed a good view no matter where you sit.
Fantasmic! takes place during the night-time hours and is very dark in some places. Some scenes, especially those including the giant snake and the dragon, may be too intense for children and some adults.
Guests with strollers must park them in the designated stroller parking area on the right before you enter the amphitheater proper. Retrieving strollers after the show is a bit confusing and time-consuming — patience is definitely called for here.
Restrooms are located in the rear of the amphitheater.
KIDS AND CHARACTERS
During the show, kids will be delighted to see Mickey in a few different costumes, in a tuxedo, as the Brave Little Tailor, and of course as Sorcerer Mickey. Some favorite Disney character couples — Cinderella and Prince Charming, Belle and Beast, Aladdin and Jasmine, Ariel and Eric, and Snow White and her Prince — drift by on brightly lit floats during one dreamy sequence. During the finale, a parade of characters sail by, ranging from classic favorites like Donald Duck, Minnie Mouse, Geppetto and Pinocchio, to more recent faces such as Philoctetes and Mulan.
As mentioned above, the theater can be very dark — parents of children with a fear of the dark should be aware of this. In addition, there are lots of people crowded into the theater — please be sure to keep your children near to you at all times.
Check your daily Times Guide for times and locations of other Character Meet and Greet opportunities.
DINING
There is a concession area at the back of the Fantasmic! amphitheater that sells sandwiches and soft drinks. Also, vendors walk around selling sodas, pretzels and popcorn, as well as souvenirs, throughout the amphitheater prior to the show.
SHOPPING
There is a Villains cart as you exit the Hollywood Hills Amphitheater that sells Fantasmic! and Villains merchandise, including light sticks, stickers, pins, postcards and other souvenirs. In addition, the Beverly Sunset shop on Sunset Boulevard features even more Villains and Fantasmic! merchandise, including clothing and the Fantasmic! CD.
INTERESTING FACTS
Fantasmic! premiered at Disneyland in California in 1992. It debuted at the Disney's Hollywood Studios in October 1998.
The Disney's Hollywood Studios version of Fantasmic! features some unique elements, incorporating scenes from recent animated releases such as "The Lion King," "Pocahontas," "Hercules" and "Mulan."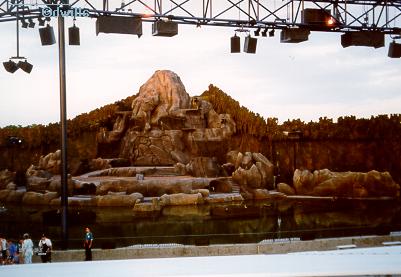 The Fantasmic! island features a 59-foot man-made mountain, making it the fourth highest "mountain" at the Walt Disney World Resort.
The moat surrounding the Fantasmic! island holds 1.9-million-gallons.
The water screens in Fantasmic! pump 2,400 gallons of water into the air every minute and, if called upon, could fill the 500,000-gallon Earffel Tower in less than three hours.
Fantasmic! features 50 performers. In the grand finale, at least 26 Disney characters cruise across the moat aboard an 80-foot replica of the Steamboat Willie boat.
In the scene where the villainous Jafar turns into a cobra, he is 100 feet long and 16 feet high. The mechanical Maleficent dragon in the climactic good vs. evil scene weighs an astonishing 32,000 lbs.
In addition to seating 6,900 guests, specially designed Hollywood Hills Amphitheater also can accommodate 3,000 standing guests.
If you have comments or tips to share with others about Disney's Hollywood Studios' Fantasmic!, please email us. Thank you.