The perfect Disney trip calls for the perfect piece of Disney luggage!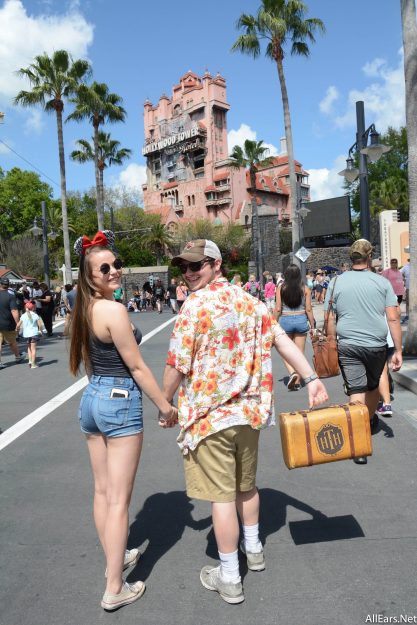 A great set of reliable luggage is a must when traveling to the Disney parks to ensure that all of your must-have gear arrives safely. AND why not come to the parks with luggage themed for your next Disney adventure?
Isn't this just the CUTEST luggage ever for your little one? I mean, look at the colorful Bambi designs and that pink fluffy pom pom. I might honestly get this one for myself. The Disney Bambi Backpack (we have no idea why they're calling this a backpack… there aren't any straps) from Amazon has a hard outer shell and four spinner wheels.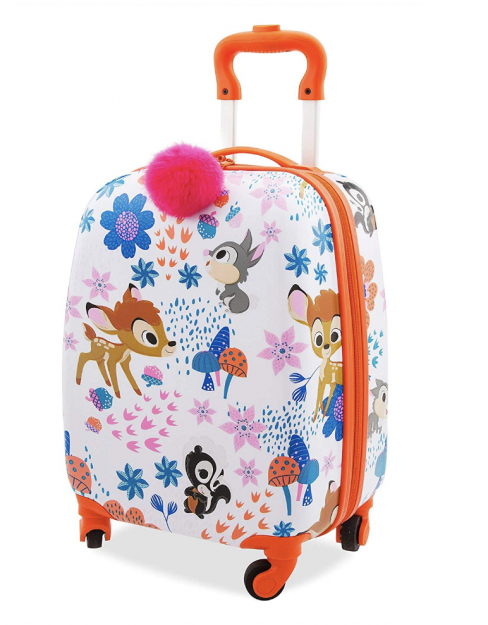 This can easily be a carry-on bag if traveling to Disney by plane. The bag isn't too large so your little ones should be able to pull this around all on their own (fingers crossed, right?). The Disney Bambi luggage is $44.95. For more information or to purchase your own Disney Bambi luggage — click here! 
This Star Wars Rolling Luggage from shopDisney has a hard outer shell, perfect for keeping all of your Disney souvenirs safe. Are you prepared for your visit to Black Spire Outpost at the soon to open Star Wars: Galaxy's Edge? Well, with this roomy rolling suitcase you will be. The shell is plastered with screen art stickers of your favorite bounty hunters and bands. The price is $59.95. Click here to get your very own!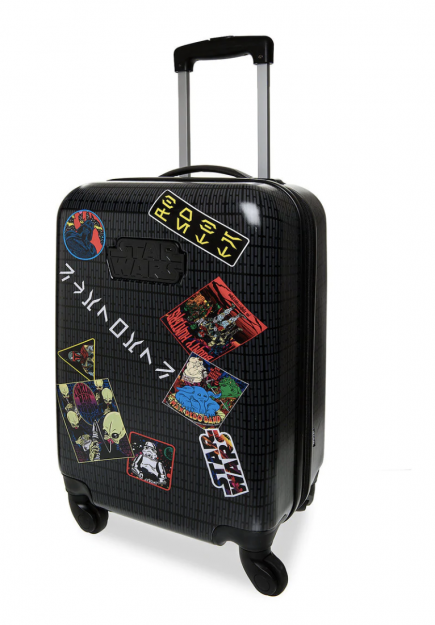 The Disney Vintage Oversized Luggage Mickey Mouse Weekend Bag from Amazon is a great bag for a shorter Disney vacation. This bag is also the perfect size for the family's toiletries. OR you could bring it to the parks empty with the hopes of having it filled with souvenirs when you travel home.
Are you a Mickey lover? Well, the print on this bag is COVERED in Mickey! They look like little patches or stickers from all of his travels. The weekend bag also comes with a detachable strap. The bag costs $113.39. Click here to purchase one for yourself!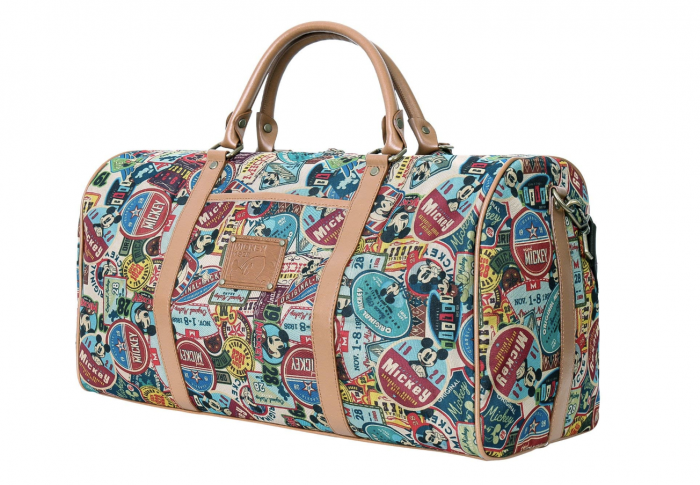 Are you going on a Disney Cruise soon? If you are, then you HAVE to see this Disney Cruise Line piece of luggage. I mean what better way to set sail aboard one of Disney's beautiful ships than with new luggage built for the adventure? The Disney Cruise Line Rolling Luggage from shopDisney is a lovely royal blue.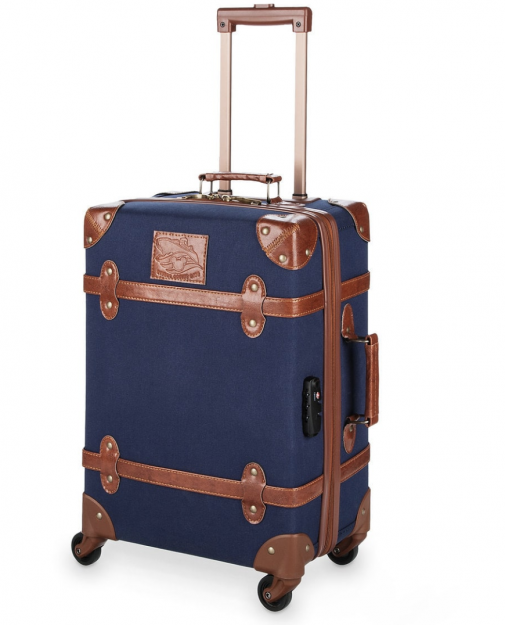 The patch on the front of the suitcase is the Disney Cruise Line logo. And just to be on the safe side, the suitcase also comes with a lock, so you can ensure that your personal items are protected when traveling in an airport. This gorgeous piece of luggage retails for $159. Get your very own here! 
OK, OK, I have to admit that I am obsessed with the design on the Disney Animators' Collection Rolling Luggage. The sketches of some of the princesses, like Snow White, Belle, and Cinderella as little ones make my heart leap. And I'm living for the contrast of the black and white stripes.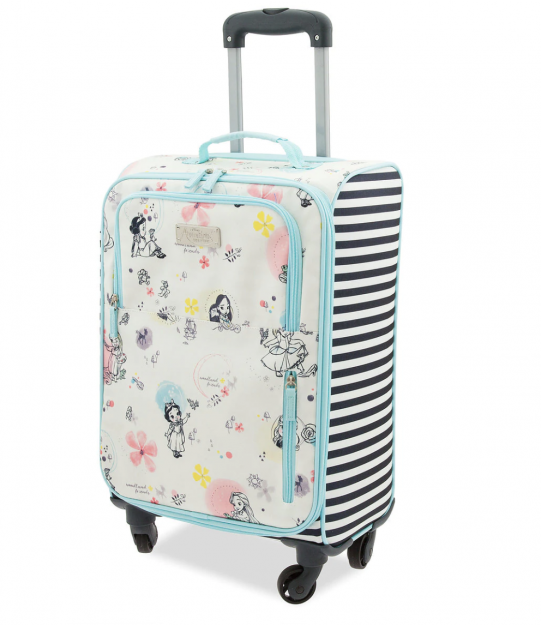 This is a bit larger than the Bambi luggage above, so it would be perfect to pack all of your princesses' goodies in for the trip. The suitcase has a padded textile casing, so in otherwords, it isn't a hard outer shell. The Disney Animators' Collection Rolling Luggage is ONLY $54.95. Get yours here! 
This durable "ful" Disney Molded Mickey Icon Hardsided Luggage from Amazon is perfect for those who want a more subtle Mickey design. The bag includes an internal pocket which allows users to plug in their own power supply and charge their phone from the outside with a built-in USB port.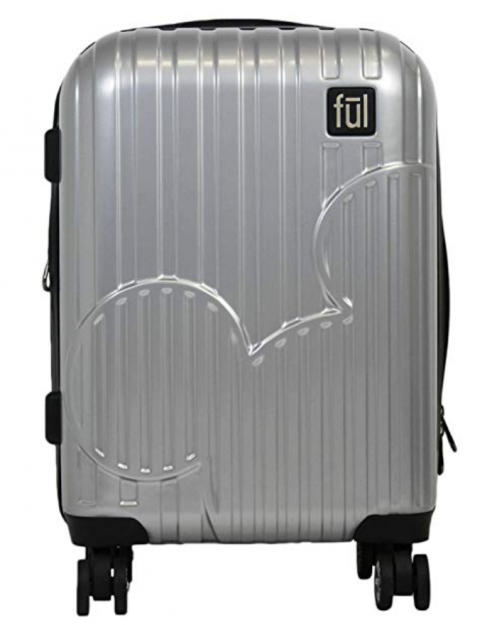 The hard outer shell protects your belongings, but even better — this luggage comes with a five-year warranty. The ful Disney Molded Mickey Icon Hardsided Luggage is $118.99 — click here to check it out! 
We think that the classic black and white sketches of Mickey and Minnie below are too cute to handle. These little sketches bring us back to Mickey and Minnie's newspaper comic days! This bag like many of the others listed above has a hard outer shell, this one being scratch-proof. The luggage is 28″ tall and has four spinner wheels, making it easier to turn. The Mickey and Minnie Mouse Rolling Luggage by American Tourister is $219.95 — if you want your very own, click here!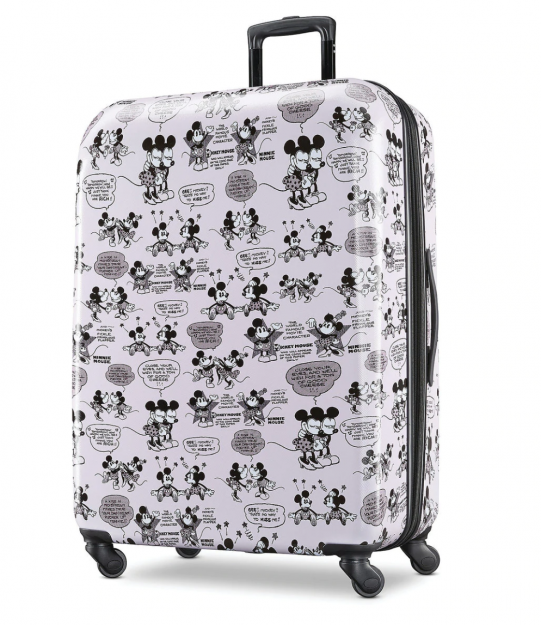 And our eighth and final piece of luggage that we believe will make any Disney trip better is the Minnie Mouse Dots Rolling Luggage by American Tourister. This hardshell luggage is covered in Minnie's signature polka dots. A few of which are made up of her name! AND even better this suitcase comes with an adorable Minnie luggage tag. The bag is $159.95 — click here to get your very own adorable Minnie Mouse luggage.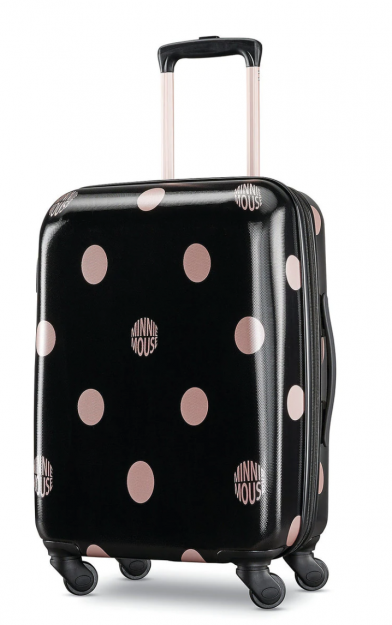 There is no better way to start off an awesome Disney trip — or a trip anywhere, really — than with cute and reliable luggage. It will boost your spirits as you travel through the crowded airport. New luggage should also ease your mind — you'll know that all of your souvenirs or personal belongings will be safe in these reliable bags.
What piece of luggage is your favorite? Let us know in the comments below! 
Be sure to follow @allearsnet on Instagram and Twitter!
Check out our YouTube Channel for reviews, news, information and more!
Click below to subscribe to the AllEars® newsletter so you don't miss news of any of the latest Disney news!