There are literally HUNDREDS of places to eat in Disney World. Over the years, we've tried a bunch of different restaurants at the theme parks, resorts, and Disney Springs…and so have our readers!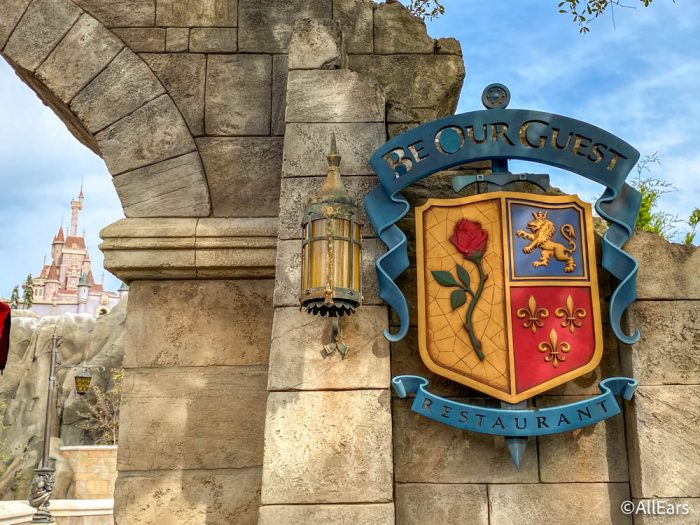 Many of those readers have shared their thoughts on Disney's dining locations as reviews on our website.
And today, we're compiling our reader reviews to let you know what the best and worst restaurants are in Magic Kingdom!
Before we kick off this list, make sure to check out the reviews page on our website to see reader thoughts on Disney restaurants, theme park rides, hotels, and even shows on Disney+. And while you're at it, leave your own review! Click Here to See All the Reviews!
Sleepy Hollow
To kick off our list, we're starting at the top end, with the highest-scoring restaurant in Magic Kingdom: Sleepy Hollow! This Quick Service spot serves up everything from waffles to corn dogs, and in the mornings, it's home to the famous Fresh Fruit Waffle Sandwich. And on a scale out of 10, this spot scored an 8.7!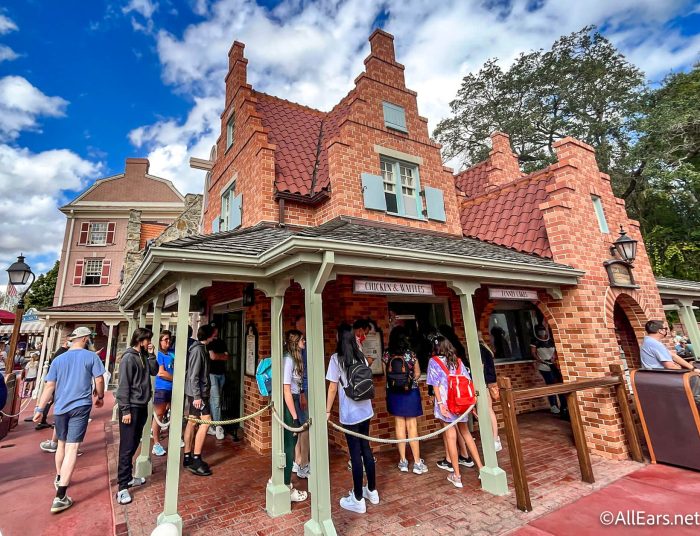 What our readers said:
"Sweet and Spicy Chicken Waffle was the perfect quick service shareable lunch. Waffle was a little on the thin side, but I still found this delightful. Crispy slaw with well-cooked chicken (crispy on the outside, tender on the inside), wonderful sauce." 
"We went for breakfast and followed the tip to mobile order as we made our way to the park. We shared the fruit waffle and that was our only mistake. The waffle was perfect, we couldn't think of any waffle that was superior. Awesome fruit to hazelnut spread ratio. We went again on a second day and got one per person – we couldn't share. A great start to a magical day!"
Columbia Harbour House
ALSO in Liberty Square is our second-place winner, Columbia Harbour House. It's recommended by 97% of our readers with a score of 8.61. This Quick Service restaurant serves up seafood and New England-style favorites.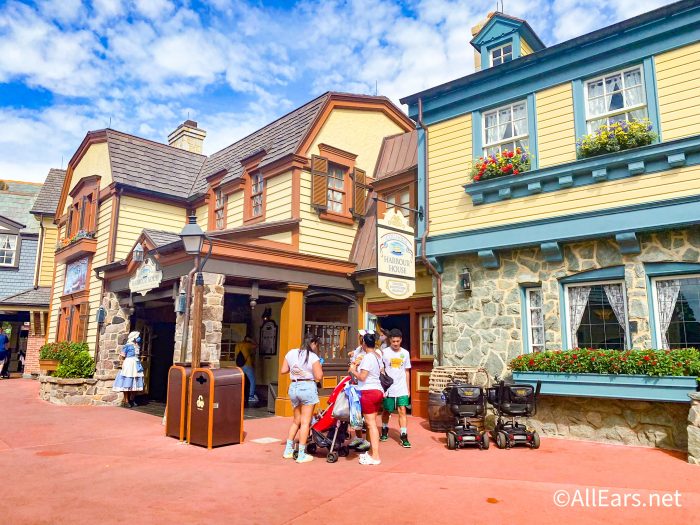 What our readers said:
"CHH is consistently a place my family and I go back to you every year. Plenty of seating and the food is usually if not always well prepared. The clam chowder and the lobster roll are family favorites."
"The menu offers a nice break from the standard burgers and chicken fingers that are found at every other quick service spot. I had the lobster roll, which is my favorite. It was delicious as always. My wife had the combo platter, which offered fried fish, shrimp, and chicken. It was a good amount of food for the price."
Liberty Tree Tavern
Looking to have a full Thanksgiving meal in the middle of your Disney World vacation? Liberty Tree Tavern is the place to go! (Man, Liberty Square is really taking the lead here.) This Table Service spot serves up classic holiday food like turkey 365 days a year.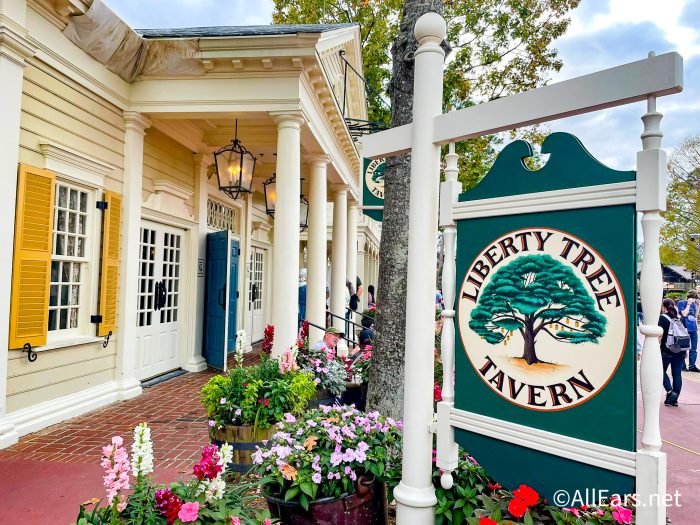 What our readers said:
"We cannot do Disney without making a reservation at Liberty Tree Tavern. The pot roast and stuffing are to do die for and don't get me started on the oooey gooey toffee cake…it's what dreams are made of. It's one of the more affordable family style meals on Disney property and absolutely worth paying a visit to!"
Gaston's Tavern
In the continuing trend of Quick Service restaurants leading the way, Gaston's Tavern takes third place at Magic Kingdom! Here you'll find the famous gigantic cinnamon roll, as well as the LeFou's Brew, and an assortment of other snacks and simple lunch options.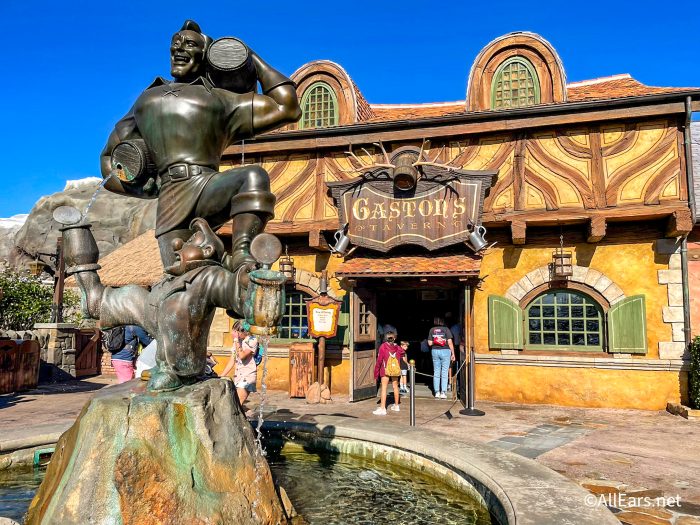 What our readers said:
"Want something sweet? You'll find it here! The LeFou's brew is very sweet (but the topping is tart enough to help balance it a little) and the cinnamon roll is delicious (and huge!). The decor inside is adorable."
Cinderella's Royal Table
Dining at Cinderella's Royal Table (which is located INSIDE Cinderella Castle) is a dream for many Disney fans. This restaurant certainly isn't cheap, but it has become a fan-favorite for the atmosphere.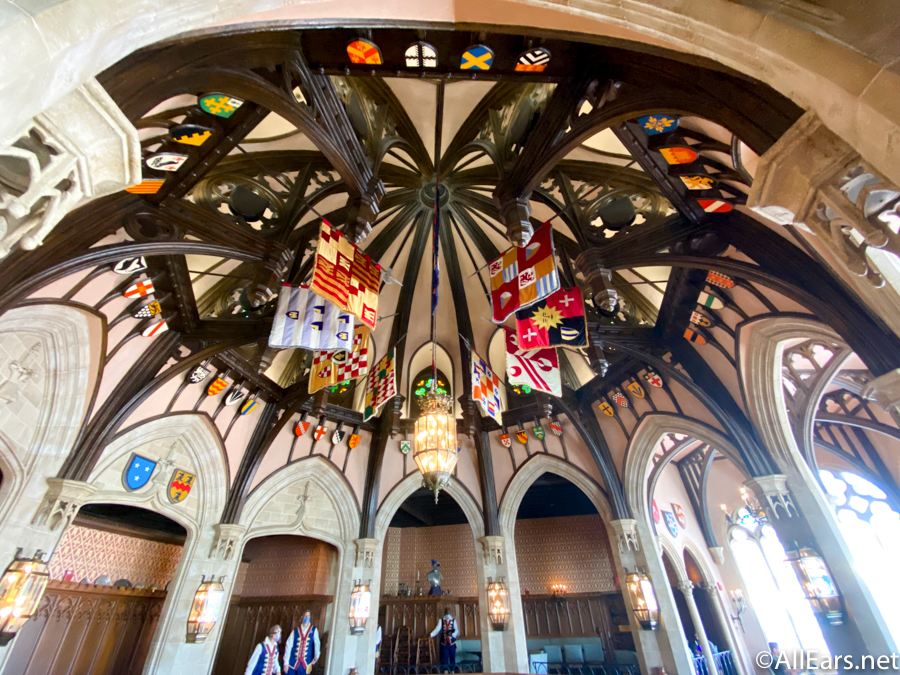 What our readers said:
"Dined here for dinner in June 2021. Food & atmosphere NEVER disappoint. Definitely recommend trying at least once."
Jungle Navigation Co. Ltd. Skipper Canteen
Got some adventurous eaters in your group? In Adventureland, you can try out the Jungle Navigation Co. Ltd. Skipper Canteen (better known as just Skipper Canteen), where they serve Latin, African, and Asian food.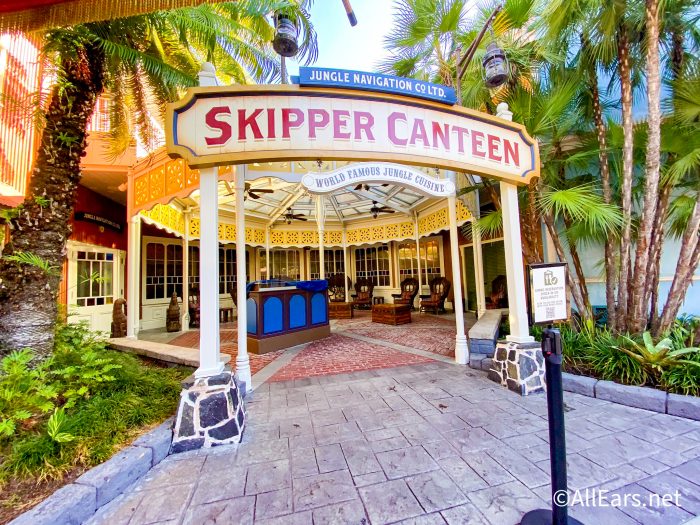 What our readers said:
"Excellent theming- felt immersed in the spirit of Adventureland/Jungle cruise right away. Charming waiter who made us laugh. Appetizer was amazing. Cachapas – I'd totally get these as a meal next time. The entrees were a bit meh. The waiter said the Grilled Steak was his favorite dish on property, so it was a must-try. He also recommended the Senegal Sal's short ribs. The steak was good but basic. Compared to the appetizer it just was a bit boring. The flavor of the short ribs was great but the meat- which was described as fork-tender- was barely able to be cut by a knife. I would absolutely give this one more try with all this in mind!"
"OMG this place is underrated… the food here is AMAZING. I would eat here for breakfast lunch and dinner all day every day. Highly recommend."
Plaza Restaurant
What about those who DON'T want anything adventurous? Well, you can enjoy some classic American homestyle food at Plaza Restaurant, right around the corner from Main Street, U.S.A. As far as ratings on our site go, our readers gave this one an average of 7.6/10.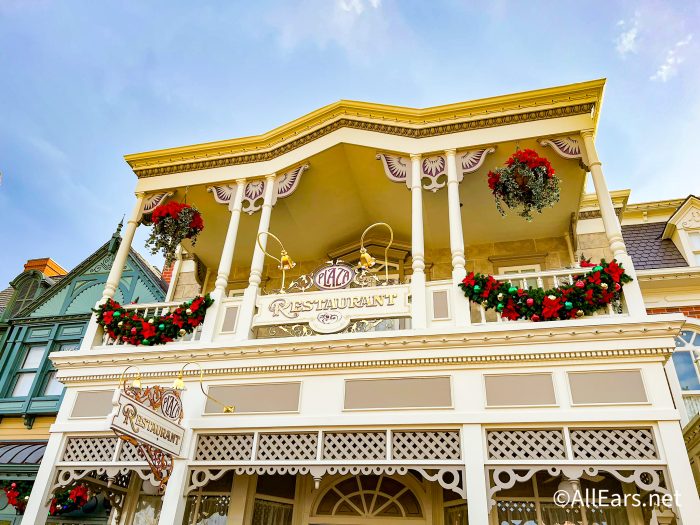 What our readers said:
"This place is an underrated gem in Magic Kingdom. My wife and I had avoided eating here for some time as it seemed just small and nondescript. Once we tried it we were hooked. The food is great, the service excellent and who doesn't need bottomless shakes, especially since calories don't count at Disney!"
Be Our Guest Restaurant
Surprisingly far down the list is one of Disney World's most popular spots, Be Our Guest Restaurant. Here, you'll take a step into the world of Beauty and the Beast while you enjoy a (pretty pricey) meal of French fare. It's incredibly popular despite its 7.5/10 rating, so make sure to get a reservation ahead of time.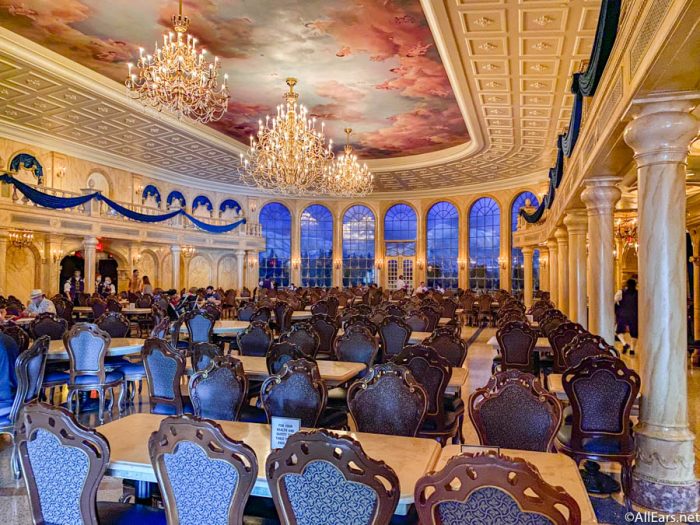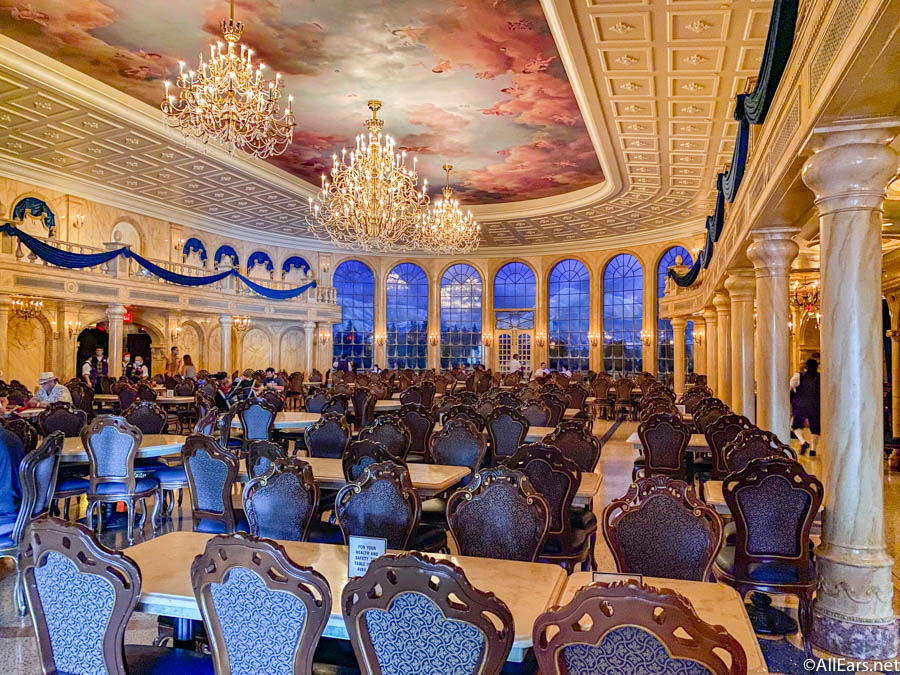 What our readers said: 
"The cast members were wonderful! We were late for our reservation because the monorail was not running and the restaurant is at the back of the magic kingdom. The cast members were so friendly and they didn't blink at our late arrival. That being said the dinner felt very rushed. The food was ok but not worth the price. The dining room was loud and very distracting from a nice date. Worth going once to try it out."
Casey's Corner
Another Magic Kingdom classic is Casey's Corner where they focus on one thing, and one thing only…hot dogs! Whether you like your dog to be a footlong or covered in chili and cheese, they've got a bunch of different styles of the American favorite here. And it's recommended by 85% of our reviewers!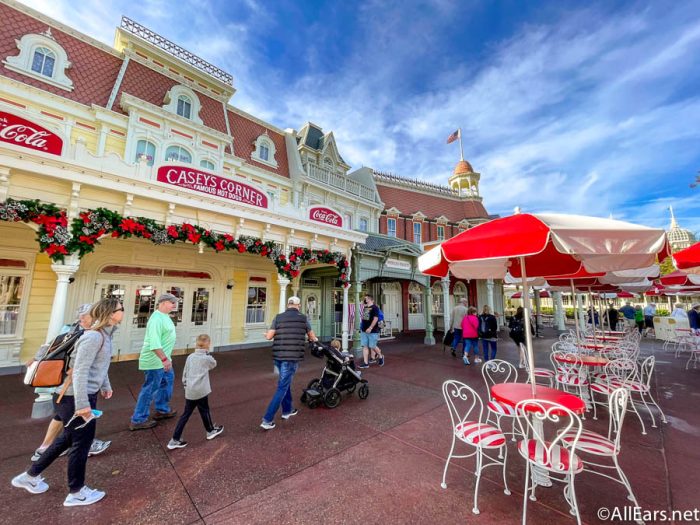 What our readers said:
"Corn dog nuggets and Chili cheese fries were excellent. Great end to a long day."
"Anytime, we go to MK this is our first stop or our stop on the way out. The corn nuggets with cheese sauce is by far the best thing. I got the 1971 meal as well one of my trips to the MK and it was good."
Pinocchio Village Haus
Craving pizza? Well, Pinocchio Village Haus is the place to go in Magic Kingdom. This Quick Service restaurant is currently rated a 7.2/10 and serves flatbread-style personal pies, as well as a small selection of other Americanized Italian dishes.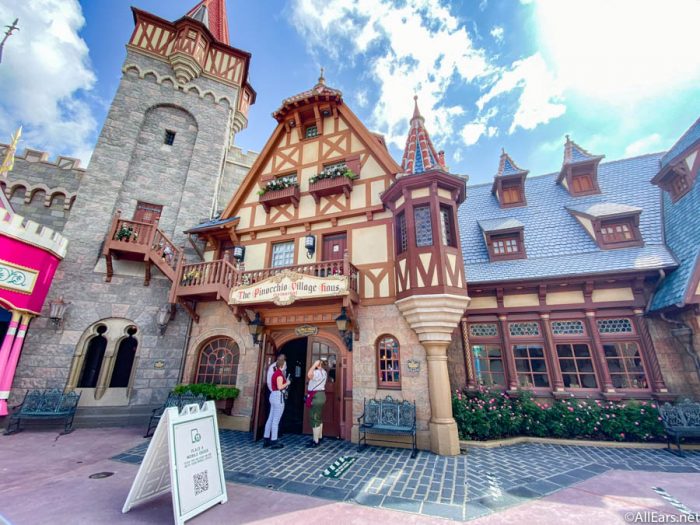 What our readers said: 
"We love eating here every time we're at Magic Kingdom! It's quick, we enjoy the gluten-free pizza and it's a place to get away from the crowds for lunch. Staff has been very nice and helpful. This is our go-to place for lunch!"
"I ate here for lunch yesterday at MK, and the food was awesome! Yes, the quick service food is pretty simple (flatbread, chicken nuggets, etc.) But, that is what's good. I also like that there are tables that look over 'it's a small world.'"
Tony's Town Square Restaurant
And speaking of Italian, it's not much of a surprise that Tony's Town Square Restaurant is so far down this list! Disney fans love to hate this place, but it could be just what you're looking for if you're craving a plate of pasta in the middle of your theme park day.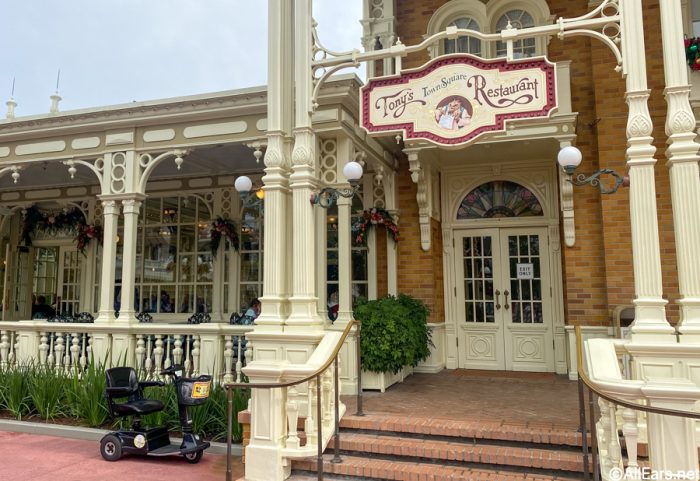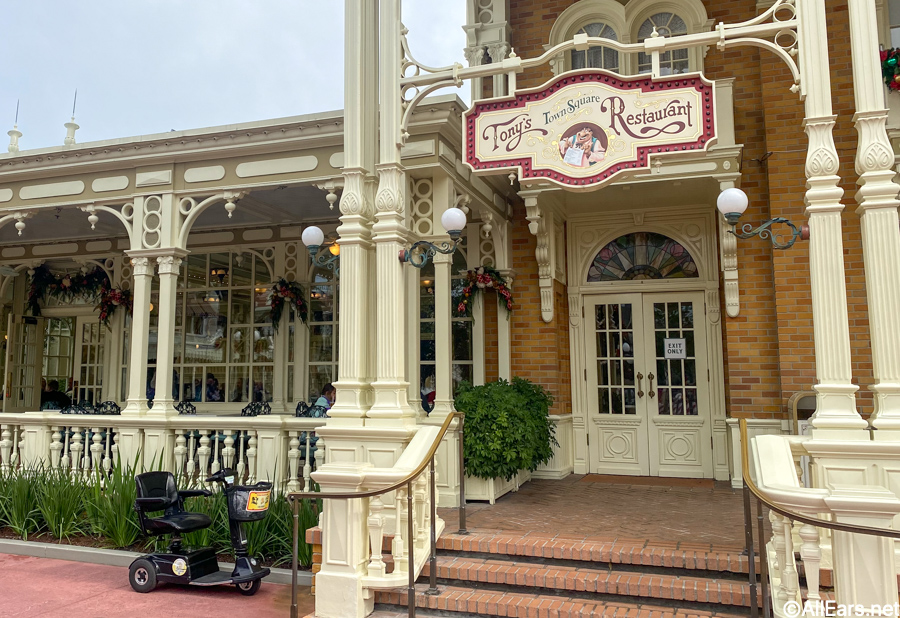 What our readers said:
"Tony's Town Square in HEAVENLY. Olive Garden is HEAVENLY. But I don't care about how many reviews say that this is Disney World's Olive Garden because Olive Garden and Tony's are two different things. And I'm Italian."
"We ate here for dinner on 10/13/21. The theming and ambiance is cute, love lady and the tramp. Our server was friendly and knowledgeable. The bread service was good. This was probably the most flavorful part of the evening. I ordered the chicken fettuccine alfredo, my husband got chicken parm and my son got spaghetti and meatballs. All of our meals were very bland. I have heard this restaurant compared to Olive Garden, but honestly, I think Olive Garden used more seasoning."
Pecos Bill Tall Tale Inn & Cafe
Tied with Tony's Town Square is Pecos Bill Tall Tale Inn & Cafe in Frontierland. This restaurant scored a 7.1/10 and serves what we like to call "fast food Mexican" eats. You can grab nachos, tacos, fajitas, or even a burger here.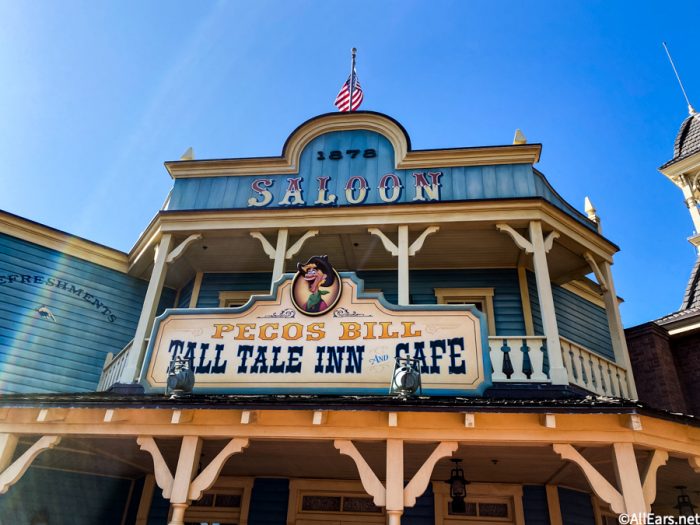 What our readers said:
"I want to say that I hated this meal, but I can't. Magic Kingdom didn't have a lot to chose from and I feel we chose right. You can customize your meal as much as you want and the food is ok. Tastes about the same as tacos and nachos you make at home. There wasn't a lot of seating. And I wish the topping bar comes back soon."
Crystal Palace
Are you extra hungry? Like really, REALLY hungry? Well, then plan to stop by Crystal Palace right off of Main Street, U.S.A. This restaurant is the only buffet location in Magic Kingdom, and it's currently rated at a 7.0/10. It used to be home to character meals with Winnie the Pooh and friends, but those have yet to return to the park.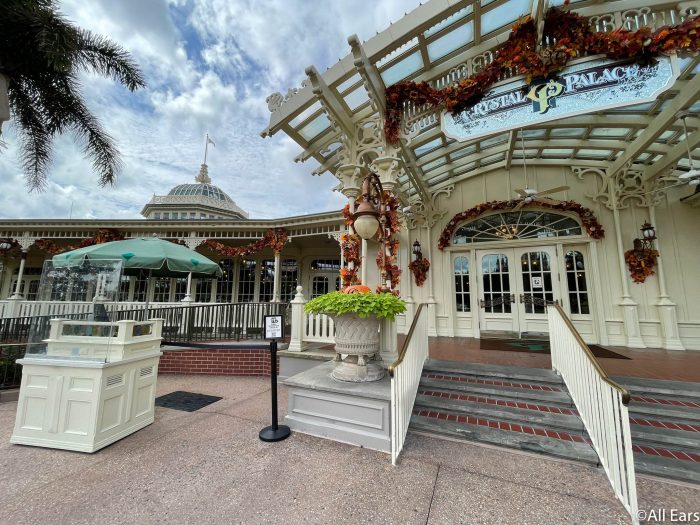 What our readers said:
"The food was good, but for the price I would have hoped there be a bigger selection. We had a 3:30pm reservation and it seemed like they were having a hard time keeping things stocked on the buffet. This could be due to staffing, though."
Cosmic Ray's Starlight Cafe
Apparently our readers want something a little more exciting than burgers and hot dogs, because they gave one of the park's busiest restaurants just a 7.0/10. Cosmic Ray's Starlight Cafe serves about as basic of theme park food as you can get, but while you eat, you can be serenaded by the animatronic alien Sonny Eclipse.
What our readers said:
"Starlight Cafe is exactly as advertised. It is quick theme park fare. Which, I do wholeheartedly believe has its purpose. It's not bad- it's just meh. However, they do make great french fries and this is our go-to spot mid-afternoon when we need to sit, get some AC, fill up our water bottle, get a quick and tasty pick me up, and, as my husband likes to say, listen to the singing frog (Sonny Eclipse)."
Diamond Horseshoe
Remember how we said that Liberty Tree Tavern serves Thanksgiving all year round? Well, its sister restaurant Diamond Horseshoe has a very similar menu. It's designed to look like an Old West music hall, and you can mosey on in for lunch or dinner where you'll eat the "All-You-Care-to-Enjoy Frontier Feast."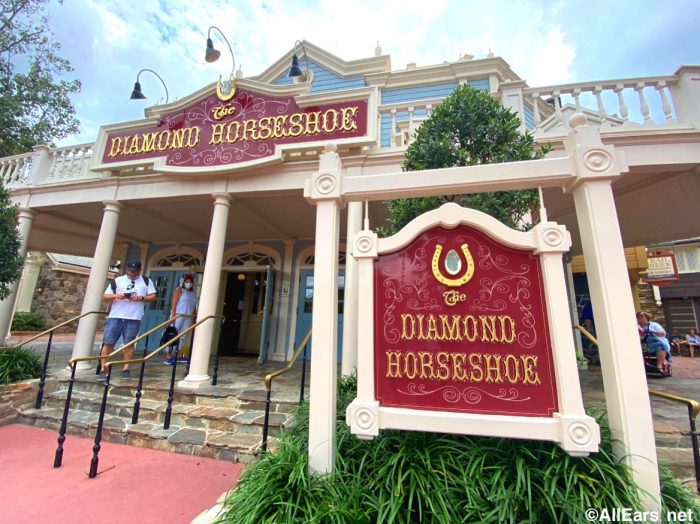 What our readers said:

"Very good! I don't understand the mixed reviews. My 20 and 15-year-old daughters enjoyed it very much. The pot roast and dressing were our favorites (I would have been proud to have cooked them myself), and the dessert that we thought we didn't want was delicious. We are so much that it was our only meal for the day, so it ended up being a great value, too. Cute place, great food!"
Tomorrowland Terrace
And finally, we've made it towards the bottom of the list. We can't really blame anyone for rating Tomorrowland Terrace low on the scale because most of the year, it's not even open. During the times that it IS in operation, we've seen the menu swap around several times, so it's pretty inconsistent. Most recently, it was open as a place where you could get Columbia Harbour House fare during that restaurant's refurbishment…but it has since closed again. Now, it's mostly used for dessert parties in the evenings.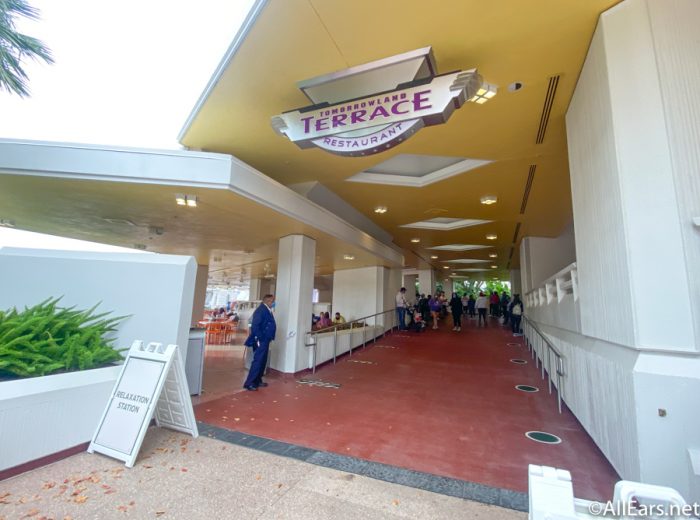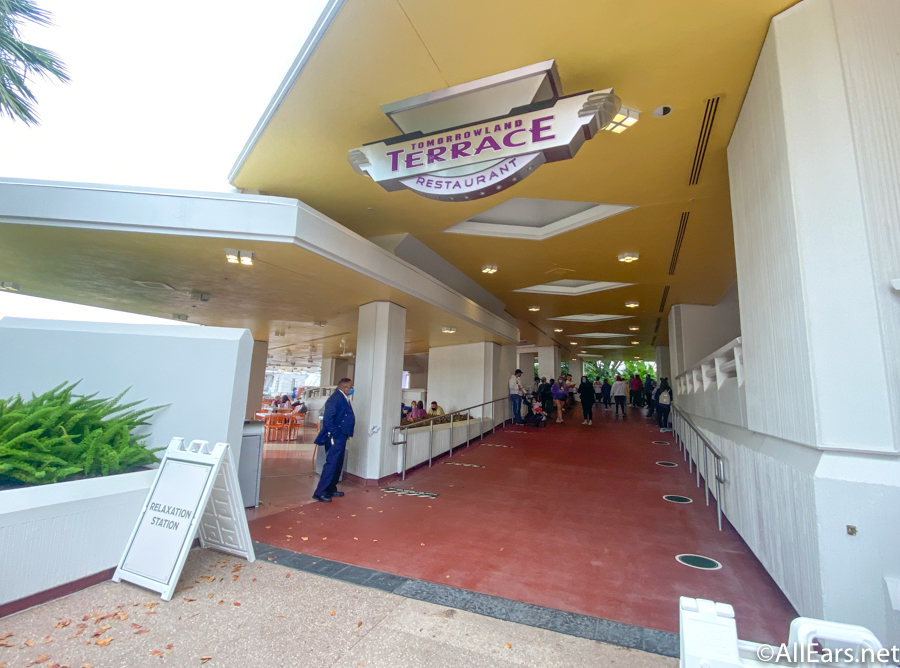 What our readers said: 
"Dined here for lunch in June 2021 while they were serving Columbia Harbor House menu options. Food portions are VERY generous and well priced. If you get a table near the water you can't beat the view."
Tortuga Tavern
And last on our list is poor Tortuga Tavern. Like Tomorrowland Terrace, this spot isn't always open, and it has also had quite the rotating menu. Currently, there are some slightly better options on the menu thanks to the 50th Anniversary, but it hasn't exactly been reliable in the past.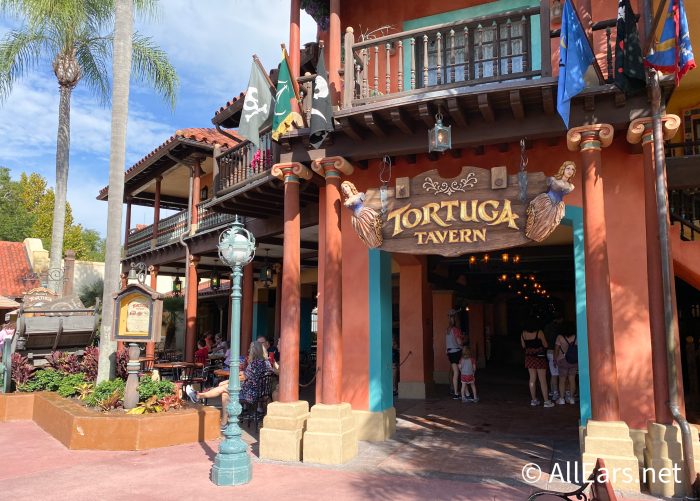 What our readers said:
"They messed this place up. Was overflow from Pecos Bill's with almost the same menu, now it's Turkey leg, brisket, hot dog, or hot dog with brisket on it. They could do a lot with this location and they should. There are other places close by that are much better. Don't be distracted by the novelty of seeing it open trust me."
Sot that's all the restaurants in Magic Kingdom and where they stand in our readers' rankings. If you'd like to support (or dog on!) one of the spots above, make sure to leave a review on our website to make your opinions known. And stay tuned to AllEars for more updates on the latest happenings (and dining advice!) from Walt Disney World.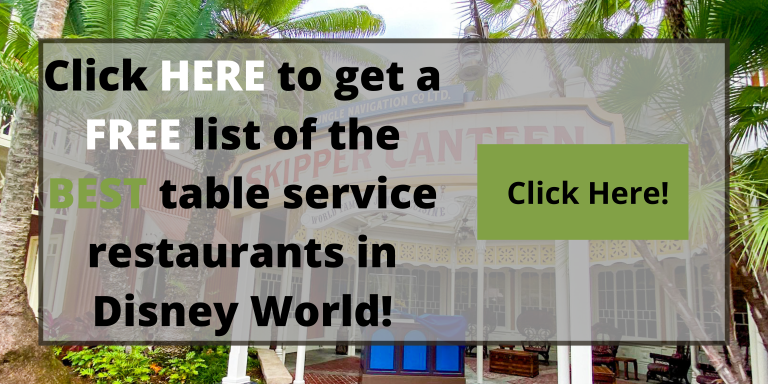 Which of the Magic Kingdom restaurants is your favorite? Tell us in the comments!