WARNING: Do not read this post while hungry.
We're going to be discussing all kinds of Disney restaurants with some INCREDIBLE food. Reading this article while hungry may cause you to book a trip to Disney World, make several dining reservations and/or cook Disney-inspired food at home.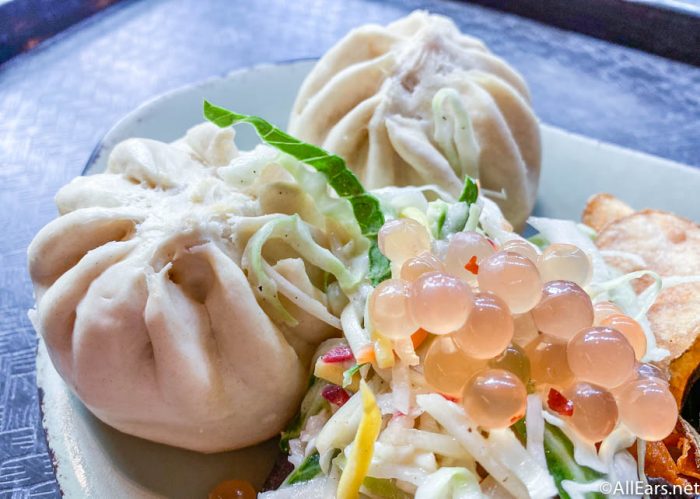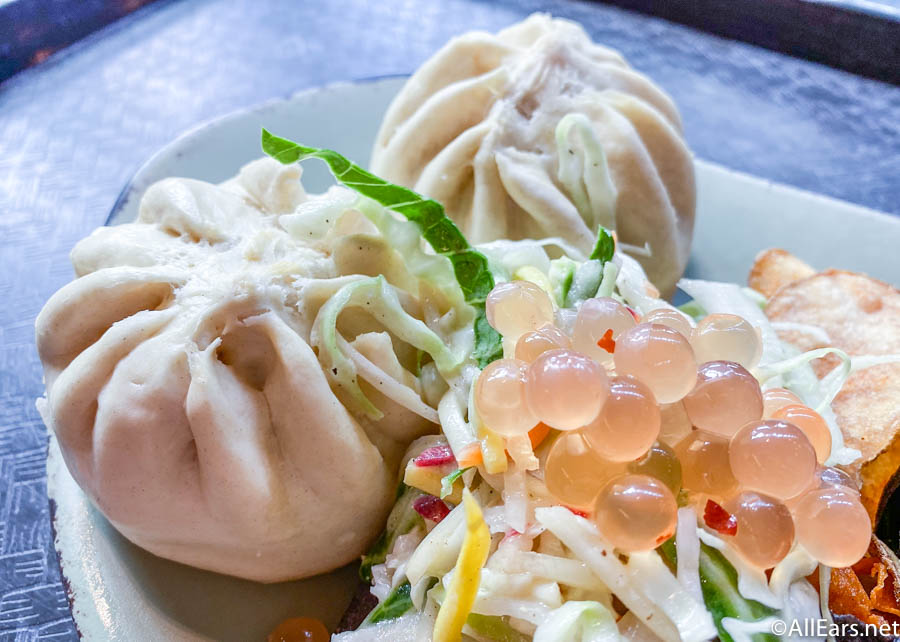 WHEW! Okay, now that we've got the hunger warning out of the way, let's get on to the fun stuff! There are a LOT (and we mean, a LOT) of restaurants in Disney World. If you're setting a dining budget for your trip, you might be wondering what the best spots are depending on the price points you're working with.
Well, look no further! Today we're breaking down our list of the very BEST Disney restaurants at every price point!
The (very scientific) process we used to create this article is to start with Disney's price points as listed on their own dining website, which we've named as follows: low (under $14.99 per person), mid ($15-$34.99 per person), mid-high ($35-$59.99 per person), high (over $60 per person), and then a NO BUDGET choice for those moments when you really want to treat yo' self.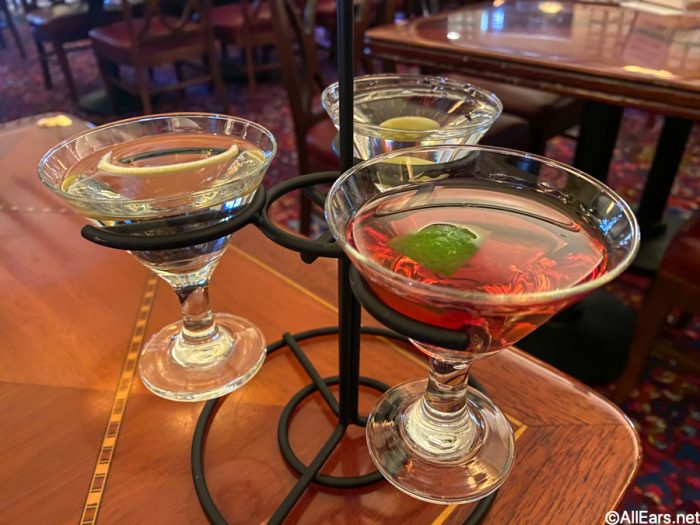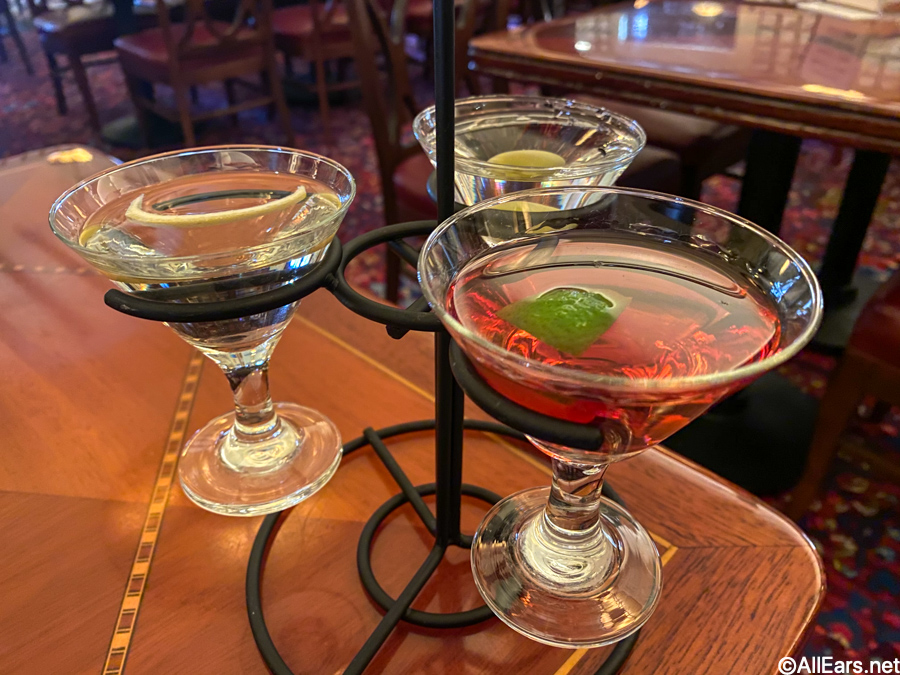 Then, we looked at the AllEars dining reviews and saw what restaurants had some of the most positive reviews and/or were some of the most recommended restaurants in those categories. And we threw in a few of our own personal favorites!
Some of you may TOTALLY agree with this list, while we're sure that others are ready to defend your own personal choices in the comments. We cannot wait to hear what you think of these picks and what your own personal choices would be!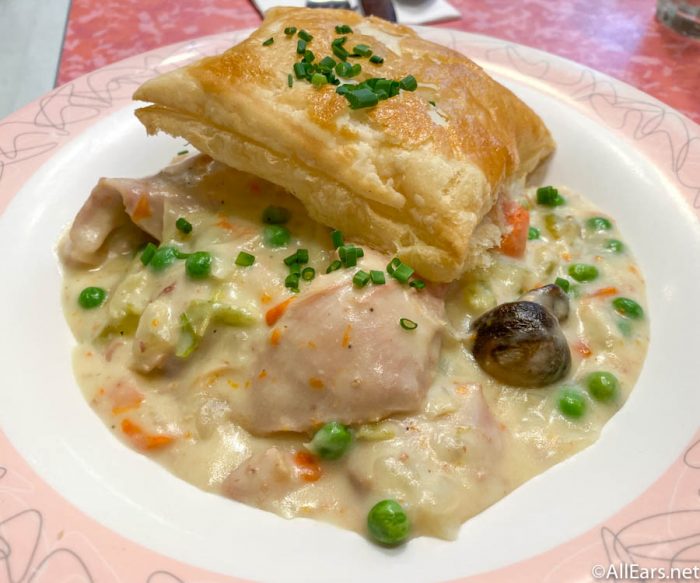 And now, without further ado, let's dig in!
Low — Under $14.99 per person
We start our list with the low-budget options.
Disney's Animal Kingdom
In Disney's Animal Kingdom, the low-budget winner is… Satu'li Canteen, and truthfully that might not be a surprise to many of you. Satu'li serves up some seriously unique options like the fan-favorite Cheeseburger Pods; bowls that you can customize with different meat, base, and sauce options; and more.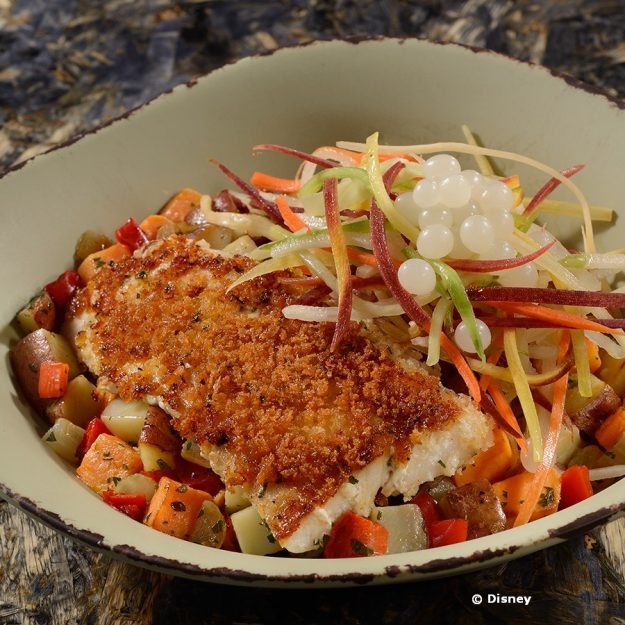 It's definitely not your "typical" theme park food. We do have to give an honorable mention here, however, to Flame Tree Barbecue with its delicious BBQ meals, including that baked macaroni and cheese with pulled pork!
Disney's Hollywood Studios
At Disney's Hollywood Studios, one of the spots in this category with the highest positive ratings is ABC Commissary! After the park re-openings, ABC Commissary did a MAJOR overhaul of its menu, and we have seriously been incredibly impressed by the taste and quality of the food as well as the variety of unique options on the menu.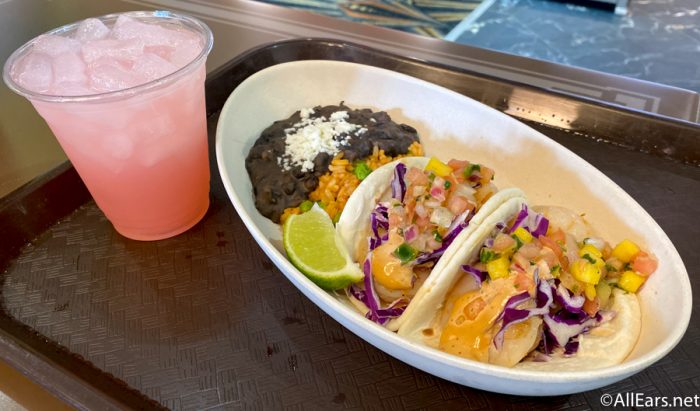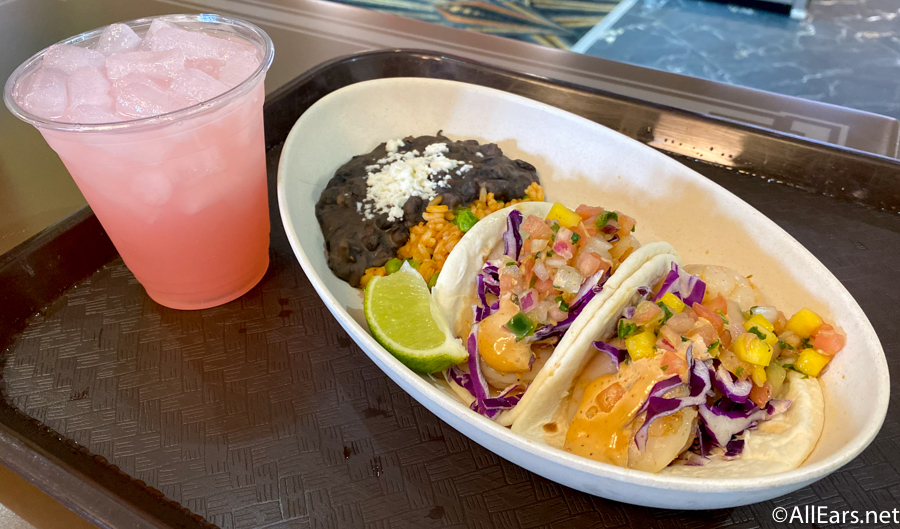 Again, we're talking options that are MUCH more unique than chicken tenders and fries. At ABC Commissary you'll now find shrimp tacos, a buffalo chicken grilled cheese sandwich, and more. It might just be a spot you should consider during your next trip.
Also we want to give an honorable mention shout-out to Baseline Tap House, which had some HIGH ratings, but since it has more of a snack menu, we decided to leave it out of this ranking.
EPCOT
Over at EPCOT, one of the BEST spots for a low-budget lunch or dinner is Yorkshire County Fish Shop in the United Kingdom pavilion.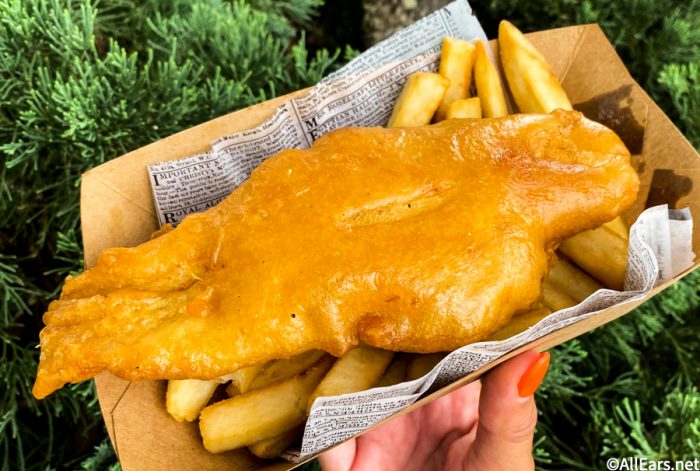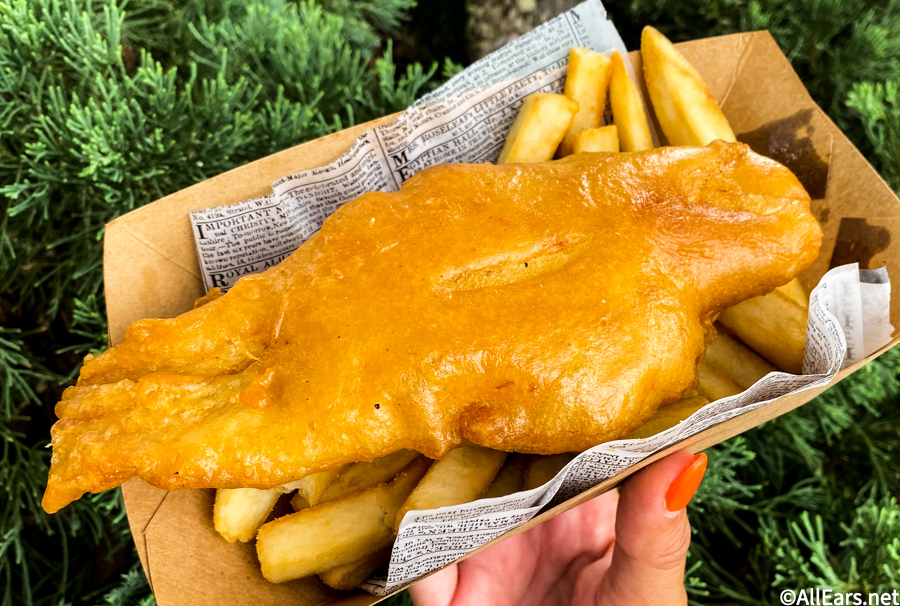 If you LOVE fish and chips, you've got to check out this spot (oh, and you might just want to grab a pair of those fish & chips ears, too if you're truly a fan)!
Since its menu of fish and chips is pretty limiting though, we're also throwing in another fan-favorite spot, Les Halles Boulangerie-Patisserie in the France pavilion.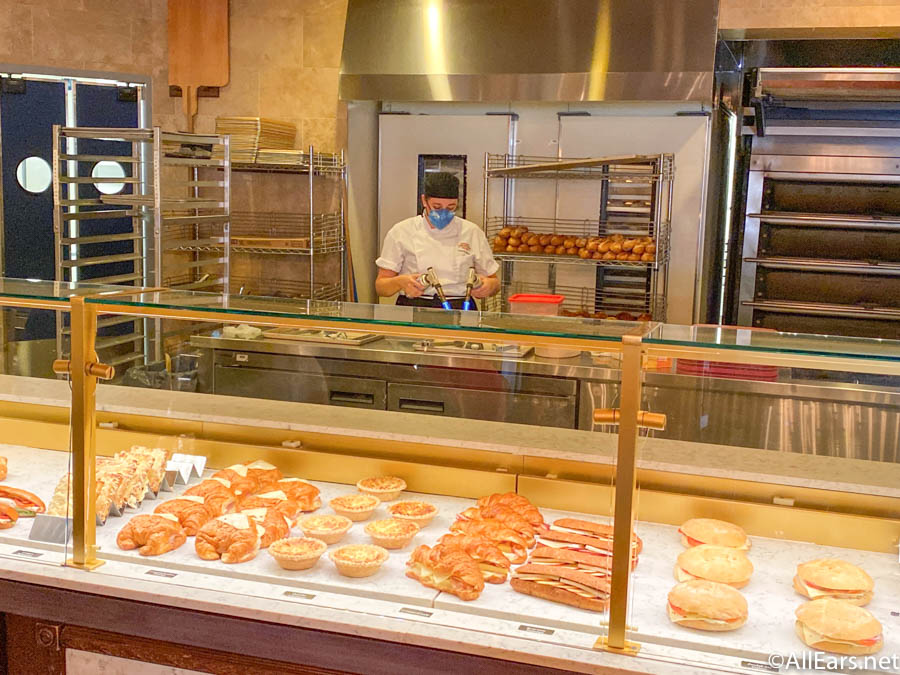 Delicious sandwiches, a GIANT baguette, cheeses, quiche, pastries, and MORE — this spot truly has it all. Since it's tucked away in the back of the pavilion, it can be easy to miss, but once you try it, you'll likely find your way back there again and again.
Tangierine Cafe in the Morocco pavilion would also make this list as one of the best, but unfortunately it is only open occasionally as a festival location.
Magic Kingdom
Over at Magic Kingdom, Sleepy Hollow is a fan-favorite spot for those looking for a delicious meal on a budget. The hand-dipped corn dog and the Sweet and Spicy Chicken Waffle Sandwich from this location can leave you feeling very satisfied.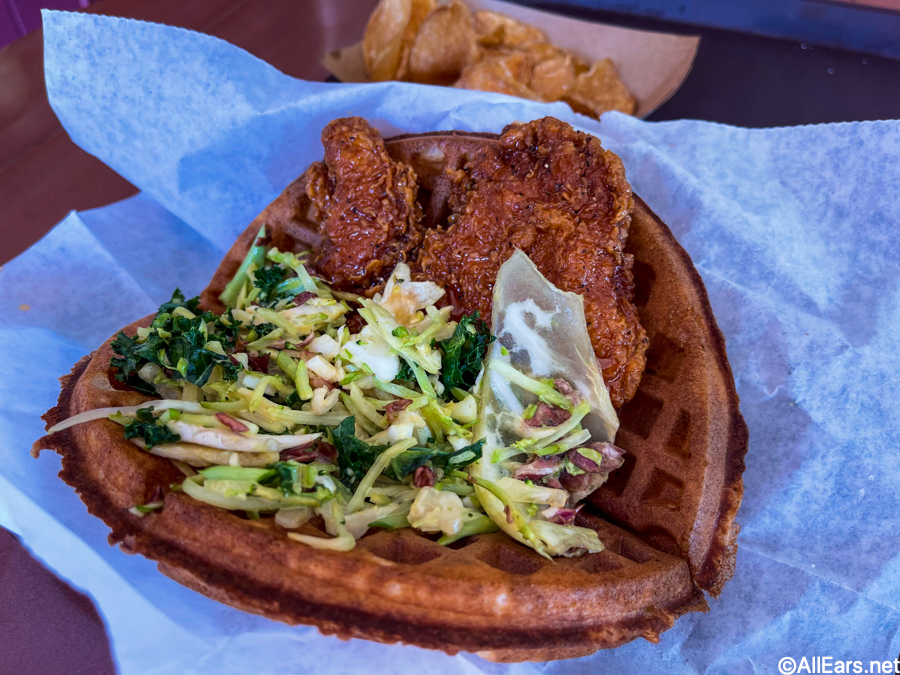 But Sleepy Hollow's menu is pretty limited, so that's something you'll want to keep in mind. You might have to hop to a few places to find some things for other members of the family to eat.
Another spot with delicious options on a budget is Columbia Harbour House.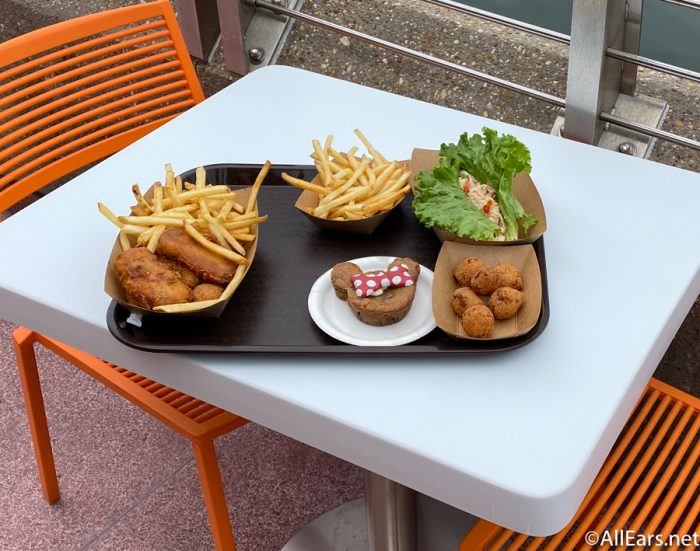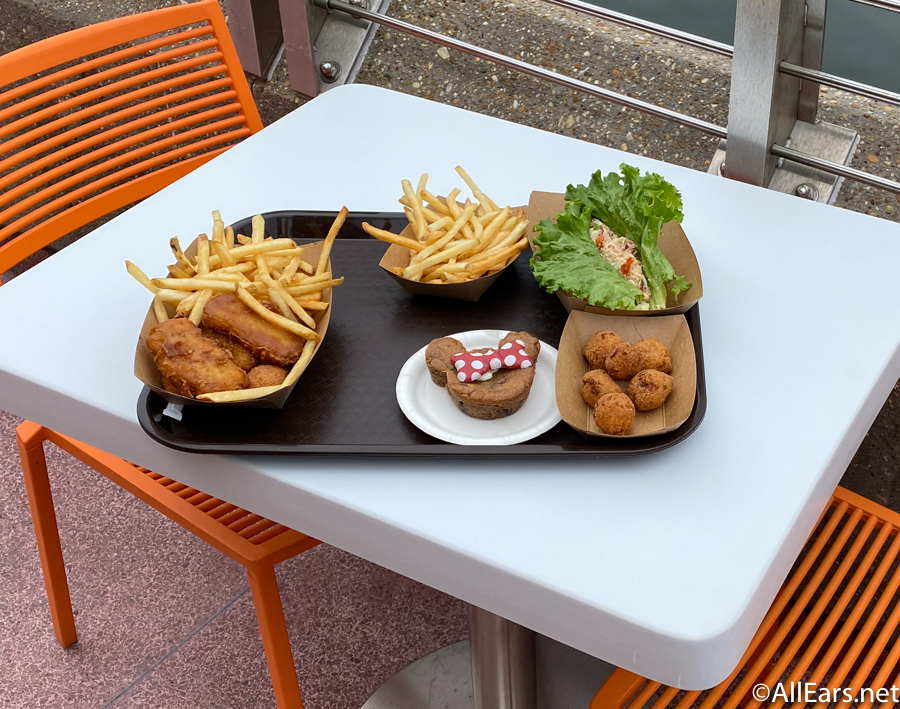 So if you're looking for something different from typical theme park fare, this just may be the spot.  Head to Columbia Harbour House when fish, shrimp, and hush puppies sound like tasty treats!
Disney Springs
Over at Disney Springs, there are a LOT of options to pick from, but some of the best places to grab a delicious bite to eat while keeping to a lower budget are Blaze Fast-Fire'd Pizza…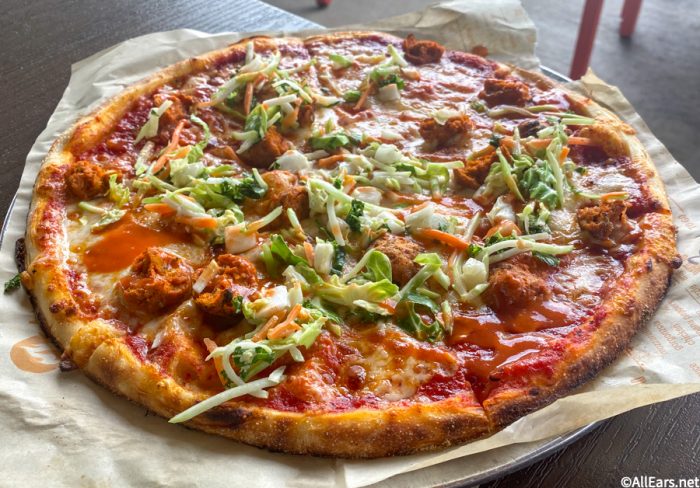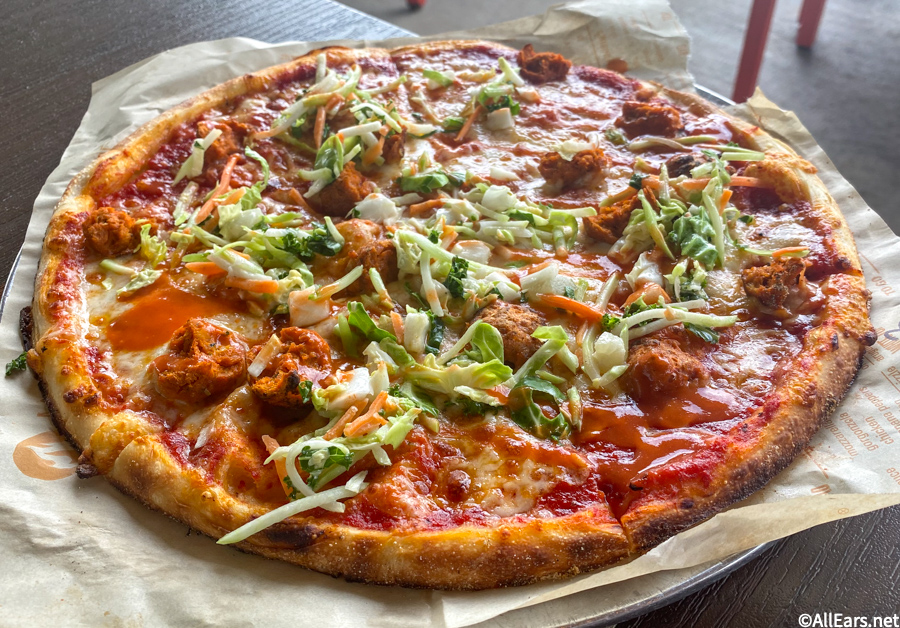 …and Chicken Guy.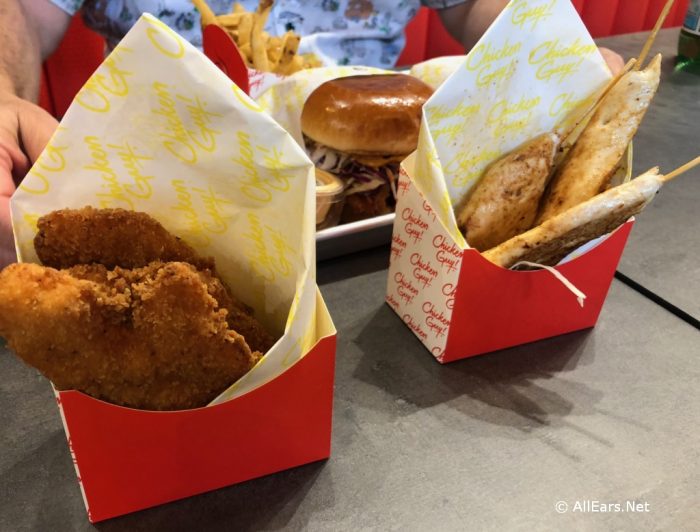 Both of these are pretty big crowd-pleasers with food options the whole family can pick from. Blaze is especially great because of the sheer number of ways you can customize your meal. And Chicken Guy serves up a gazillion different sauces you can taste to really "up" your meal.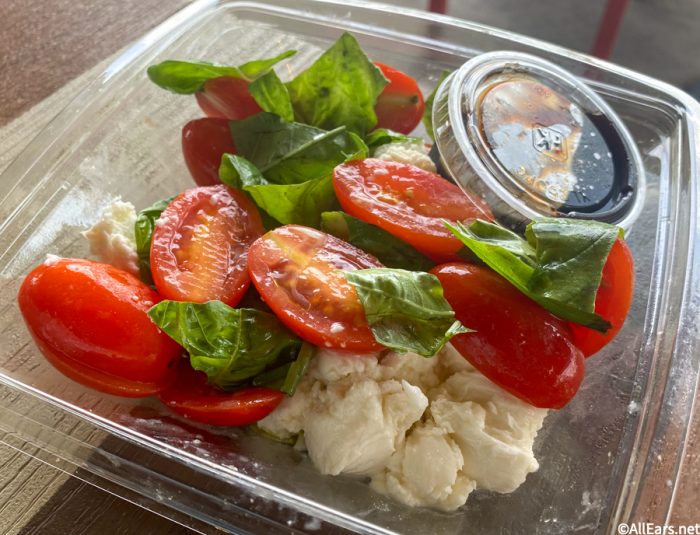 There are also a few kiosks that are amazing choices, but just have slightly more limited menus, like The Daily Poutine. But if you're okay with having a few less options to pick from at some of those kiosks, be sure to check them out too for some delicious but budget-friendly items!
Mid — $15 – $34.99 per person
Disney's Animal Kingdom
In the mid budget range, the choice was VERY clear at Disney's Animal Kingdom. Nomad Lounge has long been a favorite of ours and many other Disney fans.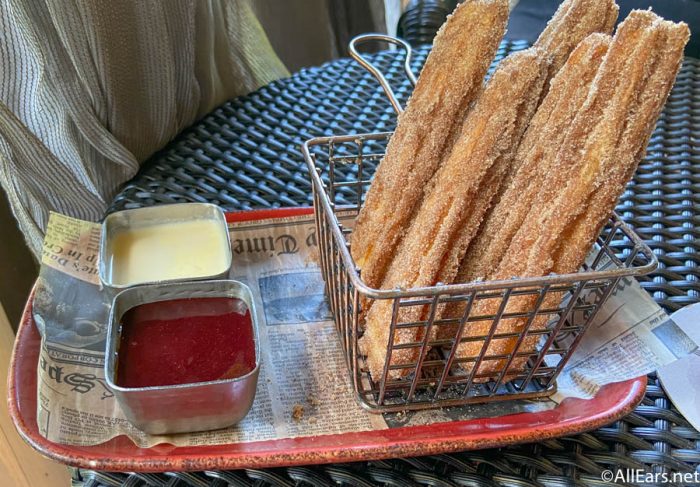 It's a bit quieter typically, has wonderful outdoor seating, has some unique bites and drinks, and who DOESN'T love a good bread service?!
Disney's Hollywood Studios
At Hollywood Studios, one of the BEST restaurants for this middle level category is 50's Prime Time Café.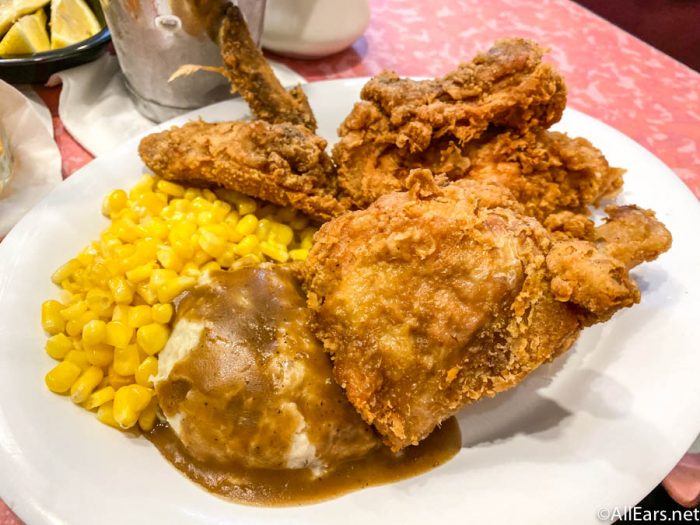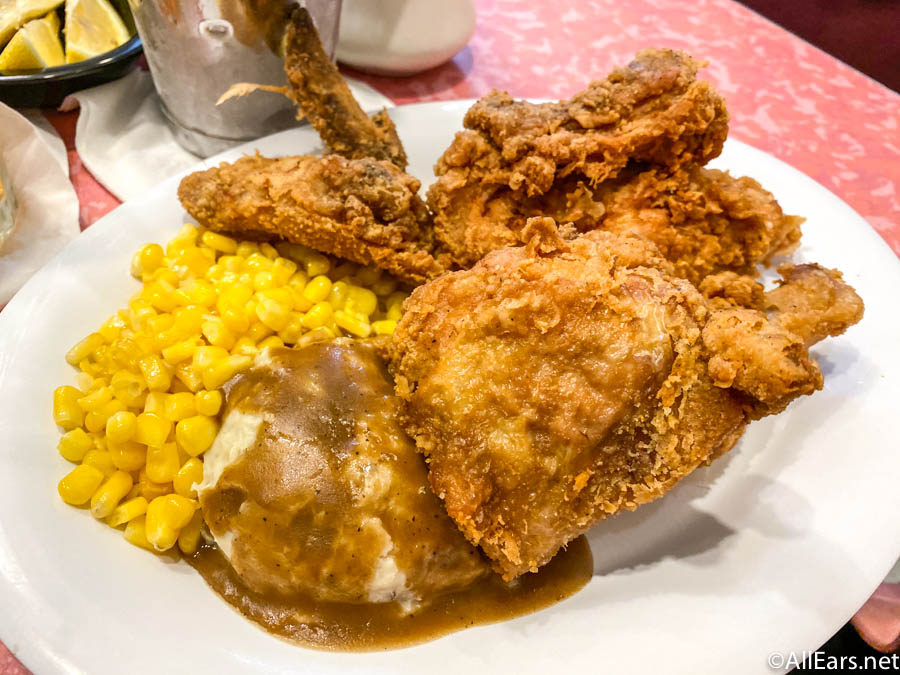 Yummy milkshakes, tasty dishes like fried chicken, a super unique theming, and (of course) hilarious interactions with your Cast Members make this an easy pick! Just be sure to keep those elbows off the table!
EPCOT
At EPCOT, some of the spots with positive ratings and which come pretty well recommended by AllEars readers in this category include Teppan Edo in the Japan pavilion and Spice Road Table in the Morocco pavilion.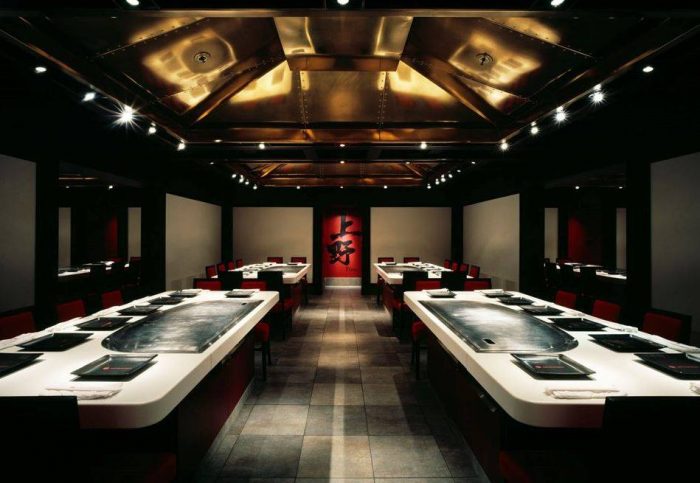 Teppan Edo is a hibachi-style dining experience. If that's a favorite of yours, then this might be a good spot to try.
Spice Road Table has a whole variety of unique small plates with flavors you might have never experienced before. We're talking hummus fries, grilled lamb kofta, naan spread, and some other unique dishes.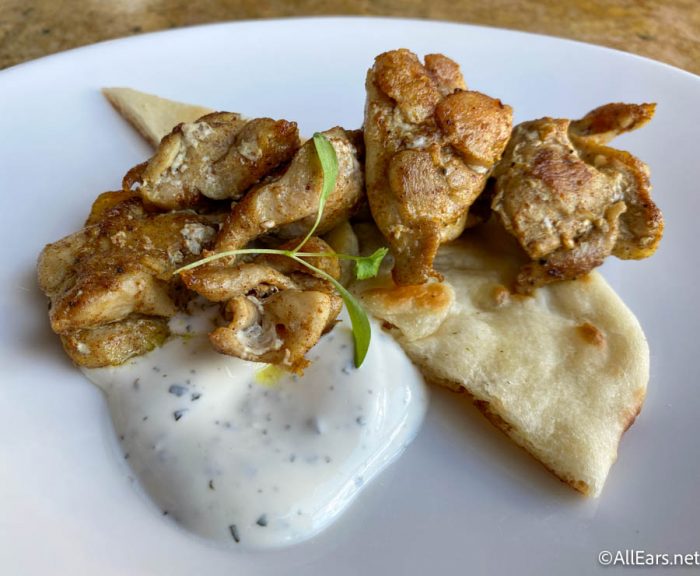 If you're looking for something different to try, with a beautiful view of World Showcase Lagoon, this is a spot you might want to consider!
Magic Kingdom
At Magic Kingdom, our pick for the best mid-budget restaurant would be Jungle Navigation Co., Ltd. Skipper Canteen!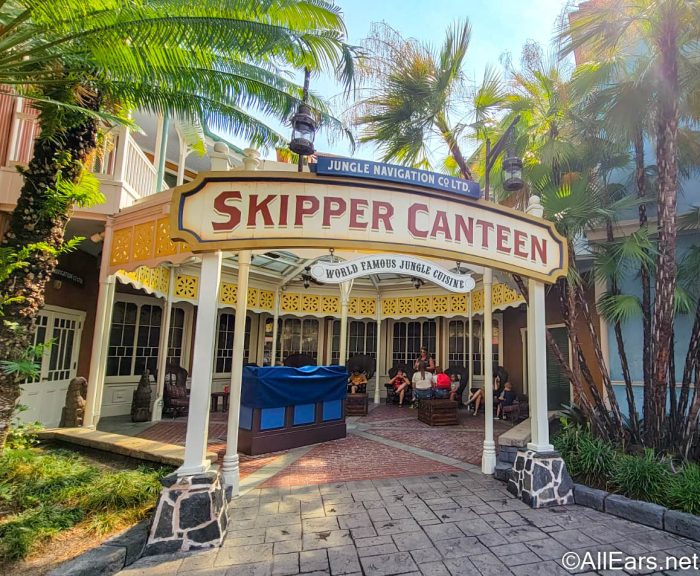 While you might come for some of the unique food, like Perkins Thai Noodles, be sure to stick around for the story. There are so many unique details here. You can check out the origins of Skipper Canteen here!
Disney Springs
And finally, our choice at Disney Springs for the best restaurant in this mid category is Chef Art Smith's Homecomin'. We've got two words: FRIED. CHICKEN.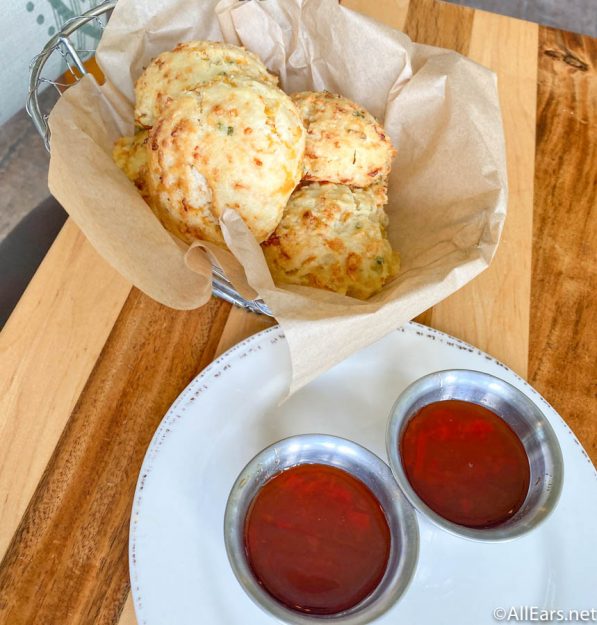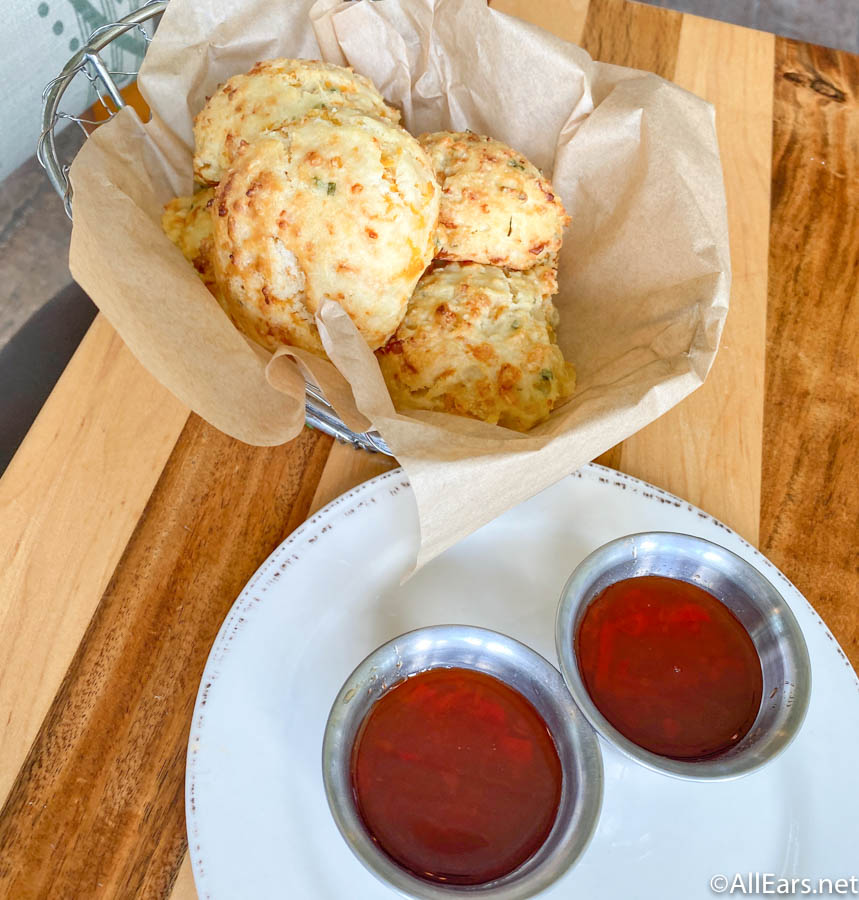 Okay, and a few more words — cheddar drop biscuits. Hummingbird Cake. Moonshine. Yeah, there's a lot to love at Homecomin'!
Mid-High — $35 – $59.99 per person
Disney's Animal Kingdom
In the mid-high budget range, we think the best choice at Disney's Animal Kingdom is Tiffins. At Tiffins, you'll find a whole bunch of really unique items like a whole-fried sustainable fish, butter chicken, and even lobster macaroni and cheese.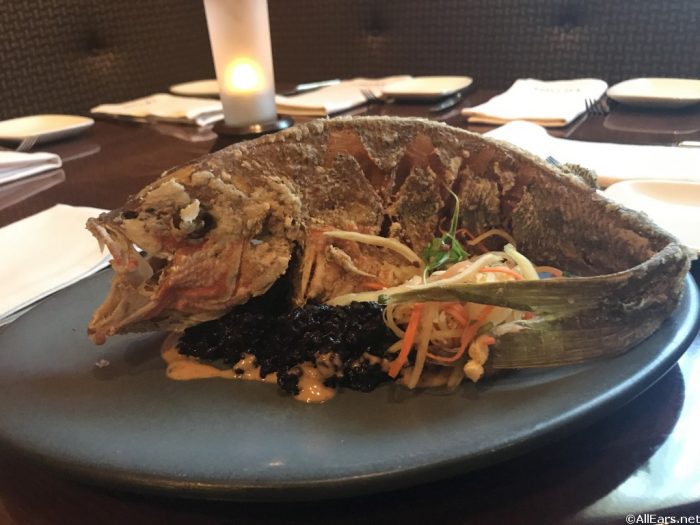 If you're looking for unique flavors in a beautifully themed restaurant right in the middle of Animal Kingdom, this could be a great spot.
Disney's Hollywood Studios
At Hollywood Studios, the mid-high level dining brings us to the wonderful Hollywood Brown Derby.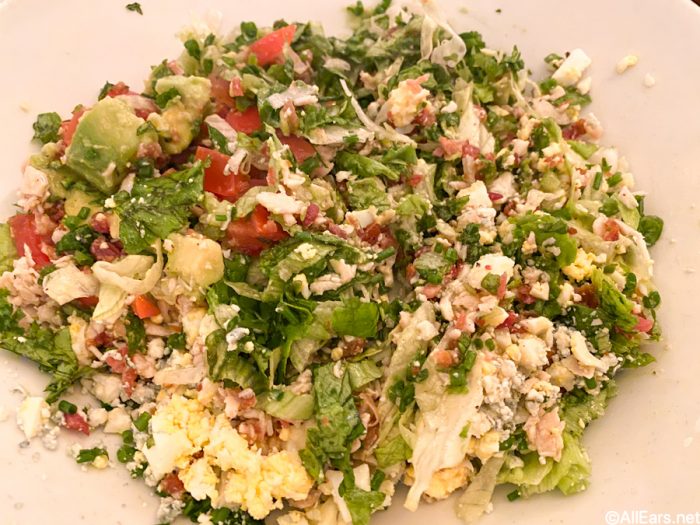 This spot is FAMOUS for its Cobb salad, but that's not the only thing you'll want to order from the menu. There's also their signature Grapefruit cake, and several other delicious dishes and fantastic drinks available too.
EPCOT
At EPCOT, our pick for mid-high would be Garden Grill Restaurant.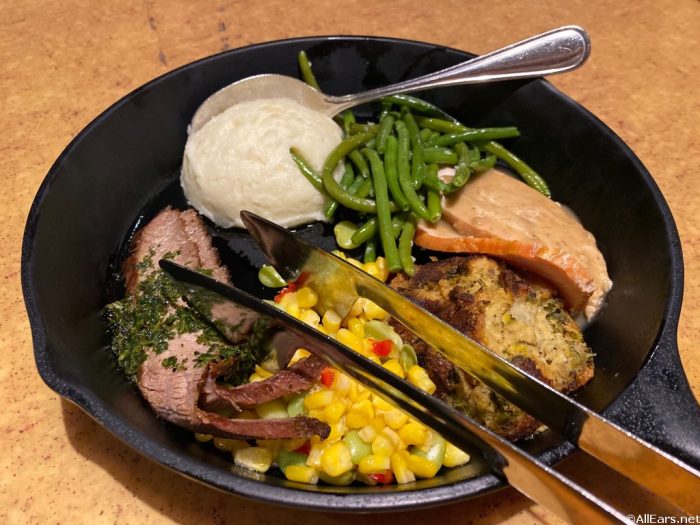 This spot really has it all — character dining, a family-style meal with some great options that'll make you feel like you're having a home-cooked meal on Thanksgiving, AND a rotating restaurant platform that lets you enjoy parts of Living with the Land as you eat. There's a lot to enjoy all at once!
Magic Kingdom
At Magic Kingdom, our pick for the mid-high level budgets is Liberty Tree Tavern. Very much like Garden Grill, it feels like it's Thanksgiving every day at Liberty Tree Tavern, and that's a great thing!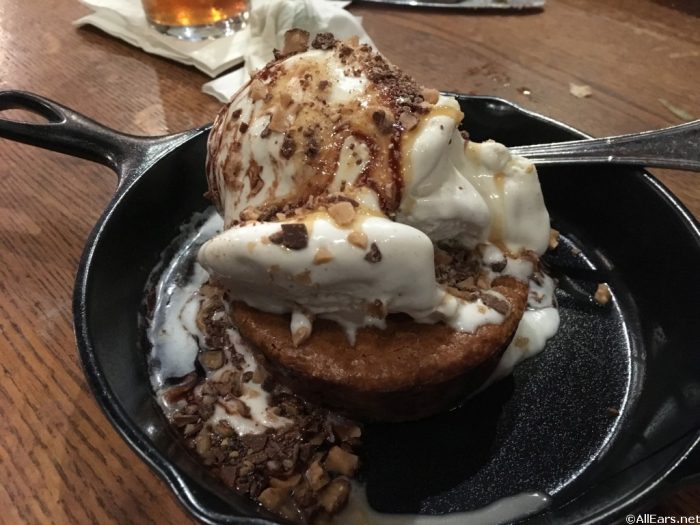 The meal is also an all-you-care-to-enjoy meal served family-style, with options like pot roast, mashed potatoes, stuffing, and mac and cheese. But, the real star here is that Oooey Gooey Toffee Cake — THAT is the stuff of dreams.
Disney Springs
And finally, at Disney Springs there are a lot of spots that could be listed as the best in this category, but we're giving our pick to Wine Bar George.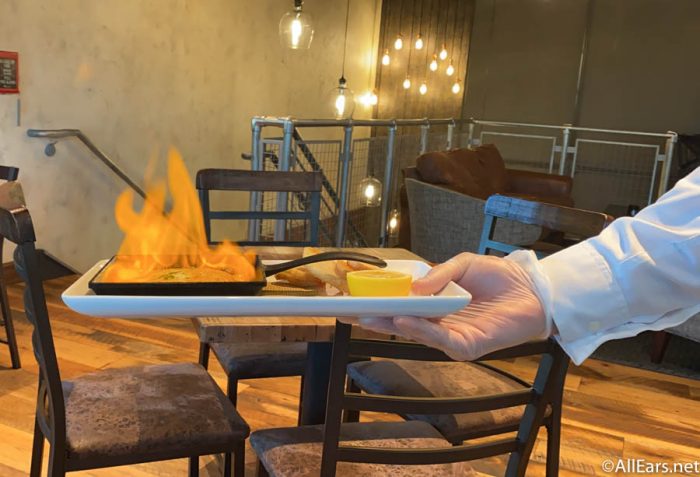 There's a LARGE drink selection (seems appropriate from the name), but also some delicious small plates and entrees. We're talking Saganaki on Fire, Crispy Mac & Cheese Bites that you'll want a million of, skirt steak, and more. If you haven't been to Wine Bar George, consider stopping by this spot next time you're in Disney World.
We did want to give an honorable mention in this category to two other delicious spots in Disney Springs though — The BOATHOUSE and Morimoto Asia. Really, there are so many delicious spots, you can hardly go wrong!
High — over $60 per person
According to Disney's website, there are no restaurants in Animal Kingdom, Hollywood Studios, or Disney Springs that fall in this category. But, you can click here to see where the PROS eat at in Hollywood Studios, and you can click here to see where the PROS eat at in Animal Kingdom.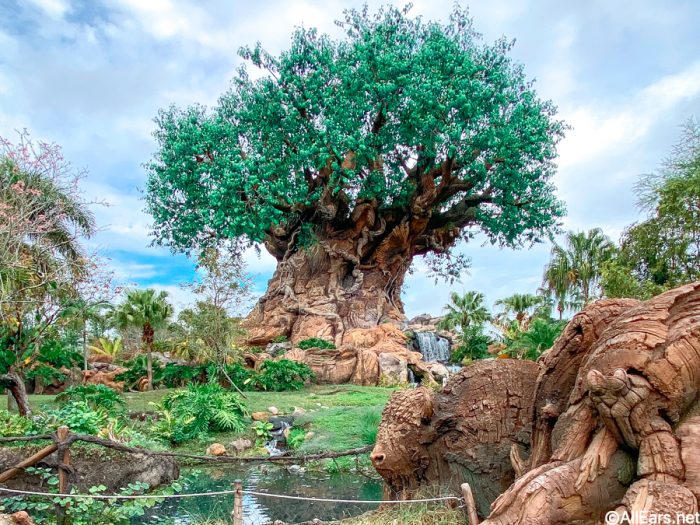 You can also click here to watch our AllEars TV video of the BEST things Molly has eaten in Disney Springs.
EPCOT
At EPCOT, Takumi-Tei (currently unavailable) in the Japan pavilion is one of the few spots that falls in this category according to Disney's price range filters.
This spot can certainly be very pricey, particularly if you do the Omakase Tasting Menu which was priced previously at $150 per person. But if you've got the money to spend or are looking for something really unique to celebrate a special occasion, this could be just the spot. With a tea ceremony, sushi, wagyu, and more, there's a lot to taste here!
Magic Kingdom
At Magic Kingdom, both Be Our Guest Restaurant and Cinderella's Royal Table fall into this higher price point and would certainly be among our list of picks for the best, considering even just their theming alone.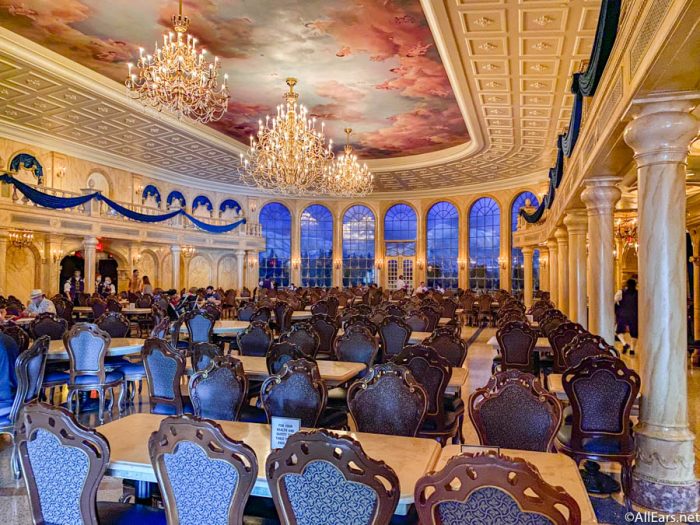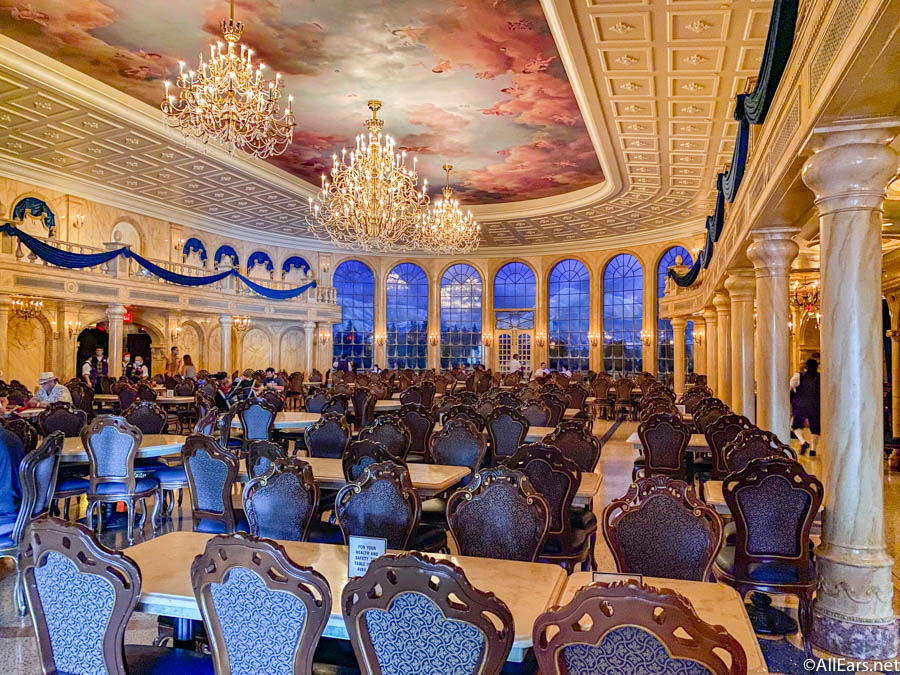 Both of these spots are basically bucket-list locations you should eat at, at least once, if for nothing else but to say that you've eaten there. The decor in Be Our Guest is stunning. And who doesn't want to say they've tried the grey stuff in the Beast's castle?!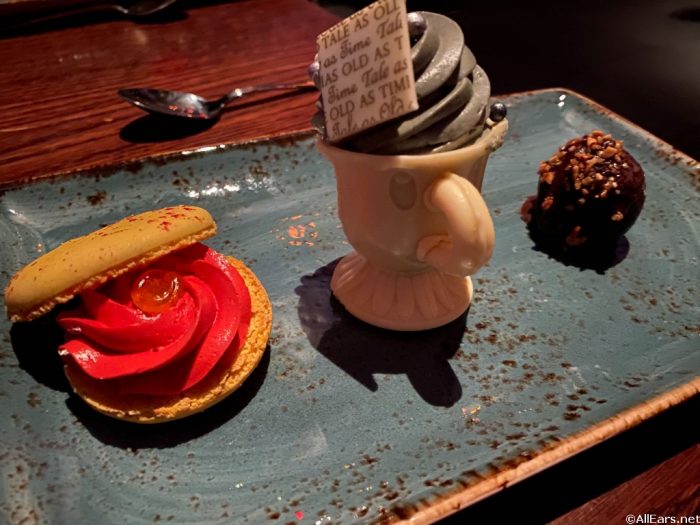 Cinderella's Royal Table is a unique dining experience that is located physically inside of Cinderella Castle. With beautiful decor and views out to Magic Kingdom, again it's a spot you'll want to try at least once.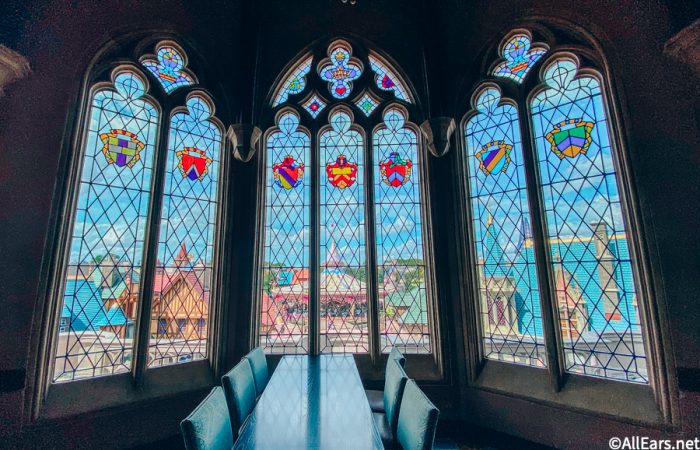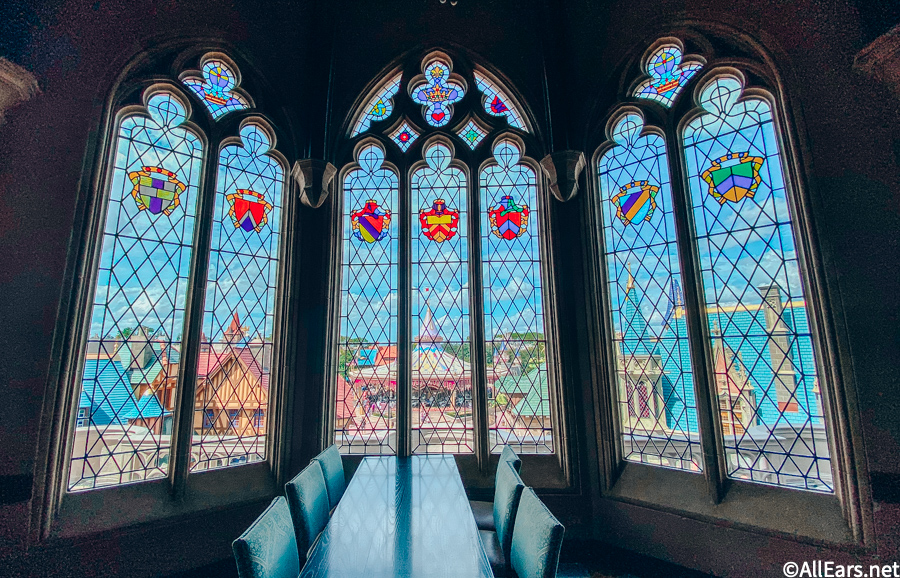 Both of these locations have changed a bit since the reopening though, so that's something to keep in mind.
No Budget
And finally, we get to our no budget treat yo' self category. That's where Victoria & Albert's comes in. There are a number of choices here — you can get what is typically around a 7-course menu in the Dining Room starting at $295 per person. Or you could opt for the 10-course meal in the Queen Victoria Room starting at $375 per guest. Or you can REALLY go ALL IN and do the Chef's Table experience which is usually around 7-10 courses starting at $425 per guest. There may also be a number of other menus available.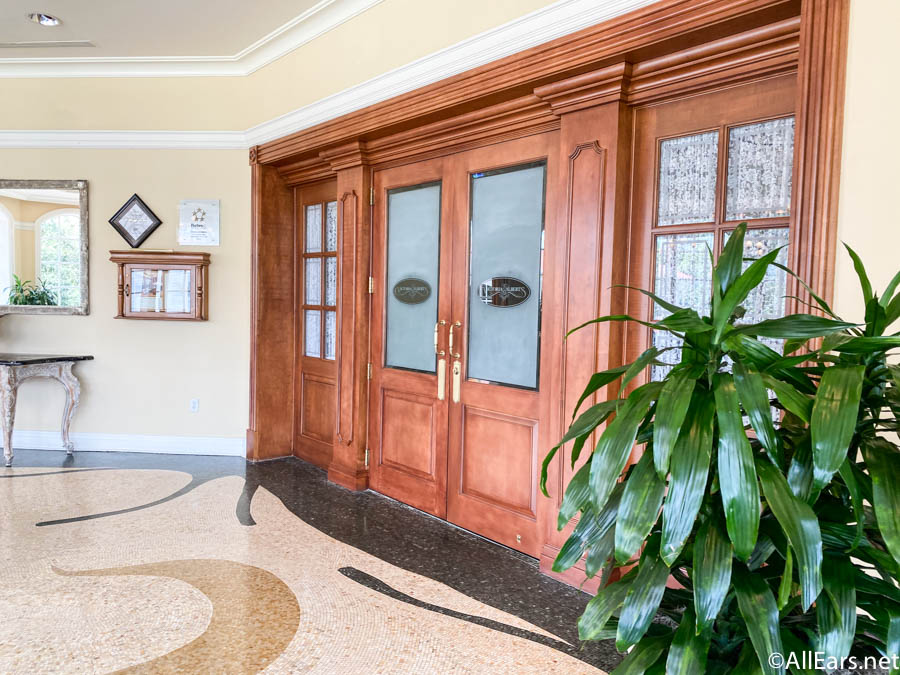 Victoria and Albert's is one of the most prestigious restaurants in the Southeast and has won AAA's Five Diamond Award, Forbes Travel Guide Five-Star Award, and other accolades. Basically, this is the ultimate of ultimates when it comes to bucket-list restaurant spots in Disney World. It'll be a totally unique (and SUPER fancy) experience, but it'll definitely cost you a pretty penny.
And that's our list of the BEST Disney restaurants at every price point. These are just some of the great spots out there. There are plenty of fantastic restaurants in Disney World that didn't make this list, but are totally still worth eating at.
What restaurants do you think should be on this list of the best? And which do you feel should be removed? Tell us in the comments!