With both Walt Disney World and Universal Orlando Resort limiting capacity at their reopened theme parks, it's no surprise that crowd levels are not what they used to be.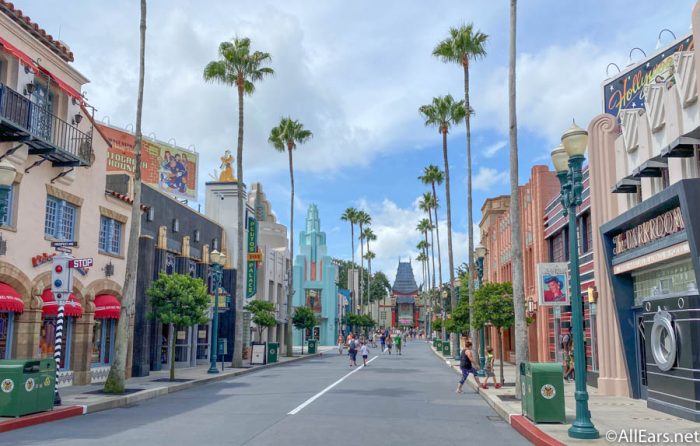 While we don't have exact attendance numbers from Universal or from Disney, we can look at estimates, crowd photos, wait times, and more to get a sense of which resort seems to be doing better since reopening. And according to the Orlando Sentinel, one of them seems to be rebounding more quickly.
Which park feels more crowded?
In general, Universal Orlando feels like the more "crowded" resort with more guests visiting on average since reopening than Disney World. This also comes as Universal has reportedly "rebounded" in attendance quicker than Disney has.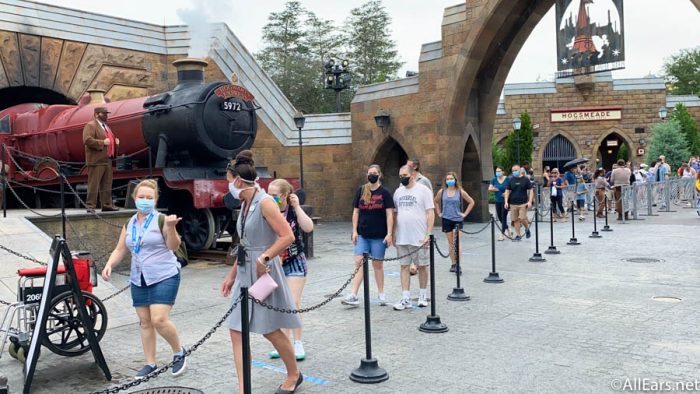 While downward trends are to be expected due to limited park capacity and a hesitation to travel this year, Universal's downward trend is not as drastic as Disney's. According to analysts, Universal's attendance is down 64% compared to this time last year, whereas Disney World is down 80%.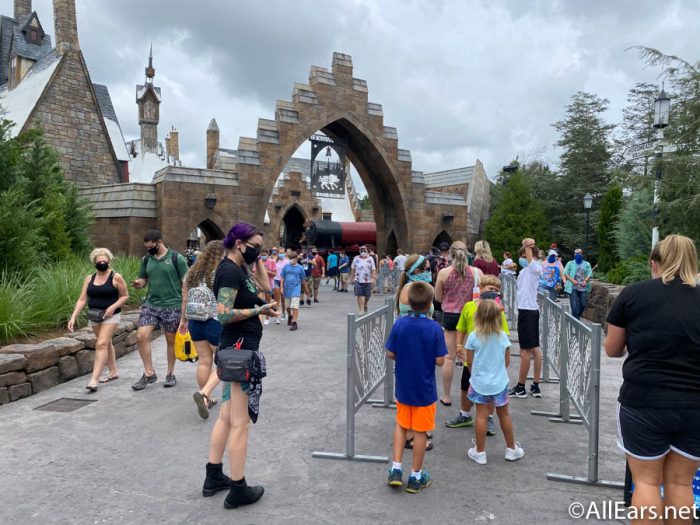 Another important factor to consider when deciding which park feels more crowded is the virtual queue system. While both Disney World and Universal have mobile ordering for food, only Universal has virtual queues for their rides and attractions. So, even if wait times are on average the same, you don't have to actually "wait" in a physical queue at Universal, which may make your experience feel even better.
How have the crowds looked at each park since opening?
We've been tracking wait times DAILY since reopening to give you a sense of how crowded each of the four Disney World theme parks are throughout the day. Be sure to give those a look!
Universal Orlando's reopening seemed to go rather smoothly, despite larger crowds forming in more popular areas of the theme parks like Diagon Alley and Hogsmeade.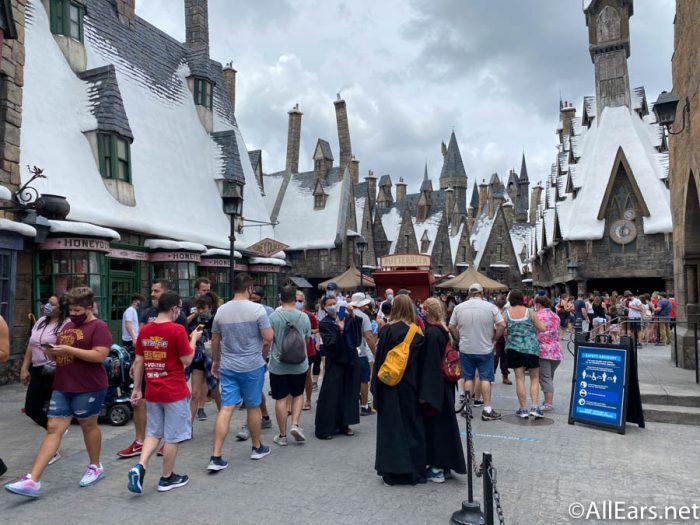 Disney World's grand reopening, which included Magic Kingdom and Disney's Animal Kingdom followed by EPCOT and Disney's Hollywood Studios, also seemed to be smooth overall, with occasional bottlenecking and crowds forming.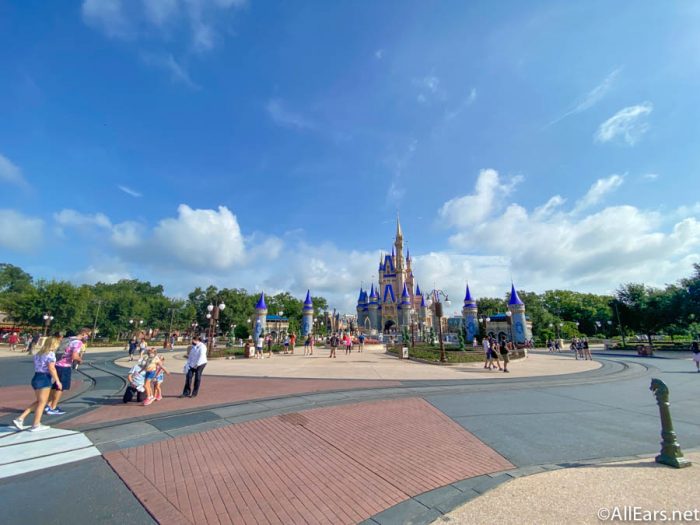 Universal was the first resort of the two to experience a park actually hitting capacity. Soon after it reopened, Volcano Bay had to close one weekend because it was at capacity. Disney hit its first full-to-capacity day at its Parks over Labor Day weekend earlier this month.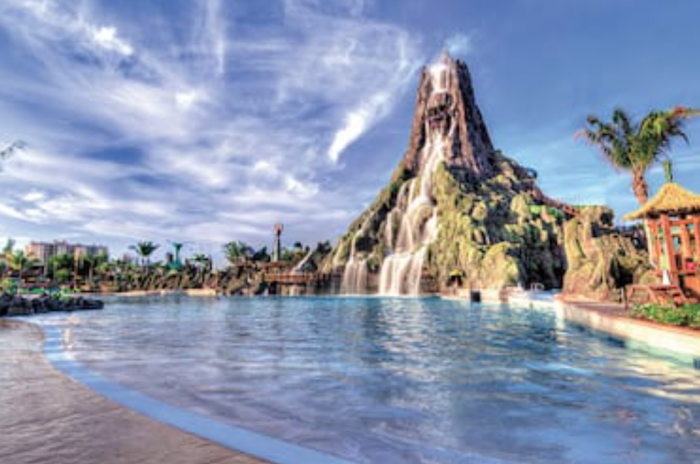 Keep in mind that Disney has their Park Pass Reservation System to estimate how many people are expected to attend a park each day, and there have been times that those reservations fill up across all three reservation types: Resort Guests, Annual Passholders, and Theme Park Ticket Guests.
Why could Universal be doing better than Disney?
Reason One: Disney World opened as positive cases in Florida were on the rise.
Perhaps Disney's biggest struggle to date has to do with the fact that they reopened the same week that Florida was seeing a rather large spike in positive cases. Universal opened earlier, but that that time, Florida's numbers were relatively stable.
In the most recent quarterly earnings call, Disney CEO Bob Chapek pointed out that a high number of reservations were cancelled in the resort's first month of operations since reopening, more than likely due to this spike in cases.
Reason Two: Universal opened one month ahead of Disney.
Universal's grand reopening took place on June 5, more than one month ahead of Disney World's grand reopening to the general public, which was on July 11. It's possible that there is an intangible one month "lag" in the public warming up to the idea of visiting the theme parks and opting to wait and see how the initial few weeks go.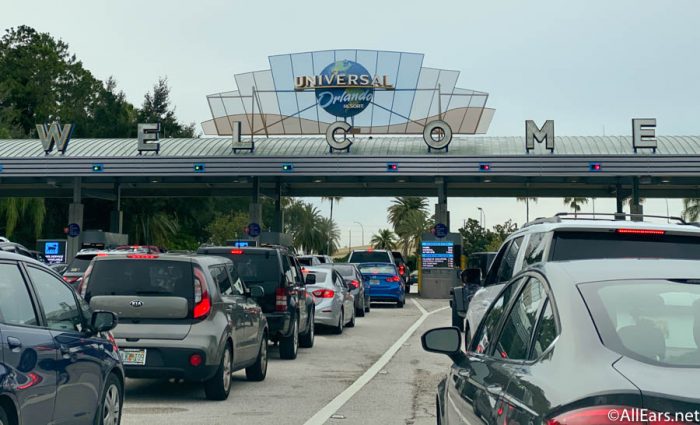 Disney World could simply be playing "catch up" with Universal, as Florida's cases now seem to be on the decline. In the weeks to come, we may start to see Disney's numbers stabilize and reach the levels that Universal is at now.
Since Disney World is much bigger it can obviously accommodate a larger volume of guests, but it may be that Disney hasn't reached the optimal percentage that they want to achieve in this phased reopening. 
Other things to keep in mind:
According to the analysts' report in Orlando Sentinel, Disney's 80% figure mentioned above seems to take into consideration all of Disney's international parks that have also reopened, whereas Universal's 64% figure seems to only be looking at Universal Orlando Resort.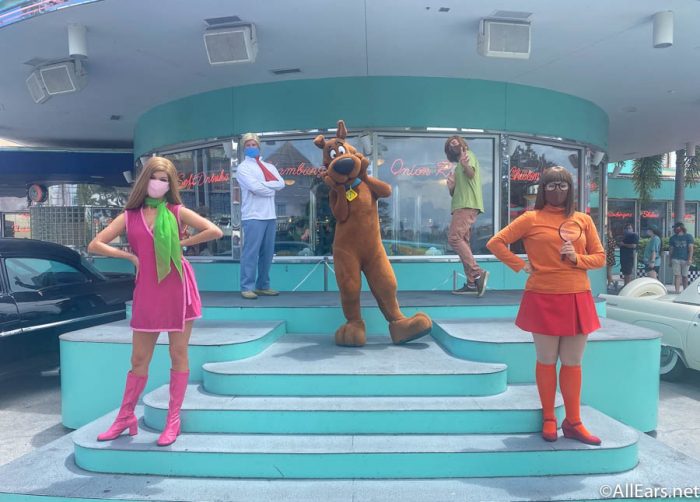 Also, in terms of how crowded a park feels, remember that Disney World is WAY more spread out than Universal. Regardless of what the numbers say, Universal will more than likely always "feel" more crowded since the entire theme park and CityWalk area is more densely located. For example, there is one major security checkpoint at Universal, whether you want to visit CityWalk, Universal Studios, or Islands of Adventure.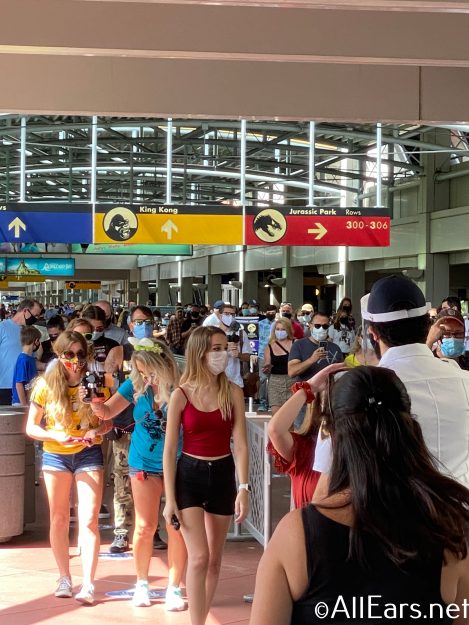 Finally, both resorts are limiting capacity, but Disney has the added Park Pass Reservation feature. We don't know exactly what the resort's capacities are set, but the Park Pass feature could be another factor to consider why folks may be taking longer to return to Disney World.
Have you been to Universal or Disney World since the resorts reopened? Share your experience with us in the comments!