This year's EPCOT International Food and Wine Festival isn't like anything we've seen in the past, as two festivals have been combined in one!
Although there have been some great snacks and sips we've seen around the parks, we've also been told that there would be more booths coming back to festival. And, we spotted two of them open today, along with another surprise in EPCOT!
The Alps booth is back open with sooo much cheese, we can't handle it (nm, we totally can)!
Although the menu options have seen some changes (and some misspellings)  at the food booth this year, they're still just as tasty.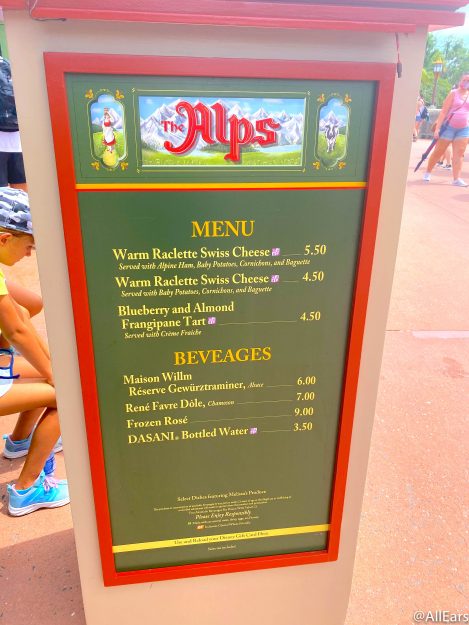 While you're heading back to The Alps, you can check out sweet treats and great eats…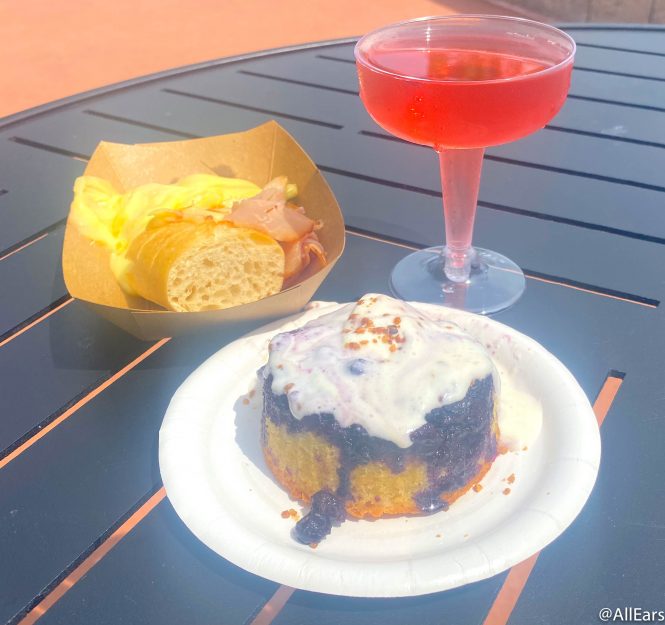 …like the modified Warm Raclette Swiss Cheese with Baby Potatoes, Cornichons, a Baguette, and now ALPINE HAM for $5.50…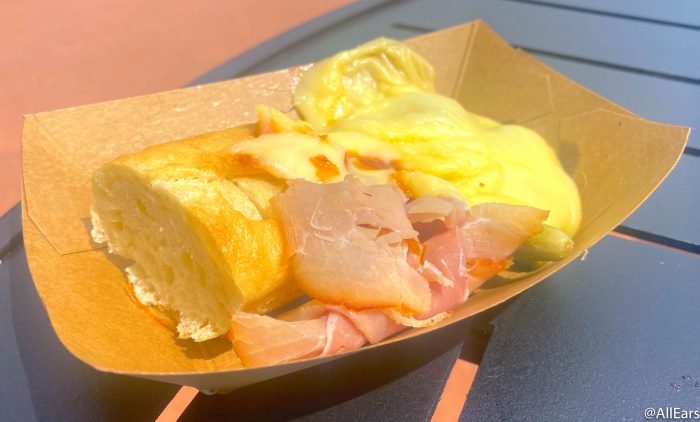 …Blueberry and Almond Frangipane Tart served with Crème Fraîche for $4.50 (that honestly tastes more like a cake)…
…and the Frozen Rosé for $9 (but be sure to drink it fast, because this drink melts QUICKLY).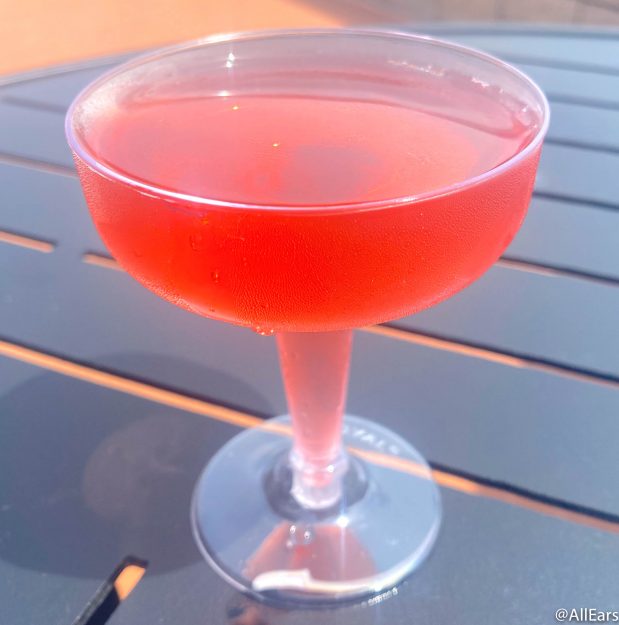 And, you can head over to the Spain booth afterwards for a taste of great cuisine from around the world!
The menu has seen some significant changes this year with missing items and changes to the current options.
But, don't worry — there's still more CHEESE over at the Spain booth (and plenty of meat)!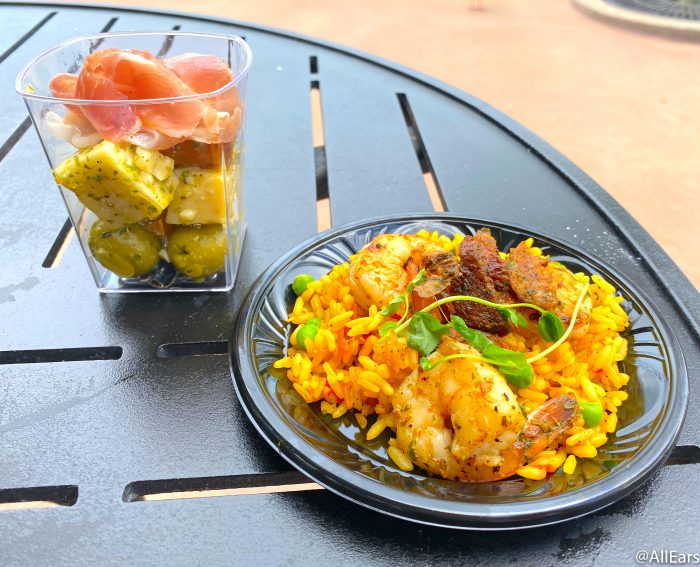 Guests can pick up the Charcuterie cup (not cone like last year) packed with Spanish Meats, Cheeses, Olives, and an Herb Vinaigrette for $6.50…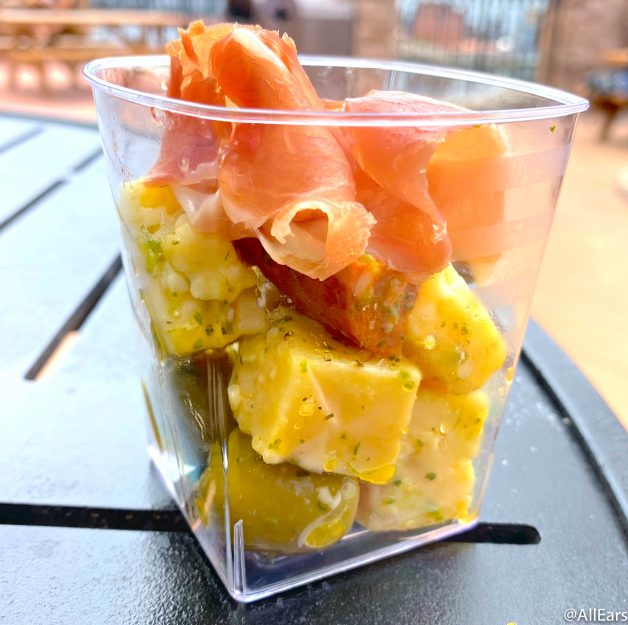 …and the Spanish-style Paella that's subbed out just chicken for Chorizo, Shrimp, and Rice instead this year for $5.50.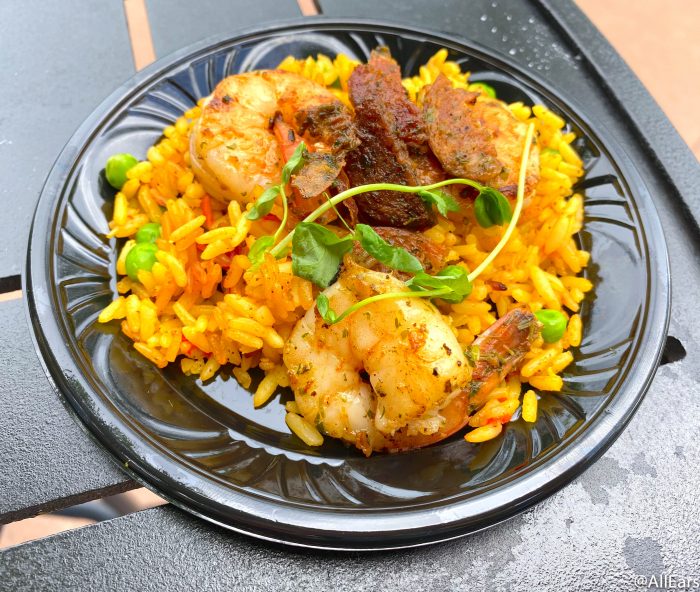 Although the Donut Box hasn't opened just yet, we did find the only place you can get a beer flight during the Food and Wine Festival!
Block and Hans has opened with all sorts of great ciders, ales, and other sips. But, you can snag a beer flight (finally) when you're in EPCOT for $10.75!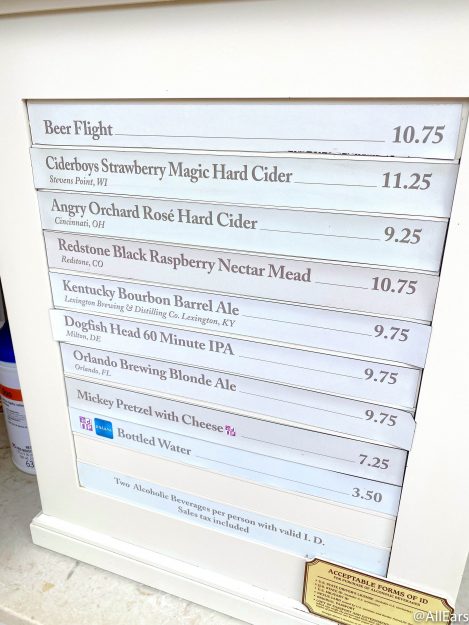 The flight comes with an ale, IPA, the Orlando Brewing Blonde Ale, and the Angry Orchard Rosé Hard Cider.
As the Food and Wine Festival brings back additional booths and rolls out upcoming lines of merchandise, we'll make sure to show you everything happening in EPCOT!
What is your favorite booth to visit during the Food and Wine Festival? Let us know in the comments below!