This week, we got to take our first steps back into a theme park as Universal Orlando Resort opened for previews prior to the general public reopening on June 5th!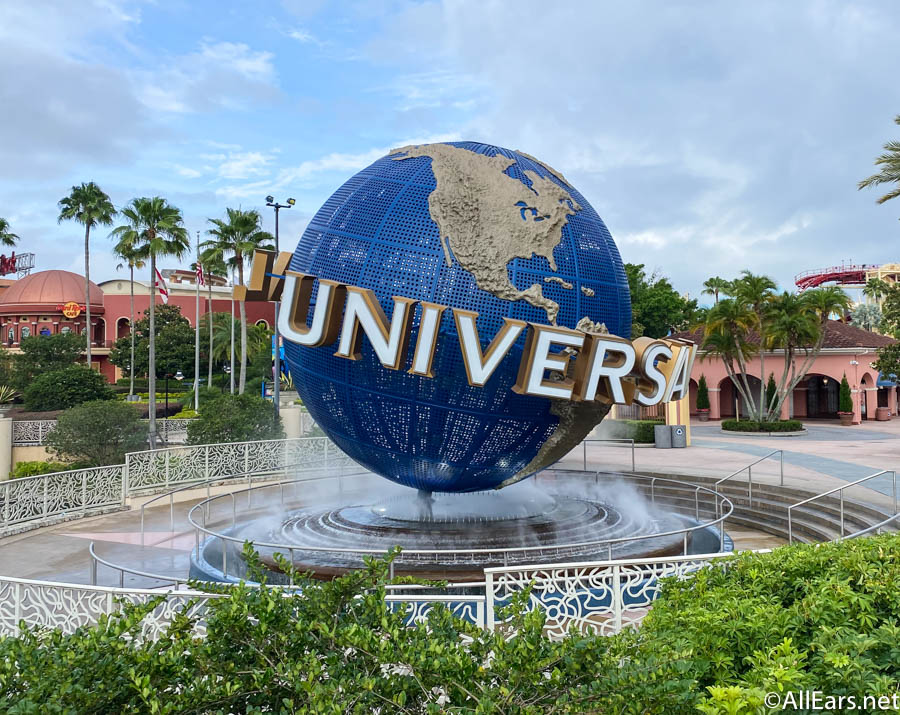 Through our preview days at Universal Orlando, we discovered what it's like to stay in one of their hotels, tested out their new Virtual Line system, and of course, drank Butterbeer.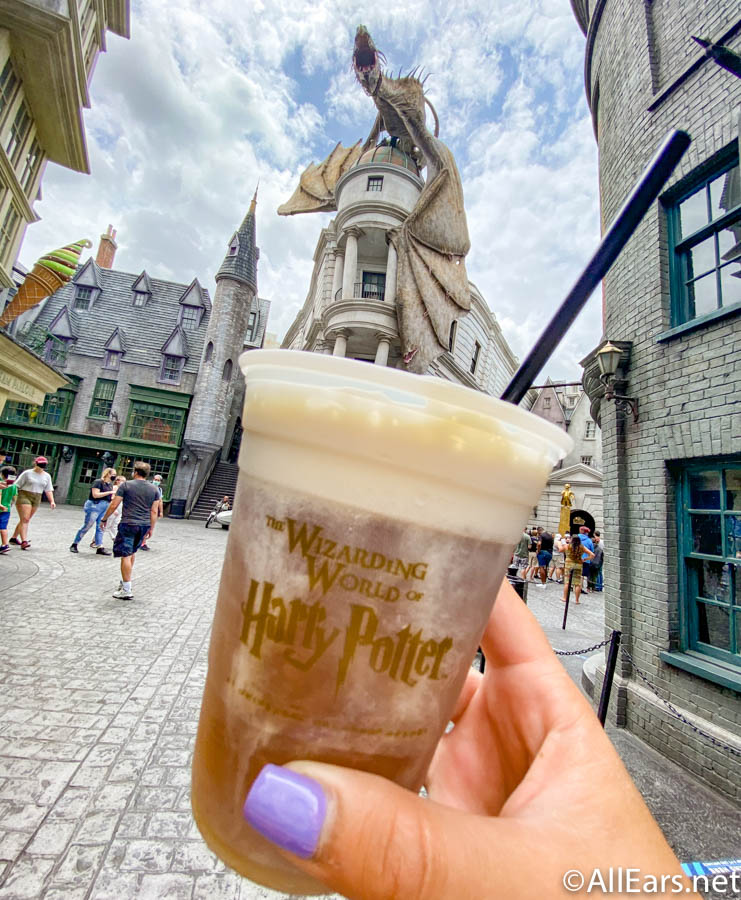 But there's one thing we've been getting a LOT of questions about: MASKS. Is it hot? Is it still fun? What is it like to theme-park in a facial covering?
We are here to answer all of your questions — and more — when it comes to wearing a mask in a theme park (specifically Universal Studios and Islands of Adventure). 
Is it hot?
In a word: yes. But it's not that simple — it's not just hot because you have a mask on, it's hot because you're in Florida and it's incredibly humid regardless of wearing a mask.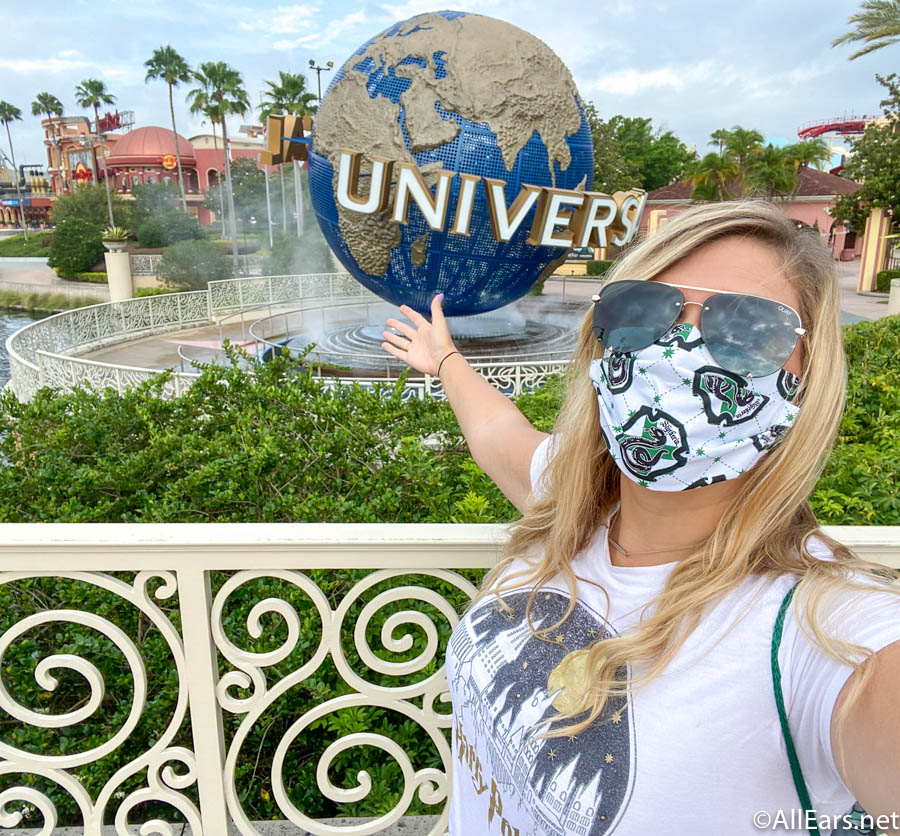 In my personal experience, I was hot and sweaty but I can't solely blame the mask. I would be hot and sweaty no matter what — but now I'm probably a little sweatier on my face.
I also got used to it as the days went on, so that when I took my mask off I thought "oh yeah, that's way better" but I didn't usually notice it after it had been on for a few minutes. That said, there were a few times when spieling on camera for YouTube that I noticed it was a little more of an effort to breathe and walk and talk (loudly so people could hear me on camera) at the same time.
Again, this is just my experience, and I don't have kids with me. I am also used to walking outside in the heat all day for my job, which many people are not acclimated to. Like anything, some people will find wearing masks more bothersome than others.
Universal Orlando has set up "URest Areas" throughout both parks, which are areas with socially distant seating where guests can safely remove their masks and relax for a bit.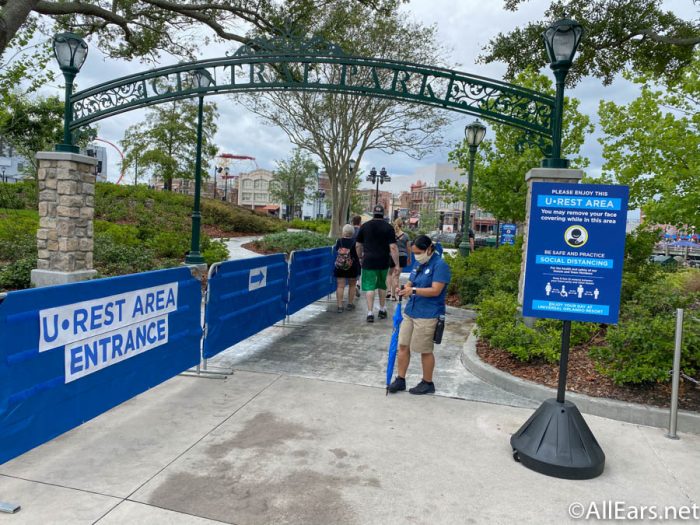 No matter what, if you plan to attend the theme parks now, you should practice wearing your mask before you arrive. Wear it on (long) walks outside to get used to it in the heat. I know my days at Disney Springs helped train me for full days in the parks.
In short — is it better in the parks without a mask? Obviously. But it wasn't as hot as I predicted.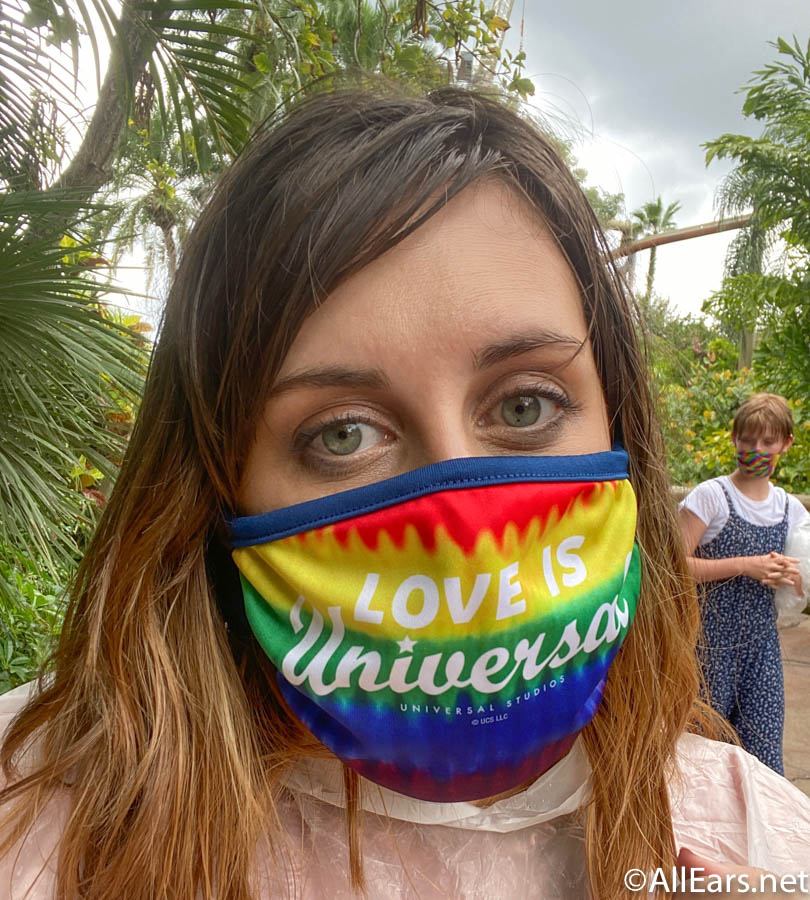 Do you have to wear it on the rides?
Yes. Masks are required to be worn on the rides, with the exception of water rides such as Jurassic Park River Adventure. On these rides, a Team Member will instruct you when it's safe to remove your mask.
In our experience, wearing a mask on rides didn't alter the experience for most attractions. The main exception was 3-D attractions, where the glasses fogged up. We found if you put the glasses over the mask, that helps!
To learn more about our experience riding rides in masks, head here!
Can I take it off for photos?
Yes — but be aware of your surroundings and respect social distancing. However, if you want to snap a quick picture with Jaws or Hogwarts, or a face-maskless selfie with Spider-Man you can — you'll just need to re-cover your face immediately after.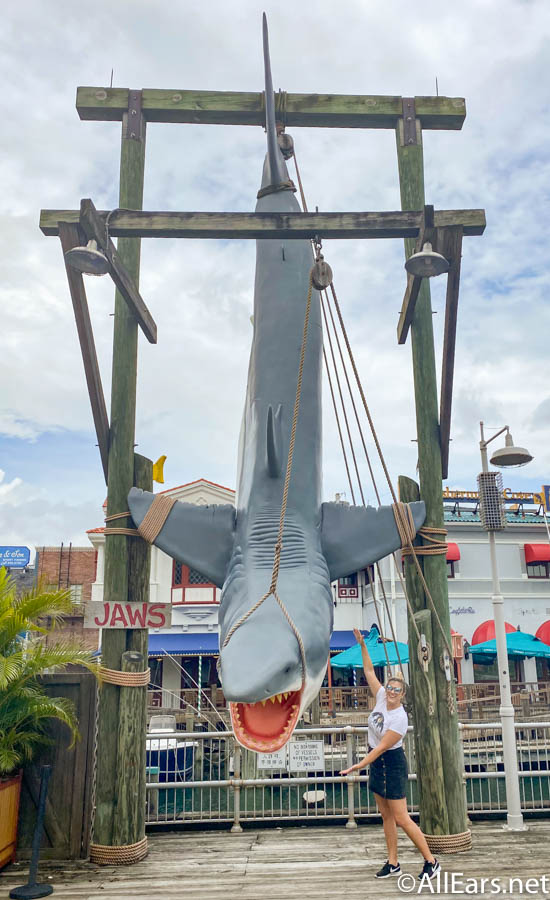 Also, keep in mind Team Members cannot take your phone for photos as they normally would, so you'll need someone in your party to take it or snap a selfie.
Can I walk around and drink a Butterbeer?
Yes. Much like in Disney Springs, you are able to walk around with food or beverages. They are once again asking you to respect social distancing, but you can pull your mask down to take a bite or sip, and then replace it.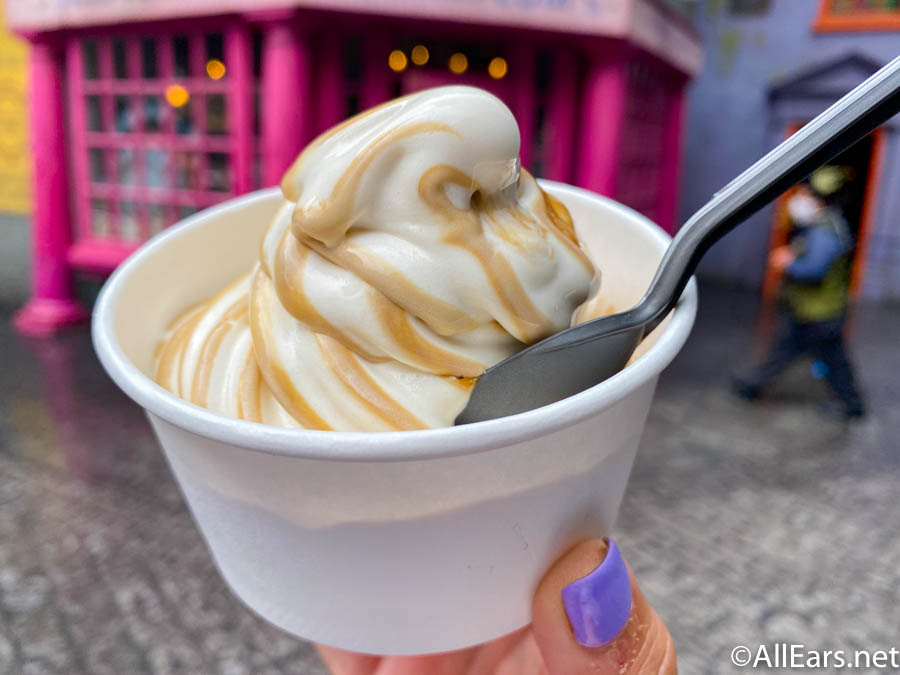 At sit-down and quick-service restaurants, tables are spaced far enough apart that you are able to remove your mask to enjoy your meal.
What happens if I lose it?
We learned the hard way that you should probably pack a back-up mask just for this occasion. 
When we lost our mask on Jurassic Park River Adventure, a Team Member helped us located the closest store that sold masks and we scooted that way to purchase one ASAP.
We'd highly recommend bringing a spare mask with you in case you misplace your's, get caught in the rain, or even get Butterbeer on it!
What happens if I just DON'T wear it once I'm in the park?
Facial coverings are required to be worn at all times while in the park, with the exceptions of while dining, at the URest Areas, or on the specific water rides.
Several times throughout the day, we saw Team Members remind guests who had their masks lowered to put them back on. When we were running to get our new mask, we were stopped several times as well and had to let people know we were headed to buy a new one.
As with any rules (such as smoking in designated areas only), Team Members will ask you to comply with them if you aren't — and if you continue to refuse, that could result in expulsion from the park.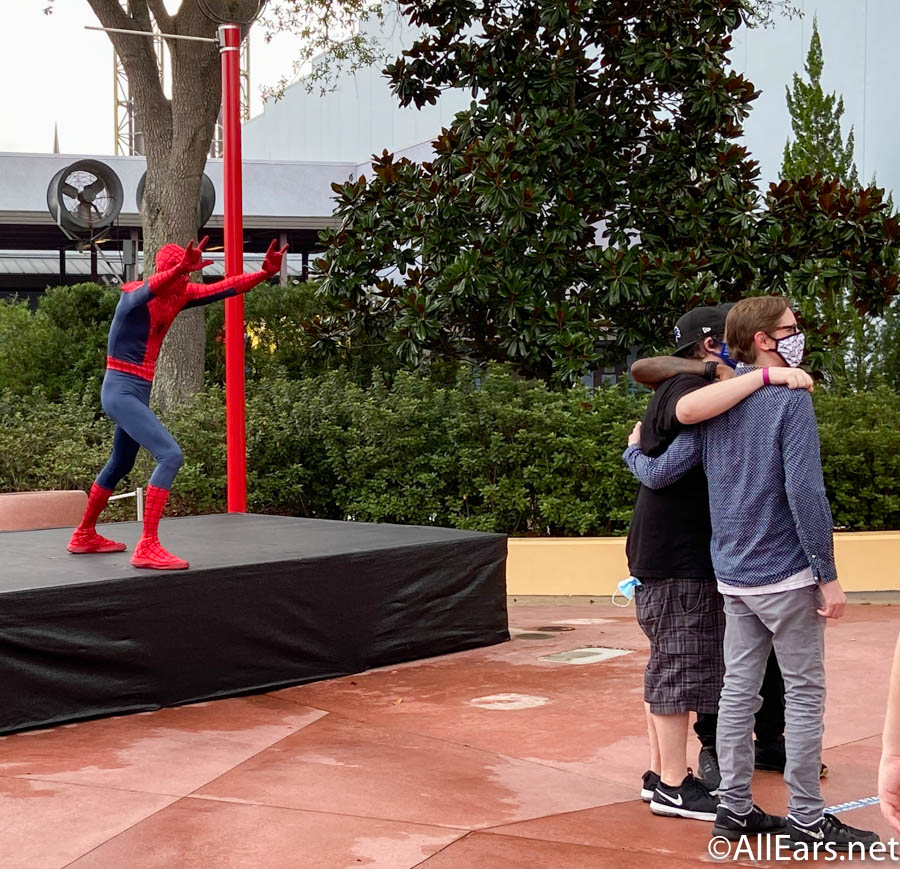 Is it still fun?
Yes. It's a different world, but it's still fun. I still enjoyed myself on Harry Potter and the Escape from Gringotts, still danced to the Blues Brothers (on my social distancing dot space), and still waved at Hashtag the Panda.
Is it more fun when you can actually hug the characters? Yes. Are there hiccups and a learning curve as we figure out the "new normal"? Yes.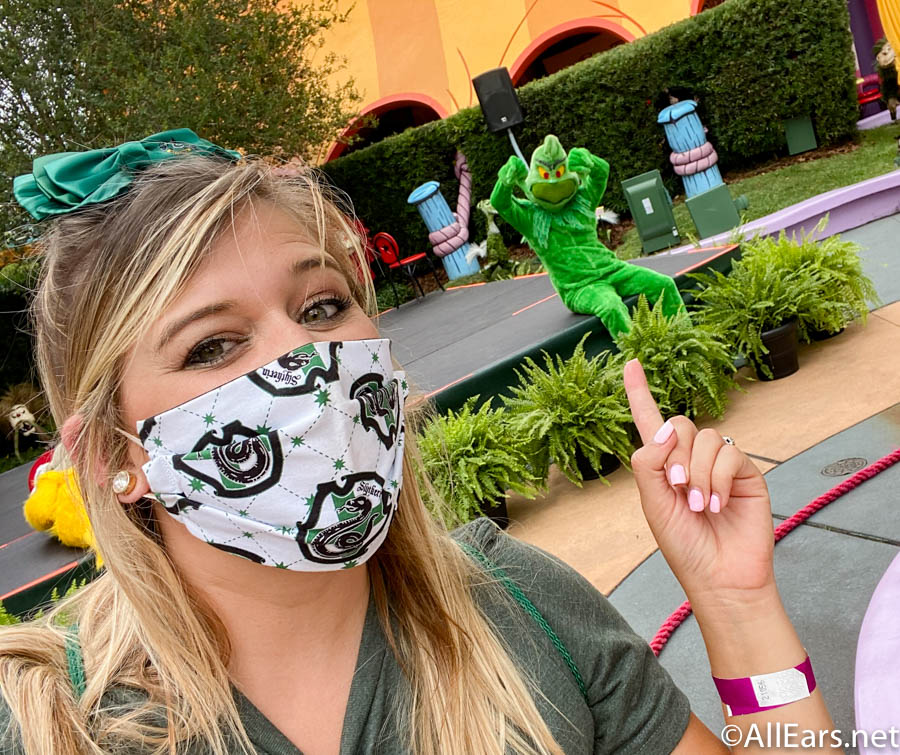 As a local Annual Passholder, I enjoyed myself — however, I have the ability to leave if I get too hot and return another day. Additionally, Universal Orlando is a very different beast than Walt Disney World. Even prior to the closure, Universal Orlando didn't operate the same when it comes to pre-planning or entertainment (there aren't nightly fireworks at Universal, for example). So while things were noticeably different at Universal now, they didn't seem as drastically different as they could be at Walt Disney World.
In the end, it will be up to each individual family to decide whether or not "theme-parking in a mask" is for them.
What questions about masks do you have? Let us know in the comments!
Join the AllEars.net Newsletter to stay on top of ALL the breaking Disney News! You'll also get access to AllEars tips, reviews, trivia, and MORE! Click here to Subscribe!