In October of 2003, the Mickey's PhilharMagic attraction debuted in the Magic Kingdom at Walt Disney World during a lavish press event.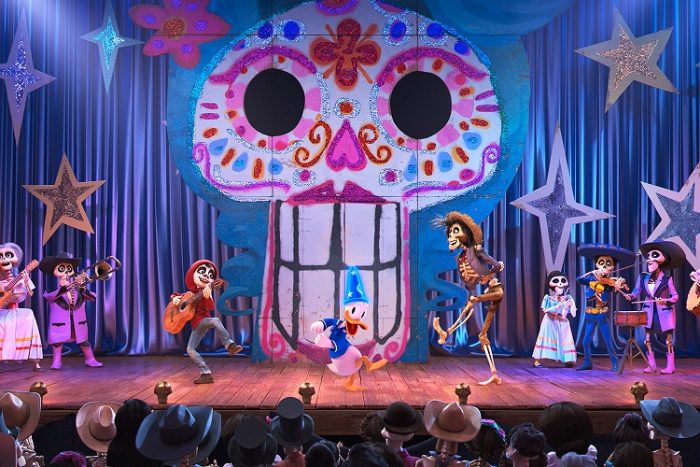 Instead of just rolling out the red carpet for the opening of hilarious 3D show, Disney opted to invite several members of television's The Brady Bunch to the festivities, most notably Florence Henderson and Barry Williams, who joined hundreds of members of the press and several key Disney executives for the occasion.
After some brief dedication ceremonies outside the theater, invited guests and members of the media were asked to make their way into the show's waiting area.
Unlike the vast majority of newer Disney park attractions, there is no pre-show at Mickey's PhilharMagic … just a lot of people milling about with 3D glasses in hand and the occasional cast member announcement to "fill in all available spaces" so that more people can be squeezed in.
It was during one of these "fill in all available spaces" moments during the opening night when I spotted Marty Sklar out of the corner of my eye. He was chatting with a small group of people I assumed were fellow Disney execs.
This was the first time I had ever seen the leader of Walt Disney Imagineering in person, so I figured – while most of the other members of the media were sidling up to the Bradys – it might behoove my wife and I to sit near Marty in hopes that he'd say something I could use in my report. At the very least, I was hoping just to say hello to a man I had admired from afar for years.
SEATED NEXT TO MARTY
Marty was surrounded by several of his colleagues as we found our seats, but my wife managed to sit right next to him, with me seated to her left. A minute or two into the hilarious animated show, I leaned over and said to my wife: "I wonder if Pixar had anything to do with this?"
Of course, Disney and Pixar had had a wonderful collaboration in the years prior to 2003, what with the hit movies Toy Story, Toy Story 2, A Bug's Life and Monsters Inc. earning both critical acclaim and millions in profits, so my question seemed like a no-brainer. Wrong.
At the time Mickey's PhilharMagic opened, however, the Disney-Pixar relationship was in trouble … so much so, that the two companies seemed on the verge of parting ways. [Thankfully, the two parties reconciled and the result has been an incredibly fruitful collaboration in the years since.]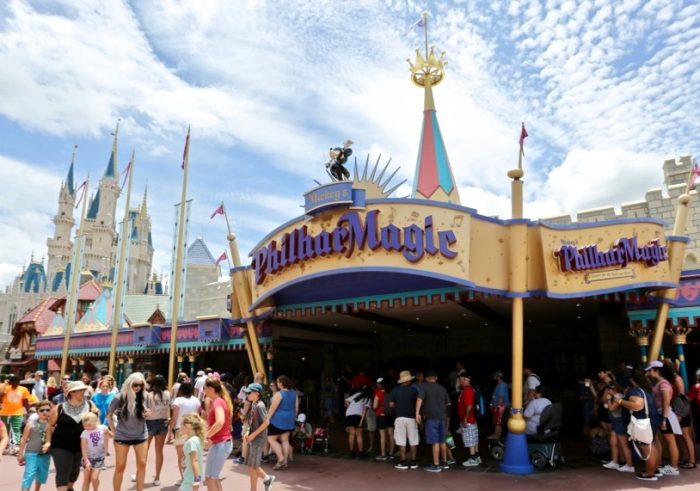 At the conclusion of the debut performance of Mickey's PhilharMagic, thunderous applause filled the theater and the people surrounding Marty shook his hand and patted him in the back. It was no doubt a proud moment for him.
As we rose from our seats and began to make our way out of the theater, my wife asked Marty the question I had put in her head: "Did Pixar have anything to do with this?"
I leaned in closer to make sure I heard his response.
"Absolutely not!" Marty bellowed. "This was done entirely by Walt Disney Animation!"
Ouch. As first impressions go, that was pretty bad. Fortunately, Marty had no idea who we were. Thus admonished, we walked out of the theater.
Later that night, I got around to reading the press materials that were distributed to us upon our arrival a few days before, giving Walt Disney Animation full credit in the creation of Mickey's PhilharMagic.
In 2015, I worked up enough courage to mention the incident to Marty. His response was typical of his great sense of humor and his understanding nature: "I'm used to dumb questions from the media," he said with a laugh.

This came to mind recently after we caught the updated version of Mickey's PhilharMagic, which now features a beautiful new segment highlighting Donald Duck's hijinks through the world of the Disney-Pixar film Coco.
That's right. Mickey's PhilharMagic is now a production of both the Disney Animation AND Pixar Animation studios.
According to retired Imagineering Creative Director Kevin Rafferty, who worked on the original Mickey's PhilharMagic, the attraction was designed to be added to in the future, much like the Star Tours and Toy Story Midway Mania! shows have seen updates.
In addition to the Coco additions, other scenes throughout the presentation were enhanced, giving Mickey's PhilharMagic a decidedly fresh vibe.
"I was involved in the initial 'new segment' brainstorming and we landed on Coco because of the color, music, popularity and, of course, diversity," Rafferty told me recently.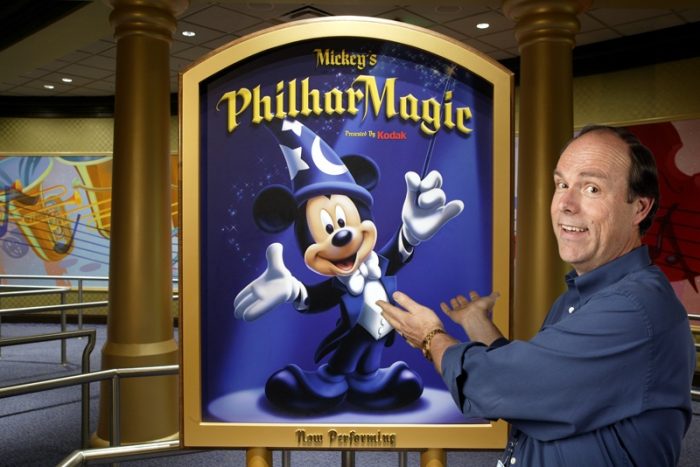 "Then I worked with Tom Fitzgerald and Pixar's Roger Gould on the early Donald gag sessions and story/beat sequence, along with George Scribner, who did the storyboard, and who I worked with on the original PhilharMagic show. George was our animation director on the original."
The result is absolutely stunning. The Coco scenes fill the entire screen, which measures a whopping 150 feet long. Those scenes have a depth and clarity that speaks not only to the gifted graphic artists who created them, but to the advances made in computer animation over the past two decades.
"Pixar did an incredible job with the animation," Rafferty said.
"I was very happy when Tom showed me the final piece several months ago, around the time I retired. So yes, there is a little of me in that one, too!"
And I'm sure Marty Sklar, who was always open to new creative endeavors, would wholeheartedly approve of the Disney-Pixar collaboration.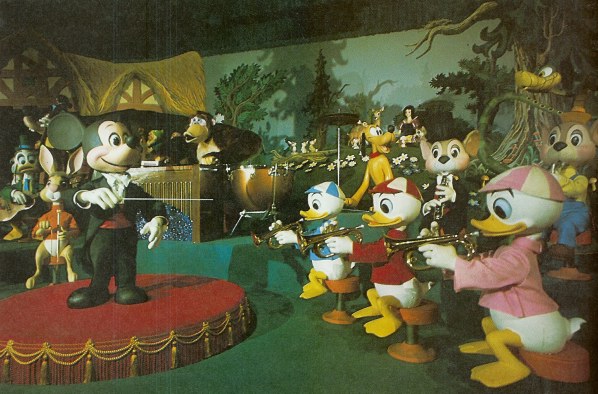 PHILHARMAGIC VENUE HAS BEEN HOME TO SEVERAL SHOWS
The Fantasyland Theater where Mickey's PhilharMagic – a 3D film with some Audio-Animatronics sprinkled in for good measure – is shown has seen its share of attractions over Walt Disney World's 50 years.
The Mickey Mouse Revue played there when Walt Disney World opened in 1971. The popular show closed in 1980 and was subsequently shipped to Tokyo Disneyland, where it became a big hit.
The theater sat unused until the film Magic Journeys, which was featured in EPCOT before making way for Captain EO, filled the space from 1987-1993.
Legend of the Lion King, an innovative attraction that blended snippets of the beloved film with live-action puppeteers, ran in the theater from 1994-2002.
Mickey's PhilharMagic has been going strong in the theater since 2003.
Chuck Schmidt is an award-winning journalist who has covered all things Disney since 1984 in both print and on-line. He has authored or co-authored seven books on Disney, including his most recent, The Beat Goes On, for Theme Park Press. He also has written a regular blog for AllEars.Net, called Still Goofy About Disney, since 2015.