Imagineers are some of the most creative, driven people in the world. They work endlessly to create the incredible rides and environments that have made the Disney theme parks so well-known. While they may draw inspiration from a movie or a current television show, many of the original Imagineers just had to dig deep and bring out the beauty within. Today, their legacy and those who have followed in their footsteps continue to make dreams come true. Let's learn a little more about exactly what they were responsible for.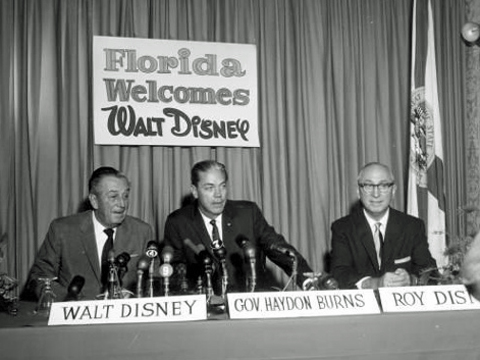 1. John Hench
Ever wonder just who created Cinderella Castle? Who worked on the plans that made the Magic Kingdom such an amazing place? John Hench was tasked with the heavy duty of working over plans for the Magic Kingdom long before the walls started to go up.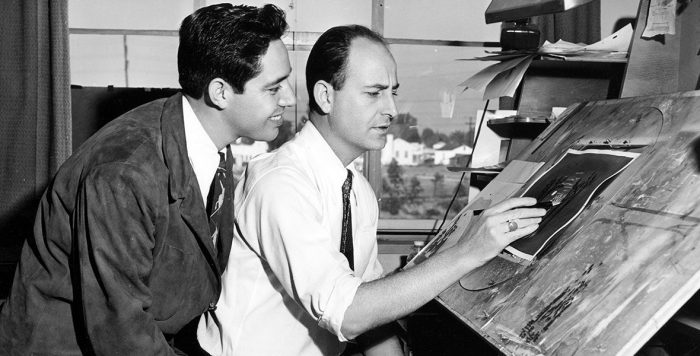 Not only did he create Cinderella Castle — there's also another attraction that you may have heard of. Maybe, just maybe. A little place called Space Mountain has John Hench to thank for giving it a home and an appearance synonymous with Tomorrowland.
We sadly lost Hench in 2004 after more than six decades of magic and wonder. He was honored with a Main Street Window naming him Dean of Design just above the Plaza restaurant in the Magic Kingdom; one of the highest honors for an Imagineer to achieve.
2. X Atencio
Have the crypt doors ever creaked or the tombstones quaked at you? Perhaps you've seen some grim, grinning ghosts come out to socialize. If not, certainly you've crowed along with the pirates; "Yo-ho, yo-ho, a pirates life for me!"
I know I have.
We have X to thank for that. X Atencio was originally an animator before Imagineering was born with the opening of the Disney theme parks. It was he who wrote those world-famous lyrics and so much more. Some even credit the vast majority of the Haunted Mansion to his creative efforts.
Recently, we lost X Atencio in the later part of 2017. However, his Main Street Window exists in both Disneyland and the Magic Kingdom. His window can be viewed above The Confectionary with the title "The Musical Quill".
3. Bob Gurr
Without Bob Gurr, the Magic Kingdom would not have the vast majority of its ride vehicles.
Though many were designed for Disneyland, the Magic Kingdom borrowed a lot of inspiration or simply copied designs from those early rides for its own needs. Gurr's inspired hand drew the plans for those vehicles, especially when we refer to the vast majority of Fantasyland, Tomorrowland and Frontierland (read more about this here).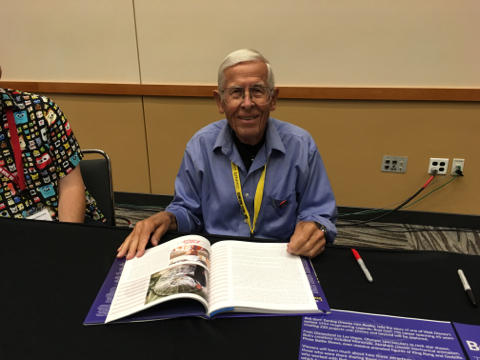 Bob Gurr was named a Disney Legend in 2004. His window at the Magic Kingdom is placed above Main Street Fashion and Apparel.
And if you ever run into him in the parks today, be sure to ask for his autograph.
4. Claude Coats
Claude Coats had a vision for the future. A vision in which there could be a great, big, beautiful tomorrow out there on the horizon.
A master of perpetuating hope for what society could accomplish, Claude Coats worked on such classics as the Carousel of Progress and Horizons (just in case you didn't get our little hint up there). He was also instrumental in the development of EPCOT in its early days. Coats designed, or assisted in designing, the vast majority of Future World.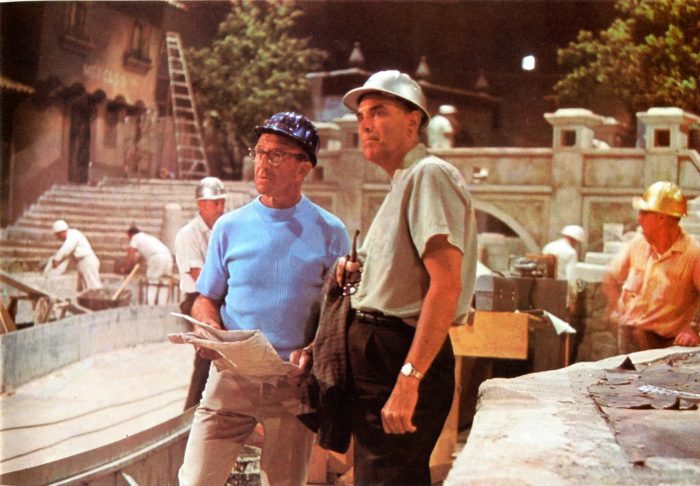 Unfortunately, Coats passed away in 1992. He, too, was granted a Main Street Window. It is placed above the Main Street Athletic Club. He shares it with Marc Davis (and a few others), who will be mentioned later in this article.
5. Tony Baxter
Once upon a time, there was a young ice cream seller sneaking around Pirates of the Caribbean before it was finished. This was in Disneyland's early days and the wonder of audio-animatronics was a huge draw, especially for this young man.
Claude Coats caught him and turned him into the wonder he is today. Tony Baxter is responsible for such incredible attractions as Big Thunder Mountain Railroad and Splash Mountain, along with many others. However, trying to imagine the Magic Kingdom without those two strongholds in Frontierland is absolutely impossible.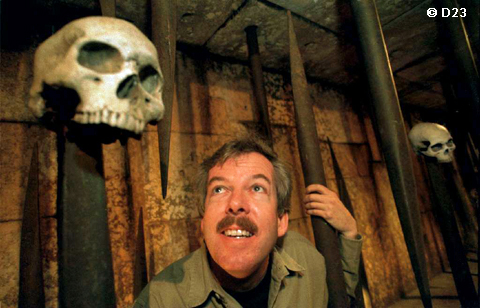 Tony Baxter has retired from Imagineering but there are rumors that he does occasionally poke his head in to see how all the youngsters are doing. We're certain he's inspired many, the way Claude Coats inspired him.
Tony Baxter's window (you can see the celebration when he received it here!) is shared with a few others above the Main Street Magic Shop.
See All Ears' writer Jeanine Yamanaka's tribute to Tony Baxter here!
6. Mary Blair
If you've ever stayed at the Contemporary Resort, you've seen what an incredible artist Mary Blair was. That mural that you can see from the monorail? Yeah. That one.
That was all her.
Mary Blair was also responsible for the look of it's a small world. Her fantastic design work with Peter Pan transferred over to Peter Pan's Flight and is even more awe-inspiring with the refurbishment it underwent a short while ago.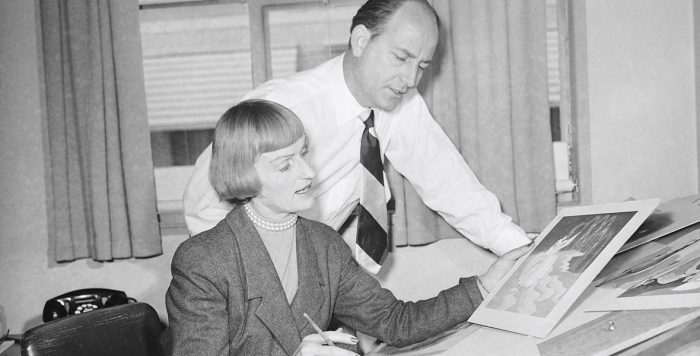 She passed away in 1978, only a few years after the opening of the Magic Kingdom. She, like the others on this list, has a window on Main Street.
7. Joe Rohde
Some would call him the father of Disney's Animal Kingdom, and they wouldn't be wrong. Joe Rohde and his team are largely responsible for the entire park, inside and out. That means almost every detail from Asia's food carts to Dinosaur (originally Countdown to Extinction) can be attributed to him in some way.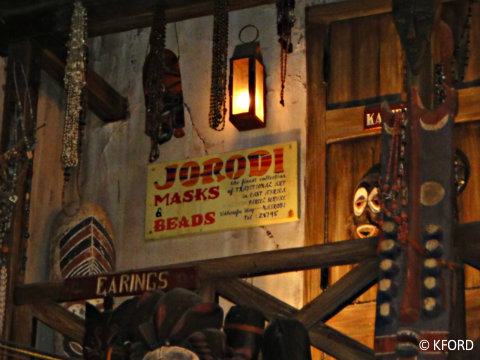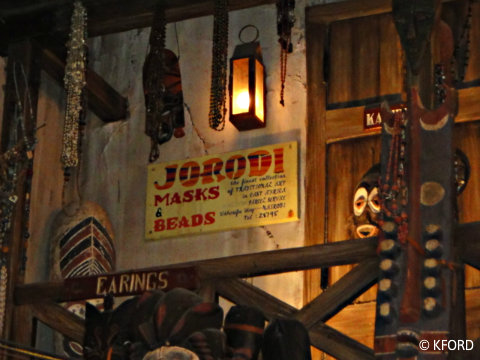 You may have noticed a trend with the Imagineers in this list. Most of them worked directly with Walt Disney, at least for a small period of time prior to his passing.
Joe never got the chance. He joined Imagineering in 1980, quite a while after the Florida Project had gotten its feet wet.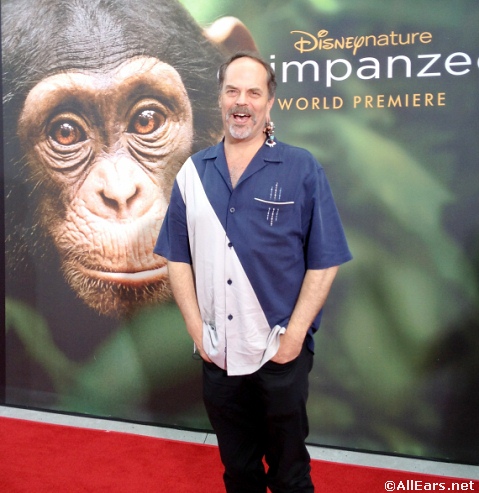 His Main Street Window hasn't been painted yet, since you must retire before receiving one, but you'd have to be mad as a hatter to think he won't get one in due time.
8. The Sherman Brothers
Robert and Richard Sherman created a song that has been an earworm for generations. It's one of the most-parodied songs on Earth and so well-known that the first few bars is enough to make someone scream in horror or sing along in delight. If you're reading this, you know what it is. Sing it with us, because it's a small world after alllll.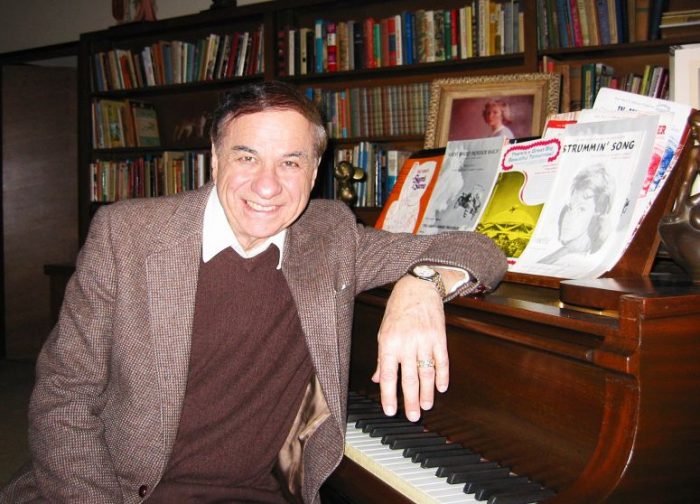 Along with an incredible amount of work on Walt Disney films (some of which that would go on to inspire attractions within the theme park), these are the guys that are the reason you're still humming that song 3 days after you get back from your vacation. And we love them for it.
Other addictive songs we can credit them with include both of the Carousel of Progress's theme songs, The Tiki, Tiki, Tiki, Tiki, Tiki Room's highlight song, and One Little Spark from the original Journey Into Imagination.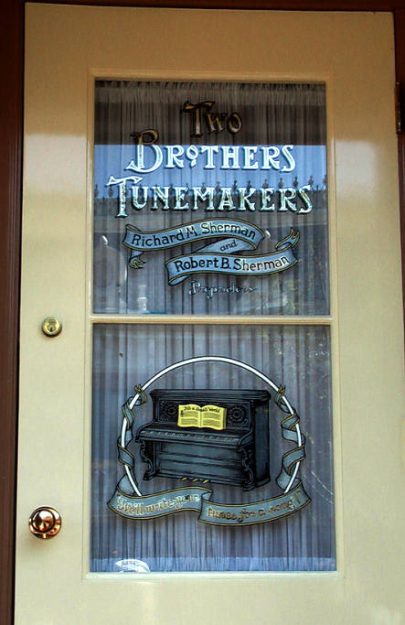 The Sherman Brothers have a window on the original Main Street at Disneyland but not Magic Kingdom. Robert passed away in 2012. He is survived by his brother, Richard.
Click here to read more about the Sherman Brothers and their window on Main Street!
9. Marc Davis & Alice Davis
This pair are responsible, together, for nearly all of the classic rides you still know and love today. They were simply everywhere, often working together. Husband and wife, they are the only married couple that both have windows on Main Street.
Their list of accomplishments include the Country Bear Jamboree, it's a small world (with Mary Blair), The Enchanted Tiki Room and the Carousel of Progress. The pair also did a great deal of work on Pirates of the Caribbean and the Haunted Mansion.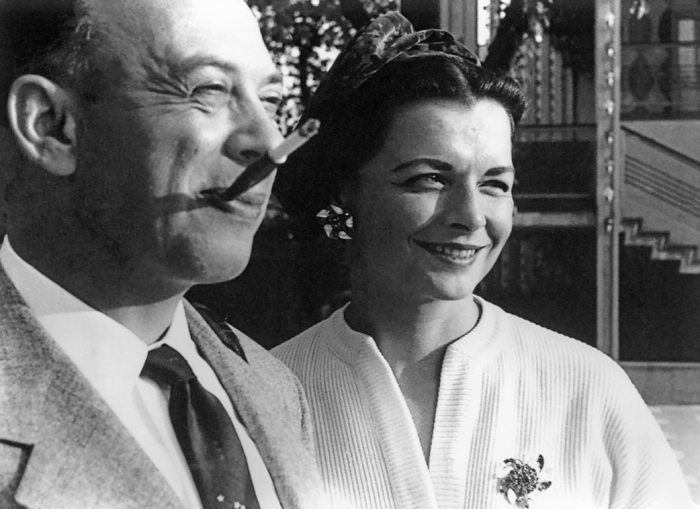 Marc passed away in 2000, though he is survived by Alice as of this writing. Marc shares his window with Claude Coats at the Magic Kingdom. Alice's window only exists at Disneyland.
Read more here about the day Alice Davis received her window. We were there!
10. Marty Sklar
Marty Sklar was a legend, even among legends. To say what he did would take a few million words–instead, let's list what he didn't do. He never stopped until the day he retired.
That's it.
If there was a classic Disney project, he had at least one finger in it somewhere along the line. Even more modern projects saw his touch, his flourish, here and there, until his retirement in 2009.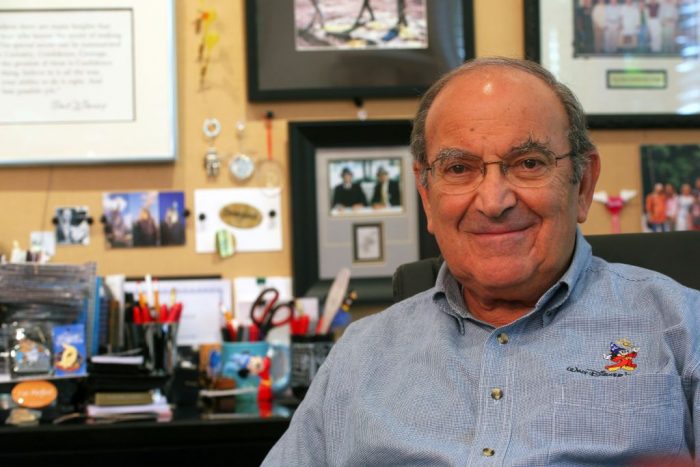 He passed away in 2017, long after receiving windows at both Disneyland and Disneyland Paris. If you'd like to read more about Marty Sklar, All Ears columnist Chuck Schmidt was a good friend of Marty's and has written about him here.
So remember, every time you walk down Main Street look up and give those brightly painted windows a smile or a nod. You owe your vacation to them and all of those magical experiences.