If you've been following along with us here at AllEars recently, then you know that Friday, October 1st was Disney World's big 50th Anniversary!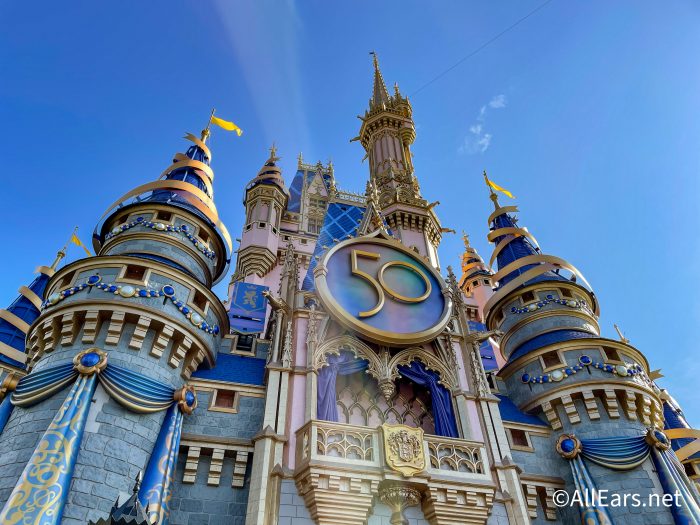 We were there in all four parks (and the resorts!) that day, and we shared a TON of content — from snacks to merchandise to crowds and more. Now that the dust has settled, we're breaking down what it was like to be in Walt Disney World on the busiest day ever!
The Crowds Were Weird
What We Saw:
If you were at Magic Kingdom on the 50th Anniversary, then you know that the crowds were starting to form even before the break of dawn! Some guests arrived hours before the park opened and waited outside of the gate. And once everyone was let onto Main Street, U.S.A., the madness began.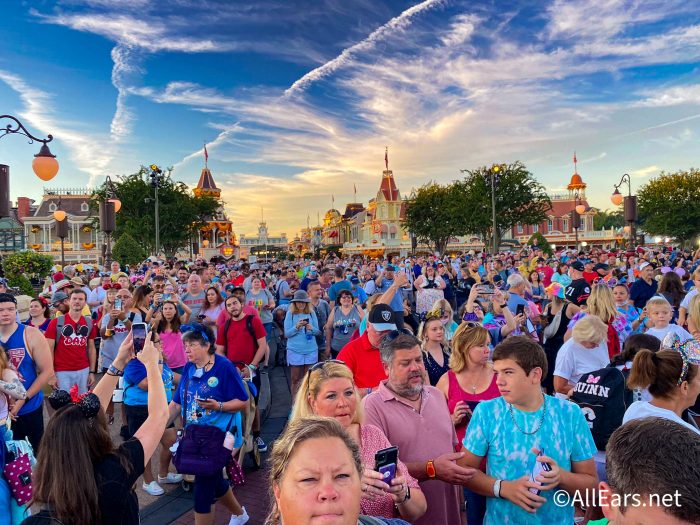 All of Main Street stayed full for most of the day thanks to the multiple merchandise offerings and gift shops in the land. However, with everyone focused in that area of the park, it meant that the other lands were much less crowded than we anticipated. In fact, the same was true at the other Disney World parks — they weren't nearly as busy as what many were led to believe!
What We Learned:
If you're planning on heading to Disney World on a day that you KNOW will be crowded, expect absolute mania during rope drop. The park wasn't technically supposed to open to resort guests until 7:30AM (through Early Theme Park Entry), but some people were already lined up at the gate at 5AM.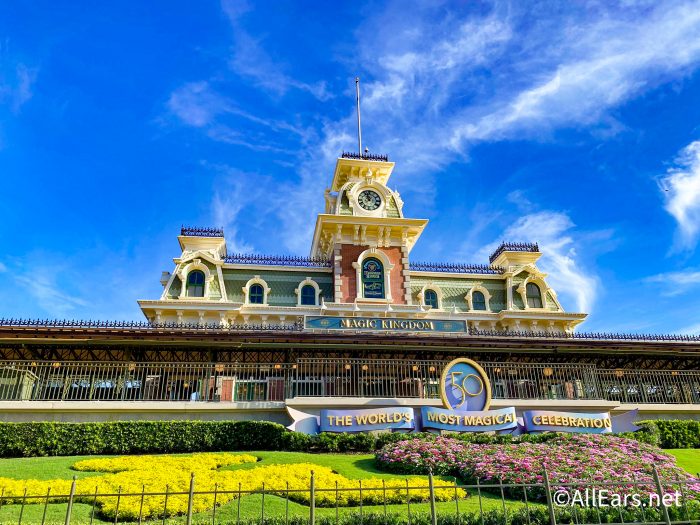 These crowds were pretty hefty in the Main Street, U.S.A. section of the park all day. However, after the fireworks show, many people left and headed home, leaving the park much emptier than before. If you had stayed later that evening, you would've been able to knock out quite a few rides and attractions in the hour and a half after the nighttime fireworks, and you would've been able to experience a near-empty Main Street, U.S.A. at the end of the night.
Also, you'll definitely want to plan your food options ahead of time for days like these. We experienced multi-hour waits for Mobile Order locations due to the influx of guests ordering food. If you know you're going to be in the park on a particularly packed day, it might be a good idea to snag a dining reservation. If you must dine at a Quick Service spot, make sure to do it during the "off" meal times.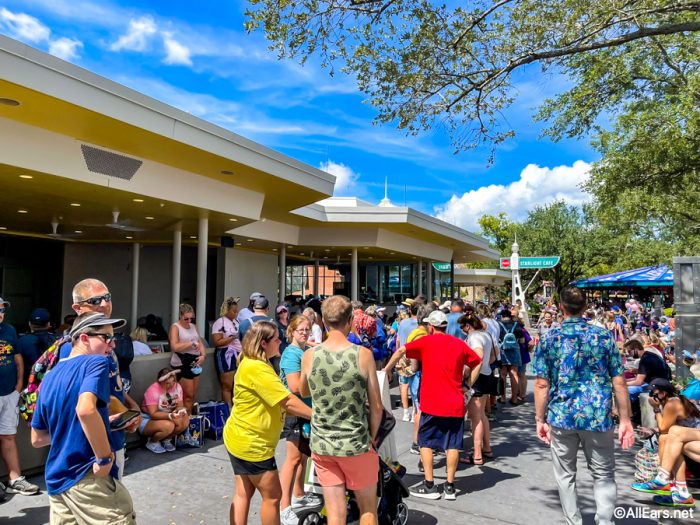 The Perfect Day to Do Rides
What We Saw:
Surprisingly, we found that October 1st may have just been the perfect day to do all your favorite rides! Since all the crowds were gathered on Main Street and in the park's various merchandise locations, it left the rides wide open without very long wait times at all!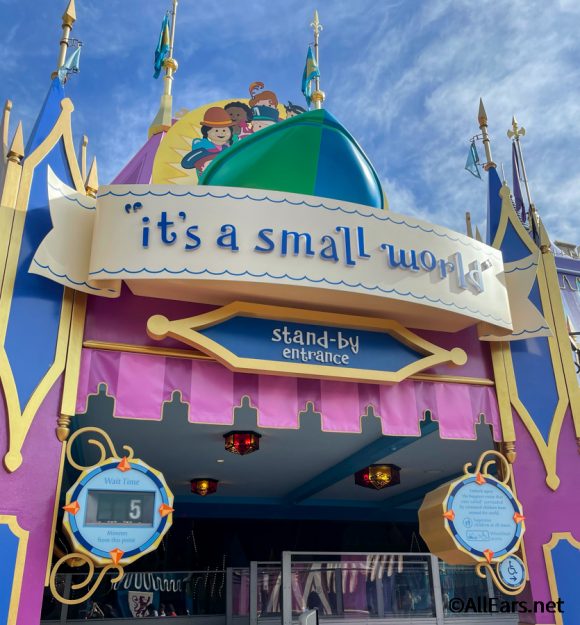 Throughout the day, you likely would've been able to walk straight onto some of your favorites, including options like Pirates of the Caribbean, Buzz Lightyear's Space Ranger Spin, or even Space Mountain! That was not something that we expected to see, but it was good news for families interested in more than just merchandise.
What We Learned:
First of all, let's note that seeing the wait times that low was not typical for those busy park days. Really, the main reason that rides didn't have long lines was that there were other offerings (like special entertainment, shopping, and 150 new snacks) to draw guests' attention away from the rides and attractions, which are always there.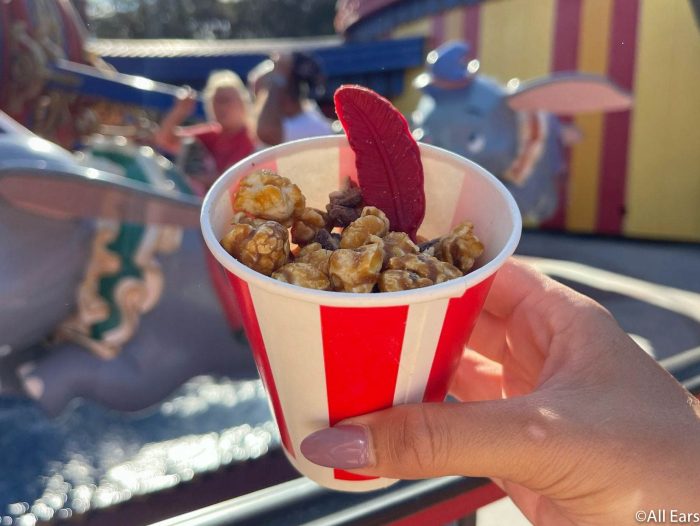 If you head back during another particularly busy time, like a holiday break, expect to see much higher wait times and plan accordingly. You'll want to make sure that you arrive early and have a strategy in place for which attractions you want to visit. If it's out by the time you visit, you could even purchase the new Disney Genie+ system.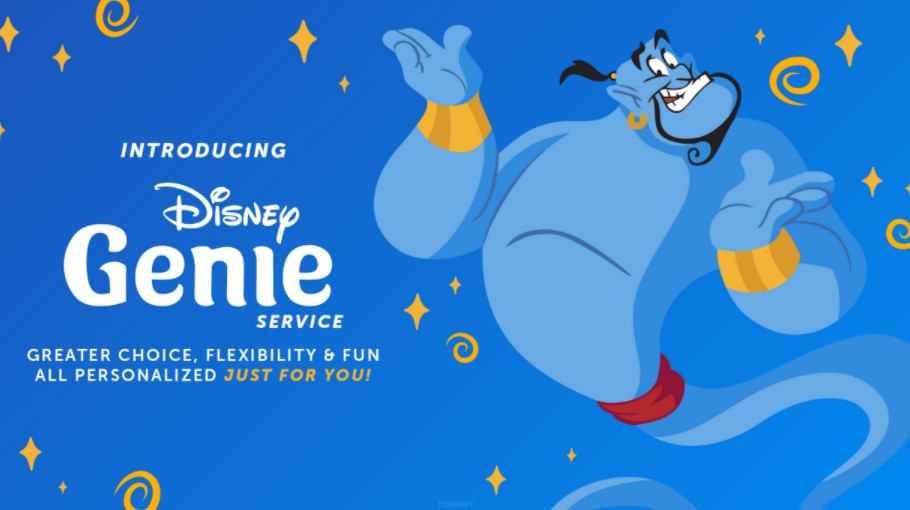 The Busiest Spot in the Parks Will Probably Surprise You
What We Saw:
Of all the places in the four parks, shockingly, the busiest spot was Big Top Souvenirs in Magic Kingdom. This store was temporarily home to the one-day-only 50th Anniversary merchandise, and the only way to get inside was to try and join a virtual queue.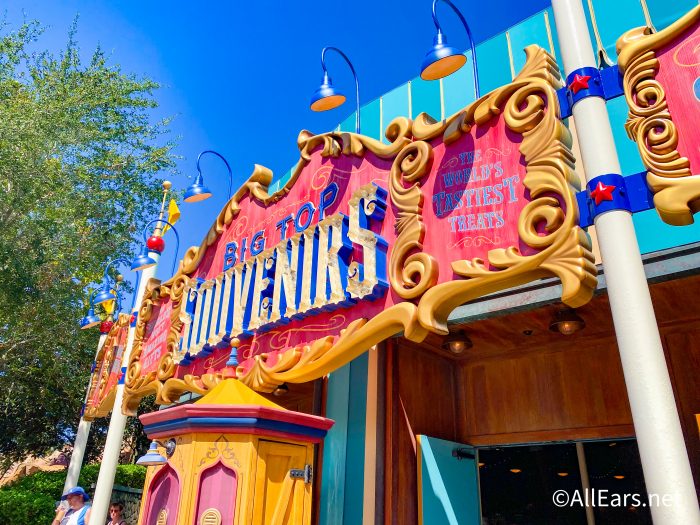 To join the virtual queue, guests needed to have access to the QR code for the virtual line. The trick was that the code changed often throughout the day, so many people were stationed outside of the shop waiting for the new codes all day long. It was incredibly difficult to get inside, and those who did make it into the queue experience multi-hour wait times.
What We Learned:
That one-day-only merchandise was SUPER popular! It's to be expected when something like that drops, but the mania that it caused could be quite stressful. For those of you wanting to shop exclusive merchandise, our best recommendation is to arrive early when you know it will be releasing. Be prepared to deal with the chaos, and try your best not to stress out too much, even if things aren't going your way.
Even though those items were one-day-only things, they weren't the only souvenirs that were available to be picked up from Magic Kingdom. The park maps were a special commemorative design, and when guests left the park, they received a unique 50th Anniversary poster — both of which were completely free.
People Were Not Behaving At Their Best
What We Saw:
And speaking of causing unnecessary stress…unfortunately, there were some guests were not on their best behavior for the 50th Anniversary. With so much going on throughout the day, and so many crowds, a lot of guests were not on their best behavior towards other guests and Cast Members.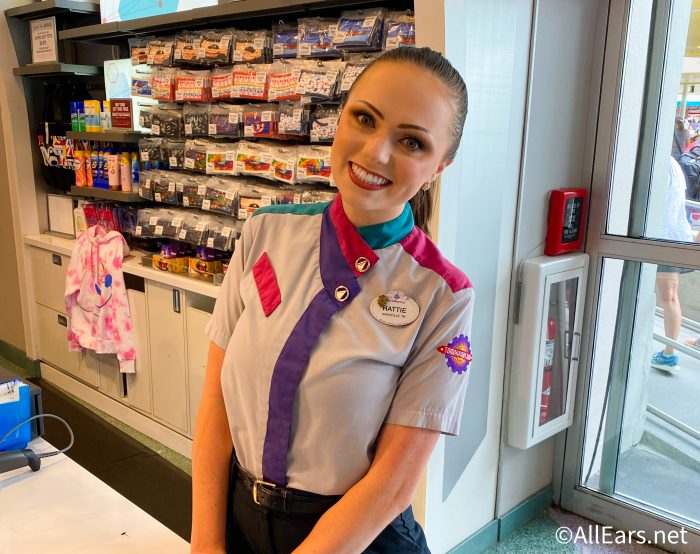 It's important to note that if a virtual queue fills up, a popular item goes out of stock, or a wait time is longer than you'd expect, it's not the fault of the Cast Members. They're simply working for Disney, trying to make your day as wonderful as possible.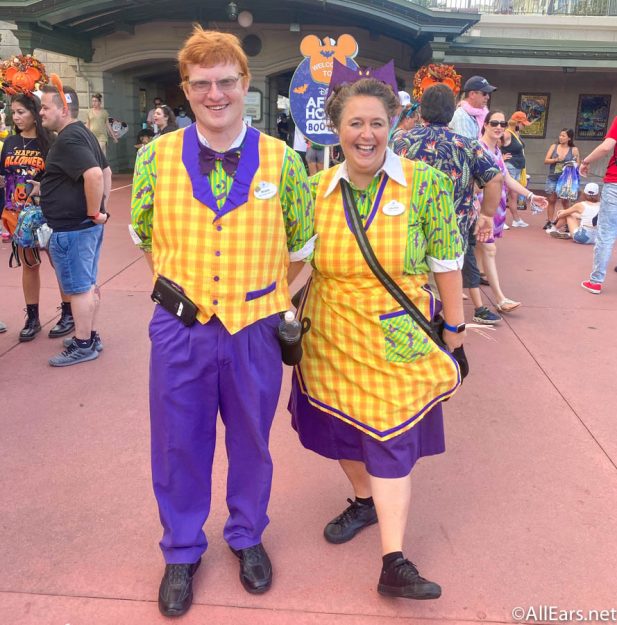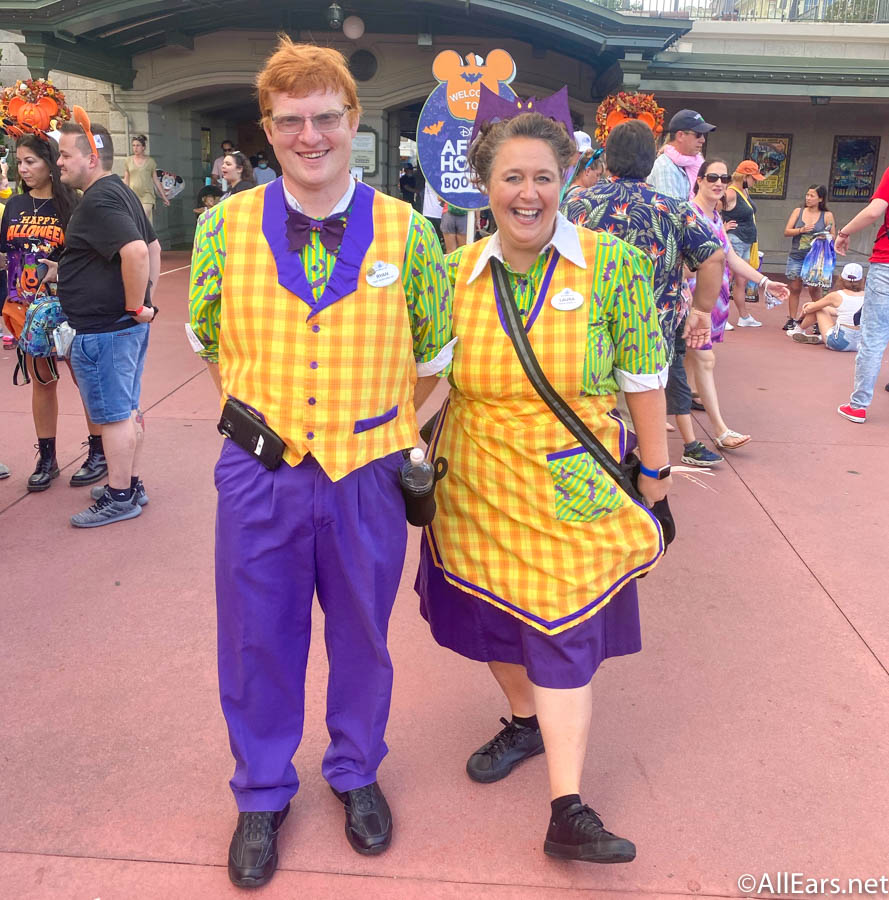 What We Learned:
If you're in the park and encountering some not-so-pleasant guests, do your best to contribute to the upbeat attitude of Disney World. Make sure to stop and thank the Cast Members, encouraging them in whatever way that you can.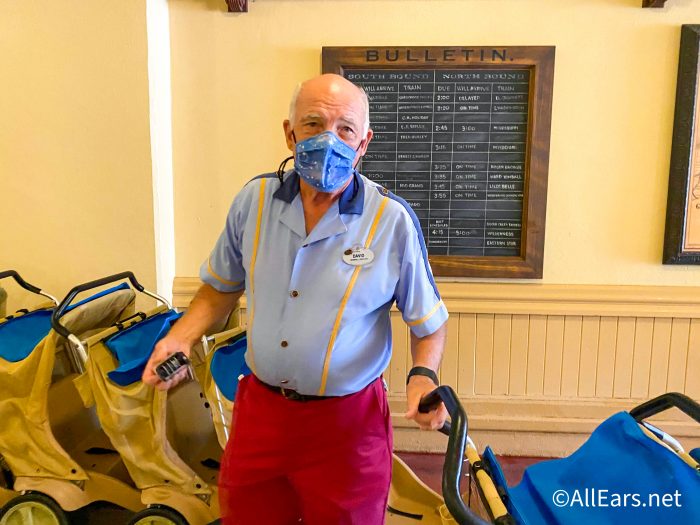 And if you're ever in a situation where the massive crowds are causing panic, make sure to get out of there. There was a lot of chaos in the merchandise shops this weekend, and the best thing that you can do is to exit the store and come back at a later time. It keeps you safe and helps the Cast Members to better handle the situation if fewer people are involved.
Guests Were VERY Eager to See the Fireworks
What We Saw:
Finally, let's talk about the fireworks! Since Disney Enchantment was a brand new show on October 1st, guests began staking out their spots for the fireworks very early in the day — some as early as the morning time! By mid-afternoon, the castle hub area was starting to fill up.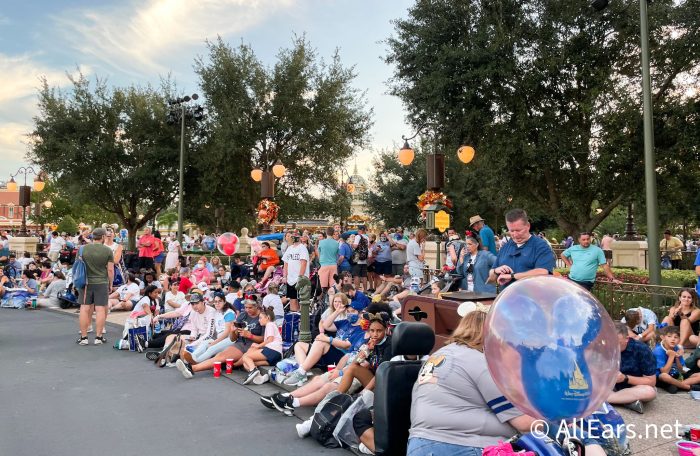 Ahead of the show, Main Street, U.S.A. filled up completely and a message was sent out to guests through the My Disney Experience app. Guests were standing shoulder-to-shoulder all the way from the castle to the Main Street Train Station!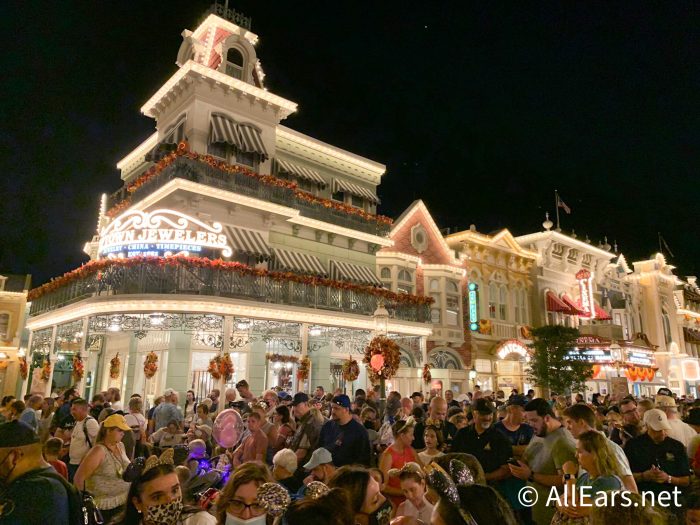 What We Learned:
Thankfully, you'll likely not have to deal with crowds quite this bad during your trip, since these guests were all gathering for the premiere of the show. However, if you find yourself traveling during a particularly busy week or a holiday break, we have a few recommendations.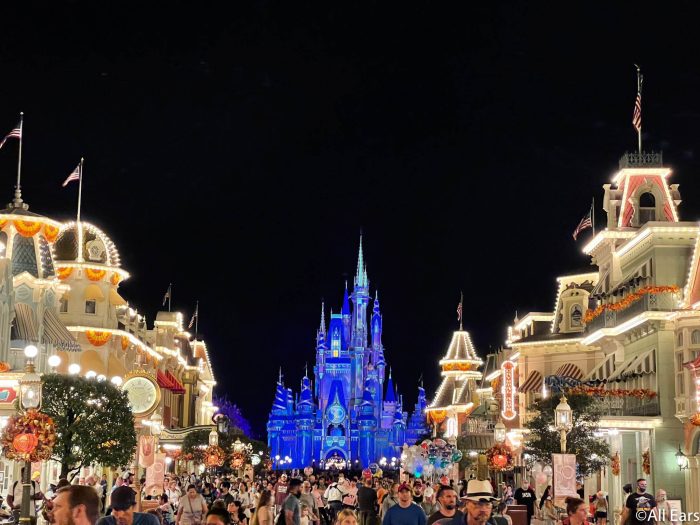 You'll probably want to stake out your spot in advance, and the time you arrive will depend on how close you'd like to be. By Sunday night, we were able to show up an hour before the show and still get a spot directly in front of Cinderella Castle, but that's not guaranteed at all times. If you're concerned about crowds and wasting time sitting and waiting for the fireworks, we recommend checking out one of Magic Kingdom's three new dessert party options — we really enjoyed our visit when they came back on October 3rd!
So there you have it — those are five big takeaways from our time at Magic Kingdom on October 1st. It was a very unusual day, but it was magical nonetheless. We're incredibly grateful to have celebrated such a momentous occasion at Disney World!
Did you visit Disney World for the 50th Anniversary? Let us know in the comments!
Join the AllEars.net Newsletter to stay on top of ALL the breaking Disney News! You'll also get access to AllEars tips, reviews, trivia, and MORE! Click here to Subscribe!