Disney World's 50th-anniversary kicks off today, and we're headed into the parks and resorts to celebrate!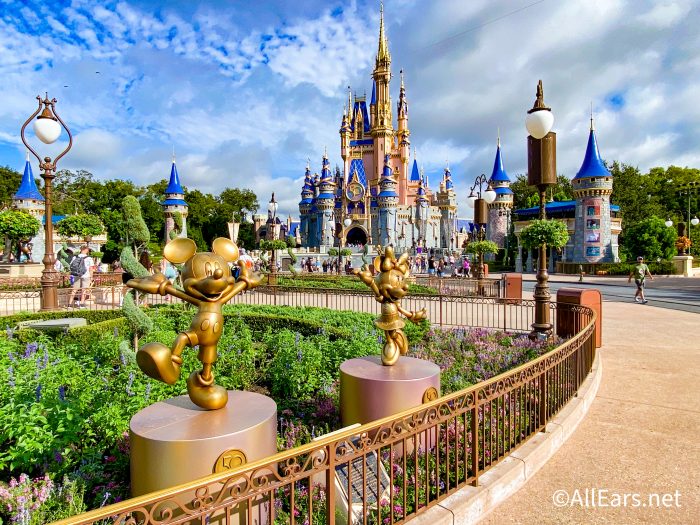 Disney World is going all out for its festivities with park-wide entertainment, treats, and so much more. And, of course, we're taking you along with us for it all! So, get ready for a day full of exciting details, because we're going everywhere for Disney World's 50th anniversary — let's head into the parks!
Magic Kingdom
Entrance
We arrived bright and early at Magic Kingdom around 7:15AM and there were already quite a few crowds at the entrance. But, we were still able to get through pretty quickly and picked up a NEW Commemorative Park Map!
The park hadn't officially opened quite yet when we arrived, so Disney was holding guests on Main Street, U.S.A. until all of the lands opened at 7:30AM. And, as you might imagine, that meant there were A LOT of people on Main Street.
Crowds extended all the way up to Cinderella Castle, filling the hub area…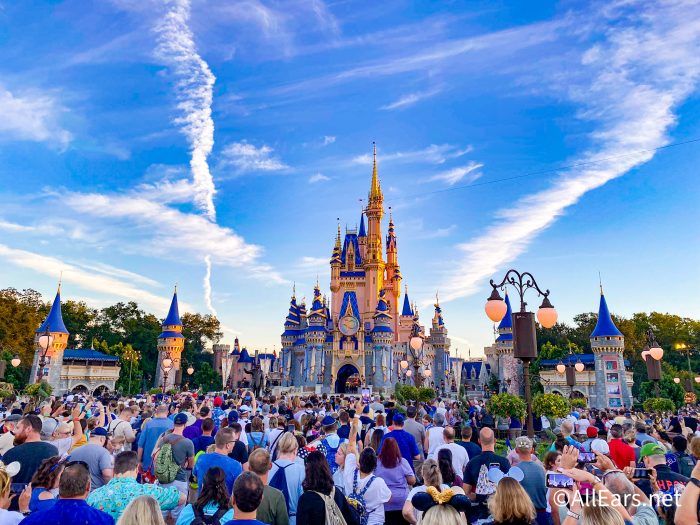 …and all the way down to the park entrance.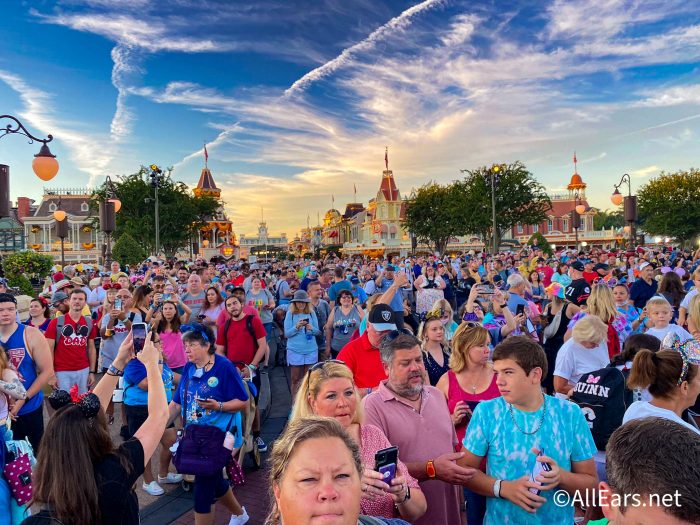 But, Mickey and Minnie came out at Cinderella Castle around 7:55AM to welcome everyone to Magic Kingdom for the day!
Good Morning, Mickey and Minnie! It's so good to see you too! #DisneyWorld50 pic.twitter.com/zQe0C1F3kw

— AllEars.Net (@AllEarsNet) October 1, 2021
Of course, they brought along some friends and performers who were all decked out in their new 50th anniversary costumes and dancing to the new song "The Magic is Calling." And, there were even a few fireworks!
And they've brought their friends! Everyone is ready to celebrate in their EARidescent best! #DisneyWorld50 pic.twitter.com/9OqQNK4ZfF

— AllEars.Net (@AllEarsNet) October 1, 2021
Crowds
Once the clock struck 7:30AM (which is when Early Theme Park Entry begins), all of the lands opened up and guests started to disperse throughout the park.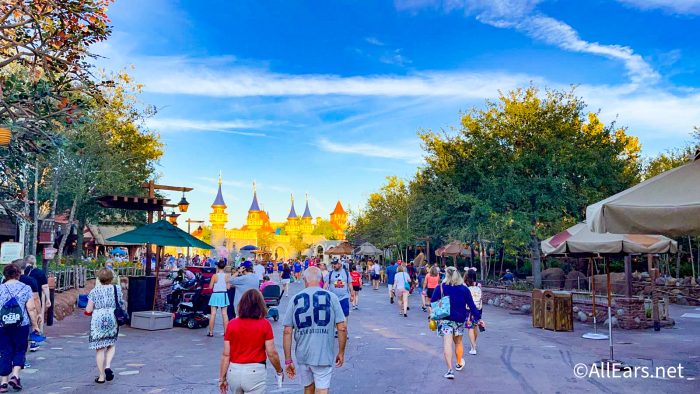 But, quite a few people were still hanging out on Main Street, U.S.A. for the newest merchandise and snack releases. In fact, the line for the Castle Popcorn Cart was all the way to the entrance of Tomorrowland!
Here's a look at the new Mickey Balloon Popcorn bucket that everyone was waiting for!
Plus, it wasn't just guests who were visiting Magic Kingdom today — we also spotted quite a bit of filming taking place in the Hub area.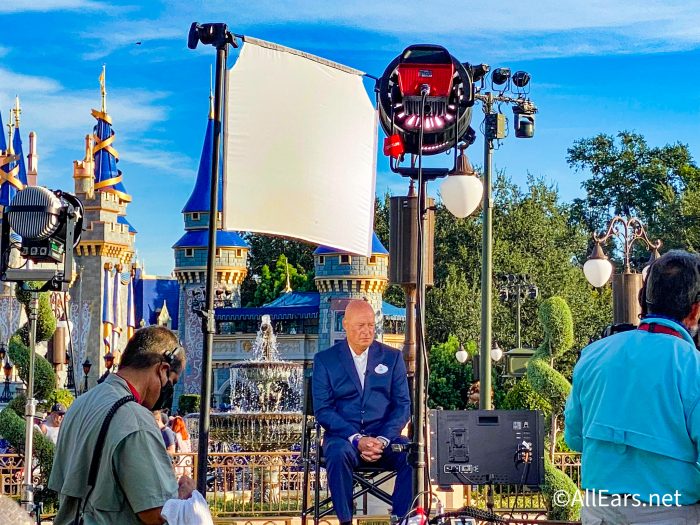 And, the crowds just kept coming throughout the day, leading to Magic Kingdom being at FULL capacity when park hopping began at 2PM.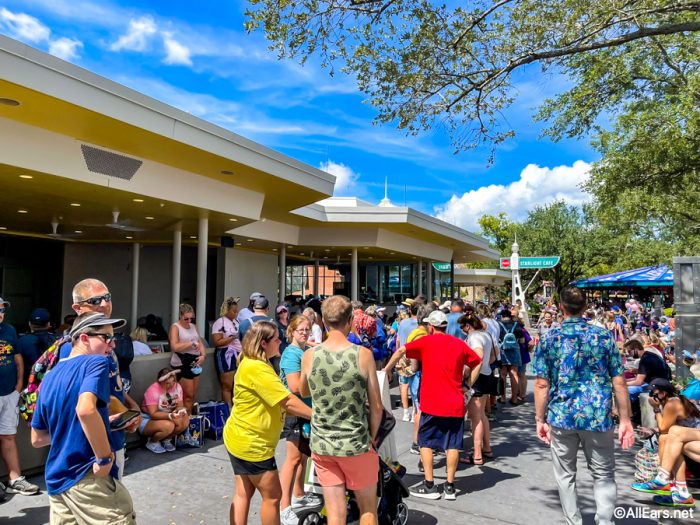 This means that guests who do not have a Park Pass Reservation cannot hop to Magic Kingdom, but can still head over to any of the other three parks.
Merchandise
We've been bringing you a look at all of the newest 50th Anniversary merchandise that has arrived in Magic Kingdom over the past few weeks but it's not as easy to secure your items in the park today!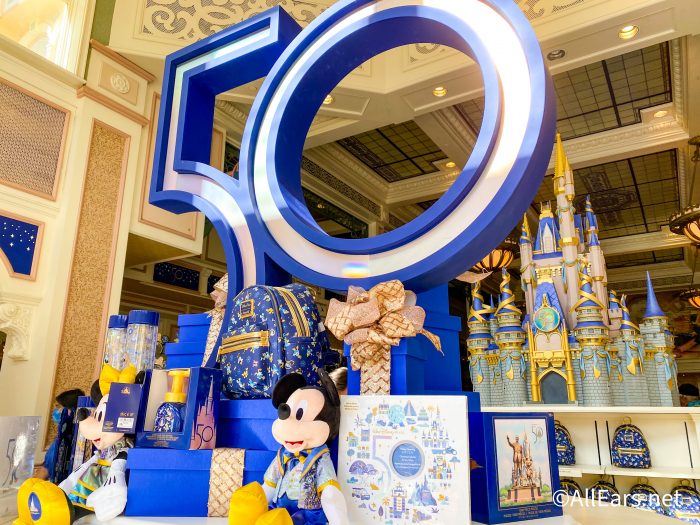 Due to the crowds in the park, Disney has implemented a Virtual Queue for the Anniversary Collection (which is new today) at Big Top Souvenirs, meaning that guests needed to input their phone number to receive a text message when it was their turn to shop. But, the collection was in high demand so the virtual queue was completely FULL by 8:30AM.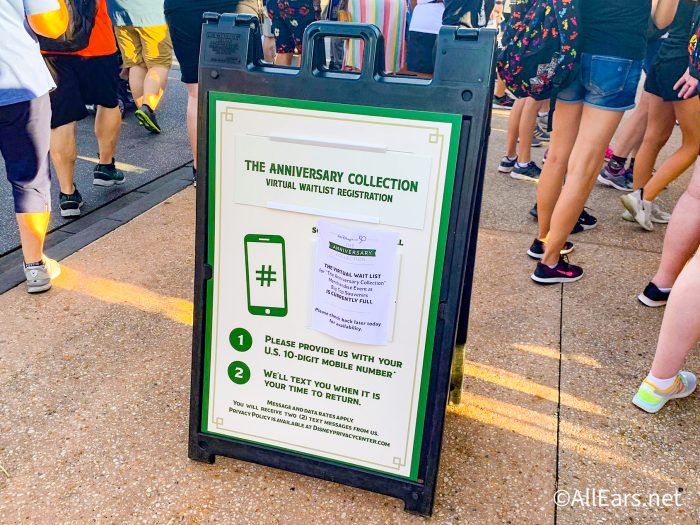 If you weren't able to get into the virtual queue for the event at Big Top Souvenirs, there was still plenty of 50th-anniversary merchandise to explore at The Emporium and the Main Street Cinema.
But, it wasn't just the merchandise in stores that were popular for guests, Disney also rolled out new 50th Anniversary Popcorn Buckets and Sippers that SOLD OUT by the afternoon.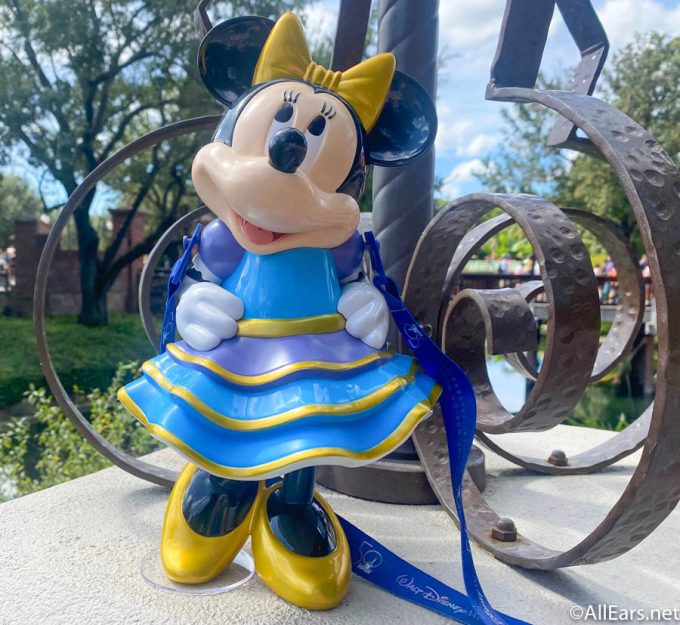 These could only be found at select snack carts (note that long line we mentioned earlier).
But, whether you spent the day tracking down the latest merchandise or just soaked in the atmosphere, on our way out of Magic Kingdom, we noticed that Disney was giving away a FREE 50th Anniversary Poster with Cinderella Castle's new EARidescent look today only!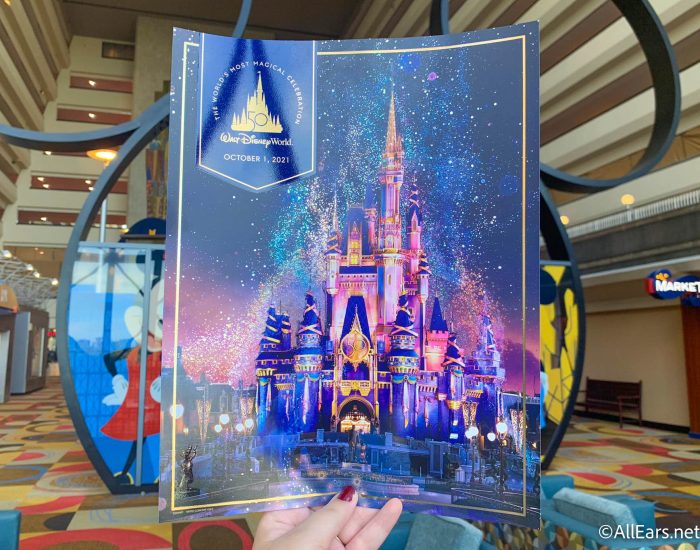 Characters and Entertainment
The little show that we saw in the morning at Cinderella Castle wasn't the only spot to find Mickey and his pals in their new anniversary look. They were also making their way down Main Street, U.S.A. throughout the day as part of the NEW Mickey's Celebration Cavalcade!
FIRST LOOK: Mickey's Celebration Cavalcade in Magic Kingdom! 🎉 pic.twitter.com/yJQxFoMqz1

— AllEars.Net (@AllEarsNet) October 1, 2021
And, crowds were certainly gathering to watch.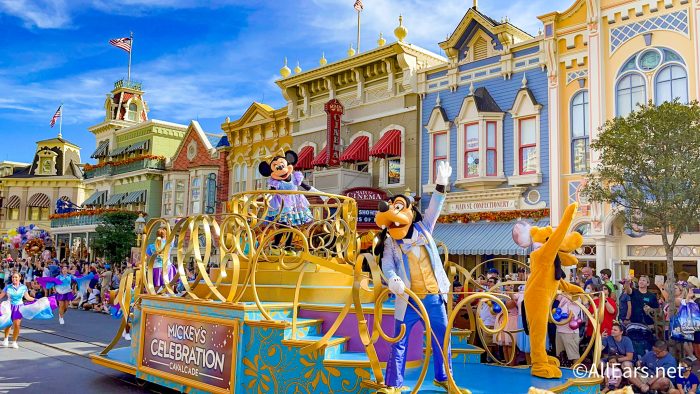 Be sure to check the times guide to see when you might be able to spot them!
And, cavalcades aren't the only new entertainment to catch in Magic Kingdom today. The ragtime pianist has also returned to Casey's Corner to play some music while you enjoy your hot dog.
😍😍😍 He's baaaack! The pianist has RETURNED to Casey's Corner! pic.twitter.com/MMzCH9kJ0g

— AllEars.Net (@AllEarsNet) October 1, 2021
You can now catch the pianist outside daily at 11:10AM, 11:55AM, and 12:45PM.
Eats and Drinks
It wouldn't be a proper Disney World celebration without some new snacks to try and Disney outdid themselves this year by introducing OVER 150! In Magic Kingdom, you can pick up some nostalgic bites for lunch…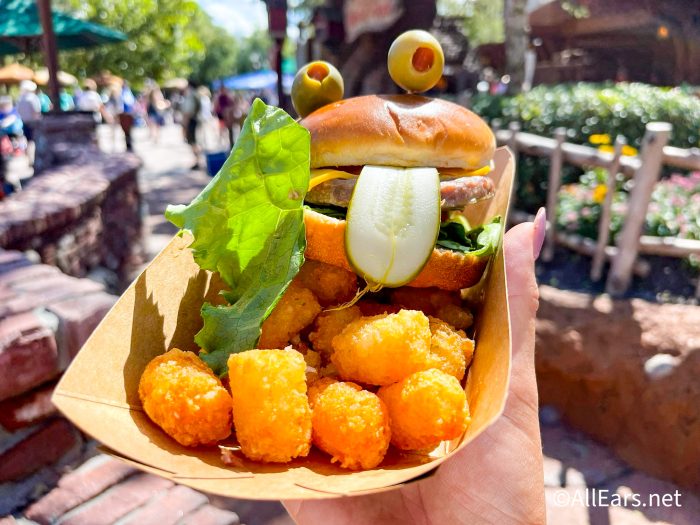 …or try out some of Walt's favorites.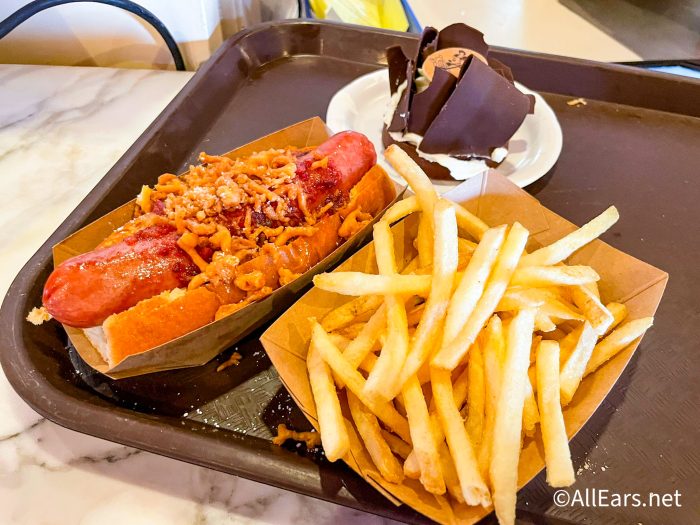 We've been eating our way through it all (and there's A LOT more to come), so be sure to stay tuned to AllEars to get a look at everything NEW you can try on your next visit!
Disney's Animal Kingdom
Entrance
Things were a bit less crowded at Disney's Animal Kingdom at rope drop. The park was set to open at 8AM, so we arrived around 7:30AM and found that there was no line to scan our MagicBands into the park.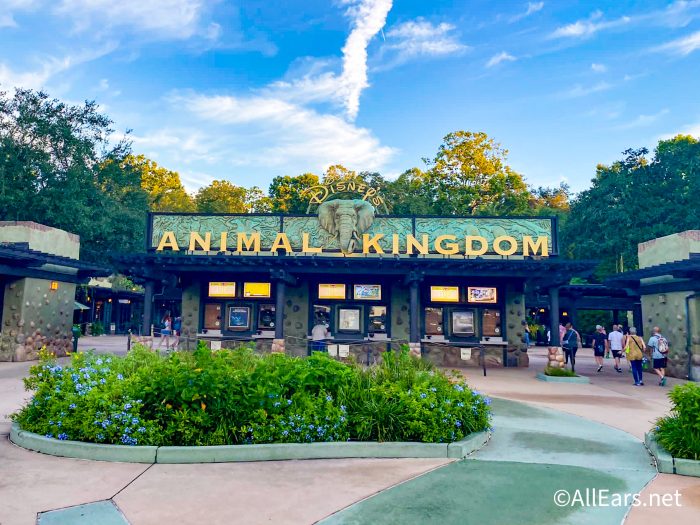 And, just like Magic Kingdom, we spotted a NEW park map to celebrate the 50th anniversary!
We then made our way up to the main area of the park and that's where we stumbled upon the first sign of crowds.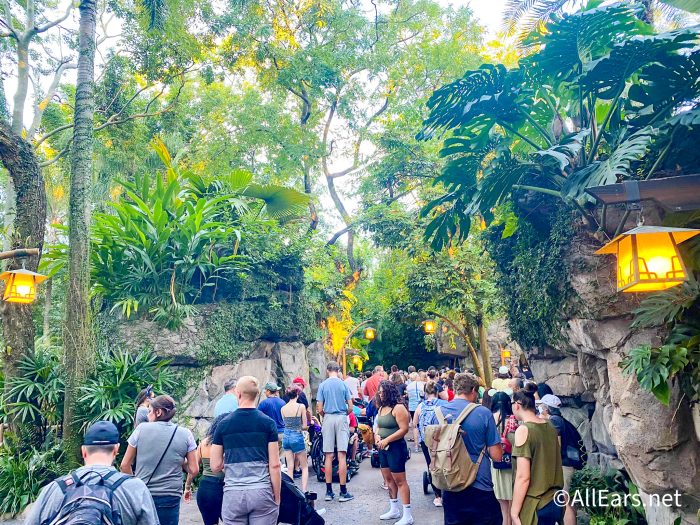 And more people just kept coming!
Everyone is also up bright and early at Disney's Animal Kingdom! pic.twitter.com/H8c2ovSqHm

— AllEars.Net (@AllEarsNet) October 1, 2021
Characters and Entertainment
Throughout the day, we were able to catch quite a few different characters out to say hi to guests! Out on the water, the Mickey & Friends Flotilla got a brand new 50th Anniversary look with EARidescent colors on the outside.
Celebrating in Animal Kingdom too! The Mickey & Friends Flotilla has NEW decorations! Have you seen them floating down the Discovery River today? ✨ pic.twitter.com/AZlTTUiqzI

— AllEars.Net (@AllEarsNet) October 1, 2021
And, the brand new daytime show,
Disney KiteTails
, officially debuted for its opening day! Be sure to check the time guide before heading to the Discovery River Amphitheater (where the show is located), as there are TWO different versions of the show including one themed with characters from Disney's 
The Jungle Book…
…and the other themed after The Lion King.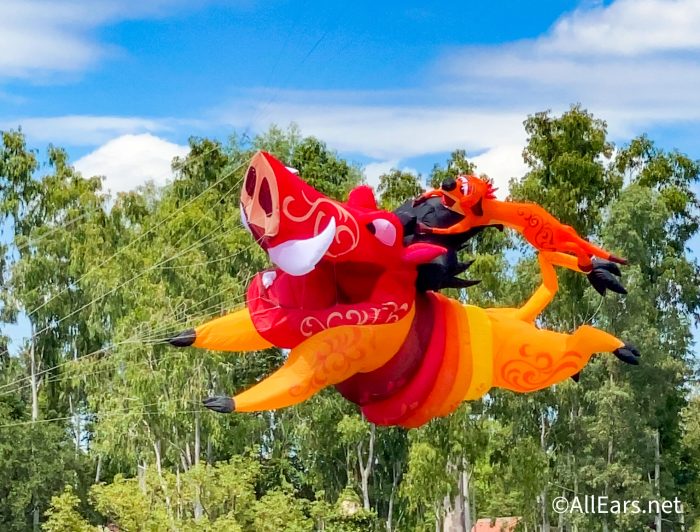 Disney KiteTails only lasts approximately 10 minutes and can be seen at 11:15AM, 12:15PM, 1:15PM, 3:15PM, 4:15PM, and 5:15PM.
Eats and Drinks
Of course, we took a couple of breaks throughout the day to try some of the new 50th Anniversary treats including the Lion's Lair from Tamu Tamu…
…the new KiteTails Sundae from Anadapur Ice Cream Truck…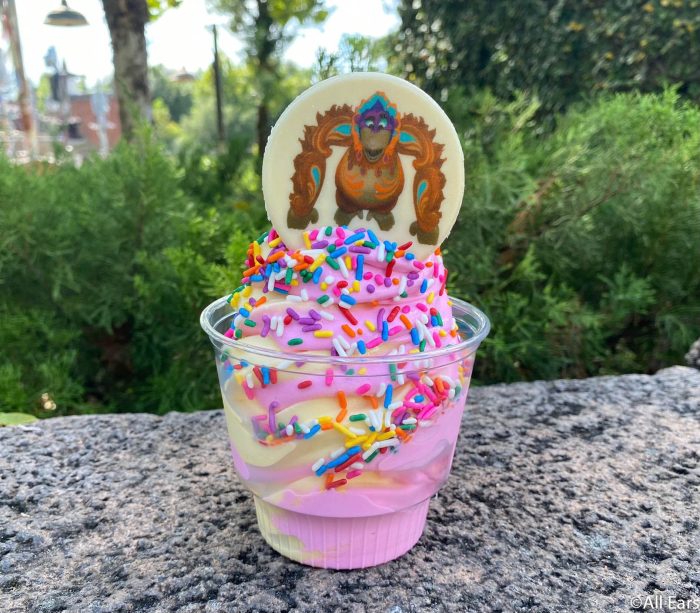 …and the highly decorated 50th Anniversary Mickey Premium Bar from Drinkwallah.
EPCOT
Entrance
EPCOT opened a little bit later today at 9AM, but that didn't stop the crowds from arriving early! We got to the park about 15 minutes before it opened and the entire entrance area was packed with people ready to start their day in the park.
Time for EPCOT to join the party! #DisneyWorld50 pic.twitter.com/diw1fZUhFs

— AllEars.Net (@AllEarsNet) October 1, 2021
But, we were sure to pick up the new park map before heading inside!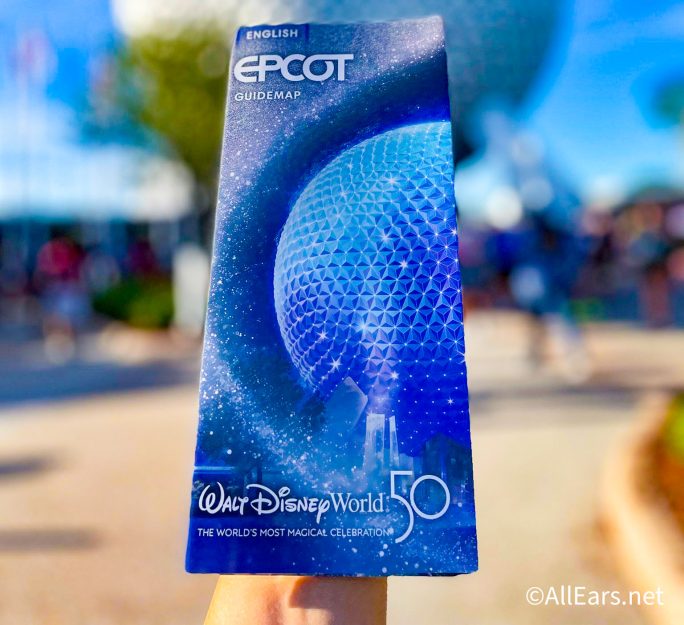 One exciting thing to note about this new map is that it now features the FOUR themed lands that are part of EPCOT's Transformation process. So, now you'll find that the areas once known as Future World are split into World Discovery, World Celebration, World Nature.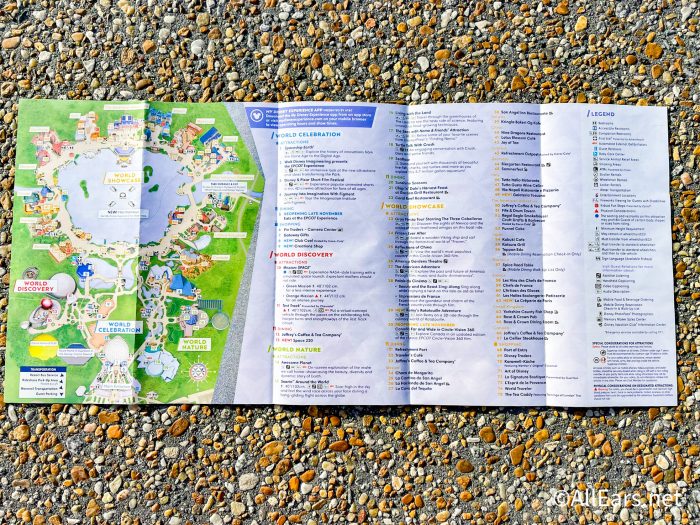 Crowds & Merchandise
Much like the other parks, Disney released the new Anniversary Collection in EPCOT today at the new Creations Shop, and fans were excited to check it out here too!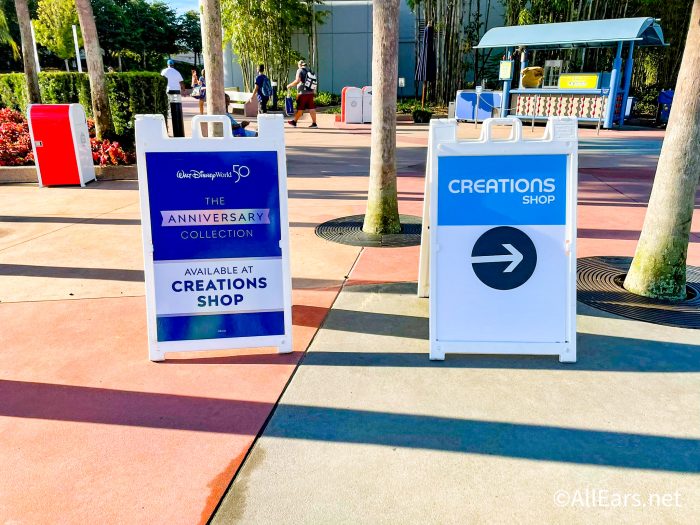 The line for the store stretched around the building near all the construction walls in World Showcase.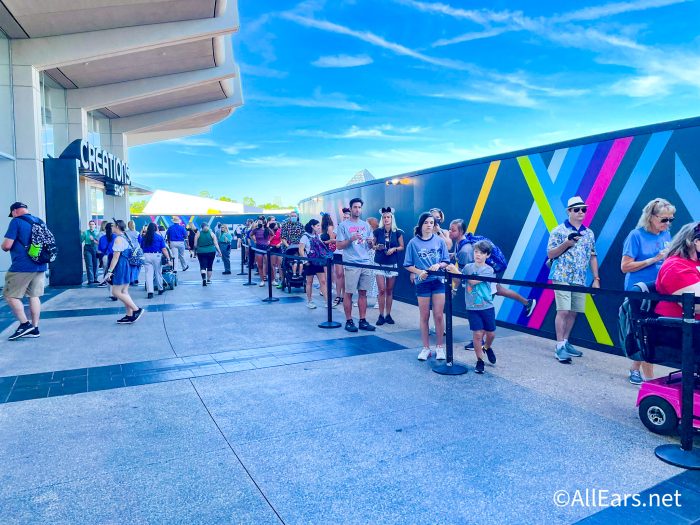 There were still some quiet parts of the park throughout the morning though including the area of Future World near The Land…
…and even back in World Showcase as booths started to open around 11AM for the Food & Wine Festival.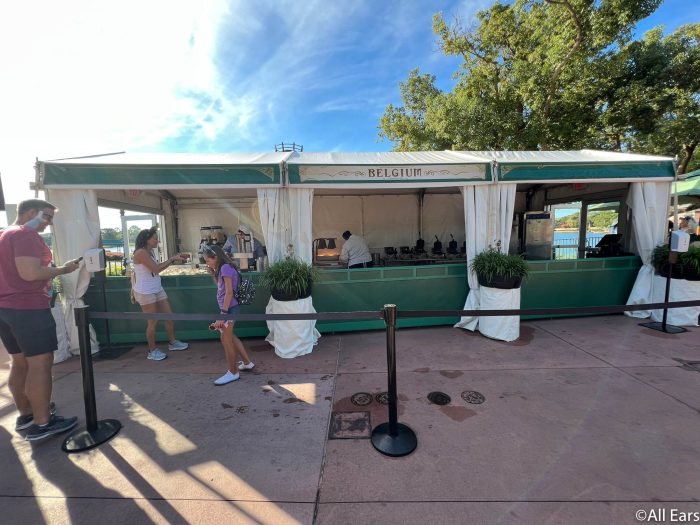 But, there was one area of World Showcase that was packed with people — the newly opened France Expansion.
The line for the virtual queue return at Remy's Ratatouille Adventure expanded well past the entrance and there was even a pretty long line to try the new restaurant, La Creperie de Paris.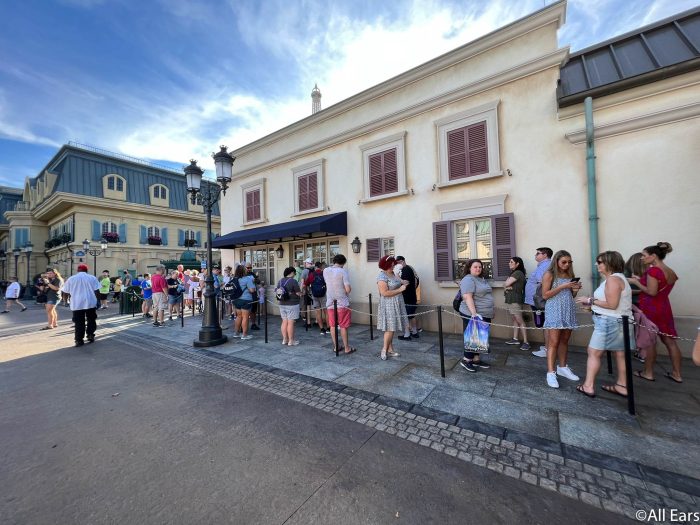 Click HERE to Learn More About the EPCOT Crowds
Entertainment
For the first time in over a year, THREE live performances have returned to EPCOT including the master juggler and mime named Sergio in the Italy Pavilion…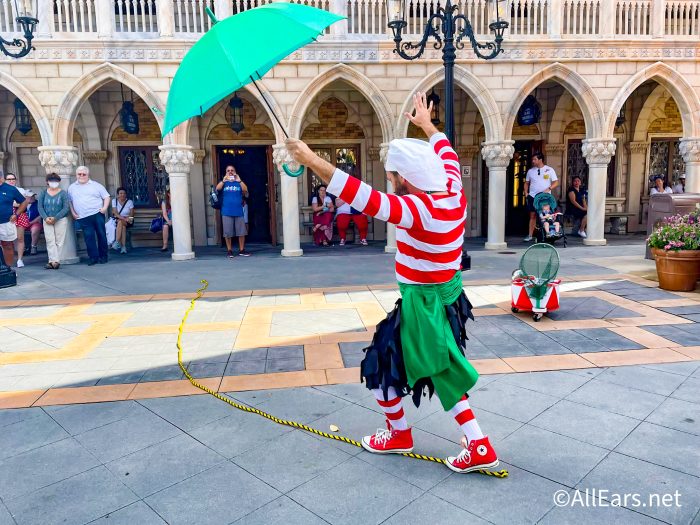 …the Matsuriza in the Japan Pavilion…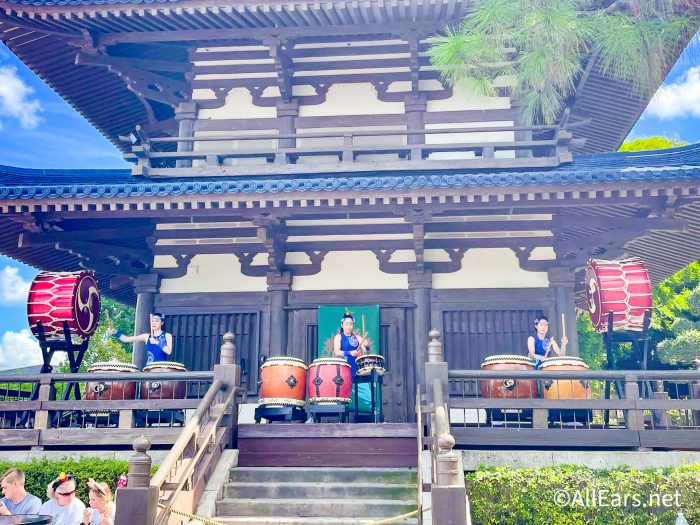 …and the musical group Alberta Bound is back at the Canada Mill Stage! We were able to catch them performing quite a few times throughout the day, but you can also check the EPCOT times guide if there's one that you don't want to miss.
Eats and Drinks
New snacks have also made their way over to EPCOT, so you can satisfy your sweet tooth with things like the EARidescent Croissant Donut from Brew-Wing at the EPCOT Experience…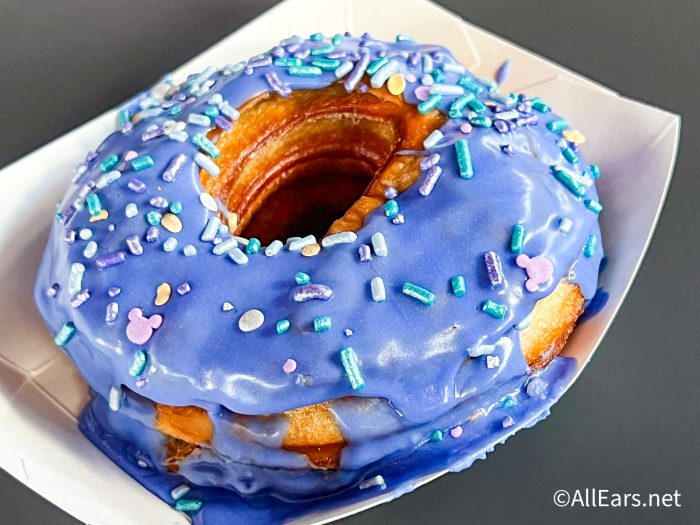 …the Mini Chocolate Bundt Cake from Sunshine Seasons…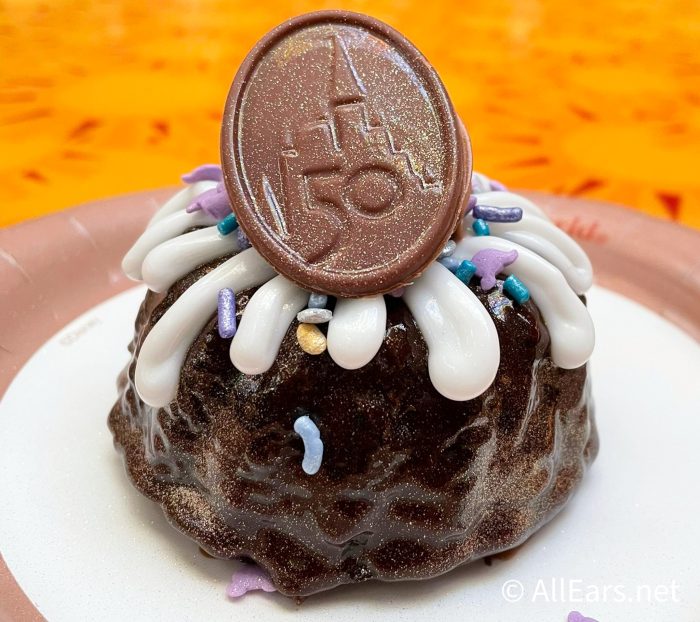 …the Remy "Cheese" Cake, and more!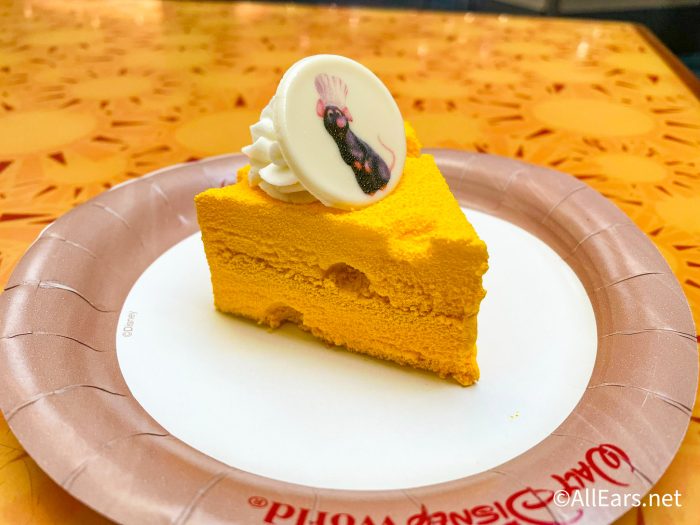 Disney's Hollywood Studios
Entrance
We stopped into Disney's Hollywood Studios a bit later in the day and the crowds were quite a bit thinner than others.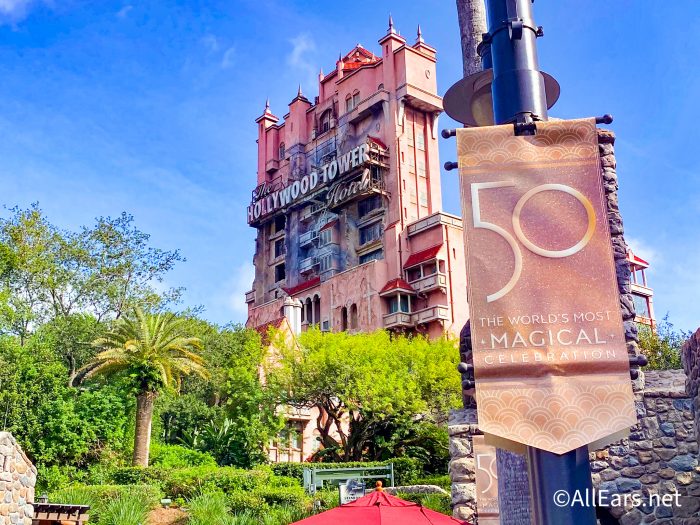 And, there may not be a ton of specialty offerings here for the 50th anniversary, but one of the first new things you can spot when you enter is the new golden park maps!
Eats and Drinks
Plus, Hollywood Studios has quite a few new treats too like the Glimmer and Shimmer Funnel Cake from Epic Eats!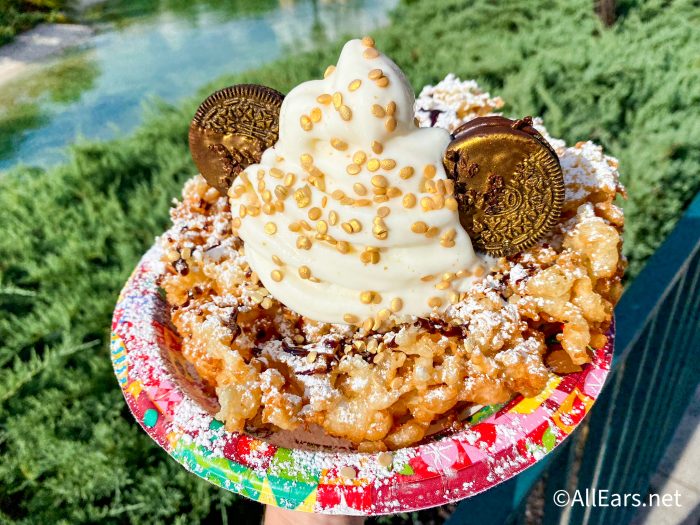 Disney Resorts
The Disney Resorts are also in on the 50th-anniversary celebrations and their major contribution is FOOD! There are all sorts of treats throughout the hotels like the 50th Anniversary Mickey EARidescent Cupcake from Gasparilla Island Grill at Disney's Grand Floridian Resort & Spa…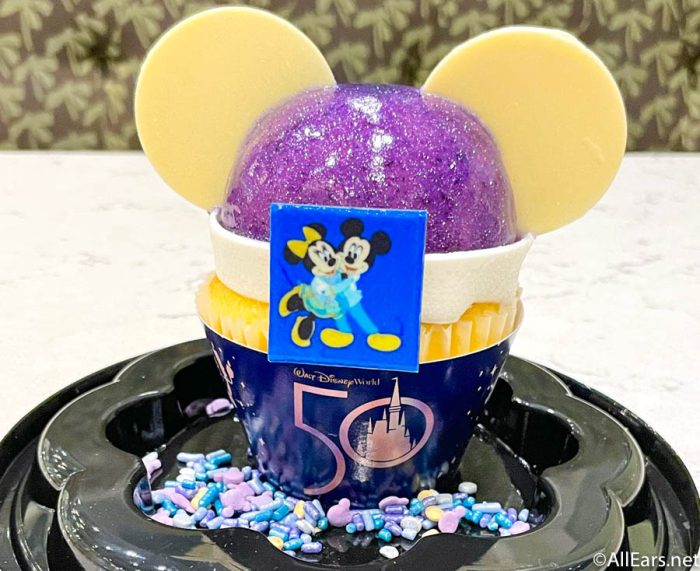 …the 50th Celebration DOLE Whip Cupcake from Capt. Cook's at Disney's Polynesian Village Resort…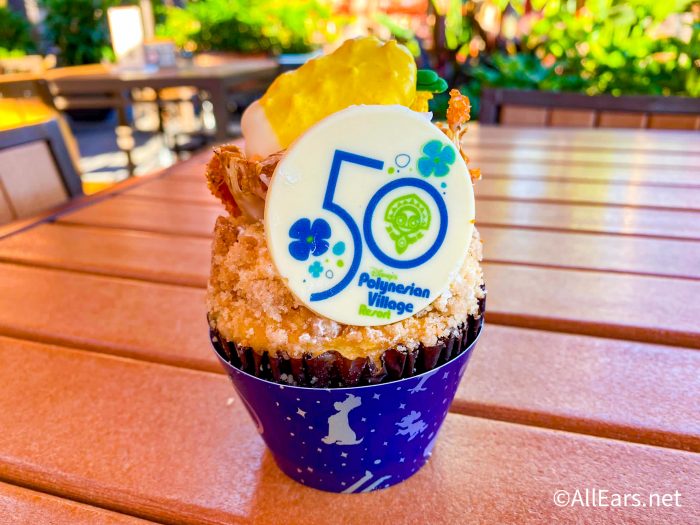 …the 50th Anniversary German Chocolate Cupcake from Contempo Cafe at Disney's Contemporary Resort, and SO MUCH more!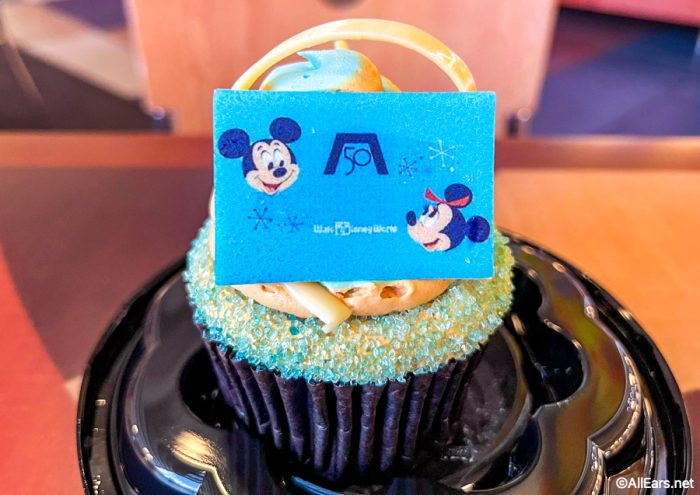 Plus, all of the Quick Service locations in the resorts now feature special 50th Anniversary Refillable Mugs for $19.99!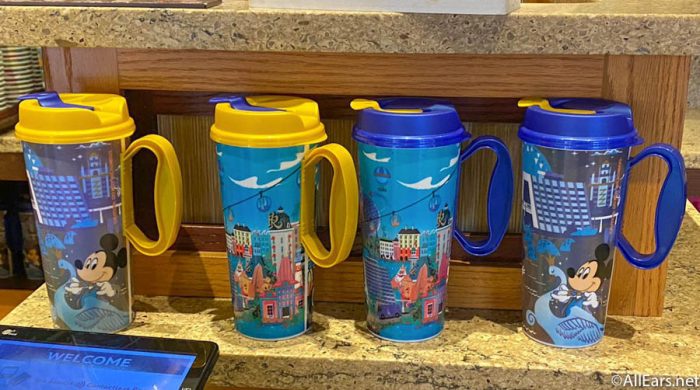 Of course, we've got a lot more to explore and we'll be updating this post throughout the day, so be sure to check back often! And, stay tuned to AllEars for more of the latest Disney news and updates!
Are you going to Disney World for the 50th anniversary? Let us know in the comments below!