We are just DAYS away from the kick-off of Walt Disney World's 50th Anniversary celebrations in the parks and resorts!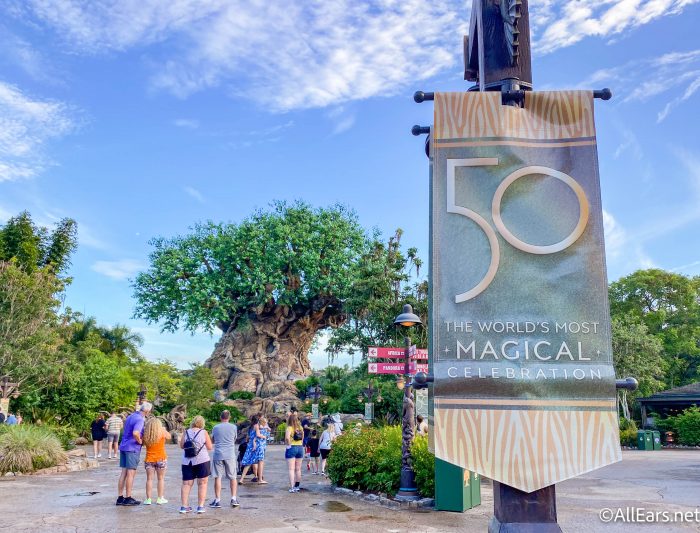 And, while October 1st is set to be a very exciting day, Disney has been treating us to quite a few new experiences early! For example, we already saw inside the newly renovated Main Street Confectionery in Magic Kingdom and EPCOT's new fireworks show, Harmonious starts tonight! And, today we're headed over to Disney's Animal Kingdom where we got to catch a preview of the new daytime show — Disney KiteTails!
Disney KiteTails will officially begin on October 1st and will be performed several times a day at the Discovery River Theater. Each 10-minute performance will feature Disney animal kites of all kinds, with some up to 30 feet long, along with performers and oversized Disney character props. And, depending on what time you're watching the show, you'll either see one themed after The Jungle Book or The Lion King.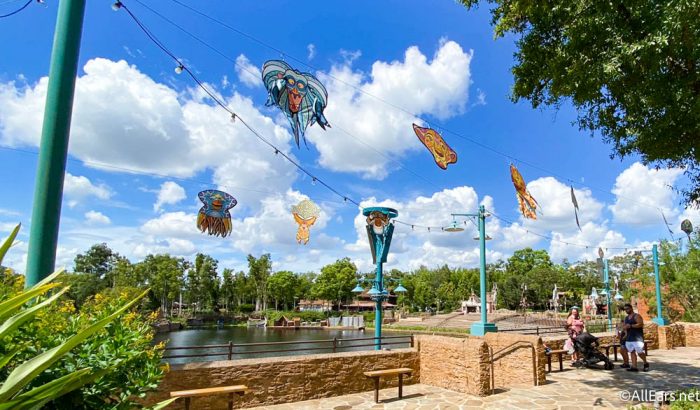 The show won't have regular performances until Friday, but we were lucky enough to be visiting when Disney had an early preview show going on, so we headed on into the Discovery River Theater and took a seat!
Getting ready for KiteTails at Disney's Animal Kingdom!🪁 pic.twitter.com/npr3gH36eL

— AllEars.Net (@AllEarsNet) September 29, 2021
We were there a few minutes early, but some of the performers were warming up at the bottom of the theater as a little pre-show. If you look close, you can see that the
kites are themed after Sebastian and Flounder
from Disney's
The Little Mermaid.
A little kite pre-show to KiteTails (📌Disney's Animal Kingdom) pic.twitter.com/z7hFUNtMZj

— AllEars.Net (@AllEarsNet) September 29, 2021
And, a little closer to the show, Cast Members came out with a cart full of
Turtle Kites
and started handing them out!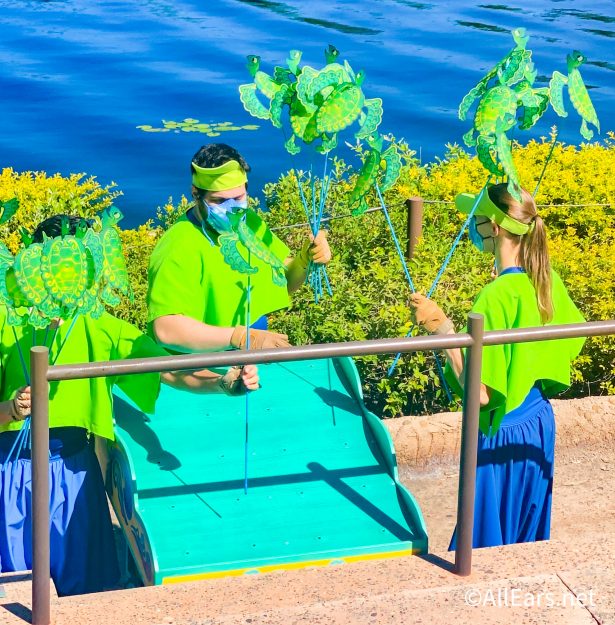 Guests who were given the turtle kites were then asked to participate in a "Turtle Parade" with Crush and Squirt kites from Disney's Finding Nemo leading the way.
The Turtle Parade ended with a big bow and all of the kites were collected just before the clock struck 11AM (aka showtime).
OK well this little turtle pre-show is melting our hearts ❤️ pic.twitter.com/BO3FnSRo8m

— AllEars.Net (@AllEarsNet) September 29, 2021
And, then it was time for Disney's 
The Jungle Book
 KiteTails
to begin! Throughout the show, you'll watch
performers at the bottom of the theater as they bring out a whole bunch of different kites
of their own to the beat of the new music.
More from KiteTails at Animal Kingdom! pic.twitter.com/4sdXcozIol

— AllEars.Net (@AllEarsNet) September 29, 2021
There are
giant elephants…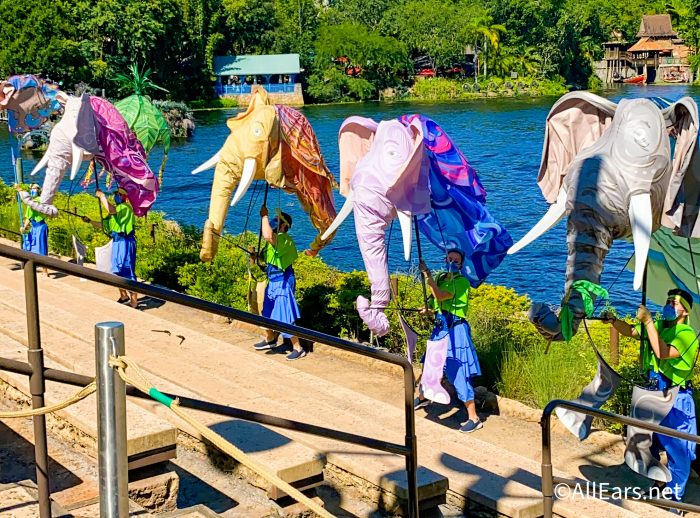 …bananas…
…trees…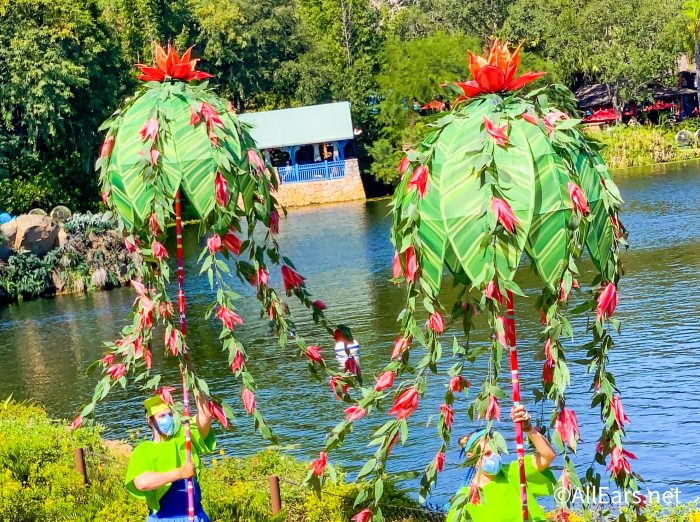 ..monkeys, and more.
The first few rows of the theater were blocked off to make room for the performers, but they still were sure to make you feel involved!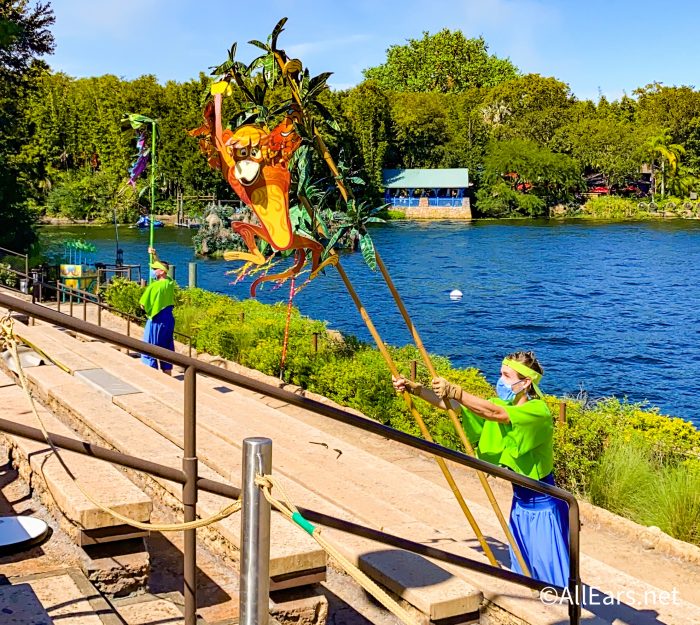 And, while there's a lot to look at in the theater, there's even more happening out on the water.
King Louie kite from KiteTails at Animal Kingdom 🪁 pic.twitter.com/z56dUBVspH

— AllEars.Net (@AllEarsNet) September 29, 2021
Jet Skiers are out on the water towing
GIANT oversized kites.
Some are smaller kites that reminded us a lot of the ones that were featured in
EPCOT Forever
previously…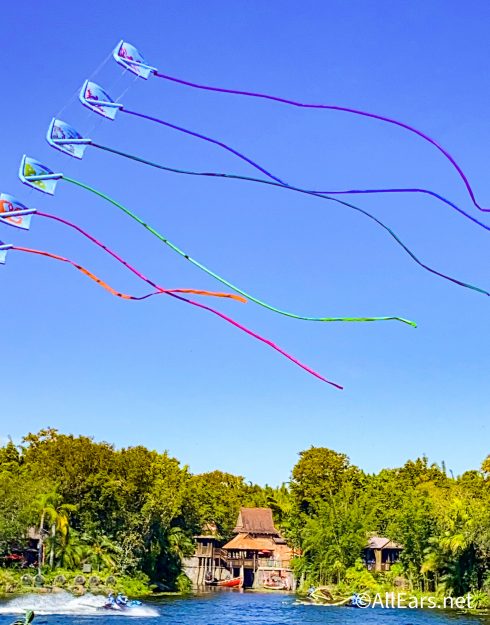 …and others were HUGE Disney characters like King Louie.
You'll also see characters like Zazu from The Lion King and Balloo from The Jungle Book depending on which show you're there for.
Baloo flying through the air for KiteTails! pic.twitter.com/doySrZ3b8q

— AllEars.Net (@AllEarsNet) September 29, 2021
After the Disney KiteTails show themed after 
The Jungle Book 
we came back to Discovery River Amphitheater at 1PM to watch the other version of the show —
The Lion King KiteTails!
Much like the first show, the excitement began a little bit before with the Turtle Parade pre-show…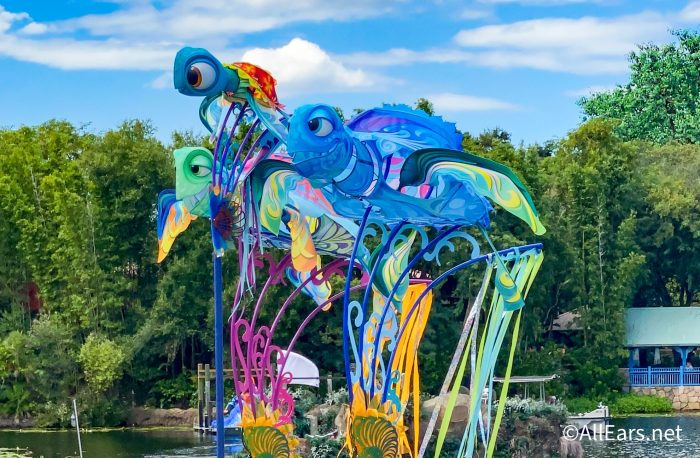 …and then the giant characters from The Lion King took to the sky over Discovery River! There was Zazu…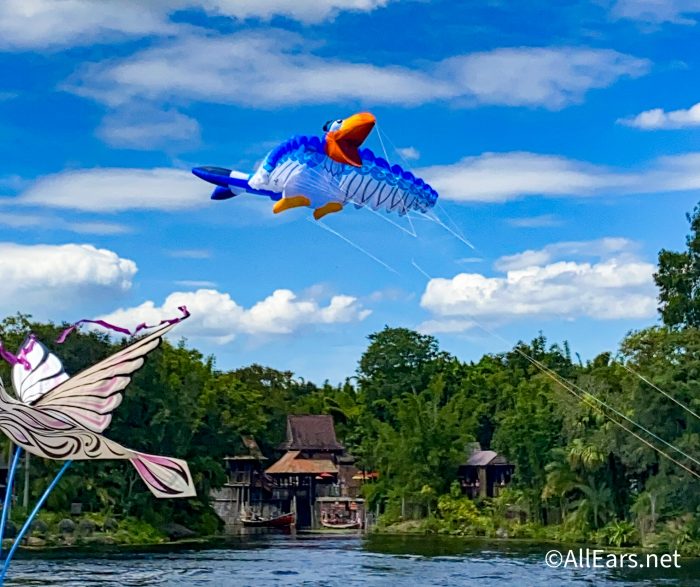 …a colorful Timone and Pumba…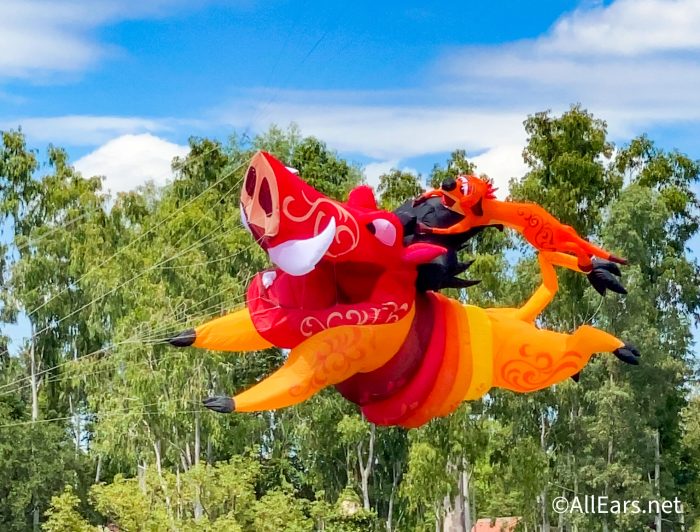 …Simba with a rainbow mane…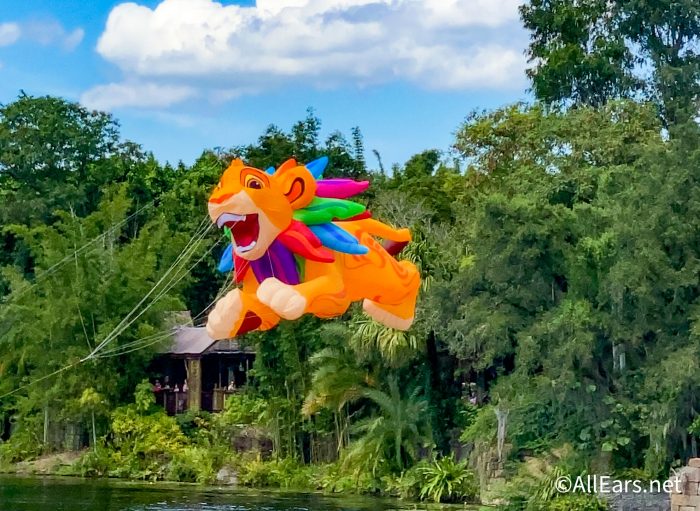 …and, of course, Mufasa.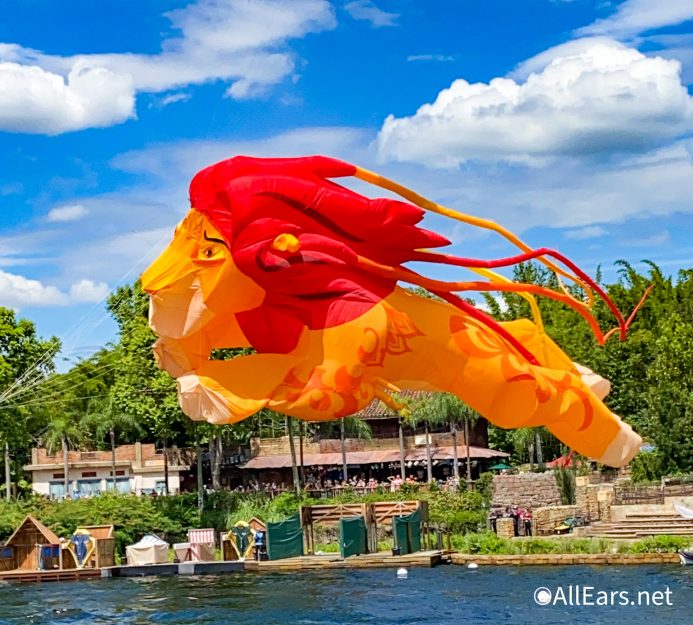 The huge kites were attached to jet skis that were cruising around while performers in the theater danced with their own kites.
And, if you're wondering where those giant kites are being stored when they're not flying over the water, you can actually get a look at them throughout the day on the newly constructed docks in Discovery River.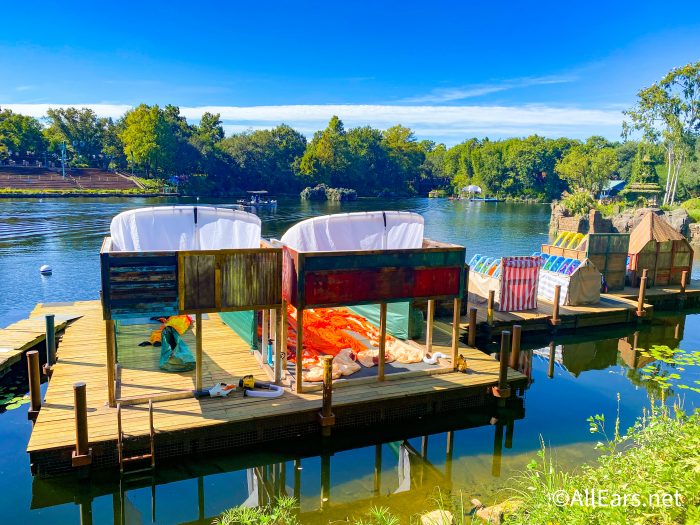 Well, there you have it — a first look at the newest daytime show in Disney's Animal Kingdom! When we visited, The Jungle Book KiteTails took place at 11AM and The Lion King KiteTails was set for 1PM, but you'll want to be sure to check Disney's showtimes before you make your plans.
And, stay tuned to AllEars for more of the latest updates from the parks for the 50th anniversary!
What do you think of this new show? Tell us in the comments!
Join the AllEars.net Newsletter to stay on top of ALL the breaking Disney News! You'll also get access to AllEars tips, reviews, trivia, and MORE! Click here to Subscribe!