It's been more than 21 years since Disney's ambitious Animal Kingdom theme park opened. Much like every Disney park that came before and after it, Animal Kingdom was far from completed when it debuted on April 22, 1998. Like a freshly planted seed, Animal Kingdom needed time to grow and flourish.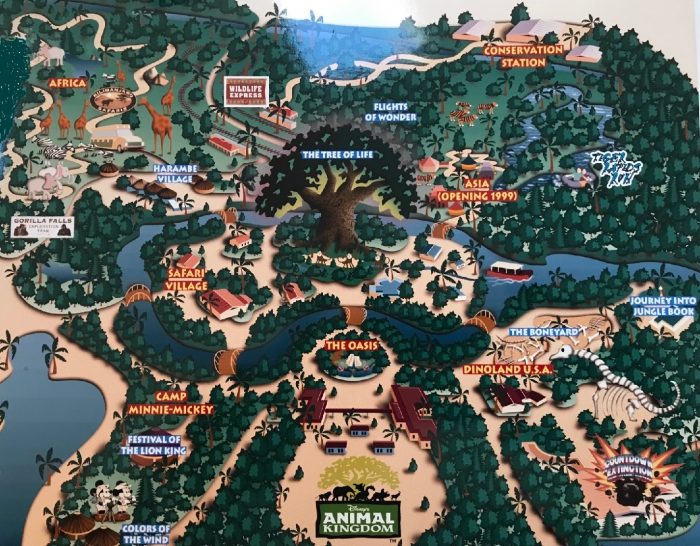 As it was, it took almost 10 years from the time then-Disney CEO Michael Eisner announced plans in the late 1980s for what was originally called Wild Animal Kingdom until this new species of theme park swung open its gates for the first time.
During that time frame, a small team of Disney Imagineers worked tirelessly to craft a park the likes of which had never been attempted before. It would be a park where animals – real, imagined and extinct – would be celebrated.
There would be a strong emphasis on conservation, with the hope that guests would return to their homes after visiting and take up the conservationist cause.
Imagineers took extensive field trips
To that end, the Imagineering team traveled the world in the early to mid-1990s, taking extensive field trips to Africa and Asia, to learn about animals in their natural habitats, as well as to interact with native people and visit the exotic locales where they lived.
To give you an idea of how sparse things were on Animal Kingdom's opening day, the land devoted to Asia consisted of just one attraction – a bird show called Flights of Wonder. The park's guide map went so far as to tell guests that "additional Asia adventures will open in early 1999" and showed sketches of construction equipment on the map.
At the time, the Tree of Life, the park's stunning icon, dominated the horizon as guests approached the park along Osceola Parkway. The now-familiar towering peaks of Expedition Everest and Pandora: The World of Avatar wouldn't grace Animal Kingdom until years later.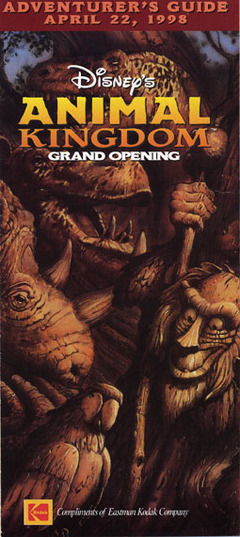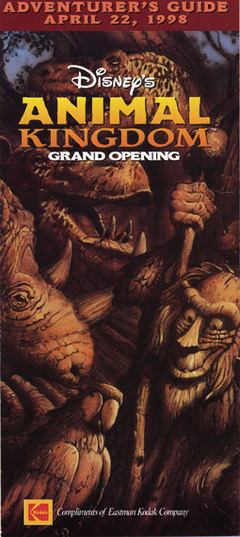 Many new and exciting adventures have beefed up the Animal Kingdom lineup over the years, and an added emphasis on night-time entertainment has given guests the chance to spend the entire day immersed in all the park has to offer … dispelling the "half-day park" label that had been attached to it.
And while there have been numerous additions, several opening-day attractions proved to be unpopular and quickly faded into Disney parks lore.
So, what was Animal Kingdom like on opening day?
While the entrance plaza has remained unchanged, save for the additions of security check point tents and airport-like scanners, the rest of the park has seen significant changes as it has evolved.
Here's a land-by-land look at the evolution of Disney's Animal Kingdom Park:
The Oasis
When guests arrived, either by bus or auto, two park staples – a souvenir hut and a Rainforest Café, both located to the left as you approach the ticket booths, greeted them. They still do today. There also are restrooms, guest relations offices and stroller/wheelchair rental facilities available. The biggest change at the Main Gate was the elimination of turnstiles and the introduction of MagicBand scanners.
After passing through the Main Gate, guests encountered The Oasis, which is Animal Kingdom's version of Main Street USA, sans buildings. Like a movie, it's the "opening scene" and sets the mood for what lies ahead.
Several concepts for Animal Kingdom's opening scene were discussed during the design phase of the park. Chief among them was a replica of Noah's Ark, but that idea was scrapped because there were no mythical creatures on board the biblical wooden ship and Animal Kingdom's mission was the feature all the world's animals, living, extinct and mythical.
During the park's planning stages, mythical creatures were expected to be part of the park's celebration of animals. In fact, close inspection of the original Animal Kingdom logo shows a winged dragon marching along with, among other animals, an elephant and a lion.
Also proposed was a village dominated by cottages, macramé and stained glass, as were a garden populated by animal statues and a cavernous grotto.
Finally, the idea of an Oasis took shape: An area that would capture the spirit of Animal Kingdom while "instantly establishing that this was a different place," according to Joe Rohde, the park's guiding force and chief designer.
The Oasis remains a tropical garden, with plenty of lush foliage, babbling brooks and a stunning collection of exotic birds and rare animals. There are no shows or attractions here, just nature in its purest form.
Safari Village/Discovery Island
The walk through the Oasis takes guests up a gradual incline. At the top, as you exit the area, the massive and stunning Tree of Life looms just ahead.
The Tree of Life is the centerpiece of the park. It stands tall in the heart of a place that was known as Safari Village on opening day.
A true masterpiece, close inspection of the Tree of Life reveals 350 animals of various shapes and sized carved into the faux tree's trunk. Those creations were the handiwork of Zsolt Hormay and his team of skilled craftsmen.
Under the base of the tree is one of the park's enduringly popular attractions, the clever It's Tough to be a Bug! show, which illustrates how vital bugs are to man's existence.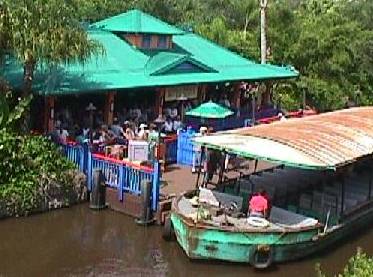 Also on this spit of land are several elaborately decorated, brightly colored shops and eateries, all featuring wooden animal carvings – a total of 1,500 in all – created by dozens of wood carvers from Bali.
Although the area was named Safari Village when the park opened, it was renamed Discovery Island around the year 2000 after the island animal reserve of the same name on Bay Lake near the Magic Kingdom closed.
In true hub-and-spoke fashion, Safari Village – which is an island – has bridges that fan out into different themed lands. These bridges cross over Discovery River, which for a short time was home to an attraction known as the Discovery River Boats.
The covered launches sailed from two docks, one located on Safari Village and the other between Africa and Asia called Upcountry Landing. Aside from an Audio-Animatronics iguanodon and an area called Dragon Rocks, where a fire-breathing dragon was said to be lurking, there wasn't much to see during your boat ride other than vegetation.
The attraction was closed about a year after the park opened; the covered docks have been used for character photos and meet-and-greets.
Camp Minnie-Mickey
Speaking of photo ops, Camp Minnie-Mickey was an Adirondack-themed land that gave guests character greeting areas to the max. Also included in the area was Festival of the Lion King and Grandmother Willow's Grove.
In truth, the area was supposed to contain attractions featuring mythical creatures. It was initially to be named Mythia, then Beastly Kingdom. But when the designers ran out of money, guests were left with a barebones "land" with little rhyme or reason.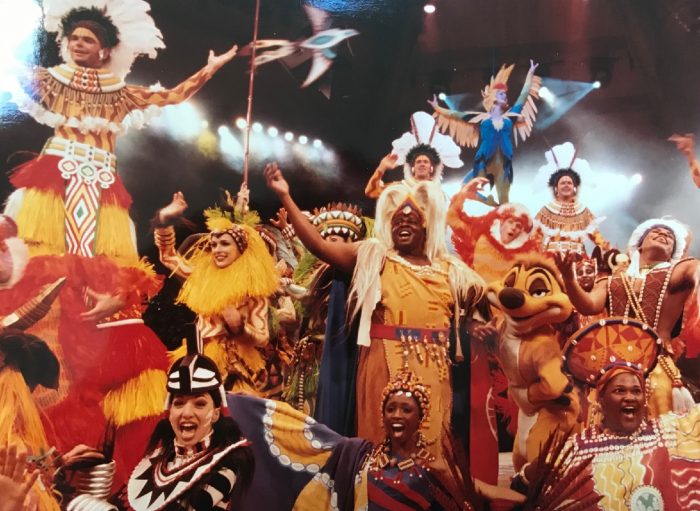 Festival of the Lion King is a Broadway-quality spectacle rooted in African culture. The original show building, although covered, was open-air and could get brutally hot inside; Grandmother Willow's Grove was themed to Pocahontas and asked guests to help search for the protector of the forest; and the photo huts replicated an artists' colony in New York state's Adirondack Mountains.
Several years ago, Camp Minnie-Mickey was shut down to make way for a new land devoted to Pandora: The World of Avatar. Grandmother Willow's Grove and the photo huts were discarded, but a new theater was built for the always popular Festival of the Lion King, with the venue now appropriately located in the Africa section of the park.
Africa
When guests walk into the land devoted to Africa – and specifically, the village of Harambe – it's if they have been transported to a vibrant, thriving East African town.
Street musicians set a festive mood with infectious rhythms. Close inspection of the buildings and assorted set pieces shows how much the Imagineers poured their hearts and souls into creating an authentic atmosphere. It is more than a replica of village – it's a true work of art.
The buildings' stucco was worn and tattered on opening day, exposing areas of brick; wires drooped from weathered telephone poles, some with clothing hung on them to dry.
Bicycles and scooters were parked randomly, and clever signs were posted everywhere, things like "Very, very cold drinks" and "Plentiful seating." There's even a poster advertising repairs for your dhow.
The walkways, with age cracks, leaf impressions and animal hoof prints running through them, looked decades old.
Many of the buildings have authentic, hand-made thatched roofs, put together by 13 Zulu craftsmen imported from Africa.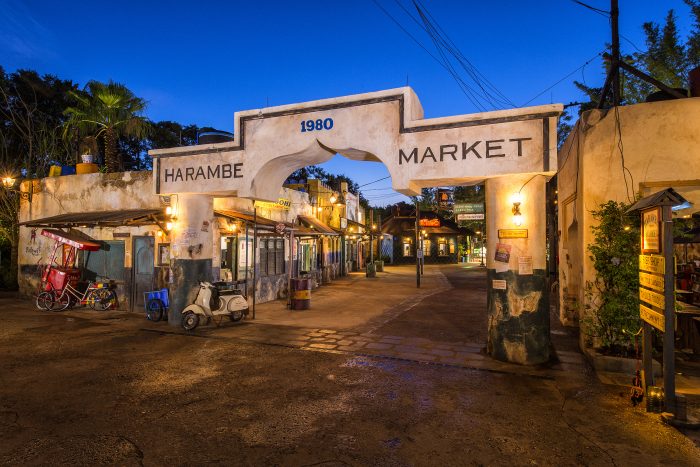 Harambe Village underwent an expansion several years ago and now features a vibrant marketplace, where the flavors – and authenticity – of Africa abound.
At the outskirts of the village is the entrance to Kilimanjaro Safaris, an exciting adventure through a meticulously created savannah, where scores of wild animals roam freely in their natural habitat.
Those animals were acquired from accredited zoos around the world by Rick Barongi. His job was to establish a program of animal care and conservation years before the park opened.
Working with some of the leading animal experts, activists and organizations in the country, he crafted a ground-breaking program which enabled the animals to thrive in their new home. He also upgraded the caregivers' amenities to create a pleasant work environment since animals would need year-round, 24/7 care.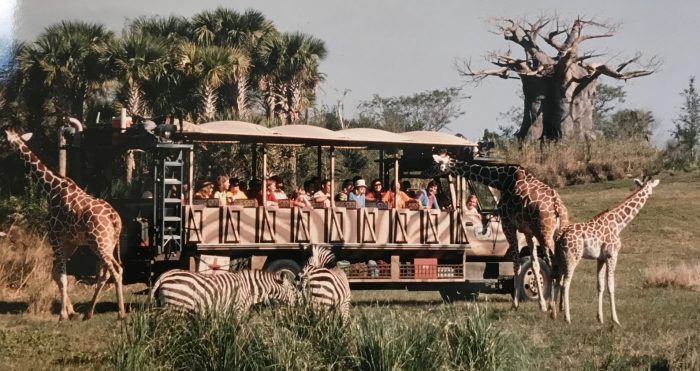 The savannah – and, indeed, all of the park's foliage – was the handiwork of landscape architect Paul Comstock. It was Comstock who also helped in the site selection of the park.
Originally, Disney's planners were looking at an area near where the town of Celebration now sits. Instead, Comstock pointed them to the now-familiar Animal Kingdom site because of an abundance of pure sugar sand, which would provide the drainage necessary for plants to flourish.
Harambe served as the entry portal to Conservation Station, which is at the heart of everything Animal Kingdom is about: Educating guests about the importance of animal care and conservation. It was hoped that with the knowledge gained during a visit to Conservation Station, guests would return home and become stewards of the animal world.
Modeled after historic railroad
To reach Conservation Station – now known as Rafiki's Planet Watch – guests boarded a rickety-looking train at a station near Harambe. The Wildlife Express Train was modeled after the legendary Indian Peninsula Railroad, which were first built in 1898 at the Horwich Locomotive Works in England.
Along the route, guests can see some of the state-of-the-art animal care enclosures. It is these shelters, which focus on dietary needs, as well as medical care, that set Animal Kingdom apart from other animal facilities.
Also located near the Africa section of the park is Gorilla Falls Exploration Trail, where guests can view African wildlife [including gorillas, hippos and exotic birds] in a lush tropical forest setting.
Asia
Asia was little more than a bustling construction site when Animal Kingdom opened. Flights of Wonder was the lone attraction up and running [that show has been changed to UP! A Great Bird Adventure].
Over the years, Maharajah Jungle Trek, Kali River Rapids, Expedition Everest and Rivers of Light have beefed up the Asia lineup, making it one of the most popular areas of the park.
Dinoland U.S.A.
Dinoland U.S.A. also was a barebones area on opening day – literally and figuratively. The park's signature attraction, Countdown to Extinction, allowed guests to travel back in time 65 million years to save a dinosaur from a meteor shower.
The attraction was renamed DINOSAUR after the Disney movie of the same name was released in 2000.
The Boneyard, where would-be paleontologists can dig for dinosaur bones, remains a staple of the land.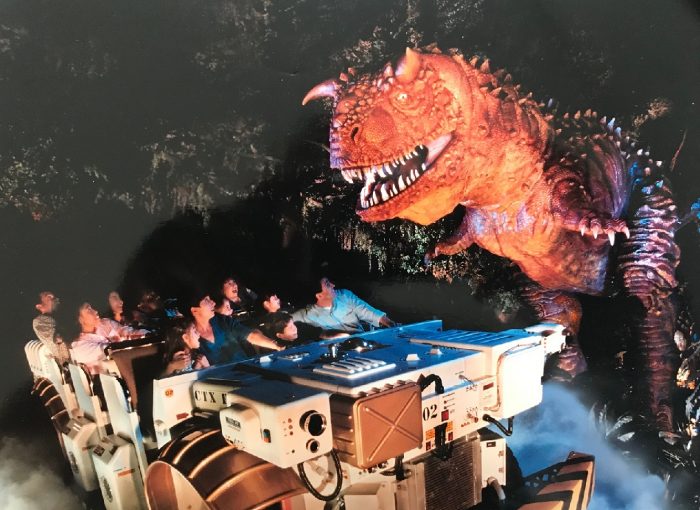 Also in available in Dinoland on opening day was the 1998 Dinosaur Jubliee, where guests could view dino artifacts, and the Fossil Preparation Lab, a site where the original remains of the most complete T. Rex skeleton ever unearthed were prepared.
Over the years, Primeval Whirl and TriceraTop Spin were added to the prehistoric landscape, adding a whimsical, church-bazaar flavor to this unique area of the park.
Listed on the guide maps on opening day was The Theater in the Wild, where the Journey Into Jungle Book live show was performed nine times daily. Although it was considered part of Dinoland, it had nothing to do with prehistoric times or the Ice Age, for that matter: It was an open-air venue and could get quite steamy.
After just two years, Journey Into Jungle Book was changed to Tarzan Rocks!, which was more like a high-energy rock concert, complete with amplified guitars and acrobatic performers on skates.
But in 2006, in conjunction with the opening of Expedition Everest across Discovery River, the Theater in the Wild was refurbished, enclosed and air conditioned. An ambitious new show, Finding Nemo: The Musical took up residence and has been a must-do attraction ever since.
For a more detailed look at Animal Kingdom's conception, development and growth, check out my Disney's Animal Kingdom: An Unofficial History, available on Amazon and at Theme Park Press.
Do you have any thoughts on Animal Kingdom's 21-year evolution? Let us know …
Interested in Disney history and Imagineering details? Take a look at these recent posts:
Be sure to follow @allearsnet on Instagram and Twitter!
Check out our YouTube Channel for reviews, news, information and more!
Click below to subscribe to the AllEars® newsletter so you don't miss any of the latest Disney news!