Marty Sklar's soon-to-released third book, Travels with Figment [Disney Editions], picks up where his first two books left off: More intimate stories about his legendary 54-year career with the Walt Disney Company.
Before he passed away in July of 2017, Marty was considered by many, including me, to be THE main conduit to Walt Disney himself.
After all, Marty worked side-by-side with Walt for more than a decade and was responsible for writing most of Uncle Walt's speeches, annual reports, messages, and publicity and marketing materials.
It was Marty who wrote the script in 1966 for the now-famous Epcot Film, which Walt used to introduce the Florida community – and the world – to his hopes, plans and dreams for the Florida Project and a "city of the future."
Eager to share his stories
It was no surprise that after he retired in 2009, Marty was eager to share his five-plus decades of working for The Mouse.
All three of his books – Dream It! Do It!, One Little Spark! and Travels with Figment – are not only windows into the Walt Disney Company, but give us a rare look at one of the most important and influential people to have ever pinned on a Disney nametag.
Marty's books are filled with one fascinating, behind-the-scenes story after another. But, as I've learned first-hand over the years, there are so many more "Marty stories" that need to be told.
I was privileged to have been among Marty's legions of friends over the last 10 years of his life. We often exchanged emails and regular mail on a wide range of subjects, some of which had nothing to do with Disney.
For instance, Marty once sent me a large envelope via U.S. Mail that contained a full-page advertisement published in Funworld magazine. He wanted to let me know about an investment opportunity along the New Jersey shore.
There was one problem: The "opportunity" he mentioned came with a $12 million price tag! I politely declined.
But I still have his hand-written note: "Chuck – Wanted to make sure you had a shot at this – in case you missed this ad in Funworld magazine. Marty"
Over the years, I learned that Marty was a big baseball fan. Several years ago, he shared two wonderful stories with me about baseball.
Here's one I never told you, a Marty story involving Staten Island (in a way!):
I was born in New Brunswick, New Jersey; our family lived across the Raritan River in Highland Park. My dad was a teacher at New Brunswick High School.
The long and winding road to Ebbets Field in Brooklyn
My brother Bob and I were big Brooklyn Dodger fans, and in 1944 and 1945, Dad took us to Ebbets Field to watch the Dodgers play the Phillies (1944) and the Cardinals (1945).
Our family did not have a car, so here's how we traveled to and from a weekend day game in Brooklyn:
Bus from Highland Park to Perth Amboy;
Ferry across to Staten Island;
Train from Tottenville to the Staten Island Ferry Terminal;
Ferry to Lower Manhattan;
Subway to Brooklyn;
"Just follow the crowd!" was a policeman's instructions when we asked him how to get to Ebbets Field.
Then, we'd reverse everything to go home after the game.
For Bob and me, it was a grand adventure. I was 10 years old in 1944, and my brother was 7. We were big baseball fans, even during World War II when most of the good players were in the armed services.
As kids, we invented our own baseball board games, and Bob started what became an incredible autograph collection of mostly baseball players.
In fact, he never stopped his attachment to baseball, even as a professor at NYU; about 25 years later he and a group of his friends invented "Rotisserie Baseball,' the predecessor and harbinger of the Fantasy Baseball craze.
I always felt empathy for our father when it came to the Dodgers. Born in Montclair, New Jersey, he was a Yankees fan. But he indulged his sons.
Finally, in 1946, just before we moved to California, Dad took us to Yankee Stadium and we saw the Yankees play the Red Sox, with all the stars back from the services, including Ted Williams, and Joe and Dom DiMaggio, and the rest.
But those two games at Ebbets Field during the war, and the whole adventure of getting to and crossing Staten Island and beyond to get there, is a memory I'll never forget.
 Marty
I responded to Marty's email with one of my own, telling him about my Uncle Bob Geekie, who was a manager at the Hotel St. George, located near Ebbets Field. It turns out that the St. George, once the largest hotel in all of New York City, was where many of the Dodgers players resided during the baseball season.
Friends with many of the Dodgers players
I told Marty how my uncle became very friendly with many of the Dodgers players and they would often give him tickets to games.
Marty responded with another baseball-themed missive:
Chuck – Interesting about your uncle and the Dodgers. Here's a little "kicker' about my Dodgers experience.
Before we moved to California in June of 1946, my brother and I would listen to the Dodgers games on the radio. Their announcer until 1953 was The Ol' Redhead, Red Barber.
When we lived "back East,' we had never heard of Vin Scully, who joined Barber in 1950 and became the "voice of the Dodgers' in 1953 – he's still going strong in his 65th year as the Dodger play-by-play broadcaster this season! [Note: Vin Scully retired after the 2016 season].
What my brother and I found in California in the late '40s and early '50s was there were radio stations that recreated major league baseball games – since there were no teams on the West Coast at that time.
Listened in fascination to radio broadcasts
We used to listen in fascination to these very detailed play-by-play calls of big league games.
Then, somehow, we got invited to the studio where someone was "recreating' a broadcast. The announcer sounded fully as though he was at the game, giving each pitch, each play, a detailed and often excited call.
We marveled at the close plays, spectacular catches and all the color and sidebars we could imagine.
He even made his own sound effects: Ball hitting the bat, ball smacking into the catcher's mitt, a thunder roll when rain threatened.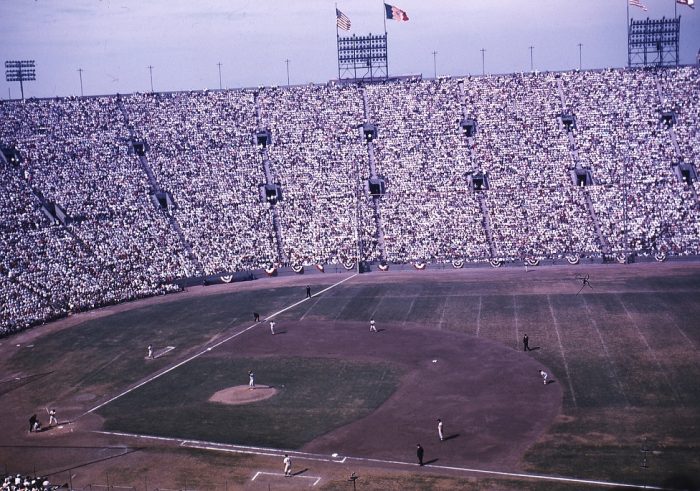 Afterwards, we were invited to meet the play-by-play broadcaster, and he kindly gave us the wire copy he used to call the game. To our amazement, the copy said things like: "Ball 1 … Strike … Foul … Fly ball to left … ground call out, 6-to-3 … double.'
What we heard was something quite different. "Sal Maglie throws the pitch into the dirt for Ball 1 … Hodges takes a mighty swing and misses, Strike 1 … There's a high pop fly behind home plate and it lands in the netting for a foul ball … Oh, my! That ball is driven to the wall and Duke Snider makes a great catch up against the fence …
… There's a ground ball deep to short; Pee Wee Reese makes a nice stop to throw out the batter at first base … Jackie Robinson hits one deep to the corner in left. He's on his way to second for another double. That ball hit the top of the fence – almost a home run for Number 42!'
After that, the game replays, those recreated epics, lost their luster for us.
Then, in 1958, the Dodgers moved to Los Angeles and the Giants moved to San Francisco and the world of baseball came alive for us again … so much so that my son, Howard, still tells people he attended games at three World Series involving the Dodgers in 1988 and the Angels in 2002.
Son Howard 'saw' the Dodgers beat the White Sox
The third? Well, Leah was seven months pregnant with Howard when Leah and I watched the Dodgers beat the Chicago White Sox at the Los Angeles Coliseum in the 1959 World Series.
And as it happens, Howard the baseball fan can probably tell you more about that game than his mother can!
Marty
Although Marty was a Dodgers fan most of his life, he switched allegiances after the Walt Disney Company purchased the Los Angeles Angels in 1997. Disney sold the Angels following the 2002 season, but not before they won the World Series that year.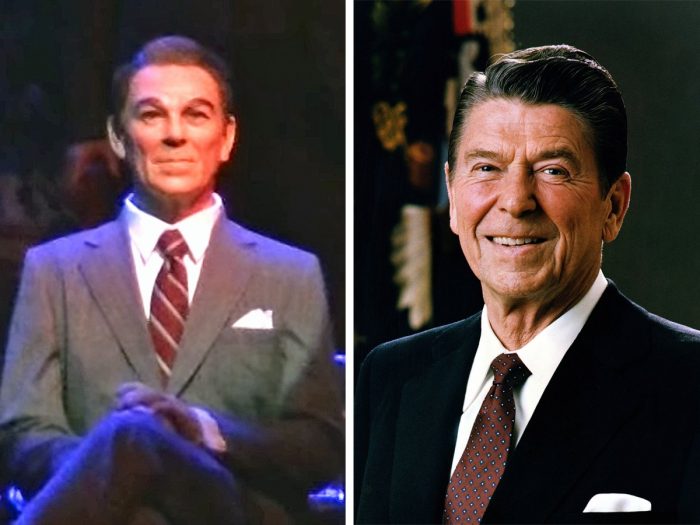 Also of note: Former actor, California governor and U.S. president Ronald Reagan is perhaps the best-known recreator of sporting events during that bygone era.
From a 50,000-watt station in Des Moines, Iowa, Reagan broadcast a wide variety of games, both live and from the studio.
But it is his recreations of major league baseball games, especially those of the Chicago Cubs, for which Reagan is best known and still admired.
Reagan has a strong Disney connection. He can be seen in the Hall of Presidents attraction at the Magic Kingdom on Walt Disney World.
And let's not forget his gig as a commentator during Disneyland's preview-day national television live broadcast on July 17, 1955.
Click below to subscribe to the AllEars® newsletter so you don't miss any of the latest Disney news!