This weekend at the D23 Expo we got an incredible amount of information about coming attractions, dining, entertainment, and MORE!  One of the most highly anticipated experiences coming to Walt Disney World is the incredibly immersive Star Wars hotel — and we finally have more details to share!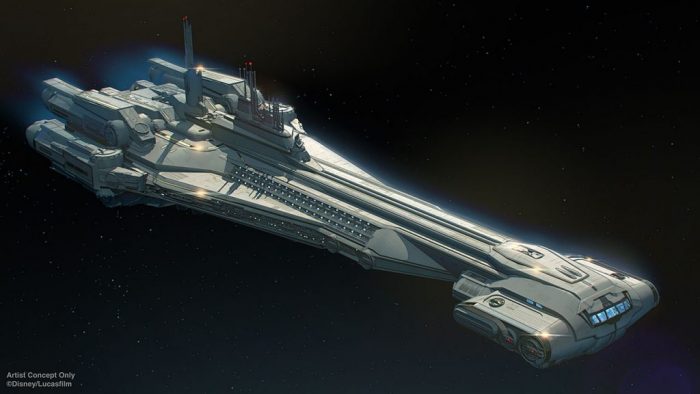 We found out the name of the hotel, as well as the ship you'll be boarding early on during the Expo: the Resort is named "Star Wars: Galactic Starcruiser," and the ship itself is called the Halcyon. You can check out photos of the model here!
At the Disney Parks Panel on Sunday, August 26,  Bob Chapek, chairman of Walt Disney Parks, Experiences and Products, and Ann Morrow Johnson, executive producer and creative director for Walt Disney Imagineering, shared new information about Star Wars: Galactic Starcruiser!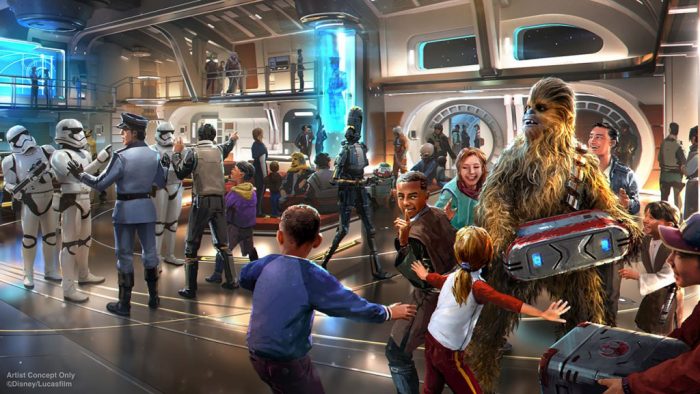 Guests staying at Star Wars: Galactic Starcruiser will experience a 2- night itinerary, and they will all embark and disembark together, much like a cruise.
You'll check in at the Walt Disney World Galactic Starcruiser Terminal, where you'll prepare to fly to the galaxy far, far away. Guests will board Launch Pods, and be able to see out of windows above them. The Launch Pods will make the jump to hyperspace, and bring you to the Halcyon. As your Launch Pod docks, and the air shaft opens, you'll enter the Ship's main atrium.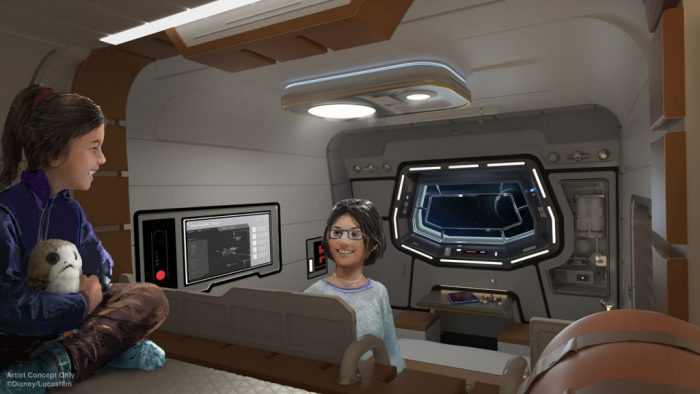 The Halcyon is a starcruiser known for its incredible food, hospitality, and exciting destinations. On board, you'll stay in cabins — and you'll be able to look outside your window at the galaxy. You'll also be able to fully immerse yourself into the Saga like you've never done before, by interacting with the crew (including favorite characters!) and fellow adventurers.
Part of your journey aboard the Starcruiser includes a visit to the Black Spire Outpost on the planet Batuu — which is also known as Star Wars: Galaxy's Edge.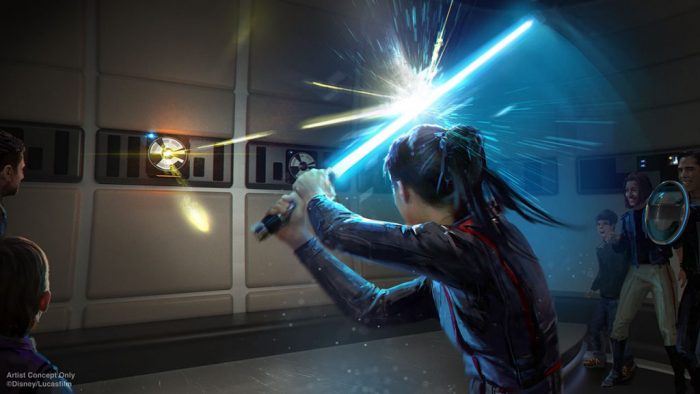 New immersive experiences are available on the Halcyon as well. You'll be able to wield a Lightsaber during a training session and head to the bridge where you'll learn about navigation, defense, and operation in an interactive fashion.
You'll also be able to explore the farthest corners and mechanics of the Ship — and who knows what you'll find! You may even discover a few secrets along the way. Your story aboard the Halcyon is completely up to you, and choices you make will affect how your stay plays out. It's basically like a "Choose Your Own Adventure" book come to life, set in a galaxy far, far away.
Star Wars: Galactic Starcruiser doesn't have an opening date or season yet, but we will keep you posted as we find out more information! You can also check out the ship's new official website here!
Would you love to book a stay at Star Wars: Galactic Starcruiser? Let us know in the comments!