Did you really go to Disney World if you didn't overindulge on Disney Parks snacks? We all know Mickey Premium Ice Cream Bars and boxes of salty popcorn are just part of the Disney Parks experience, many of Disney World's snacks are on the unhealthy side, which can really mess with our healthy eating goals.
Still, there are plenty of awesome Parks snacks that are worth wrecking your diet (or your healthy lifestyle) for!
Mickey Beignets
One of our favorite reasons for visiting Port Orleans Resort — French Quarter is to snack on some Mickey Beignets from Sassagoula Floatworks & Food Factory.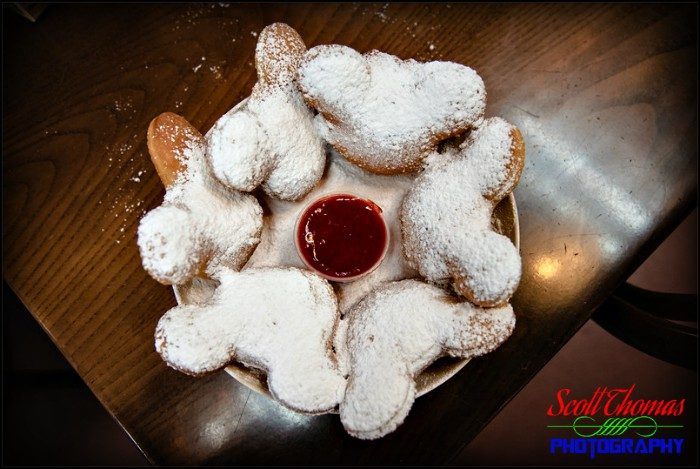 You can grab three hot and sugary beignets for $4.49 (or a Disney Dining Plan snack credit) or six beignets for $6.99. If you reallly want to treat yourself, you can get them in a sundae for $6.99, or you can head to Scat Cat's Club for boozy Baton Rouge Beignets. However you prefer your beignets, they're worth every carbohydrate!
Colossal Cinnamon Roll
We think ordinary cinnamon rolls are pretty great, but Mickey-shaped Colossal Cinnamon Rolls are on a whole other level. These first appeared at Kusafiri Coffee Shop and Bakery in Animal Kingdom, but now you can find them in other locations around the Parks as well (including Main Street Bakery where they comes with seasonal orange or red glaze for fall and winter holidays!).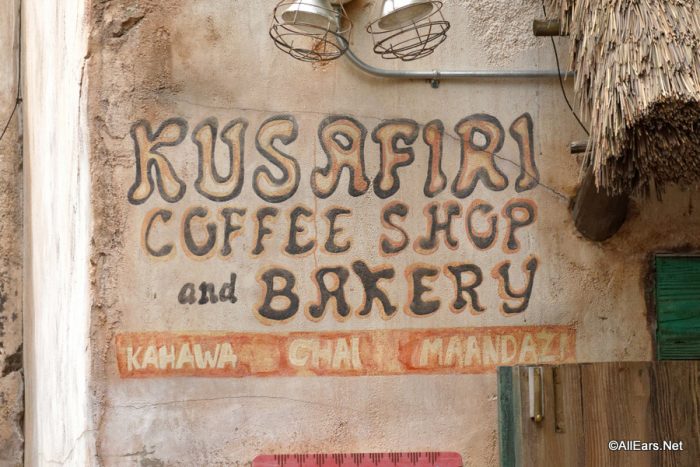 Despite its large surface area, the Colossal Cinnamon Roll is surprisingly moist and baked well (i.e. not doughy). And at $7.49, this would be a great use for a Disney Dining Plan snack credit. It's easily shareable between two to three people as well, so you can split it with your Disney squad (or keep it for yourself, which we support 100%).
Pulled Pork Cheese Fries
The pulled pork cheese fries from Flame Tree Barbecue in Animal Kingdom are pretty epic.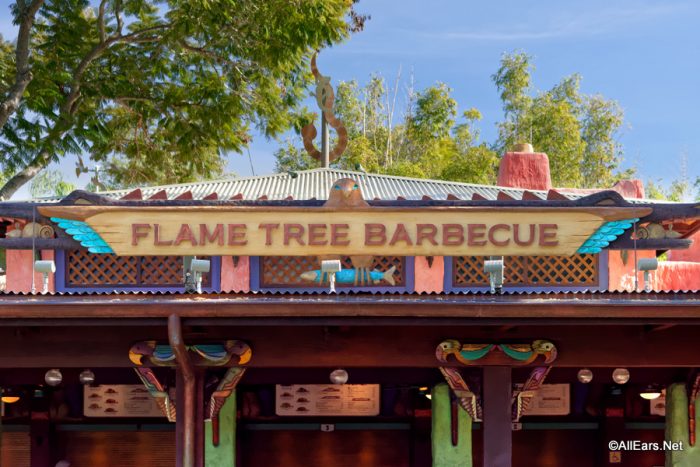 For $6.99 or a snack credit, you get a pile of  golden French fries, plenty of cheese, flavorful pulled pork, and Flame Tree's own barbecue sauce. Honestly, these could easily pass as a meal (save a meal credit, and eat these for lunch instead!) and are definitely worth the extra calories!
Ice Cream from L'Artisan des Glaces
There are so many delicious snacks to be found in Epcot, but the ice cream (and sorbet!) from L'Artisan des Glaces is especially delicious.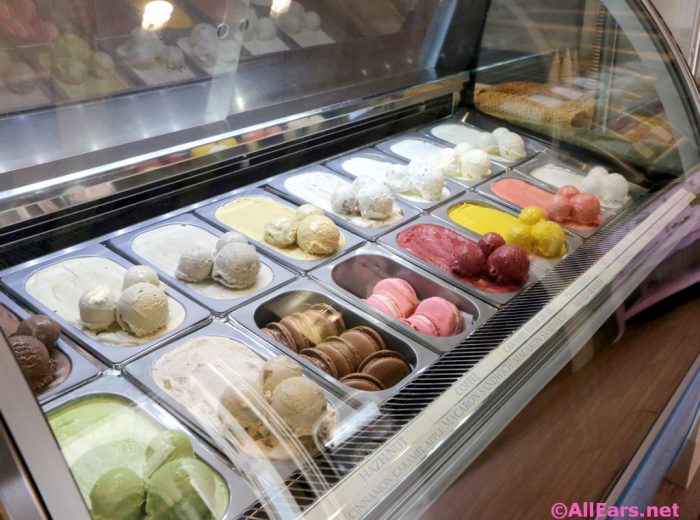 You can get a single scoop for $4.69 or a double scoop for $7.04, but if you want to elevate your snack even more, try the Croque Glacé for $7.04 (or a snack credit). What could go wrong when you combine ice cream, sauce, and a homemade Brioche? (Spoiler alert: nothing, nothing could go wrong.)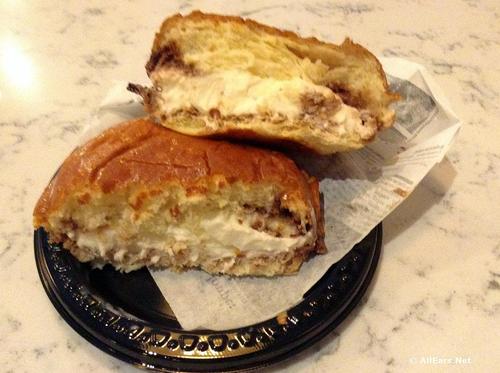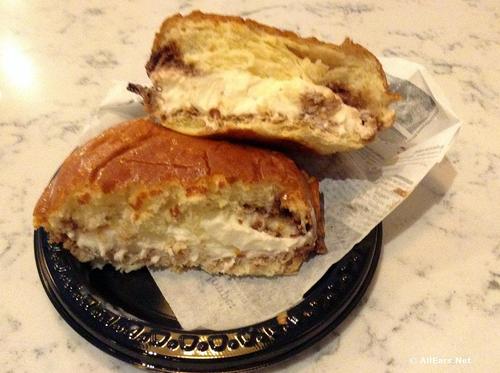 Favorite flavors of our team members include Coco-white Chocolate, Caramel Fleur de Sel, and Mango (sorbet), but L'Artisan knows its way around an ice cream machine!
Totchos
At Woody's Lunch Box in Disney's Hollywood Studios, you'll find "Totchos." This dish consists of potato barrels (or tater tots), beef and bean chili, cheddar cheese, queso, tomatoes, and corn chips. The whole thing is topped with sour cream and green onions.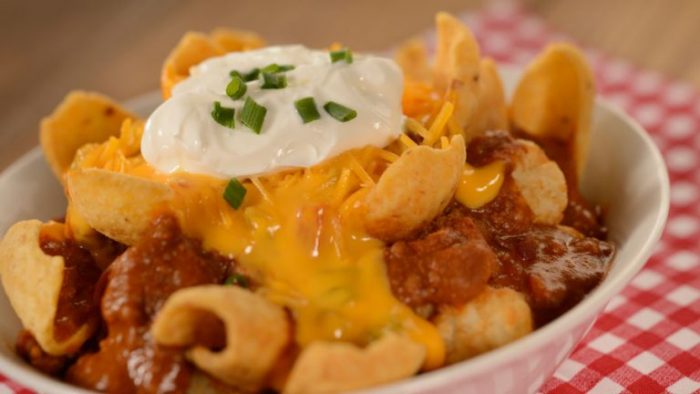 It's possible we've maxed out our daily caloric intake just writing that, but this snack (which can certainly double as a meal) costs $8.99 and is perfect for carb and cheese lovers.
Over-the-Top Funnel Cakes
We think all Disney World funnel cakes are pretty yummy (we're looking at you, Sleepy Hollow), but the ones you'll find at Hollywood Studios' Epic Eats (formerly Oasis Canteen) truly are epic and totally worth the calories.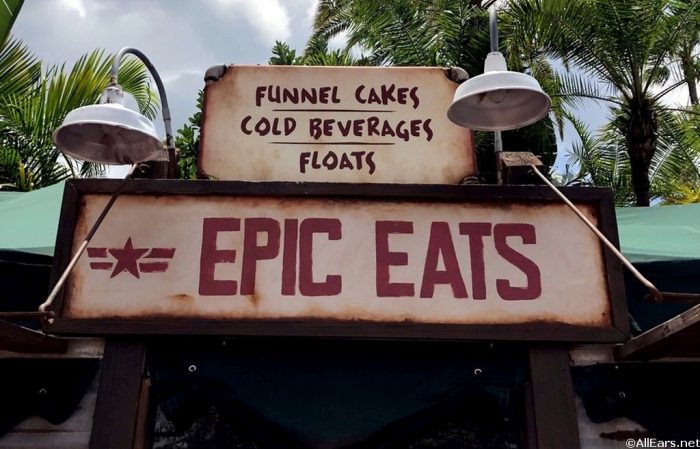 You can grab one with strawberry sauce and vanilla ice cream or one with cookies 'n cream (straight-up Oreos) crumbles and cookies and vanilla ice cream for $8.49 or a snack credit. These are not only delicious and fun, but they're also one of the best DDP snack credit values found anywhere in the World! (That makes all those carbs go down a little easier, we find.)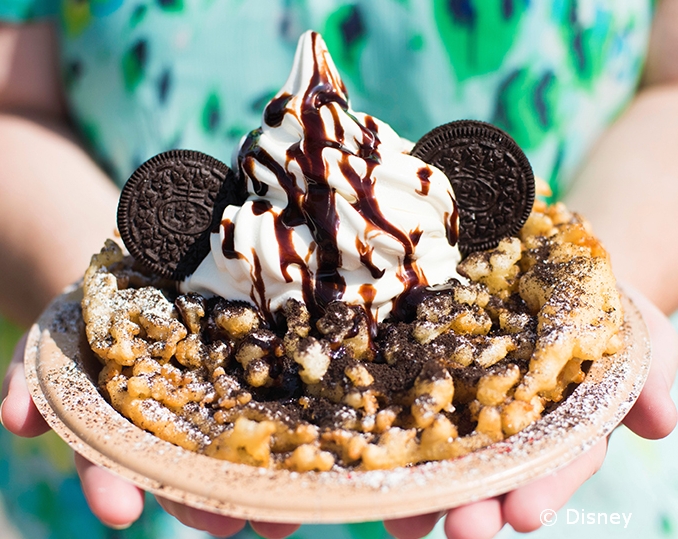 Ice Cream Cookie Sandwich
If you're looking for our favorite ice cream cookie sandwich on property, look no further than Plaza Ice Cream Parlor in Magic Kingdom.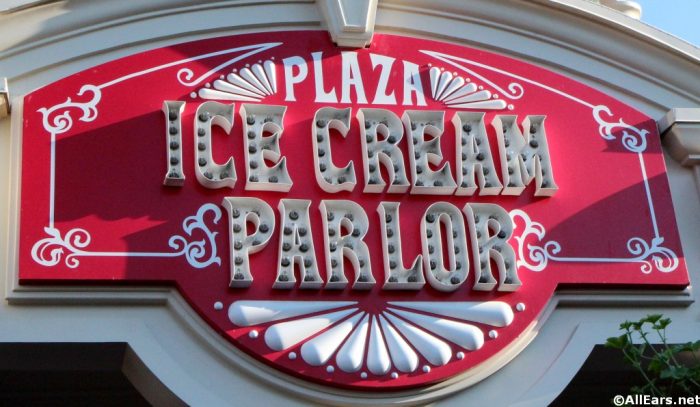 For $6.99 or a snack credit, you'll get two fresh chocolate-chip cookies with your choice of ice cream. To take your snack to the next level, add hot fudge, caramel, or peanut butter sauce to your sandwich for $.69. It is SO worth the extra few cents (and calories!).
Cheese Board from BaseLine Tap House
For a more savory snack, head over to BaseLine Tap House, and try the California Cheese and Charcuterie Plate for $10.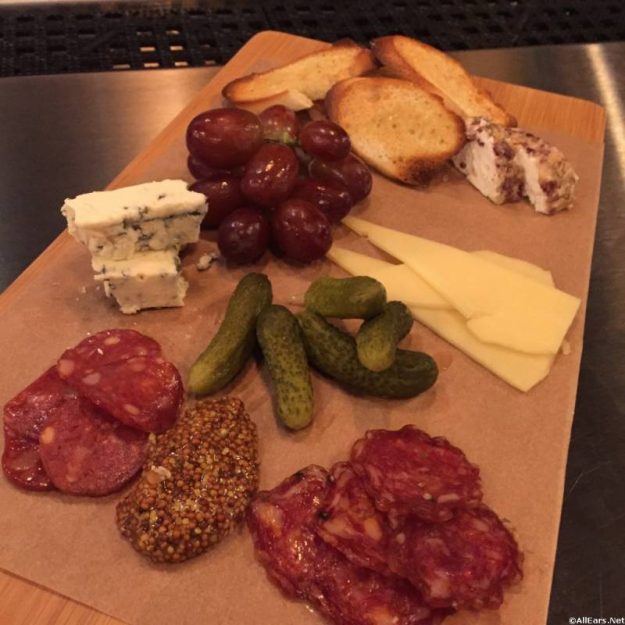 This board features three different kinds of cheese, chorizo, salami, cornichons, grapes, and baguettes. If you're a fan of meats and cheeses, you can't go wrong with this snack!
Night Blossom Slush
We've talked about a whole bunch of heavy treats, there are plenty of snack-worthy drinks as well! The Night Blossom Slush from Pongu Pongu in Animal Kingdom is one such worthwhile sugar bomb… er, we mean slush.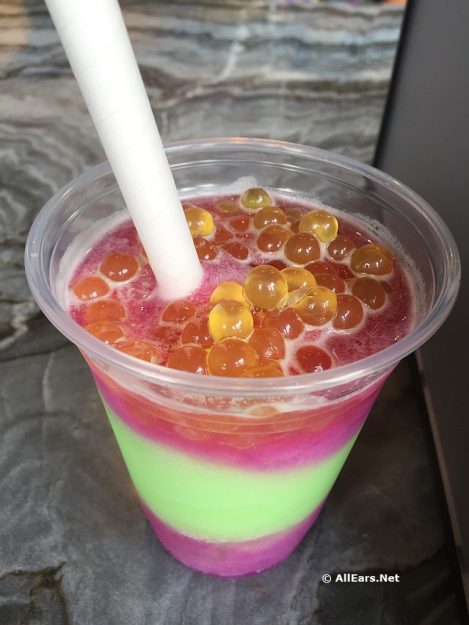 This non-alcoholic drink features apple and desert pear limeade topped with passion fruit boba balls. The Night Blossom is sweet but SUPER delicious and refreshing. You can grab it for $5.99 or a snack credit!
Cheshire Cat Tail
This list simply couldn't be complete without the Cheshire Cat Tail from Magic Kingdom's Cheshire Cafe!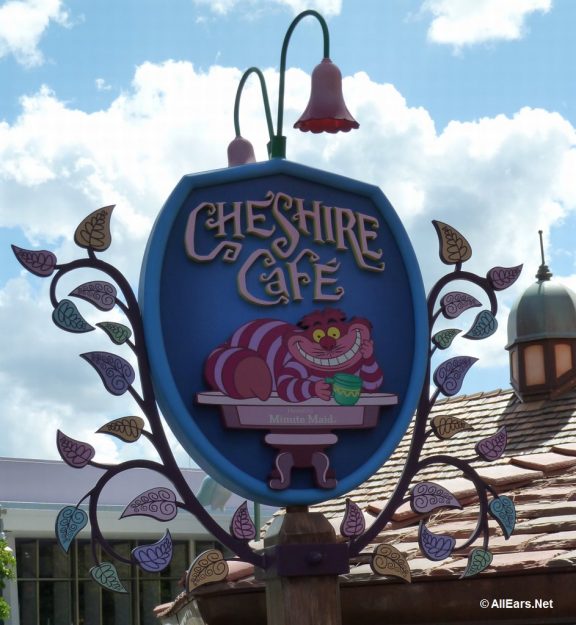 This warm, flaky pastry is twisted with delicious chocolate chips and decked out with pink and purple icing. You can grab for the sweet snack or breakfast for $5.49 or a snack credit.
Do you have any other snacks to add to our list? Let us know in the comments below!
Click below to subscribe to the AllEars® newsletter so you don't miss any of the latest Disney news!