It's almost time for the 50th Anniversary, it's only hours away and we can't wait to show you EVERYTHING Disney World has to offer during the special celebration!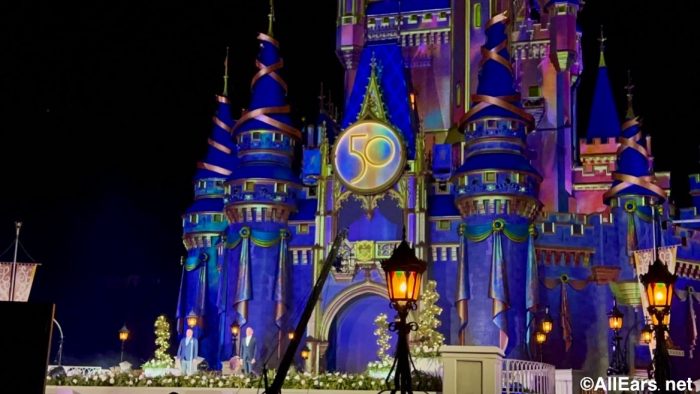 After a long day in the park, we're wrapping up the day with the very first showing of the new Disney Enchantment fireworks and Main Street, U.S.A. projections! We've already seen fireworks testing take place after-hours, taken a sneak peek at the castle projection work, and heard some of the music that will play during the show. But, we FINALLY get to take you with us to watch its debut!
The fireworks will begin at 9 PM on October 1st through October 4th before switching to an 8 PM start time on October 5th through October 16th.  Today, we got to see a special preview of the show!
The first night of Disney Enchantment in Magic Kingdom! (#DisneyWorld50 Media Event) pic.twitter.com/0YSSV2kt9M

— AllEars.Net (@AllEarsNet) October 1, 2021
The show started with renditions of "Almost There" from Princess and the Frog, "Just Around the Riverbend" from Pocahontas, and "We Know the Way" from Moana accompanied by gorgeous projections and fantastic fireworks!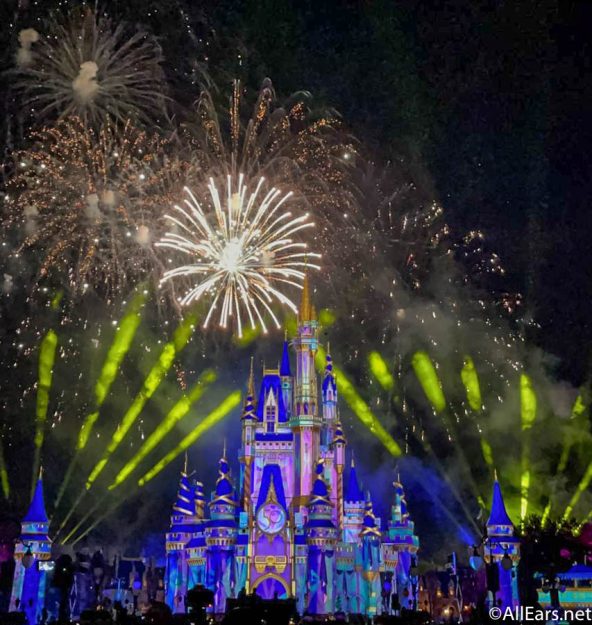 Next up was a beautiful Soul-inspired piano section, followed by "Be Our Guest" from Beauty and the Beast and "Under the Sea" from The Little Mermaid!
'Be Our Guest' and 'Under the Sea' 🎇(#DisneyWorld50 Media Preview) pic.twitter.com/m6HQ9TYQ3F

— AllEars.Net (@AllEarsNet) October 1, 2021
Then there were fun sections inspired by "You've Got A Friend in Me" from Toy Story, "Whole New World" from Aladdin, and "You Can Fly" from Peter Pan!
"Into Unknown" from Frozen II was a major highlight from the show and stole the show!
'Into the Unknown' from Frozen 2 during Disney Enchantment (#DisneyWorld50 Media Event) pic.twitter.com/Ac9CGZJ3M7

— AllEars.Net (@AllEarsNet) October 1, 2021
There was also a  "Night On Bald Mountain" section inspired by Chernabog from Fantasia, followed by a show-stopping rendition of "I Am Moana" from Moana!
'Moana' in the new Disney Enchantment (#disneyworld50 media preview) pic.twitter.com/ztl604lhMX

— AllEars.Net (@AllEarsNet) October 1, 2021
Finally, the show ended with a gorgeous finale that finished off the show with a bang!
We are SO excited to welcome the new fireworks to the Magic Kingdom! And, we'll be sure to give you a look at everything else happening in Disney World during the 50th anniversary!
When is your next trip to Disney World? Let us know in the comments below!
Disclosure: We were invited by Disney to attend Disney Enchantment. This did not affect our reporting of the event — our opinions are our own.