While the complex's four theme parks are the main draw of Walt Disney World, for many guests the on-property resort hotels are just as important a part of the Disney experience. From the iconic opening day Magic Kingdom monorail loop Deluxe resorts to the Skyliner-connected Value tier, there's something special about each and every one of Walt Disney World's hotels.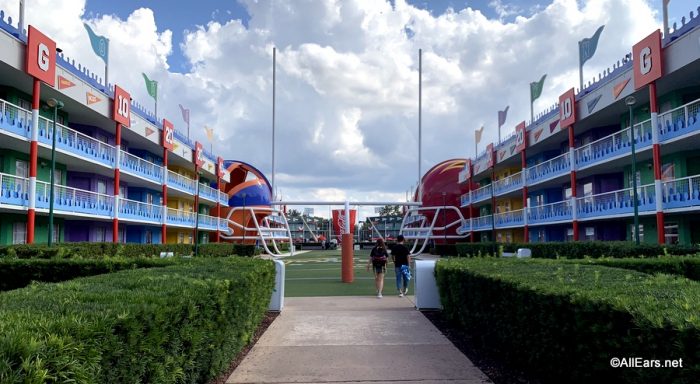 We're going to run down
the best aspect of each of Walt Disney World's main Disney-owned and -operated Resort hotels

by tier — meaning for the purposes of this list, no Swan, no Dolphin, no campground, and no DVC-exclusive resorts.

While the obvious choice for these three Value Resorts might be price, we're choosing to look in a different direction. Namely toward the gigantic, kid-friendly icons that populate the grounds of these three reports.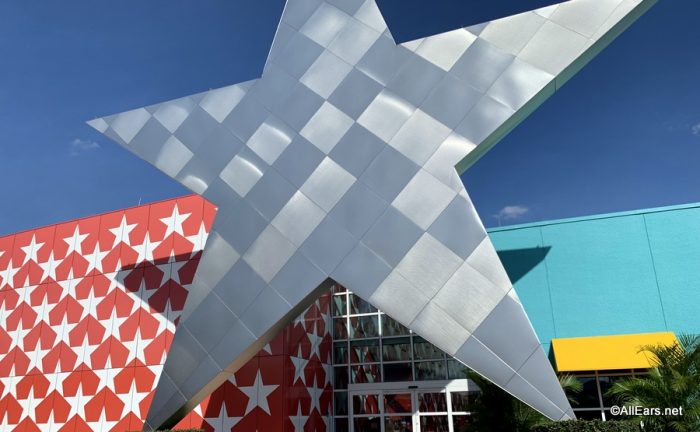 Sure, to older hardcore theme park fans they may seem a bit like un-themed eyesores, but through the eyes of a child (or a child-at-heart), gigantic musical instruments at All-Star Music, super-sized equipment at All-Star Sports, or larger-than-life Disney film characters at All-Star Movies are beyond magical. 
While Pop Century has the same style of gigantic icons as the All-Star Resorts, it has something else that wins out as its best feature: access to the Skyliner. Disney Skyliner has changed transportation at Walt Disney World. Access to the elevated gondola system has connected Pop Century to  key locations, namely EPCOT and Disney's Hollywood Studios.
While the initial bones of the Art of Animation Resort were actually the second half of Pop Century before 9/11-related construction delays shelved the project for nearly a decade, once work on the hotel resumed, not only was the theme changed to Disney animation featuring The Little Mermaid, Finding Nemo, The Lion King, and Cars, but the rooms themselves were changed as well.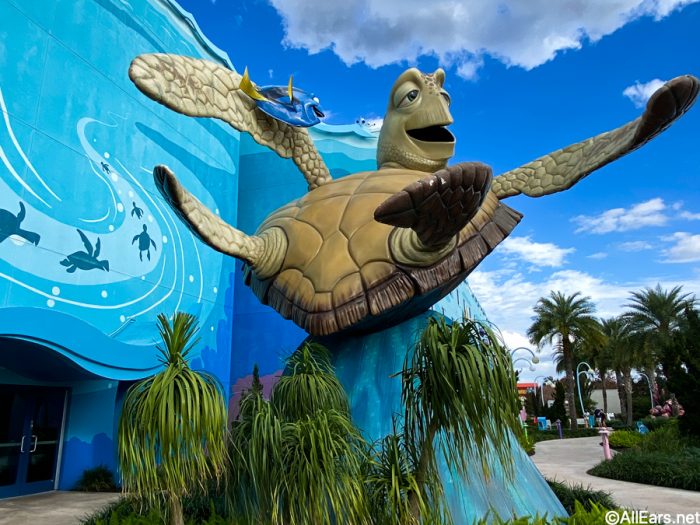 While one section remained in the standard Value Resort room layout, the rest of the hotel's rooms were built as family-sized suites that can sleep up to six (plus one little tike in a crib). A suite at Art of Animation offers a living room with sleeper sofa, a bedroom with a queen bed and en suite bathroom, and a small kitchenette and dining space with a murphy bed, making them perfect for larger families or groups. 
Many Walt Disney World resort hotels have stellar pools (in fact we'll see another pool later on this list), few single pools are as good as the Fuentes del Morro Pool at Caribbean Beach Resort.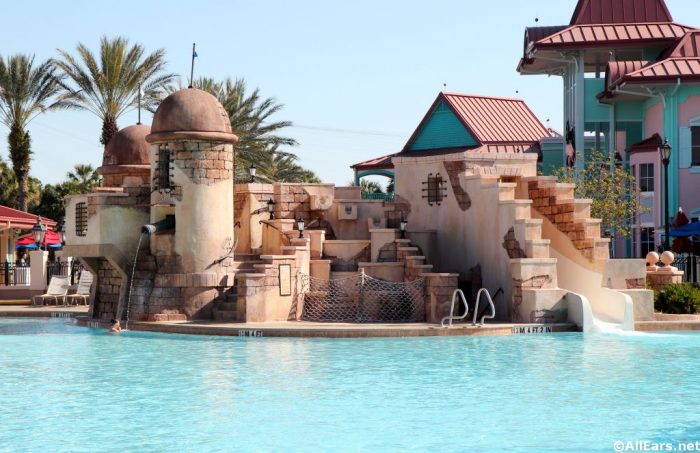 Don't let the name fool you, though, it's way more than "just a pool." This gem features a full colonial Spanish fortress theme, featuring waterslides, firing cannons, a shipwreck playground, and a crow's nest. 
The crown jewel of the Coronado Springs is one of the newest on our list. At the top of the resort's Gran Destino Tower sits the 1930s art-inspired Toledo — Tapas, Steak, & Seafood restaurant. As described by Disney, this rooftop restaurant allows diners to "savor dishes and small plates inspired by the flavors of Spain while feasting your eyes on the sweeping view."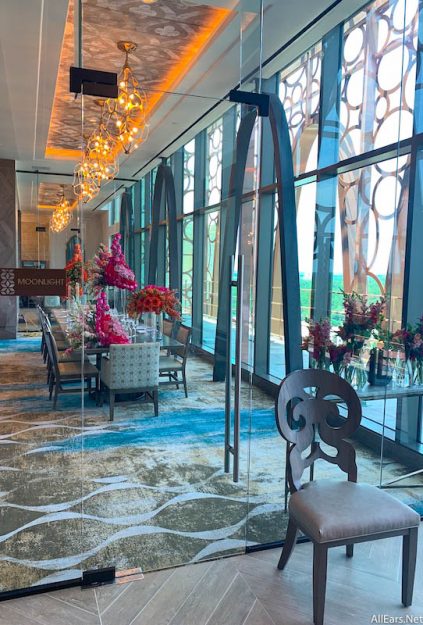 We have enjoyed some high-quality dining here, but the views of Walt Disney World Resort and nighttime spectaculars at Disney's Hollywood Studios and EPCOT make this restaurant a true gem.
Disney's Port Orleans Resort — French Quarter & — Riverside: Secluded Location
Disney's Port Orleans Resort has an interesting history. The current iteration of the property is actually two separate but linked hotels: Disney's Port Orleans Resort – French Quarter and Disney's Port Orleans Resort – Riverside. While their New Orleans theming is very well done, the best aspect of the resort for many guests is how out of the way it feels. Port Orleans is tucked into the Disney Springs end of Disney World, far from the hustle and bustle of the parks. While this makes for longer travel times, it also gives a sense of peaceful relaxation that's somewhat harder to find at many of the other resorts. 
This one is a bit of a no-brainer. While Animal Kingdom Lodge has beautiful rooms and fantastic restaurants, the resort's main attribute is the titular animals. To be able to look out from one's hotel room onto an authentic and lively African-inspired savanna full of zebras, giraffes, gazelles, and other animals is a breathtaking experience that can't be replicated anywhere else on Earth outside the actual African continent.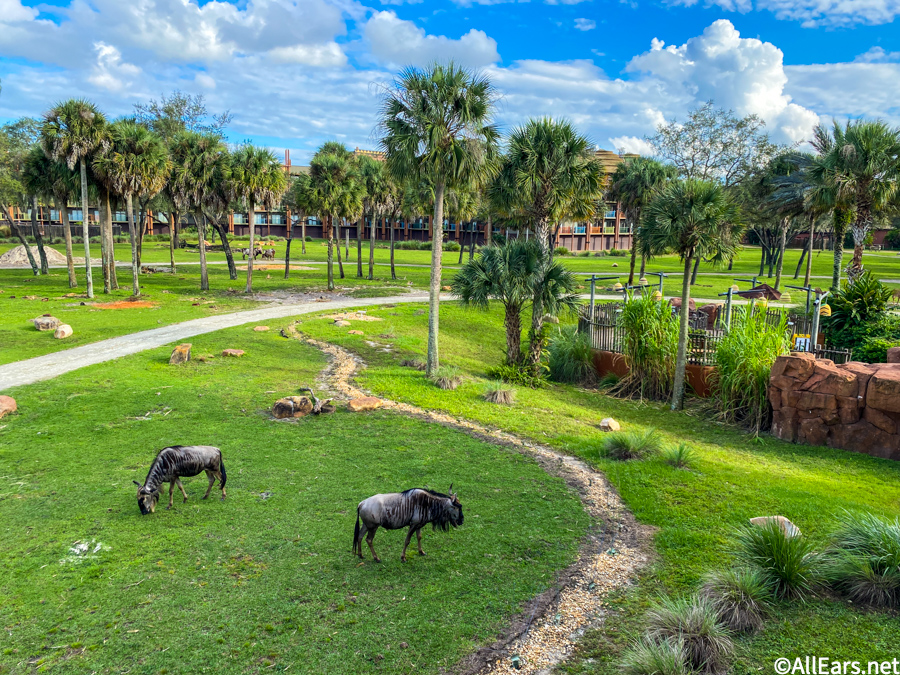 The sister Yacht and Beach Club Resorts are listed as one here because they share their best aspect: the Stormalong Bay pool. However, to call it a pool is woefully underselling the complex.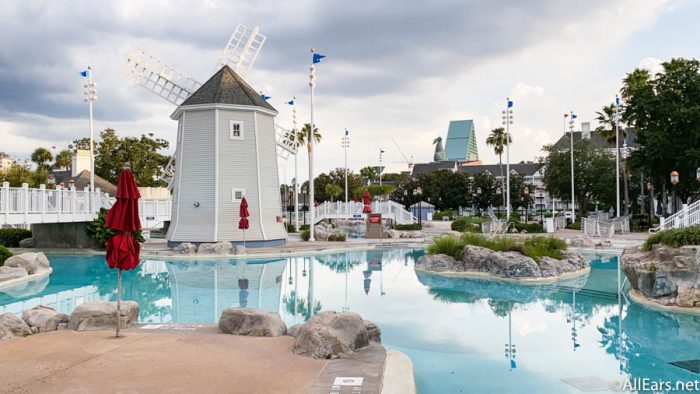 Located between the two hotels and open to guests of both, Stormalong Bay is really more a mini-waterpark, complete with "sand-bottom pools, a circular lazy river, waterfall, and the "Shipwreck", a large replica of a shipwreck with one of the highest resort water slides at Walt Disney World." If you're staying at the Yacht or Beach Club, you need to schedule time for Stormalong Bay.
The best aspect of BoardWalk Inn is, well, the boardwalk itself. The large complex, themed to seaside boardwalks like Coney Island, features dining (Big River Grille, ESPN Club, Trattoria al Forno, and more), shopping, and nightlife (Atlantic Dance Hall, Jellyrolls, AbracadaBar) that will keep  you busy even if you don't leave the resort.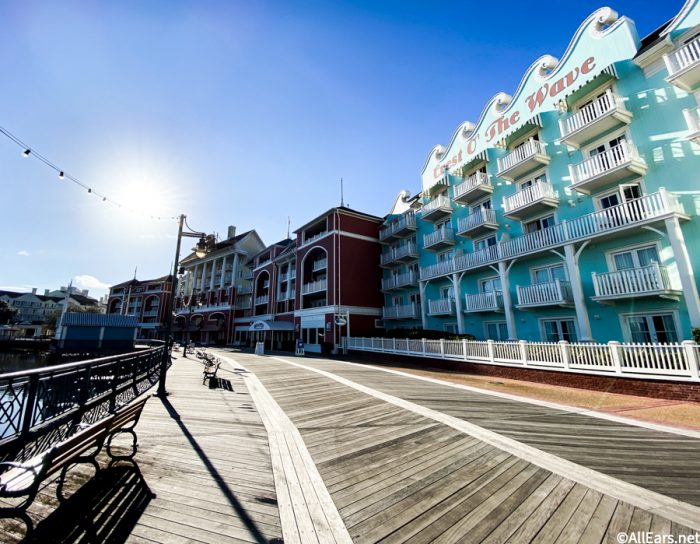 Wilderness Lodge is one of Walt Disney World's most aesthetically gorgeous resorts, and a big part of that comes from the massive lobby, which features a grand atrium, two 50-plus-foot-tall Native American totem poles, an 82-foot-tall fireplace that mimics the striations of the Grand Canyon, and a "hot spring" that flows through the lobby and feeds into the massive geyser located outside the hotel.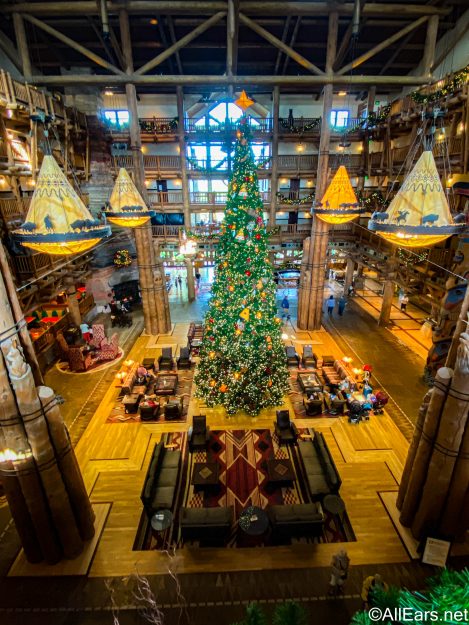 Christmas is a particularly beautiful time to visit (or stay in) the resort. Make an Advance Dining Reservation at one of the resort's restaurants, and enjoy a boat ride over from Magic Kingdom!
The Contemporary's Grand Canyon Concourse may be the most famous non-park location in Walt Disney World, as even the most casual of tourist is familiar with the image of the Monorail guiding directly through the A-frame building. In addition, the concourse features the massive, multi-story murals by famed Disney artist Mary Blair.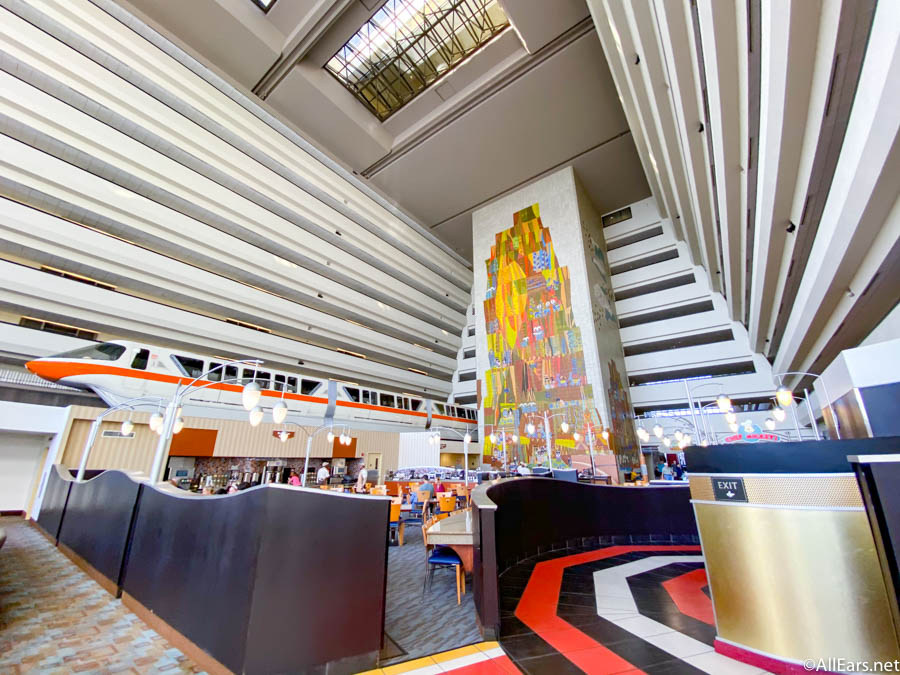 There is nowhere fancier resort on Disney property than the Grand Floridian, and the apex of the Grand Floridian's theme is Victoria & Albert's. The restaurant is a AAA Five Diamond Award-winning restaurant and is rated by TripAdvisor as the #2 Fine Dining Restaurant in the United States.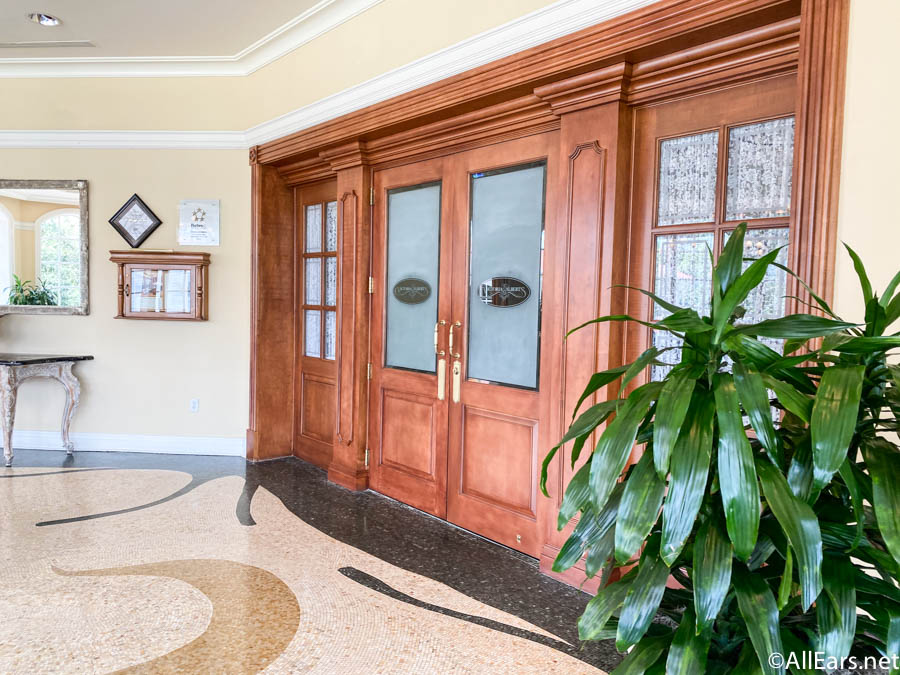 In other words, it's certainly not your typical theme park fare. In fact the restaurant has a menu that changes nightly, doesn't allow children under 10-years-old, and enforces a strict dress code. All that said, the experience is definitely worth it if you're looking for a fancy night out. 
There is perhaps no resort at Walt Disney World that truly captures the immersive theming Walt Disney Imagineering is known for than the Polynesian. Walking the grounds of this opening day gem, with its foliage, tropics-inspired buildings, volcano pool, and stunning views, feels like a true oasis.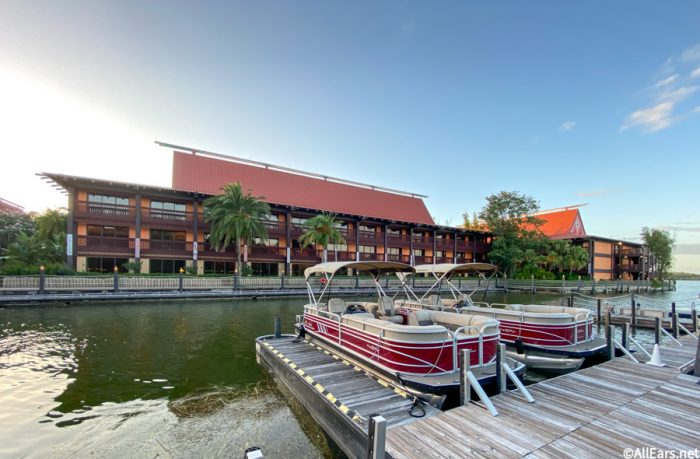 What do you think of our best aspects of each of Walt Disney World's resort hotels? Would these be your choices as well, or would you go in a different direction? Let us know in the comments below. 
Want to read more AllEars Reader Reviews or leave one of your own?