Walt Disney World has about thirty Resort hotels , each with its own theme and amenities. But some Resorts fall into similar, though still distinct, groupings, such as the multiple seaside-style Resorts around the BoardWalk. One such set of related resorts is the trio of All-Star Resorts:  Movies, Music, and Sports.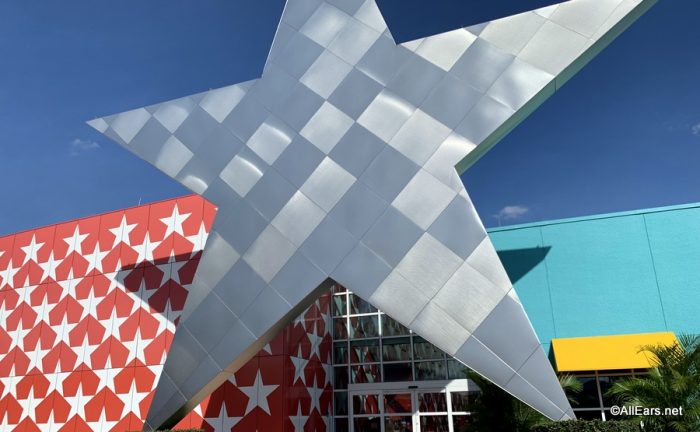 We're giving you
an overview of these Value Resorts

so you can decide if one is right for your next Walt Disney World vacation.

All-Star Sports

As you can guess, All-Star Sports celebrates the wide world of sports — and the All-Stars go seriously big with their decor! For instance, one of the sections features a football field in between two buildings. It comes complete with a goal post at each end of the field as well as flags and even giant football helmets that serve as entrances to the guest buildings. And football's just one of the many sports highlighted here – you'll also find baseball, tennis, basketball, and surfing.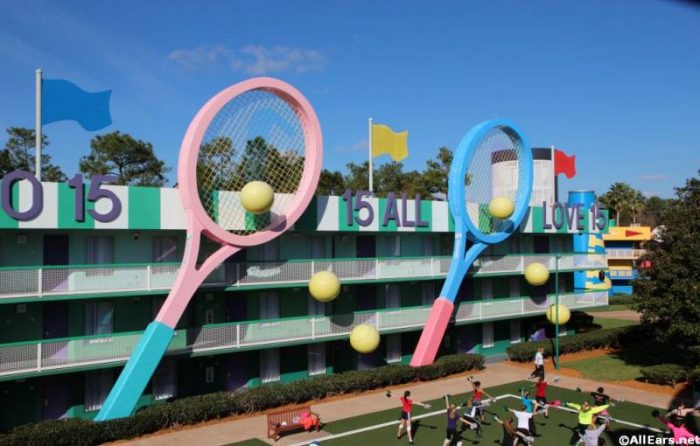 Guest rooms at the All-Star Sports Resort come in Standard (starting at $117) with two double beds and Preferred (starting at $135) which also comes with two double beds. Preferred rooms tends to be closer to the main building, where guests find dining, shopping, and front desk services. (Guest rooms will be renovated in the next 1-2 years, changing the layout to a queen bed with a full murphy bed.)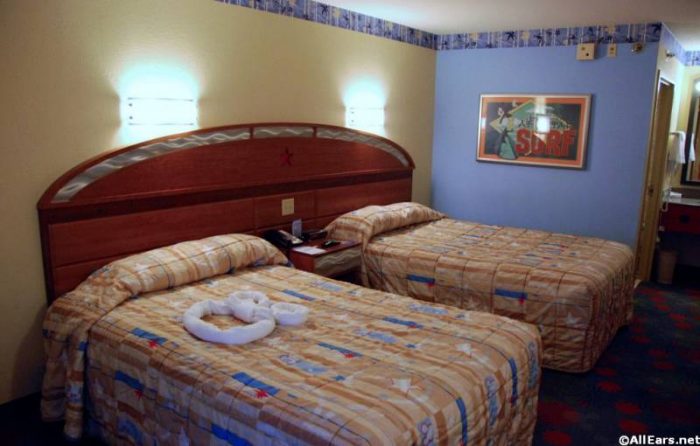 As for dining, All-Star Sports has the End Zone Food Court, which offers burgers, pizzas, quesadillas, and more. It is available for breakfast, lunch, and dinner. You'll also get entertainment while eating, as TVs in the food court regularly show cartoons and sports news.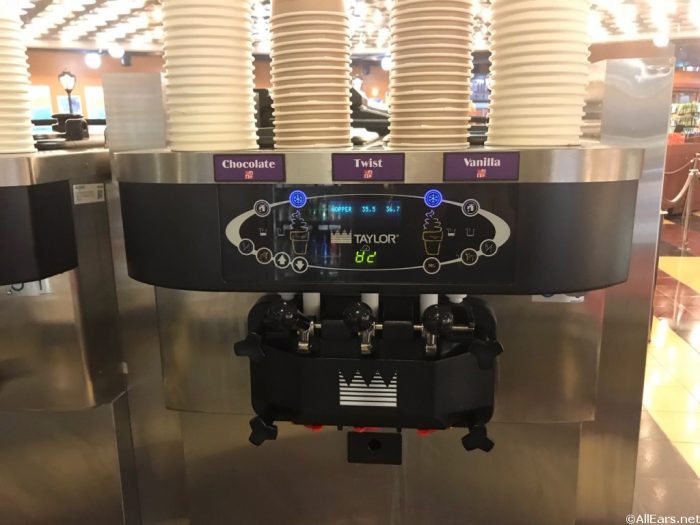 All-Star Sports features two themed pools. The first, Surfboard Bay Pool, is lined with giant surfboards to make it seem as if you're a surfer at the beach; there's also a small pool for kids close by, too. You can also get [alcoholic] drinks from the Grandstand Spirits pool bar.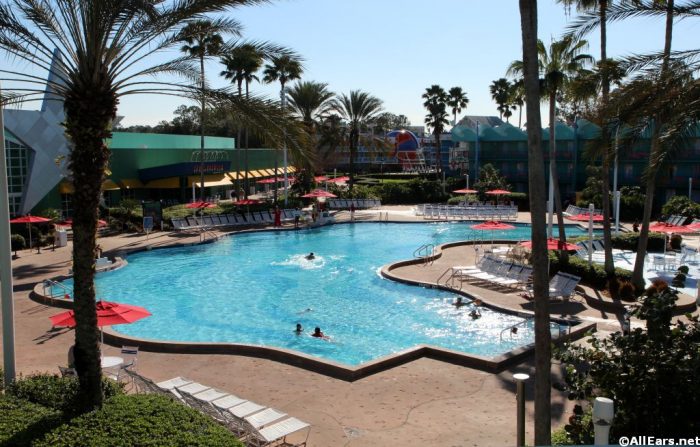 Then there's the Grand Slam Pool, which takes you out to…the ballgame? Yes, this pool is designed like a classic baseball diamond, complete with a sundeck remade into an outfield. You'll even see Goofy on the pitcher's mound, ready to strike you out with shots of water.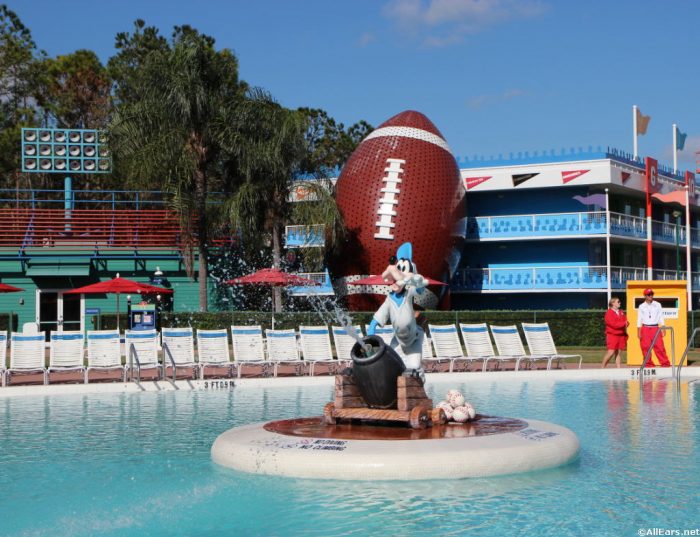 Probably the biggest appeal and downside to this Resort is its exuberant sports theming. For sports fans, the over-the-top theming is fun. For those not of the sporting persuasion, it could be a bit much. Also note  that sports groups (peewee football and cheerleaders, for example) visiting Disney World often book reservations for All-Star Sports. Tour groups from other countries also often book Sports because it tends to be the least expensive of the three All-Star options.
Therefore, the hotel grounds, food court, and pools can often be crowded and loud. But if you are a sports fan, then this affordable resort might be just right for you.
All-Star Movies
Whereas All-Star Sports puts you right in the game, All-Star Movies takes you into films – specifically Disney animated classics. The different areas of the resort honor key Disney movies, complete with giant-sized statues and other fun decorations. Themed guest areas include 101 Dalmatians, Toy Story, Fantasia, Mighty Ducks, and Herbie: The Love Bug. The latter two are classic live-action films, giving guests a wide mix of Disney movies to enjoy in larger-than-life formats.
All-Star Movies offers Standard (starting at $117) and Preferred (starting at $138) rooms. All rooms have one king-size bed or one queen-size bed and one queen-size murphy bed and have been recently refurbished.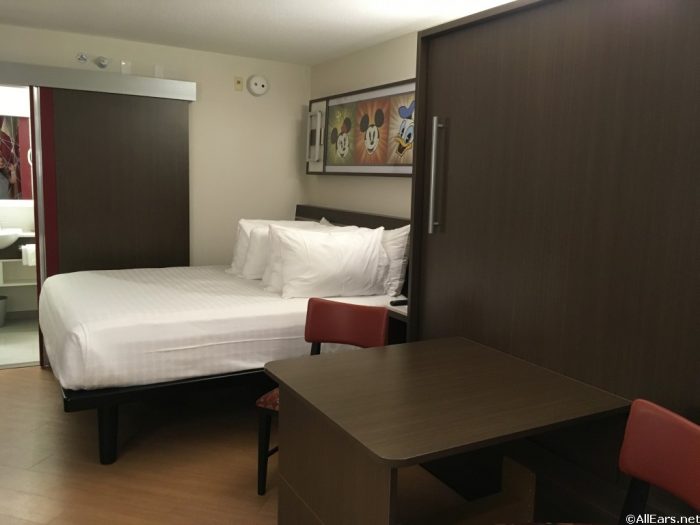 Like All-Star Sports, All-Star Movies has a food court. Stylized after a movie theater lobby, the World Premiere Food Court includes five different stations. The menu varies between breakfast, lunch, and dinner, with options like pasta, pizza, and burgers comprising lunch and dinner menus. Unlike End Zone, World Premiere also offers late night dining. Plus, you can watch Disney cartoons on widescreen TVs while you eat.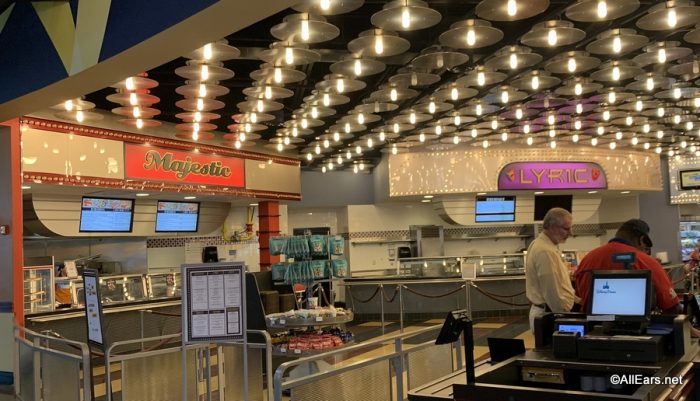 You can choose between two different swimming areas at All-Star Movies, each themed after its own movie. The Fantasia Pool, next to the similarly themed guest area, includes a fountain based off Mickey's Sorcerer's Apprentice appearance from that memorable scene in Fantasia. It also has a nearby kiddie pool for younger kids to splash around in. Plus, the Fantasia pool is next to the Silver Screen Spirits pool bar, featuring its own specialty cocktails.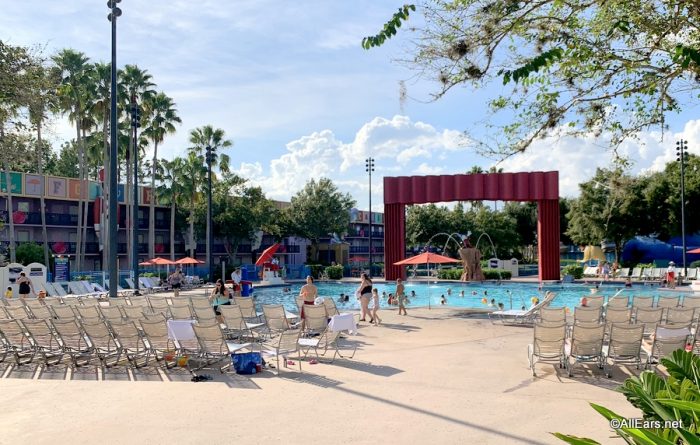 Modeled after a hockey rink, the over 105,000-gallon Duck Pond Pool provides even more watery fun for all and is often a little quieter than the Fantasia Pool.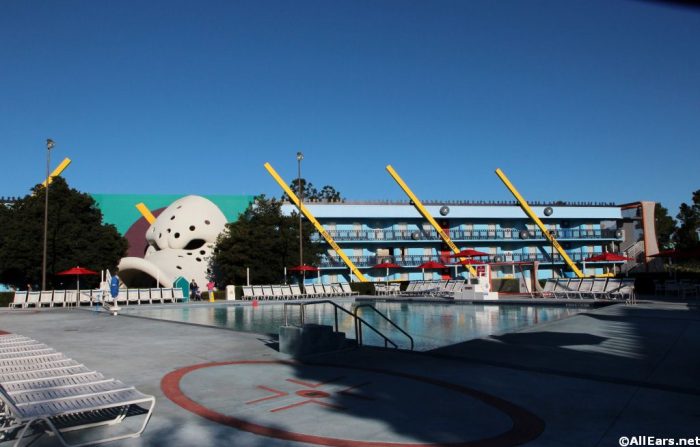 Admittedly, this Resort hasn't aged the best theme-wise. In particular, though the Mighty Ducks movies were notable back in the 1990s, Disney sold the associated Mighty Ducks of Anaheim team in 2005, making its inclusion at the resort rather odd. On the other hand, the fun themed decorations, from giant statues to smaller features like a Dalmatian watching an old-fashioned TV set, make it a memorable stay, especially for children. If you or your family have nostalgia for the classic Disney movies on display here, this All-Star might be for you!
All-Star Music
A hotel's atmosphere can make a big difference in your experience, and All-Star Music creates a unique vibe with its vivid musical theming. The different sections of the resort are styled around different kinds of music including jazz, calypso, rock, country, and Broadway. These areas are identified by all sorts of giant decorations like musical instruments, jukeboxes, and musical notes. But the theming goes beyond that; as you explore the resort, you'll hear catchy background music matching the section you're in. When things are quiet, it can be fun to just walk around and catch the many sights and sounds.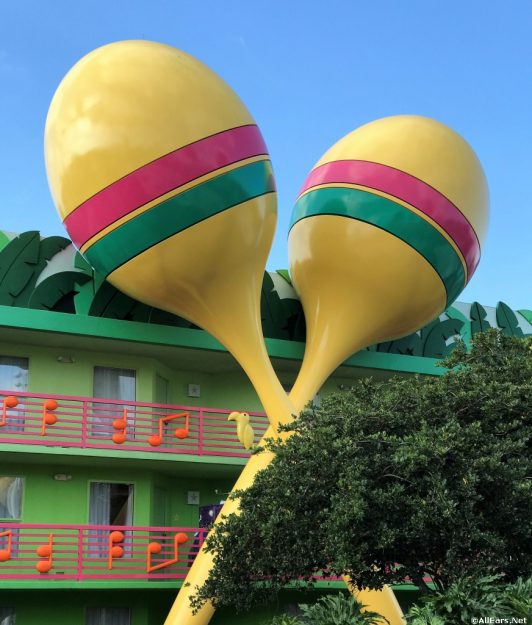 Like the other All-Star Resorts, All-Star Music has Standard (starting at $117) and Preferred (starting at $144) rooms that provide two double beds for up to four adults. However, this resort also has a third option: the Family Suite. Able to fit six adults, it includes one queen bed, one double-size sleeper sofa, one twin-size sleeper Ottoman, and one twin-size sleeper chair. Prices for Family Suites start at $271. All-Star Music guest rooms are due for a refurbishment, with parts of the Resort closed intermittently while work is completed.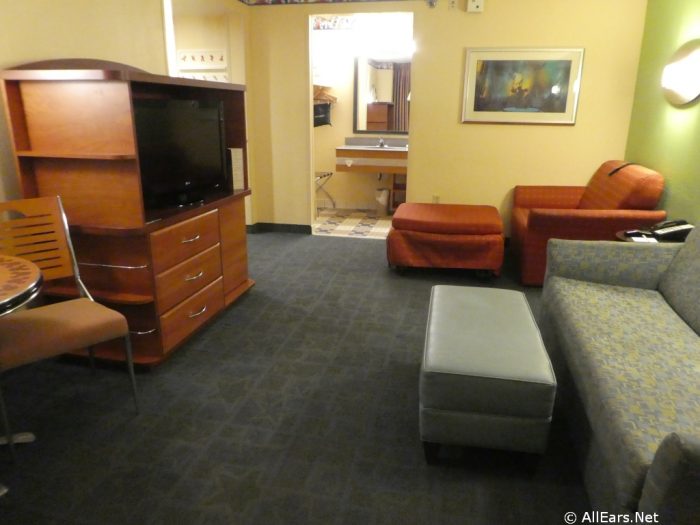 Music's dining consists of Intermission Food Court, with breakfast, lunch, and dinner options similar to the other two food courts.
When you want to take a swim, why not check out the Piano Pool? The leisure pool is shaped after a grand piano, even including the black and white keys.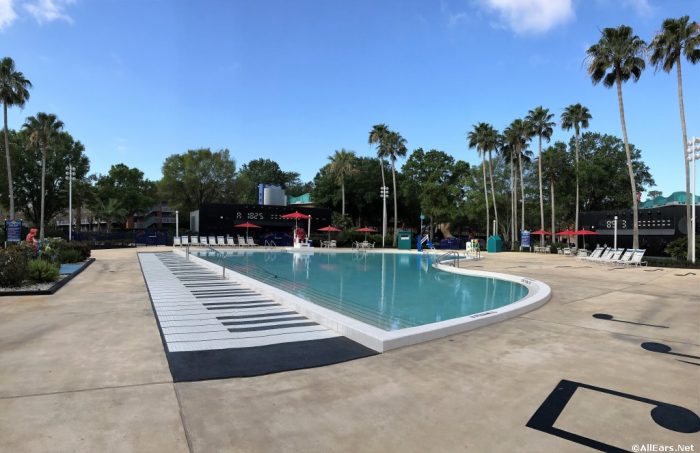 Alternatively, you can visit the Resort's main guitar-shaped Calypso Pool. It features a colorful fountain with the Three Caballeros: Donald Duck, José Carioca, and Panchito Pistoles, who will sometimes shoot out water. Children will enjoy the nearby kiddie pool, and adults can sip on cocktails at the adjacent Singing Spirits pool bar. Note: the Calypso Pool will be closed from September to December 2020.
With an engaging atmosphere that draws on both visuals and sounds, All-Star Music offers a unique experience out of the three All-Star Resorts. Add in the Family Suite option, if you're willing to pay a little extra, and this could be the perfect choice for you.
While the All-Star Resorts may not be as fancy as other resort options at Walt Disney World, they each have their own unique charm and appeal, with lots of fun things to make your vacation more memorable for everyone. In addition to pools, all three All-Stars have playgrounds and offer movies under the sky each night. At a lower price-point than the other Values (Pop Century and Art of Animation), the All-Stars are a fun and relatively budget-friendly Disney World Resort option.
Which All-Star Resort is your favorite? Let us know in the comments below! 
Join the AllEars.net Newsletter to stay on top of ALL the breaking Disney News! You'll also get access to AllEars tips, reviews, trivia, and MORE! Click here to Subscribe!