If you're headed to Walt Disney World soon and looking to munch on something other than chicken nuggets and fries (not that there's anything wrong with them!), you'll want to hit up some unique snack spots and restaurants on property.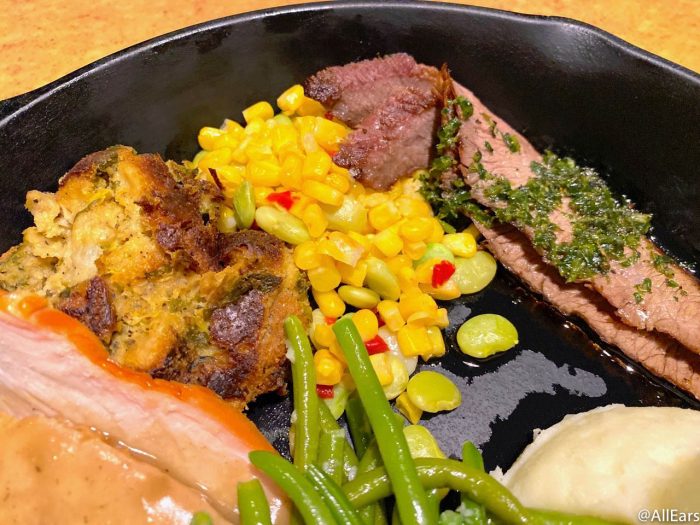 While some restaurants are widely known and loved, others fly more under the radar. 
Here's our list of the top 10 Disney World restaurants you're not thinking of for your next trip, but you totally SHOULD check out!
MAGIC KINGDOM
You may walk by Sleepy Hollow on your way to The Haunted Mansion or Big Thunder Mountain and not think twice about it. From the outside, it sort-of looks like an ordinary snack spot, but it's SO much more than that!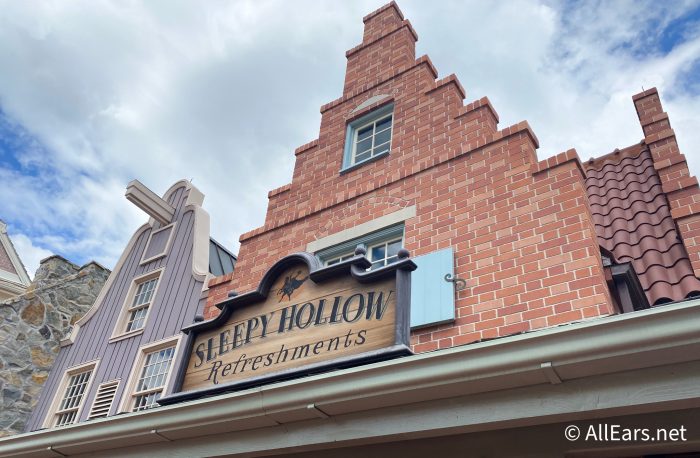 They have an incredible waffle with fruits and chocolate-hazelnut spread…
…and a delicious waffle with a spicy and sweet chicken.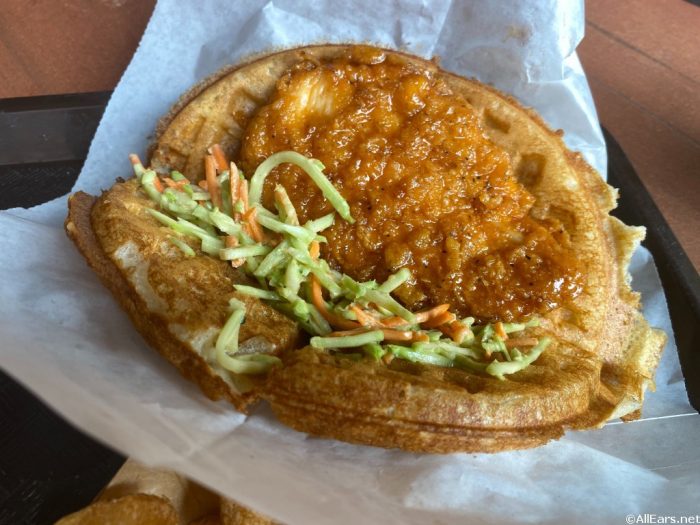 While this quick-service restaurant doesn't have a LOT of options on their menu, the ones it does have are fantastic and definitely worth a special visit.
EPCOT
Garden Grill Restaurant is another spot that you may have zoomed past on your way to an attraction (namely Soarin' Around the World, located just downstairs), but this is a restaurant you won't want to skip.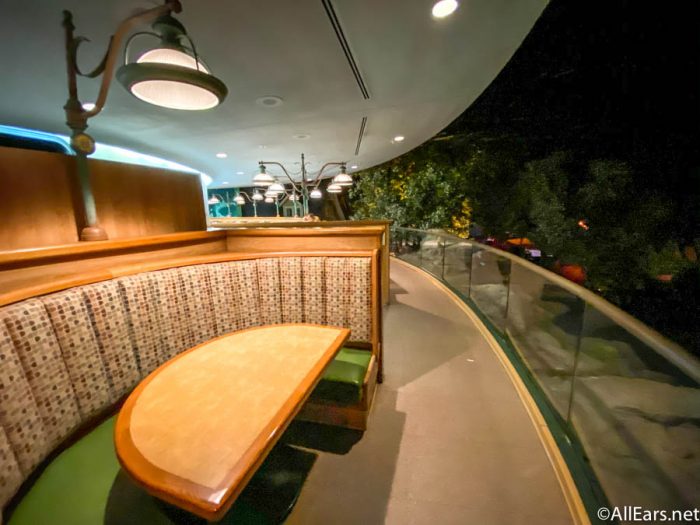 This is a Table Service restaurant where the food is served family style.  The dishes here have consistently been delicious. Everything from the fresh rolls served with orange blossom honey butter to the creamy mashed potatoes and savory meats, this spot continues to be a BIG hit for us.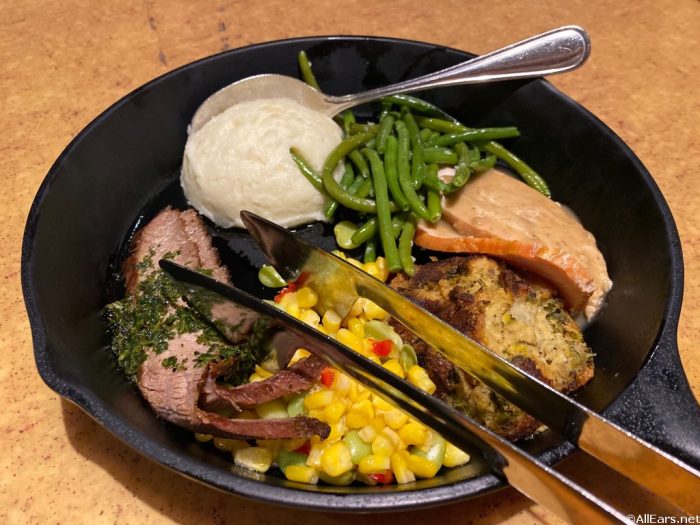 Plus, the dining experience overall is truly unique. The seating area slowly rotates and passes by some scenes from Living With the Land. And you'll get to meet Mickey, Pluto, and Chip 'n' Dale in their most adorable farmer garb!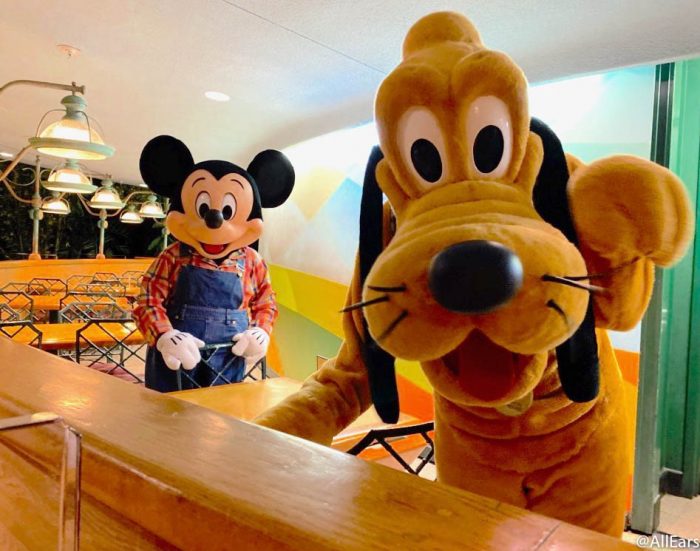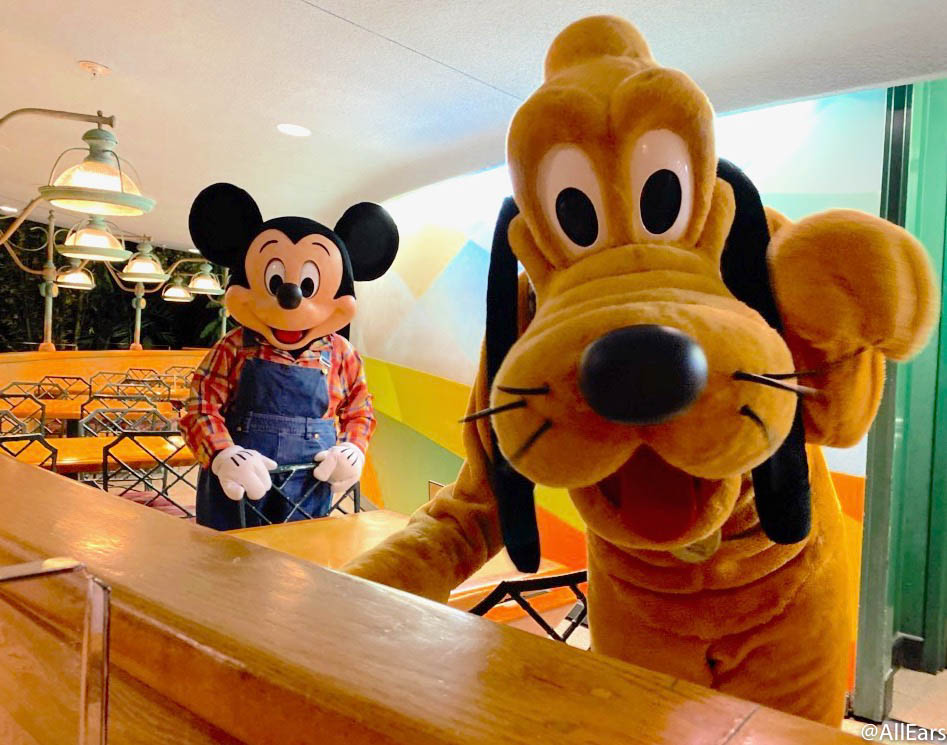 Basically, it's win all around, but it's sometimes not on people's radar. You'll be thankful it's on your must-try list now!
If you're walking around World Showcase with some speed, you may totally miss Les Halles Boulangerie-Patisserie. It's tucked away in the back of the France pavilion, so you'll have to go on a bit of an adventure to find it.
Head inside the France pavilion and go toward the left. You'll pass the always delicious L'Artisan de Glaces and head into the gift shop where the France shows let out. There, you'll find Les Halles tucked in, further back to the left.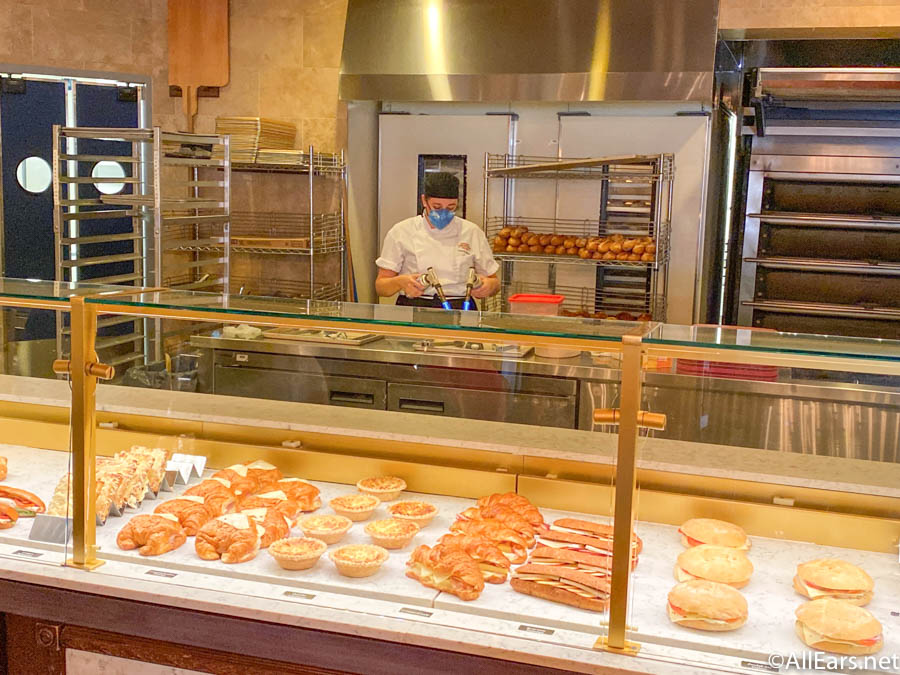 This spot offers some incredible sweet and savory dishes. The menu includes items like a Croque Monsieur (toasted ham & cheese), Lobster Bisque in a Bread Bowl, Créme Brûlée, Macarons, and more!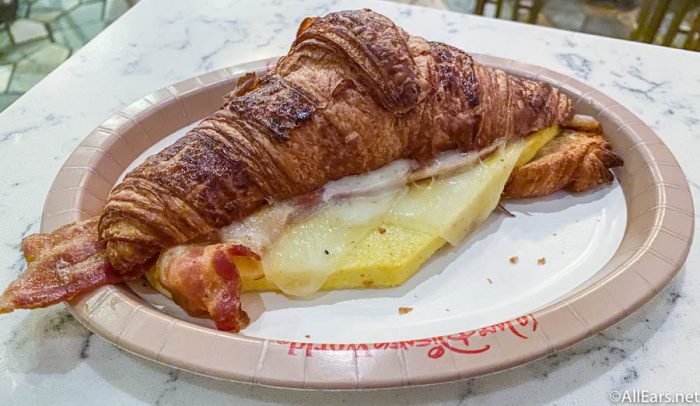 The next time you're looking to grab a quick lunch or snack, be sure to check out this spot.
ANIMAL KINGDOM
Nomad Lounge is truly a hidden gem. While there are quite a few great food options in Animal Kingdom, this is one that often is missed. It's a lounge area next to Tiffins and is great for many reasons.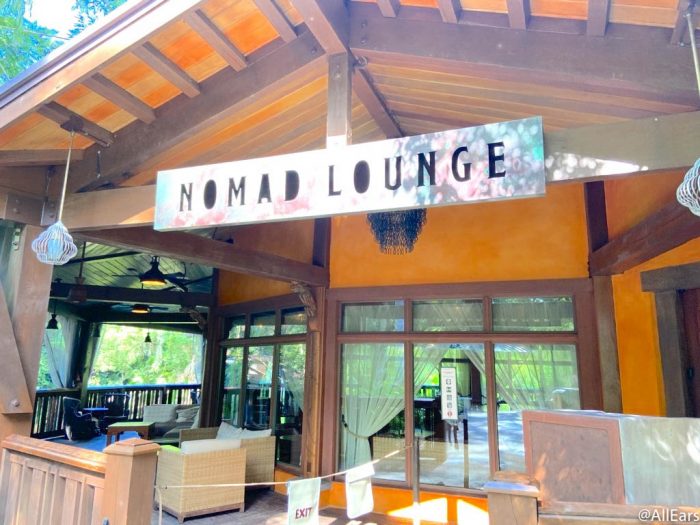 What do we love so much about this place? SO many things! There is lots of comfortable seating, you can get a great view of the character cavalcades, there are lots of fantastic drinks to choose from, AND there's a variety of unique food options available.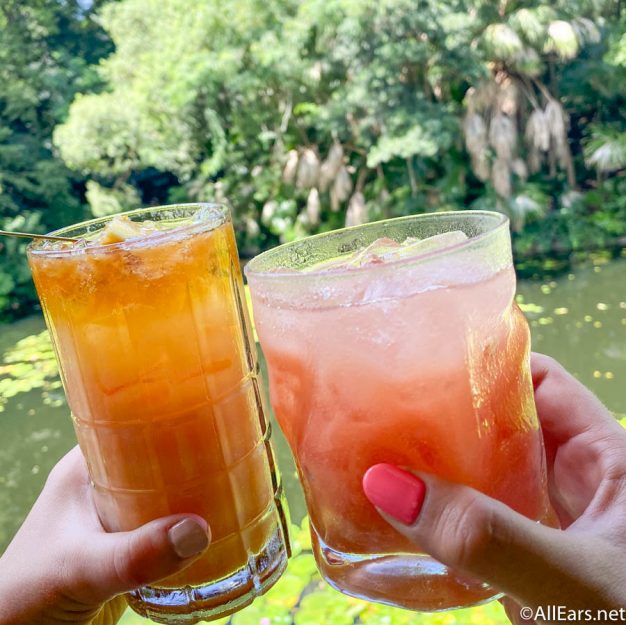 You won't find any chicken fingers and fries here. Instead, you'll be able to enjoy Tiffins bread service…
…some of the most amazing churros (typically gluten free!) with vanilla cream and chili-strawberry dipping sauces…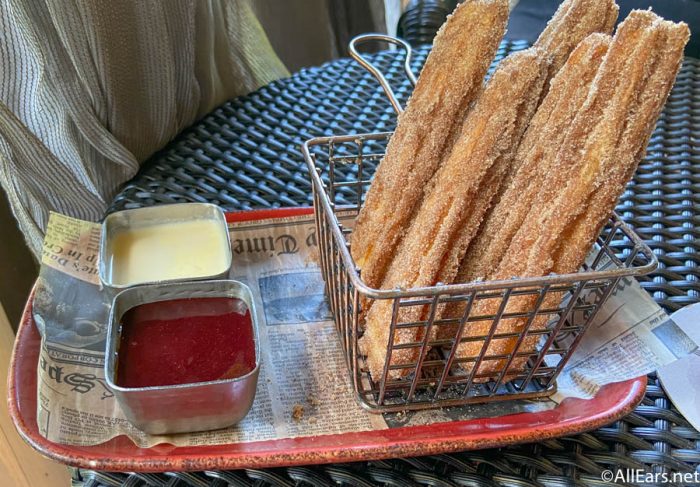 …and rotating specials that have included specialty tacos, a charcuterie board, and more!
It's a fantastic way to get a small escape from the hectic nature of the park without having to leave Animal Kingdom. Grab a drink and some snacks, pull up a chair, and relax at this spot — you'll be glad you did.
DISNEY SPRINGS
There are lots of fantastic options throughout Disney Springs, but Wine Bar George is one of our favorites. There are lots of great drinks available at this spot, which is implied by the name, but there's also some phenomenal food options you can grab there as well.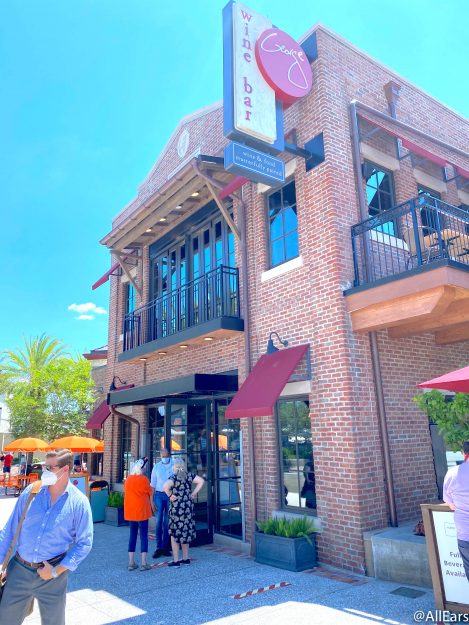 We're talking crispy mac & cheese bites, cheese boards, and some great entrees (like a skirt steak). 
This is a spot you'll want to just sit back, relax, and spend hours hanging out. And keep your eyes open — you may even be able to meet Wine Bar George's master sommelier himself while you're there!
Created by celebrity chef Art Smith, Homecomin' is a restaurant (with a lounge and bar as well), that serves up incredible southern dishes.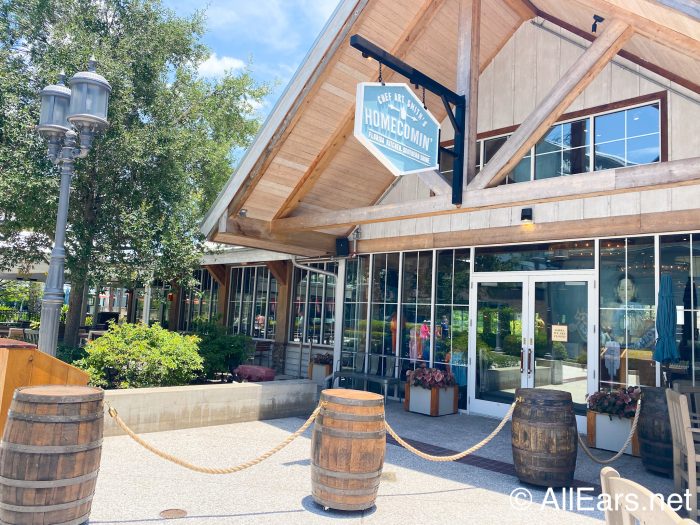 If you like fried chicken, hushpuppies, deviled eggs, okra fries…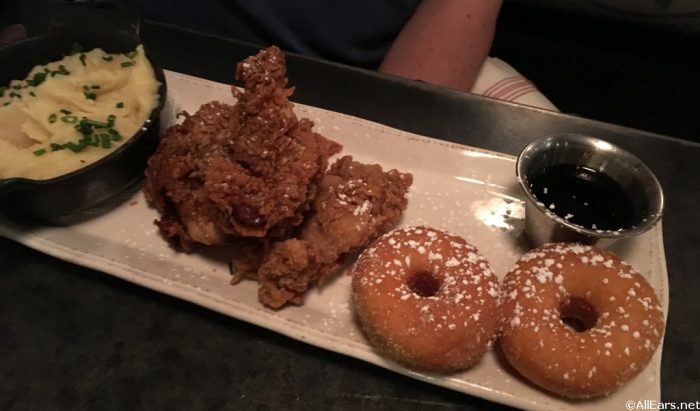 …and cheddar cheese drop biscuits, this is the place for you.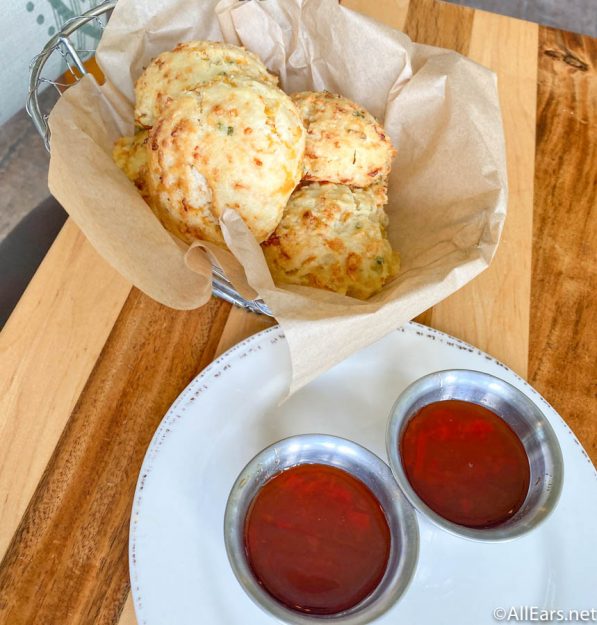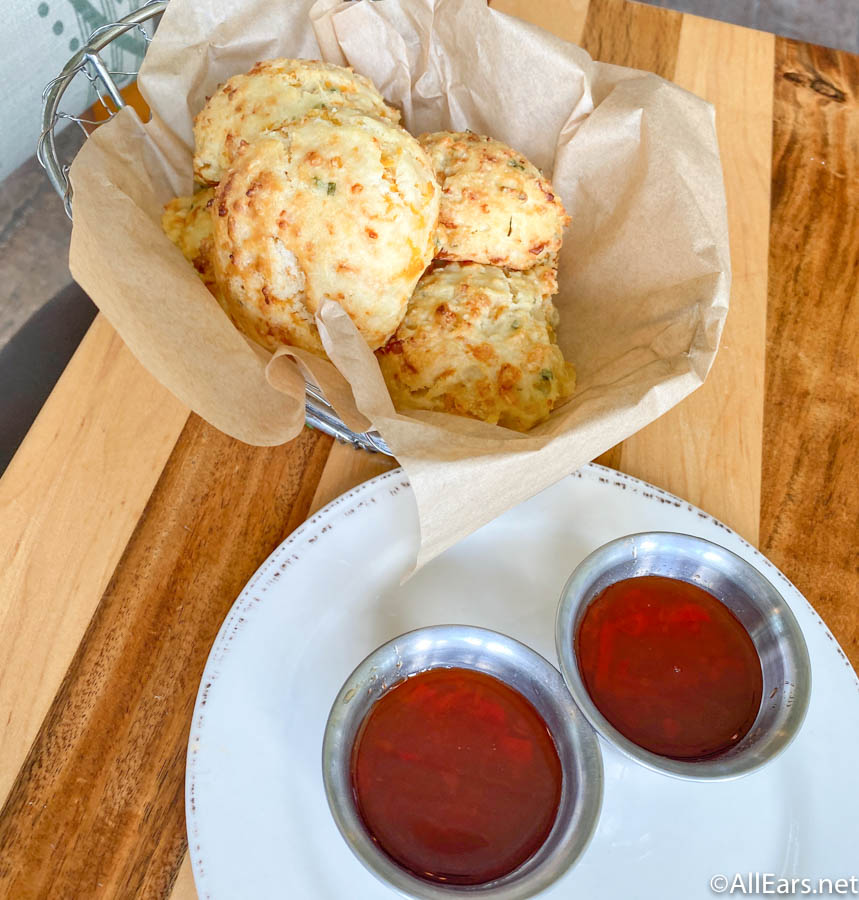 You also can't miss out on the hummingbird cake here, which is a pineapple-banana cake with cream cheese frosting served with a seasonal fruit gastrique and a scoop of vanilla bean ice cream. We're getting hungry just thinking about it.
DISNEY HOTELS
While you may be tempted to spend every second of your Disney vacation inside one of the theme parks, we'd encourage you to take a step back, enjoy the Disney hotels, and check out some of the fantastic food they have to offer!  Here are a few of our favorites:
Sanaa is a bit further and more difficult to get to than some other restaurants on this list, but if you've got some time on your hands during your next Disney World vacation, this spot is worth the trip.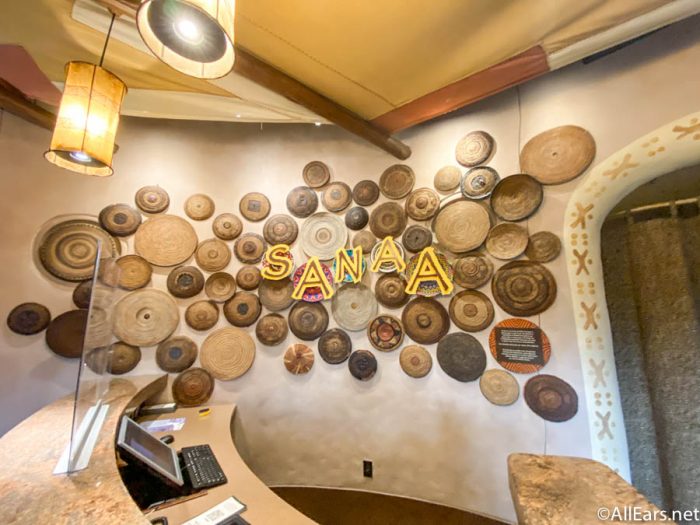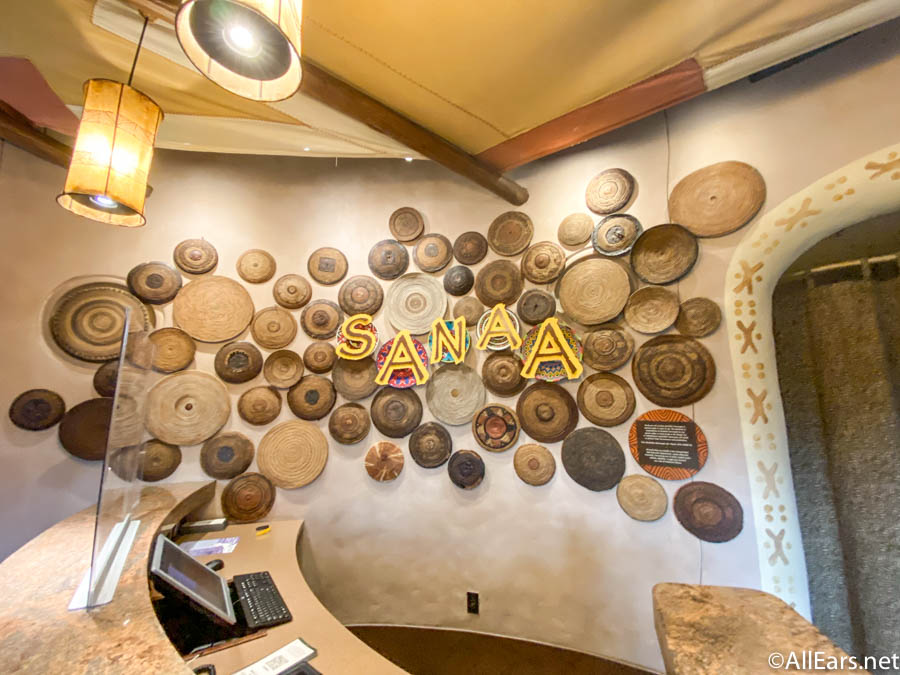 Sanaa is located at Disney's Animal Kingdom Lodge in Kidani Village (the Disney Vacation Club location there) and is a place adventurous eaters will love. The bread service here is truly a must-have (and now you can even get it to go through the new Table Service To Go feature on My Disney Experience!).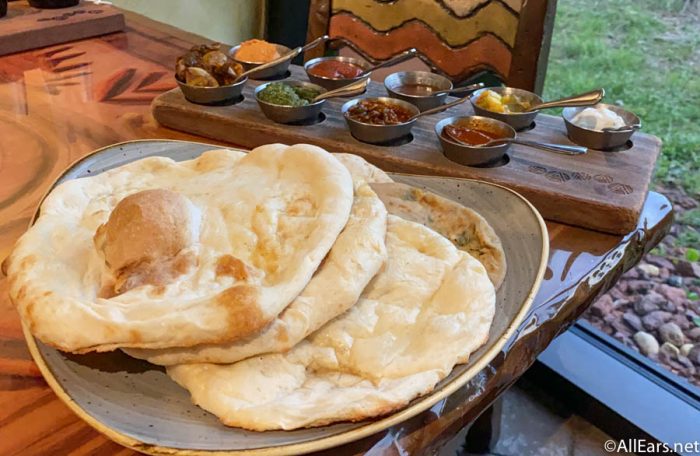 There are also other unique dishes including Tandoori Chicken, the Sanaa Burger, and Butter Chicken. Plus, you'll get fantastic views of the animals as they graze around outside the windows.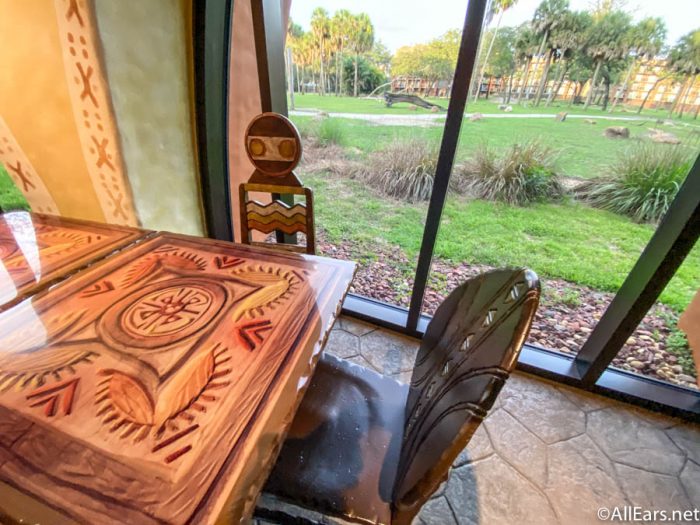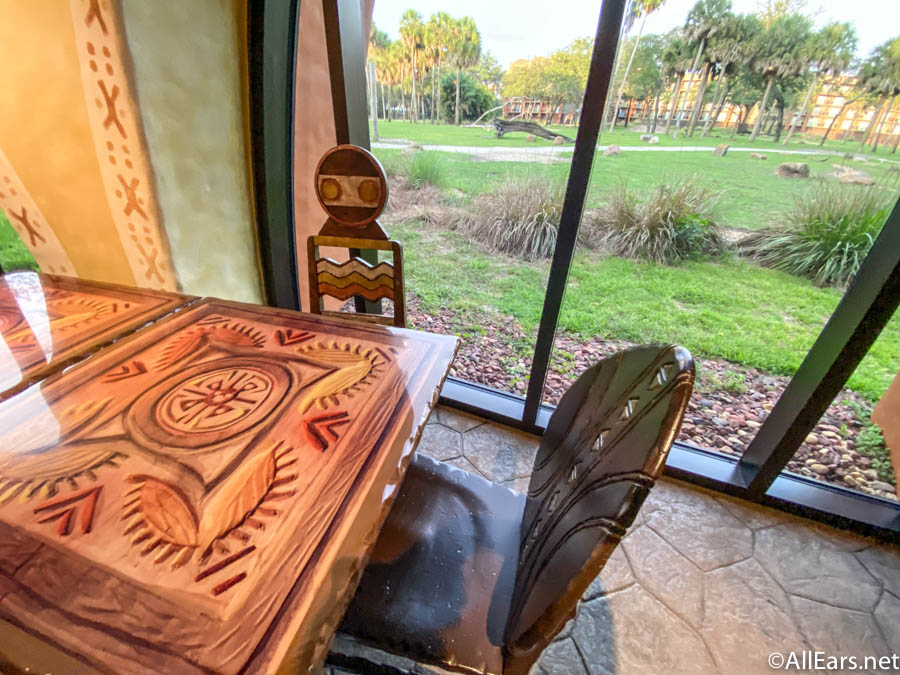 It's an experience that will truly make you feel like you've been transported to another land.
While you might be tempted to think a Quick Service spot in a Disney resort will surely only have hot dogs and pizza on the menu, when it comes to Geyser Point Bar & Grill at Disney's Wilderness Lodge, you will be happily surprised.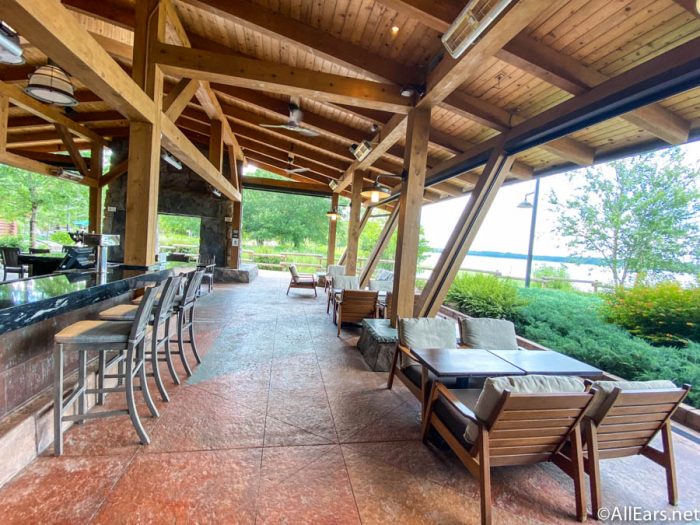 Ever had a Bison burger before? You can enjoy that (you should totally give it a try) and some other unique options (including shrimp on a wire and teriyaki chicken wings) at this spot…
…and some signature libations, sparkling wine, rose, and more, all while lounging around outside in the relaxing seating area.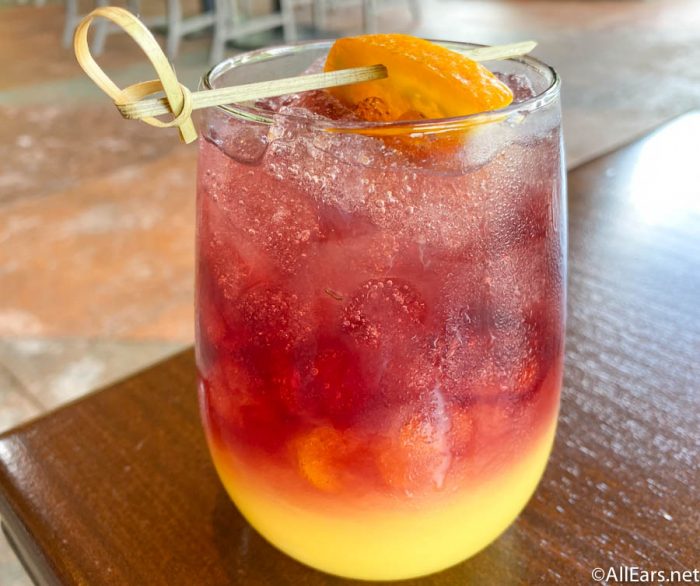 You'll get a little bit of an escape at this spot since it's away from the parks, but you're only a boat ride away from the Magic Kingdom so you can quickly hop back into all the action.
Finally, we end our tour at Kimonos, a restaurant serving up some incredible Japanese food located in the Walt Disney World Swan Resort.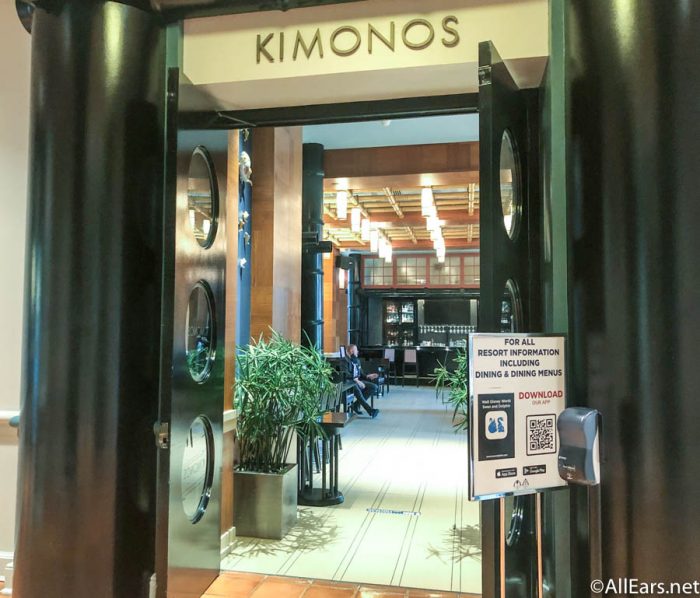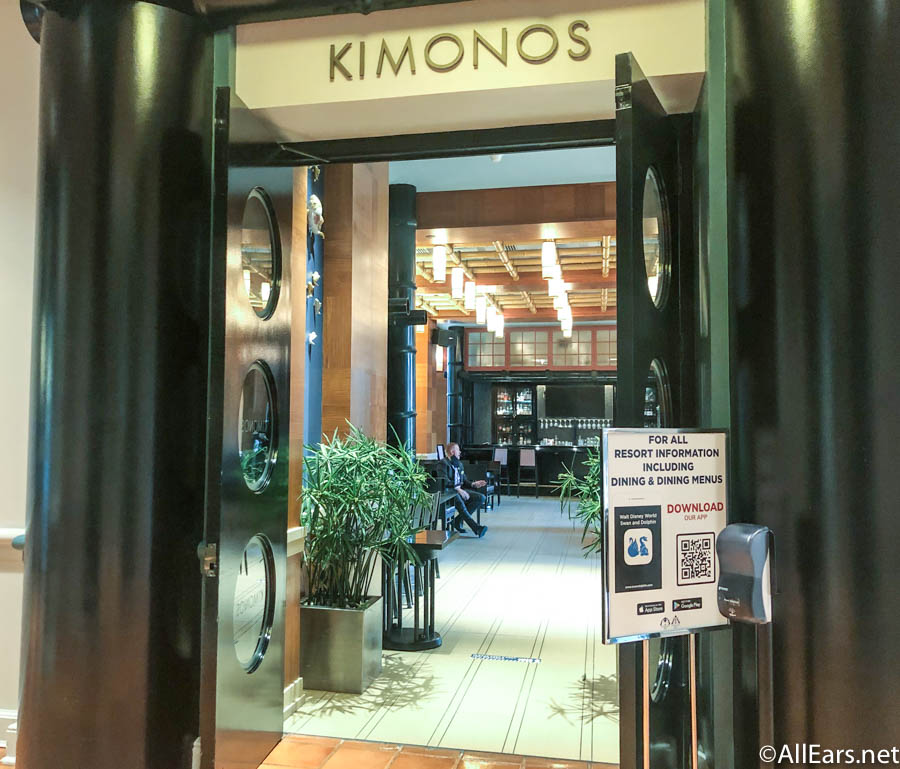 If you're a sushi fan, this is a spot you may want to consider making a special trip out to.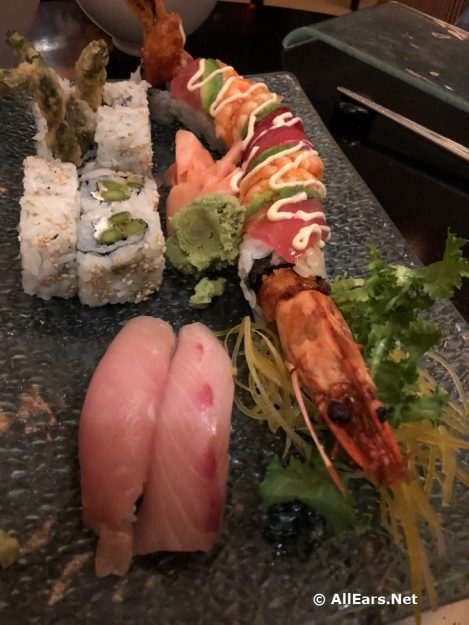 But even those who don't eat raw fish will find something to eat there including cooked sushi rolls, Wagyu Beef satay, chicken katsu, and more. The food is beautiful and fresh and can (again) offer you a nice getaway from the business of the parks while still being convenient to get to. This restaurant in particular is just a quick walk away from EPCOT's International Gateway (the back entrance to the park between France and the United Kingdom). 
HONORARY MENTIONS:
There are SO many restaurants that could have made this list, so we felt like we had to include at least a few honorable mentions.
Ravello
Ravello at the Four Seasons Orlando at Walt Disney World Resort sticks out because of its character dining option.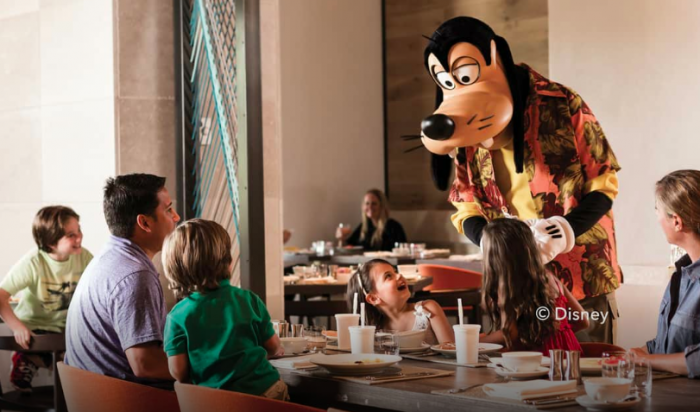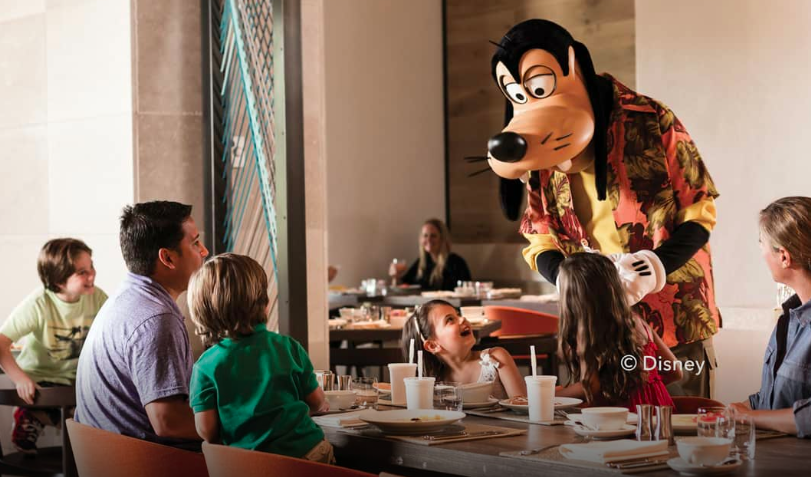 On Saturdays, the restaurant offers Good Morning Breakfast with Goofy & His Pals, where Goofy and some friends parade around the restaurant. It is a prix-fixe menu, so be sure to check on the food offerings and prices to make sure this is right for you.
Topolino's Terrace — Flavors of the Riviera
Topolino's Terrace, located at Disney's Riviera Resort, is another spot that offers a character dining breakfast option — this time with Mickey, Minnie, Daisy, and Donald in their artistic best.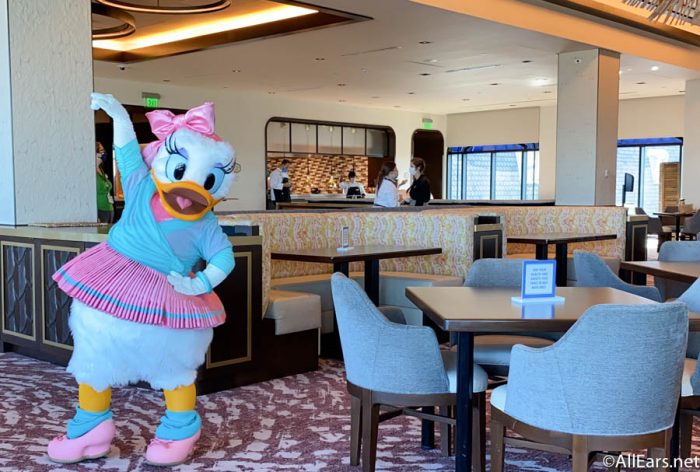 The views from this restaurant are also absolutely fantastic.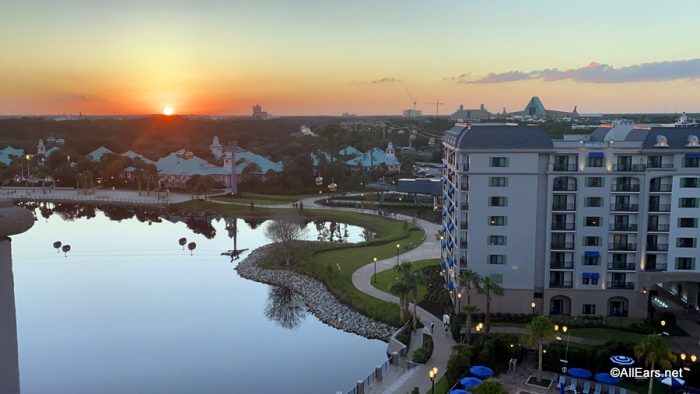 Overall, it's a unique option that again can take you away from the parks and give you some much needed relaxation time with some delicious food.
Jock Lindsey's Hangar Bar
Jock Lindsey's Hangar Bar is a highly themed bar/lounge in Disney Springs. Jock Lindsey is Indiana Jones's frequent pilot, and you'll find all kinds of vintage posters and references to Indiana Jones throughout the location.
Many of the food items also have great names like the Snakebite Sliders, Club Obi Wan Chicken Wings, and Doctor Astorga's Queso Dip.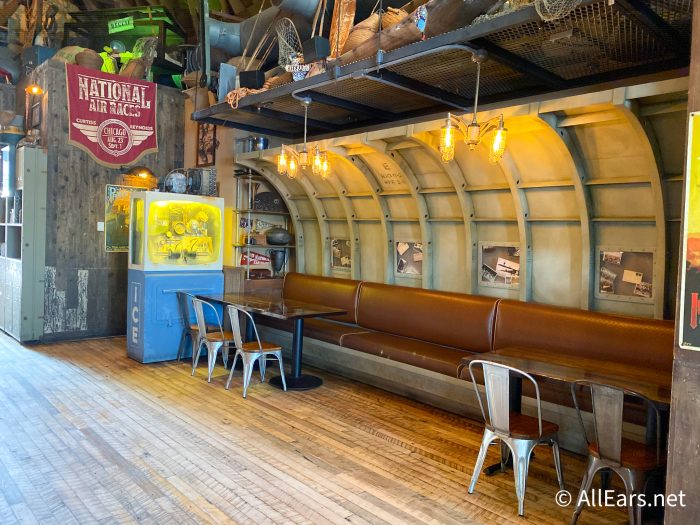 It's definitely a unique (and delicious) place to spend an afternoon!
Well, that's our list of spots. No matter how many times you've been to Disney, there's always so much more to explore. Are there a few on this list that you've never tried before? Let us know in the comments!
Join the AllEars.net Newsletter to stay on top of ALL the breaking Disney News! You'll also get access to AllEars tips, reviews, trivia, and MORE! Click here to Subscribe!