Kidani Village at Animal Kingdom Lodge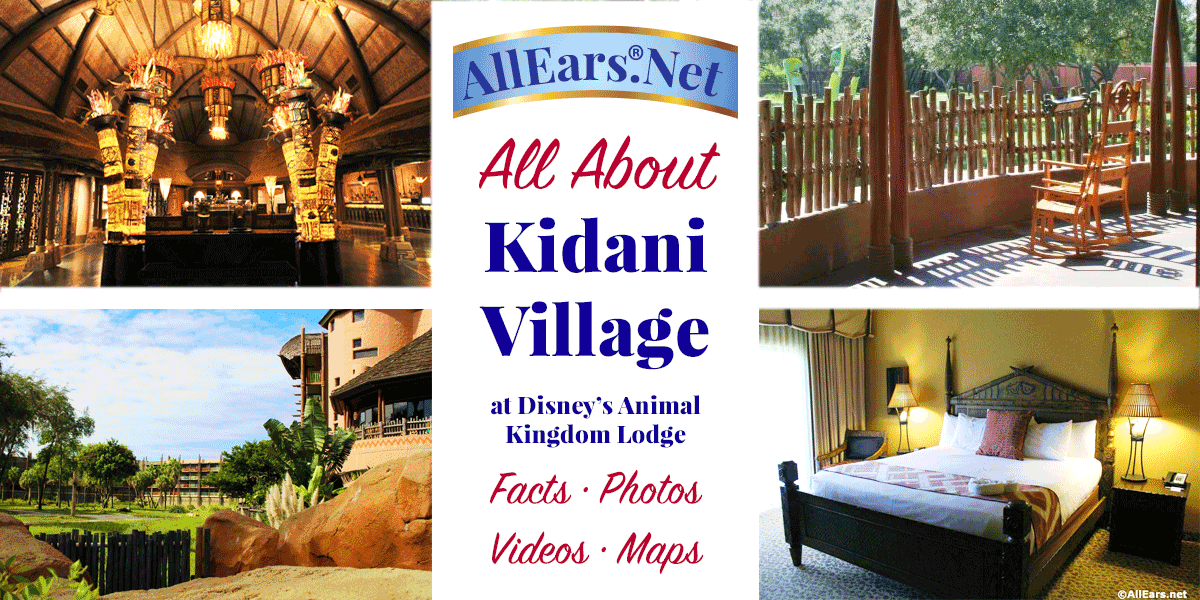 Animal Kingdom Lodge – Kidani Village Highlights:
View live safari animals such as giraffes, zebras, and antelopes from many rooms and resort overlooks
Amazing food! Widely described as one of the best foodie resorts.
Villa Style Accommodations
What is Animal Kingdom Lodge and Kidani Village?
Disney's Animal Kingdom Lodge is a deluxe resort comprised of two sections: Jambo House and Kidani Village.
Jambo House has both regular and Disney Vacation Club (DVC) Villa accommodations.
Kidani Village is solely DVC style accommodations, ranging from Studios to Three-Bedroom Grand Villas.
For more information on the DVC Accommodations at Jambo House, check out our fact sheet.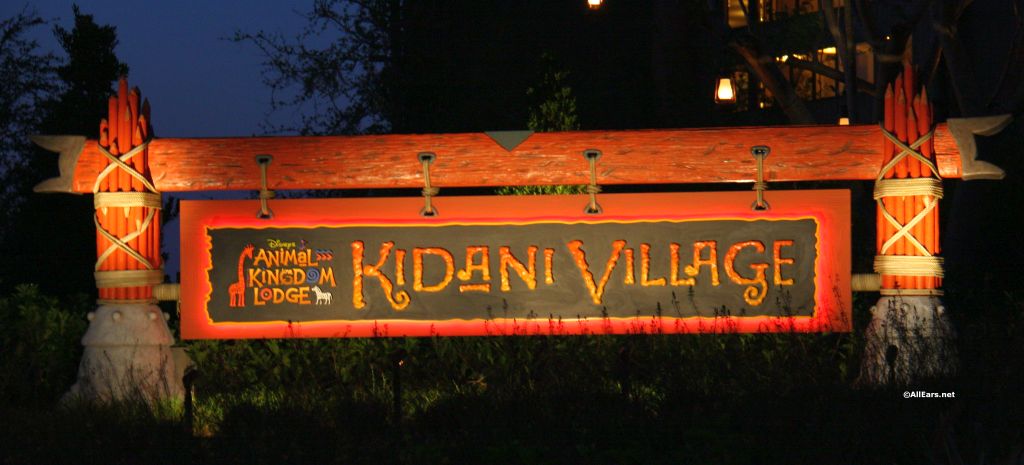 Unlike other DVC resorts, Kidani has its own front desk, lobby concierge, luggage and valet services. Kidani Village has its own pool and recreation area as well as a sit down restaurant and DVC member lounge.
Wait – I am not a DVC Member. Can I stay here?
Yes! Anyone can stay at a DVC Resort or in a DVC Villa Room as long as there is space available. You can book it like any other Disney hotel room — either on Disney's website, calling Disney's Reservation Line, or with a travel agent.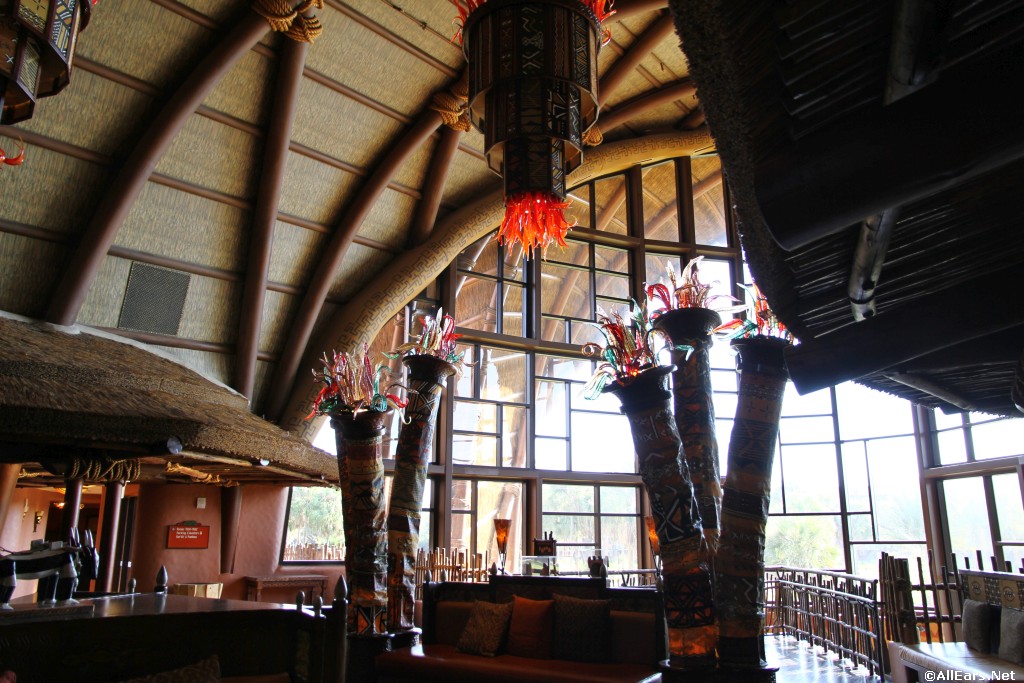 What are the different room options?
Studio:
Sleeps up to four adults

Queen-size bed
Double-size sleeper sofa
Kitchenette with Wet bar, small refrigerator, microwave and coffee maker
Private balcony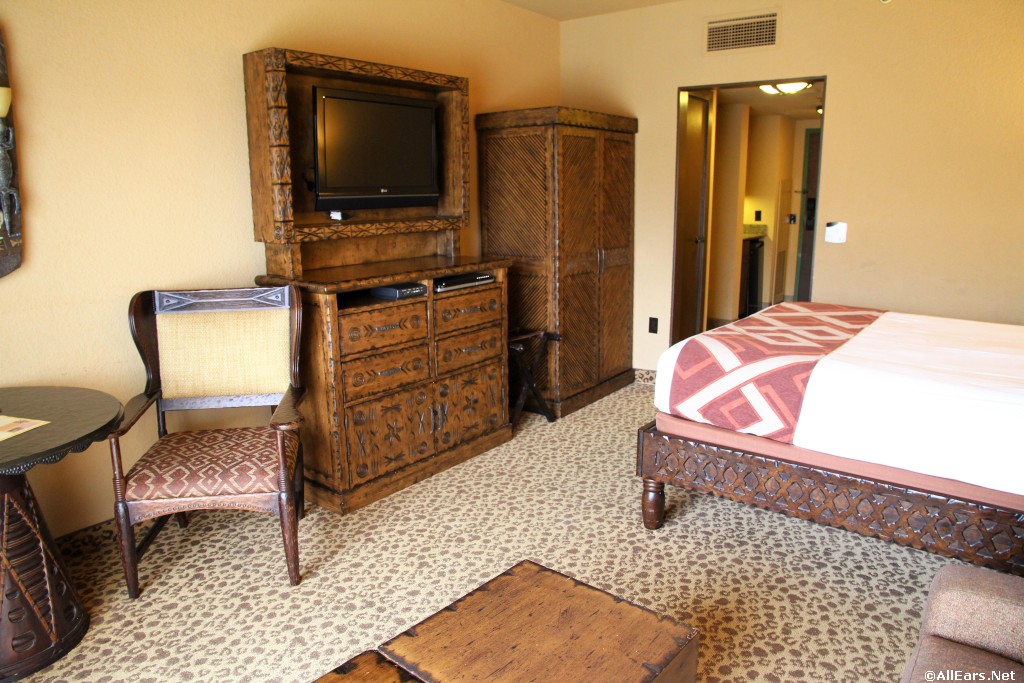 For more photos of a Kidani Village Studio, check out our photo gallery!
One-Bedroom Villa:
Sleeps five

Master bedroom suite with king-size bed,

Master bathroom with whirlpool tub

Queen-size sleeper sofa in living room
Sleeper chair in living room
Additional Full bathroom off living room

Full kitchen includes: coffee maker, dinnerware, glassware, flatware, pots and pans, microwave, toaster, stove, refrigerator, dishwasher.
Laundry with in-room washer and dryer
Private balcony
For more photos of a Kidani Village One Bedroom Villa, check out our photo gallery!
Two-Bedroom Villa:
Sleeps up to nine

Master bedroom suite with king-size bed

Master bathroom with whirlpool tub

Second bedroom with two queen-size beds
Queen-size sleeper sofa in living room
Sleeper chair in living room.
Two Additional Full Bathrooms
Full kitchen includes: coffee maker, dinnerware, glassware, flatware, pots and pans, microwave, toaster, stove, refrigerator, dishwasher.
Laundry with in-room washer and dryer
Private balcony
There is also the option for a Two-Bedroom Lockoff Villa which is as a Studio plus One-Bedroom. This option also sleeps 9.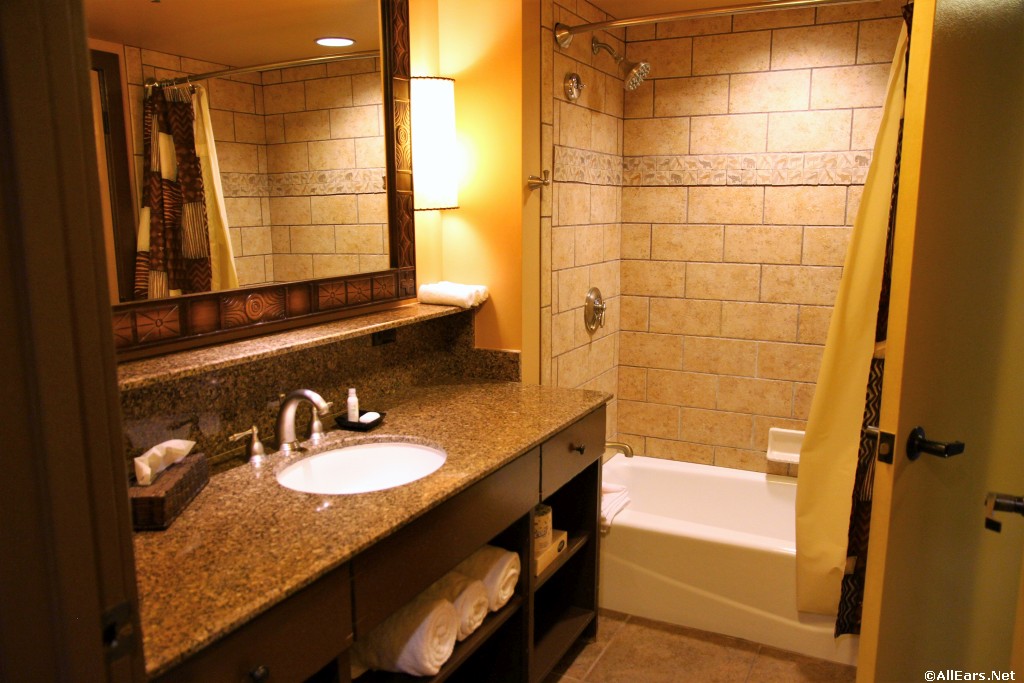 Grand Three-Bedroom Villa:
Sleeps up to twelve.

Master bedroom suite with king-size bed,

Master Bathroom with Whirlpool Tub

Two additional bedrooms, each with two queen-size beds
Queen-size sleeper sofa in living room.
Villas in Kidani Village have an additional sitting area upstairs with a queen-size sleeper sofa (maximum occupancy is 12, but extra sleeper sofa adds flexibility for sleeping arrangements).

Full kitchen includes: coffee maker, dinnerware, glassware, flatware, pots and pans, microwave, toaster, stove, refrigerator, dishwasher.
Laundry with in-room washer and dryer
Private balcony
Dining room with dining table and chairs.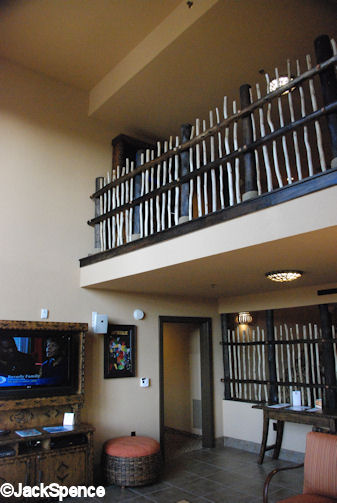 How much does it cost to stay at Kidani Village portion of Animal Kingdom Lodge if I am not paying with DVC Points?
There are two different views your villa could have at Kidani Village: Standard View (pool or parking area) or Savanna View. The Savanna View Rooms are more expensive.
Additionally, Walt Disney World Resort rates vary by season (there are nine seasons now), and also by day of the week. The holiday season is the most expensive time of the year. It runs from mid-December to early January as well as during Easter Week.
The rates for a:
— Studios range from $431 – $940
— 1 Bedroom Villas range from $626 – $1193
— 2 Bedroom Villas range from $954 – $2218
— 3 Bedroom Villas range from $2195 – $3543
Is there a fee to park at Kidani?
Disney Vacation Club Members – will not be charged for standard overnight self-parking when staying at a DVC Deluxe Villa, regardless of whether they use vacation points or another form of payment. Members also will not be charged to park when using vacation points to stay at a Walt Disney World Resort hotel.
Click HERE for current pricing and other parking-related information.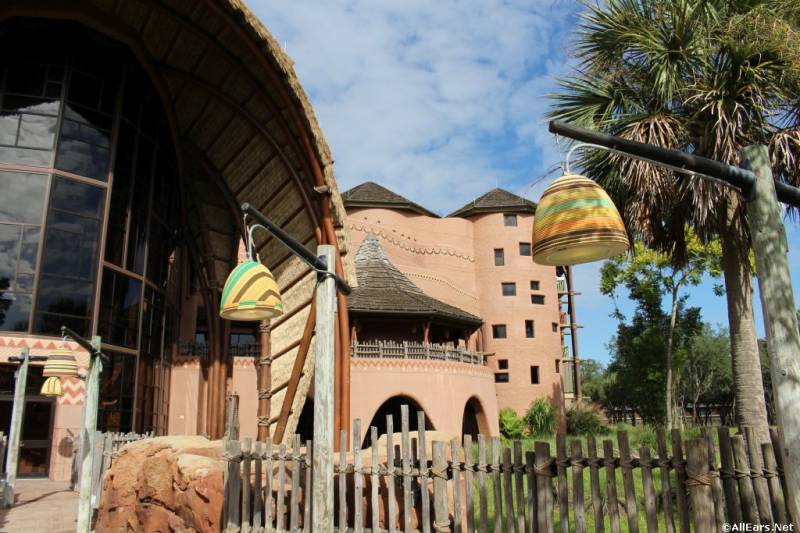 How does the Housekeeping work in Disney Vacation Club resorts?
Housekeeping is different than when you pay nightly for a hotel room.
Trash & Towel Service – For stays of seven or less nights, Trash & Towel Service is provided on day four. With Trash & Towel service, Housekeeping will: Empty trash and replace liners in trash bins, provide fresh bathroom linens, replace shampoo, facial soap and bath soap, replenish facial tissues, paper towels and toilet paper, replenish coffee, sugar, cream and sweeteners, replenish dishwashing liquid, dishwashing detergent, sponges and laundry detergent as needed in one-, two- and three-bedroom Vacation Homes.
Full Cleaning Service – For stays of eight or more nights, Full-Cleaning Service is provided on day four and Trash & Towel Service is provided on day eight. After that, the cycle begins again on day 12. With Full-Cleaning service, Housekeeping will provide everything included with the Trash & Towel Service, plus: Change the bed linens, vacuum and dust, clean the bathroom(s), clean the kitchen/kitchenette and wash the dishes.
You may also choose to pay for daily housekeeping or have additional towels etc. Check with the front desk for information and pricing.
Where is Kidani Village located?
When arriving at the Animal Kingdom Lodge, Jambo House is the first section of the resort you encounter. Kidani Village is located about a half-mile further down the road. There is a walkway connecting these two sections. The Animal Kingdom theme park is nearby, however you cannot walk there. You must drive or take Disney transportation.
Tell me more about the look and feel of Kidani Village.
Kidani Village was designed with three themes, Fabric, Proverbs, and Art. And when it comes to Art, it is abundant everywhere. But it's far more than just paintings hanging from the wall. The building was designed with all types of artistic creations in mind. Everywhere you see alcoves and recessed shelves that were designed specifically for sculptures and statuary.
Kidani Village was designed by architect Peter Dominick, the same gentleman who designed the original resort. This becomes evident when you enter the lobby. The style is very reminiscent of Jambo House, yet different. The towering ceiling and grand windows are similar, but the artwork and smaller room size imparts a cozy feel.
The "fabric" theme is very evident in the lobby. The major patterns used throughout Kidani Village are from the fabrics of the kente cloths of Ghana and the kuba cloths of the Congo.
What are the savannas like?
Kidani Village has 2 savannas, Sunset and Pembe.
Off the lobby, you'll find the Sunset Savanna which is an excellent animal viewing area. During the day, a Safari Guide Cast Member is here to answer questions about the animals. A fire pit surrounded by rocking chairs can also be found here for tranquil evenings with friends and family.
The Pembe Savannah can be reached by walking to the Samawati Springs Pool area. It is down the path on the right side. Pembe is a small savanna and this is the only outdoor public viewing area.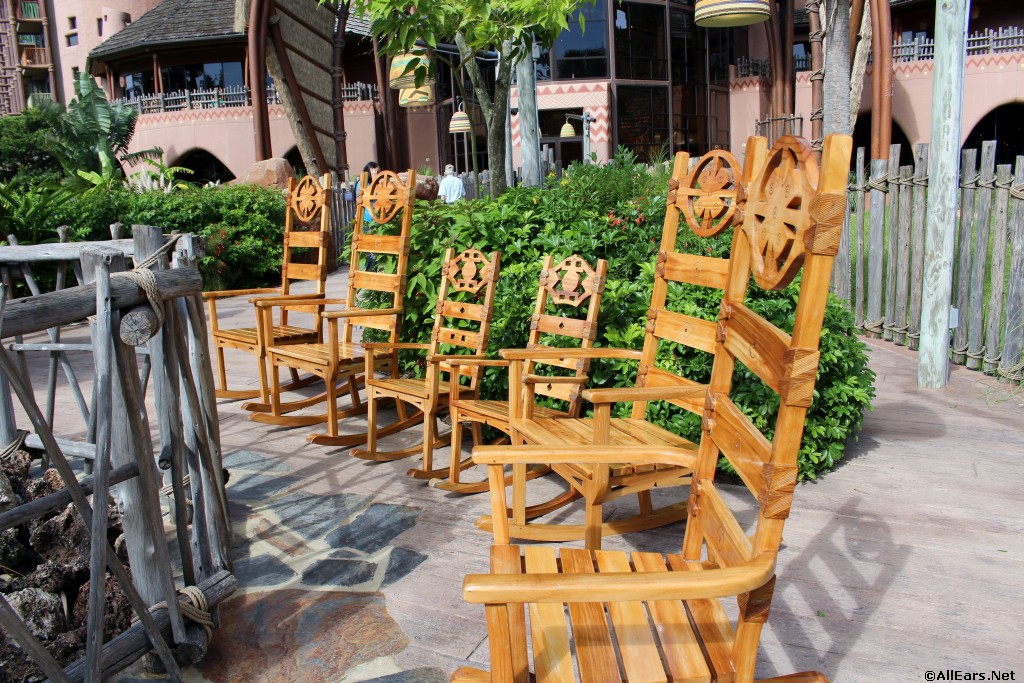 What animals and birds might I see on the savannas?
Altogether, more than 200 mammals and birds of nearly three dozen species populate the 33-acre area.
The following animals may be seen
Ankole Cattle, Bongo, Blesbok, Eland, Grant's Zebra, Greater Kudu, Impala, Reticulated Giraffe, Thomson's Gazelle, Waterbuck, Red River Hogs, White-Bearded Wildebeest…
as well as Abyssinian Ground Hornbill, Blue Crane, East African Crowned Crane, Greater Flamingo, Marabou Stork, Ostrich, Pink-Backed Pelican, and Ruppel's Griffon Vulture.
How does check-in work?
Kidani Village has it's own front desk and lobby — no need to stop at Jambo House.
Online Check-in is available through the My Disney Experience App. Look for the special Online Check-in line at the resort's front desk.
Check-in is at 4pm. Upon arrival head to the front desk to check-in. Rooms are not guaranteed to be available until 4pm, but you can request Early Check-in when you do Online Check-in.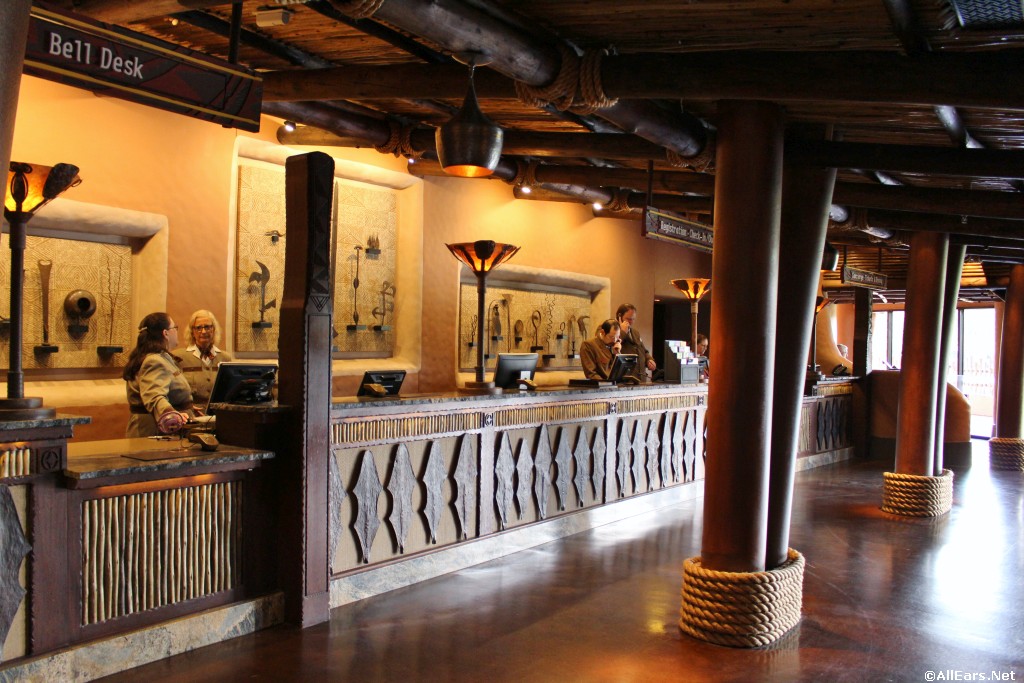 Early check-in allows you to leave luggage with bell services, get your Magic Bands (if you don't already have them) and head off to the parks or relax around the resort. You will be get a notification on My Disney Experience when you Room is ready. You will then be given your room number and your Magic Band will open your door! You can also use the app on your phone to open your door.
Check-out time is 11am. Express Check-out is available to all guests paying with a credit card, arrange for this service at check-in. A detailed hotel bill is delivered to your door by 7am. If the bill is correct you simply leave. Your Magic Band serves as a Disney souvenir. Late Check-out of noon can be requested without additional cost (very limited availability). If you need Late Check-out, request it at Check-In and as soon as possible the morning of check out (the number of eligible rooms are limited).
Resort Airline Check-In Service at your Disney resort is only available if you are flying domestically (includes Puerto Rico) on specific airlines It is a complimentary (free) service and allows you to check your luggage.
I hear that there are no more room key cards at Disney resort hotels. How do I get into my room?
Walt Disney World has converted their room keys and admission tickets from plastic cards to MagicBands, flexible plastic wristbands, resembling a watch or bracelet, that use Radio Frequency (RF) technology. Your MagicBand is linked to your My Disney Experience (MDE) account and acts as your Disney resort room key. Simply touch the Mickey symbol on your MagicBand to the RFID reader near your room door to gain entry. Read about using MagicBands for park admission, FastPass+ and more.
How do I Get to … ?
Disney Resort buses take guests from Jambo House and Kidani Village to Epcot, Disney's Hollywood Studios, Animal Kingdom, Magic Kingdom, Typhoon Lagoon and Blizzard Beach water parks, and Disney Springs.
The Kidani Village bus stop is located adjacent to the Porte Cochere.
The bus will likely make stops at Jambo House either before or after picking Guests up at Kidani Village.
To get to Jambo House and the main Animal Kingdom Lodge amenities, There is a walking path between the Porte Cochere of Kidani Village and Jambo House. It is approximately half a mile point to point. If you are at the far end of Kidani Village (Zazu Parking area) your walk to Jambo House will be much shorter. The walking path travels along the parking lots.
What are the restaurants like?
Animal Kingdom Lodge is widely considered one of the best "foodie resorts."
Two dining options are available at Kidani Village:
Sanaa offers full service lunch and dinner. This is an excellent restaurant — and is very underrated, therefore it's usually easy to snag a reservation. Sanaa's large windows offer a view of the Savanna.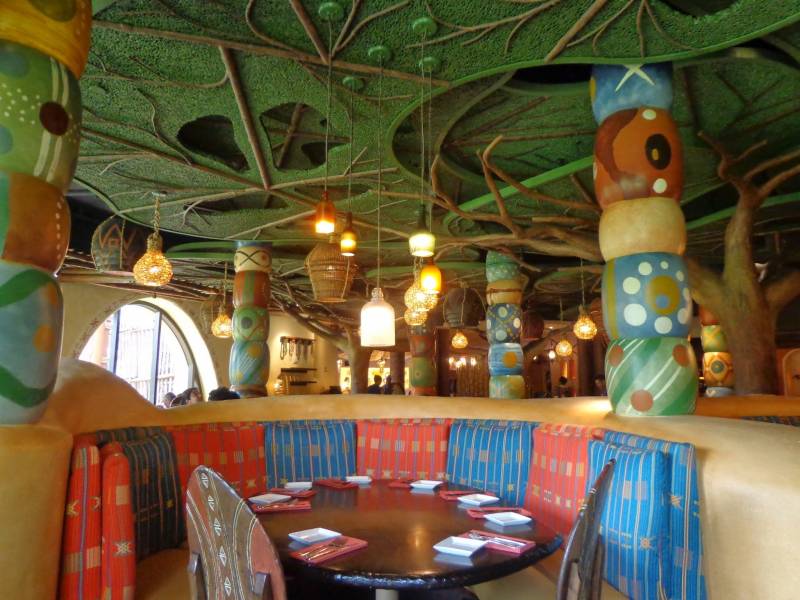 Maji Pool Bar – a pool bar located near Kidani's Samawati Springs Pool serving up a variety of cocktails and refreshments.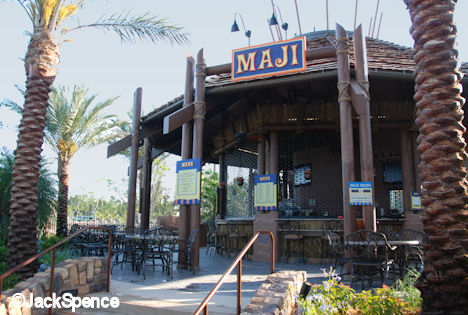 At Jambo House there are more dining options: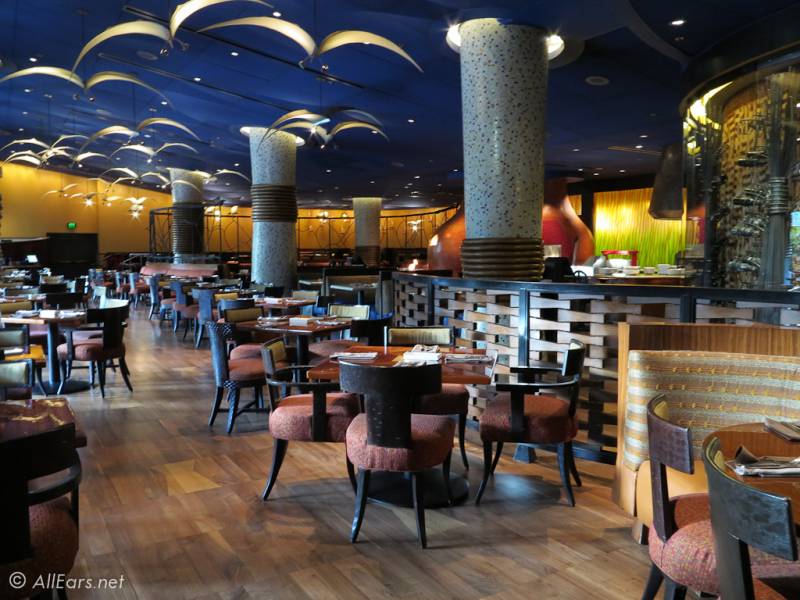 Jiko – The Cooking Place — a signature restaurant, serving dinner, that features a taste of Africa in an atmosphere shaped by local traditions and customs. The design represents an abstract view of Africa, with twin wood-burning ovens as the restaurant's icon. Jiko consistently ranks among the best Walt Disney World restaurants in both food and service.
Boma – Flavors of Africa, a very popular family restaurant open for breakfast and dinner, captures the essence of vibrant life in the African marketplace. This buffet has great variety, and is known for their carved meats, soups, and iconic dessert: Zebra Domes.
The restaurant showcases an exhibit kitchen, wood-burning grill and rotisserie. The dining areas are under thatched roofs. Reservations for dinner are highly recommended!
Mara, the quick-service restaurant, open morning to night, offers great food and poolside dining.
Animal Kingdom Lodge Restaurant Menus HERE
Victoria Falls, a mezzanine lounge, serves specialty coffees and teas and a variety of beverages at night. This lounge overlooks Boma – Flavors of Africa.
Uzima Springs is the Poolside bar at the Jambo House Pool.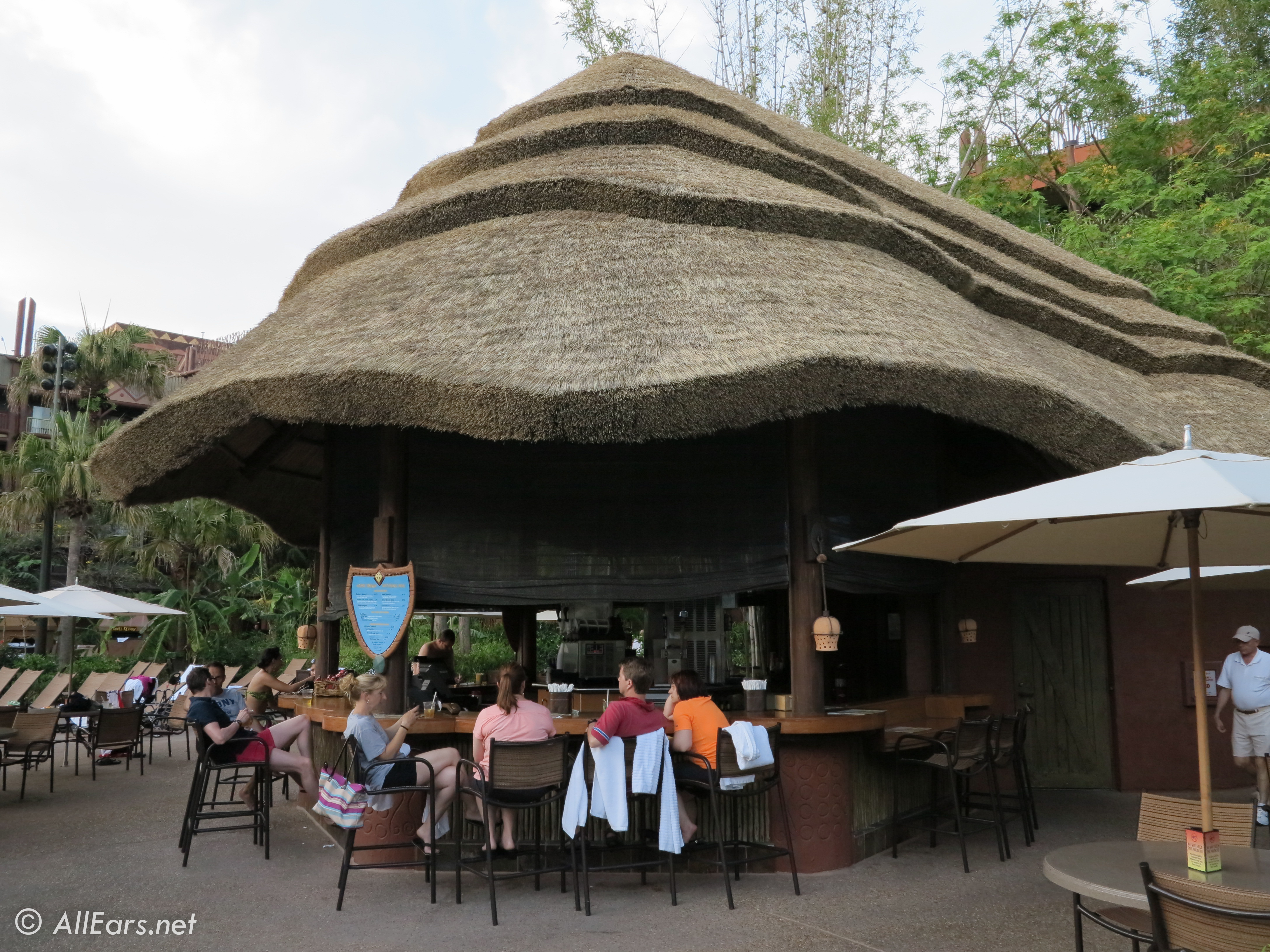 What are Rapid Fill Mugs?
The Rapid Fill beverage program allows Disney Resort guests to buy (or receive as part of the Disney Dining Plan) a resort mug that can be refilled for a certain period of time as designated at time of purchase. These mugs are enhanced by an RFID bar code that enables the mug to deactivate when the designated time is complete.
Is there a gift shop at the Animal Kingdom Lodge?
Yes there are two!
Johari Treasures is located in the Kidani Village Lobby. You'll find Disney merchandise, including DVC specific items, as well as African treasures. They also sell a small selection of groceries for your villa.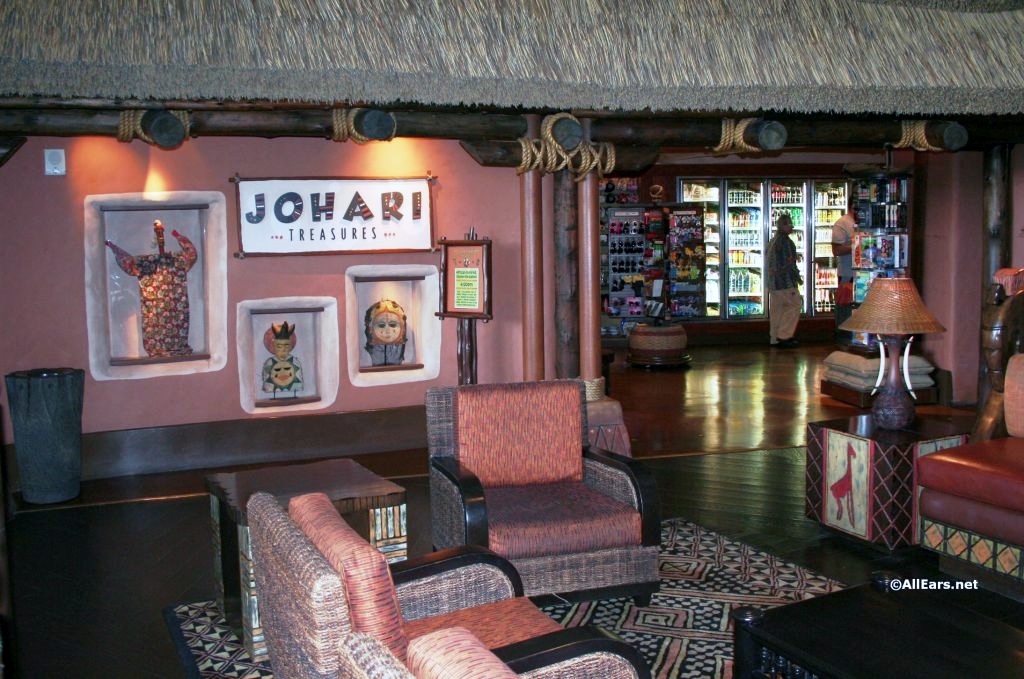 In Jambo House, you'll find the Zawindi Marketplace. It has a combination of Disney souvenirs and artist creations.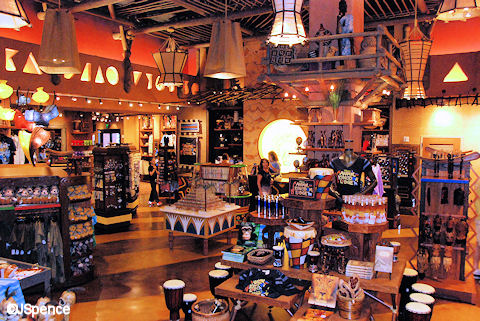 Featured marketplace items include: Zulu baskets, hand-loomed fabrics and textiles, hand-carved masks, beaded gourds, hand-carved chess sets and an assortment of authentic accents.
What's the pool like?
The pool at Kidani Village is called the Samawati Springs Pool. It features a long water slide and a zero-entry. Take relaxation to a whole new level in one of the two whirlpool spas near the main pool, or refresh at Maji Pool Bar. Pool towels are provided at the pool.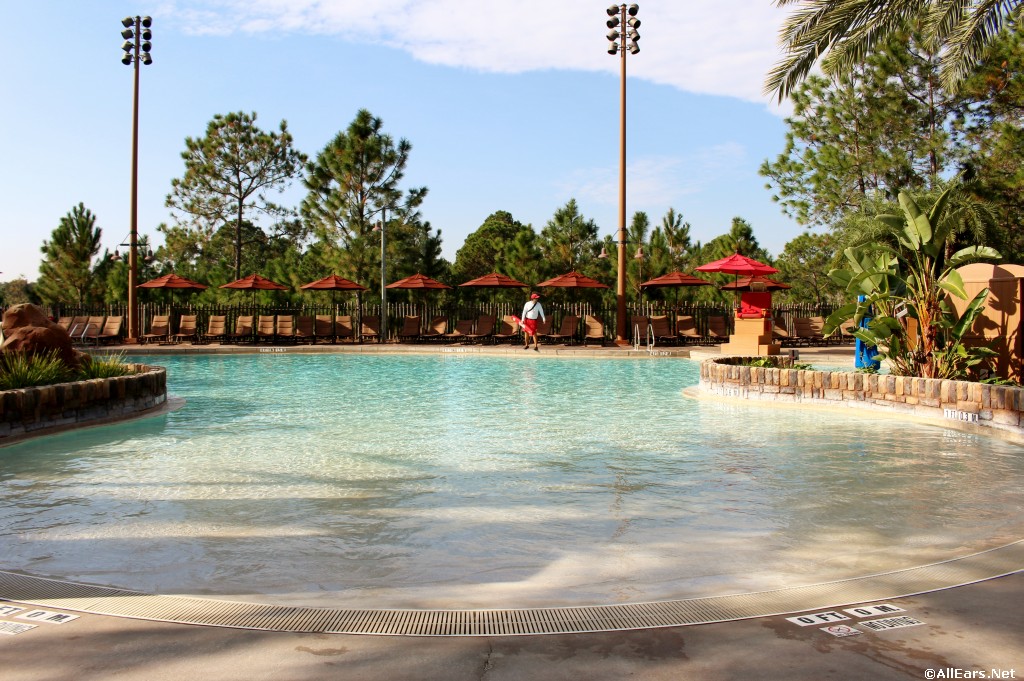 What types of recreational options do I have?
Barbecue Pavilion – Fire up the grills, and picnic alfresco or in the covered area located near the sports courts of Kidani Village.
Basketball and Shuffleboard Courts – Shoot some hoops at the half-court, or slide on over for a gripping game of shuffleboard. Use of equipment is complimentary and available at Community Hall.
Community Hall – Looking for rainy day activities? Drop by for planned activities, arts and crafts, board games, table tennis, foosball, Sony PlayStation®2, or downtime TV viewing. Located on the 2nd Floor of the Kidani Village just off the lobby.
Survival of the Fittest Fitness Center – Work out with weights or on treadmills, bicycles or elliptical cross trainers. Located near Samawati Springs Pool, this fitness center is open to all Walt Disney World® Guests over 14 years of age; an adult must accompany Guests under age 18 at all times. 24 hour access for Animal Kingdom Lodge guests.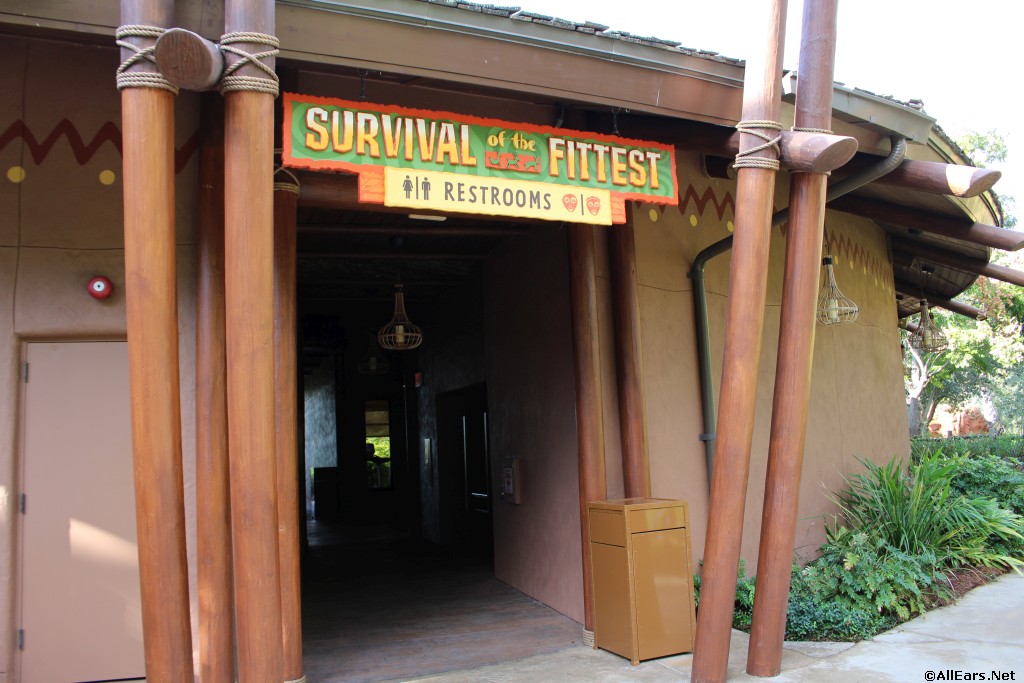 Safari So Good Arcade – Test your arcade skills while you play classic and new games in this high-tech entertainment room located near the lobby.
Tennis Court – Grab a partner and serve up some fun on the courts near the Barbeque Pavilion. Use of equipment is complimentary and available at Community Hall.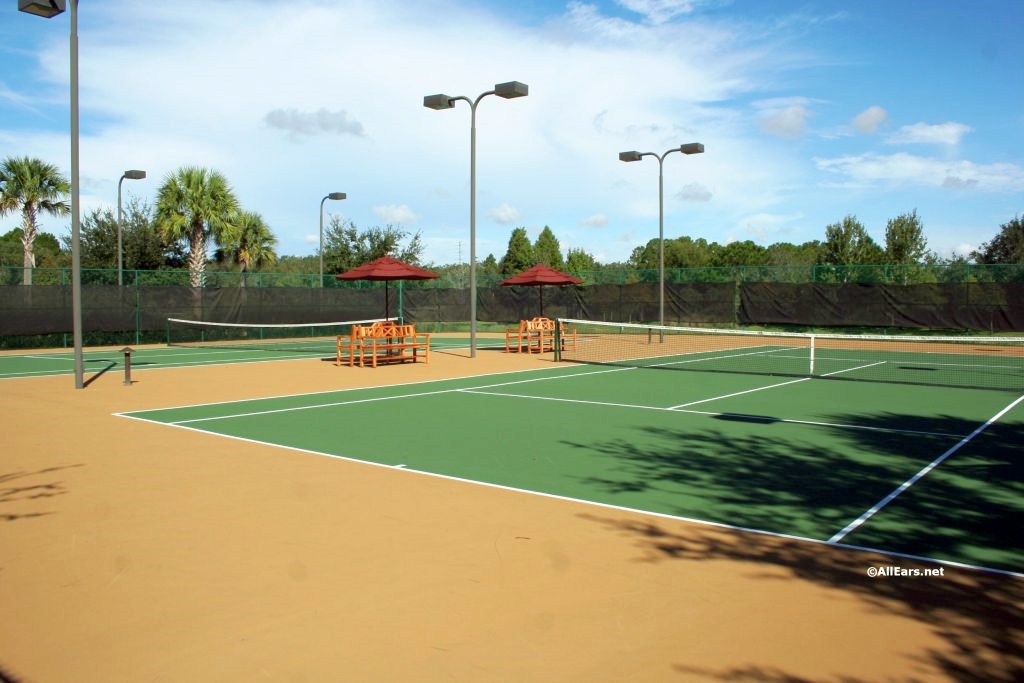 Uwanja Camp – Climb elevated-rope bridges, dash through geyser jets, or relax in the waterfall lagoon or beneath the shade of the camp cabanas in this village playground themed as an animal observation site known as Uwanja Camp — Uwanja means "play area." Explore three distinct zones in this children's interactive water-play area — the base camp, the departure zone and the observation station; each area has its own character and activities for age-specific groups.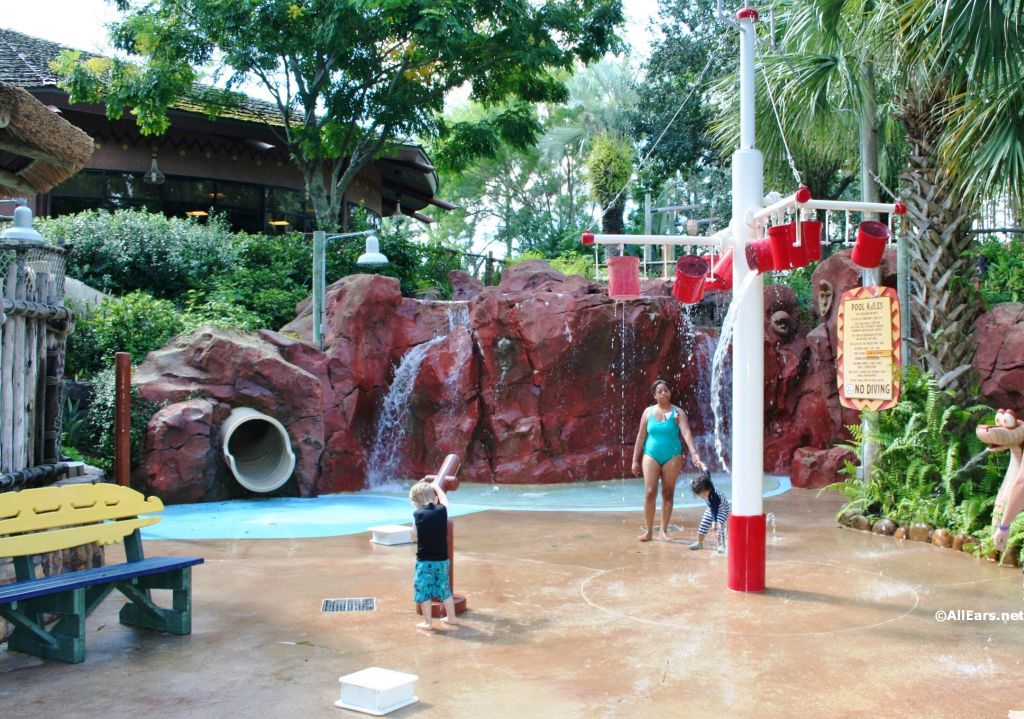 For more photos of Kidani Village's Recreation Offerings, check out this photo gallery!
Jambo House – Guests at Kidani Village are also entitled to use the amenities at Jambo House including the Uzima Pool, Massage and Fitness Center, Hakuna Matata Playground, Pumbaa's Fun and Games Arcade and Simba's Clubhouse!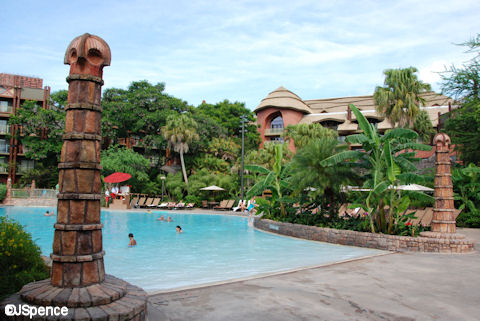 *Please note that features and amenities are subject to change, and some activities require a fee, need reservations and have certain age requirements.
What else might I want to know?
Balloons – Guests are asked to leave any balloons they purchase with Bell Services to be stored in the Luggage Room. Balloons pose a health risk to the animals if they were to get into the savanna.
Learn About African Culture – Cultural representatives from Africa are the Lobby Greeters, Savanna Guides and Restaurant Greeters. Feel free to talk with them about their homeland. Also, get an Activities Sheet from the Front Desk or Community Hall to learn about special tours or talks that may take place during your visit.
Daily/Weekly Activities – be sure to get an Activities Flyer when you check in to see what is available during your stay. There may be some with animals!
Stamps – You can purchase postage stamps at Johari Treasures located off the main lobby.
Wifi – Walt Disney World Resort has complimentary Wi-Fi service available in all of its hotels. See our Internet Access page for details.
TO LEARN MORE ABOUT WHAT ANIMAL KINGDOM LODGE HAS TO OFFER, CHECK OUT THIS ALLEARS TV VIDEO!
The Animal Kingdom Lodge Address is: 2901 Osceola Parkway, Bay Lake, FL 32830 The main number is 407-938-3000 and the fax number is 407-938-4799.
Overview
Phone: (407) 938-7400
Address: 2901 Osceola Parkway, Bay Lake, Florida 32830
Transportation Options (1)
Activities & Recreation (8)
Kid's Club
Playground
Splash Playground
Arcade
Running Trail
Poolside Movies
Tennis Courts
Gym
Room Options (6)
Deluxe Studio - Standard View
Deluxe Studio - Savanna View
1 Bedroom Villa - Standard View
1 Bedroom Villa - Savanna View
2 Bedroom Villa - Standard View
2 Bedroom Villa - Savanna View