You know what they say: the more the merrier! But when you're coming to Walt Disney World with a large party, it can sometimes be hard to find the right accommodations.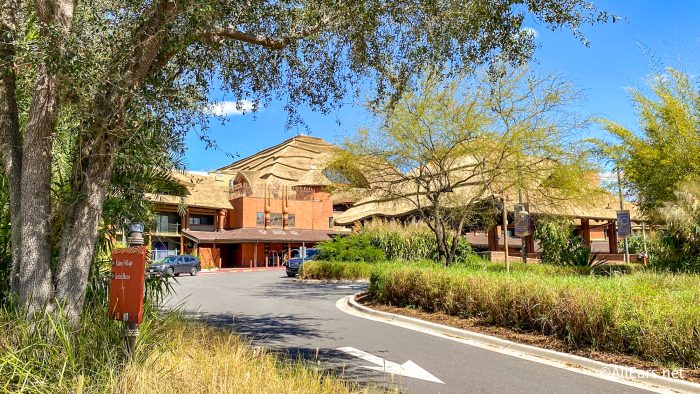 But don't worry: Disney World Resorts offer many options suited for big groups.
If you're exploring the World with a large group, you should book one of these 11 awesome Resort options at Disney World.
All-Star Music Resort Family Suites
If you have a large group but also want to stay somewhere that's both affordable and fun, Disney World's All-Star Music Resort offers family suites. Each family suite is big enough for up to six adults and children (plus a child under three in a crib, if you need it).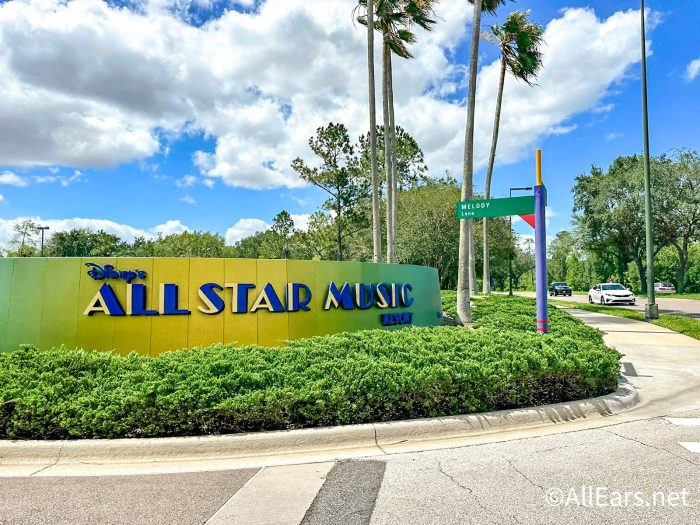 The family suite also comes with a living area, a kitchenette, and two separate bathrooms. What's more, All-Star Music is one of the less expensive hotels at Disney World, making it great if you're saving up for other things during your trip. Note that these rooms received a refurbishment relatively recently, so they now feature laminate flooring, an expanded kitchenette with a larger fridge, and two pull-down beds in the living room (versus the old sleeper sofa and twin ottoman and armchair beds).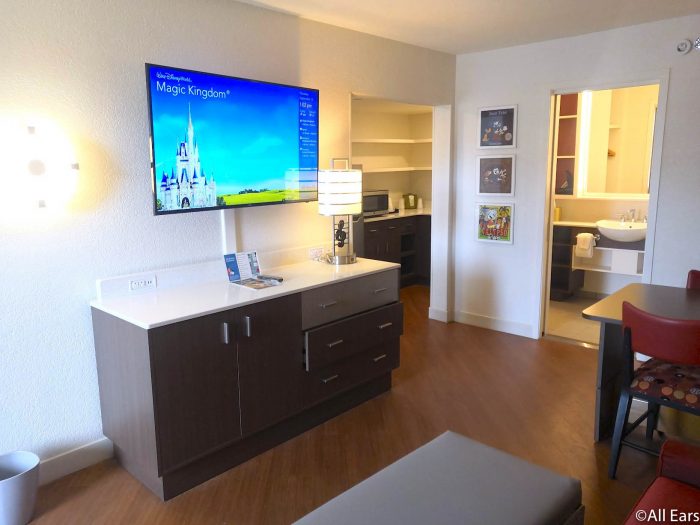 All-Star Music has an overall fun aesthetic throughout. The various areas of the Resort are filled with giant-sized musical instruments, symbolizing different styles of music like jazz, country, Broadway, and rock and roll.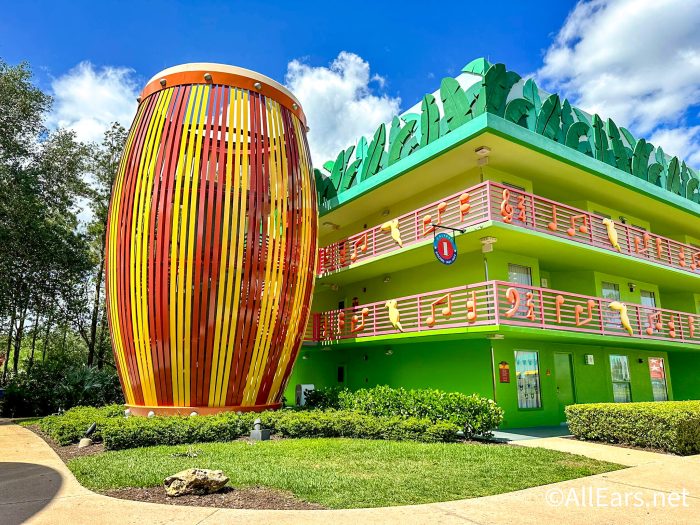 In fact, each area of the resort plays its own music in the background to match the areas' respective musical themes. All-Star Music also features two groovy swimming pools. The guitar-shaped Calypso Pool hosts a fountain with the merry Three Caballeros – Donald, José Carioca, and Panchito Pistoles – while the Piano Pool is shaped like a grand piano. All this makes the Resort fun for the whole family.
Animal Kingdom Lodge Villas
Animal Kingdom Lodge is one of Disney's World's most expansive Resorts. It actually consists of two different parts – Jambo House and Kidani Village – and each could easily stand as an individual Resort in its own right.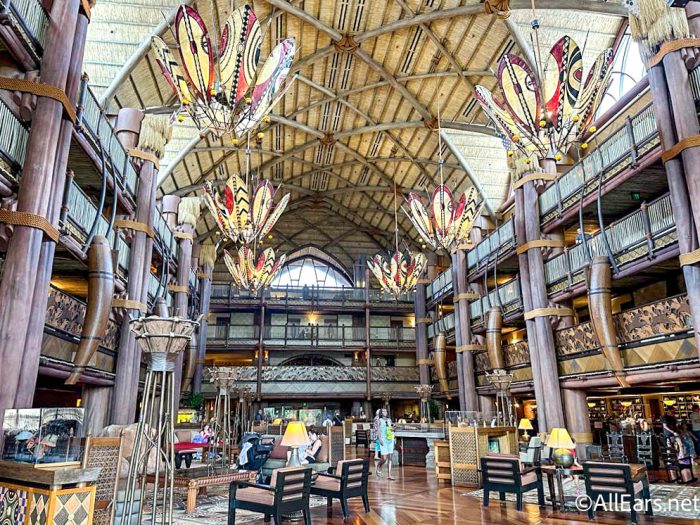 Both parts of Animal Kingdom Lodge offer their own Disney Deluxe Villas. Both sets of villas offer multiple options that large groups will appreciate. Jambo House's selection includes one-bedroom villas (can host 4-5 adults) and three-bedroom grand villas (12 adults). Kidani Village options include one-bedroom villas (5 adults), two-bedroom villas (9 adults), and three-bedroom grand villas (12 adults).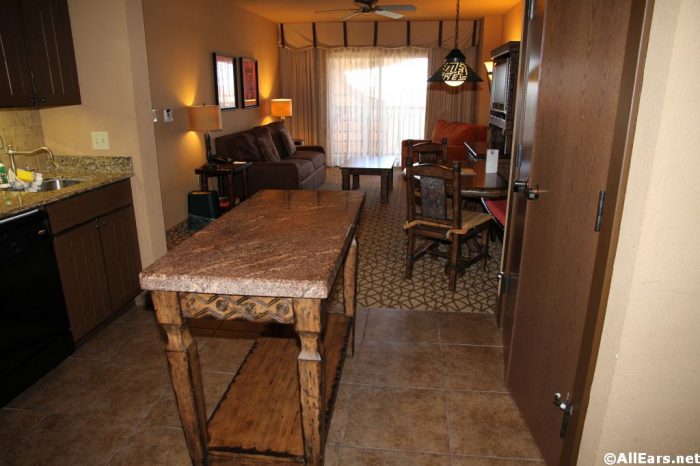 Not only are these villa rooms expansive and full of great amenities like full kitchens, washers, and dryers, but many of them also offer incredible views you won't see at any other Disney Resort.
Because the really neat thing about Animal Kingdom Lodge is how it's built right next to an African-style savanna, complete with 200 different native wildlife ranging from wildebeests to ostriches to giraffes.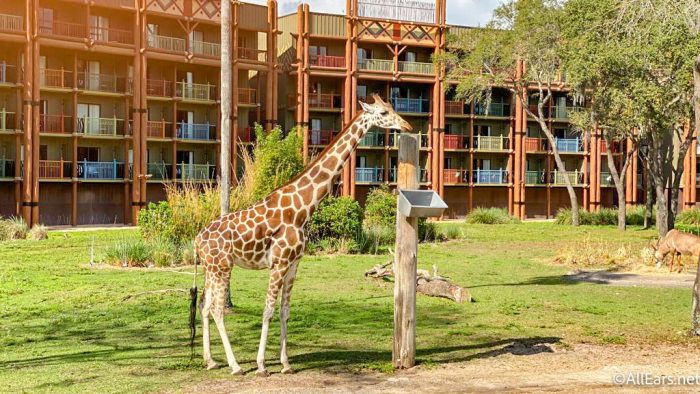 Try to get a savanna-view room so you can watch the animals whenever you want. But even if you don't have a room overlooking the savanna, there are several overlooks you can enjoy at both Jambo House and Kidani Village so you can look out onto the savanna.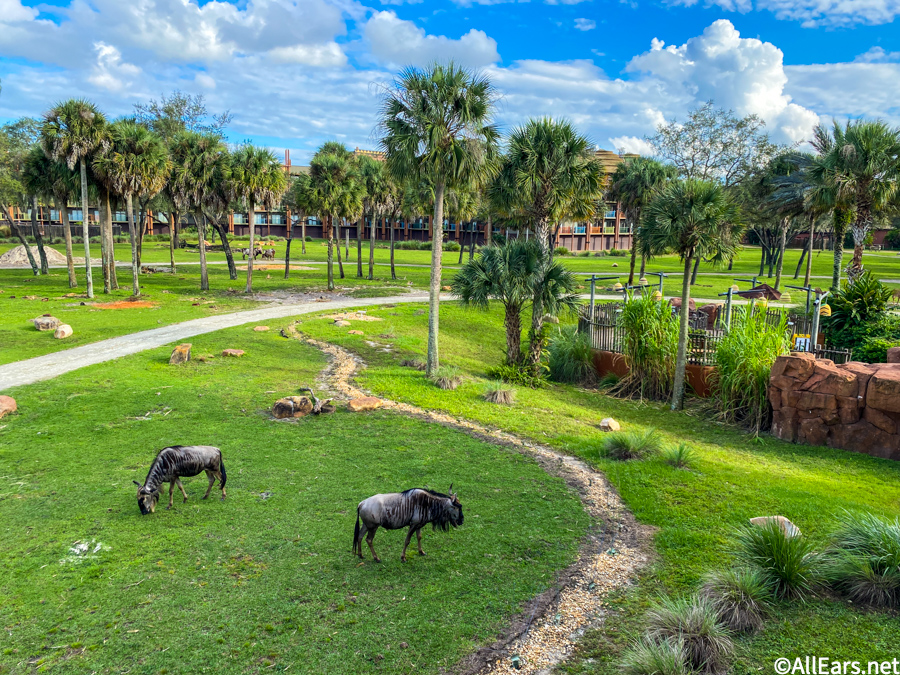 The wildlife isn't the only fun thing at Animal Kingdom Lodge, either. Just exploring the massive Resort can be its own grand adventure. The Resort features hundreds of original artworks and artifacts from countries and cultures all across Africa, scattered all around the hotel.
In addition, the Lodge offers multiple programs the whole family can enjoy, from behind-the-scenes safari tours of the savanna and animal areas to painting and campfire activities.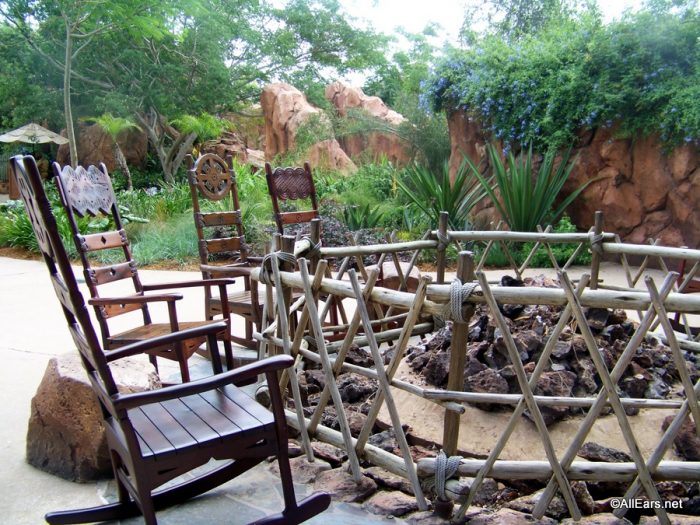 You can even meet and talk with authentic Cultural Representatives from Africa, who will happily share stories about their home countries and cultures. Be sure to ask staff for details on all the special activities available.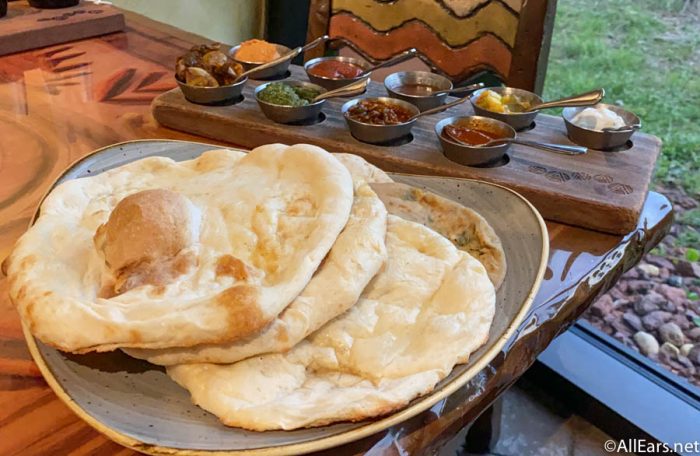 Furthermore, Animal Kingdom Lodge hosts multiple gourmet restaurants that feature both standard cuisine and local specialties from different parts of Africa. Boma, for instance, captures the feel of traditional African marketplaces and offers all sorts of unique African-inspired foods at its buffet, open for breakfast and dinner.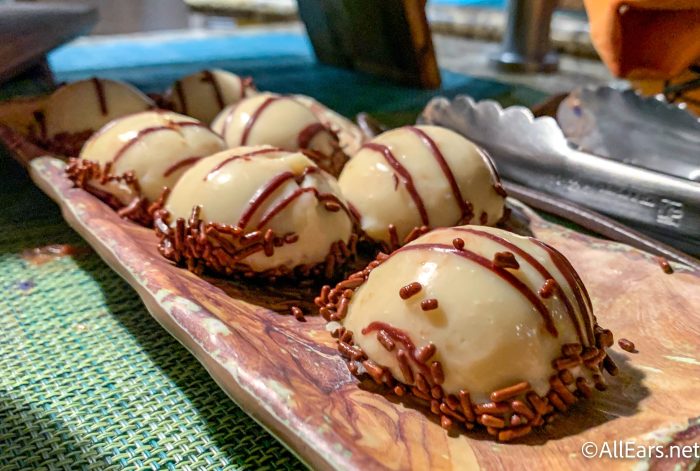 Similarly, Jiko seasonally changes its menu but overall features a diverse mix of Mediterranean, Indian, and African flavors. And Sanaa, in addition to its East African foods, offers window views of the adjacent savanna, letting you watch the animals as you eat.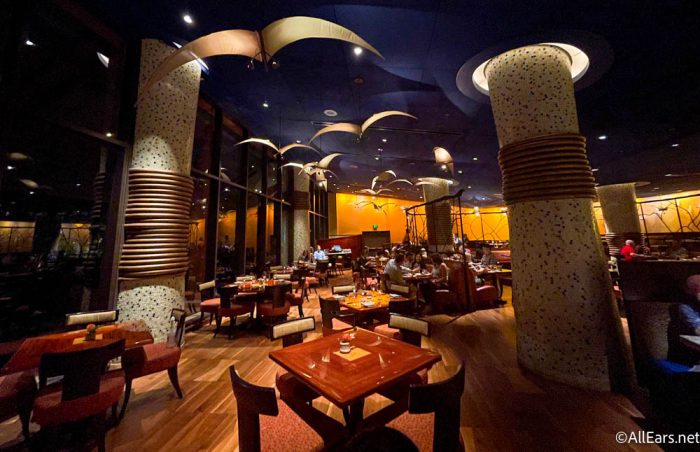 All these things (plus awesome pools and amenities!) make Animal Kingdom Lodge a wonderful place to stay and enjoy, especially if you're part of a big group.
Art of Animation Resort Family Suites
While Disney World as a whole celebrates the grand history of Disney animation, the Art of Animation Resort, in particular, emphasizes the theme, with different areas based on movies, including Cars, Finding Nemo, The Lion King, and The Little Mermaid.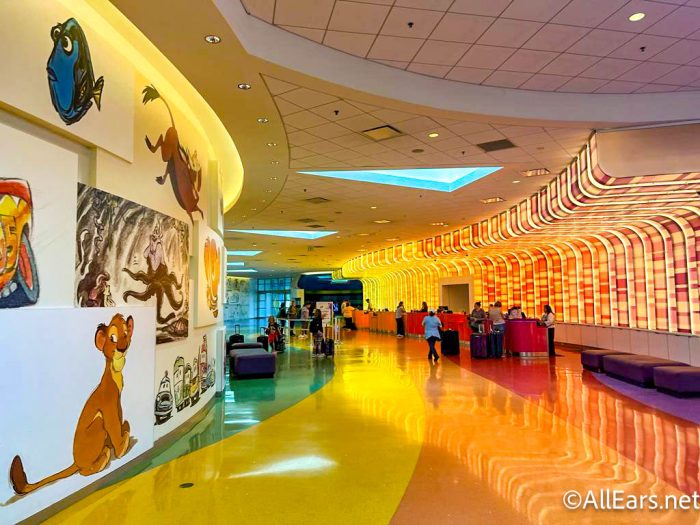 While being a relatively affordable Resort on Disney property, Art of Animation predominantly offers family suites for large groups. As with All-Star Music, Art of Animation's family suites can host up to six adults, making them great bargains for groups looking for something cheap yet suitable. And with the rooms themed after different films, kids will have lots of fun during their time at the Resort, too.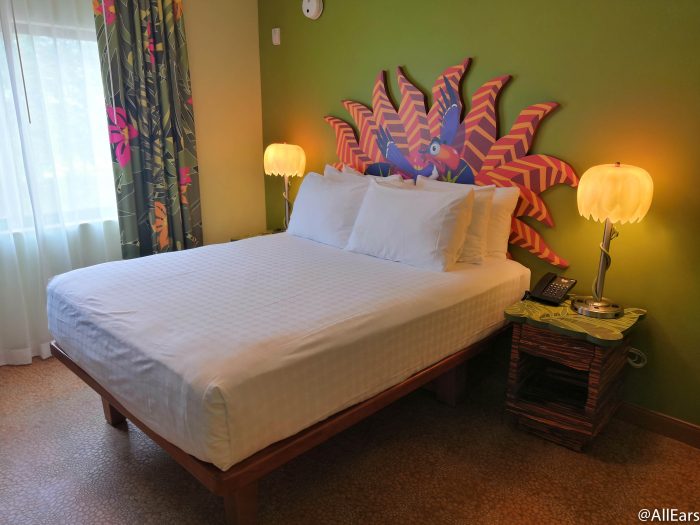 The Art of Animation Resort takes theming from Disney movies, and that's evident everywhere, from the lobby to the guest rooms. The pools are a lot of fun, too – and the Resort actually has three different pools. Finding Nemo-themed Big Blue Pool is the largest pool among Disney World's Resorts, at a whopping 308,000 gallons.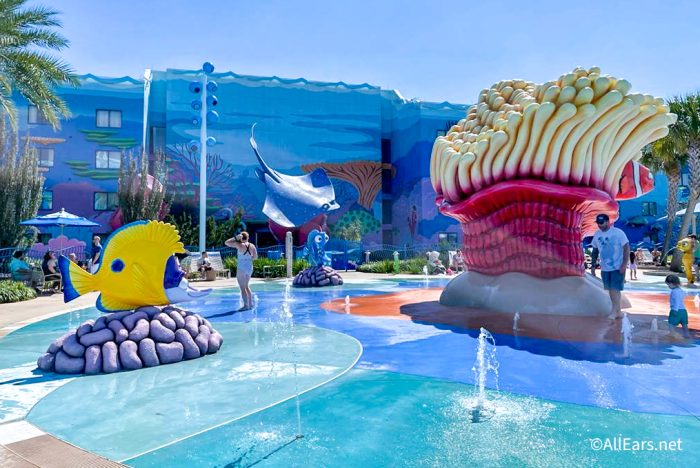 There's also the Cars-themed Cozy Cone Pool, which has orange-coned cabanas to rest under (no reservations or payment needed — but they're first come, first served), and the Flippin' Fins Pool based on the Little Mermaid, complete with orchestra music, too.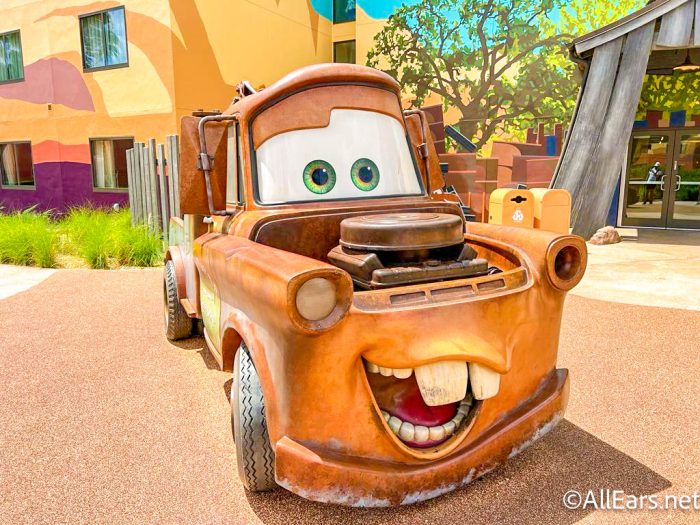 Plus, the Resort is linked to EPCOT and Hollywood Studios via the Skyliner gondola system, making a stay here fun and convenient for everybody.
BoardWalk Inn Villas
If you're looking for a great place to stay – one with good accommodations, proximity to parks, and lots of things to do – then you should definitely consider the BoardWalk Inn.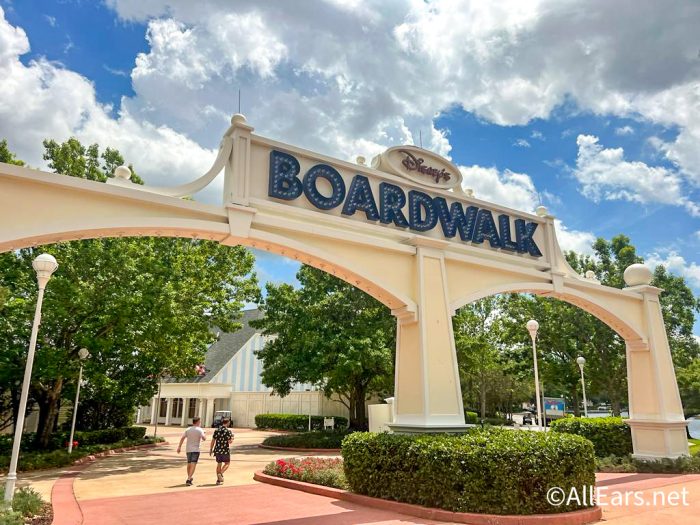 More specifically, you should check out the deluxe BoardWalk Villas, which are expansive and filled with many amenities to suit large families. Features include a full kitchen, separate bedrooms, living room and dining room areas, and washers and dryers. Current room options include the one-bedroom villa (can host 5 adults), the deluxe room (6 adults), and the two-bedroom suite villa (9 adults).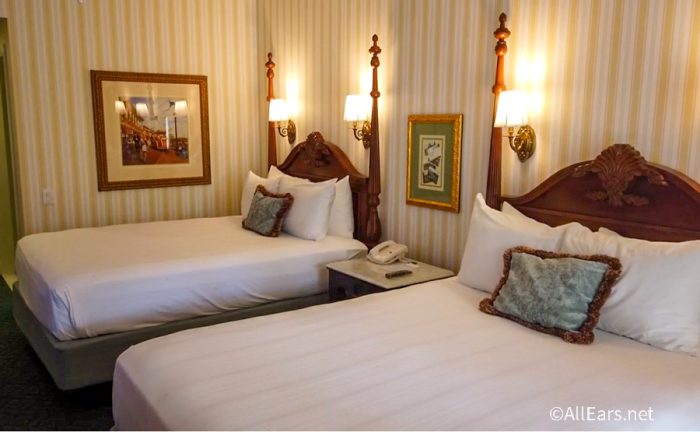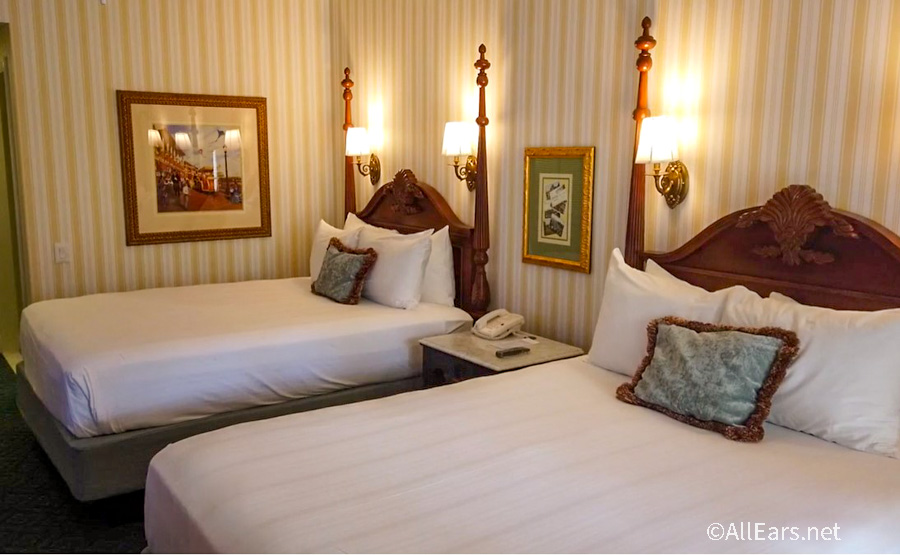 But more than just the Villas, the BoardWalk Inn is popular as the mainstay Resort along Disney's BoardWalk. Styled after the classic Atlantic City seaside attraction, the BoardWalk is a hidden gem at Disney World outside the standard parks.
You'll find all sorts of fun shops, restaurants, Midway-style games, and more along the Boardwalk, but things get really exciting at night. During the evening, you can dance the night away at the Atlantic Dance Hall.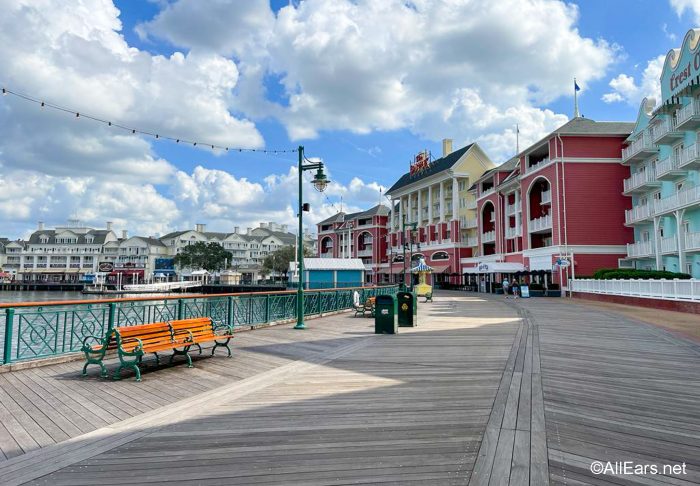 Not only is the BoardWalk Inn right at the heart of the BoardWalk for easy access, but the Deluxe Resort itself gets into the seaside spirit. Luna Park Pool, for instance, is based off Coney Island and has a 200-foot waterslide. And the lobby is splendid, with many interesting decorations like paintings and statues celebrating the heyday of East Coast boardwalks. In fact, in the past we've seen the BoardWalk performers will also do shows inside the BoardWalk Inn's lobby at night, providing a pleasant surprise for guests.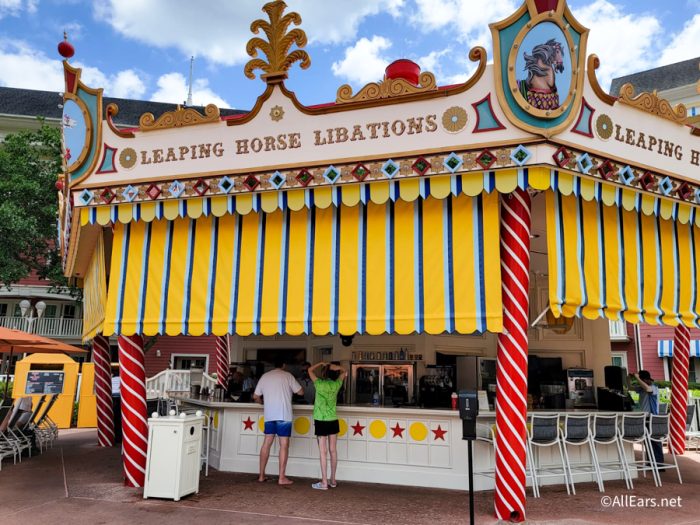 In addition, the BoardWalk Inn is convenient for access to the EPCOT and Hollywood Studios theme parks. World Showcase's International Gateway (between the United Kingdom and France) is just a short, 10-minute walk away. You can also take the Friendship Boat service between the BoardWalk and World Showcase.
Hollywood Studios is also fairly close by – only 20 minutes on foot – but you can also reach the park through the Skyliner and by boat. The Skyliner connects EPCOT (via International Gateway) with Hollywood Studios, though you will need to transfer to the Hollywood Studios line at the Caribbean Beach station. All of these different reasons make the BoardWalk Inn an excellent choice for big groups.
Beach Club Resort Villas
Sitting right across from the BoardWalk, the Beach Club Resort offers deluxe villas. The Resort offers one-bedroom villa (can host 4 adults), deluxe studio (5 adults), and two-bedroom villa (8 adults) options for big groups to use. In addition to lots of space and sleeping accommodations, these villas come with a full kitchen and other great amenities, like a washer and dryer in the two-bedroom villas.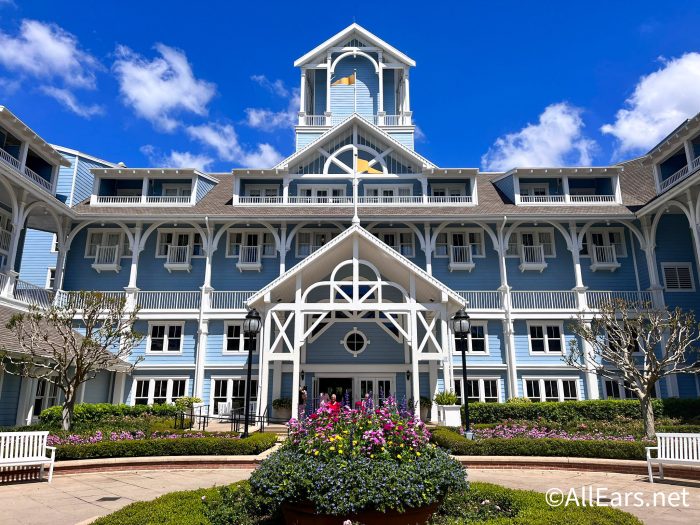 The Beach Club Resort also has a lot of other fun things to enjoy – especially since it's joined to the neighboring Yacht Club Resort. The three-acre Stormalong Bay swimming pool, for instance, features a life-sized shipwreck and a 230-foot slide and is shared by both Resorts.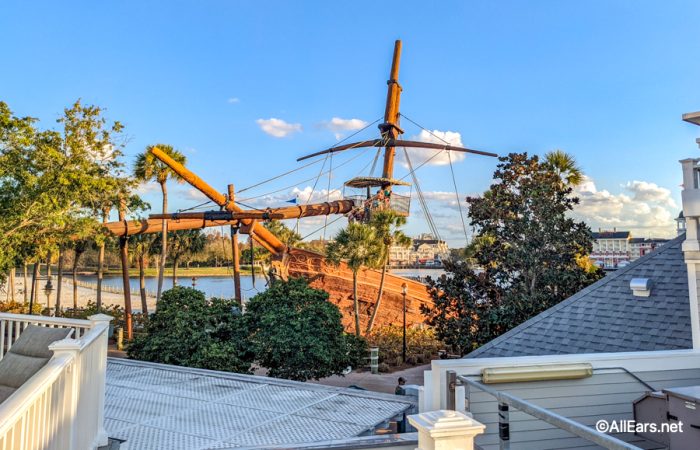 The two Resorts host several savory restaurants, including the Ale & Compass and the Yachtsman Steakhouse.  Plus, both Resorts are close to the BoardWalk and to EPCOT's World Showcase, with the Skyliner also providing easy access to Hollywood Studios.
Bay Lake Tower at Disney's Contemporary Resort
The Contemporary Resort, right next door to the Magic Kingdom, offers splendid villa accommodations in the luxurious Bay Lake Tower. Parties with large numbers of guests will like the expansive villas available there, including one-bedroom villas (can host 5 adults), two-bedroom villas (9 adults), and three-bedroom grand villas (12 adults).
Not only do these villas come with many amenities like private balconies and kitchens, but many rooms look out at either Bay Lake itself or Magic Kingdom, providing great views throughout the day and night – especially for the fireworks.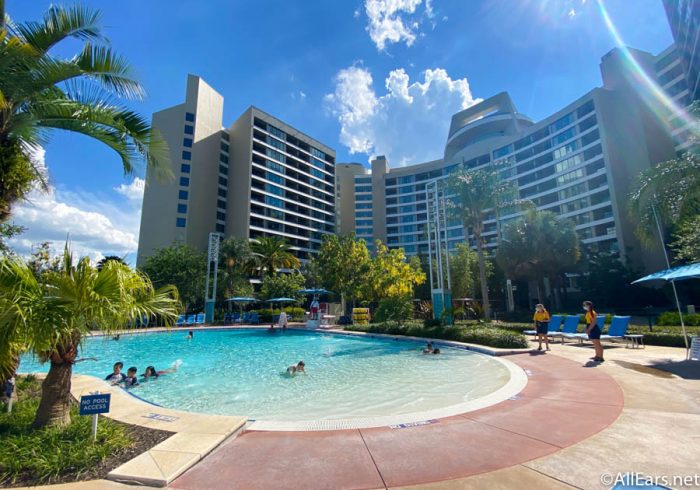 Groups can find lots of other things to appreciate about the Contemporary Resort as well. Its close proximity via monorail to the Magic Kingdom (for which it also has access to a walkway) and the Transportation and Ticket Center – which has a monorail to EPCOT – provides easy access to both parks. And there's plenty to do at the resort, too.
Motorboat rentals and guided fishing expeditions let you travel across Bay Lake and the Seven Seas Lagoon. You can also hike or jog along a trail around the hotel. Be sure to also check out the massive Great Canyon Concourse mural at the center of the resort – made by famous Disney artist Mary Blair. Therefore, if you have a big group, Bay Lake Tower might be just right for you.
Fort Wilderness Resort Cabins and Campgrounds
For adventurous (and big) parties wishing to brave the outdoors, Fort Wilderness offers a taste of comfy yet exciting fun out in the wild. Fort Wilderness is just a short, 13-minute boat ride away from the Magic Kingdom. Each cabin can house up to six adults.
Rustic yet sophisticated, the cabins have many amenities, including a kitchen, full bathroom, patio, and grill, but housekeeping service cleans your dishes for you. If you bring trailers or tents with you, then you can also check out the Fort Wilderness Campground, which is good for up to 10 adults.
The cabins and campsites alike are scattered throughout the wooded Resort, making you feel close to nature even in the middle of Walt Disney World.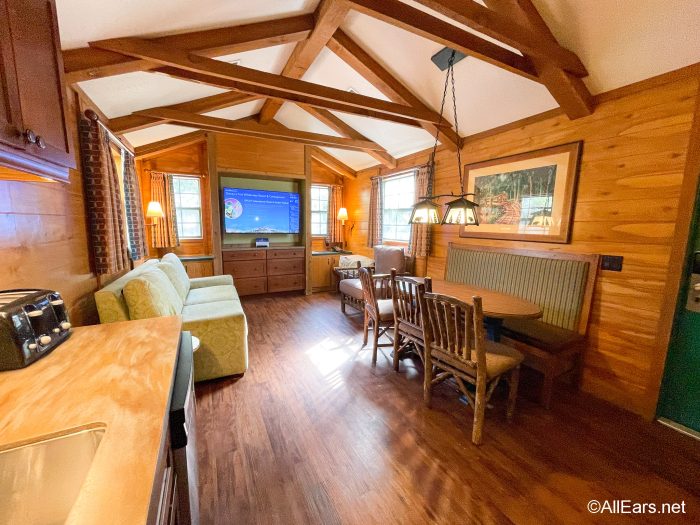 In addition to camping outdoors, Fort Wilderness hosts the nightly Hoop-Dee-Doo Musical Revue, which you should definitely see if you have the chance. It's a two-hour dinner show and vaudeville comedy celebrating the spirit of the Wild West, and you'll have a blast as you join in with the performers' songs and dances.
Another fun attraction at Fort Wilderness is the Tri-Circle-D Ranch, which offers carriage, pony, and wagon rides; plus, you can enjoy sleigh rides at the Resort for the holiday season. There's also hiking, boating, kayaking, fishing, volleyball, and much more, making your group's stay at Fort Wilderness a blast.
Villas at Disney's Grand Floridian Resort & Spa
The Victorian-style Grand Floridian Resort and Spa is yet another Disney World hotel offering deluxe villas, letting your group enjoy luxurious accommodations while still having plenty of room for everybody. Room selection includes deluxe studios (can host 5 adults), one-bedroom villas (5 adults), two-bedroom villas (9 adults), and three-bedroom villas (12 adults).
In addition to the many great amenities that commonly come with villa packages, such as kitchenettes, microwaves, and refrigerators, some of the rooms also have porches and balconies. These balcony views are especially fun if you reserved a room looking out at Seven Seas Lagoon.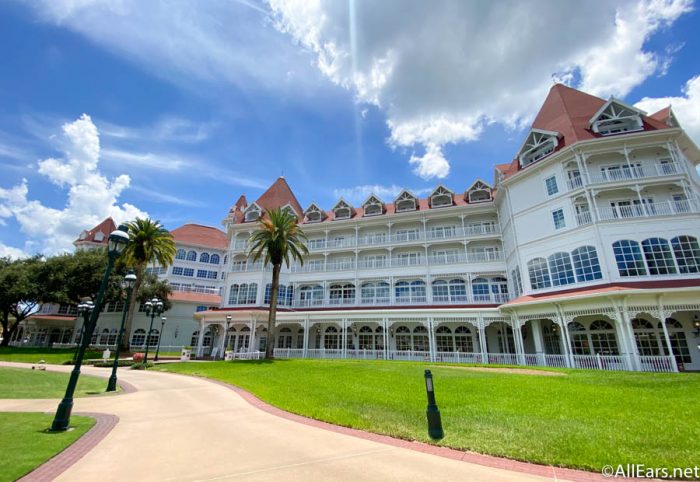 Deluxe rooms aside, groups will enjoy the Grand Floridian's exquisite design. If you really want to soak in the resort's elegance, you should check out Senses – Disney's signature salon and spa. You can get facials, massages, and other therapeutic treatments, all done with professional Cast Members and the best in spa equipment. Families will also love the Resort's dining services.
Victoria and Albert's emphasizes the grandness of high-end cuisine. And at 1900 Park Fare, kids can meet characters from Alice in Wonderland, Pooh, Cinderella, and more. (1900 Park Fare is currently closed.)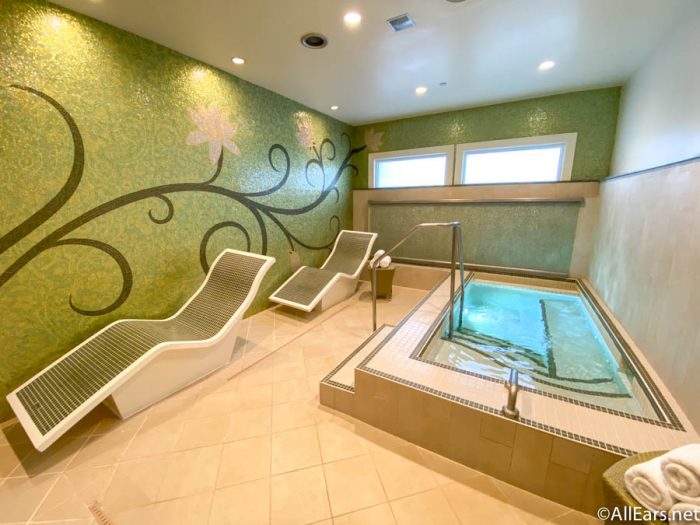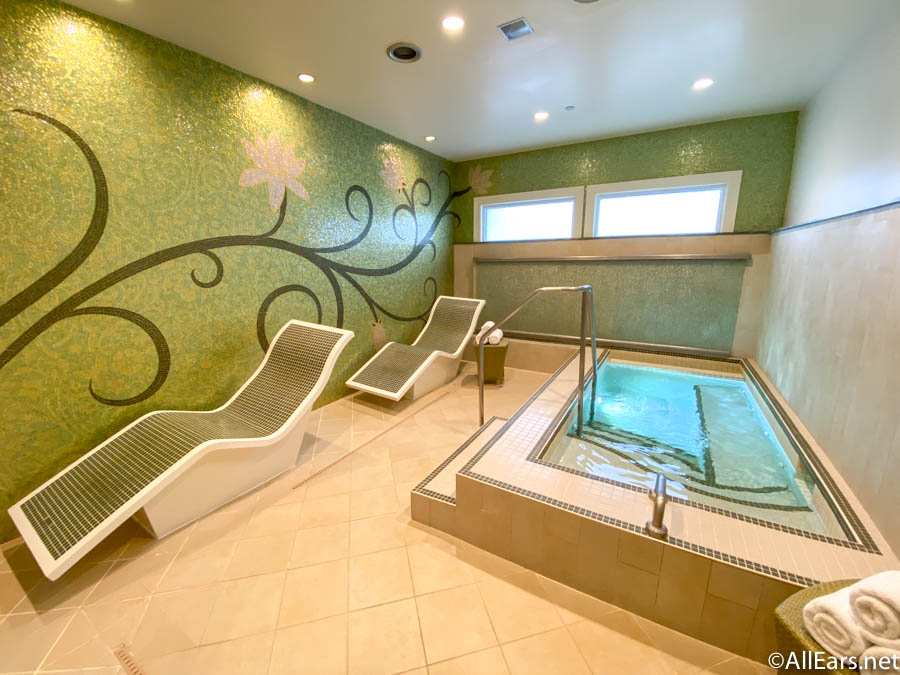 In addition, the Grand Floridian is ideally located for guests wanting quick access to Magic Kingdom. The Resort is connected via Monorail to Magic Kingdom, the Transportation and Ticket Center and EPCOT Monorail, and two other Deluxe Resorts. A walking path also connects the Grand Floridian to Magic Kingdom. With high-class accommodations and great proximity to Disney parks, this Resort is a terrific choice for your party.
Polynesian Resort Villas & Bungalows
If you want to enjoy a tropical vacation at Disney World, while also bringing a large group along with you, why not stay at one of the Polynesian Resort's villas or bungalows? The South Pacific aesthetic combined with the nearby beach and lagoon make the Resort a great experience, especially with the different villa options.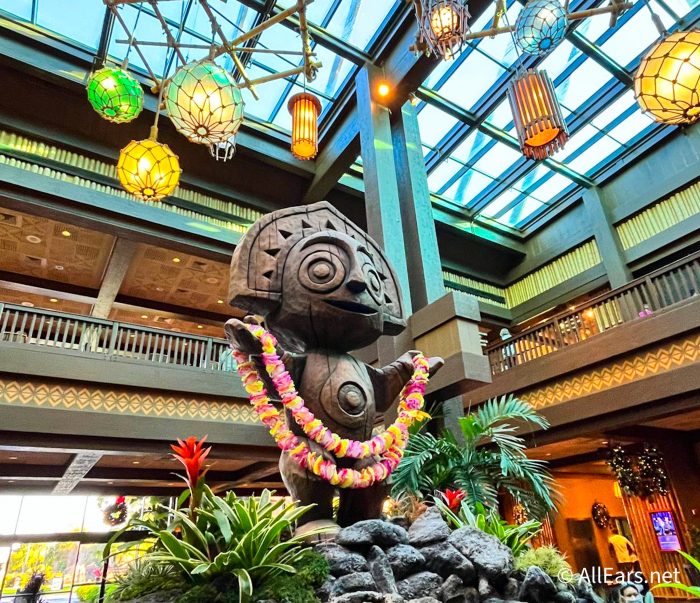 Available villa-style rooms include the deluxe studios (can host 5 adults) and the bungalows (8 adults). The spacious and comfy bungalows have many amenities like a private deck and a plunge pool in each bungalow, while also being decked out with colorful, Polynesian-inspired decor – making the bungalow one of the most interesting villa choices at the Disney World Resorts.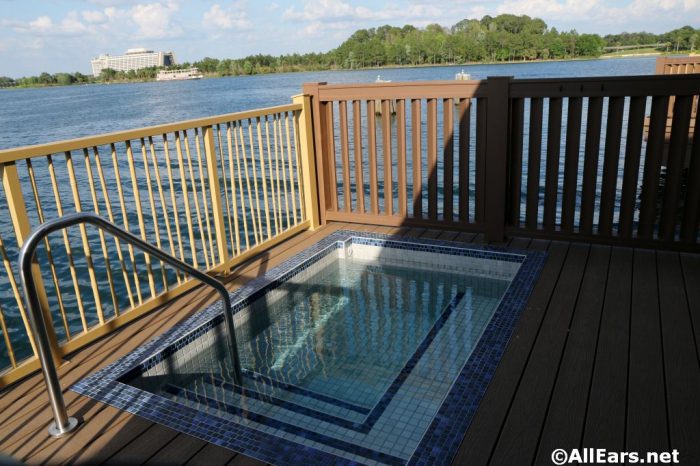 With its Hawaiian and Polynesian theme, the Polynesian Resort can be a lot of fun for everyone. There is plenty of recreation available like fishing, playing volleyball, and walking a path between the Polynesian and the Grand Floridian.
And you can also watch the Seven Seas Lagoon's Electrical Water Pageant from the beach. In addition, the Monorail network provides quick transportation to and from Magic Kingdom and EPCOT.
Riviera Resort
While most villas at Disney World Resorts started out as Deluxe Resorts that later added in villas, the Riviera Resort was built as a stand-alone Disney Vacation Club Resort from the very beginning. Heavily inspired by classic European vacation destinations in architecture and flair, the Resort embodies European hospitality.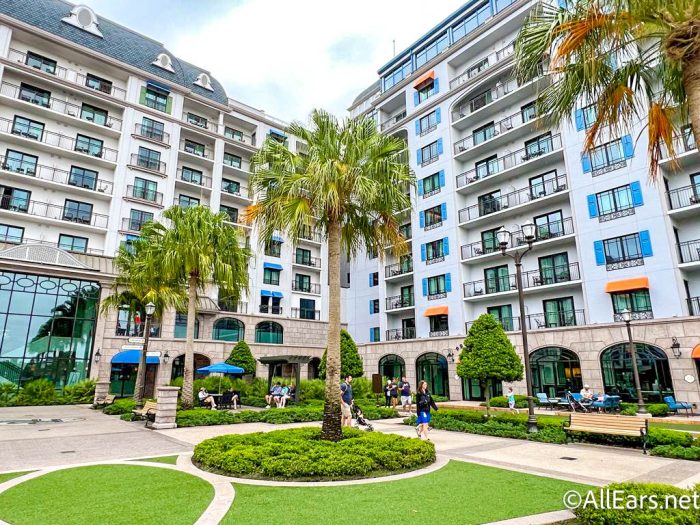 Rooms at the Riviera include deluxe studios (can host 5 adults), one-bedroom villas (5 adults), two-bedroom villas (9 adults), and three-bedroom grand villas (12 adults). All these spacious options are ideal for families and large groups wishing to stay on Disney property in style.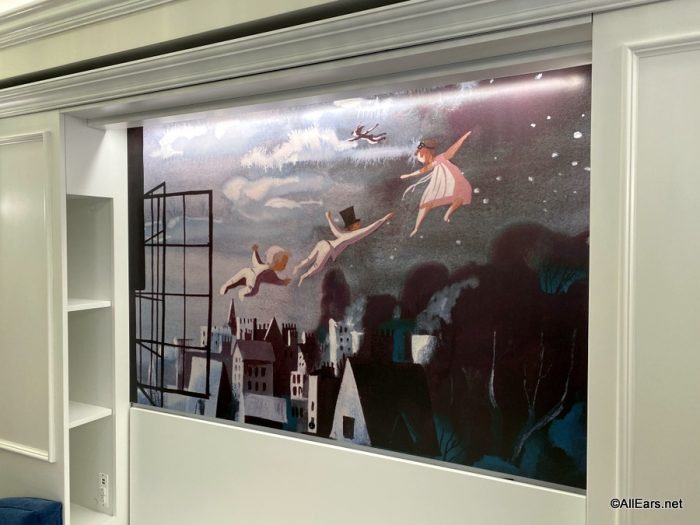 The Riviera Resort is a truly wonderful place to experience in all its grandeur, making you feel as if you're on holiday in the Mediterranean. In addition to the archways and other grand architecture throughout, the Resort also features a unique set of artworks, showcasing Disney characters in different classic art styles. Dining is top-notch, too, particularly Topolino's Terrace – Flavors of the Riviera.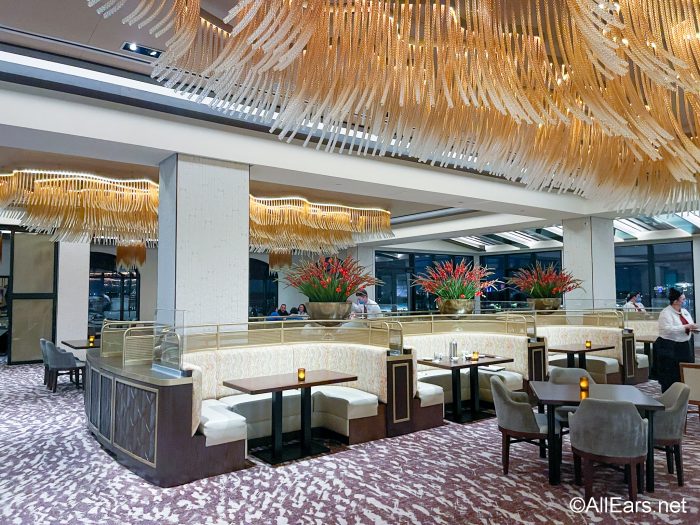 Situated at the resort's rooftop for amazing views, Topolino's specializes in both French and Italian cuisines. Breakfast is also fun at Topolino's as Mickey and Company turn up for Breakfast a la Art. Plus, the Riviera offers easy access to both EPCOT and Hollywood Studios via Skyliner.
Wilderness Lodge Cabins and Villas
Set up to feel like you're staying at a national park out west, Disney's Wilderness Lodge celebrates the great outdoors in style. The Resort has two areas with deluxe villas: the Boulder Ridge Villas and the Copper Creek Villas and Cabins.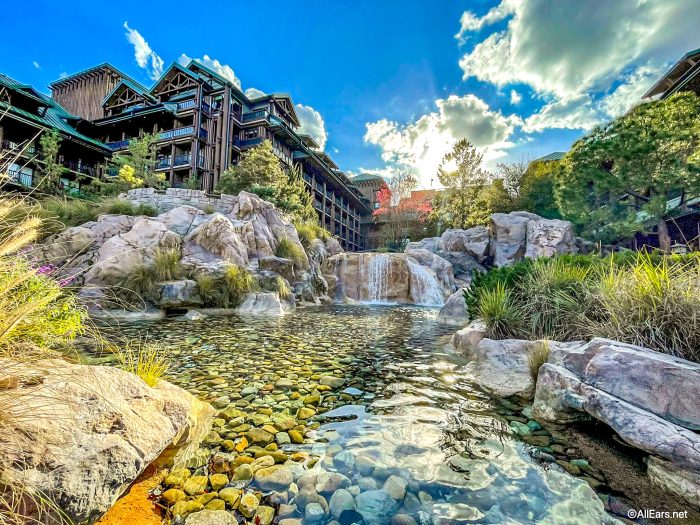 Copper Creek in particular sits right by a picturesque river. Boulder Ridge has one-bedroom villas (can host 4 adults), deluxe studios (5 adults), and two-bedroom villas (8 adults). Options at Copper Creek include one-bedroom villas (4 adults), two-bedroom villas (8 adults), and three-bedroom villas (12 adults).
But not only that, Copper Creek also offers cabins, which can fit eight adults. The cabins have many cool features like porches and hot tubs, so you'll feel right at home.
Even with all the civilized amenities, Wilderness Lodge still offers lots of outdoor recreation. For instance, you can rent motorboats, canoes, or kayaks to explore the lake or even go fishing with trained cast members.
There are also trails winding through the pristine woodlands and meadows, perfect for joggers and hikers – and bikers if you rent a bicycle. And you'll also like the Lodge's charming pools.
Boulder Ridge Cove Pool includes a whirlpool spa, while the Copper Creek Springs Pool, surrounded with realistic rocks, features a 67-foot waterslide. So if your family likes the outdoors, try out a cabin or villa at Wilderness Lodge.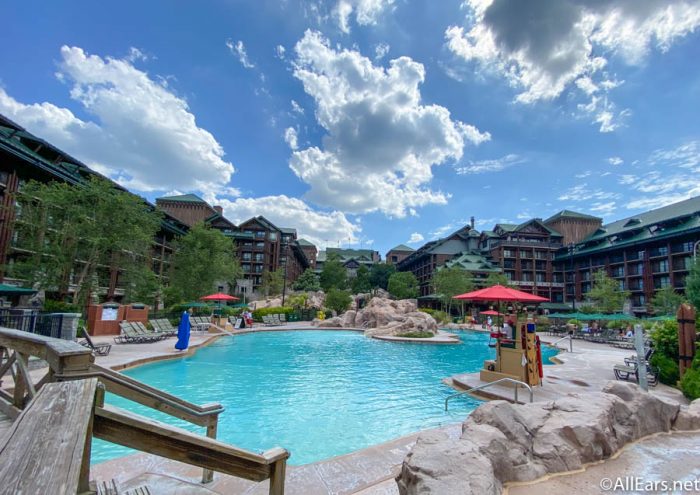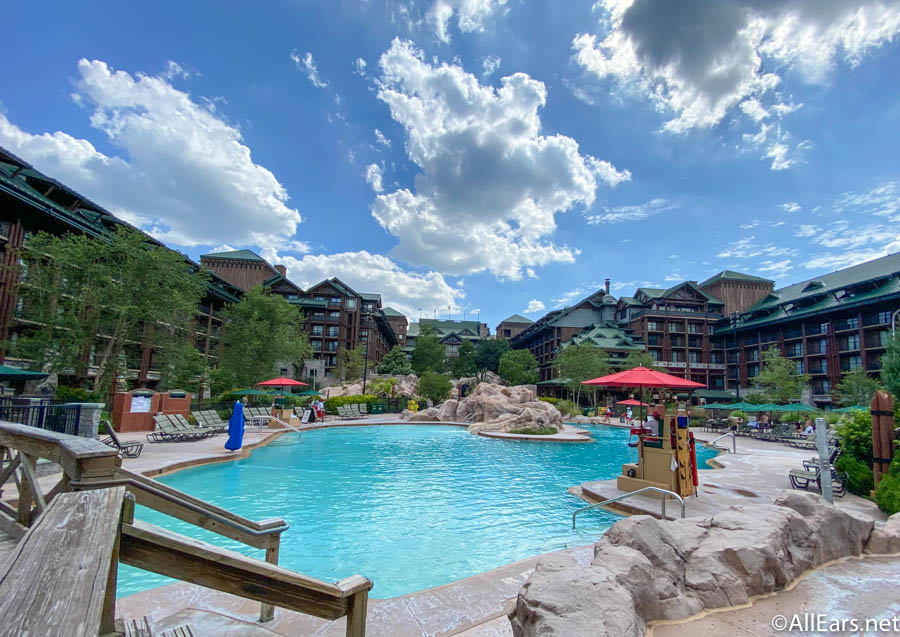 As you can see, coming to Disney World in a large group isn't a hassle, as long as you pick the right Resort. With one of Disney World's spacious villas and a Resort matching your party's interests, you'll all be on your way to having a spectacular getaway.
What are your favorite things to do at Disney World in a large group? Feel free to share in the comments!