We all have our lists. I have one I'm about to share with you. It's my Walt Disney World Fixit list. This list is comprised of things I'd like "fixed." Now in some cases I may not be mentioning something that is broken per se but let's say, it needs attention. Bear with me as I start my countdown:
#10 Wonders of Life Pavilion – What's up?
For those of us who remember when this pavilion was in its hey day, we found it to be very entertaining. Whether it was that film, "The Making of Me", or Body Wars, my favorite "Cranium Command" or learning about health, this pavilion could easily hold onto guests for an hour or so on every visit. Some people felt that Body Wars was a bit too rough at times but other than that, this pavilion had something for everyone. Since losing its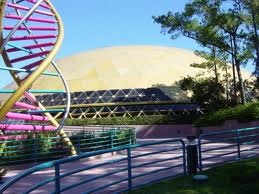 sponsorship in 2001 (MetLife was the sponsor), the pavilion's fate was pretty much set to eventually close down. Starting in 2004 the pavilion opened only during the peak times of the year which was usually late spring through summer and then around the Christmas holidays. If memory serves me correct the pavilion closed for good in 2007. Now it has been relegated to being the hosting center for both the International Flower and Garden Show every spring and the International Food & Wine Festival every fall.
That's all well and good but it is sad that a part of EPCOT and Future World that brought science, education, and entertainment together, was brought to a close. but I would love to see some health organization or insurance company pick up on the sponsorship and revive this pavilion and make it serve the purpose for which it was originally built, to provide Epcot guests with everything they need to know about living healthy lives. So this pavilion is not broke but it's been on my mind a lot these past few years and every time I see a shooting star I wish that the Wonders of Life would be revived…for the health of it.
#9 Imagination Pavilion – It's Time!
Imagine if we had left it alone. I'm really not picking on EPCOT. This pavilion was fine in it's original state. In 1998, after some 15 years in operation, the pavilion closed; reopened in 1999 and for two years, had a rough time with guests who found they preferred the original version.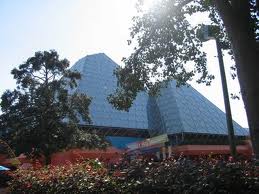 Closure came again and what we have today has been around since 2002. The original ImageWorks was outstanding and there were so many interesting things to do….not so anymore. Bringing back Captain EO last year gave a little boost to the pavilion but surely not enough to interest the masses. It's all too painful to see that this piece of EPCOT has two options in its future. One option is a complete "wipe and load" of the pavilion and the possibility of bringing back Journey to Your Imagination V1.0 which would make many a guest happy. There's something about having a lot of hands on exhibits that make museums real popular. Perhaps that's a formula worth looking at. The other option is tied to the very strong rumor, just a rumor mind you, that there have been plans in the works for over a year to do a complete demolition of this pavilion to make way for a new and exciting addition to Future World. Is there any way to tell if and when this will happen? I don't know. I can tell you this, the next time I'm in MouseGear I will be checking to see just how many pieces of Figment merchandise is on sale. If there is next to none then my imagination will go wild.
#8 Magic Kingdom's Noodle Station Enigma
To Noodle or Not to Noodle…that's what seems to be the question these days. What many of us still refer to as the Tomorrowland Terrace in Walt Disney World's Magic Kingdom, has been going by the moniker of Noodle Station for about six years now.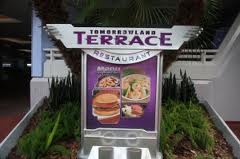 It's been a rocky six years.
I've had the opportunity to eat there maybe twice since then and it's not because I rarely go to Walt Disney World"¦I'm there quite often….please check my references. It's just that as much as I have spent some 210 days in Walt Disney World between 2005 and July 2011 I can count on one hand the number of days The Noodle Station has been open for business in those 210 days. Could it be coincidence? Could it be bad luck? Maybe I was not there during the peak crowd times? Is that what you are thinking? Hmmm. Winter, Spring, Summer, Fall. I've been all those seasons. So why is it rarely open? I've asked questions and have gotten back several answers…or what I think are more like theories. One thought is that there is not enough interest in the food offerings to justify keeping the counter open. Well, there is a lot of traffic that flows through there so traffic is would not an issue. Plus if guests KNOW the eatery is going to be open than perhaps they will visit more often. Again, just a theory. The second theory is that that it's hard to keep quick-service staff. Not buying that one because there are many, many counter-service locations around Walt Disney World and doing very well thank you. That leaves us with the third theory that says that preparation of the different offerings at this location is kind of tricky and preparing the food becomes a challenge to offer the guests good quality…hence closure comes because after a while the food preparation runs into problems. I'm still not clear about this last one because aren't there Asian counter service locations in EPCOT's World Showcase? Well, whatever the reason it would be nice to see The Noodle Station either remain open all the time or at least give the guests an idea of what operating schedule the counter will be following. That's what needs fixing. Now should I say the same for Tortuga Tavern or save it for another time?
Well, that's numbers 10, 9, and 8. The countdown continues in a few days.