Sure.
You're just now beginning to think, "Hmmmm, this coming week I should put candy and Halloween goodies on my grocery list because Halloween is right around the corner."
Well, the department store chains are way ahead of you. In fact you may notice that your favorite mall may be already showing signs that Christmas is right around the corner. In a very subtle manner that store footprint that has been allocated for the Halloween season is now, in a not so subtle move, being transitioned into that time of year where these stores look towards making their "numbers."
But they aren't the only ones looking ahead. So is Walt Disney World.
Of course the proof is in the Christmas pudding but allow me to submit the following.
Even though the Annual International Food and Wine Festival is at the halfway point and going strong in EPCOT there are signs that Christmas is right around the corner.
If you wander into Disney's Hollywood Studies and make your way to the Streets of America you will see some signs that "Christmas is coming the goose is getting fat" as shown by the following photos beginning with a shot of the main thoroughfare.
If you look closely at the buildings you can see the strings of lights already adorning them from top to bottom.
As you walk down and look up you can see the various structures that will light up the sky come the time when the Osborne lights are in full mode.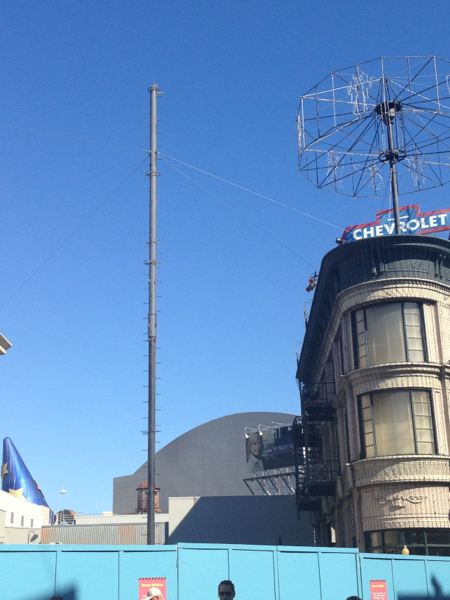 Here's a closeup of what those lights look like.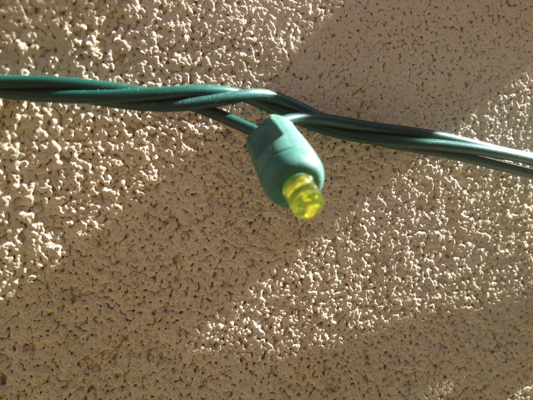 By the way…the most fun every year is locating the Halloween Cat…where will it be this year?
Now what some people call as San Francisco Street, but what is really named Gillespie Street, is already set up with it's famous canopy. Where is that darn cat?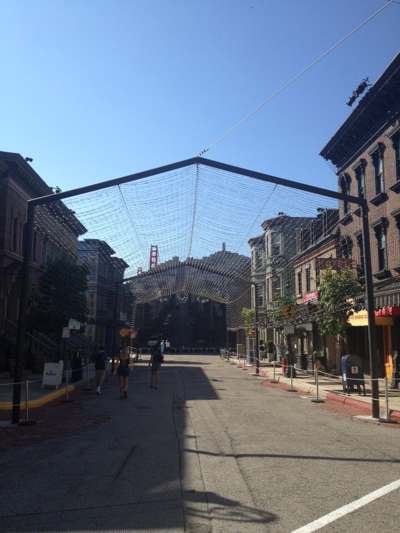 If you walk towards Lights, Motors, Action, you will see the huge display set up where Mickey meets Santa.
And speaking of Santa"¦he, and his eight not so tiny reindeer will be riding across the nighttime sky among the skyscrapers.
So as Disney's Hollywood Studios is already in full transition mode here's a thought. Take in and enjoy Epcot's International Food and Wine Festival and the Halloween atmosphere at The Magic Kingdom because before you know it…
…the Cranberry Bog in EPCOT will eventually be replaced by"¦well it won't be the Lights of Winter but some type of Christmas Decoration….
…the lampposts on Main Street USA will find these beauties"¦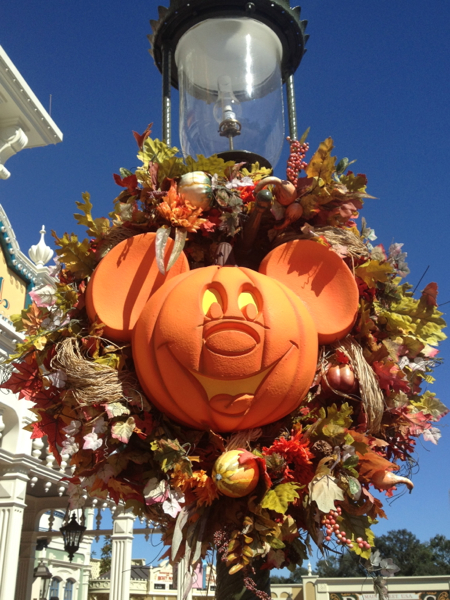 "¦replaced by perhaps "hidden Mickey" Christmas wreaths…
…and Magic Kingdom's Town Square"¦now bathed in orange and yellows and occupied with scarecrows…
…will soon be replaced by red and greens, and sporting a rather large Christmas tree.
Remember decades ago when the urban legends spoke of how Walt Disney World would go from no Christmas decorations to full blown decorations in 24 hours?
"Hey Cindy and Tommy tomorrow morning when you wake up the lobby will have all the Christmas decorations up and a big tree all lit…and the parks will have garland and wreaths…and trees…and…"
No.
This isn't a Dickens classic where the spirits do it "…all in one night!"
But you can hold your breath…because in less than three weeks Mickey's Very Merry Christmas Party and The Osborne Family Spectacle of Dancing Lights begin their 2012 engagement.
That's when this year's search for that Halloween Cat begins.