The Culinary and Beverage seminars held during Epcot's Food and Wine Festival are a great way to try new foods and wines at a reasonable price. For $11-$14, you can taste 3 wines at the beverage seminars, or 2-3 foods at the culinary seminars and see what you think. I've been surprised at some seminars, things I didn't expect to like, I did; and things I thought I'd love I didn't. A visit to the Food and Wine Festival should include at least one of these seminars.
The seminar on October 17 and 18th were, The Lasseter Family Wines, Sonoma California. As soon as I saw them announced I signed up for both sessions. It was clear that Nancy Lasseter would be the presenter (no expectations John would attend). I had enjoyed one of their wines at the Carthay Circle restaurant at Disney California Adventure earlier this year, and knew I would want to sample more.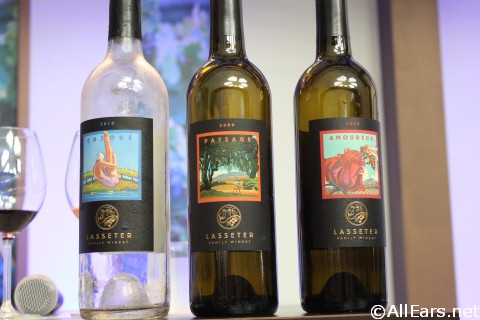 All Lasseter Family Wines are blends and at both seminars we would be tasting the same three wines, Enjoue, Paysage and Amoureux. (I should note that they did change their presentations from one day to the next. Some but not all information was repeated.)
Imagine our delight when we arrived and saw John Lasseter on the stage with his wife Nancy.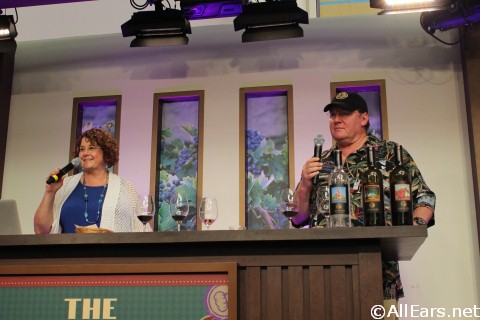 Together they shared the story of the winery and their wine making philosophy. "Our wines are crafted in an Old World-style, using Bordeaux and Rhône varietals to create unique blends. Estate-grown and bottled, our blends incorporate Malbec, Merlot, Cabernet Sauvignon, Syrah, Grenache, Mourvèdre, and grapes grown on our 27 acre vineyard property in Sonoma Valley, CA."
John joked at one point that he keeps his day job so Nancy can keep her day job!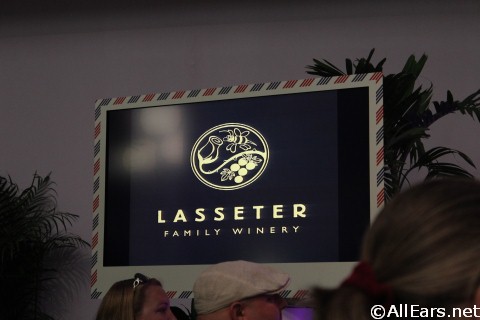 The Lasseter Family Crest – on a trip to Europe they visited with Roy Disney's family and saw that they had a crest. Nancy and John decided to create their own family crest. The bee is John, the Rose, Nancy, the 5 grapes represent their five sons.
It is abundantly clear that the Lasseters have poured their hearts and souls into their winery.
Each wine has a unique name that is personal to an experience they have had.
The first wine we tasted was a rose blend called Enjoue. "Our love of the dry rosé wines of southern France began while dining at a café terrace overlooking the Mediterranean Sea. Memories of that afternoon were the inspiration for our rosé. The name, Enjoué, a French word meaning "joyful; playful; lighthearted; sunny; buoyant; cheerful" captures the essence of this experience. "
The website says: "The zesty acidity, supple texture and a long, lingering finish allow this rosé to boldly pair with a wide variety of foods,seducing even the most skeptical red wine drinker. To us, it is a refreshing taste of summer and sunshine even on a winter's day."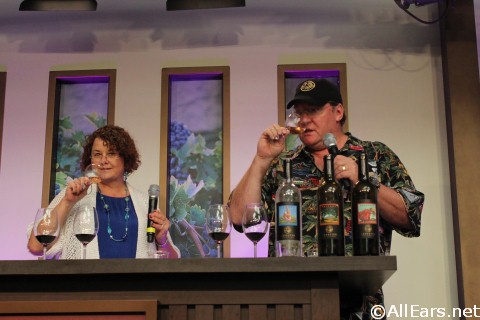 Indeed it got the attention of this red wine lover! Initially I dismissed the wine as I am not a fan of blush wines. However, I was greatly surprised to taste this refreshing flavorful wine, so much so I purchased a bottle. Perfect for summer evenings or really anytime! The wine has three red varietals Syrah, Grenache and Mourvadre.
The second wine we tasted is the Paysage. "Paysage, a French word meaning 'landscape painting' or 'countryside', evoking fond memories of St. Emillion's beautiful terrain and scenery and the blended wines made there. As our inaugural wine, it signifies the inspiration for Lasseter Family Winery. To us, this wine represents a painting of estate grapes nurtured on a rocky bench in the heart of Sonoma Valley and epitomizes how the family views different elements blended into a plein air painting, or in this case, blended into a Bordeaux-style wine."
The Paysage is 2% Merlot, 29% Cabernet Suvignon, 27% Malbec, and 2% Cabernet Franc.
Finally the Amoureux "We chose the name Amoureux, a French word meaning 'lovers', because this Malbec blend is reminiscent of when we first fell in love. We discovered Malbec while honeymooning in Sonoma; to this day, it holds a sentimental place in our hearts and delights our palates."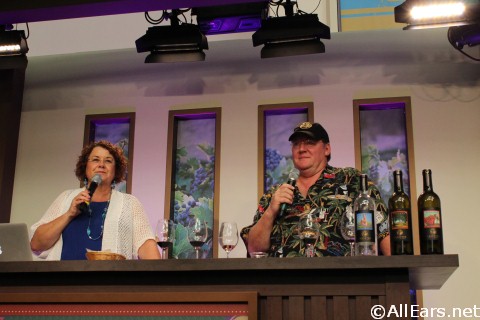 I totally enjoyed each of the three wines, all very different and unique.
Soon the wine tasting was done and it was time for wine and Pixar trivia. The prizes were logo items from the winery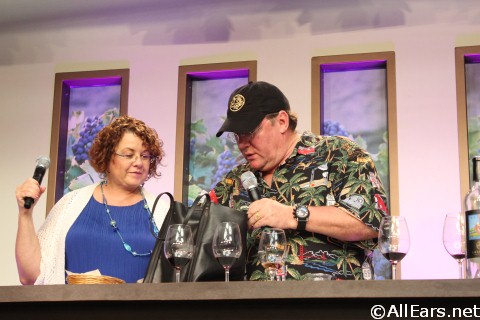 And all too soon, the hour was past and time to head to the bottle signing.
Bottle Signing – after a wine presentation, the winemaker/owner is sometimes avaialble to sign bottles of their wine purchased at the Festival Center Store. I have never had a bottle of wine signed before and learned a lot. Read up so you don't make the same mistakes I do.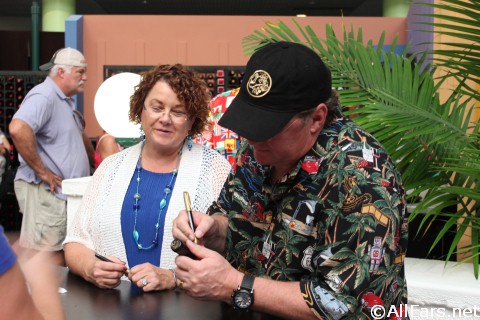 The first day I carefully took the 2 signed bottles and placed them inside the box provided by Disney. By the time I got home (about half hour later) and opened the boxes the writing was smeared! ACK! But quickly remembered I'd be returning the following day.
The next day I purchased 2 bottles and carefully let them air dry for about 20 minutes. I lightly brushed one with my finger and it seemed dry. This time I wrapped them in tissue paper and put them in the box. Again, when I got home, there was smearing, but not nearly to the extent of the first day.
Then today, I was getting ready to put one of the empty signed bottles on display and didn't realize my hand was still wet, and there went a few more letters off the bottle.
Anyone out there have some tips for me ?????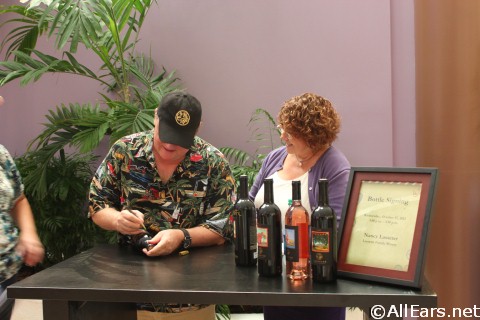 A special thanks to both Nancy and John Lasseter. They are so gracious and wonderful to meet! I hope to one day visit their winery in Sonoma California (visitors must make an appointment in advance.)