Today I am continuing with my countdown list of things in and around Walt Disney World which I feel need attention and has been needing this attention for a number of years.
Let's start with:
#7 Carousel of Progress – Diorama Dilemma
Anyone who knows me realizes how important the Carousel of Progress is to me. Having said that, let me add that the importance of the Carousel of Progress is why I feel so strongly that it is in need of some attention. Presently there are several dioramas within this attraction with each diorama showing progress made in the world of electricity and science to that point in time. Each diorama has a timespan of approximately 20 years…well, except for the last two. The difference between the last two dioramas jumps from about 20 years to about 70 years, going from the 1940's to present time. That's quite a jump and we all know that a lot of "stuff" happened between the 40's and the turn of the century.

So I ask myself why hasn't anyone done anything about this? Why has the CoP had next to nothing happen to it for so many years? Well, one reoccurring thought is that this attraction, although so very near and dear to Disney purists, may never be a candidate for a refurbishing because it would need the refurbishment from time to time. Well, yes! Perhaps every 20 years remove a diorama and replace that with a present time display of progress. That should have been something that could have started in the 1980's. Of course this would mean that the original version of the attraction would eventually be retired and never seen again. For me, I think that is what keeps those first dioramas firmly in place.
There is one other theory, there is a fascinating with the story of the Carousel of Progress and how it eventually came to be at the 1964 World's Fair. That and it's tie to Walt himself makes it very hard for anyone to want to change it….or at least the first few dioramas.
Still, I see the attraction confusing many first time visitors as they realize the inconsistency as they come across the final diorama and sooner or later this will have to be addressed. Sooner or later instead of staying pat with the attraction, they will have to give in to…well…progress.
#6 Peter Pan's Bump"¦erh Flight
Guests continue to love and flock to Peter Pan's Flight in Magic Kingdom's Fantasyland. So do I. When you think of it, of all the attractions that have resided in The Magic Kingdom, Peter Pan's Flight may be one of the few attractions that has never changed over the
years from opening day. Can you name the others? So why do I have this attraction on my fixit list?
I'm not looking for Walt Disney Imagineering to upgrade it, enhance it, or change anything. There is really nothing wrong with the ride except for one little bitty thing that has been bothering me for maybe as long as eight years.
Imagine yourself getting on this attraction and as you go through each scene you find yourself enjoying yourself so much that the attraction calms you down; relaxes you; makes you happy for where you are.
This is how i feel too. Then it happens. As my ship, as have many over these many years, slowly makes it's way pass Captain Hook calling for Smee my ship gets ready for the final turn and BUMP. That's right! Bump. It's as if someone has slammed on the brakes or there is a misalignment in the rail that the ride vehicle is sliding on but it happens every time. Is it too much to make that a bit smoother? I brace myself every time before that happens"¦do the small fry riding for the first time know it's coming? I don't think so.
#5 Spaceship Earth's Rude Paperboy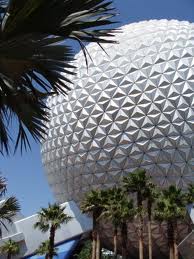 Between the summer of 2007 and February of 2008 Spaceship Earth went through some significant changes. When it reopened there were mixed reviews. Some guests liked the new look while others were puzzled. Of all the comments made regarding the renovations to the attraction the best I heard was that the new look Spaceship Earth was , "…an E ticket on the way up and an A ticket on the way down."
But there was something else that struck me about the attraction beyond the fact that the latest generation of audioanimatronics were added and that the entire ride down from the top would be dominated by a small video screen in the ride vehicles. It seemed minor at the time but over the last three years every time I ride this attraction I shake my head.
As guests ascend the huge geosphere and are told of the story of communication through the years eventually their ride vehicle passes by a section that has a very interesting audioanimatronic figure on the left side of the vehicle. The figure is that of a paperboy who is hawking his latest edition…hot off the presses…read all about it.
My problem? He's not just facing away from the vehicle. He is about as far away from the vehicle as he possibly can and who knows what he's saying.
Now I've been told that the boy is supposed to be facing that way"¦that he is really facing the street. That's all well and good but he's the only audioanimatronic that I know of who is completely facing away from the guests. Before the refurb wasn't he facing? Please give this machine some manners!
For the last three years I keep waiting to someday ride Spaceship Earth and discover that some imagineer has finally realized that they have created a very rude paperboy and they need to fix this issue.
We're only halfway there. We have five more to go.
Stay tuned.