There's a couple of new shows at Disney California Adventure. At the Redwood Creek Challenge Trail they are giving guests the opportunity to become Senior Wilderness Explorers, like Russell from the Disney/Pixar movie UP.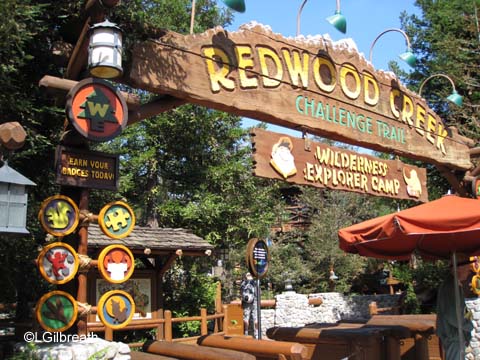 At the entrance, cast members are giving out a pamphlet which describe the tasks that must be completed to earn the Tracking, Bravery, Rock Climbing, Wolf Howl, Animal Spirit, and Puzzle Solving badges.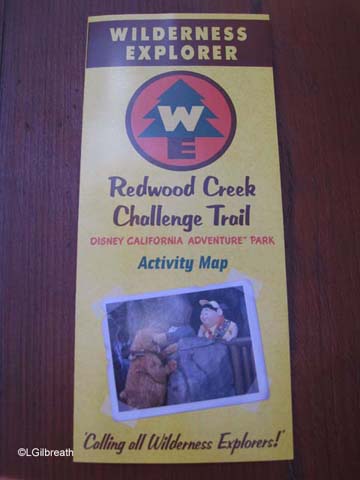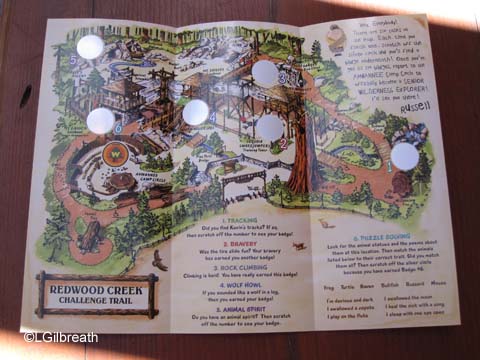 One of the first things to do is to find Kevin's tracks – I was able to complete that one! Whether or not someone has completed the tasks is on the honor system – for each task just scratch off the silver coating on the pamphlet to reveal the badge that was earned.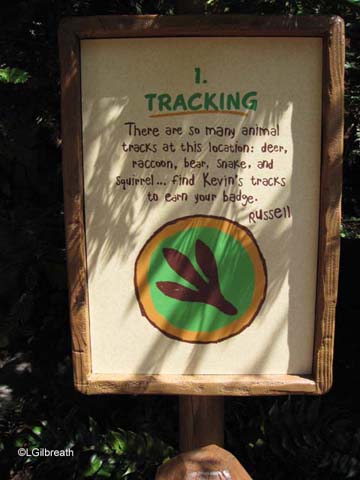 Upon completing all the tasks prospective Explorers should attend the Wilderness Explorer Ceremony. This show is held multiple times per day in the Ahwahnee Camp Circle.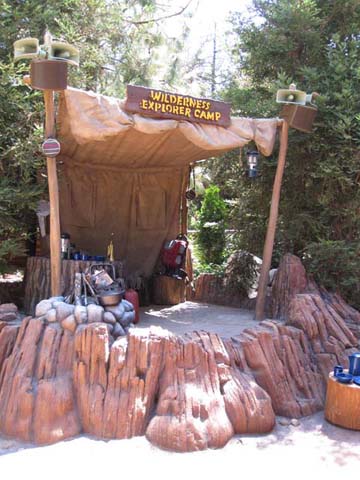 The Wilderness Explorer Guide selects several children from the audience before the show to march in with her to open the show. And then the audience receives instructions on the Wilderness Explorer Motto and the Wilderness Explorer Call:
Russell eventually arrives and everyone is promoted to Senior Wilderness Explorer.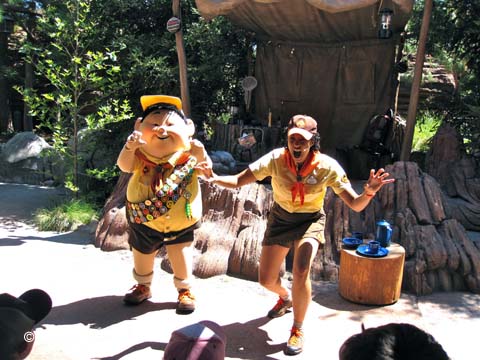 After the ceremony there is a meet-and-greet with Russell, which is where they hand out the Senior Wilderness Explorer badge.
The show is about 10 minutes long – for those at the end of the line the meet-and-greet will take longer than the show.
It's a fun idea, and it fits in very well with the Redwood Creek Challenge Trail. It was certainly very popular the morning that I was there – the show area was completely full, and I think they had to turn some people away.
The newest show is Phineas and Ferb's Rockin' Rollin' Dance Party. I must admit that I don't watch the Disney Channel, and I have no idea who Phineas and Ferb are. But this show seemed quite popular with the kids and tweens (I heard one girl say she wanted to see the show rather than getting in line for Little Mermaid). It's held along Paradise Pier near the entrance to The Little Mermaid attraction.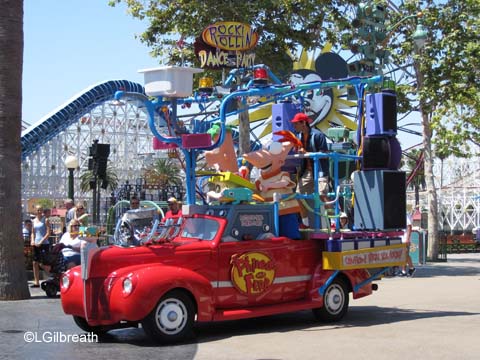 Two of the Fireside Girls lead out Phineas and Ferb's vehicle, with Phineas and Ferb and a DJ on board.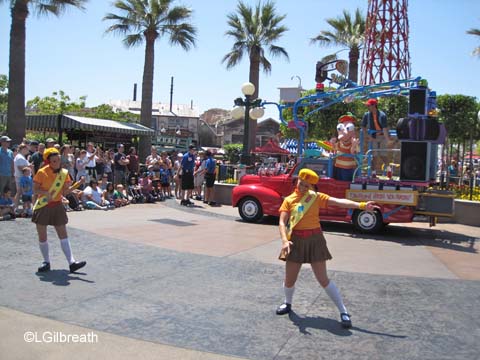 Audience members are invited to come out and dance along in a variety of dance styles from the Robot, to disco, a line dance and the Limbo. "Squirrels in my Pants" was especially popular. At the end of the show everyone posed for a group photo.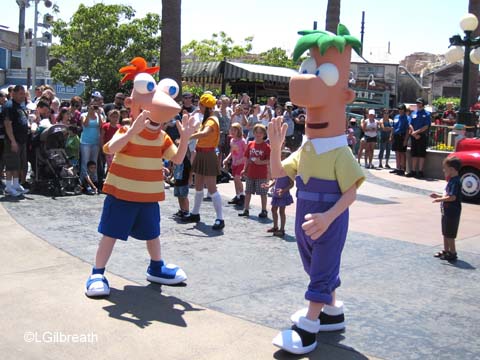 The show is about 15 minutes long.
The show area is outlined in tape on the walkway. Because the vehicle enters the area from the Little Mermaid side, guests are not allowed to stand on that side before the show starts, but can move into it after the vehicle arrives.