An interesting thing happened after watching Tarzan The Stage Musical based on the Disney film, this past Saturday. Five of the actors came back out on stage for a question and answer session with audience members who stayed. It seems that during the show's 13-day run at the North Shore Music Theatre in Beverly, MA, several folks from Disney Theatrical Productions visited. From what I learned, Disney hasn't given up on Tarzan completely and is considering making the show available and re-staged for local theater, school performances, and quite possibly returning to a touring production which was previously scrapped in 2009.
While I never saw the Broadway staging and can't compare that against what I saw on Saturday, I can go over what worked and what could use some pixie dust.
The particular theatre used is small with a circular stage, the center of which can drop or rise. The intimate setting was great for seeing facial expressions on the actors but it would, and probably did, play much grander on an average stage, facing one direction. While seeing Tarzan swing in from between seating sections or climbing a rope ladder in front of the first row puts you right in the action, it would have been more dramatic if he had swung in from a greater distance. I'm not complaining, if he was directly beside or in front of me, doing what he does quite well, I might not have even thought of such a suggestion.
One major change from the Disney animated feature to the stage is that Terk went from female to male. Terk also doesn't start off young like Tarzan. I wasn't sure this twist would work but it did, and fantastically, as played by Christopher Messina. Tarzan and Terk's relationship was brotherly. Messina was energetic, comical, and athletic with a great voice that showcased a toned down rocker scream. Keep an eye out for this adorable creature as he's sure to play Broadway soon. It's surprising he hasn't already, he's just that good.
Broadway alum Robyn Payne and Todd Alan Johnson portrayed Kala and Kerchak, respectively. Each actor did an outstanding job in his and her roles. Payne delivered a beautiful solo of Phil Collins' You'll be in My Heart but it was the duet version with Brian Justin Crum as Tarzan that truly tugged on heart strings.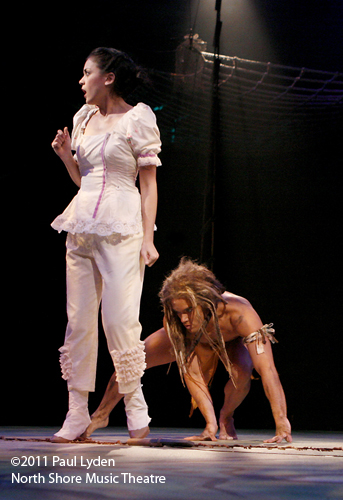 Andrea Goss has a lovely singing voice and did a great British accent in a naive version of the botanist, Jane, who falls for Tarzan. Jay Russell gave Professor Porter, Jane's father, some depth albeit in a role with too few lines for such a talented actor. The only speaking role that I couldn't connect with was Mr. Clayton, the antagonist as played by Eric Collins. He lacked that Disney villain essence we're all familiar with.
The star of the show, Brian Justin Crum was Tarzan in every sense of the character. He was strong, funny, tender, protective, aggressive, passionate and carried himself as an ape man both while standing and low to the ground. Crum sang Different, Strangers like Me, For the First Time, Who Better than Me?, Everything that I Am, and Sure as Sun Turns to Moon with just the right expression for each number. For me the most memorable were Different and Strangers like Me. Too bad they didn't record a cast album.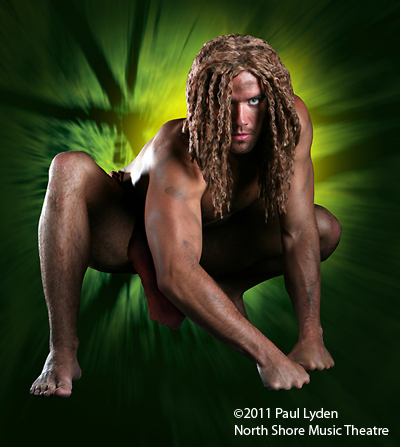 Where some improvements could be made to the show based only on the North Shore Music Theatre production would be the costumes for the animal characters. I had no idea it was supposed to be a jaguar who killed Tarzan's parents and stole the baby gorilla from Kala's arms until later in the show when the scene was mentioned. Except for the tail…it could have been a gorilla. Speaking of gorillas, their costumes weren't very defined either. I would actually describe them as wearing torn mesh brown sweaters and stretch pants. Lead gorillas (Kala, Terk, and Kerchak) were better but still have a way to go. The "yarn" danging off of what looked like bodysuits fell flat.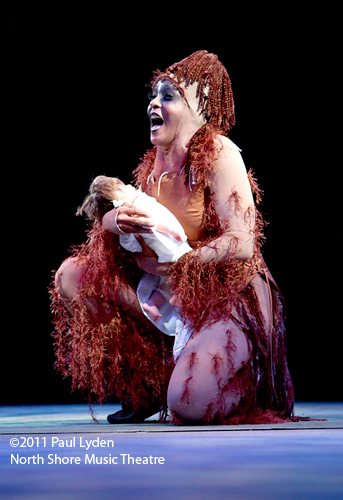 Everything else except for the hanging ropes that blocked the audience's view, and the awkward moments of dancers prancing on and off stage with fruit vines and other props, worked. The live orchestra sparkled and additional singers built up the vocal power from off stage.
I see no reason not to bring Tarzan the Stage Musical back into theaters as a touring show. If that happens, grab Messina to play Terk and Crum as Tarzan and sign me up as their fan.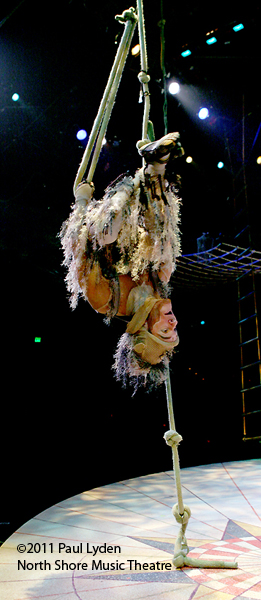 Find me on Facebook.