There's a series of photo books called, A Day in the Life, of which I own the California and Hollywood editions. A group of photographers set out for a 24 hour period photographing people of all types and ages. Some were photo shoots set up by appointment while others were by chance. This series inspires me as a photojournalist every so often to go out for a day and record history, monumental or otherwise.
While this week's theme wasn't shot by Barrie, Scott, and I on the same day. The idea is to share with you a glimpse into what we here at AllEars.Net do "behind the scenes."
Cathy Bock runs the Rate & Review portion of the website. Laura Gilbreath handles 99% of everything regarding Disneyland. These two ladies work hard to keep their respective sections of AllEars.Net up-to-date. When the time came for us (plus Deb Wills) to meet up at Disneyland, our sillier sides came out to play.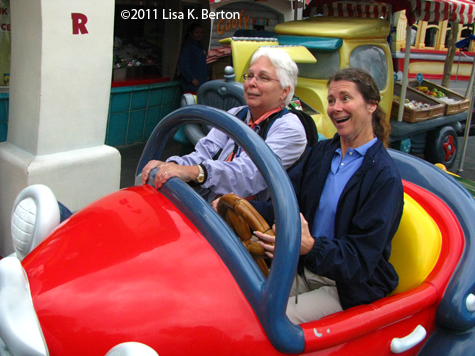 Cathy may never ride with a California driver (Laura) again!
Have you visited Walt Disney World or Disneyland recently? Submit a review of the resort, a restaurant, dining plan, behind-the-scenes tour or other popular topic by clicking on the link above. Do you live in CA and frequent Disneyland? Drop Laura a message if you're interested in helping her.
Yep, I'm on Facebook.