A new restaurant complex opened in the Paradise Pier area of Disney California Adventure at the beginning of July. Boardwalk Pizza and Pasta serves flatbread pizzas, salads, and several types of pasta, while Paradise Garden Grill serves Mediterranean-style skewers, with choice of meat or tofu, and choice of sauces.
There's a separate kiosk called Bayside Brews which serves a selection of beers and soft drinks, and several kinds of Mickey Mouse pretzels.
The entire complex has a very large shared outdoor seating area. There are lots of tables and chairs, and most of it is covered, with ceiling fans to provide air circulation. It's really very nice and it was pretty quiet when I was there – there were quite a few people just sitting and relaxing.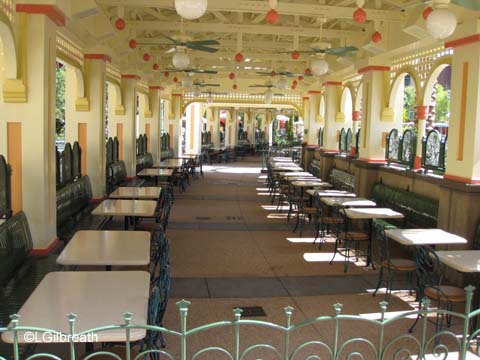 Boardwalk Pizza and Pasta has a food court type of set-up. There are different stations inside for the salads, pizzas, pastas, and kid's meals. Food items are pre-plated and self-serve, but if you don't see what you want (or have a special request) just ask the cast members behind the counter.
There are two self-serve beverage stations, one on each side of the restaurant. Both have soft drinks and hot beverages. Bottled water, juice boxes and chocolate milk are available in cold cases at the registers.
Only the hot portion of the kid's meals is available at the kid's meal counter. The packages of carrots/fruit and kid's beverages should be picked up from the cold cases at the registers.
Desserts and side salads are also found in some of the cold cases. After selecting all your foods and beverages, take your tray to one of the registers to pay, and then exit to the seating area outside.
Here is the MENU.
Photos of the food items are below:
| | |
| --- | --- |
| Italian Chef Salad | Boardwalk Field Greens Salad |
| Chicken Caesar Salad | Pepperoni Pizza |
| BBQ Chicken Pizza | Portobello Mushroom & Spinach Pizza |
| Cheese Pizza | Fruit Pizza |
| Chicken Sun-Dried Tomato Pasta | Five-Cheese Ravioli |
| Spaghetti & Meatballs | Kids' Spaghetti & Turkey Meatballs |
| Kids' Little Bell Pasta with Alfredo Sauce | Kids' Cheese Pizza |
Condiments, straws, and napkins are available at several stations outside.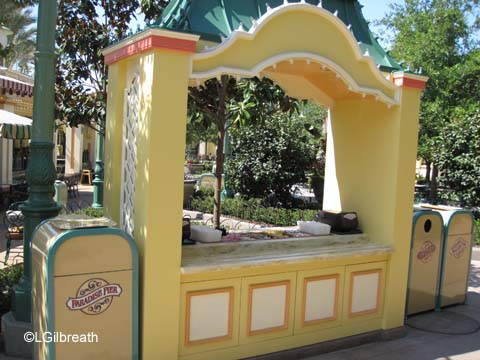 Paradise Garden Grill is a traditional counter-service restaurant where you place your order and pay at the register, then pick up your food at the window. The menu is limited – they offer skewers, which come with rice pilaf, cucumber salad and pita bread, and a Greek salad, with baklava available for dessert. The menu is HERE.
When it was time for lunch I decided I wanted to try the skewers from Paradise Garden Grill. I opted for the Tofu and Vegetable skewer. Each skewer comes with choice of sauce (Moroccan chili, chimichurri, tandoori yogurt, or tzatziki). I couldn't decide, and the cast member taking my order told me that I could ask for all four. Awesome. I wanted to try the baklava, but they hadn't gotten any yet. 🙁
I was very pleased the the skewer did NOT have peppers on it. There were two kinds of squash, red onions, and tofu. The tofu was rubbery and tough, but the vegetables were nicely grilled. I really enjoyed having the chance to try all four sauces. The chimichurri and tzatziki were my favorites, but they were all good. I'm not sure how well the Moroccan chili or tandoori would pair with the lemon-oregano chicken, though – depends on how strong the lemon and oregano flavors are. I don't think that one container of sauce is enough, so I would recommend that you request additional sauce.
The rice pilaf was very good, but I didn't care at all for the cucumber salad – which contained cucumbers and peppers, neither of which I like.
The grilled pita bread was very good – it was a full piece of bread, though it was folded in half to fit on the plate.
There's a bandstand in the seating area, and the Odyssey group was performing Italian favorites like "That's Amore" and the Tarantella.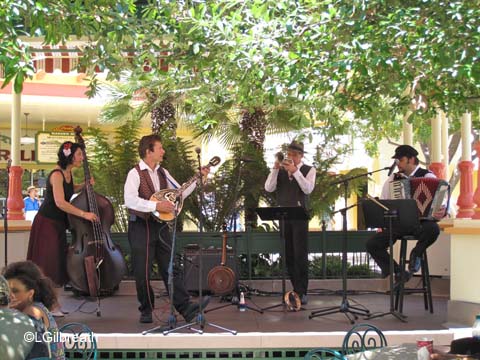 The restrooms are located next to Paradise Garden Grill.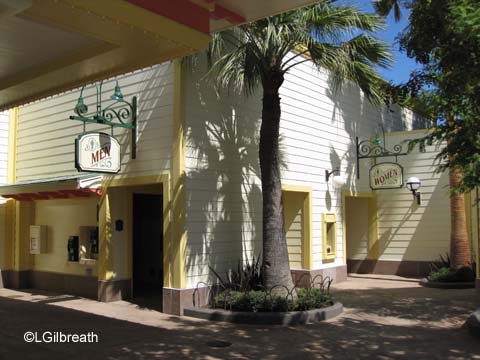 This is a very nice area, and the food was good – I was surprised that there were very few guests there at 12:00. Most of the people I saw in the seating area were eating corn dogs from the nearby Corn Dog Castle.
Here are some additional photos of the area. Have I mentioned that there is lots of seating?
| | |
| --- | --- |
| Entrance near Goofy's Sky School | Seating |
| | |
| | Entrance near Silly Symphony Swings |
Another new food location is Dulce Aventura, a snack kiosk that has opened in the Pacific Wharf area next to Cocina Cucamonga. Dulce Aventura offers sweet treats, like cookies, brownies, candy apples, and chocolate covered Mickey Mouse pretzels.
The menu is HERE. Those Oreo brownies look very tempting!
Next time I'll have photos and info on the two new shows: Wilderness Explorer Ceremony and Phineas and Ferb's Rockin' Rollin' Dance Party.