A Day in the Life is our Disney Pic of the Week theme for this week. This is an added bonus post I thought you would all be interested in reading.
In 1978, Bob Desmond was walking up Main Street USA for the first time on his honeymoon. By the time he got to the Partners statue, he had told his new bride he would someday work for Disney as an advertising photographer. At the time, they were living in Massachusetts. Bob made good on his prediction by 1987 and for the next 6 and a half years worked in Walt Disney World's Marketing department. During a managerial reorganization in 1994, when all departments at Disney were told to cut staffing, Bob had the lowest seniority and was let go. As tough as that was, it gave Bob time to pursue another love of his, the making of hand crafted guitars. His former managers did not forget Bob either and he has worked with Disney as a freelance photographer ever since.
After meeting Bob last Fall, I have enjoyed hearing about his adventures and seeing his work from both Disneyland and Walt Disney World. He has been doing most of Disney's character photos over the last 18 months. These are the photos you see in brochures, press releases, websites and signage around the parks. From Aladdin to Tigger (I do not think he has done Ursula yet but give him time), he has been doing what most of us would call a dream job.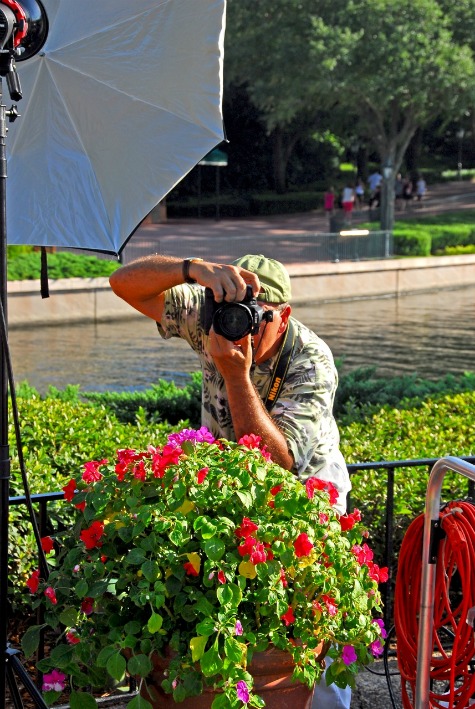 Disney photographer, Bob Desmond, working in Epcot's World Showcase.
As you might imagine, it is not all supercalifragilisticexpialidocious. Most of the photo shoots with the characters are done inside the parks. This means getting up very early in the morning before sunrise, setting up lighting, reflectors and other props as needed before the characters arrive so as to maximize everyone's time. Often the shoot calls for multiple locations which means having to work fast in a short amount of time as Bob and his crew need to be done before the parks open to the guests. Add the heat and humidity of an Orlando summer and one's energy can get sapped pretty fast.
Bob is an extraordinary person and photographer who delivers the photos requested by Disney in the best quality he can produce. His 20 plus years of working in the Disney parks is a tremendous asset which is why Disney seeks out his talent again and again. He often suggests ideas during the shoots to give Disney even more options and us, the guests, even more photographic reasons to return to the parks.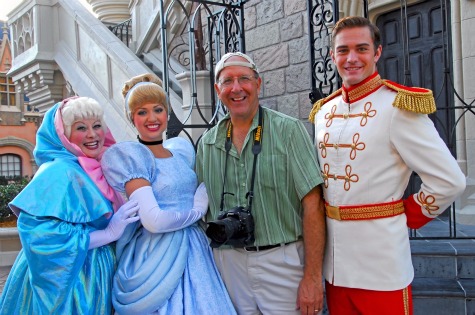 Disney photographer, Bob Desmond, and friends in the Magic Kingdom.
While it is hard work and has its ups and downs like any job, Bob has always told me how lucky he feels to be able to work within the parks and enjoys bringing out the best in the Disney brand with his photographs. In a recent email to me, he shared these thoughts, "I'm still working and shooting for the company that I love. It was intended by God for me to be there. I really feel that way. I have no other explanation for my good fortune."
I hope you enjoyed this special Disney Pic of the Week bonus feature. If you happen to see Bob walking around Walt Disney World, say "hi" and shake his hand for sharing with us some of the magic of Disney as seen through his photographic eye.