Five down and five to go.
#4 – Indiana Jones Stunt Spectacular Props
For the last several years I've been concerned about a little known area in Disney's Hollywood Studios that guests walk by without knowing what they are missing. This area is located to the left of the Indiana Jones Stunt Spectacular Theater as you exit the attraction. As you leave the theater you walk by some props…I should say…the actual props used in the film "Indiana Jones and the Last Crusade."
The problem is that over the years weeds and vines and growth has all but covered these props…jeeps…tank…trucks….and this has unfortunately caused many a guest to miss seeing this area. My wish was to see the area cleaned to reveal the props.
UPDATE UPDATE UPDATE UPDATE
My prayers have been answered. The following photos were taken in the last several days and reveal that not only has the area been cleaned but that there have been some additions…although I am not sure if these additions were props also in the movie.
Here are the photos….first the tank.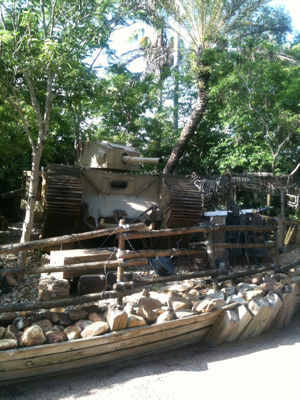 Then the truck.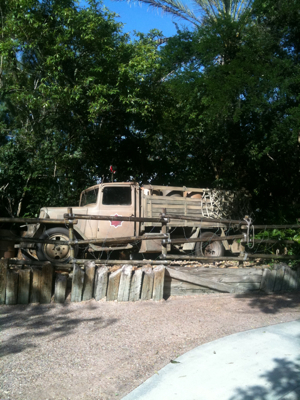 Finally the new additions.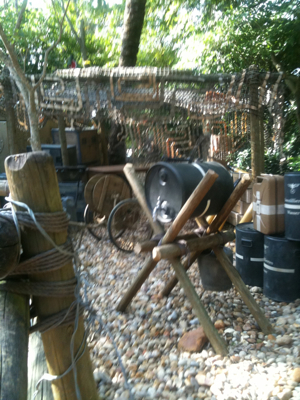 So this was my # 4 on the Fixit List and I'm happy to say that it will come off the list.
#3 Alien Non-Encounter in The Great Movie Ride
For a while it seemed that when I rode The Great Movie Ride in Disney's Hollywood Studios that the alien, for some reason or another, did not want to come out of the ceiling. Was it broken? Was it my deodorant ? It never attacked from the ceiling.
Well guess what?
UPDATE UPDATE UPDATE UPDATE
Look at the following photo taken just a day or two ago.
That's our favorite alien emerging from the ceiling. Hmmm, that's two on my list that can now be laid to rest. I'm happy.
Okay there are two more to come but first let me give you one more update.
Remember my #8 which was The Noodle Station at the Tomorrowland Terrace? Well apparently that quick-service area remains at least a half mystery.
Here is what greets guests as they approach the area.
Basically it looks like your average Walt Disney World Quick-Service stop…burgers…chicken…fries….the usual. But take another look at the sign…especially in the upper right…is that shrimp? It's not called The noodle Station yet…
…the walls are adored with…exhibit #1…
…and exhibit #2…
…so the jury is still out on The Noodle Station. Is it permanent? Is it gone? Is it seasonal? I don't know.
Update over.
My top two on my Fixit list are just around the corner…can you guess what they are?