I can't discuss Test Track without first talking about the early years of Epcot.
When the park opened on October 1, 1982, it was to be an "adult" park – a place where guests could learn about the challenges facing the world and how the companies involved with Epcot were trying to solve them. And while educating us, Disney would make this dry subject matter palatable and entertaining.
For those of you who visited Epcot soon after it opened, you might remember that Mickey, Donald, and none of their pals wandered the park. Disney felt that if guests wanted to experience the characters, they could go to the Magic Kingdom. However, parents with children felt differently and were vocal that their offspring were bored. Teenagers too, felt that Epcot offered them little to enjoy. Disney soon realized that they needed to make a few changes in order to appeal to a broader audience.
World of Motion, sponsored by General Motors, was one of the opening day attractions at Epcot. In many ways, this ride was similar in concept to Spaceship Earth. Both took guests back in time so they could witness a topic's transformation through the years. Spaceship Earth discussed communications in a serious manner, whereas World of Motion presented the story of transportation humorously.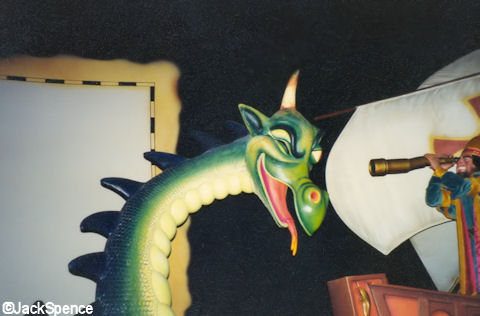 The first thrill ride (if you can call it that) to come to Epcot was Maelstrom in July 1988. Located in the Norway Pavilion, this boat ride takes guests past a Viking encampment, through the land of trolls, and eventually into the present. Along the way, your craft reverses direction several times and then sails down a small waterfall. In reality, the sights on this voyage aren't any more engaging than those seen on the El Rio del Tiempo/Gran Fiesta Tour in the Mexico Pavilion, but the simple "thrills" of Maelstrom gives this ride a continuous line whereas the Gran Fiesta Tour is usually a "walk-on" attraction.
The next thrill ride to come to Epcot was Body Wars, opening in October 1989. Located in the Wonders of Life Pavilion, this attraction used the same motion simulators as the ever popular Star Tours, only this time, your craft was shrunk to the size of a blood cell so you could carry out a medical procedure inside the human body.
This attraction never achieved the success Disney had hoped for. Many guests who loved Star Tours, found themselves nauseated after Body War's five minute ride. Whether it was the icky subject matter or the fluid motion of the vehicle, who knows, but people got sick on this attraction. Long lines only occurred during the busiest times of the year. Disney still needed a "wow" factor in Epcot – something that would appeal to the thrill seekers and a younger more adventurous generation.
By the mid-nineties, World of Motion had lost much of its appeal. General Motors, the attraction's sponsor, had started signing one-year contracts (instead of five or ten) until something could be done to shake things up and invigorate the experience. However, it was important that any new attraction would still educate guests and tell a story. Being Epcot, a "serious" park, Disney wanted justification for any "thrill" they designed. With that in mind, the idea of demonstrating to the public all that went into testing an automobile was born. Soon after "Test Track" went from concept to green light. However, things did not sail smoothly from the drawing board to reality.
World of Motion closed its doors on January 2, 1996. It was estimated to take approximately 19 months to gut the WOM building and build Test Track. The first announced opening date for Test Track was to be in mid 1997. But constant changes to the initial designs added huge amounts of time to the testing process. Couple this with extreme tire and axel problems, complicated guest evacuation procedures, computer problems, and overly sensitive safety sensors, the opening was delayed time and time again. It took almost two years to resolve all of the problems. Test Track finally opened on March 17, 1999. However, breakdowns were still commonplace in the beginning and it could take up to an hour to reset everything and restart the ride when it broke down. Today, gremlins visit Test Track far less often and the reset process has been reduced significantly.
Once Test Track opened, it set some records. The track is 5,246 feet long (2,600 feet being outside the building), making it Disney's longest attraction when it opened. California Screamin' at 6,000 feet beat Test Track when it opened in 2001. The People Mover/Rocket Rods at Disneyland has a longer track, but since these attractions are no longer operating, it takes them out of the mix. Also, at just shy of 65 miles per hour, Test Track is the fastest Disney attraction ever built. Expedition: Everest and Rock 'n' Roller Coaster both only reach a top speed of around 60 miles per hour.
In the design phase of Test Track, Imagineers spent many hours at real testing facilities and proving grounds, learning what an automobile goes through to become roadworthy. Much of what they learned is exhibited in the queue. Here, numerous bays display the various components of testing. One of the first exhibits presents a vintage automobile. The sign overhead describes the simple tests that these early cars were put through – nothing compared to the hundreds of grueling examinations a vehicle experiences today.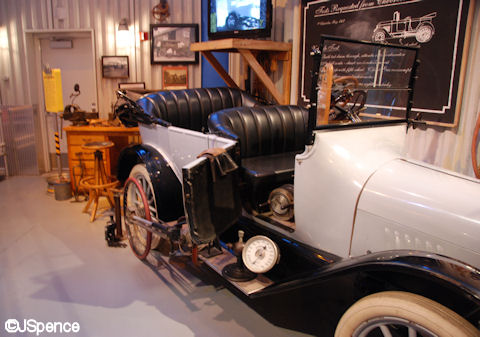 Engine, emission, and corrosion tests are just a few of the topics described along the queue. It is worth your while to read a couple of the signs as you inch your way along in line.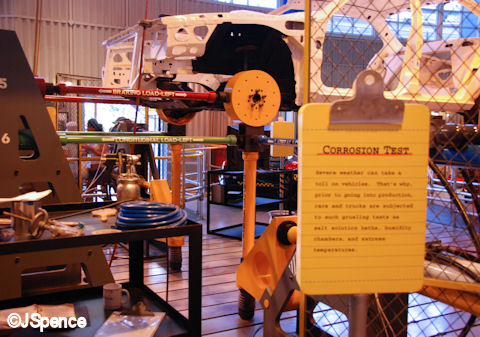 Before boarding your test vehicle, you enter a briefing room. Here, you watch a short video describing the tests you and your car will be put through. The director of operations in this video (Bill McKim) is played by actor John Michael Higgins, best known for his roles in "Best in Show" and "A Mighty Wind." Note, when Epcot first opens each morning, the Briefing Room section of the attraction is bypassed to help alleviate the onslaught of people arriving at Test Track.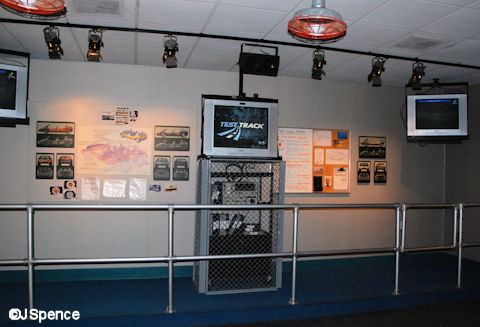 On the back wall of the Briefing Room are a number of aerial photographs of "test tracks" around the world. There is even a picture of Epcot's proving grounds.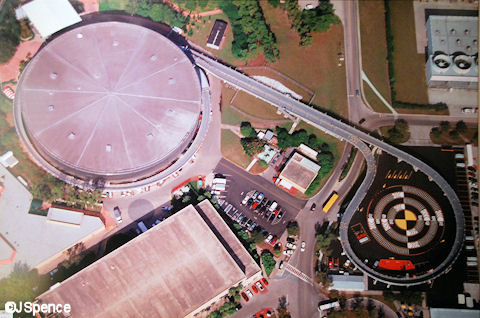 The ride puts your vehicle through a number of examinations. First, the Hill Climb Test is completed, followed by the Suspension Test that takes you over very bumpy surfaces. Next, demonstrations of how the ABS (Anti-lock Braking System) functions and helps a vehicle come to a smooth stop. After that, your car is subjected to extreme cold, heat, and corrosive sprays in the Environmental Chamber. For the Road Handling Test, the car climbs a hill, making numerous switchback turns and narrowly avoiding a head-on collision. The Barrier Test is next followed by the High Speed Test, taking your car outside for a race with the wind.
Be sure to look for the test dummy wearing a Goofy hat.
I have created a short video of the experience.
Here are some interesting facts about Test Track.
* It takes 8.8 seconds to accelerate from 0-65 for the High Speed Test.
* Each vehicle was designed to last for approximately one million miles and travels about 50,000 miles in any given year.
* Each car has three on-board computers and several times the processing power of the Space Shuttle.
* There are 32 vehicles in total, but only 25-26 are on the track at any one time.
* Each car as a total of 22 wheels, although only four are seen by the guests.
* There are six braking systems on each car.
* Each vehicle completes 34 turns during the ride.
* The roadway that runs alongside of the building is banked at 50 degrees.
* There are 85 road signs along the route.
* A 100-degree shift in temperature occurs as your vehicle drives through extreme desert heat and then piercing arctic cold in the Environmental Chamber.
* The ride lasts approximately five and a half minutes.
After the ride, guests walk through a small mockup of an automotive assembly plant. It's here that you can make arrangements to purchase your onboard photo.
From the assembly plant, you enter the showroom. A number of GM cars are on display and you can browse to your heart's content without an annoying salesman bothering you. And if you do have questions, General Motors employees are on hand to answer any inquiries at the Information Center.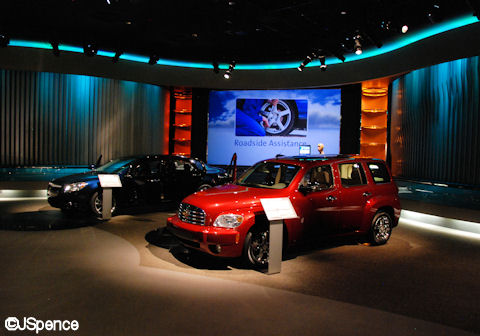 It's always fun to drool over the concept cars on exhibit.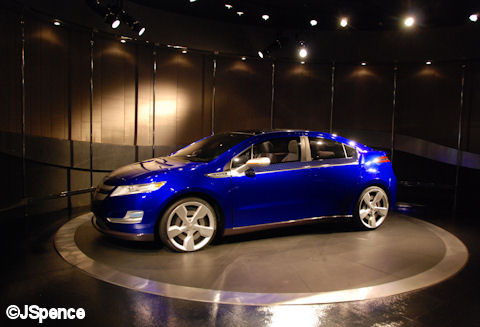 Currently, there is a display that explains what a hybrid car is and how, by combining the best of electric motors and internal combustion engines, outstanding mileage can be achieved.
Of course, no attraction would be complete without a stroll through a gift shop. Here you'll find both Disney and GM branded merchandise with an automotive theme. This is also the spot where you can purchase your on-board photo.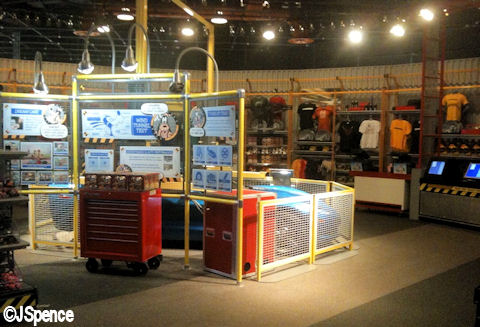 Like all Disney thrill rides, there are some requirements that must be met before boarding. Children must be at least 40 inches tall to ride and expectant mothers should avoid this attraction. All others must be in good health and free from high blood pressure, heart, back, or neck problems, motion sickness, or other conditions that could be aggravated by this adventure.
Test Track does offer FastPass. I would suggest picking up these puppies in the early morning. You don't want to have a return time in the late afternoon when you're all the way across the park in the France Pavilion.
There have been rumors that GM will not sponsor the attraction in the future due to its financial problems and government loans. But nothing official has been announced at this time. But you can be sure that Disney will keep this perennial favorite running no matter what happens. Test Track is to Epcot what Space Mountain is to the Magic Kingdom. People want to experience and enjoy this exciting ride for many years to come.