I am often asked what my favorite restaurant is at Walt Disney World. But that's a difficult question to answer. There are so many categories from which to choose. There are casual eateries, fine dining, and counter service. And it would all depend on my mood. But if someone were to tell me they wanted to have an elegant meal, within a theme park, I would have no problem giving them a recommendation, the Bistro de Paris.
Located on the second floor of the France Pavilion overlooking Epcot's World Showcase, the entrance can be found on the back side of Les Chef's de France restaurant. Open only for dinner, this eatery was established by Paul Bocuse, Roger Verge and the late Gaston Lenotre and serves creative variations on traditional French meals.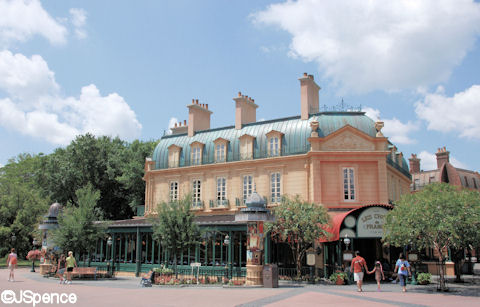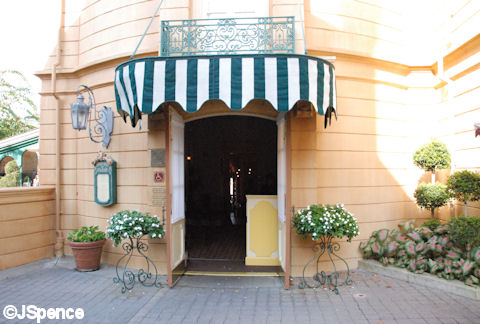 The antechamber of the restaurant is simple, but elegant. A number of satin covered chairs and flower bouquets create a graceful atmosphere. The curving staircase is inviting and makes you wonder what is waiting for you at the top.
When your reservation time arrives, a host or hostess will greet you on the landing and escort you up the stairs and to the dining room. An elevator is available for those who wish to ride.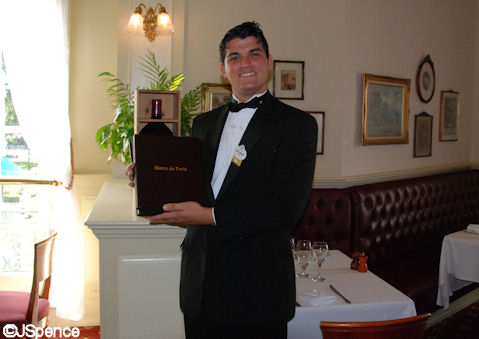 The Bistro de Paris is elegantly decorated without being pretentious. Its style captures the sophistication and romance of turn-of-the-20th century Paris. Cream colored walls and maroon upholstery are accented by mirrors, brass sconces, and milk-glass chandeliers. And unlike its downstairs counterpart, Les Chefs de France, the tables at the Bistro de Paris are spaciously arranged allowing diners a more intimate atmosphere.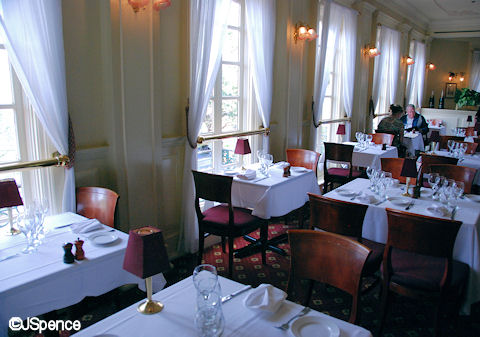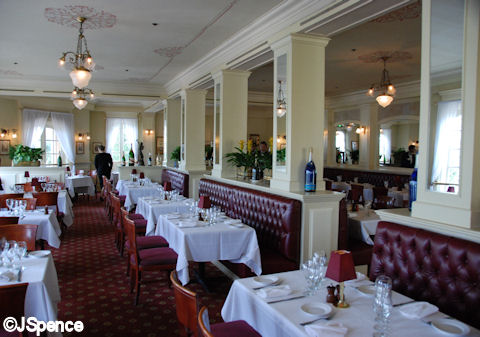 A number of tables are situated next to the windows, affording guests a wonderful view of the promenade below and other World Showcase countries in the distance. Most of these are tables-for-two and are seated on a first come, first served basis.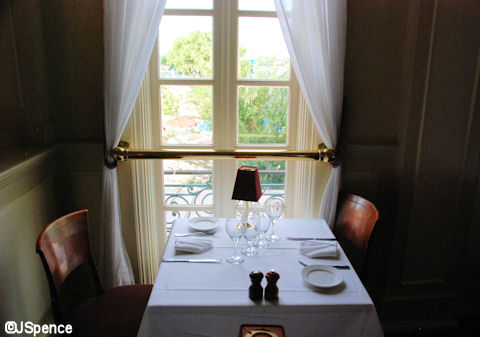 The tables are set quite simply as appropriate flatware will be brought with each course. The napkins are folded to represent a gentleman's coat.
I dined with my friend Donald and a long-lost out-of-town acquaintance that got back in touch with me after recognizing my name and picture on Allears. Kim was an Imagineer many years ago and played a part in the creation of the Bistro de Paris. We were seated at one of the few tables-for-four next to a window. From here we could see the Test Track building.
The Bistro de Paris cast members are from France and are working at Epcot as part of a cultural exchange program. This adds greatly to the authenticity of the restaurant and it's a lot of fun to engage them in conversation about their country.
A full bar is available and a drink is the perfect way to start your meal and slow down the pace of the evening. The Bistro de Paris is a special place and you don't want to rush the experience. While waiting for your waiter to return with your cocktails, another server approaches the table and offers everyone bread, which is served from a wicker basket. The rolls have a crispy crust and a delightfully chewy center. It would be so easy for me to make a meal of bread and butter alone, but what a waste that would be with so many taste-treats yet to come.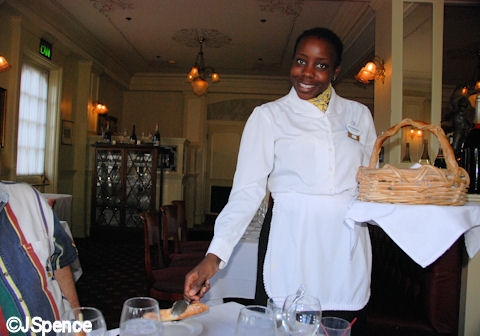 The first course is a complimentary hors d'oeuvre. This is a pleasant surprise that makes you feel all the more welcome. This appetizer consisted of a puff-pastry filled with a blending of crab and lobster, topped with cucumber slices and a cherry tomato. It was yummy.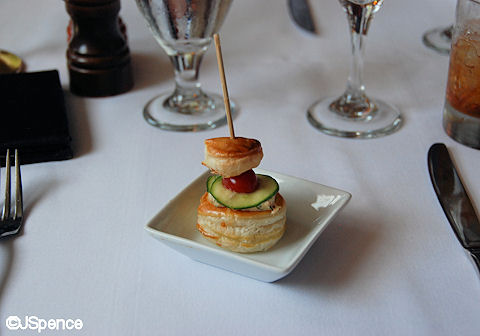 The Bistro de Paris has an impressive wine list and features French selections from the famed regions of Loire Valley, Alsace, Southern France, Bourgogne, and Bordeaux. The wines also have impressive prices, starting in the $50 range and going all the way up to $1,200. I selected a Pouilly-Fuissé ($59) which is a dry white wine made from the Chardonnay grape. It is pale and refreshing with a delicate flavor.
The Bistro offers an à  la carte menu and a prix fix tasting menu consisting of 3-courses, and is available with or without wine pairings. Since I was writing a review, we all tried to order different items so I could present a larger array of descriptions to you. And don't worry; the menu is presented in both French and English.
For an appetizer, Donald ordered the Chilled Tomato Soup with Cilantro and Tapenade Toast ($12). I took a taste and I'd have to say it reminded me a little bit of Gazpacho. I thought it was okay, but I think there are better choices available. However, the Tapenade Toast was quite good.
I ordered the Warm Goat Cheese with Basil and Sundried Tomatoes in a Crisp Shell accompanied by Baby Mixed Greens and Balsamic Vinegar ($13). The goat cheese was flavorful and nicely presented. I would have to say the mixed greens were more of a garnish than an offering, but the balsamic dressing was tasty. Overall, I was pleased.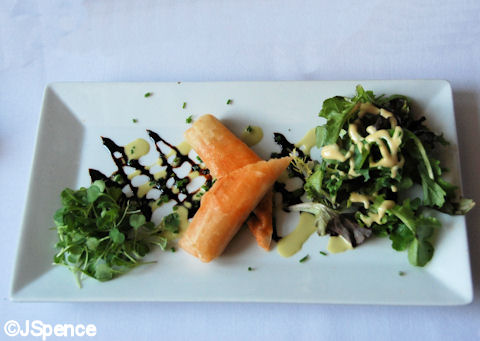 Kim ordered the Smoked Salmon Pastrami, Arugula & Mache Salad with Tarragon, Buckwheat Blinis, and Horseradish & Caviar Cream ($14). He definitely won first prize for his selection. The salmon had a smoky flavor, but you could make out pastrami nuances. And a larger serving of the buckwheat blinis could be an appetizer all by itself. Both were delicious and the presentation was outstanding.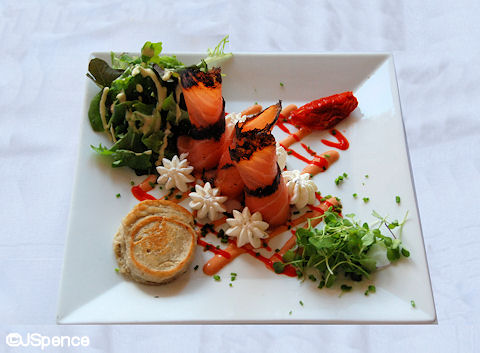 For an entr̩e, Donald ordered Seared Sea Scallops and Stewed Fennel with Seafood Safranned Jus ($32). And as you would expect, the scallops were extremely tender and not the least bit rubbery. I took a bite and liked what I tasted Рthe delicate flavor of the scallops was enhanced by the grilling and safranned jus. Once again the presentation was lovely.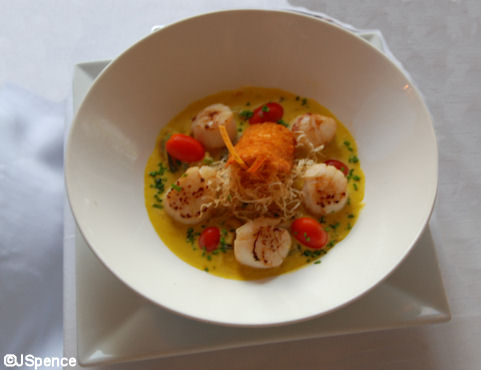 I ordered the Pork Tenderloin Stuffed with Mushrooms with Forestiere Sauce and Pasta Gratin with Truffles. I have to admit, I was somewhat disappointed with the serving size. Each of the two pork medallions only contained about two bites (maybe three very small bites). However, those four bites were quite enjoyable. The pasta gratin reminded me of very upscale mac-and-cheese. It was okay. Note, all three of my selections (appetizer, entrée, and dessert) were part of the prix fix menu ($44) so it's possible that my serving size would have been larger if I had ordered it à  la carte ($30). But I don't know this.
Kim ordered the Grill Beef Tenderloin, Beef Parmentier with Peppercorn Sauce and Asparagus ($38). I felt his serving size was much more reasonable. Kim let me sample his beef and it was melt-in-your-mouth tender and delicious. This was an excellent cut of beef that had been prepared perfectly. I wish I had ordered it. My only negative comment is that Kim ordered it "medium." I felt it arrived at the table somewhere between rare and medium-rare. Now this was perfect for me, but that's not the way Kim ordered it.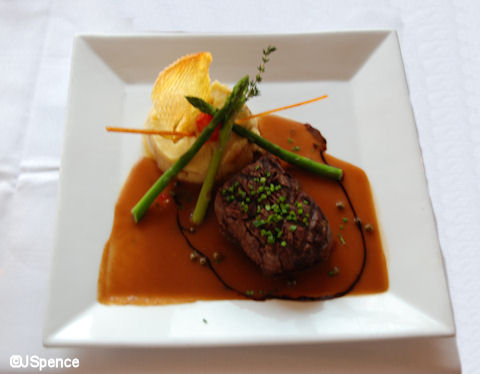 Now comes the best part of any fine meal, the dessert.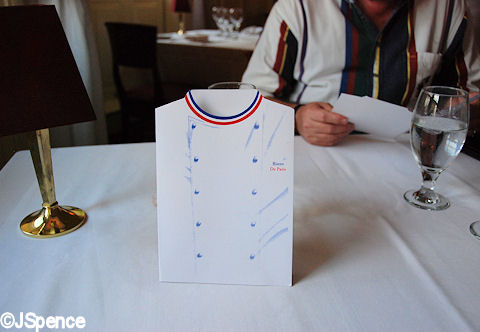 Donald ordered the Hazelnut Frozen Parfait with Meringue with Homemade Chocolate Ice Cream. Being a chocolate ice cream lover, he was hoping for a larger scoop, but other than that, he was happy with his choice. He felt that the light chocolate balanced nicely with the delicate flavors of the Hazelnut Parfait.
I selected the Warm Chocolate and Almond Cake, Crispy Feuilletine and White Chocolate Mousse, Praline Sauce. I didn't realize until I cut into my cake that in essence, this is the Bistro de Paris' version of a Chocolate Lava Cake. Thick, gooey chocolate oozed out of the creation and onto the plate. The dark brown liquid was rich beyond belief and oh so wonderful. Donald, the chocoholic, was envious of my selection.
And finally, Kim ordered the Warm and Frozen Grand-Marnier Soufflé. After his dessert was placed in front of him, our waiter cut into the warm soufflé and poured in the cream sauce. It looked magnificent. I tried both the warm and the cold soufflés and I would have been extremely pleased with either one as my dessert, but here you get both. Once again, I think Kim made the best choice of the three of us. All desserts are $11.
The Bistro de Paris is a fine dining establishment, but it's not meant to intimidate anyone. If you've always wanted to try a French restaurant, but were a little nervous about it, think about eating here. This is Disney. They're not going to make you feel uncomfortable.
Our meal took two hours and you should plan on at least an hour and a half – but probably more.
The Bistro de Paris is NOT on the Disney Dining Plan.
Also, being inside a theme park, they have a more relaxed dress code than you would expect for an establishment of this caliber. However, it is more restrictive than other Epcot restaurants.
Men: Khakis, slacks, jeans, dress shorts, collared shirts. Sport coats are optional.
Ladies: Capris, skirts, dresses, jeans, dress shorts.
Not permitted in dining room: Tank tops, swimwear, hats for gentleman, cut offs, or torn clothing. While T-shirts are now allowed, the policy remains that T-shirts with offensive language or graphics are not acceptable.
Although children are welcome at the Bistro de Paris, there is no children's menu – and the adult portions are not large enough to share.
To make reservations, book online or call (407) WDW-DINE or (407) 939-3463 up to 90 days prior to your visit. Beginning October 27, 2009, the dining reservations window will move from 90 to 180 days before your scheduled arrival. Be sure to plan ahead.