After I published my blog about the demolition of the Tomorrowland Skyway Station, one of my readers wrote and asked me to write a blog about this defunct attraction. I don't usually take requests for articles, but I felt that this was timely subject matter and decided to go for it.
The first Disney Skyway opened at Disneyland on June 23, 1956. Walt was so taken by this mode of transportation that he signed an agreement to purchase this attraction from the Von Roll, Ltd. Company without giving any consideration as to where this ride would be located in his park. But Walt thought of the Skyway as more than just a ride. He thought of it as another mode of transportation that could be used to carry people across large parking lots and shopping centers. He wanted to use Disneyland to showcase this idea.
There is a legend that says that part of Walt's inspiration for Disney World came to him while riding the Disneyland Skyway. From the lofty height of sixty feet, he could see outside the park and onto the rush-hour traffic of the Santa Ana Freeway that skirted his property. He knew then that he needed more land so he could shield any future project from the outside world.
There were three Disney Skyways in total, the second opening at the Magic Kingdom on October 1, 1971 (opening day) and the third at Tokyo Disneyland on April 15, 1983 (also on opening day). All three offered one-way rides between Fantasyland and Tomorrowland. The Magic Kingdom's version had the distinction of being the only one that made a turn in the middle of the journey.
It is often reported, incorrectly, that the Magic Kingdom closed the Skyway due to the death of a custodial cast member working on the attraction. Although it is true that Raymond Barlow was accidentally killed while cleaning a narrow Skyway platform, this had nothing to do with the decision to shutter the ride. Disneyland and Tokyo Disneyland had both closed their versions of this attraction before this death occurred. The decision to close all of the Skyways was strictly economical. These attractions were old and expensive to run and maintain. Also, they had low capacities. This made it harder and harder to justify on a "dollar spent per guest ride" basis. Combine this with the constant problem of teenagers spitting and throwing things on the guests below and it's not hard to understand why Disney said "Enough." The Magic Kingdom Skyway closed on November 9, 1999.
The Skyway was a perennial favorite of many people. Even though the line was often long, it was worth the wait once we were airborne and looking down on the many sights below. As you passed other gondolas, you would smile and wave to its passengers. And when you could see the terminus station come into view, you grew sad because you new your flight was almost over.
I have dug through my photo collection and pulled out my Skyway pictures. Please note, some of these pictures are old and of dubious quality. I have also included a video I took in October, 1986. It was shot using one of those old, large, "carry-on-your-shoulder" video cameras of the early 1980's. For many years, this film sat deteriorating on VHS tape until I finally copied it to a DVD. When I electronically extracted it from the DVD so I could share it with you, I lost additional quality. So please forgive this video.
The Fantasyland Station had a Swiss chalet design and yodeling could often be heard in the queue. (1983)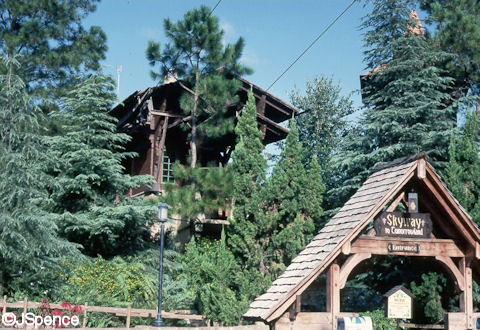 Leaving the station. (1972)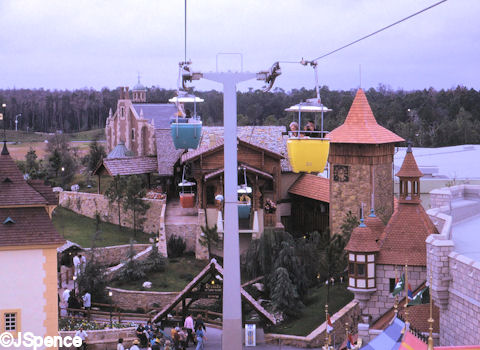 Here we see the Columbia Harbour House. (1989)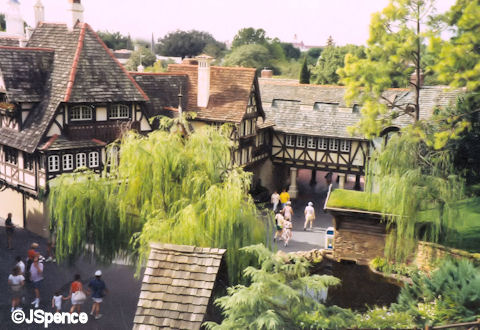 The Mad Tea Party is the the lower left of the picture. (1972)
Cinderella's Golden Carousel is dead ahead. (1983)
Looking back at the Peter Pan attraction. (1989)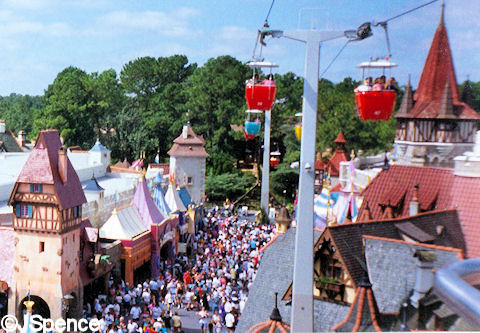 Down below is Pinocchio Village Haus. (1975)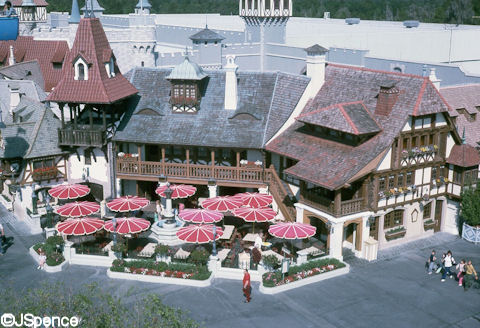 Here is a very old Dumbo attraction — before a major refurbishment. (1983)
An newer Dumbo and the 20,000 Leagues Lagoon. (1989)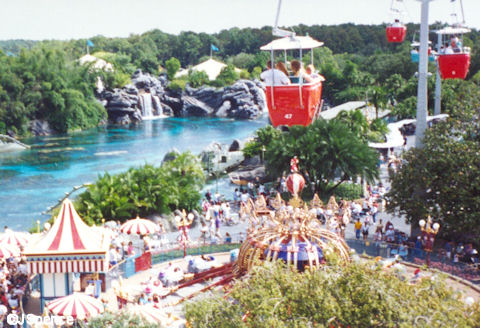 20,000 Leagues Under the Sea loading area. (1989)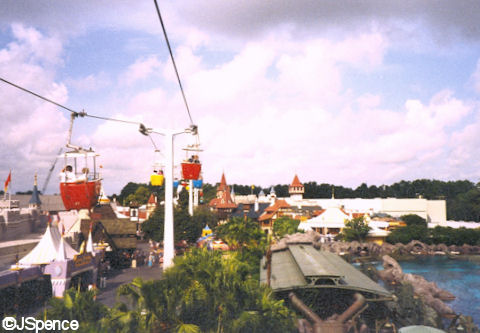 The Nautilus. (1983)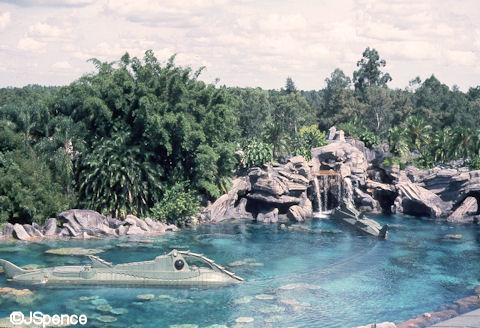 Tomorrowland Terrace. (1972)
Tomorrowland Terrace and Cinderella Castle. (1972)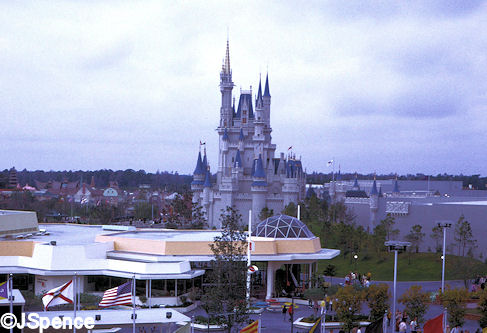 Grand Prix Raceway. (1975)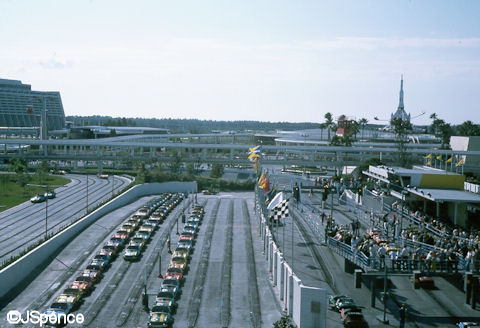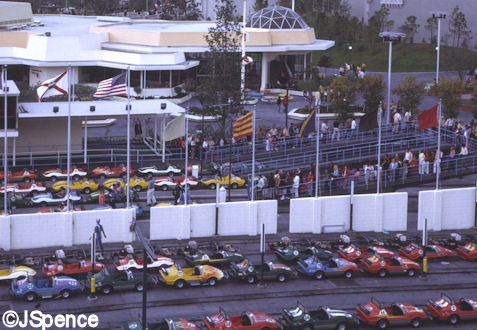 WEDway People Mover and Contemporary Hotel. (1983)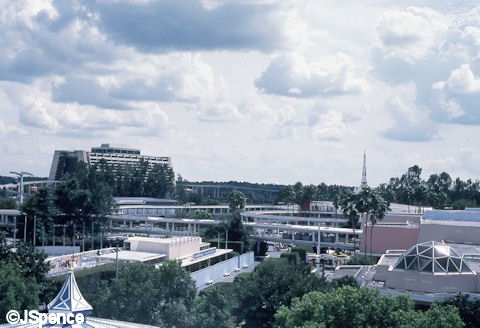 Tomorrowland Transit Authority (TTA) and the Skyway. (1994-95)
Space Mountain and the Contemporary Hotel. (1975)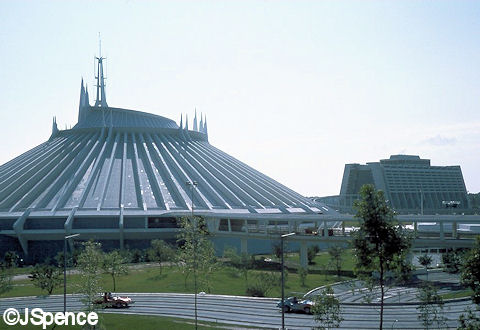 TTA and Astro Orbiter. (1994-95)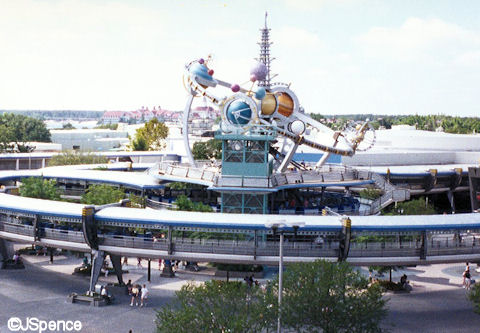 Tomorrowland Skyway Station. (1989)
Here's my video of the Skyway shot in October, 1986.