If you're planning a trip to Disney World in 2024, there are some important things you need to know about.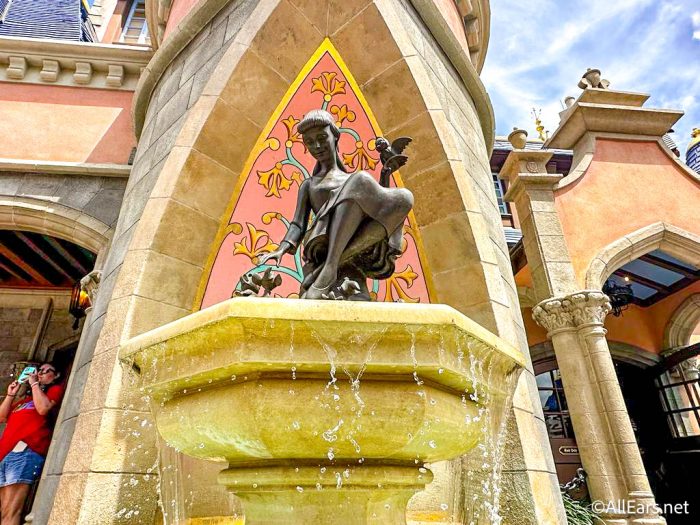 Genie+ changes are set to hit Disney World in 2024. Plus, Park Passes will not be required for the majority of guests, and the Disney Dining Plan will be back. Tickets, hotel reservations, and vacation packages for 2024 are already available to book, and we've broken down the cheapest and most expensive days to go, but what if you're planning to visit for a whole week? When should you time your visit to save the most cash? We have an answer!
Our Method
To find our answer, we looked exclusively at 7-day 1-park per-day tickets for Walt Disney World. Then we clicked through the ticket pricing calendar to see what start date would give us the cheapest price.
Remember that when selecting multi-day tickets, you'll pick a "start date" and be given a date range within which the tickets can be used. Your tickets can be used on non-consecutive days within that use timeframe.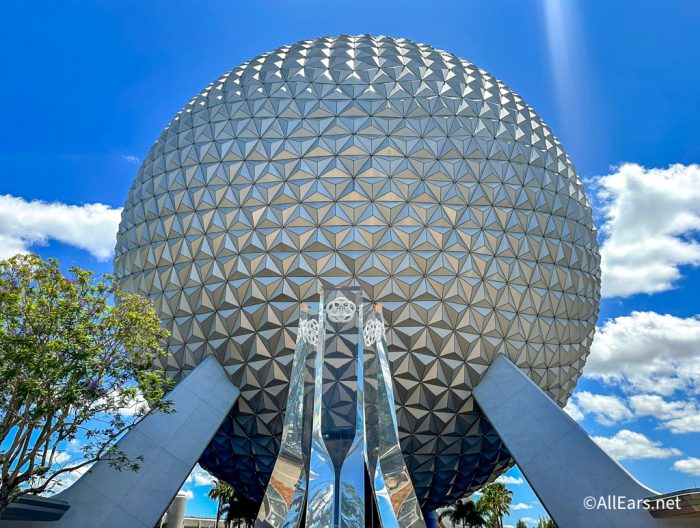 This is important because selecting the right start date can actually help save you even MORE cash than you might realize. We'll go through more details in the information below so you can see what we mean.
The CHEAPEST Week
After clicking through each day in the calendar, we found that the cheapest start date for 7-day, 1-park per-day tickets is August 20th, 2024 with a total price of $530.29 per ticket.
If you buy a 7-day, 1-park per-day ticket with a start date of August 20th, you'll be able to use those tickets on non-consecutive days between August 20th and August 29th. So even if you aren't planning to visit until the back half of that week (like from August 23rd to August 29th), selecting August 20th as your start date gets you the CHEAPEST ticket.
If you select August 23rd as your start date instead, for example, the ticket price jumps to $581.09! That's why we mentioned earlier that picking the right start date can be critical to getting the most savings.
Again, the price for the August 20th start date comes out to $530.29 per ticket for a 1-park per-day ticket. If you want to add on water parks and sports, that increases to $600.29. Adding the Park Hopper option increases it to $615.29, and Park Hopper Plus is $635.29 per ticket.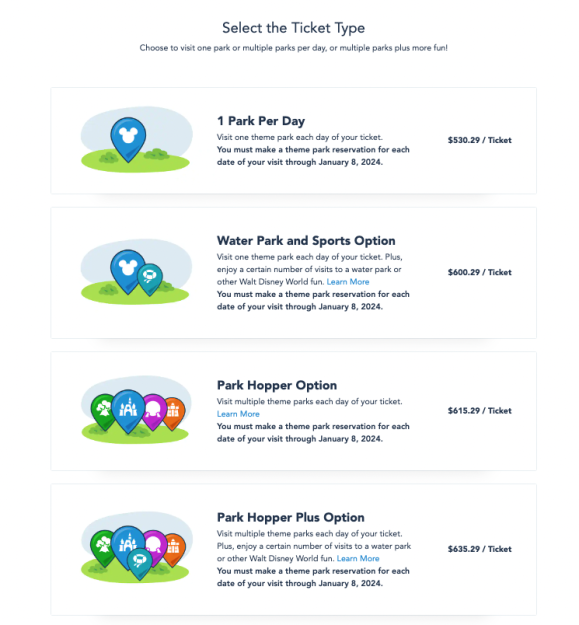 Those dates don't work for you? Let's check out some other options!
Runners Up
In terms of other cheap options, you'll want to mainly look at other dates in August. A start date of August 19th will get you a 7-day ticket for $540.20 per ticket. The 7-day ticket can then be used on non-consecutive days from August 19th through August 28th.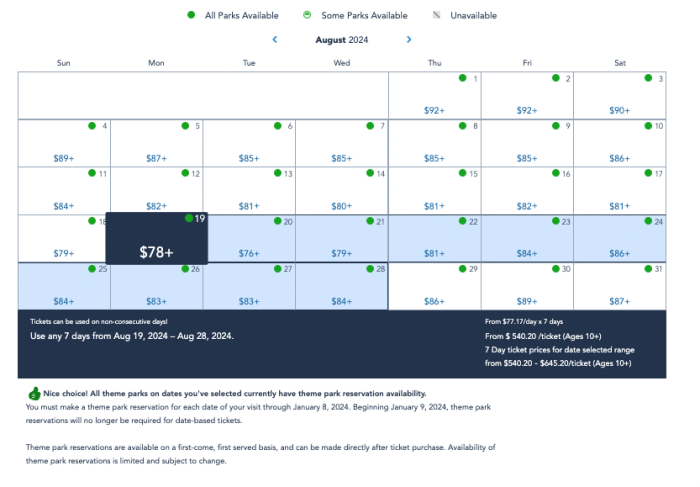 Another cheap option is an August 21st start date, which makes that 7-day ticket $547.22 per ticket. The ticket can be used on non-consecutive days from August 21st through August 30th.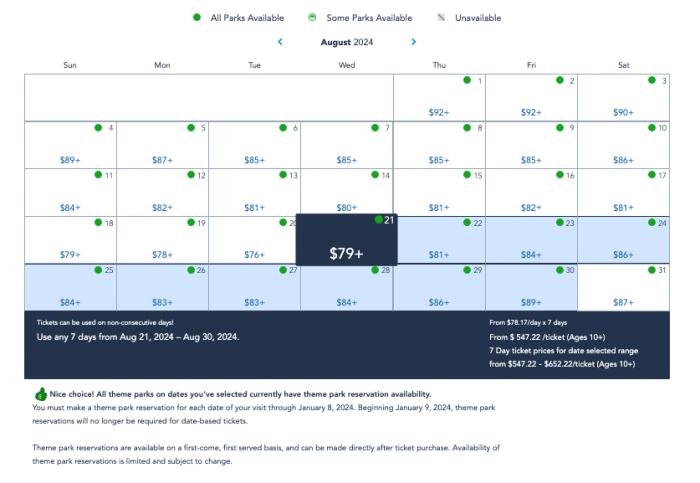 Various other dates throughout August result in some of the cheapest prices for a 7-day ticket in the entire year.
Other relatively inexpensive options outside of August include a January 3rd start date at $636.10 per ticket and a September 3rd start date at $552.18 per ticket. There are some other dates in early September where a start date for a 7-day ticket is in the $500 (instead of $600) range that you can look at as well.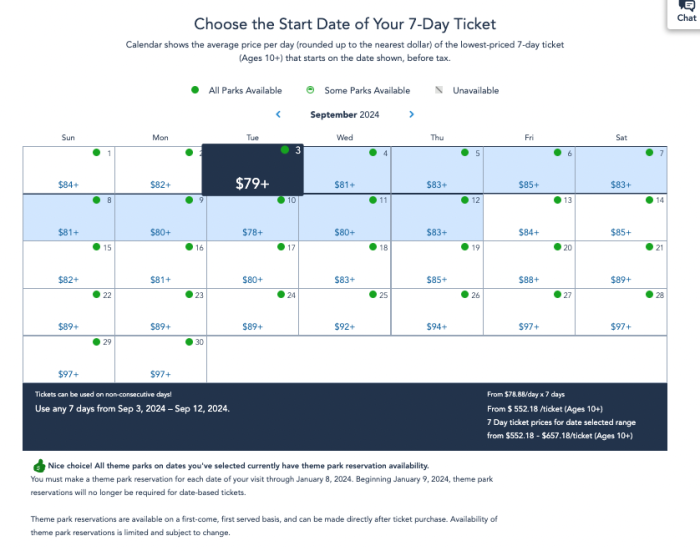 So if you're looking to go to Disney World's theme parks for 7 days, keep these dates in mind to try and get yourself the best savings!
If you're looking for a travel agent to help with your vacation, we recommend our friends at Mouse Fan Travel. They're experts in the field with over 20 years of vacation planning experience, and they can help take a bunch of the stress out of the entire booking process for you!


For more Disney planning help, click here to see why you might NOT want to go to Disney World in March 2024, or click here to learn about a ticket offer for 2023 that could help you save BIG.
Stay tuned for more news!
Will you be going to Disney World in 2024? Tell us in the comments!