TRON Lightcycle / Run has recently opened in Magic Kingdom, and we have all the details about the new ride!
We've ridden it ourselves, checked out the virtual queue, visited the new snack stand next to the ride, and even shopped the new merchandise. But if you haven't had the chance to experience TRON yet, you might have some fears!
We recently reached out to our readers on Facebook to ask "What are you most nervous about for the opening of TRON Lightcycle / Run?" and they had plenty of thoughts to share! Let's dive into some of the most popular answers.
Fitting on the Ride
The most common concern among our readers was whether or not they would be able to fit on the ride. This has been a hot topic of discussion since the ride first opened for Cast Member previews a while back, because some people who have larger calves and legs have found difficulty with the bike-style seat.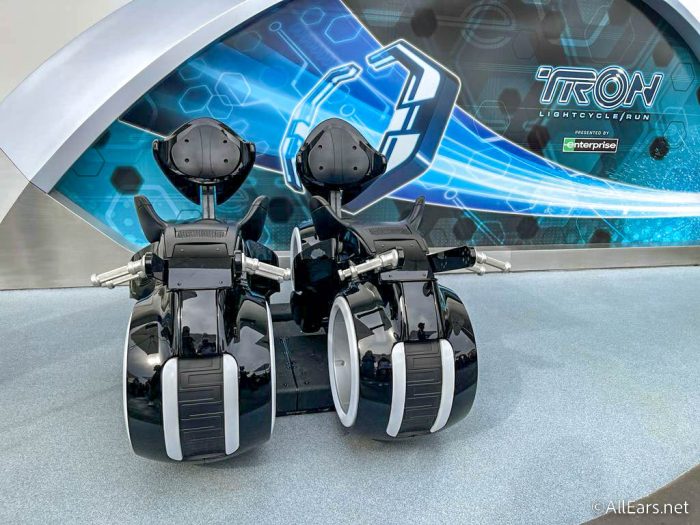 The bike itself has a leg restraint bar that drops down on the back of your calf, and if you have bigger legs, it could be difficult for you to fit. Generally, it seems that those whose calves measure 20 inches or larger may be the most at risk. We recommend measuring your calves beforehand and trying out the tester seat outside of the ride building if you have concerns.
But even if you don't fit — there is still an option for you to ride! Two of the coaster cars have a row of accessible seats in the back that are traditional seats with lap bar restraints. However, we've occasionally seen a longer line for these seats than the others on the coaster, so keep that in mind.
Ride Breakdowns
It's no secret that some Disney World rides break down…a LOT. This seems to be the case with Star Wars: Rise of the Resistance and Remy's Ratatouille Adventure, both of which are newer attractions with a trackless vehicle style. And a ride closure can throw a wrench into your plan for sure! That's why some of our readers are nervous about TRON breaking down frequently.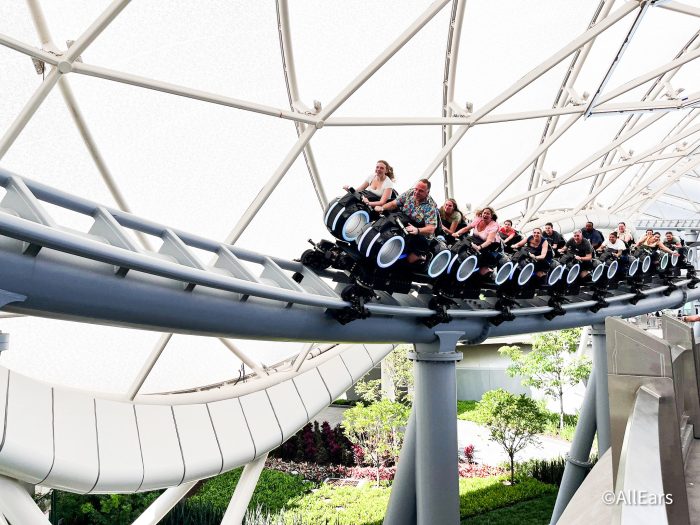 We've already seen TRON Lightcycle / Run have some downtime since it has been open, but it definitely hasn't been as frequent as many other rides. And in general, it seems like Disney can get the ride back up and running fairly quickly. Since it's operating on a boarding group system currently, you'll be able to return when the ride reopens if it goes down during your return window — they won't skip over you!
Just make sure to keep an eye on that My Disney Experience app to see when it reopens, and return quickly. The same is true for those who purchase the Individual Lightning Lane.
That It Won't Be Worth the Wait
Even though TRON Lightcycle / Run is using a virtual queue, there is still a standby wait when you arrive at the attraction. You'll wait in an outdoor queue for a little while until you get to the entrance of the building, where your boarding pass will be scanned to allow you entry into the ride.
On the opening day of the ride, we saw this queue grow to over an hour in length, even with the boarding group system. And after you've waited outside in the heat for that long…will TRON still feel worth it? Several of our readers were concerned about the ride-to-wait ratio, with one even saying, "It'd better be world changing."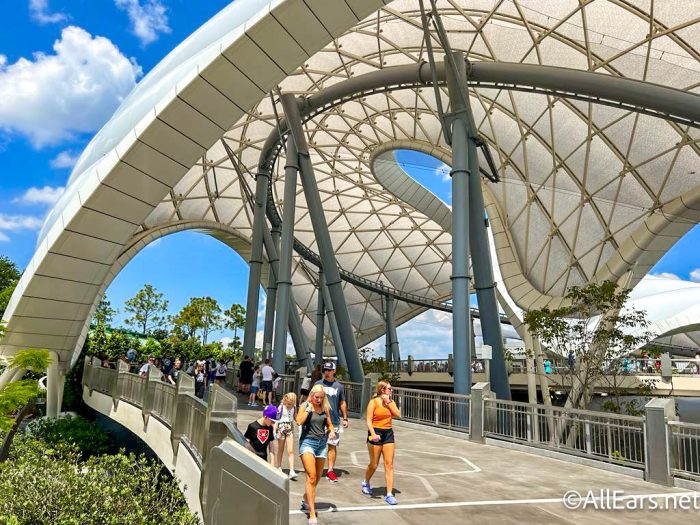 From our experience, the time of day in which your boarding group is called may affect how long you wait. We've returned early in the day where we've been able to walk right through the queue, but we've also waited quite a while just to get to the point where you scan your boarding group. And with the ride only clocking in at a little over a minute in length, this might be a concern in the future.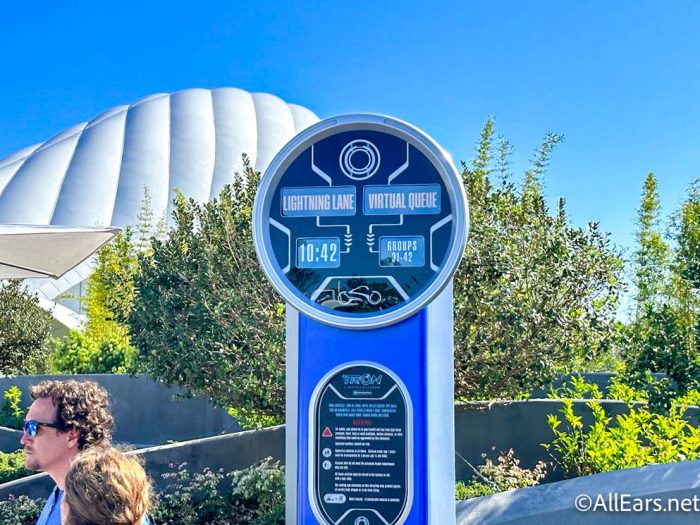 For now, the virtual queue is keeping the waits from getting too out of hand, but we might find that this becomes a problem if the ride ever switches to standby. (Remember how Rise of the Resistance sometimes gets multi-hour waits?!)
Getting a Boarding Group
And speaking of the virtual queue system — securing a boarding group can be nerve-wracking! The first set of boarding groups drops at 7AM, and they're often gone in SECONDS.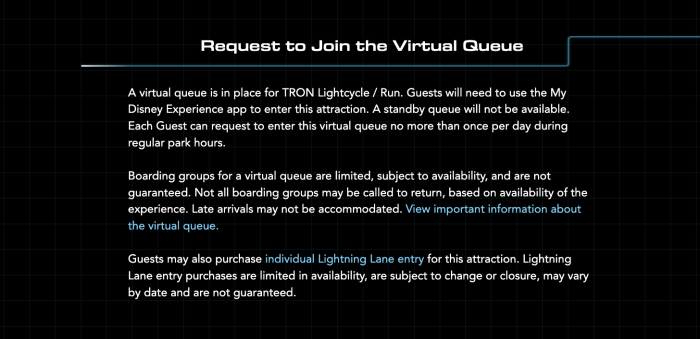 After you enter Magic Kingdom, you can try for a boarding group again at 1PM, but those tend to be pretty popular, as well. For both drops, we recommend having multiple people in your party try to snag a boarding pass, and it helps if you have an additional device with a clock on the screen counting down to the milliseconds…yep, it's THAT serious.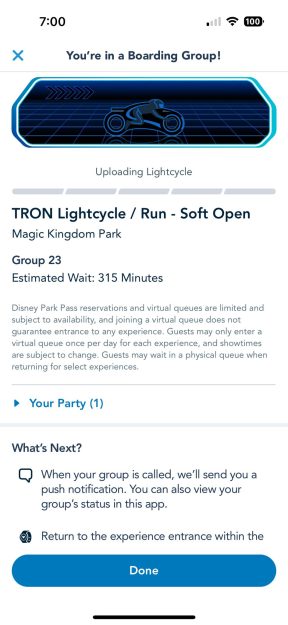 After the ride has been open for a while, this process will likely become easier. But for now, it's a battle! If you fail to get a boarding group or you just want to ride twice in a day, you could also try to purchase the Individual Lightning Lane.
The Intensity of the Ride
And finally, we have to mention the intensity of the ride! One of our readers said that it made them nervous due to the height of the coaster — it's pretty far off the ground when you launch outside and under the canopy of the building.
And in that same thread, the launch can be pretty intense as well. That particular aspect of the ride reminds us of Rock 'n' Roller Coaster at Hollywood Studios. But don't worry — there aren't any inversions in TRON Lightcycle / Run, and it's a very smooth track!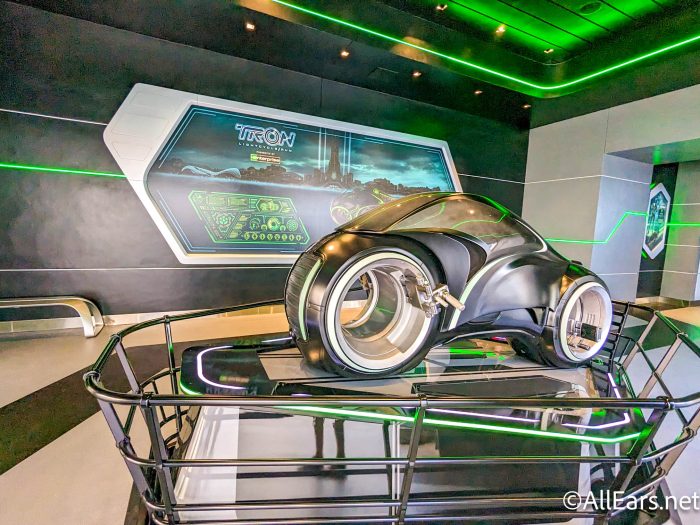 It's definitely on the "more intense" side of coasters in Disney World, but it's not the most frightening, generally speaking. (Have you SEEN the hill on Expedition Everest?!) If you're nervous about riding, we suggest checking out a POV video online before you go.
So there you have it — some of our readers' most pressing concerns about TRON Lightcycle / Run. We think it's a great addition to Magic Kingdom and we're glad to finally have it open after many years of construction. Make sure to check it out whenever you get the chance!
Have you ridden TRON Lightcycle / Run in Disney World? Tell us in the comments!