With the opening of Star Wars: Galaxy's Edge in 2019, the franchise earned the distinction go being one of the few ineffectual properties to have a full land dedicated to it at Walt Disney World. However, Galaxy's Edge was far from the first, and is far from the only, area of WDW to have a heavy Star Wars presence.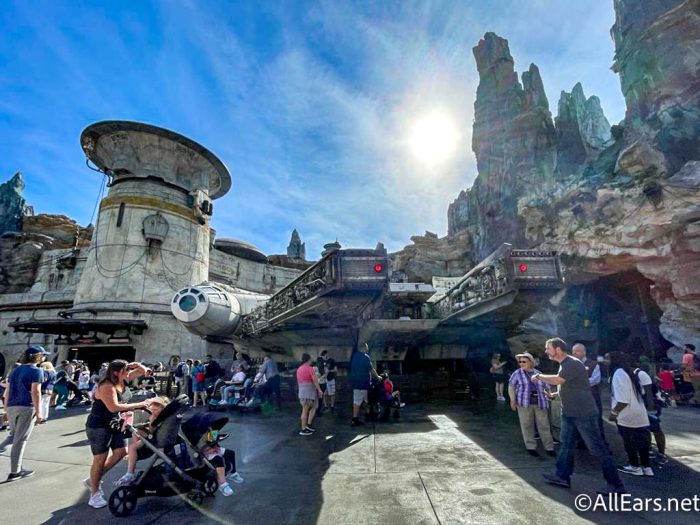 In fact, elements can found all over the resort, some more blatant than others. Don't fret through, we've got your guide to it all. So buckle up and jump to hyperspace with us as well look at every place one can find Star Wars at Walt Disney World.
Galaxy's Edge
First off, let's start with the obvious: the sprawling Star Wars: Galaxy's Edge land at Disney's Hollywood Studios. The 14 acre land – which is also present at California's Disneyland – arguably features the most in-depth themed experiences at Walt Disney World.
First off, there are the two attractions:
Hailed by many as the greatest modern theme park attraction in the world, Rise (as it's become colloquially known) is less a "ride" and more a full experience. Sure, the headline part of the attraction is the trackless dark ride through a First Order Star Destroyer featuring animatronics of Star Wars characters including Kylo Ren, Stormtroopers, and Finn, as well as countless other effects and dramatic twists we won't spoil.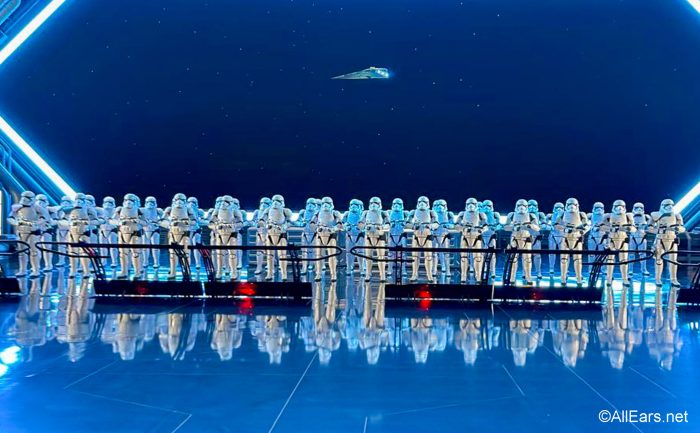 However, beyond that portion, Rise's queue – and we use the term loosely – is chock-full of themed experiences including a full-trip through a Resistance base, a meeting with holographic Rey, a full-scale X-Wing fighter, a simulator space flight (yes a "ride before the ride"), and a trip through a full-scale Star Destroyer hanger including a regiment of Stormtroopers just to name a few.
While this simulator attraction isn't quite as beloved as Rise of the Resistance, there's no denying that there's something awfully cool about the experience. Guests are able to travel through an absurdly faithful recreation of Han Solo's famous Corellian freighter, culminating in "flying" fin a full-scale, screen-accurate cockpit.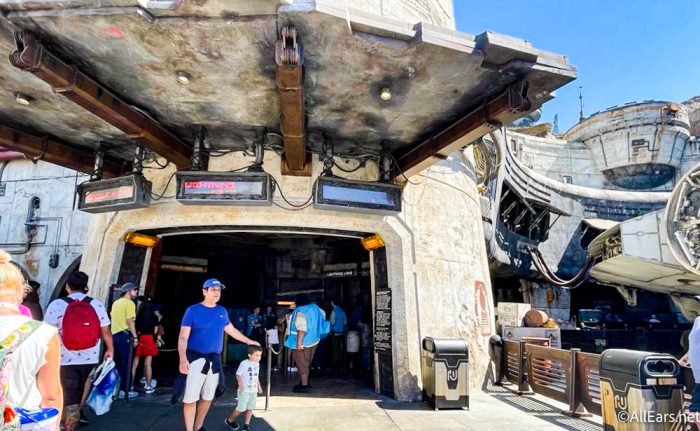 While Rise of the Resistance and Smuggler's Run are the Galaxy's Edge headliners, there is far more to the land than these two attractions.
Shopping in Galaxy's Edge
The heavily themed land contains several shops including Dok-Ondar's Den of Antiquities (a shop full of collectibles from the Star Wars saga), Mubo's Droid Depot (where guests can construct custom droids), Savi's Workshop (home of the land's trademark Lightsaber building experience), First Order Cargo (as the name implies, this shop features First Order themed memorabilia), and a marketplace featuring numerous stalls selling in-universe items including toys and clothing.
Galaxy's Edge Restaurants
If all that Star Wars shopping leaves you famished, Galaxy's Edge provides numerous options for food and drink. The most popular location in the land is Oga's Cantina, a bar similar those seen in several Star Wars properties, featuring a heavily themed environment, and in-universe drink and food options. Docking Bay 7, the land's main restaurant, also features an in-universe menu of foods. For those who don't want to wait for the Cantina or Docking Bay, there are the popular Ronto Roasters (featuring Ronto Wraps) and Milk Stand (featuring blue and green non-dairy "milk") fast food locations.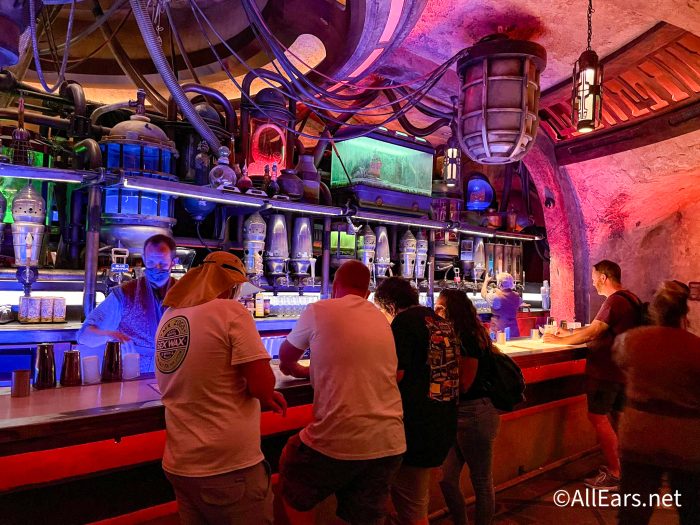 Galaxy's Edge Character Meet and Greets
In addition to rides, food, and drink, Galaxy's Edge also features some roaming Star Wars characters. These include Kylo Ren and a battalion of First Order Storm Troopers, Rey, Chewbacca, and Resistance spy Vi Moradi.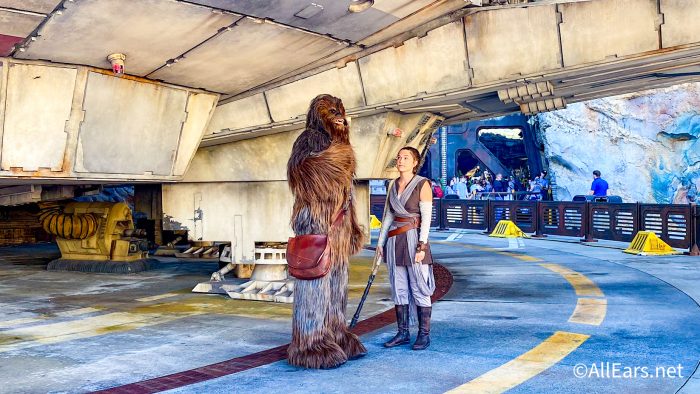 While Galaxy's Edge is the newest and most immersive Star Wars experience at Hollywood Studios, it wasn't the first. That honor goes to an attraction just outside the land's boundary…
The Star Wars franchise first came to Disney Parks in 1987, when the revolutionary-for-its-time attraction Star Tours opened at Disneyland. The simulator attraction took guests on an intergalactic journey though some of the highlight moments of the series, including the iconic Death Star trench-run. Star Tours became the first Star Wars infusion of any kind at Walt Disney World when it opened at the park then known as MGM-Studios in December of 1989.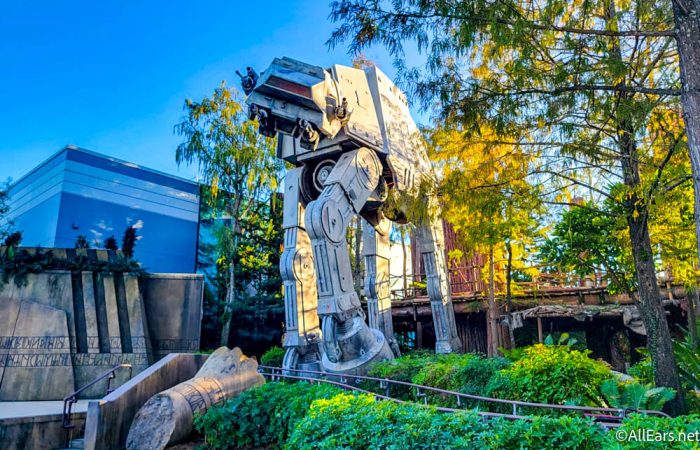 The Studios' version of Star Tours, complete with its Endor-themed facade, was one of the park's biggest attractions for the next 21 years. The original version of the attraction closed in 2010 when Disney re-teamed with George Lucas to update the attraction.
The Hollywood Studios version of the attraction reopened as Star Tours: The Adventure Continues in 2011, with multiple destinations offering a varied ride experience each time. Star Tours remains a Hollywood Studios staple to this day.
Tattooine Traders
Located at the exit of Star Tours, Tattooine Traders is one of the oldest Star Wars-specific merchandise locations at Walt Disney World. The shop features a slew of souvenirs and memorabilia from the series, housed inside a facade designed to look like the version of Tattooine as seen in 1999's Star Wars Episode I: The Phantom Menace.
Beyond Galaxy's Edge and Star Tours, there is yet another heavily themed Star Wars attraction at Hollywood Studios — The Star Wars Launch Bay. Located in the park's Animation Courtyard area, the Launch Bay opened in December 2015, replacing the opening day Magic of Disney Animation attraction.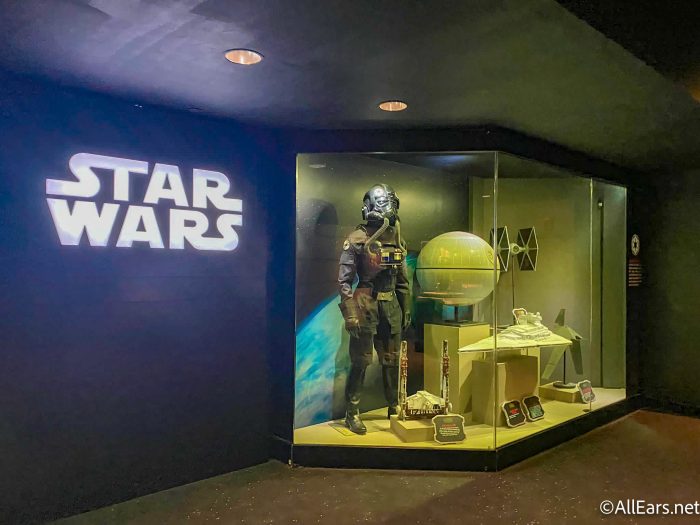 The Launch Bay is a walk-through attraction featuring numerous elements. First, there's a short film detailing the making of the Star Wars saga, followed by a walk-through exhibit featuring concept art, props, and set recreations from films and televisions series from across the whole Star Wars universe.
Arguably the biggest draw of the Launch Bay are the character meet & greets available. Guests can meet – and get a hug from – Chewbacca, be amazed by a hyper realistic version of the adorable BB—8 droid, and even come face to face with Darth Vader himself. Finally, the Launch Bay features a themed Star Wars-centric gift shop, though this store is not always open.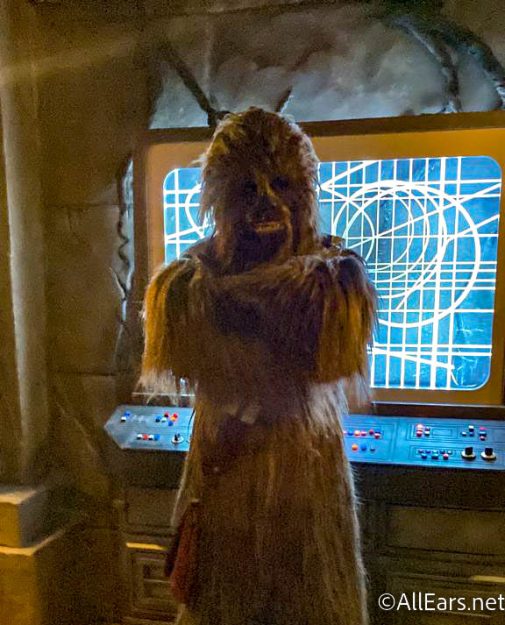 Like the rest of Walt Disney World, the Star Wars Launch Bay closed in March of 2020 thanks to the COVID-19 pandemic. However, unlike the rest of the park, Launch Bay didn't reopen in full until July 2022.
Keystone Clothiers
The final Star Wars-related location to check out at Hollywood Studios is the Keystone Clothiers shop. Located on the path's Hollywood Boulevard, this store has a large amount of Star Wars merchandise for you to browse on your way into or out of the park.
Leaving Hollywood Studios, we're moving just outside the park to the newest — and most unique — Star Wars attraction at Disney World –Galactic Starcruiser. While many simply refer to it as the "Star Wars hotel," Galactic Starcruiser is way more than a simple hotel. Instead, it's an interactive role-playing experience that allows guests to live inside the Star Wars universe.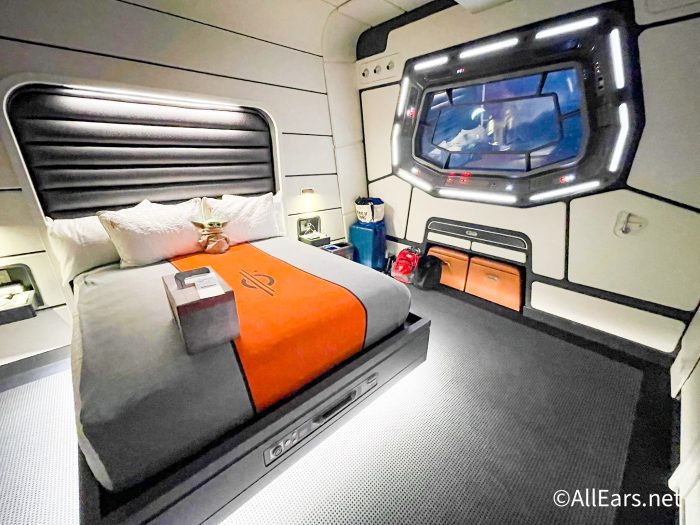 The resort offers a 2-night all-inclusive experience, which includes your guest room, meals, and access to the hotels totally immersive Star Wars environments with experiences including lightsaber training. In addition, the resort's story immerses guests in a Star Wars story — giving them specific individual "missions" that play a part in a larger narrative. In addition, the stay includes an excursion to Galaxy's Edge, aboard special-themed in-universe transportation, as part of the story.
Given the high price for a Galactic Starcruiser stay, the experience certainly isn't suited for everyone. However, there's no denying how immersive a Star Wars experience it is.
Disney Springs
While Disney's Hollywood Studios is certainly the hub of Star Wars representation at Walt Disney World, it's not the only area on property to get your Force fix. In fact, Disney Springs features several Star Wars locations.
First off, there are not one, but two fully themed Star Wars stores in the complex. Star Wars Trading Post (located in the Marketplace) and Star Wars Galactic Outpost (located on the West Side) offer a full stock of Star Wars products and souvenirs.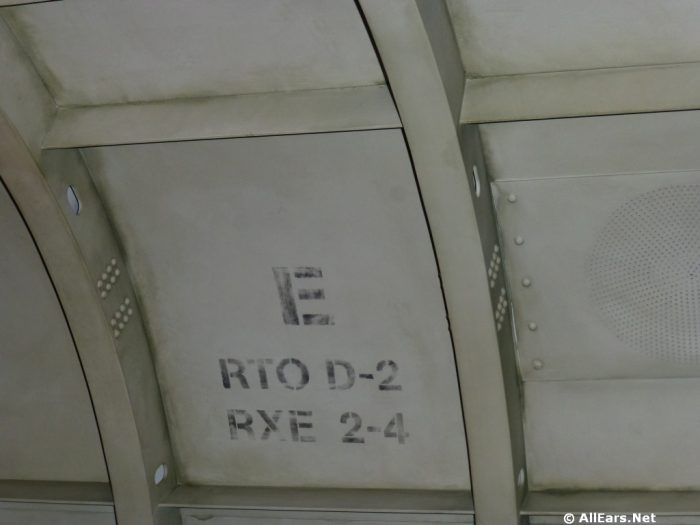 Beyond the stores, there's a more subtle Star Wars site to visit at Disney Springs. Jock Lindsey's Hangar Bar – an establishment themed after Indiana Jones, another LucasFilm property – features a reference to two beloved droids. Specifically, there's a piece of plane hull stamped with Read RTO-D2 and RXE 2-4 , reference to R2-D2 and the Star Tours pilot-turned-Oga's-Cantina-DJ respectively.
Bonus Locations
While not directly Star Wars related, merchandise from the series can be found at numerous stores on property, including the Mission Space gift shop, and areas on Magic Kingdom's Main Street and in Tomorrowland.
That's our look at EVERY Star Wars experience available in Disney World! Keep following All Ears for the latest Disney news!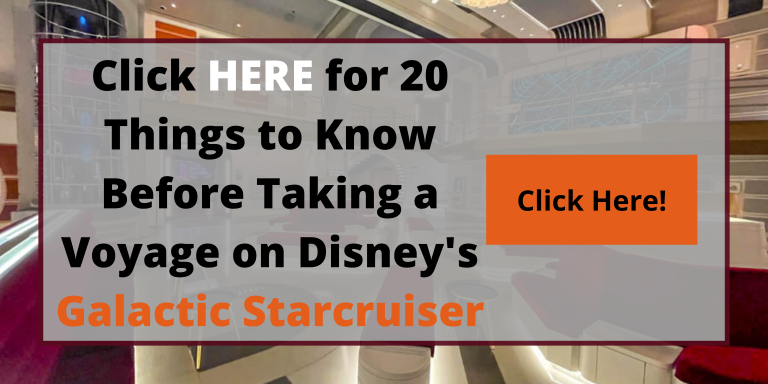 Which Walt Disney World Star Wars location is your favorite? Let us know in the comments below.