For several generations of Disney World guests, no visit to the Magic Kingdom was complete without a stop at Mickey's House. For nearly 25 years, they were able to see where and how Mickey lived before meeting and greeting with the "big cheese" himself.
However, that all ended in 2011 when Mickey was evicted for a … circus?! So, why was Mickey's house built in the first place, and whey was it torn down? Let's find out.
Mickey's Birthdayland
Believe it or not, the story of Mickey's House at the Magic Kingdom begins with a birthday. Specifically, Mickey Mouse's 60th birthday in 1988. To celebrate that occasion, Disney added a new land to the Magic Kingdom, aptly titled Mickey's Birthdayland. Guests could board the Walt Disney World Railroad to take a direct trip to the new land, passing by cutouts of other Disney characters along the way, all of whom are also headed to celebrate Mickey's Birthday. The trip would end at the brand new Mickey's Birthdayland Station, where guests would disembark.
The initial version of Mickey's Birthdayland was… sparse, to put it mildly. It featured facades of the town of Duckburg, a meet & great with Mickey in his dressing room at Mickey's Hollywood Theater, a stage show revolving around the other Disney characters throwing Mickey a surprise birthday party, and — most importantly for our purposes today — a replica of Mickey Mouse's House. In this first incarnation, guests would tour the house, viewing each of Mickey's somewhat realistically furnished rooms — including a den, living room, bedroom, and kitchen — from behind velvet ropes, before the tour concluded in a screening room showing classic Mickey cartoons.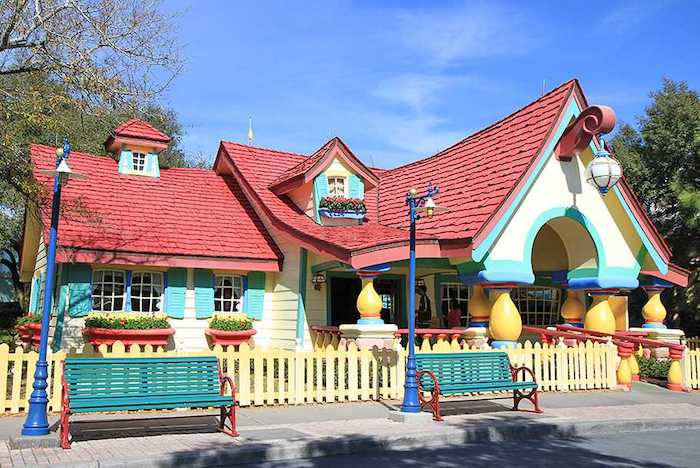 While Mickey's Birthdayland was initially planned to be a temporary expansion, guests were so taken with the land that Disney decided to leave it standing. In 1990, they changed the name to Mickey's Starland. The focus shifted from a birthday celebration to promotion for the Disney afternoon block of animated series, with a heavy emphasis put on characters during a reworked version of the stage show. However, the tour of Mickey's House and the Mickey meet & greet remained central elements of the land.
Toontown
In the early 1990s, Disney planned to build a West Coast clone of Mickey's Starland at Disneyland, part of a major expansion of the park outlined in the Disney Decade plan. However, budget cuts led to Starland being combined with a proposed Roger Rabbit-themed land to become Mickey's Toontown. Thanks to its Roger Rabbit influences, the new land was much more cartoony than Starland, featuring a slew of interactive elements and attractions including Minnie Mouse's House, Donald Duck's boat, and a new version of Mickey's house that did away with the velvet ropes and realistic props such as a grand piano. Instead, this new version featured interactive elements and over-exaggerated cartoon pops that guest could play with. Also differentiating this version from the Disney World original was the meet & greet, which was now attached to the house and replaced the screening room as the tour's conclusion.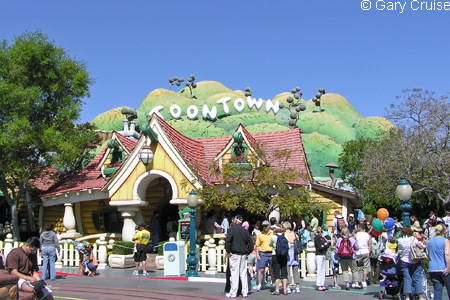 With Disneyland's Toontown seeing massive success upon opening, Disney decided to refurbish Starland with the same style. Instead of directly cloning Toontown however, Imagineering instead created a companion land, Mickey's Toontown Fair, which opened in 1996 for Walt Disney World's 25th Anniversary. Themed as a vacation spot that Mickey and his friends would visit while away from their home at Disneyland's Toontown, the new land saw numerous changes. The area previously used for the stage show became a large store and meet & greet area, Minnie's House and Goofy's Barnstormer coaster were constructed, and Mickey's House was re-themed.
Country House
The new version of Mickey's House was known as Mickey's Country House, re-themed to be Mickey's vacation home. The realistic decorations and furnishings were removed, replaced by the over-exaggerated cartoon props and gags present in the Disneyland version. However, the general layout remained the same, with the room's off-limits to guests behind gates. However, like its Disneyland counterpart., the meet & greet with Mickey was moved to the end of the house tour, replacing the former screening room, though the cartoon loop would remain as part of the queue.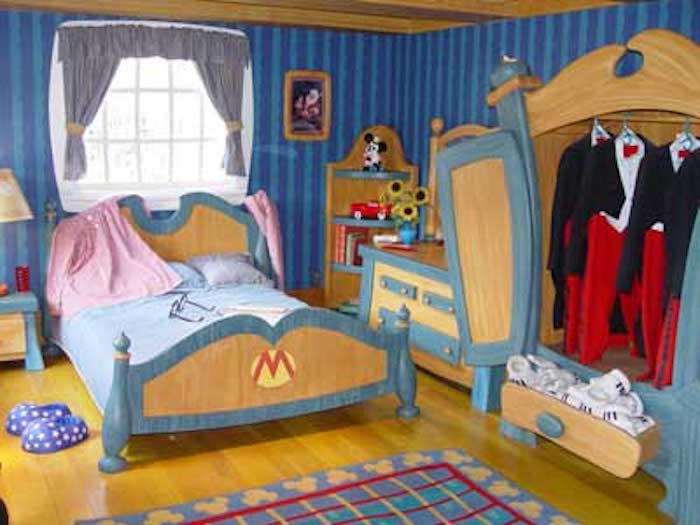 While both Mickey's Toontown at Disneyland and Mickey's Toontown Fair remained popular with younger children, the lands remained stagnant throughout the 2000s. The was partially due to the fact that the stylized cartoon-theming felt somewhat dated to the 1990s, and partially due to a barrage of changes spurred on by safety concerns that led to many of the interactive areas of the lands being gutted. This left both lands vulnerable to replacement, though it would be the East Coast version that would fall first… arguably thanks to a certain boy wizard down the road.
Mickey Evicted
When Universal Studios Florida opened up the Wizarding World of Harry Potter to massive success in 2010, it sent Disney — which had a shot at Potter themselves and let the opportunity slip away — into panic mode. Partially in response, Disney announced that they would be expanding the Magic Kingdom's Fantasyland as a way to compete.
Initially, plans called for Mickey's Toontown Fair to be turned into a Pixie Hollow-themed area — a theme that had been tested with a meet & greet in Toontown Fair previously — but after negative reaction that plan, plans for Toontown Fair changed. Instead, the area would become the Dumbo-themed Storybook Circus. While the Barnstormer coaster was saved, becoming the Great Goofini, everything else in the land — including Mickey's Country House – closed in 2011.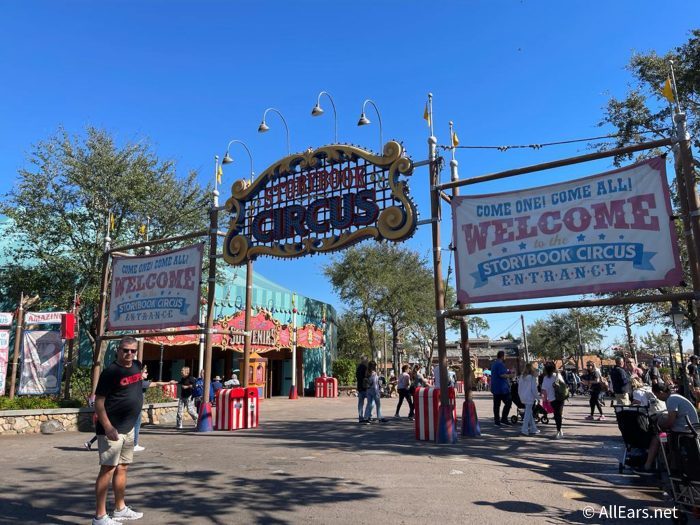 While Mickey's dedicated meet & greet was saved, moving to Town Hall on Main Street, many guests lamented the loss of Mickey's House, which they saw as an integral part of the Magic Kingdom experience.
Follow All Ears for the latest Disney news!
Do you miss Mickey's House, or was Storybook Circus worth its loss? Let us know in the comments below.