When visiting Batuu, a unique experience whether shopping or not is a visit to Dok-Ondar's Den of Antiquities.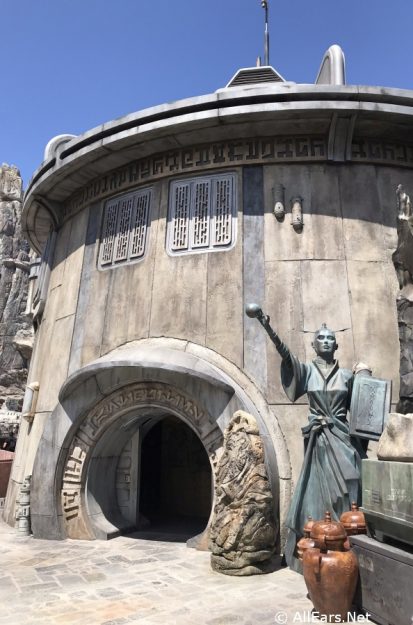 The story behind this location is that Dok-Ondar has set up a shop to sell unusual items from his collection. Items span all eras of the Star Wars films and include holocrons, Jedi and Sith artifacts, lightsabers, and much more.
Let's explore! You'll enter this circular store and walk into a wall, which means you have to go either left or right. It doesn't matter which direction you choose, both ways direct you into this store, which is pretty cool!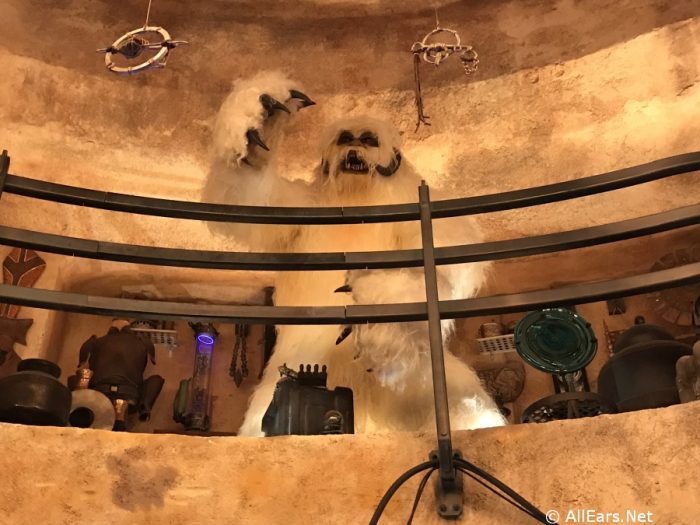 Even though this location has the look of being a two-floor shop, you can not go upstairs. You'll just admire Dok-Ondar's collection from the first floor. A cast member gave us a head's up that the Ark of the Covenant is somewhere on the second floor.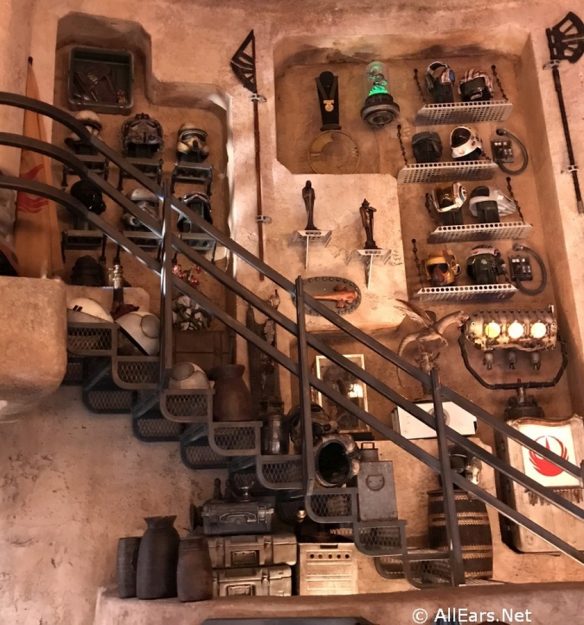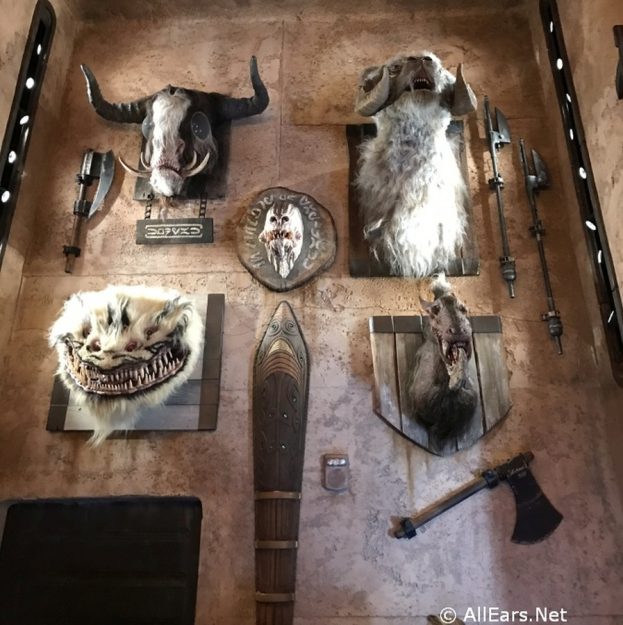 Once in the store you'll see lots of alien heads, decor, knick knacks, and Dok-Ondar (in animatronic form) sitting at his desk on the second floor in a circular, caged off area.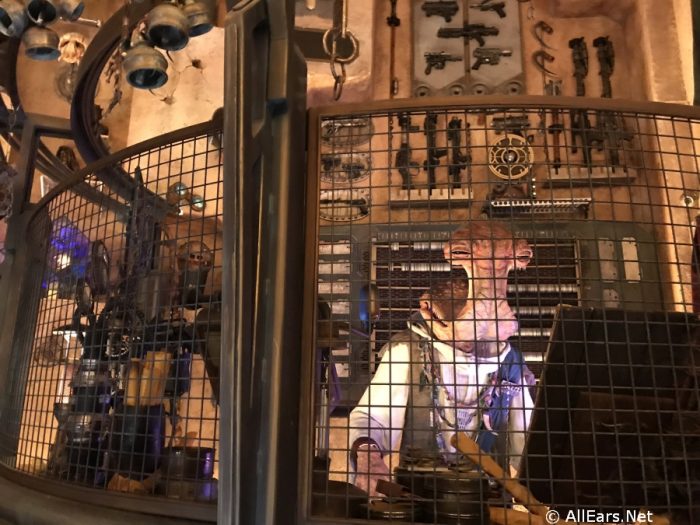 You'll find mostly high-end, higher-priced items in this store. We spotted some robes, Leia outfits, various statues, a Sith chalice, mini-busts of Sith lords, and so on. For an idea on pricing, the Sith chalice is $200, and the mini-busts are $110.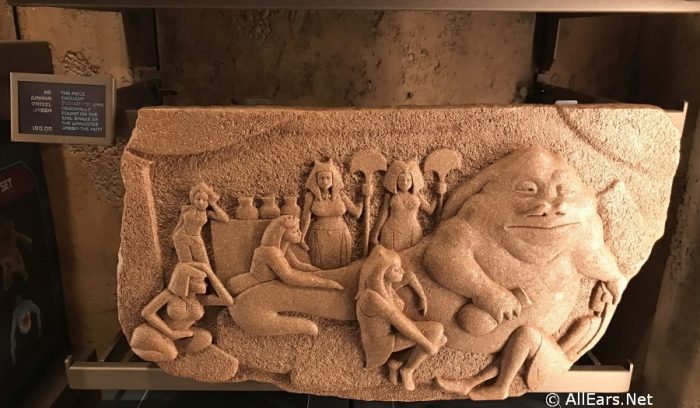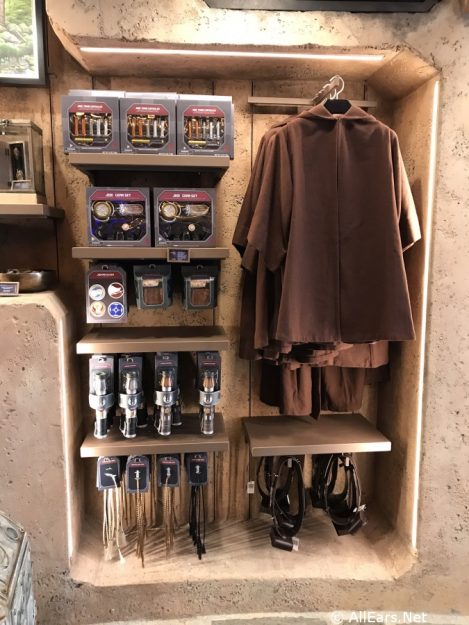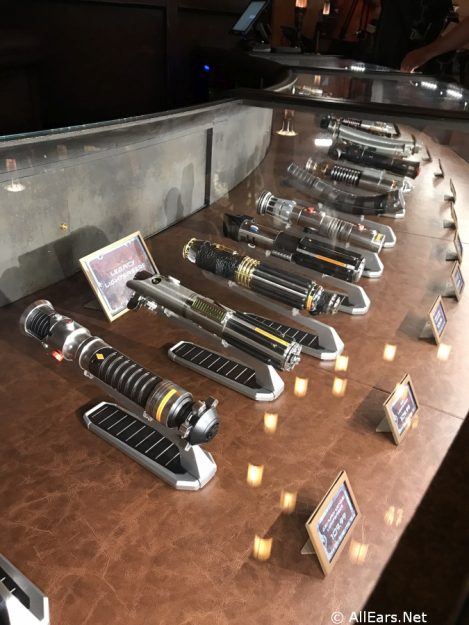 On the back of the wall you walk into when you enter the shop you'll find several lit up cubicles with holocrons in them.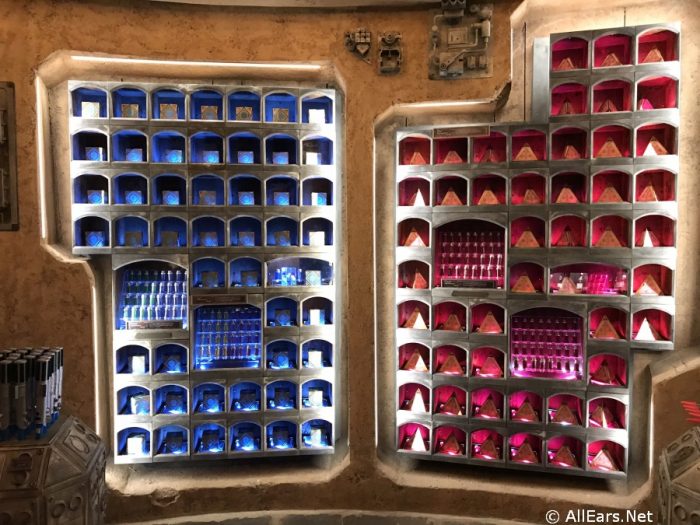 What's a holocron? It carries the knowledge, history, and force of the Jedi and Sith. We spent some time with these items.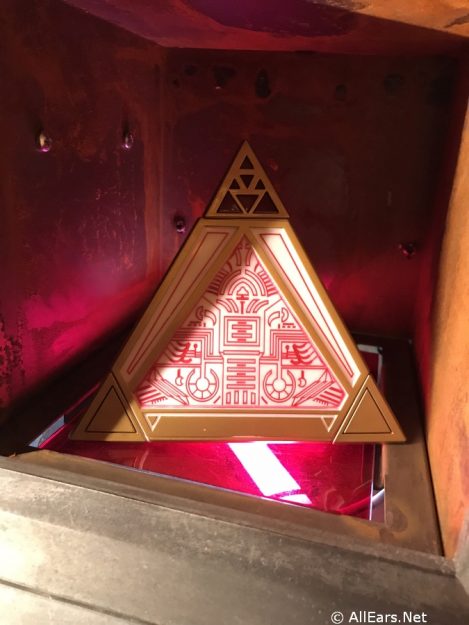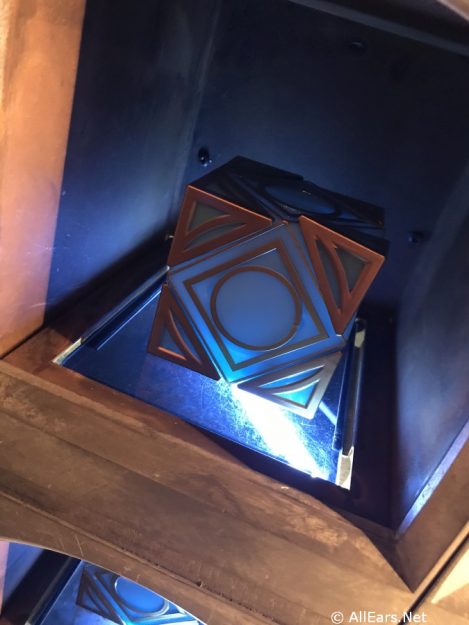 The first decision you need to make is if you want a Jedi (blue) or a Sith (red) holocron. After turning your holocron on you'll hear a bunch of sounds, then someone from your selected "side" (Dark or Light) will give you advice or information when you put your fingers on the spots on the side.
Holocrons will operate on their own as is, but you can also add a kyber crystal. Depending on the kyber crystal you select, your holocron will glow a different color and a character will talk to you. We put a green kyber crystal in our Jedi holocron and Yoda talked to us.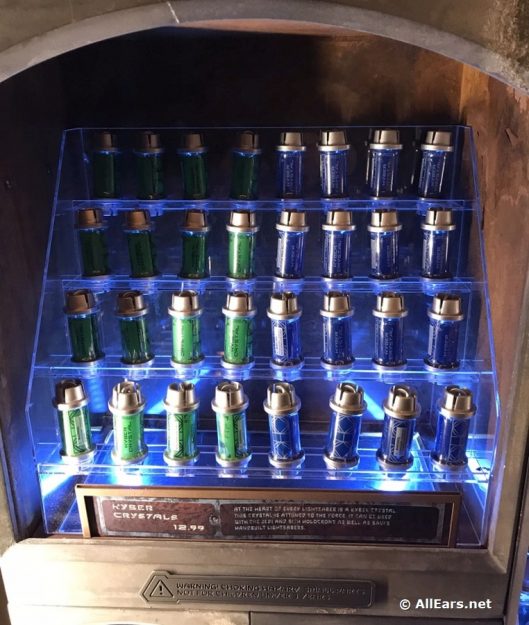 If you put a Jedi holocron next to a Sith holocron you can watch them battle each other as you listen to voices from both sides, as well as the Bendu. The Bendu are Force-sensitive entities that can align with either the Jedi or Sith cause.
When back home, or in your hotel room, you can charge your holocron up with a USB charging cord. Each holocron is $50, and kyber crystals are $12.99 each. Kyber crystals can also be used in lightsabers made at Savi's Workshop.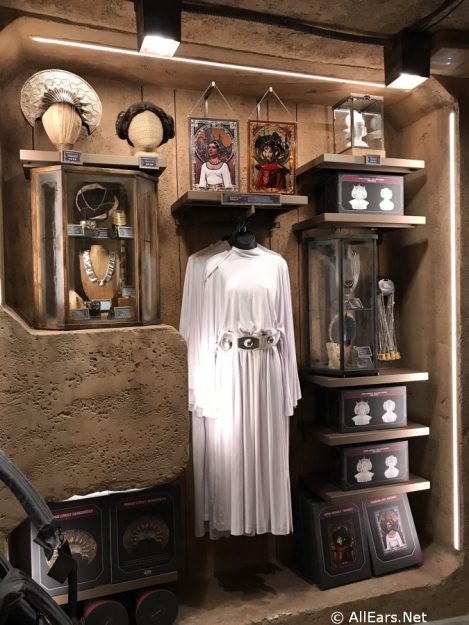 We enjoyed our time in this shop. There is a lot to take in and look at between the displays on the second floor and the merchandise. We were told there will be a rotating collection of items including jewelry, tools, kyber crystals, and statues — giving everyone plenty of reason to return on repeat visits to Star Wars: Galaxy's Edge.
The one thing that disappointed us is the amount of interaction with the Dok-Ondar animatronic. In most of the pre-opening news we heard we assumed that we'd be able to barter with Dok-Ondar, but that is not the case, or at least it was not the case when we visited. Cast members tried to talk with him, but it didn't take long for us to see this was another run-of-the-mill animatronic with a few phrases and movements.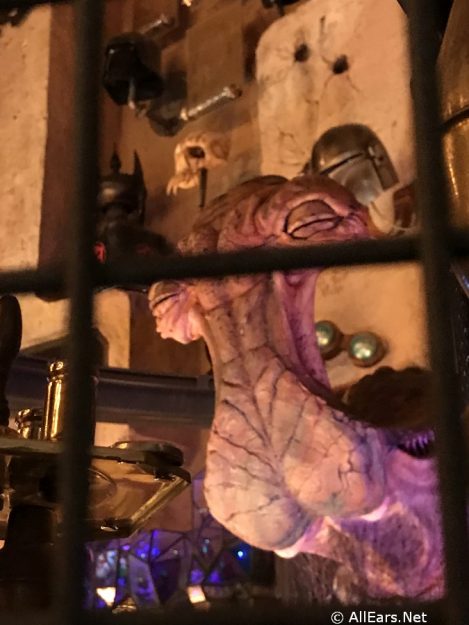 Overall, we'd recommend taking some time to explore this shop, and if you are a fan of the Star Wars films you are likely to find an item, or two, to take home!
Is Dok-Ondar's on your must-see list? Let us know in the comments!
Disclaimer: AllEars.Net was an invited media guest of Disney at the debut of Star Wars: Galaxy's Edge, but this did not affect our opinions. Our opinions are our own!
Star Wars: Galaxy's Edge at Disneyland is NOW OPEN! Don't miss these posts about the new land:
Be sure to follow @allearsnet on Instagram and Twitter!
Check out our YouTube Channel for reviews, news, information and more!
Click below to subscribe to the AllEars® newsletter so you don't miss any of the latest Disney news!