Tomorrowland Magic Kingdom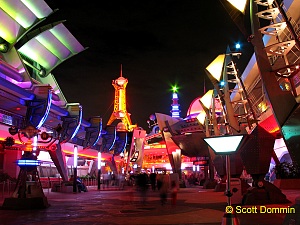 "Tomorrowland… a vista into a world of wondrous ideas, signifying man's achievements… a step into the future with predictions of constructive things to come. Tomorrow offers new frontiers in science, adventure and ideals… the challenge of outer space, and the hope of a peaceful and unified world."
– Walt Disney
Taking up most of the eastern section of Magic Kingdom is Tomorrowland, a continually changing and evolving glimpse of the future. To keep this vision of the future from looking like the past, Tomorrowland has undergone many changes over the years, the most recent in 1994-95 when the entire area was rehabbed to resemble the type of sci-fi city one might find in popular novels of the '20s and '30s. Whether you're helping Buzz Lightyear defend the galaxy, soaring through the stars on Space Mountain, or orbiting high among the planets in a rocketship, this step into the future as it might have been is sure to create some timeless memories.
ATTRACTIONS and ENTERTAINMENT
Astro Orbiter – Fly high above Tomorrowland in your own spacecraft.
Buzz Lightyear's Space Ranger Spin – It's all up to you: defeat Zurg and save the galaxy!
Walt Disney's Carousel of Progress – Join a family on a trip through 100 years of progress.
Stitch's Great Escape – SEASONAL. Experiment 626 before he became Stitch escapes from his keepers and wreaks havoc, complete with belching and spitting.
Monsters Inc. Laugh Floor – Interactive show featuring Mike Wazowski from Monsters Inc.
Space Mountain – Blast through space on this high-speed, cosmic roller-coaster adventure.
Tomorrowland Speedway – Drive your own sports car (or be kind and let your kids have a turn) around a twisting track.
Tomorrowland Transit Authority PeopleMover – Formerly the WEDway PeopleMover, this slow and peaceful ride gives you a bird's-eye view of Tomorrowland.
PLACES TO EAT
Cosmic Ray's Starlight Cafe – Counter service restaurant serving chicken, cheeseburgers, soup, salad, sandwiches, beverages and snacks. Vegetarian and kosher items available. And don't miss the entertaining Sonny Eclipse!
Auntie Gravity's Galactic Goodies – Beverages, soft-serve ice cream, smoothies.
Cool Ship Cooling Station – Beverage stand.
The Lunching Pad at Rockettower Plaza – Smoked turkey legs, snacks and beverages.
Tomorrowland Terrace – serving burgers and sandwiches, seasonally. Also open for breakfast seasonally.
PLACES TO SHOP
Mickey's Star Traders – Souvenirs, clothing, jewelry, film, books, toys, hats, Coppertone SunCare products.
Merchant of Venus – Wigs, jewelry, Stitch merchandise, home decor, futuristic toys, fashion merchandise.